Sydney Learning ices Valentine's Day cupcakes in her small kitchen for her daughter's daycare class.
It's late morning, and the single mom says she's running on coffee. She gets up every day at 5:30 a.m. to accomplish everything she needs to get done, because it requires a lot of planning.
Learning, 30, juggles caring for her four-year-old, Royal, and attending classes at Keyin College.
It's a delicate balancing act — figuratively and literally — because Learning only has one leg.
And, despite everything she has endured, she does it all with a smile on her face.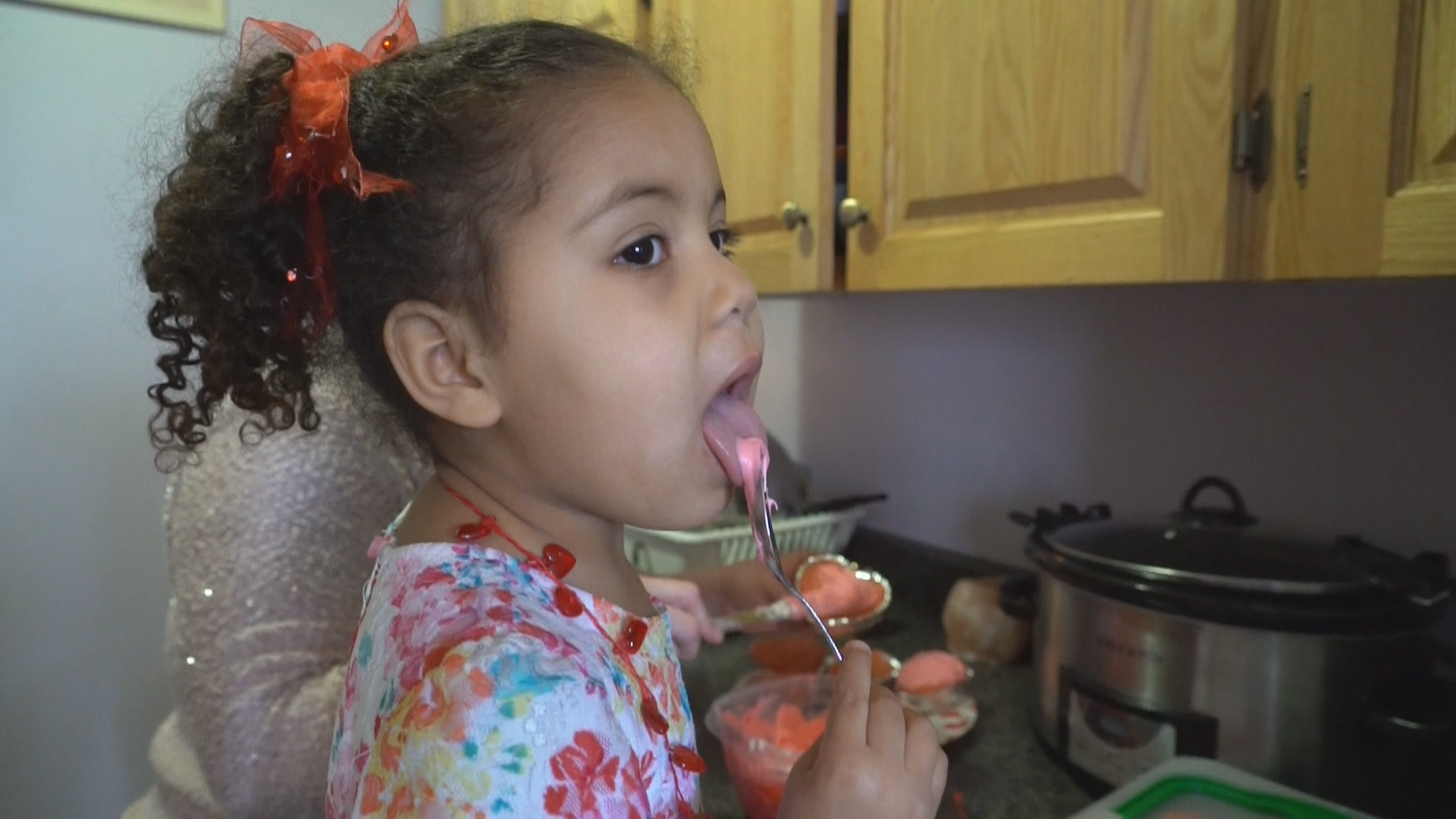 Learning gets around with her trusty pair of crutches, but she often stands solely on her one leg.
"It didn't seem like that long ago," she said, noting that it took a few years of practice to be able to balance without them.
"Now... I don't even notice it — it's like second nature, I guess."
Learning spoke to CBC News in 2006 and again in 2016, about how she lost her left leg to necrotizing fasciitis, more commonly known as the flesh-eating disease, when she was just 15. Now, as part of CBC Newfoundland and Labrador's series, This Is My Story, we're checking back in with Learning to see what her life is like today.
"I'm pretty thankful that my body's kind of adapted to everything," she said.

Losing a leg
Fifteen years ago, Learning was with her dad attending Come Home Year celebrations in her hometown of Cartwright, Labrador, and wore high-heeled shoes to one of the events.
"I acquired a great big blister on my big toe and I didn't really think anything of it," she recalled.
But Learning got very sick. She was later medevaced to Happy Valley-Goose Bay, and admitted to hospital.
"I was in the room and I remember calling everyone on the phone... 'Good night, I'm OK.' .... And it wasn't even two hours later, I ended up going into shock," she said.
"This is the part where I don't remember anything."
Watch Sydney Learning describe her journey:
Learning was then flown by air ambulance and rushed to the Janeway children's hospital in St. John's.
"As soon as I got here, the surgeon came to meet with the team and confirmed a case of necrotizing fasciitis, right then and there, and I was moved to surgery," she said.
The doctors immediately went to the route of amputation, because — as Learning puts it — it was life over limb. Her left leg was amputated at the hip.
Her parents were told to make arrangements.
Learning made it out of surgery, but health issues persisted. Her lungs were failing, so she spent time in a hyperbaric chamber. She later went into a coma for two weeks. Her kidneys failed, and she flatlined three times.
"I remember my dad. He was probably my biggest supporter there," she said.
"He used to tell me that he never gave up and he would whisper in my ear… 'Your dogs... they're waiting for you.' And he said my numbers would come up."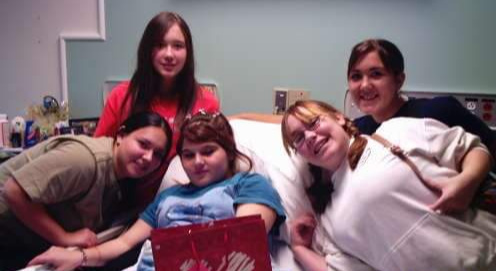 For a teenager, Learning said, it was a scary time.
"I remember in the nighttimes when I was still in the hospital after I got out of the ICU, I was too scared to sleep some nights," she said.
"I didn't really understand... the justice of everything. I think, at that time, [I was so young]... They were telling me I'm OK, but I'm like, 'You know, this big thing happened to me,' and I was just scared that I [was]... going to go to sleep one night, and just not wake up."
Learning to live as an amputee
About five months later, Learning was released from hospital, and she started on her long road to recovery.
She stayed in St. John's to work on her rehabilitation, and lived with a woman in Goulds who fosters children with special needs and disabilities.
"My health-care providers... [were] adamant that I had to be here. There was absolutely no way I could go home and get the care that I [needed] at home in Cartwright," she said.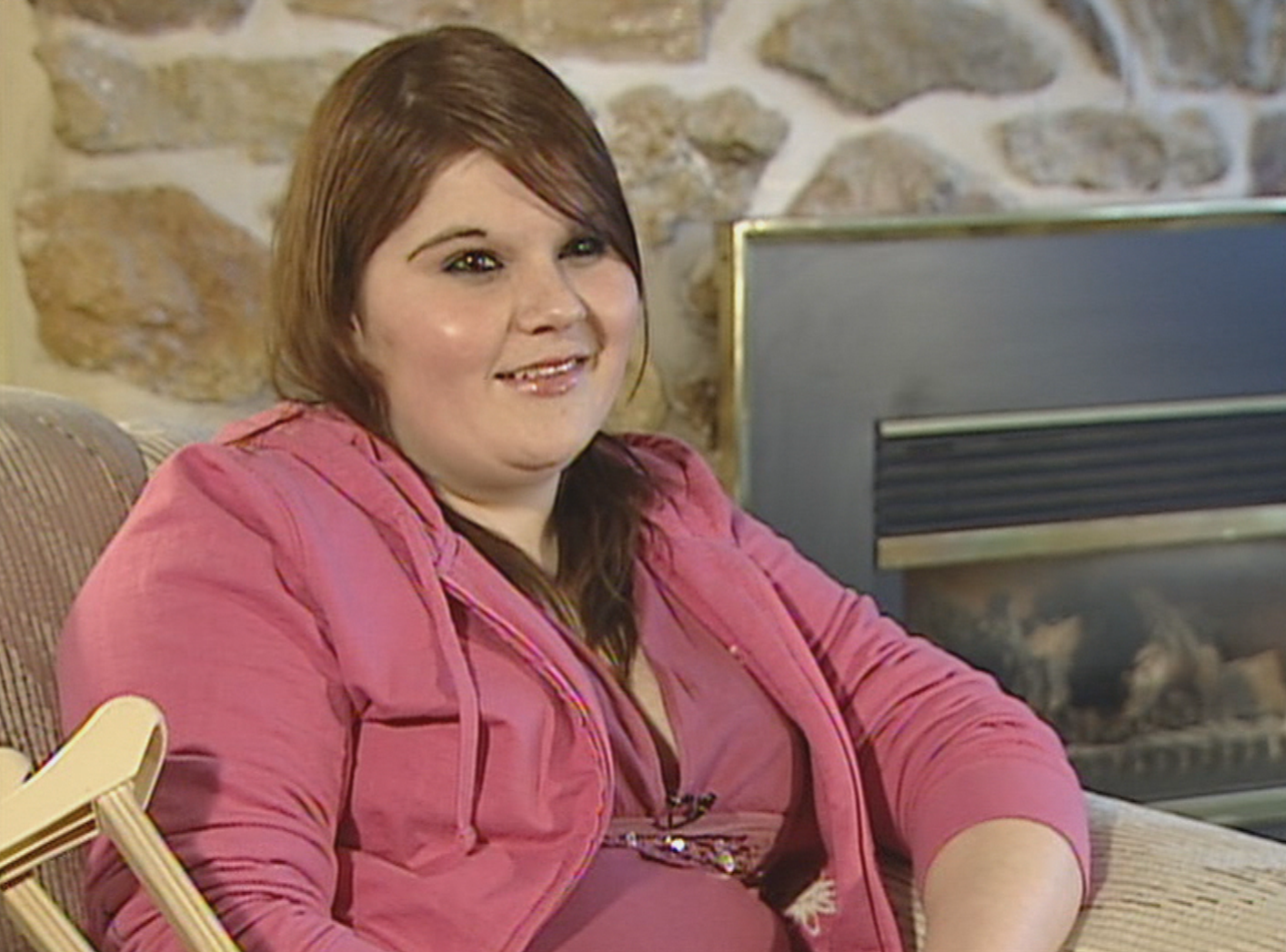 Learning says it took about two years of rehabilitation at the Miller Centre, where they prepared her for her future as an amputee.
She tried a prosthesis, but struggled a lot with it, and decided that crutches were her best fit.
"I don't know where I'd be without my crutches now!" she said with a laugh.
It's hard to keep up with Learning; she moves as if the crutches are an extension of her body. But there are times she does find it challenging, such as when she goes shopping and there are boxed items that she can't easily carry.
"In those moments, [that's] when my attitude gets the most sour... [or you] get into the 'poor me' mindset [where] I'm just like, 'You know, this is not fair. Like it shouldn't be this hard," she said.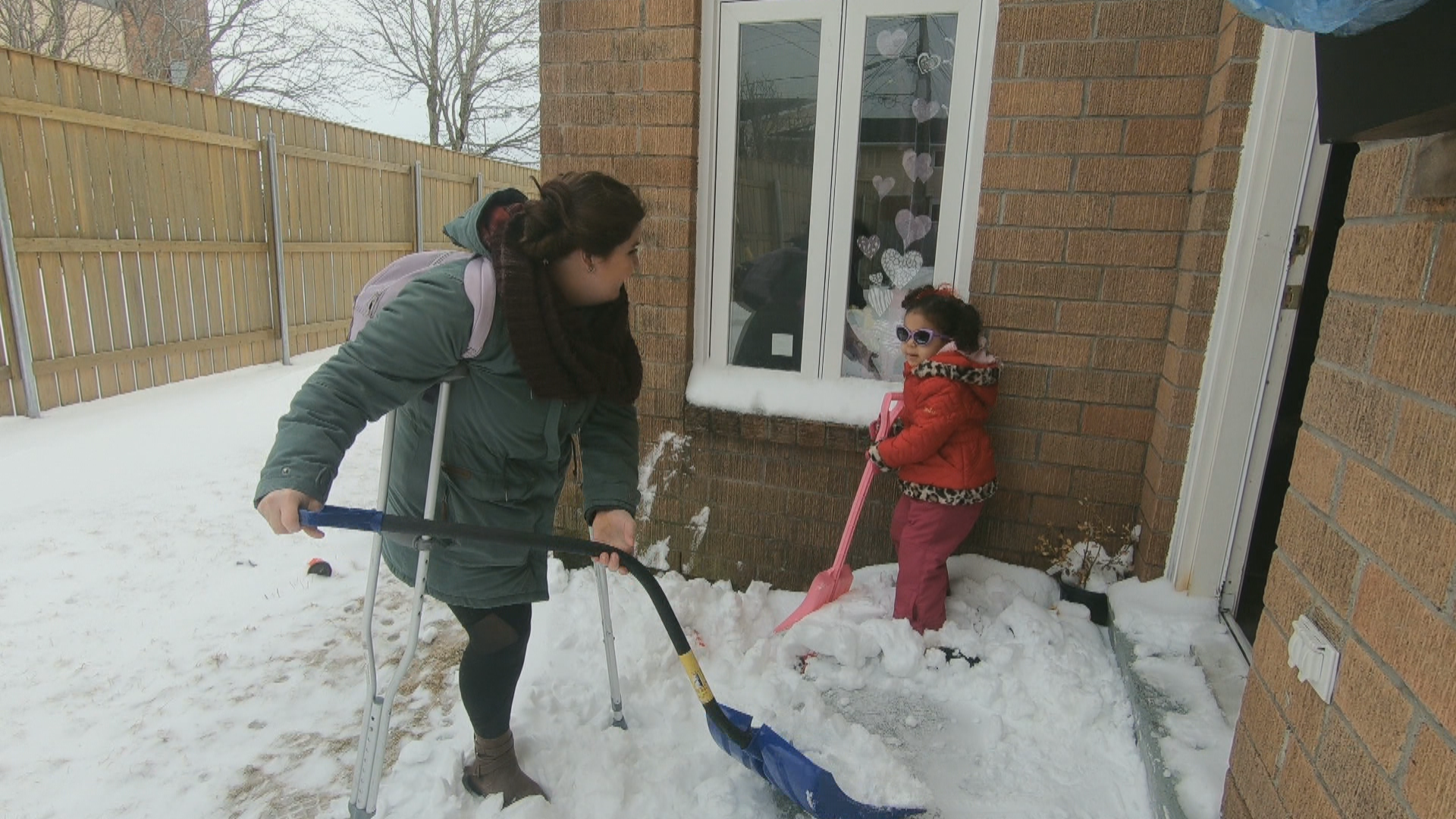 Learning said it's also difficult trying to get around St. John's in the wintertime. It involves a lot of planning ahead — literally step by step.
"In my mind, [thinking] where I'm going to step, where my crutch is going to go, and where I want to put my foot," she said.
But she said it's the snowfall days that are the most challenging.
"I [have] to get up at 5 a.m. to start shovelling the walkway," Learning said.
"[Royal comes] outside with me. She has a pink shovel because she's going to help her mom."
'We're a team'
Learning said, as a disabled woman, she and her daughter act as a team.
"[Royal] knows and she's well aware that her mom is different," she said.
"She's just empathetic and she knows that I need extra [help]. And if she hears, you know, something fall, like one of these crutches, she's like, 'Mommy, are you OK?'"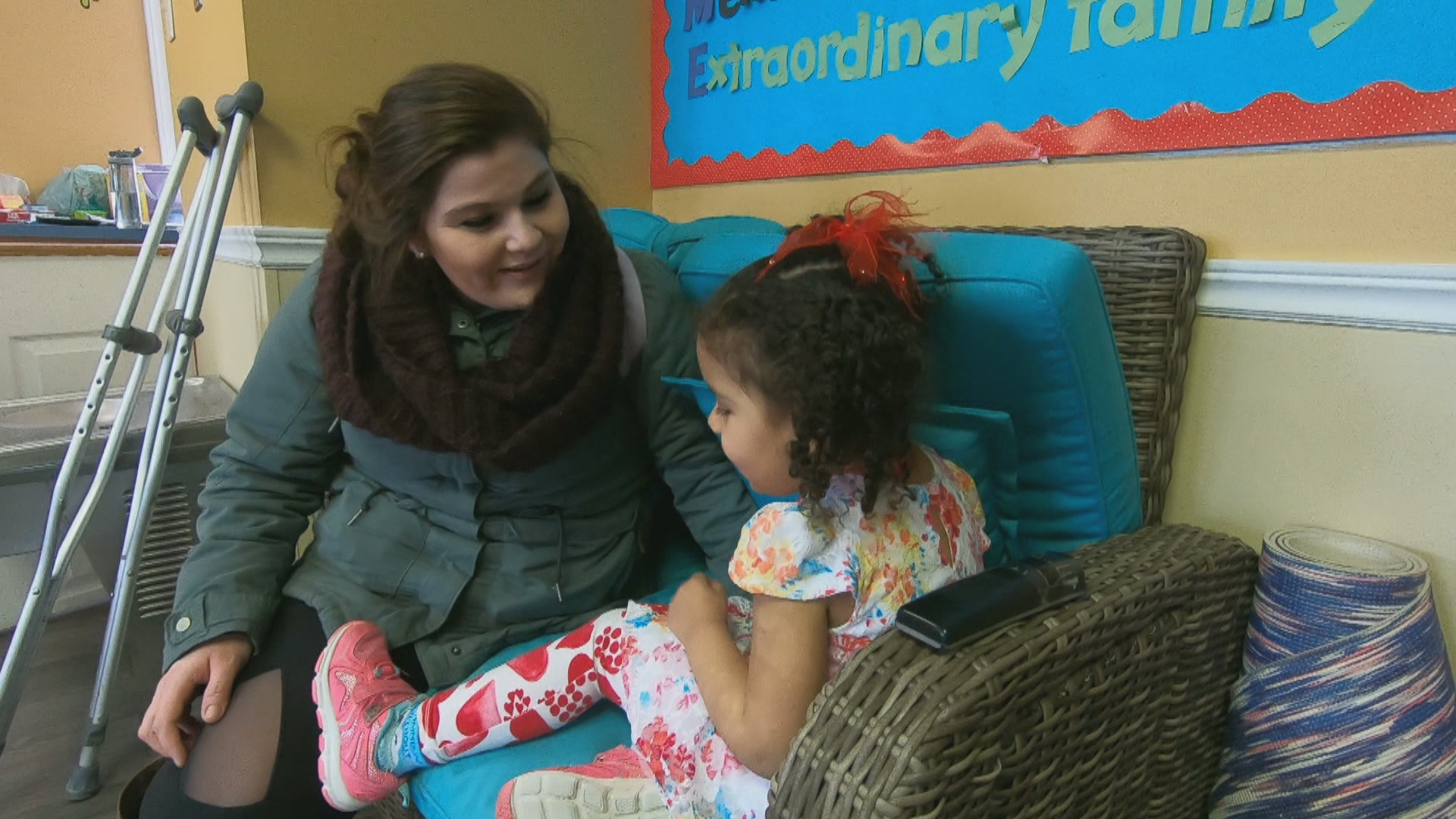 The pair used to get around with Royal in a baby carrier. But now that she's bigger, they walk together.
"When we're walking out in the snow, like we're side by side, or she'll put her hand right here [on my crutch] and it's pretty sweet. I try my best, especially for her sake, not to fall."
Learning said she loves being a mom — even though it hasn't always been easy.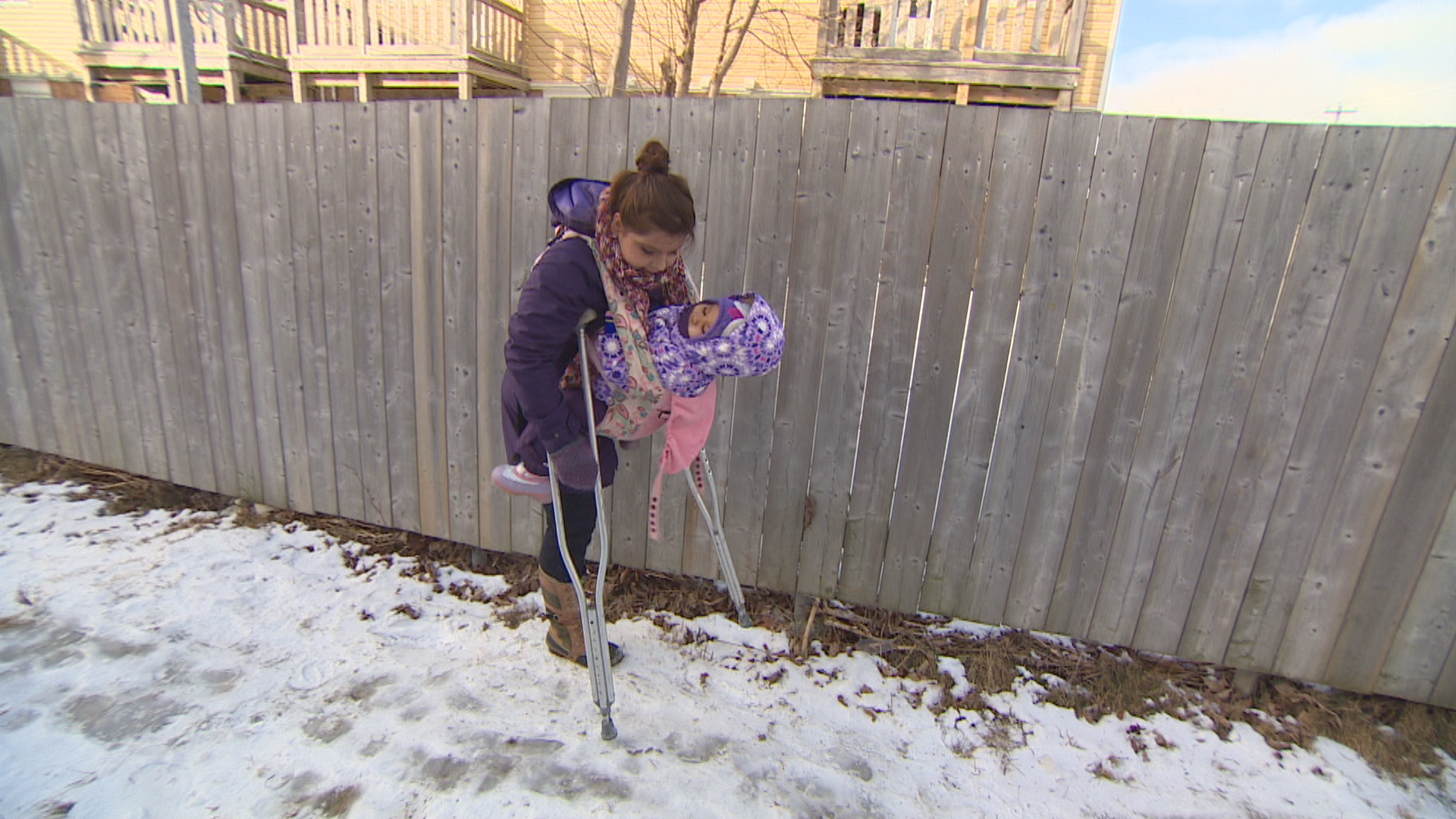 She gave birth to twins, but her other daughter, Belle, died about a week later from birth complications.
"Once I had them... you know, you're breastfeeding, you're nurturing your children. I loved every aspect of it. I knew that was another thing that I wanted to do [for] the rest of my life," she said.
"I really think that's a push for me, that makes me strive to do more, because I really love being a mom so much, and I think in my earlier years... where I had a lot of loneliness, and questioning if I would have a family — I think that's why I'm so grateful now."
'Doing my self-work'
At 30, Learning has dealt with more traumatic experiences than most of us will see in our lifetimes.
But she said she keeps a steady course by relying on supports: her family, friends and the community of Cartwright; Choices for Youth and the Single Parent Association of Newfoundland; and the support she's put in place for her mental health.
"I'm in therapy. I will be in therapy probably for the rest of my life. But it's another aspect of my life that is something I'm not ashamed of," she said.
"Honestly, I spent a few years in a real not self-loving place. I was really down [on] myself, as a woman."
Learning said it took some time for her to accept her new way of living, as a person with a disability.
"I was really struggling with how other people saw me... I really thought of myself as something that was absurd… [And] with society, sometimes it can be really superficial," she said.
Learning said it was hard to deal with, considering she was a teenager — a time when people tend to put more emphasis on their external appearance, as opposed to their inner self.
"It wasn't until my older age, like after 24 really, that I really had this kind of internal wake-up, that I was like, 'You know what? I kind of deserve to be here and to have every opportunity to live my life just like anybody else,'" she said.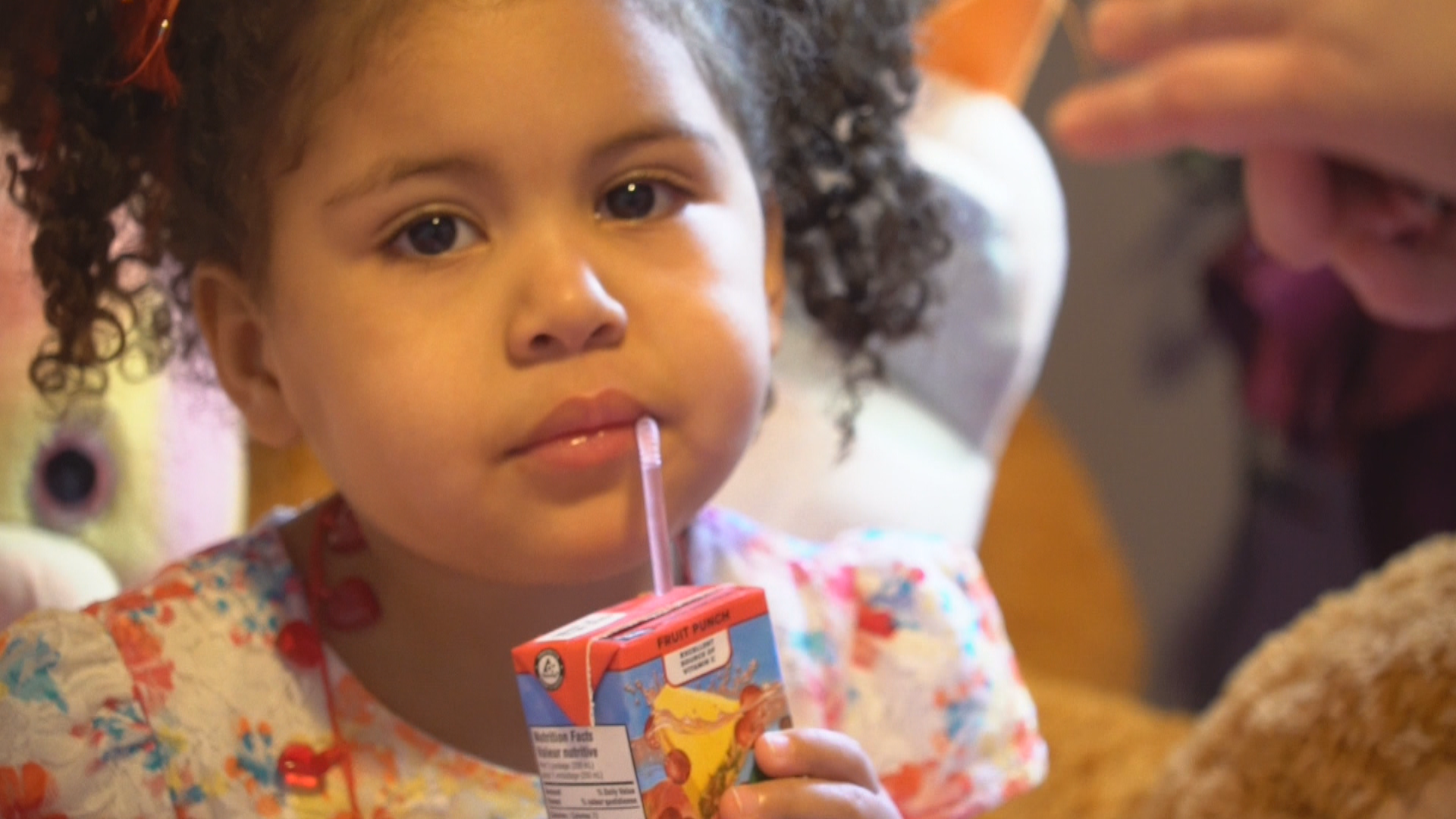 "I've worked really hard on myself… I'm more accepting and more loving and I'm more open, and really happy."

Learning said she's grown as a person, and it's an important step she's taking for her daughter.
"She needs her mom to be mentally sound, to be stable... and therapy helps with that," Learning said. "She's my life, and I'm going to provide [her] the best one possible and this is a part of it."
Career goals
Part of providing for her daughter also means setting up their future by working towards a new career.
Learning said, for as long as she can remember, she's wanted to work in dentistry.
Now, she's due to graduate from dental assisting at Keyin College this spring.
Looking back, she said she was nervous, as a person with a disability, to start the program.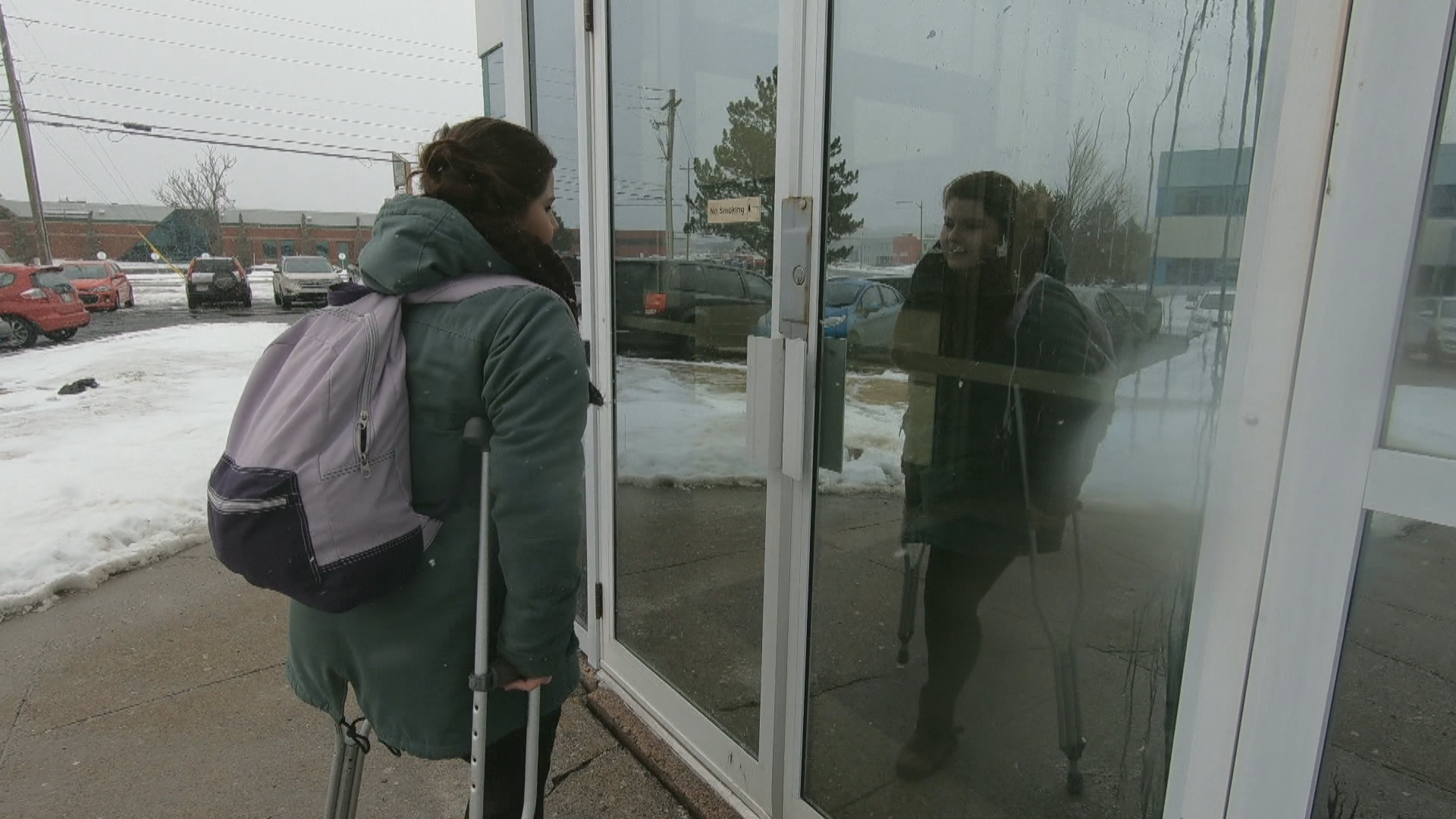 "My biggest [worry was]... can I carry the tray from here to there?" she said.
"I really took into consideration, like 'Am I making a horrible decision? [Are] people going to think I can do this?' And I really sat with myself and I was like, 'I'm going to set the pace. I'm going to be the one to go in there and show what I'm capable of.'"
Learning said, as one of the first amputees to be graduating through that program in the province, Keyin worked with her, and made adaptations along the way as necessary.
"I'm really grateful for the amount of respect that I get at that school. I mean full-on inclusive," she said.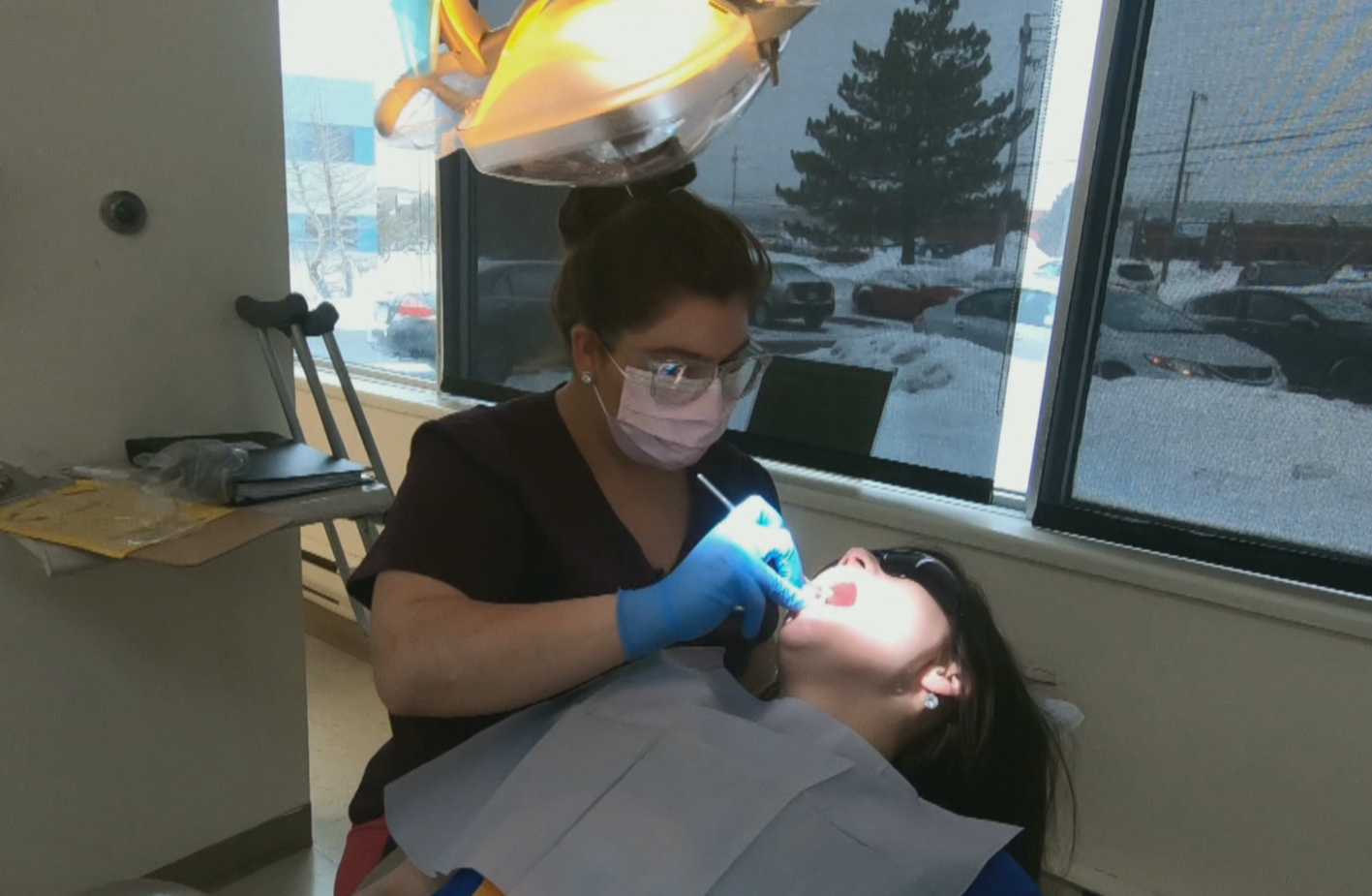 Learning said while it might be a lot to juggle in the short term, it will benefit her daughter so much in the long run.
"If I don't do this now, I don't know... where we'd be, and at least with having this control and taking the reins on my life, and doing what's best for her — I know we're going to be OK," she said.
Dad's girl
But it's not just the struggles of everyday life that Learning is dealing with. Since her last interview with CBC News, she has had to deal with more grief: losing both of her parents.
Her mother passed away in 2016, and her father died suddenly of a massive heart attack last year.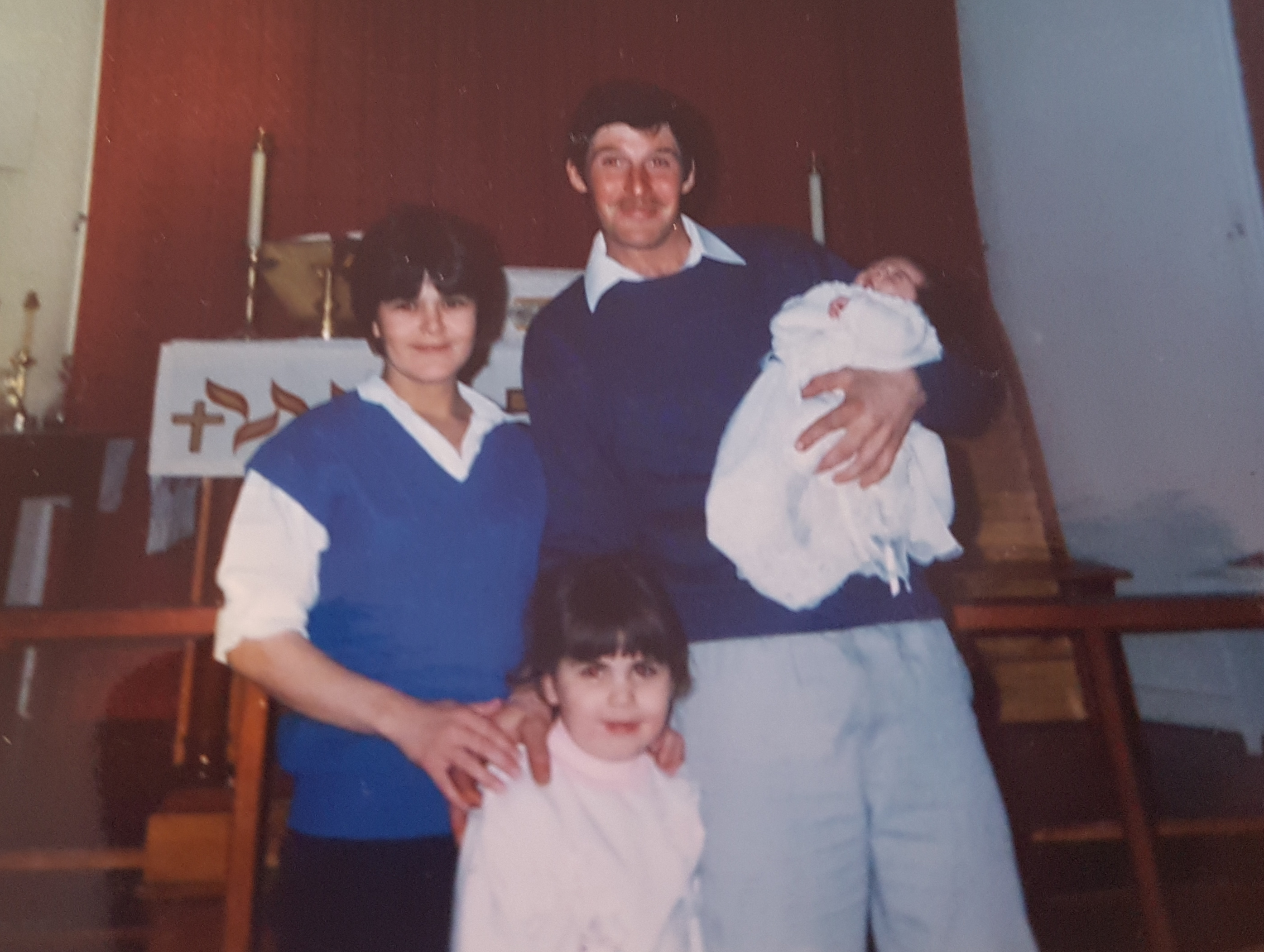 She tears up while talking about her father, Wayne Learning.
"I love my dad a lot. I was a dad's girl," she said. "I'll never be OK. I will always miss him, every day in my life."
Learning describes her father as a "man of the land" — a proud, hard-working Labradorian.
"He was a trapper," she recalled. "He auctioned off his furs and he was known to have some of the most wonderful furs from Labrador. And he'd make it known every spring — he'd be like, 'That's paying for your school!'"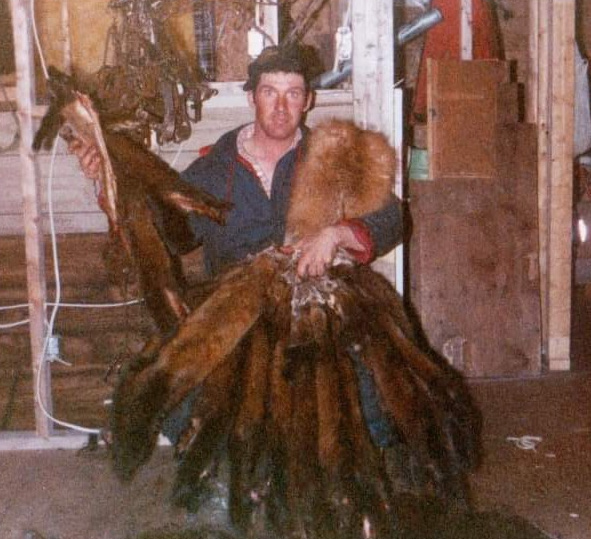 Learning said her dad was her biggest supporter.
"I think, being his first-born daughter, he had me on a pedestal, and he expected so much more of me — even with a disability ... There was no such thing as staying in bed all day and, you know, self-pity and wallowing," she said.
"I'm so thankful that he was my dad. Because of him, I am strong enough to live this life. And I just want to make him proud."
Learning said she has memories of her father getting up every morning at the crack of dawn.
"You [could] smell eggs in the cast-iron frying pan," she reminisced. "[That's] another reason that I set the pace for [Royal]."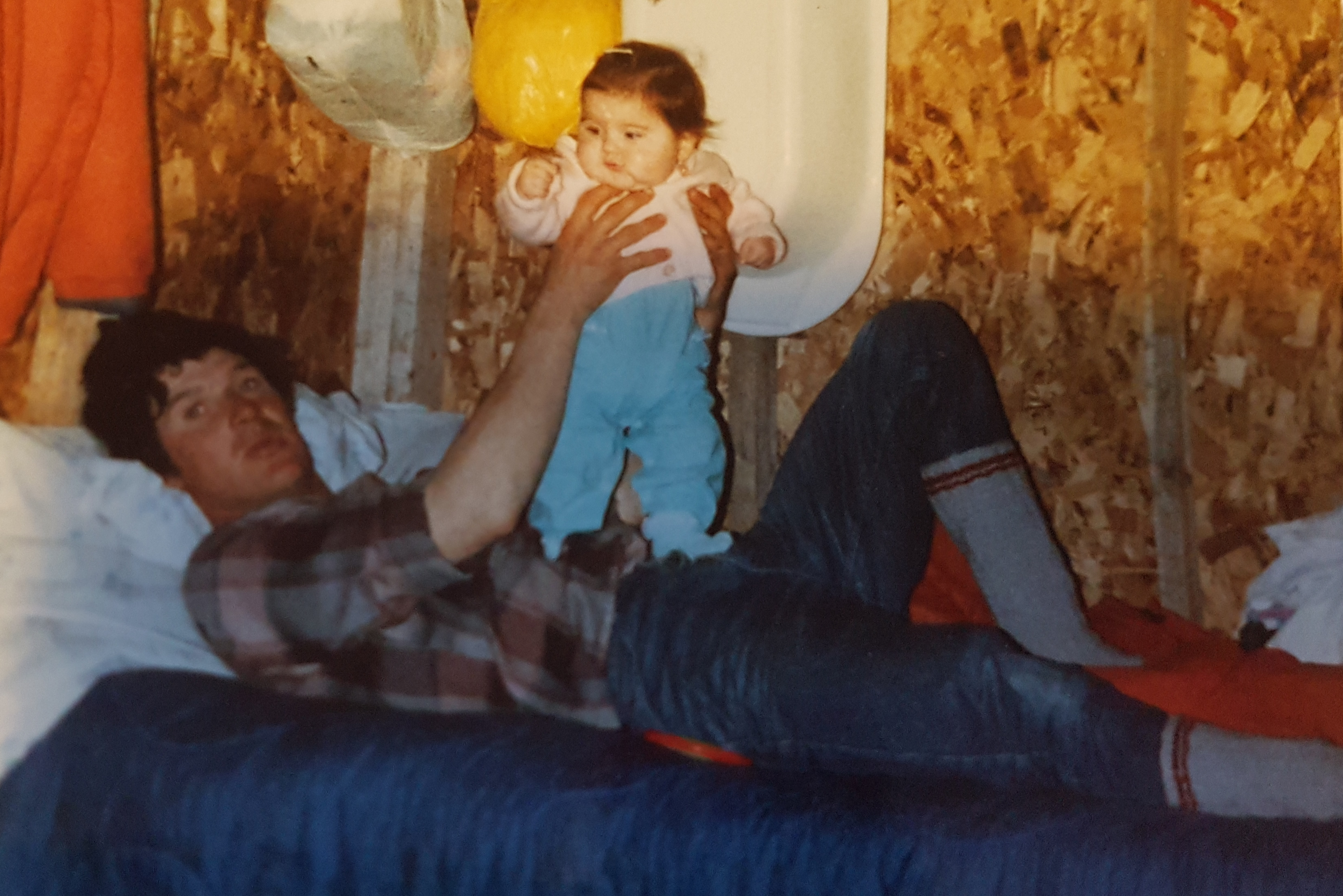 'Bright future ahead of us'
Learning bundles her daughter up in her snow pants and winter jacket, with help from her friend, as they prepare to head out for the day. They drop Royal off at daycare with the trays of cupcakes, and then head to class at Keyin College.
Even though it's a busy schedule, with full days, Learning's smile never fades.
"I'm really happy with where I'm to right now," she said.
"The past — it did happen, and it was a horrible illness that happened, and nobody should have to go through that. But it did happen, and I'm learning to move forward, and I think we have a really great, bright future ahead of us now."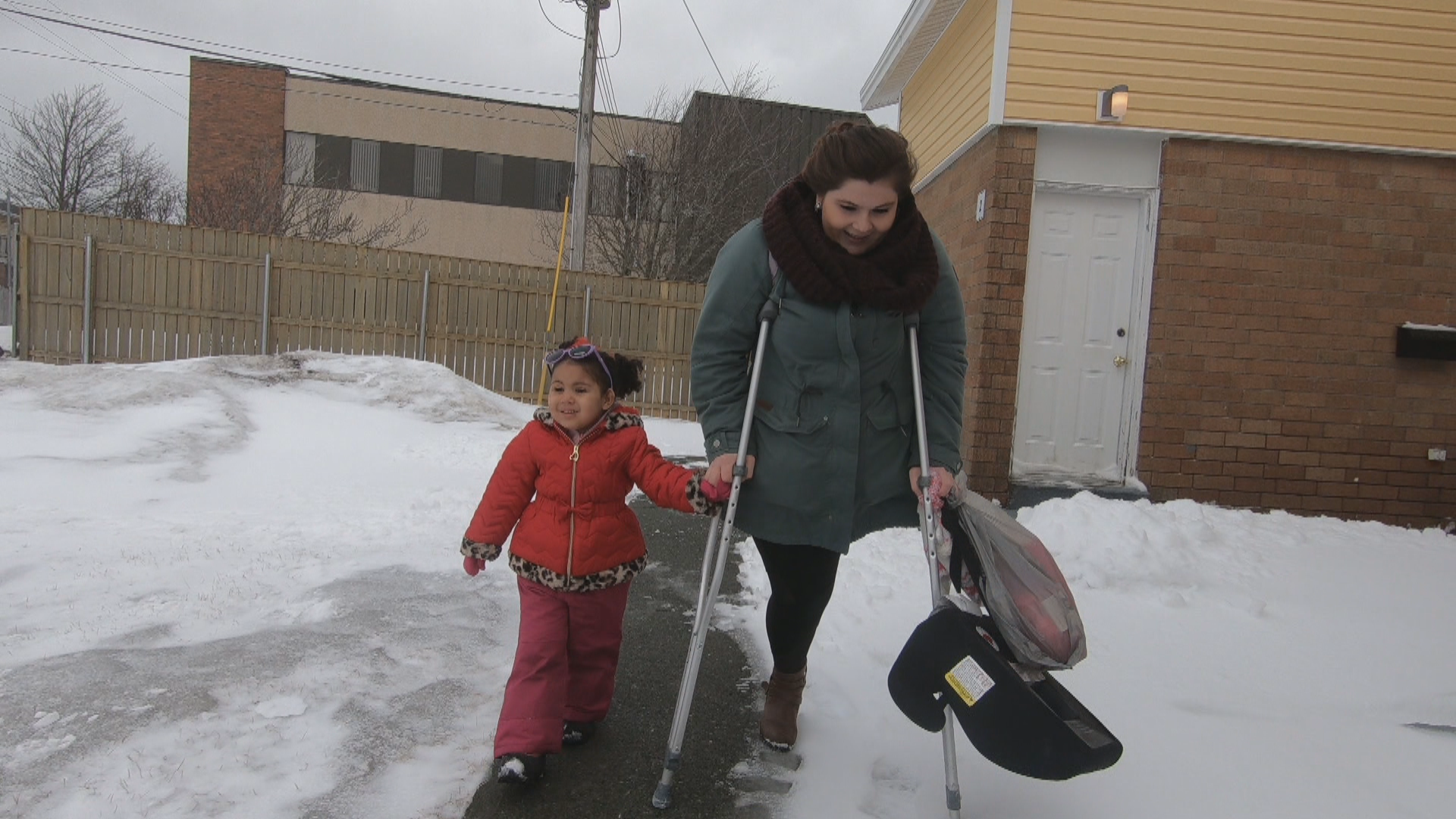 This Is My Story
This Is My Story is a special series from CBC Newfoundland and Labrador, where we check back with people who have overcome some tremendous struggles in their lives.
Read other stories from this series: