The weekend before state elections in Virginia last November, opinion polls showed Democrats clinging to a slim point or two lead in the race for governor. It was assumed the Virginia result would hold deep meaning for the party's prospects elsewhere, and so 11th-hour decisions about how to close the campaign weighed especially heavily.

As precious time ticked away, the highest-profile Democrats in the race converged on the state capital for a final appearance together on the stage at Richmond's National Theatre. They were the featured guests of Pod Save America, a political podcast that tours the country and seems to sell out wherever it goes.
Democratic strategists all over the country have figured out that Pod Save America is like chocolate truffles to the base — it gives them a political sugar high and is an unbeatable get-out-the-vote tool.
The show "keeps that base heated up, contributing and volunteering," said Democrat Joe Trippi, a minor legend as a pioneer of social media tactics during Howard Dean's 2004 presidential campaign.
The pith of the podcast is a handful of young Obama White House vets sitting around talking to each other. The core of the group is Jon Favreau and Jon Lovett, two former speechwriters for Obama, former senior advisor Dan Pfeiffer and Tommy Vietor, a former national security spokesman. They're smart, they're funny. They wisecrack about the latest political news, ridicule Republicans, talk seriously about issues and encourage the audience to get involved in politics.
Normally, the show opens with a merciless mockery of Donald Trump, but on that night in November, almost the first words spoken were: "Is everyone here registered to vote?"
These are tricky political times. The country is divided into cultural and political tribes.
Then Lovett ripped into the Democrat's opponent, Republican candidate for governor Ed Gillespie. "Now, for a game we call Ed Gillespie's a Scummy D.C. Lobbyist Hellbent on Handing Virginia Over to Corporations and Donors Who Will Turn Virginia's Workers into Powerless, Interchangeable Servants…"
The audience hooted, hollered and squealed, and the show was underway.
Thirty-six hours after Pod Save America stirred up Richmond Democrats, the party not only won the governor's office by a whopping nine points, it fell just a single vote short of taking control of the Virginia House of Delegates for the first time in a generation. Democrats had flipped more Republican seats than in any election since 1972.
It was a watershed night for the party as they also took local seats from Republicans in Pennsylvania, Michigan, New Hampshire and elsewhere. After a string of special election disappointments a few months earlier, they'd finally scored some wins and begun to show signs that something important was happening among Democrats.
The creators of Pod Save America are perhaps the best-known activists in a revitalized progressive movement that came out of the 2016 election and inspired what's now described as the Blue Wave — a movement that includes groups such as Indivisible, #KnockEveryDoor, Swing Left, The Pussyhat Project and others.
The Pod Save America phenomenon is probably more an effect of the Blue Wave than a cause of it. It's the only overtly partisan political show ranked in the top-20 U.S. podcasts — so popular, in fact, that, ahead of the midterm elections in the fall, it will break into television with four specials on HBO.
None of this is a small thing in a year when voters could hand the House and the Senate back to Democrats and give them a powerful check against what they believe is the rogue presidency of Donald Trump.
But these are tricky political times. The country is divided into cultural and political tribes. Democrats see Trump so differently from how Republicans see him that they risk getting carried away by their certainty that everyone agrees he's a menace.
The excitement Democrats feel about the midterms might allow them to put off until 2020 the larger rifts between the progressive and establishment wings of the party that surfaced in the last election. But in gearing up for this November, they cannot brush aside the most bitter lesson of 2016: complacency and the temptation to prematurely count chickens.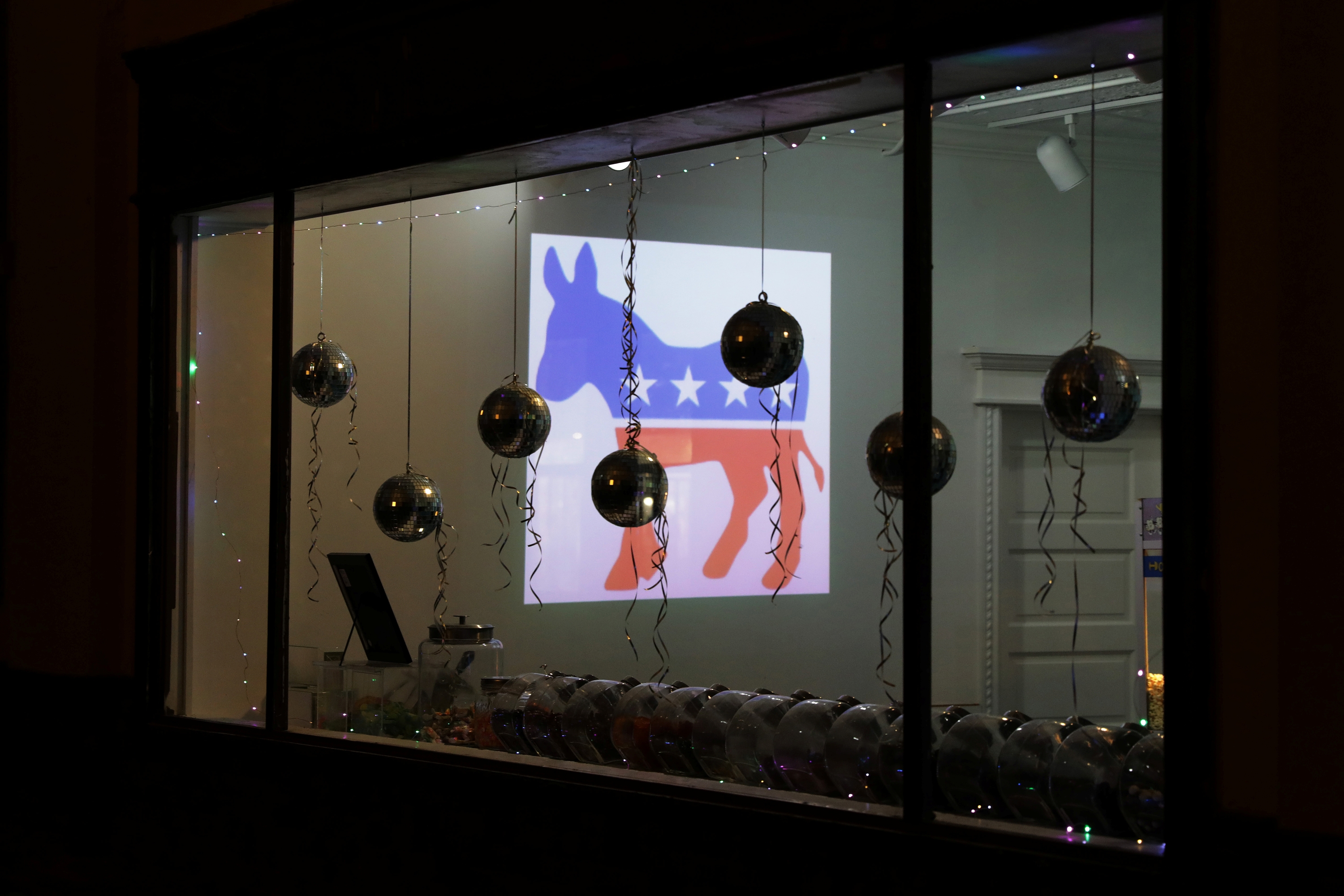 II.
The Blue Wave was born out of the shared experience of Democrats as they surveyed the smoking crater of their 2016 campaign.

Revisiting the emotions of that time, Tommy Vietor could be speaking for millions of people who marched in protest the day after Trump's inauguration.
"To sit there on Election Day and watch everything we thought we knew about politics get flipped on its head was devastating," he said. "I think we felt enormous guilt that we weren't part of the group of people trying to fix things. So this company [Crooked Media] was born, like, overnight."
"We're surprised by the popularity as much as anyone," said Favreau, and in fact its success has been remarkable. Pod Save America recently sold out events in London, Oslo and Stockholm, and it's one of several podcasts Crooked Media produces, including an international affairs show called Pod Save The World. On top of its HBO commitment, the company will soon debut a documentary-style podcast to investigate what Democrats need to do to improve the party's election readiness.
The hosts of Pod Save America are blessed with natural performance talents (Lovett was once a stand-up comic), but the gift they could only have guessed would land in their laps was the enormous, almost daily supply of lampoonable material coming from the White House.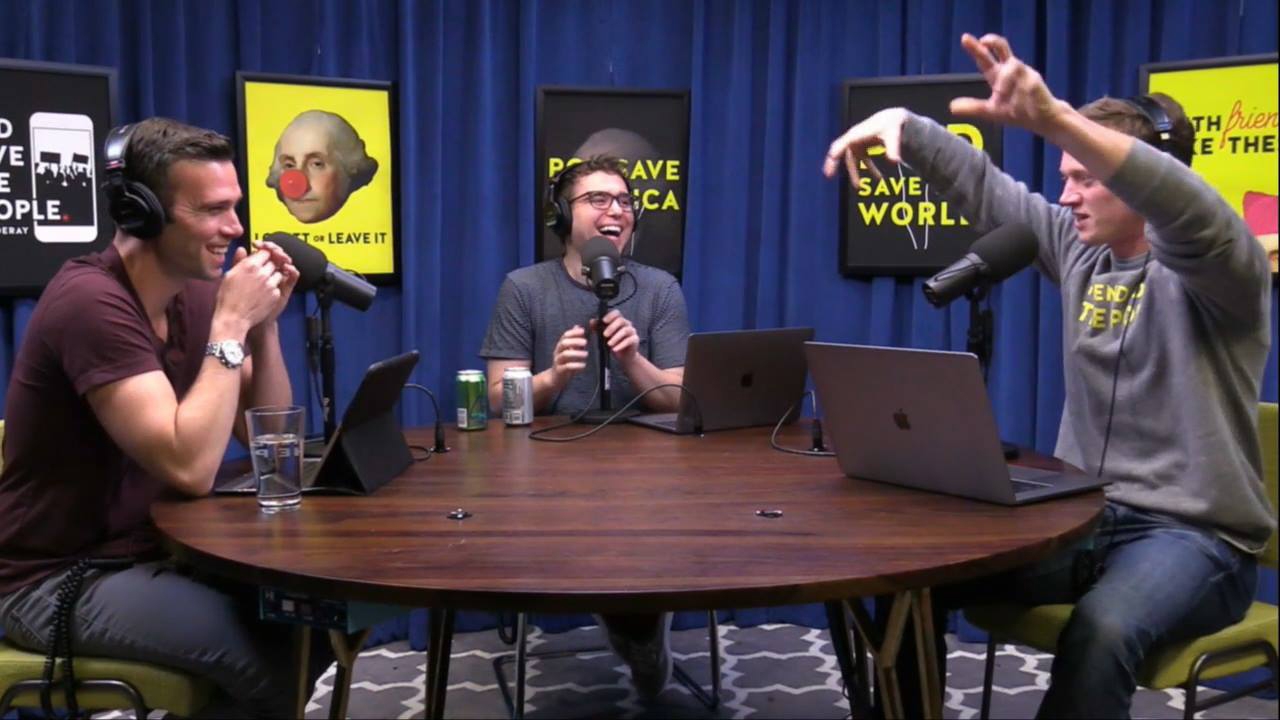 To be in the audience at a Pod Save America show is to laugh, cheer and revel in the megawatts of energy that Trump's presidency has sent jolting through tens of millions of Democratic voters. It is to be inside the Blue Wave.

At each performance, the audience is primed with video clips of Trump rallies. Every bit of red meat Trump tosses to his base feeds the Democratic base, too — though for the opposite reasons.
It's tempting, given how effective it's been so far, to keep hammering away at Trump. But energizing the base is not a dynamic political strategy. Most Americans already have a fixed idea of the president — they either believe he's making America great again or that his presidency is a five-alarm fire — so the hosts of Pod Save America aren't going to change many minds by going over that again and again.
Increasingly, Democratic operatives are telling Democratic candidates to avoid talking about the elephant in the room and talk about something else instead.
But what? Joe Trippi has some thoughts.
III.
"Don't fall in love with the meat" was the way Republican operative Mike Murphy used to put it when explaining how he kept his eye on the ball trying to win a campaign. The meat was the candidate.

You could say Joe Trippi is the opposite of Mike Murphy. For decades as a Democratic strategist, he's been the romantic idealist who falls for The One. When Trippi was running Howard Dean's 2004 presidential campaign, a GQ profile portrayed him as a sometimes joyful, sometimes angst-ridden, usually Diet Pepsi-fueled, wildly sentimental man who'd given "his entire life, his entire soul" over to Dean.
"He spoke to me," Trippi said, explaining how he flipped for Dean's message about the power of the people to take back the country. Dean's campaign ultimately foundered and failed in the early primaries, in part because of a primal yelp he let go at the end of a rally in Iowa. (It was ridiculed in the media as the "I Have a Scream" speech.)
Nevertheless, Trippi's particular gift is his keen ability to hear a message that cuts through all the noise and B.S. of politics and sticks in the head of a voter. So last year, Trippi offered himself to the Democrats' seemingly quixotic Alabama Senate campaign, because he believed in the candidate Doug Jones' diagnosis of what was ailing the people. Jones, a former federal prosecutor, saw the country as utterly blown out by the new and constant upheaval in its political life.
Jones said he stood for the civility and honour of compromise in politics and Trippi thought that might make a good message for a Democrat to take through a Republican state in Trumpian times.
"Republican women, younger Republicans and college-educated Republicans [were] expressing just exhaustion with the chaos that Trump emanates," says Trippi. "Some of them expressed this feeling of being tired, of always feeling that they're being on the edge of their seat. And so, you know, they just want to stop the chaos."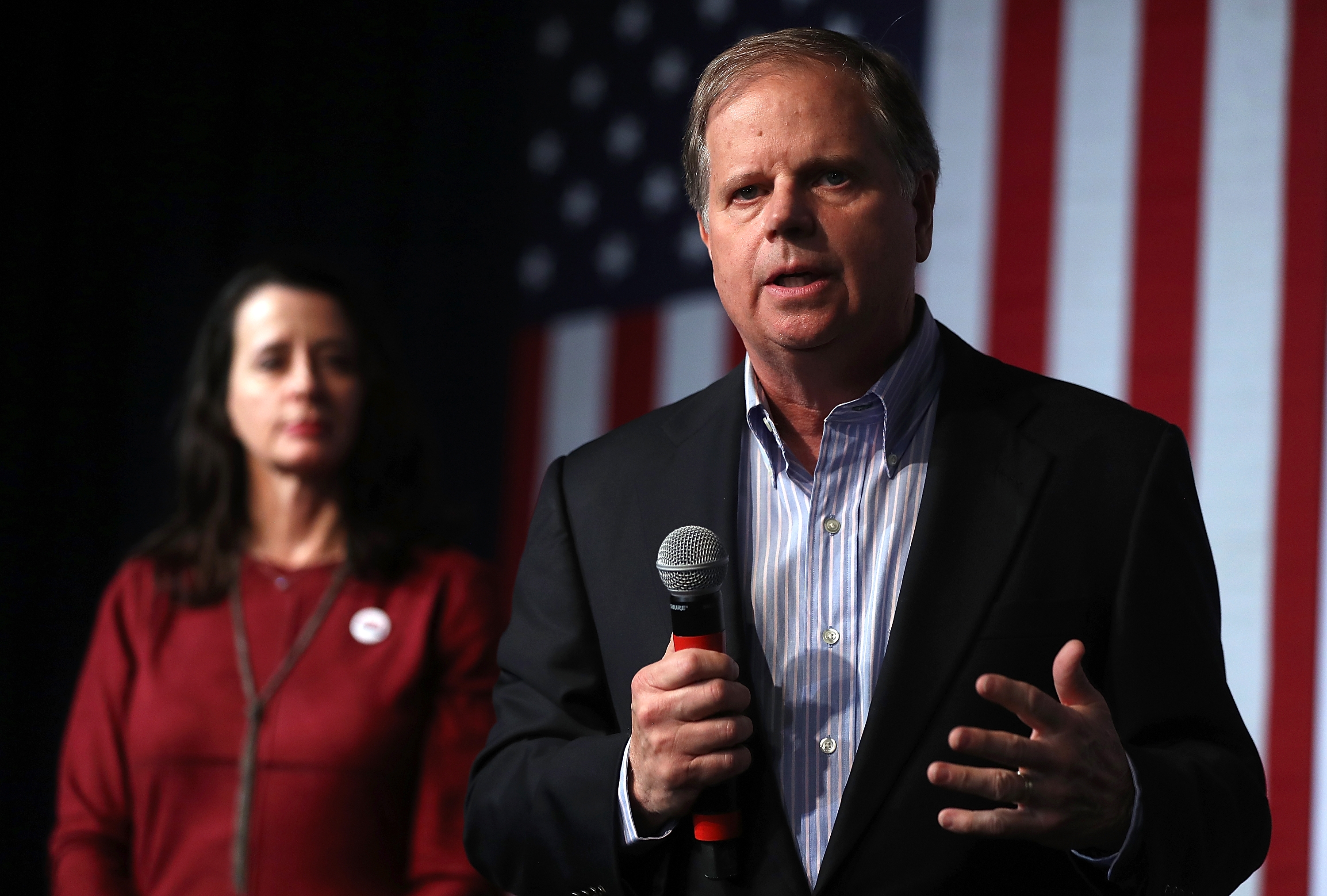 There are more Republicans in Alabama than there are Democrats, so figuring out how to get Republicans to vote for a Democrat was essential.

Jones adopted "common ground" as a campaign theme and told Republican voters that he'd work just as hard for them as he would for Democrats. By contrast, his Republican opponent, Roy Moore, was running as a Trump-like disrupter who would fight with Republicans as often as he would with Democrats. His campaign platform was for lower taxes and smaller government and against same-sex marriage and gays in the military.
Jones said Moore "will just contribute to the chaos."
The Jones strategy seemed to work. Although there wasn't much public polling during the race, Trippi's own internal data showed Jones and Moore in a virtual dead heat on Nov. 8, a little more than a month before the vote. It shouldn't have been that tight — Trump had won the state by nearly 30 points in 2016. But Jones was giving Moore a run for his money.
Then came the lesson.
On Nov. 9, the Washington Post reported that a number of women were accusing Moore of molesting them back when they were just teens and he was in his thirties.
The conventional wisdom is that such allegations should have hurt Moore, but Trippi said that's not how it played out. Instead, Republicans seemed to pull together behind Moore.
"Why? Because their Republican candidate was under attack. From who? The Washington Post, the Washington elite," Trippi said. "In this kind of tribal state that we're in right now with our politics, a lot of the things that you normally go, 'Oh gosh, he's finished. I mean, who's gonna vote for that guy?' — it's not how it worked."
A CBS/YouGov poll of Alabama Republicans 10 days before the vote showed they overwhelmingly (71 per cent) disbelieved Moore's accusers. Trippi's data showed Moore inching ahead in the race. The allegations "actually made them start to defend him and think about voting for him again."
It was a lesson in how tribal politics works. While the entire Democratic strategy had been to "detribalize" the race and draw Republicans out, the Moore story was "retribalizing" the race and driving Republicans back to their traditional home, said Trippi.
Jones continued to speak about what he called "kitchen table issues" — health care, the economy, crime and justice — and to harp on Moore's record as a "chaos candidate." Jones didn't pivot to the allegations the women had made against Moore. The night before the election, Trippi's numbers showed Jones had moved back into a tie with Moore.
The next day, Jones became the first Democrat to win a Senate election in Alabama since 1992.
The national media hadn't really given Jones much chance of winning because Alabama was Alabama, after all — how could he? When he did win, it was largely shrugged off as a consequence of the Washington Post story.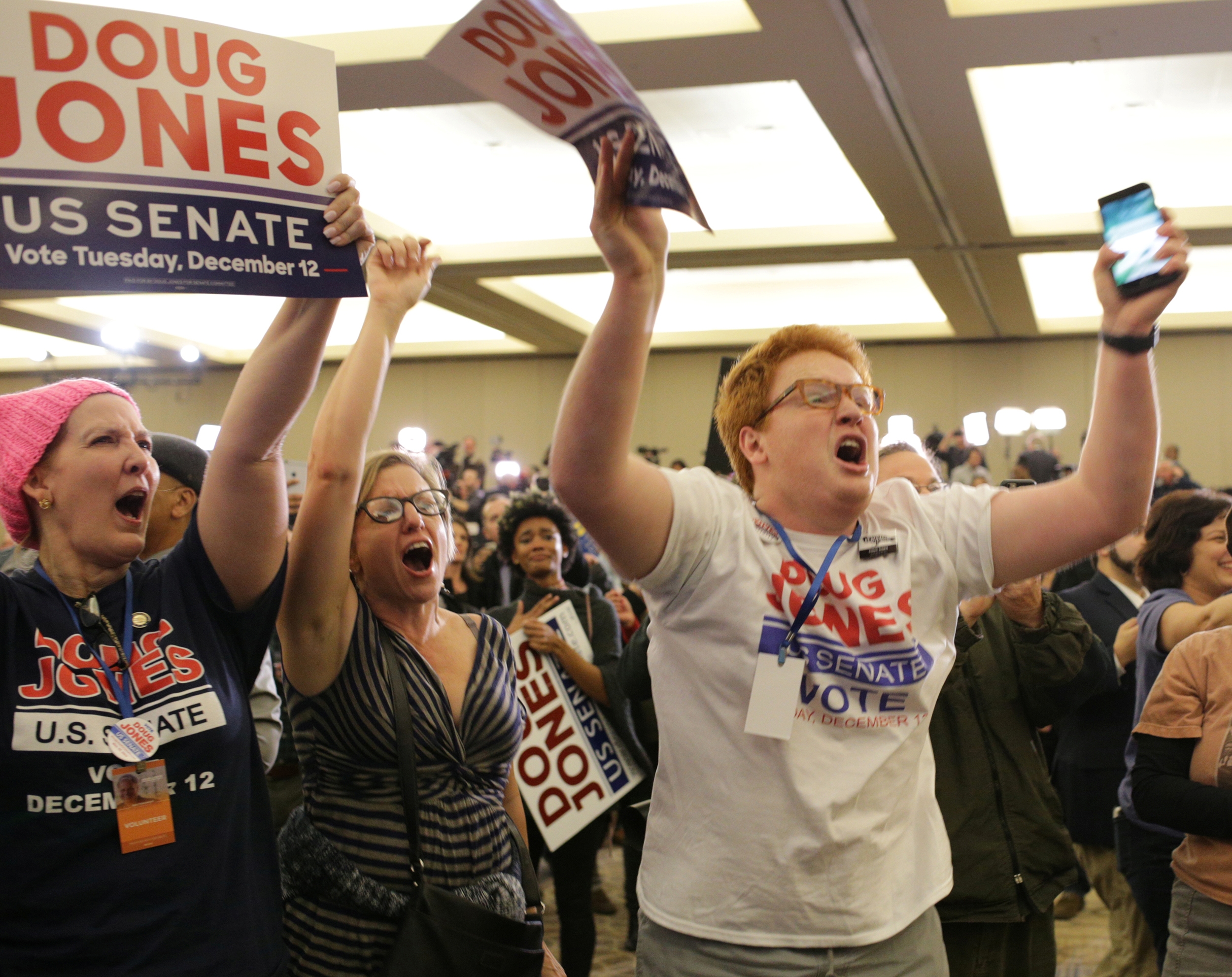 In fact, there were lots of more important reasons why Jones won. He was a good candidate with an unthreatening message and an energized base that turned out in numbers more typical of a presidential election than a special election. He was against a candidate who'd been well known for many years — long before the child molestation allegations — for courting controversy. Even voters outside Alabama knew that Moore placed his religious views above the constitution, and for that reason had been kicked off the Alabama Supreme Court — twice.

Whether Alabama would elect a Democrat to the Senate under different circumstances is a question for another time, but Trippi believes the Jones election showed Democrats a strategy they can transfer to the midterms. Namely, they should understand that even voters who support Trump are tired of the chaos he's brought and tired of politics taking up so much space in their day-to-day lives.
The key to the midterm elections, Trippi said, is to be clear about who is going to add to the chaos and who is going to work with the other side to get things done.
"If the people are deciding on that," said Trippi, Democrats are "going to win a bunch of seats."
IV.
Where the fiery anti-Trumpism of Pod Save America intersects with the soothing, common-ground approach of Doug Jones, you'll find Archie Parnell.

The Sumter, S.C., tax law professor is modest and well-mannered with a penchant for self-mockery — the type of guy who seems not to take himself or life too seriously. But he was aghast at the election of Trump — just couldn't believe that someone with Trump's attitude toward immigrants and disrespect of women could be his president.
When Parnell's Congressman, Mick Mulvaney, stepped down to join the Trump administration as budget director, it triggered a special election in the district. Right away, Parnell scooted over to the home of his next-door neighbor, Steve Creech, and told him to take a shot at it.
"I said, 'Steve, you need to be in the race," said Parnell. "It needs to be a Democrat in there."
Creech, who had been mayor of Sumter, had a different idea. "He said, 'Archie, you should do it,'" Parnell remembered, "and we had this big laugh. We thought that was the funniest thing."
You can probably guess where this is going. Archie told his wife, Sarah, what Creech had said. They talked it over and the next thing you know it's, "Why not?" said Parnell. "I mean, things are going wrong. We need to do this. We have to do this. We have to step up. And so we jumped in."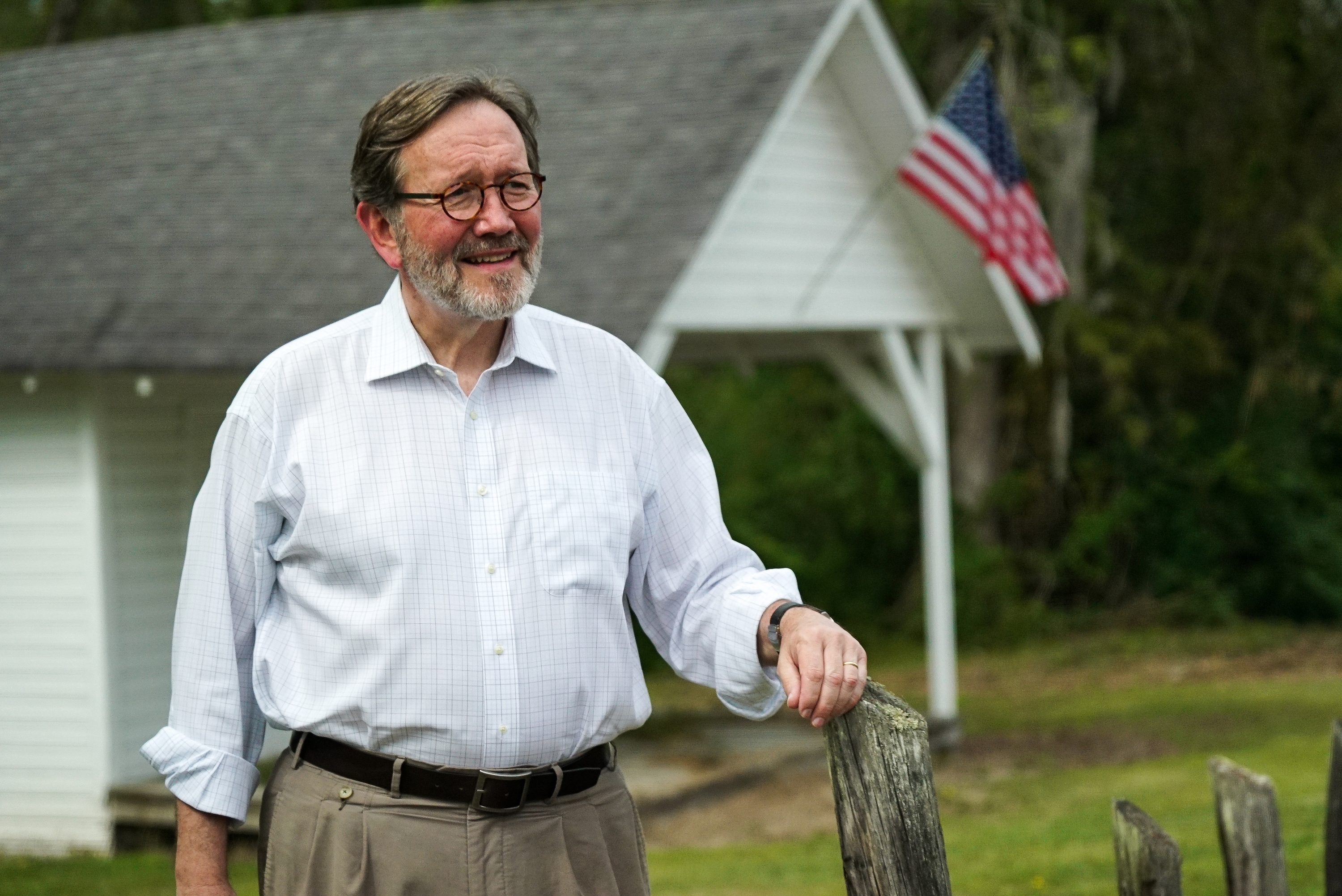 The special election was on June 20, 2017, the same day as a special election in neighbouring Georgia. Inadvertently, the races would be a test of two different strategies.

The Democrat in the Georgia election, Jon Ossoff, got national attention as D.C. Democrats pumped up the race as a referendum on Trump and claimed Ossoff had a real chance of flipping the red seat to blue. They raised money across the country and spent $30 million, more than anyone ever had in a congressional race. And Ossoff lost.
Meanwhile in South Carolina, Parnell got almost no national attention, even from the D.C. Democratic machine. He made some quirky, funny videos, including a spoof of the Netflix show House of Cards that began with him deadpanning, "I'm Archie Parnell. I know enough about our U.S. tax code to bore you to tears." Translation: Not a chaos candidate.
Parnell spent about a half a million dollars — one-sixtieth of what Democrats put into the Georgia race — and almost flipped the red seat to blue. It was the Democrats' most pleasant surprise that June evening.
In fact, Parnell came to symbolize the Blue Wave. In spite of his defeat, his low-budget efforts proved that Democratic voters were itching to go to the polls, even in Trump country, and strike back.
Parnell had figured out that the key was to keep his campaign local; he was all about what works for South Carolina. "It's not about Donald Trump. If there are issues that we can agree with Donald Trump, we will agree with him," he said.
It was the same insight that Trippi and Jones had in Alabama: Reach out to Republicans, don't drive them back into their tribe.
Parnell is giving it another try in November's midterms. Between now and then, he's out almost every day talking to voters about local issues.
Republicans apparently believe that Democrats are onto something, because they're trying to knock them off it. They're appealing to the tribalism of their base by saying that if Democrats win the House, they'll impeach the president.  
No less than Charles Cook, publisher of the Cook Political Report, a highly regarded newsletter about Congressional politics and elections, thinks it might be one of the best ways GOP candidates can motivate Republican voters.
"To the extent that the Left pushes impeachment and Republicans can amplify that threat to Republicans, we could see the energy levels of the two sides come into balance, something that can make a real difference," Cook wrote in his newsletter.
It's a good reminder that the Blue Wave's success is not inevitable.
V.
For those inside the wave, the future can look like a smooth sail toward the midterms.

At the Majestic Theatre in Dallas in March, a sellout crowd became giddy when the house lights dimmed to signal the beginning of another Pod Save America show. Excitement built in the darkness as a swinging drum beat pounded from loudspeakers, a synthesizer mimicked a fife and drum march and rows of knees bounced to the rhythm.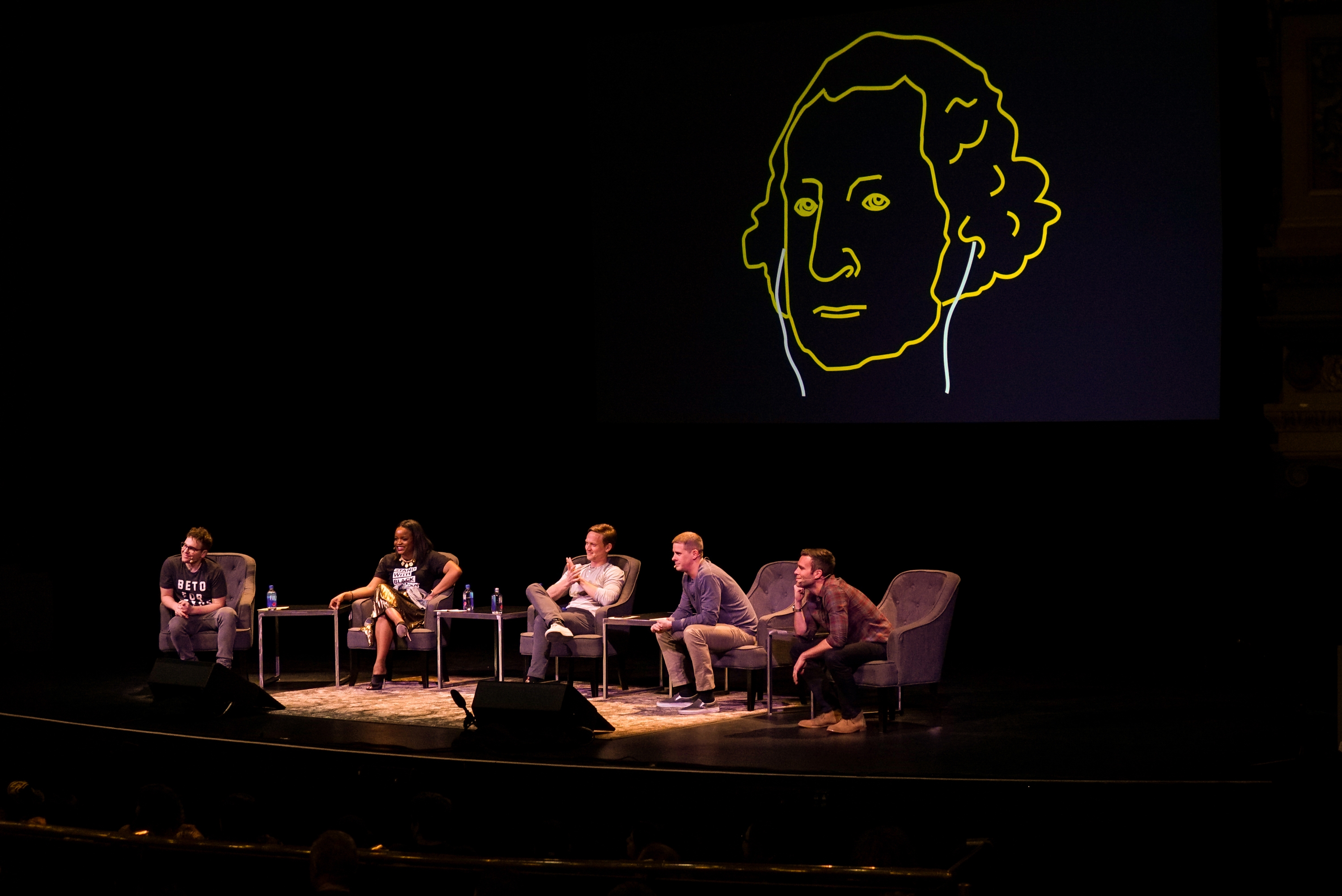 An enormous screen lit up with a sequence of video clips — Trump, portly and golfing; Doug Jones celebrating his Senate victory; Trump in a cringe-worthy grip-and-grin with Russian President Vladimir Putin; and so on.

It was all great fun for the partisan crowd, but it would have been easy for them to fall into thinking that all they can see is all that there is. In fact, the audience was no less tribal than the audience at a Trump rally.
Pod Save America knows that, too. In spite of how they fill every single episode of their show, they agree that vilifying Trump is not a strategy.
"We try to balance out," said Favreau backstage. "We'll do our funny, look-at-the-crazy-shit-Donald-Trump-said-this-week segment because that's fun, and that gets the entertainment, and that's what's on people's minds. But then we always want to make sure that we move on to an issue or some action that people can take to change things."
"There's a difference between us as podcast hosts and us if we were advising a candidate," he said. "If I was advising a candidate even in the bluest of states, the bluest of districts, I would tell that candidate, 'Don't spend all your time talking about Donald Trump. Don't even spend much time talking about Donald Trump.'"
Democrats have done very well in the special elections largely because of turnout. They've stood in the wind and rain to vote in Virginia and showed up at the polls in Alabama when the opinion polls and the pundits said they couldn't win. That is the Blue Wave effect.
But it's typically Republicans who have a turnout edge in the midterms because they have some historic advantages.
When they took the House in 1994, they ended a 40-year stretch of Democratic majorities. Since then, Democrats have held the House for only six of the last 24 years, so something fundamental appears to have changed.
Part of the explanation is that the drift of older white voters to the Republican Party has given the GOP the advantage in midterms. Minorities are just not as reliable as older white voters when it comes to voting in non-presidential elections.  
Democrats might be riding a blue wave now, but the fact they haven't run into a red wave yet doesn't mean there isn't one out there somewhere, lurking.
* After this piece was published, CBC learned of a story published in the Post and Courier in South Carolina on May 21 that revealed Archie Parnell had physically abused his ex-wife in 1973. Parnell subsequently acknowledged the incident. Democrats have urged him to back out of the congressional race.