A Saskatchewan man who promoted "traditional" family values as a candidate for the People's Party of Canada and has been an outspoken critic of COVID-19 lockdown measures helps manage a massage parlour network that offers "sexual encounters," a CBC investigation has learned.
Trevor Wowk's business came to CBC's attention earlier this year through a tip from a contractor working on Wowk's Regina home, who said he helped install several massage rooms and a sauna.
When a CBC reporter did an undercover inquiry for services available at Wowk's business, he was offered sex by Wowk's wife, who works in a massage parlour located in his own home. His wife is a Chinese national currently seeking immigration through the family sponsorship program.
The 59-year-old businessman says the massage workers he works with are qualified to offer traditional Chinese medicine techniques, and he rejects the notion that prostitution is involved — though he admits he can't be certain.
"I'm not in the room. I don't have cameras in the rooms. I can neither prove if they do or if they don't," he told CBC in an interview. "What they do behind their closed doors of their massage clinic is up to them." Wowk said he does advise the massage parlour workers that having sex with clients "could risk their licence and registration."
"There's a stigma attached to these businesses in town and people don't like it. So I don't flaunt it."
In the 2019 federal election, Wowk ran in the riding of Regina Lewvan as an anti-abortion, pro-family values candidate for the People's Party of Canada. His candidacy was given a perfect score by the Campaign Life Coalition, a prominent anti-abortion organization.
In March 2020, Wowk formed his own political group, the Prairie Conservative Association (PCA). He told CBC the Freedom Alliance, a group fighting government COVID-19 measures, is a sub-committee of the PCA.
The Freedom Alliance made national news in January when it protested government masking and lockdown measures by demonstrating outside the home of Saskatchewan's chief medical health officer. Saskatchewan Premier Scott Moe called the protesters "a group of idiots," but Wowk said the stunt was "wildly successful."
In Wowk's public campaigning, CBC was unable to find any mention of his role in the massage parlour network. He said that's by design.
"There's a stigma attached to these businesses in town and people don't like it. So I don't flaunt it," Wowk said. "I'm sure anybody half-sane would understand why I keep that pretty low-profile."
Despite that, he said his activities have earned him some unwelcome attention from police and health officials.
"Every few weeks they're showing up. They basically trespass. They come in and they try to intimidate me," Wowk said. "Whether it's because of my Freedom Alliance activities, my political activities, my massage business, I am targeted by the new-age Gestapo."
Regina has been moving to regulate "body rub establishments" and Wowk said the massage parlour in his home and the 11 others he helps manage are being targeted because city officials have wrongly deemed them to be "prostitution dens."
At the end of April, a new bylaw kicked in that could force these businesses to move to industrial parts of the city and comply with a host of new rules.
Wowk said the city's bylaw is based on misinformation and he has fought the new rules by making presentations to city council.
"They spent three years going through hearings and public hearings and creating a bylaw for a problem that doesn't exist in Regina," said Wowk. "There's no young girls being traded into sexual slavery. There's no blatant prostitution going on."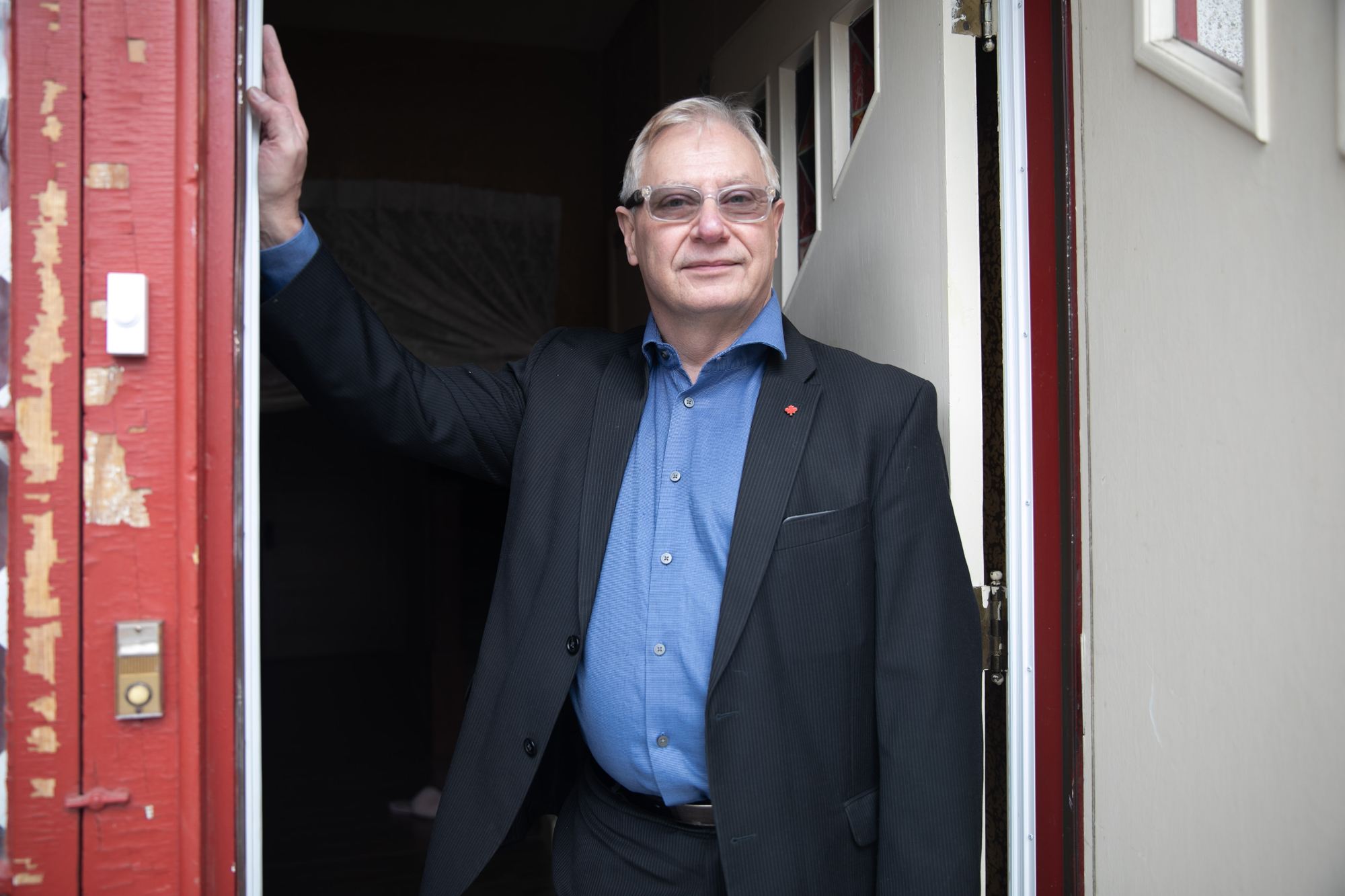 Wowk claims he provides management services to 80 massage parlours located in Saskatchewan, Alberta, Manitoba and Ontario. He said he's working with 12 in Regina alone.
He said he does their advertising, negotiates agreements, interacts with government officials and does any other work that requires English-language proficiency. Wowk notes that most of the clinics are owned or run by Mandarin speakers.
CBC has only been able to verify his connection to four massage parlours, all in Regina: two on Toronto St., one on Lorne St. and one on Victoria Ave., where he lives. Wowk refused to provide the names or locations of any other facilities he's connected to.
When asked how his massage business fit with his promotion of so-called Judeo-Christian values, Wowk had a ready answer.
"You name me one Bible passage that says there's any prohibition against massages. They don't exist," he said. He pointed out that "there are multiple passages that talk about prostitutes helping Jesus and the disciples," but said that prostitution is neither forbidden in the Bible nor in Canadian law.
While it is legal to sell sex in Canada, it is illegal to buy or advertise sexual services. It's also against the law to live on the material benefits derived from sex work.
'Just an honest businessman'
Wowk, who is originally from Manitoba, has led a life filled with drama.
CBC has learned the businessman filed for bankruptcy in 1990 and again in 2004. The second time, he declared he had debts of almost $500,000 and assets of $500.
Wowk gained notoriety in Manitoba in 2004 after pleading guilty to one count of evading provincial sales tax through his computer and telephone consulting business, TKW Communications. He was assessed an $80,000 fine, which the Winnipeg Sun reported was "the largest ever levied in Manitoba" at that time.
In a sworn affidavit filed in the Manitoba Court of Queen's Bench in a contemporaneous lawsuit, one of Wowk's former employees, Daniel Jung, described a March 2003 meeting of TKW's management team.
Jung swore that in the meeting Wowk admitted he hadn't paid any provincial sales tax to the Manitoba government since the company was founded in 2000, and that because TKW "was registered as a home office at an employee's address with one employee, [Wowk said] an investigation into the unpaid tax liability would be unlikely."
"He also stated that he would destroy all documents long before any auditors came in," Jung said.
"My integrity is unimpeachable and I have a distinct inability to lie."
Wowk counters that that's a lie, insisting he's "just an honest businessman who got shafted by his business partners."
While Wowk was campaigning as a candidate for the People's Party of Canada in the 2019 election, Regina radio station CJME asked him why people should vote for him. He replied, "my integrity is unimpeachable and I have a distinct inability to lie."
Wowk ran on a platform that included eliminating the carbon tax, restricting trade with China and other countries that don't share Canada's "traditional Western values" and reducing the number of immigrants that come in through the family reunification program.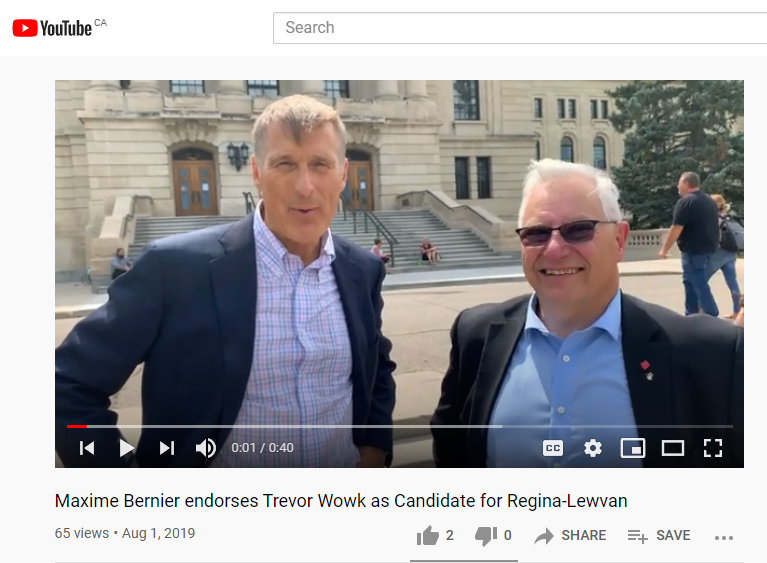 He lost the campaign, receiving about one per cent of the vote.
In a letter dated Jan. 15, 2021, the PPC removed Wowk as a "member in good standing" after investigating a series of complaints about him and concluding he had "demonstrated a consistent pattern of poor judgement."
Wowk, who posted the letter on his Facebook page, says the party never specified what he was alleged to have done wrong.
After the 2019 federal election, he signed on as an organizer and candidate with the Progressive Conservative Party of Saskatchewan in January 2020, but that relationship quickly ended after a dispute over funding.
In March 2020, he formed his own political group, the Prairie Conservative Alliance (PCA), which supports federal, provincial and municipal candidates that sign on to the organization's statement of principles which are "founded on European Judeo-Christian beliefs that formed the cultural base for founding Canada." The PCA's Facebook page says those values include "freedom, respect, personal responsibility, and fairness."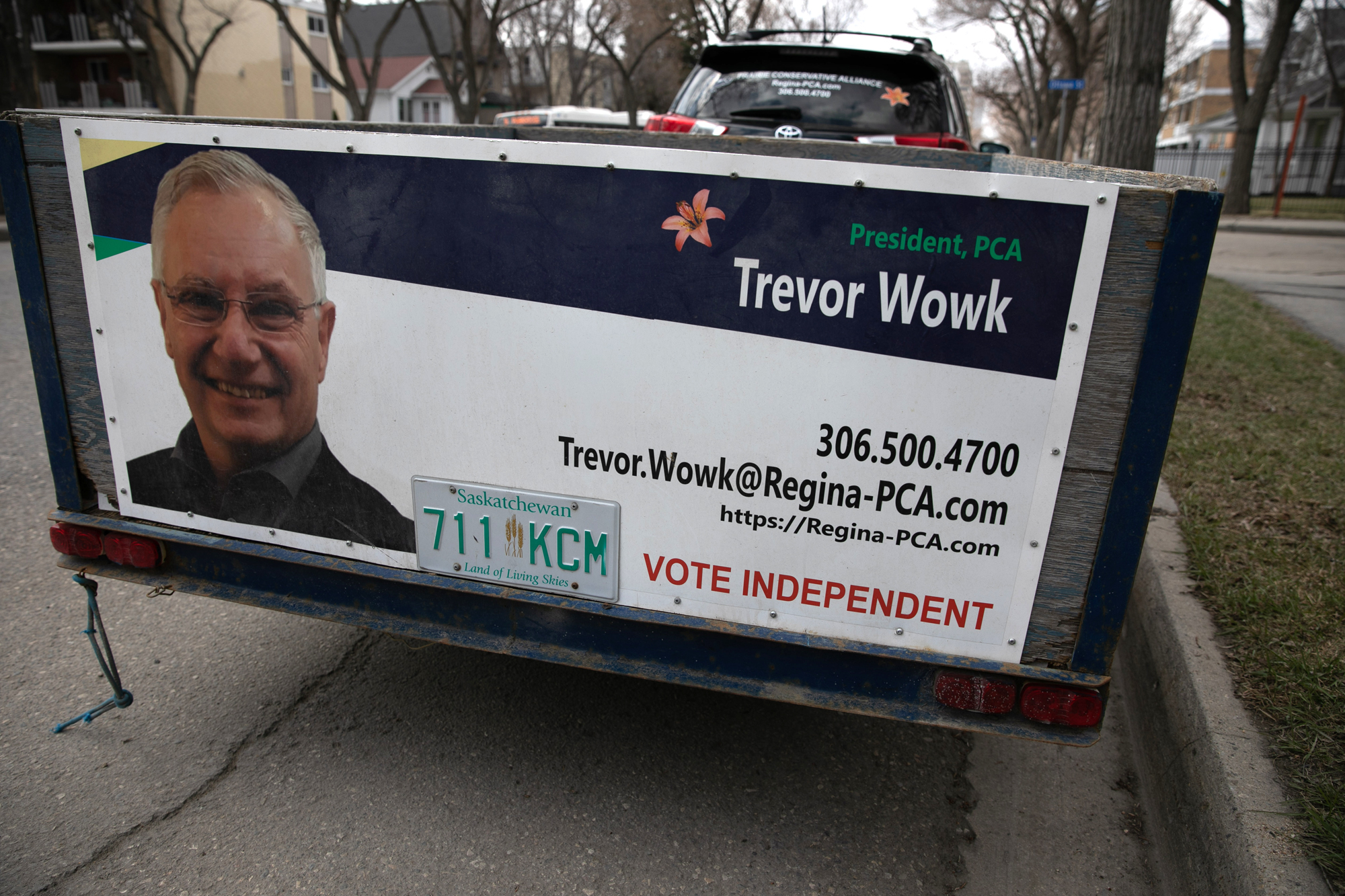 CBC received tip
Grant Procyk, who had been doing renovations on Wowk's Regina residence, said Wowk was running his conservative political organization in the same home that he was operating a massage parlour.
"That just kind of blew me away," Procyk said. "All happening in the same house. I thought that was pretty bizarre."
Procyk said he reached out to CBC after Wowk failed to fully pay him for the work. Wowk disputes the claim about payment.
Wowk, in turn, said the contractor had been spreading unfounded rumours about Wowk's marriage in 2020 to a Chinese national who's pursuing permanent residency. She lives with him and works in the home-based massage parlour.
"Folks spread it all over social media that I'm somehow illegally sponsoring my wife," said Wowk. "Not an iota of honesty in that... I can understand why people might have these thoughts. But they don't know me."
CBC asked Wowk for evidence that Procyk or anyone else had been spreading such rumours online. He didn't provide any.
Wowk insisted everything about their marriage is by the book. "We're a loving couple. We're hilarious together."
When CBC texted one of the massage parlours connected to Wowk asking about available services, the attendant replied, "Very good massage with condoms, [oral sex] and having sex."
An ad for a different clinic, featuring scantily clad women with their faces obscured, promoted an "ultimate massage" experience with a woman named Lily. The ad said she was "the most beautiful professional masseuse in Regina," who would provide "relaxation or professional Asian massage" and that she is a "trained acupressure massageologist."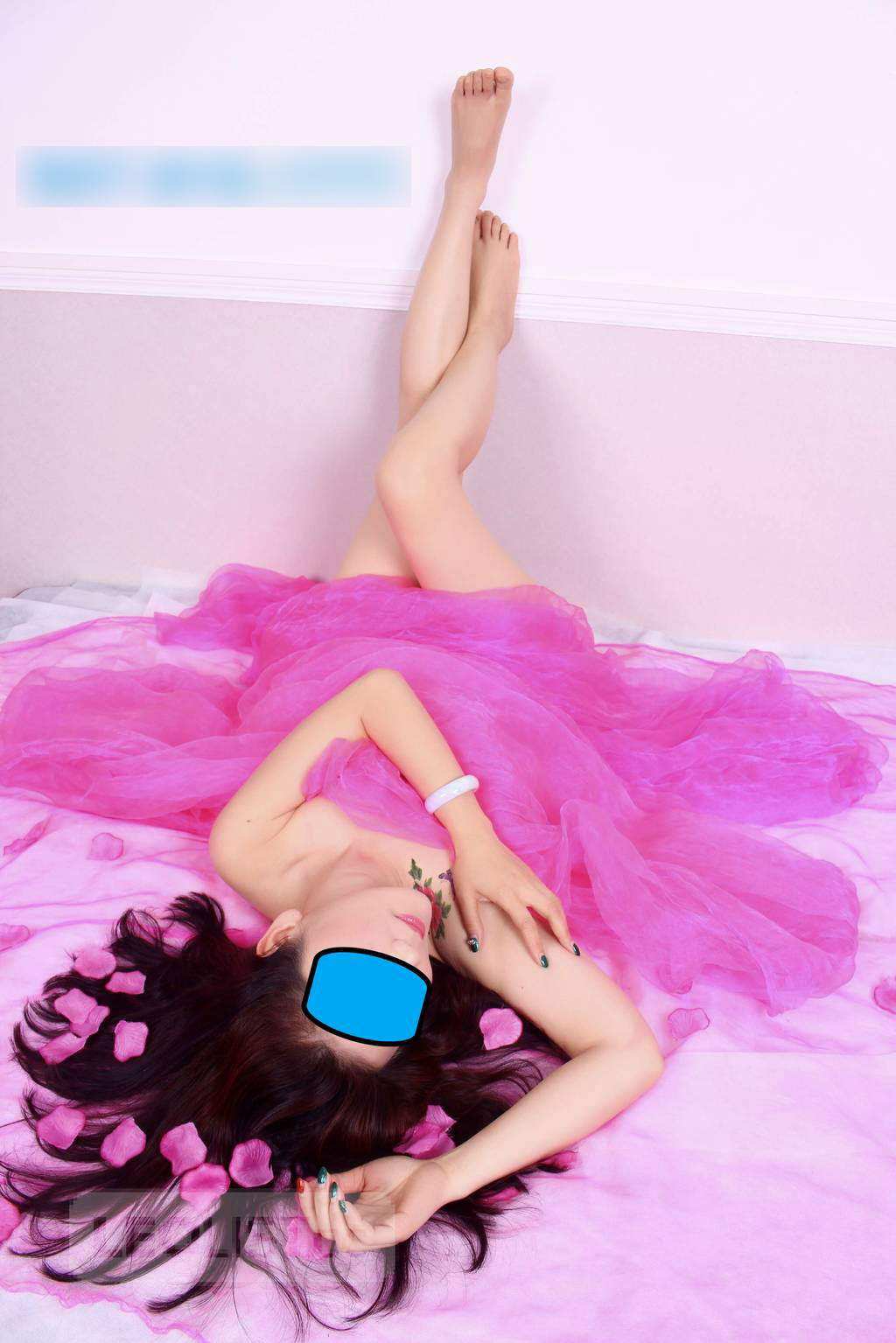 "Always leave relaxed and smiling," the ad promised. "Play safe. Have fun."
On April 8, an undercover CBC reporter texted Lily inquiring about her service.
"Honey, will you come to see me for a massage tonight," she texted back, providing CBC with Wowk's street address on Victoria Ave.
While the ad said the service would cost $60 plus tips for 45 minutes and $80 plus tips for an hour, the price went up during the text exchange with Lily. She said it was $200 for 45 minutes and $250 for an hour.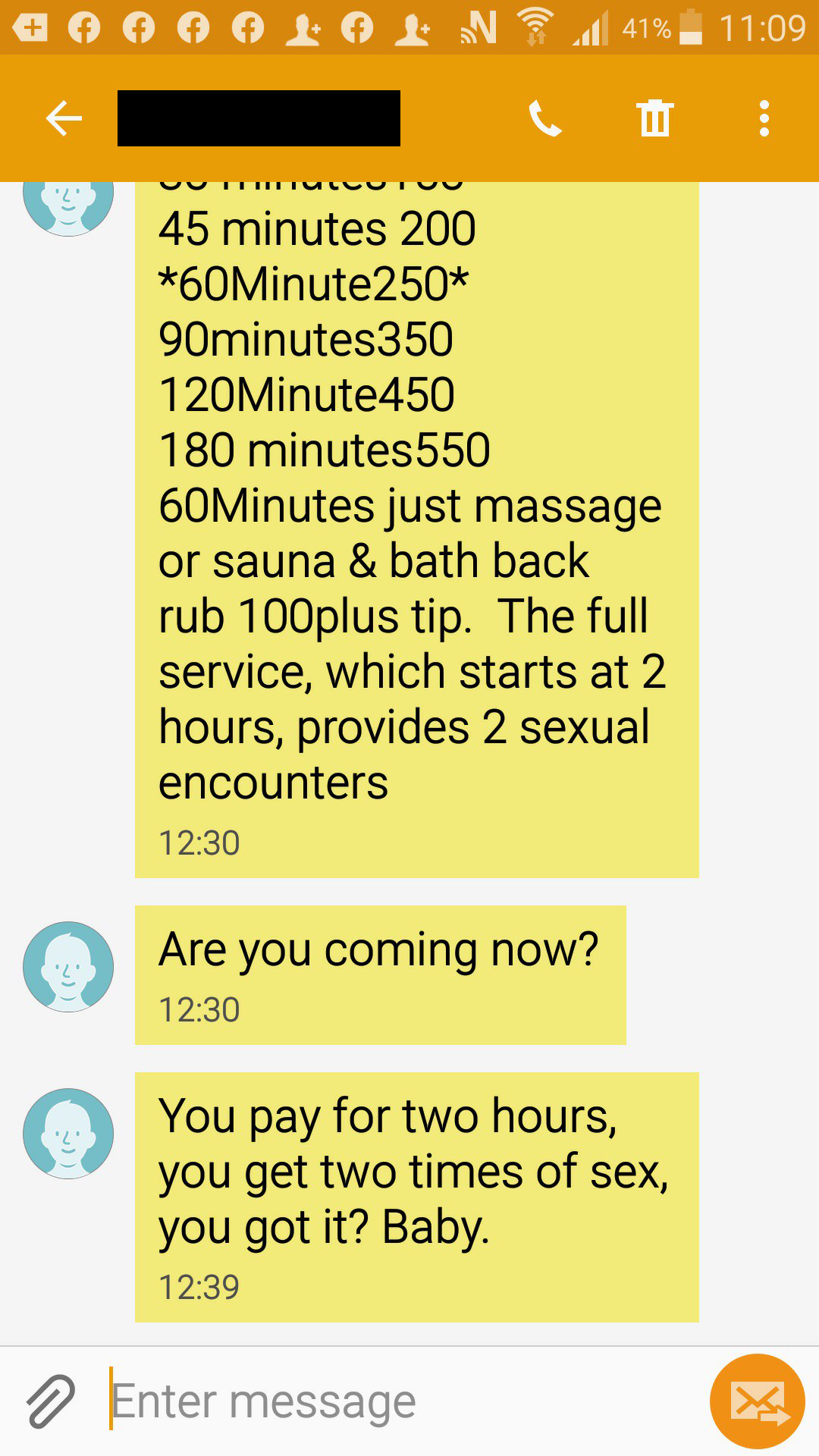 During the text exchange, she added that "the full service, which starts at 2 hours, provides 2 sexual encounters." She later clarified by saying, "you pay for two hours you get two times of sex, you got it? Baby [sic]."
CBC did not book an appointment.
While acknowledging that he runs a massage parlour in his home, Wowk said he prefers to call it a traditional Chinese medicine (or TCM) clinic. He said he provides management services to many others.
Wowk said the owners of the clinics he works with don't speak much English but emphasized they are well-educated.
"Every owner has university degrees and training to practise traditional Chinese medicine services," said Wowk of the Regina clinics.
"Marketing, she's Lily. As my wife, she's Judy."
When CBC asked Wowk who "Lily" was, he said, "Lily is my wife." CBC noted that on his personal Facebook page, Wowk calls his wife Judy.
"Marketing, she's Lily. As my wife, she's Judy," he said.
Wowk said he writes the advertisements for the facilities he represents, including the one in his home, and acknowledged he uses images of his wife.
"She is a very beautiful woman," he said.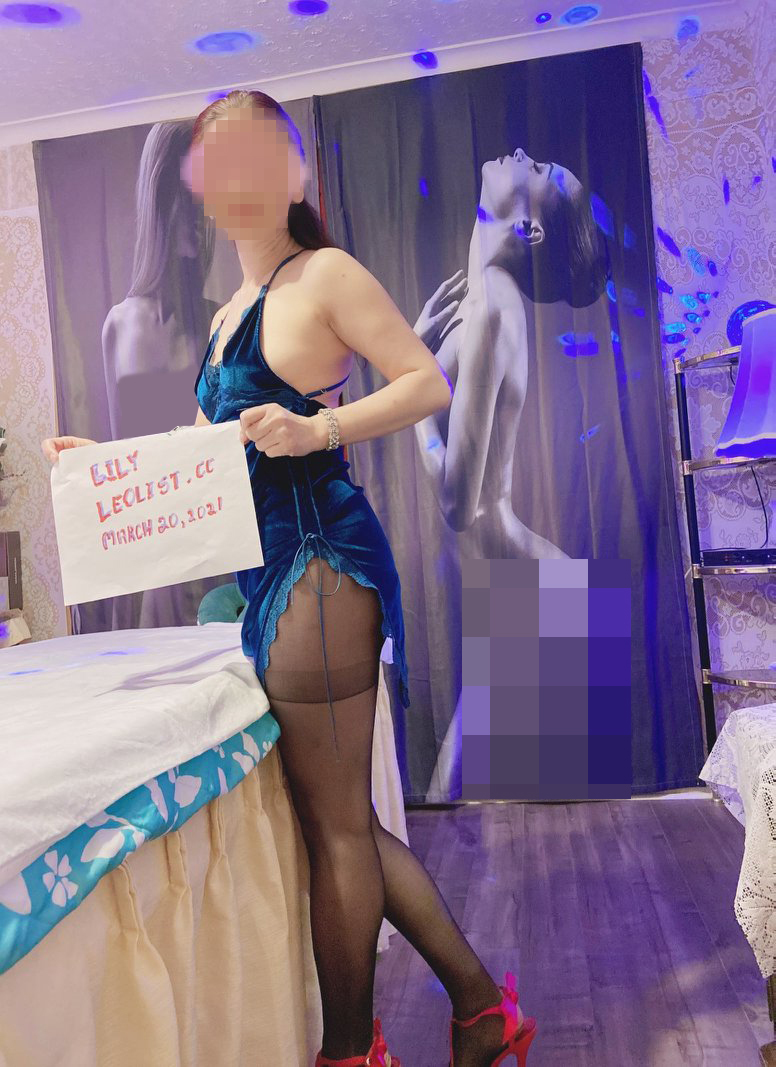 Wowk confirmed that the person the CBC reporter had been texting with was his wife, on her personal cellphone, and he agreed that she was offering sex for a price. But Wowk insisted this is just "bait and switch" advertising. In other words, she was falsely promising sex for cash.
"Don't confuse marketing for reality," said Wowk. "I can guarantee you my wife does not provide sexual services."
Wowk said his wife books appointments and welcomes guests to their home, in addition to modelling and texting with potential customers.
He said if the undercover reporter had arrived at his house, "Lily" would have answered the door. "She's the one in the advertisement. They meet the woman in the advertisement and she welcomes them to the area," he explained. "She would make sure you were comfortable, give you a glass of wine."
Then "we would bring in an attendant who would give you a massage" and nothing more, he said.
CBC asked Wowk how he was able to build a business based on deception, promising sex but failing to deliver.
"We don't seem to have any problem finding customers," he replied.
Questions about certification
During CBC's undercover conversation with Lily, she confirmed that she would provide a receipt for the massage for up to $80, which is the most that can be claimed through insurance for an hour service.
As proof, she texted a sample receipt with the customer's name blurred out.
The undercover reporter pointed out that Lily was planning to charge much more than $80 and asked if there was a way he would be able to claim that full amount.
She said that "each receipt can only be written $80, you can separate a few different dates, can also, OK [sic]?"
Wowk confirmed that clinics he's associated with offer receipts that enable clients to be reimbursed for their treatment from a wide range of Canadian health insurance companies.
"We're a registered, licensed, insurable TCM health practices clinic," he said. He said most of the workers at the 12 clinics he represents belong to the Massologists and Practitioners in Massage Association of Canada, based in Quebec.
'You're trying to persecute us. And I'm going to protect my wife from that.'
"It's essentially the same as the Massage Therapy Association of Saskatchewan," Wowk said. "They are a national registry for certified and trained professional health practitioners."
When CBC asked Wowk whether it was appropriate for his wife to be offering to write multiple receipts over different dates for a single service, he said it was a problem and that she shouldn't have made that offer.
The day after that interview, Lily's phone number was no longer featured in the ad.
"I repossessed her phone," Wowk said.
When CBC asked Wowk if he could arrange for an interview with his wife, he declined.
"You're trying to persecute us," he said. "And I'm going to protect my wife from that."
When CBC stopped by his home to ask her in person, she declined an interview.
After a series of interviews with CBC, Wowk removed Lily's name from the ads and is now promoting someone named Nana. He's also advertising for new "attendants" to work in the clinics.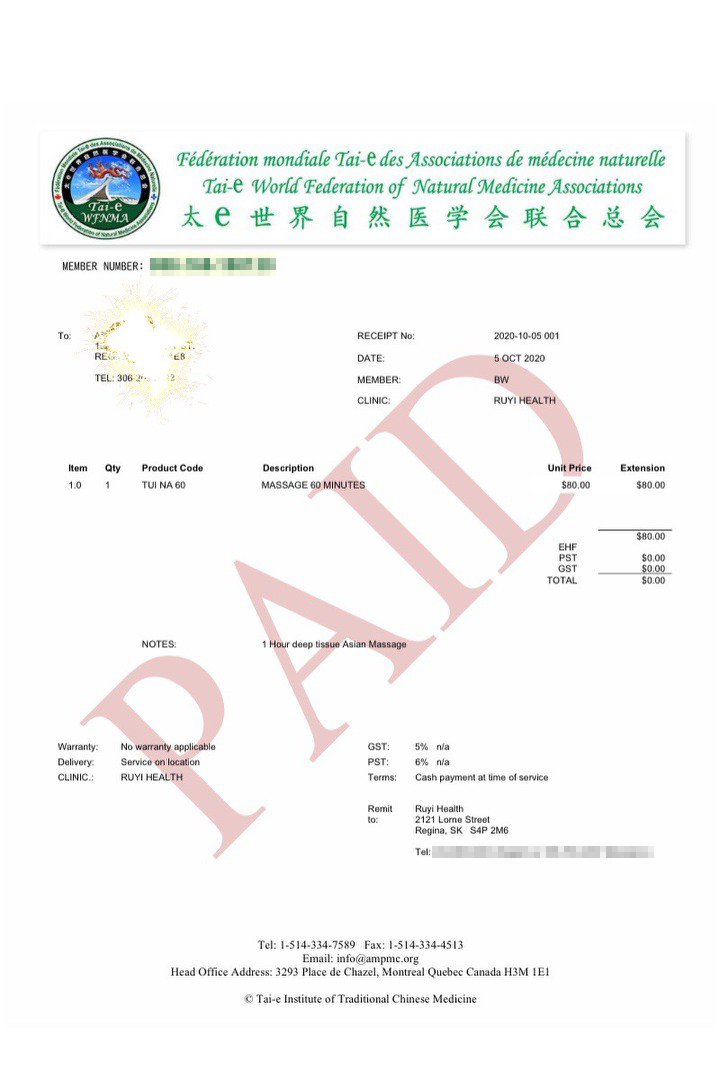 The receipt Lily provided to CBC had a membership number for the Massologists and Practitioners in Massage Association of Canada.
CBC reached out to the association to see if the membership was legitimate, sending a copy of the receipt and a description of the undercover conversation.
The association replied a couple of days later, saying it "strongly condemned" the actions of Wowk's massage parlour in issuing that receipt and called his clinic a "fraudulent receipt issuer."
The association said the membership number belonged to a woman named Baiping Wang, who runs a massage parlour elsewhere in Regina.
The clinic run by Wang, who goes by the name Mia, is part of the network that Wowk works with. Wowk described Mia as "one of my customers. She's a dear friend."
Mia told CBC she had no idea that Wowk was using her certification for his business.
"My association screamed at me at 3 a.m."
"He bluffed and deceived and even made a fake receipt with my massage licence," Mia said through an interpreter.
She said after the association received CBC's query, the president of the organization called her in the middle of the night, saying her membership in the association was at risk.
"My association screamed at me at 3 a.m.," Mia said, adding that the scolding went on for hours.
She provided CBC with a copy of a legitimate receipt book provided by the association. She said Wowk's receipt looks nothing like that and is obviously fake.
The association demanded that Mia publish a clarifying public statement. In the April 10 edition of the Regina Leader-Post, Mia ran the following classified ad:
"I solemnly declare that some massage clinics are embezzling my name and my members professional practice certificate ID and issuing to customers fraudulent receipts [sic]," the ad said.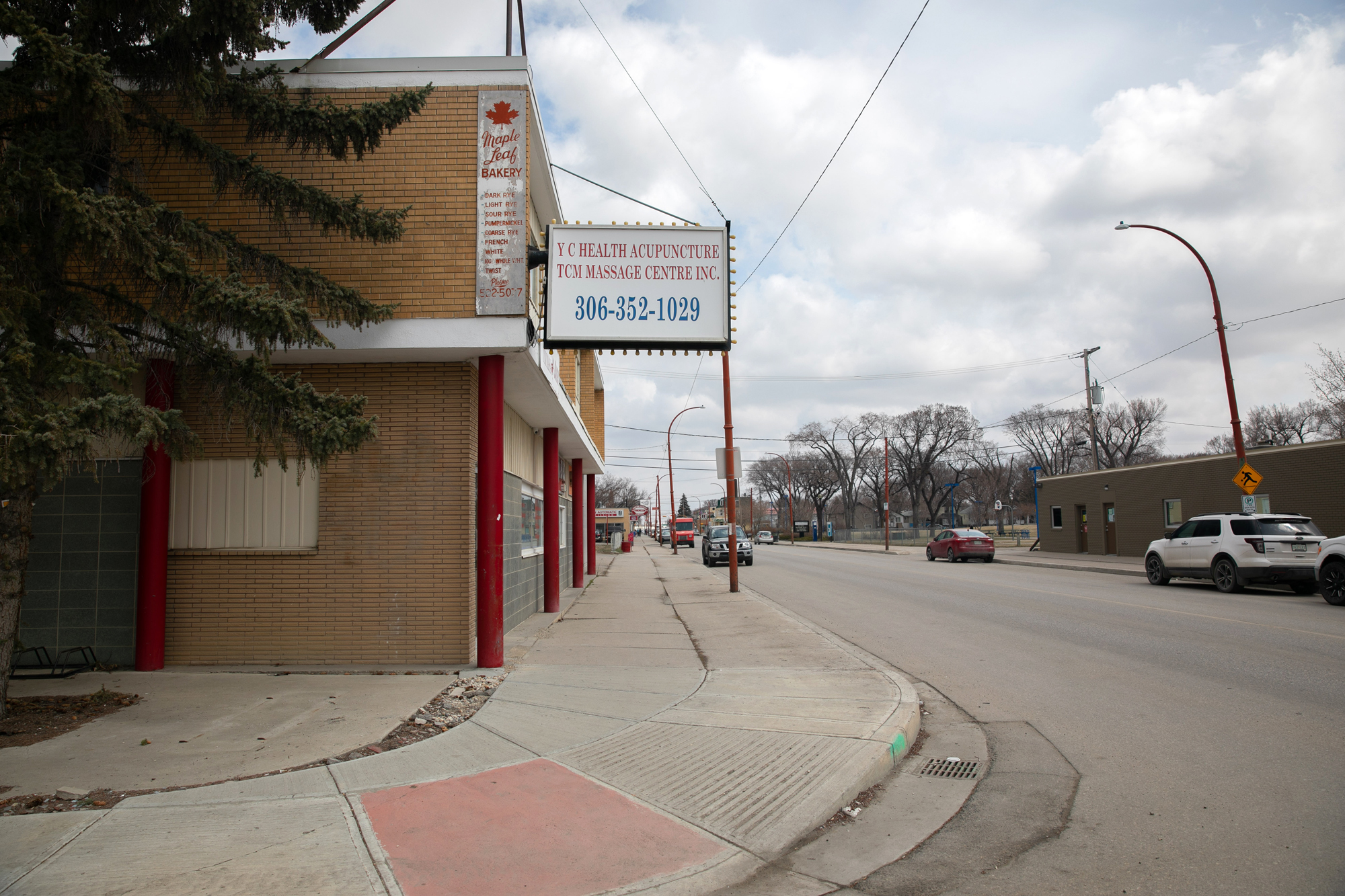 Wowk confirmed that he had been using Mia's membership number for his own business without telling her and conceded that he created the receipt using information he had as Mia's management consultant.
He said he's done nothing wrong.
"She's affiliated with my business. I'm a business management consultant to her. Why wouldn't I use her certification?" Wowk asked. "This is just standard processes."
CBC pointed out that both Mia and the massage association had indicated his activities were fraudulent.
"Well, Crown Life would disagree," he said, claiming the insurance company has paid for massages provided to one of his customers. CBC pointed out to Wowk that Crown Life Insurance was bought out in the 1990s and hasn't existed as a separate entity since then.
"Then I have it wrong in my memory," he said.
Over the course of multiple interviews, Wowk's explanation of his wife's employment status changed. Initially, when asked what his wife does for work, he said, "at the moment, nothing, because she doesn't have a work permit."
He noted that she was seeking immigration as his wife and that process was delayed.
"Because of all the COVID stuff, her application for permanent resident status and work permit application have drifted on for a year and a half now," he said.
As the interview went on, Wowk conceded that she did work at the massage parlour, texting clients, booking appointments and welcoming visitors to the clinic. But he insisted she didn't offer massage services.
"She meets all the requirements. Not her fault COVID has delayed her approval."
In a later interview, Wowk argued that it was perfectly legal for his wife to work in Canada because she had filed an application for a work permit, which he conceded has not yet been approved.
"She meets all the requirements," he said. "Not her fault COVID has delayed her approval."
He also ended up arguing that his wife was fully qualified to offer massage service.
"You do understand my wife, as well as all of our staff, have certifications and registrations?" Wowk said.
He offered an explanation for using Mia's qualifications, rather than his wife's, for billing purposes.
"We bill under other people's authorization certificate numbers," he said, in order to avoid putting his wife in a "difficult situation."
Wowk's wedding
Wowk said he met Lily at a Tim Hortons in January 2020.
"She was having trouble ordering coffee so I spoke to her in Mandarin and asked her if I could order coffee for her," said Wowk, who said he learned the language through frequent trips to China.
They got married on March 18, 2020. He insisted that is not unusually quick for him.
"In my romantic relationship history, taking three months to get married, that was slow," he said. Wowk told CBC he's been married one other time. That ended in divorce.
Wowk also said this is the account he provided to Canadian immigration officials for his wife's application.
"That's the same story I put on the immigration documents. That's the same story the pictures all verify," said Wowk.
In one of those photos, which is posted on Wowk's Facebook page, Wowk's wife is pictured with her bridal party. The photo identifies the woman to her right as her sister Connie.
Wowk was evasive about Connie in his interview.
One of Wowk's massage parlour ads featured a woman named Connie. CBC asked if that was his sister-in-law.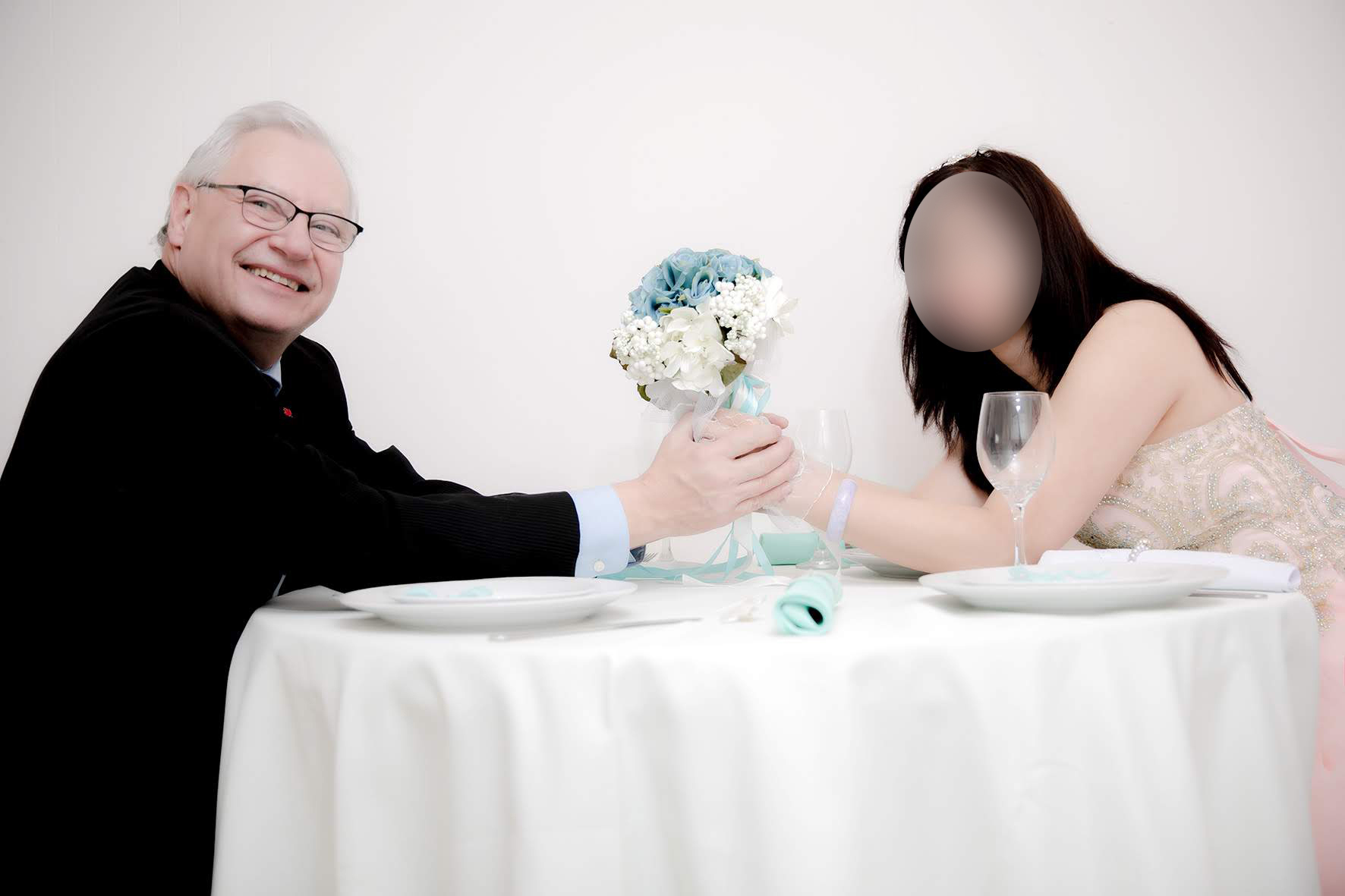 He said no, insisting she's just one of the staff that he's known for a long time.
"She's a certified registered massage practitioner, so she is staff and has been on staff in Regina for years," he said.
CBC then pointed out the bridal party photo on his Facebook page, which said Connie is Lily's sister. He then conceded Connie is Lily's sister.
CBC pointed out that this raised some questions about his account of how he and Lily first connected.
According to Wowk, he met Lily randomly at a Tim Hortons, only to discover that he had known her sister Connie for years because she worked at a massage parlour that he was helping to manage at that very time.
He insisted he didn't realize the coincidence until a week before the wedding.
"Until I actually was introduced to [Lily's] sister, I had no idea who her sister was, and that I already knew her," Wowk said.
Mia, who runs one of the massage parlours associated with Wowk, told CBC that Wowk is not telling the truth about how he met his wife.
She knows that because "I introduced them," she said. "They met in my massage shop."
Mia told CBC that Wowk assisted her in setting up her massage business in Regina in early 2019. "He helped me process lots of stuff including getting my massage licence, my company registration number, my driver's licence, my ID, all of my documents… He also helped me apply for bank accounts."
"She came from China and lived in my parlour for about a month."
Mia said that Lily's sister Connie was one of the massage parlour workers in her clinic.
In the fall of 2019, Lily arrived from China to visit her sister.
"She came from China and lived in my parlour for about a month," said Mia.
During the day, Lily hung out at the massage parlour, Mia said.
"I asked Trevor over to help me and I introduced Trevor. I said, 'Trevor, you are my friend. She is also my friend. She is from China.'"
"Why does he lie?" Mia said.
CBC asked Wowk about the contradictory stories.
He said he stands by his story that he met his wife at a Tim Hortons in January 2020, but conceded that he might have met her at Mia's massage parlour in the fall of 2019.
"It's quite possible that my wife was introduced to me or I met her at [Mia's] place and didn't realize until later why I was attracted to that woman at the Tim Horton's so much," he said.
He said people's memories may differ but "everybody's perspectives are true."
At the end of April, the city of Regina started enforcing a new bylaw aimed at regulating "body rub establishments." According to the city, a body rub establishment is "a place that provides or advertises massage services for sexual pleasure."
Wowk said the clinics he's connected to have wrongly been deemed to fall under that categorization.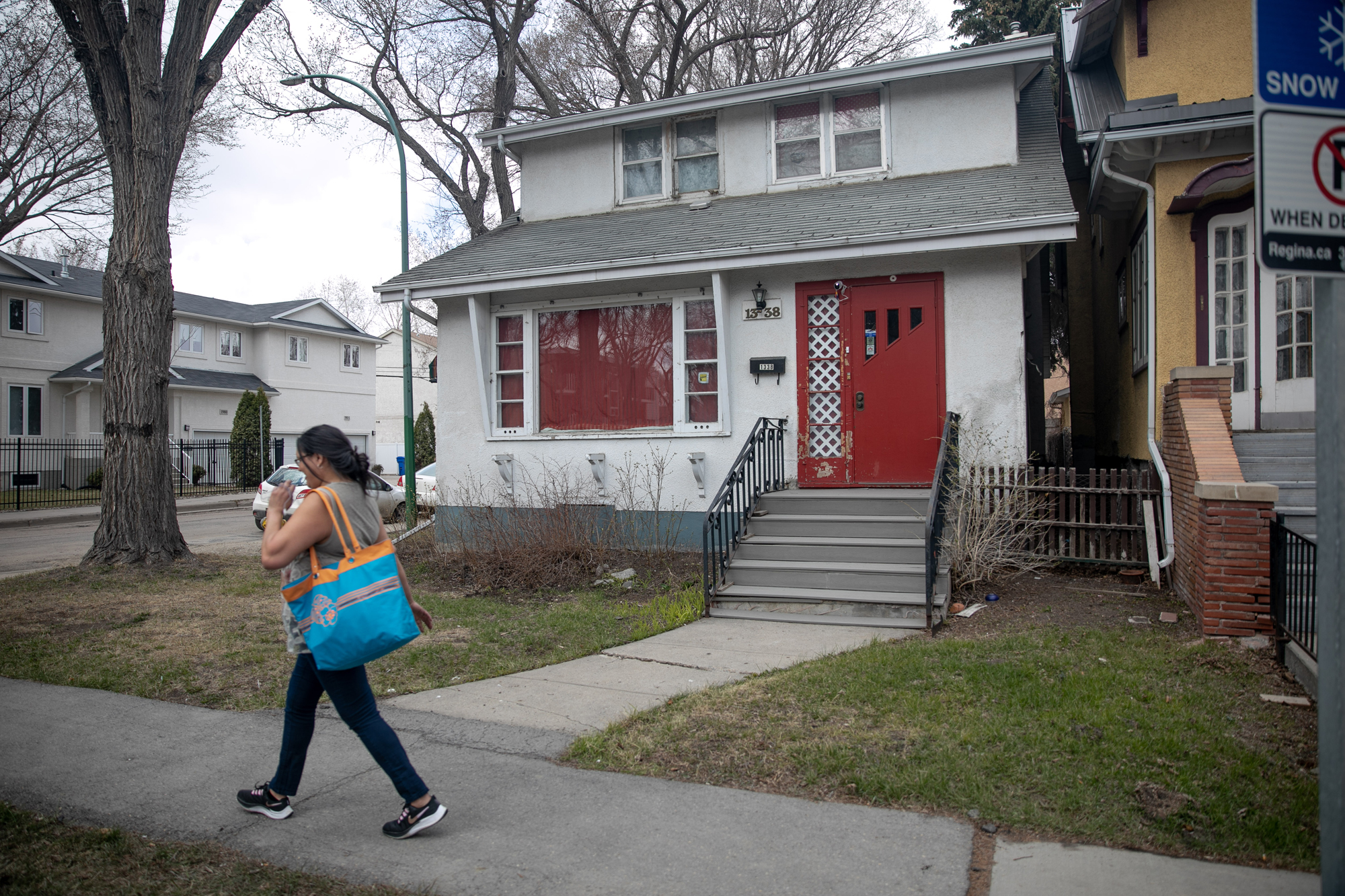 The city bylaw says any facility that offers massage but isn't a member of one of three industry organizations — the Massage Therapists Association of Saskatchewan, the Natural Health Practitioners of Canada and the Canadian Massage and Manual Osteopathic Therapists Association — is deemed a body rub establishment.
The city says any massage parlour or massage parlour worker that isn't a member of the approved associations will have to be licensed by the city, move to an industrial area and follow a host of new rules.
Wowk said it would be unjust to force him to move after he just spent thousands of dollars renovating his home.
"We're established incorporated companies," he said. "We're fully anticipating that at some time in the foreseeable future we're going to court to force the city to back off."