Thirty-four concrete stairs connect track level at Toronto's Wellesley subway station to the street above.
Michael Fenty knows every single step. That's because in the early months of 2016, he staggered up each one, day in, day out.
"Imagine that? In the winter," Fenty said with obvious frustration, as if, even now, he has a hard time believing he had managed it.
In December 2015, he was shot in both legs while standing with friends outside a baby shower on Eglinton Avenue. The fusillade was unleashed by multiple shooters in a passing car. Three other people were struck by gunfire.
When Fenty attempted to run from the chaos, his right femur shattered into small fragments.
A surgical team at Sunnybrook Hospital ended up putting a metal rod through his upper right leg and stabilized it with metal screws. Fenty underwent five more operations before he was discharged nearly a month later.
He could barely walk, and acute pain hounded him every moment, but at the top of those stairs at Wellesley station was the physiotherapy facility where he began to heal his body. "I just don't believe in giving up," the 36-year-old said.
But now, nearly three years later, he still faces exhausting challenges.
Because of his injuries, Fenty and his wife have accumulated crushing credit card debt. Debilitating pain in his leg torments him at his construction job, and adds to the demands of being a father to a young daughter.
And then there's the pain that's less obvious: the deep scars left by untreated psychological trauma.
Up to 80 per cent of gunshot victims live through the ordeal. But survival is just the first step.
He is not alone. There were 392 recorded shootings in Toronto last year — 39 were fatal, but 150 victims survived with varying degrees of injury. In 2016, 41 died and 152 were left wounded.
The ferocity of gun violence in Toronto this year — more than 320 shootings to date — has forced the city to confront some ugly truths about its root causes, poverty and systemic racism among them.
And much of the public's attention has turned to homicides.
Studies from the United States suggest that up to 80 per cent of gunshot victims — a population that is mostly young and male on both sides of the border — live through the ordeal. But survival is just the first step. It often precedes a traumatic and profoundly lonely path to something resembling recovery.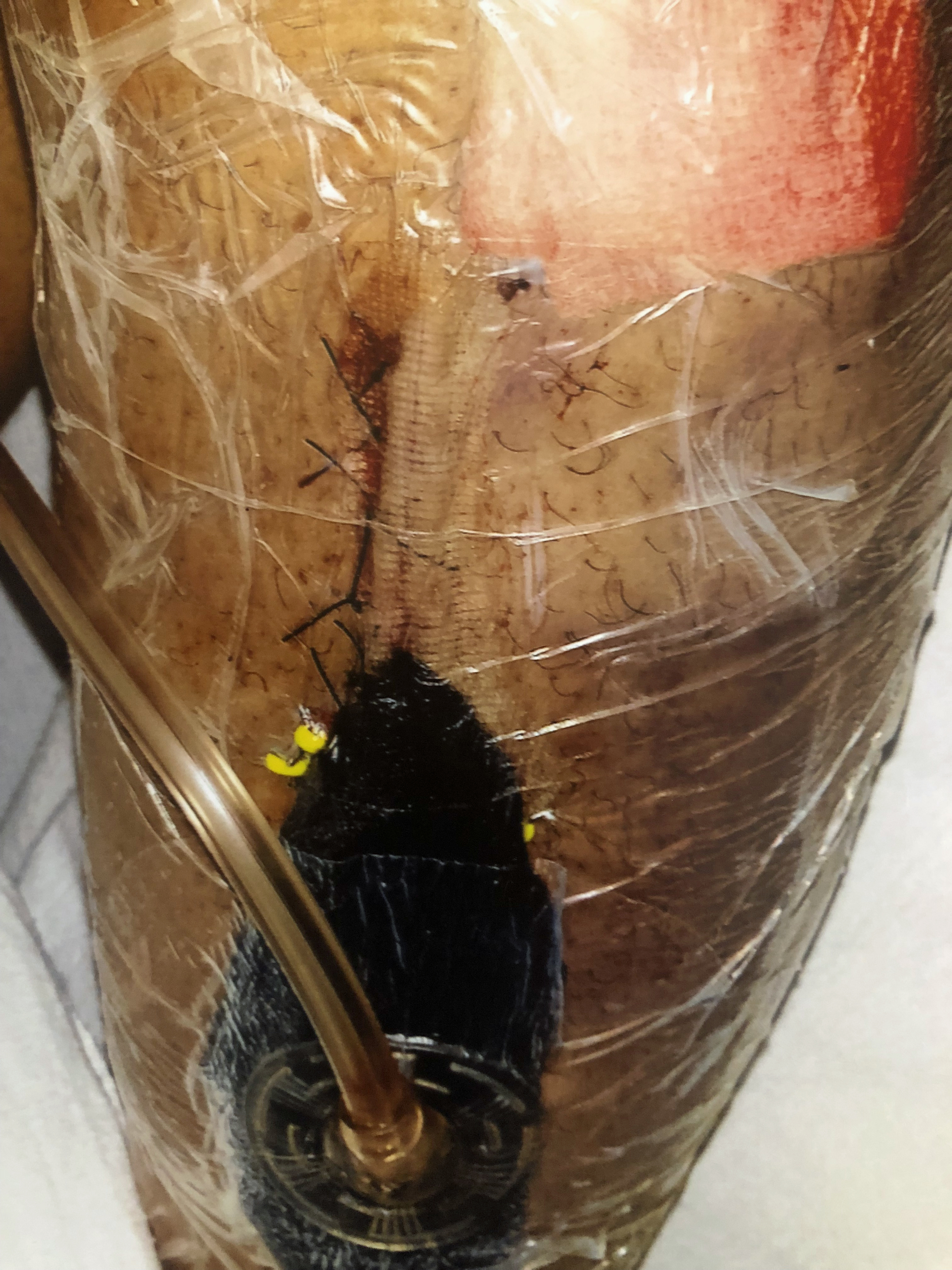 In the words of one researcher, gun violence has bred a "generation of young folks in cities across Canada — across North America for that matter — who are living day-to-day with various kinds of injuries, health problems and chronic maladies that greatly diminish their quality of life."
The sheer number of people hurt in shootings in Toronto in recent years has strained existing support systems to a breaking point. According to frontline workers, local agencies are running at capacity, while community advocates have stepped in to try to bridge a considerable chasm.
Many victims say they have been left to fend for themselves. But the struggle to connect survivors to much-needed support is not only leaving shooting victims isolated — it is partly responsible for fuelling the cycle of gun violence that holds some Toronto communities captive.
On the night he was shot, Immanuel Sawyer was just looking for something to eat.
It was April 2011. Spring weather had finally broken the lingering winter chill, and the burger joint wasn't far. Sawyer and a friend left his place — an expanse of low-rise public housing buildings in Lawrence Heights known locally as the Jungle — on foot.
They had not walked far when a car emerged from the darkness behind them. Before anyone noticed the vehicle's slow creep, the deafening clap of gunfire pierced the night air. A bullet hit Sawyer in the femur bone and instantly shattered his upper right leg.
Sawyer, 31, explained that at the time, a crew in the Jungle was "in a war with another neighbourhood." He said he had no connection to the blood feud, but that wasn't the point of the attack.
"It wasn't even a matter where they were looking for anybody specific. It's just one of those things where it's like, you're young, you're black and you're in the street," he said. "They were just trying to take out as many people on each end as possible."
(For the safety of their families, Sawyer and Fenty wanted their faces concealed for this story.)
It took three operations over the course of 10 days to treat Sawyer's wounds. As with Fenty, surgeons did what they could to remove remnants of the bullet, and inserted a metal implant into his wounded leg.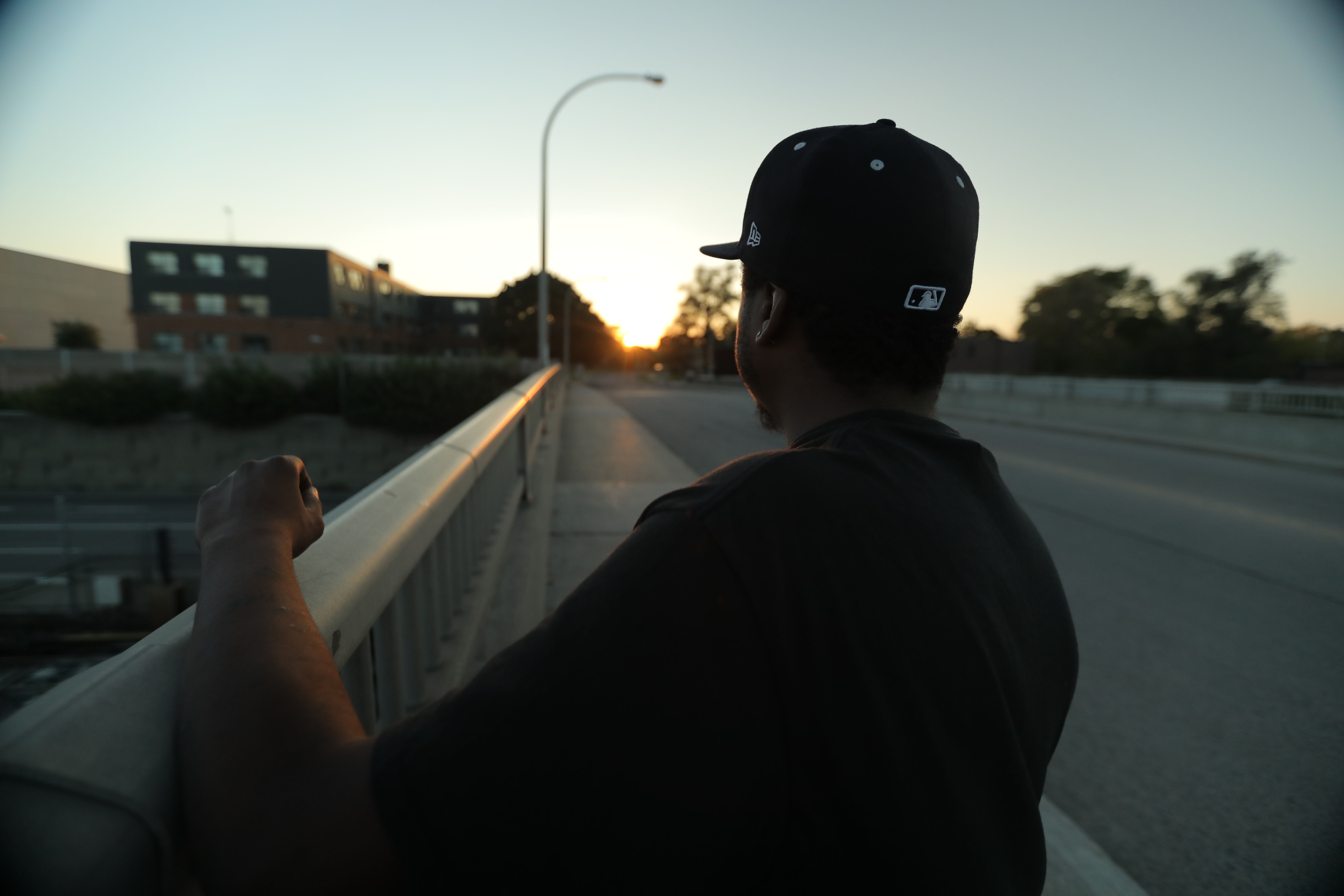 Once he left hospital, Sawyer found himself virtually alone in his mental recovery. The best counselling he received was from friends who had also been shot.
"I found out about all the services from my boys who have been previous victims themselves," Sawyer said. He insisted there isn't anyone official available "to help you with that stuff afterwards."
This confusion, or lack of information, was echoed in numerous interviews with gunshot survivors. The pattern was the same: an intense stay in hospital and a discharge where the victim had no clear knowledge or understanding of the options available to aid their recovery.
"Nobody came here to say, 'Hey, here's a program you can take to help you with whatever you're coping with or going through,"" said Fenty. "Nothing. I never got a visit from nobody."
Fenty struggled to adjust to life after leaving hospital in January 2016. The searing aches in his leg during this period were exacerbated by damage to his sciatic nerve, which sends pain shooting from his lower back down into his foot. To this day, wearing his work boots causes him anguish.
Facing pressure to return to his job, he started a bout of physiotherapy, paying out of pocket for his care. During these early days of recovery, each one-hour appointment cost $257. He typically went five times a week, because any break longer than a few days would trigger severe muscle seizures in his leg.
"They thought I was in a gang because I got shot."
Fenty could have applied for publicly funded physiotherapy, which is usually administered through an outpatient program at one of the city's hospitals. But that might have required a months-long wait, and there was no certainty about the extent of the coverage.
"I don't have six months. I'm in pain now," Fenty remembered thinking.
During this period, a social pattern became apparent. Many people who encountered Fenty simply assumed he was guilty — of something.
Fenty ascribed the stigma to three things: "One, they believe it's some of kind of turf thing. Two, I'm black. Three, I'm black again."
That year, he was fired from his construction job. "They thought I was in a gang because I got shot," he says.
He managed to find a different job in the same field. Alas, his injury cost him that employment, too. "I was having leg seizures, so they thought I was a liability to them."
It wasn't long before Fenty's financial debts ballooned. He managed to secure unemployment insurance for a time, but the help was negligible. He was forced to pause his physiotherapy regiment. The situation became so dire that he feared his family might end up homeless.
Almost three years after he was shot, Fenty remains in "deep, deep debt." Both his credit cards are maxed out and he owes thousands in back payments to a local gym where he tried to treat himself. "I'm getting no help from nobody," he said.
In this way, gun violence opens a black hole of trauma. It doesn't just physically change a person — it can consume every aspect of their life.
Rochelle Lewis was at a backyard barbecue at her mother's home in Scarborough in 2017 when she was shot. Two men in their early 30s were killed that day, including a close friend named Dwayne Campbell, who ended up dying in Lewis's arms.
"When he turned and looked at me — that was something that I can't forget. It will not leave my memory," she said.
A single bullet entered through the right side of Lewis's back, smashing vertebrae, rupturing her spleen and severely damaging her pancreas and diaphragm. She will need a wheelchair for the rest of her life.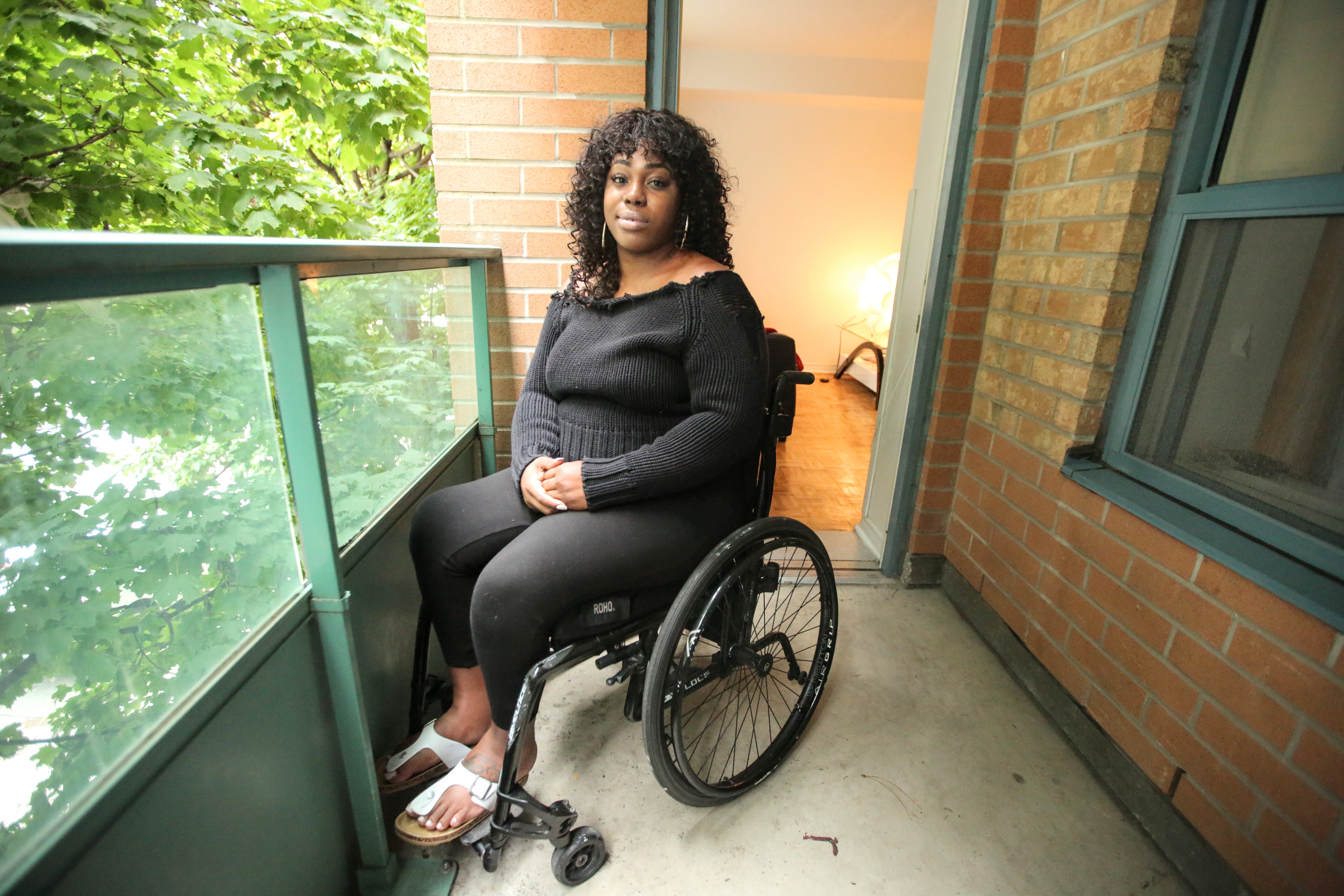 After leaving hospital and returning to her mother's wheelchair-inaccessible home, the weight of her circumstance became apparent. A sense of social isolation set in, amplified by her inability to continue work as a hairstylist. She felt "forgotten."
Lewis was able to secure five months of physiotherapy as an outpatient, and a degree of financial assistance from the province. In Ontario, some of those injured by violent crime are entitled to up to $25,000 compensation, though most get less.
A panel adjudicates each case, and the circumstances of a victim's injury must meet certain criteria. If a person is hurt while committing a crime, or if police can demonstrate known ties to criminal elements, they get nothing. (In some extremely rare instances, a victim can also apply for monthly payments of up to $1,000 each, to a total of $365,000. This award is limited to "catastrophic" and "severe and grotesque" injuries, and none of the six gunshot victims who spoke to CBC Toronto for this story had ever heard of it.)
Given the circumstances of her case, Lewis was awarded the full $25,000.
Yet even with the help, her savings are gone. She lives from one disability cheque to the next. For a time, she was spending $380 a week, out of pocket, on physiotherapy. She has since managed to find a more affordable facility in Newmarket that charges around $200 per week.
Lewis can't stop going to physiotherapy, because without it, she spirals into depression and anxiety.
"If I don't go to physio, then I don't get out of bed. I don't like it, because then everything starts to get to me. My mental health gets to me."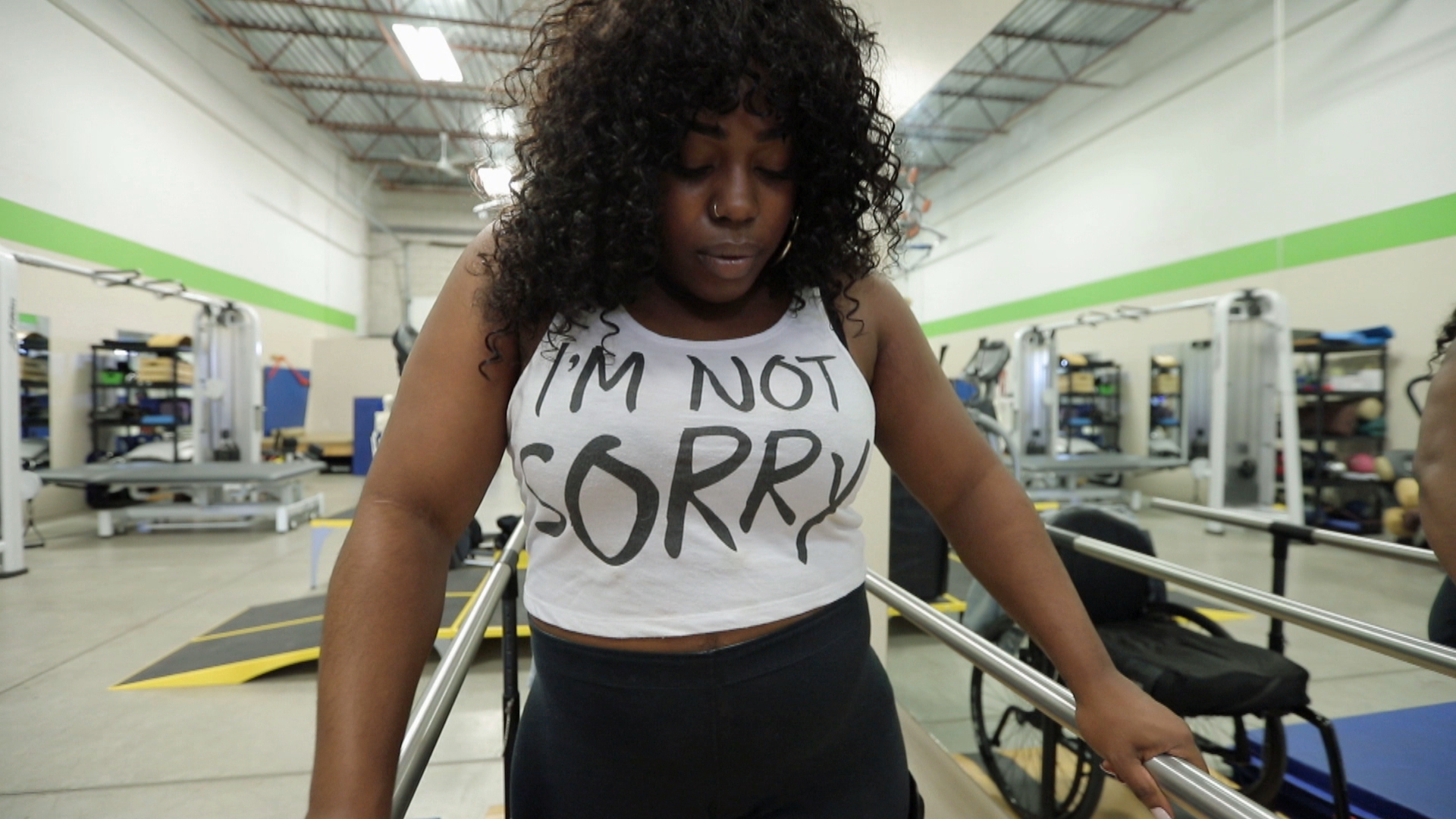 In one sense, Lewis was fortunate: The medical team at Lyndhurst recognized her need for long-term counselling, and helped her connect with it.

But many victims, especially young black men, don't receive the same kind of help. There are myriad reasons for that, including stigma within their own communities. But there's also ambivalence within the health care system — what one researcher described as a "presumption of guilt that is folded into victimhood for certain people."
The consequences of that are more far-reaching than they seem. Anxiety, depression and post-traumatic stress are all common among gunshot survivors.
The effects of those conditions radiate outward, ultimately touching countless others in their orbit. Research from the U.S., for example, has shown that children of gunshot victims are more likely than their peers to partake in risky behaviour, and less likely to earn a post-secondary education.
"When a person is dealing with all of these demons and all of this trauma, they need to have someone who they can talk to."
Studies have also confirmed the critical role of early psychological intervention in the healing process and how it can prevent the cascade of violence that shootings can ignite, especially in volatile circumstances.
"When a person is dealing with all of these demons and all of this trauma, they need to have someone who they can talk to, who they can unload those complicated emotions onto," said Jooyoung Lee, an associate professor of sociology at the University of Toronto.
Lee spent years exploring the long-term health difficulties of gunshot victims in Philadelphia. The research included months of interviews with young, black male victims. Lee found that as a result of untreated trauma, "young people carry around a grudge, they carry around vendettas. They become angry, they become depressed, nihilistic."
It's a mentality that Sawyer remembers well in the aftermath of being shot.
"The only thing I could think of was, 'Yo, who did it? Where is he? How do I inflict as much pain on him as he inflicted on me?'" Sawyer said that "you're just so angry. And then you're surrounding yourself with people who are angry with you."
He's acutely aware of how easily things could have taken a wrong turn during those early days of recovery. He wonders what would have happened "if I actually had the opportunity to run into [the shooter] again."
Sawyer never got psychological counselling. He admitted that at the time, it didn't even occur to him to do so.
"Nobody actually thinks that they need help to get through this stuff, especially in our community," he said.
Lee said there is a persistent stigma around seeking help for mental illness, particularly among young men of colour.
"Some of these limitations are also imposed by the fact that we live in a society where masculinity and manhood is defined by your toughness and your ability to be resilient in the face of terrible injuries."
A resistance to counselling is compounded by a health care system that is, in some instances, unprepared to treat gunshot victims.
Due to inequities in the delivery of health services, Ontario ends up spending about 30 per cent less on mental health care for racialized populations than for white patients. Further, the province contributes about 6.5 per cent of its total health care spending to mental health. In many wealthy countries, the figure is closer to nine per cent.

"Because of that, there are holes throughout the mental health services, and one of the big holes is people who have physical injuries who also need mental health support," said Dr. Kwame McKenzie, a psychiatrist and CEO of the Wellesley Institute, a Toronto-based think-tank that advises on policy for more equitable health care in urban communities.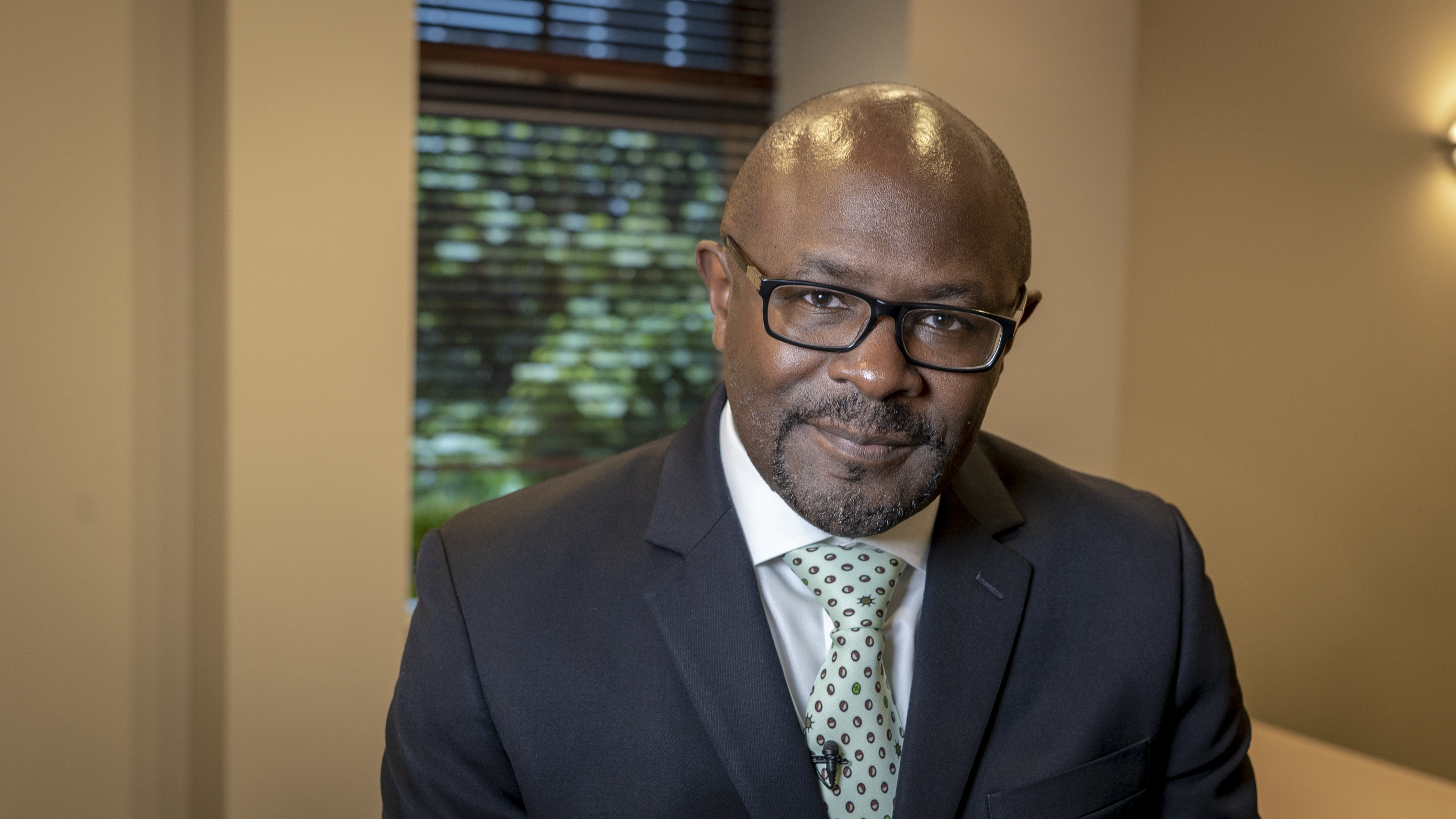 It's not that there aren't any programs available to connect people with help, per se. The province offers what it calls short-term, early intervention counselling through its victims services wing. Similarly, there are city-run teams that try to get important information to victims and traumatized communities.
But the possibilities on paper rarely reflect life on the streets.
McKenzie pointed out some of the logistical challenges. Shooting victims may need to travel considerable distances, at their own personal cost, to access professional support.
Others may view the system as alien or apathetic to their trauma, and that can breed suspicion. Fenty said he felt as though various elements of victims services were like "little secrets" that he had to fight to uncover.
"You ask a question and people lead you in the wrong direction," he said. He couldn't help but feel that young, black gunshot victims are "unwanted" by the health care system.
The role of psychological counselling is not just critical to the well-being of individual victims, however. Research has increasingly pointed to its essential role in interrupting cycles of violence.
"The literature from the United States is really clear: People who have been victims of gun violence are more likely to be victimizers in the future," said McKenzie. "But it doesn't have to be that way. If there are proper psychological interventions, we can stop that cycle."
Dan Breault and his team at Toronto's Community Crisis Response Program are hoping to be part of the solution.

Whenever there is a violent or traumatic event anywhere in the city, they respond as soon as "the police tape comes down."
The team's work comes in different forms, from speaking to people in affected communities to connecting victim's families to financial support to hosting town halls.
But the number of shootings in Toronto this year has put severe pressure on Breault's team. There are only four people (excluding Breault) on the ground in neighbourhoods wrestling with widespread poverty and ongoing gang beefs.
In 2016, the four of them responded to 614 incidents. The year before, the figure was near 600. This year is on track to be their busiest yet.
"It's been incredibly difficult," said Breault.
The workload has become so unsustainable that the team recently asked city council for additional funding.
In the absence of official help, people within the communities most devastated by gun crime have tried to fill the void.
Rev. Sky Starr spends most of her time driving around the Greater Toronto Area visiting victims and their families. The trunk of her Toyota sedan is packed to the brim with trauma and grief literature.
As a trained therapist who also runs a small parish, Starr is uniquely positioned to help those experiencing psychological turmoil. She got her start as a mostly pro bono counsellor back in 2005 — the so-called summer of the gun in Toronto.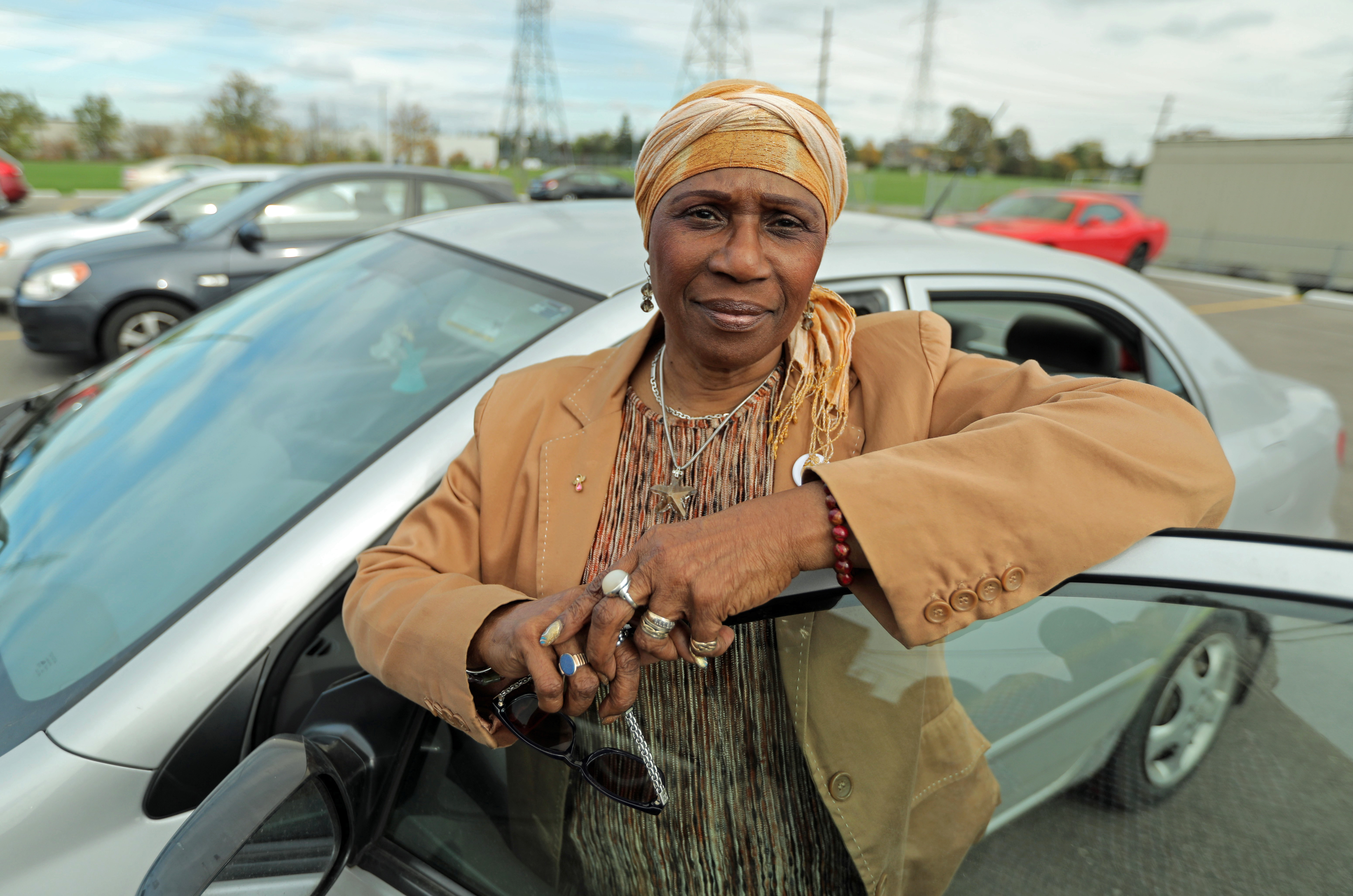 She pointed out that many young black men cope daily with an accumulation of psychological trauma that transcends generations.
"Young men are frustrated. They're angry. They're racialized. There's a lot of oppression and marginalization. All of that stuff affects the way they think," she said.
Like Breault's team, Starr tries to connect with victims, and whoever else needs help, after a shooting has taken place. The hours and days that follow offer a pivotal opportunity to get through to a victim and their social circle and pre-empt subsequent violence.
Starr said that when she gets a rare call from a young man, she drops everything.
"I have to make sure that he doesn't do something crazy. And if he's calling me? Then there's nobody else he can talk to," she explained.
Starr has helped found a number of community organizations that offer grief and trauma counselling in neighbourhoods like Jane and Finch, Malvern and St. James Town.

But at every turn, Starr has failed to secure funding from the city and province to expand her work, which she argues is due to myopic and "reactionary" responses to gun violence from elected officials.
"Of course this cycle is going to continue, because people aren't getting the care they need. Nobody is addressing it."
Public interest in engineering solutions to gun violence has swelled of late, driven partly by the fact that shootings are seemingly no longer contained to particular pockets of the city.

But as the public mourns the ones who died, many survivors remain desperate for support.
"You can't go through what we went through and not need a helping hand, or to vent about it sometimes or ... to even cry about it, because I've done it numerous times," said Michael Fenty. "Everybody needs a helping hand."
Additional reporting by Nicole Brewster, Derick Deonarain and Farrah Merali