There's a surreal feeling to the wood, rust and dust that permeates this place. You have to remind yourself that you're not lost in an old spaghetti western. You can almost hear the harmonica of an Ennio Morricone score, but when you listen closer, it's just the faint whistling of the wind and the chorus of tall grass swaying in the breeze. It seems at any moment the near silence will be broken by the voice of Sergio Leone, shouting "Camera! Action!" But the command never comes. All that's missing in this town are the people.
Well, not entirely.
There's still some life here. Around the corner from the abandoned train station, an old man sits on a bench in front of what's left of his shop. There's no pistol on his belt or Stetson on his head. Instead he carries a cane and wears a baseball cap. And a smile.
Boyd Stevens, 86, is not an extra who forgot to leave the set. Quite the contrary: he's a central character of the real-life drama playing out in Orion, Alta. It's a role he's held for decades. The train, the grain elevator, the school, and hundreds of former residents all left ages ago. So why is he still here?
"This is where I want to be," he says. "That's the bottom line. Period. That's it."
Stevens is living proof that some ghost towns aren't dead, yet. Communities like this are scattered across the province. You can find them down country roads, in the middle of canola fields and other, inconspicuous places. Some are former mining towns, born from coal, which dwindled once oil boomed. Others sprang up along rail lines and thrived, until the day the trains stopped running.
These towns have a quiet presence, announcing themselves with simple roadside signs bearing their names, read by few people these days. But each town has its story. And this isn't fiction, despite the surreal, movie-set-like feel. These ghost towns are very real. These buildings, their time-weathered walls and the people who live inside them tell tales of Western Canadian history.
It's just a matter of listening — before it's too late.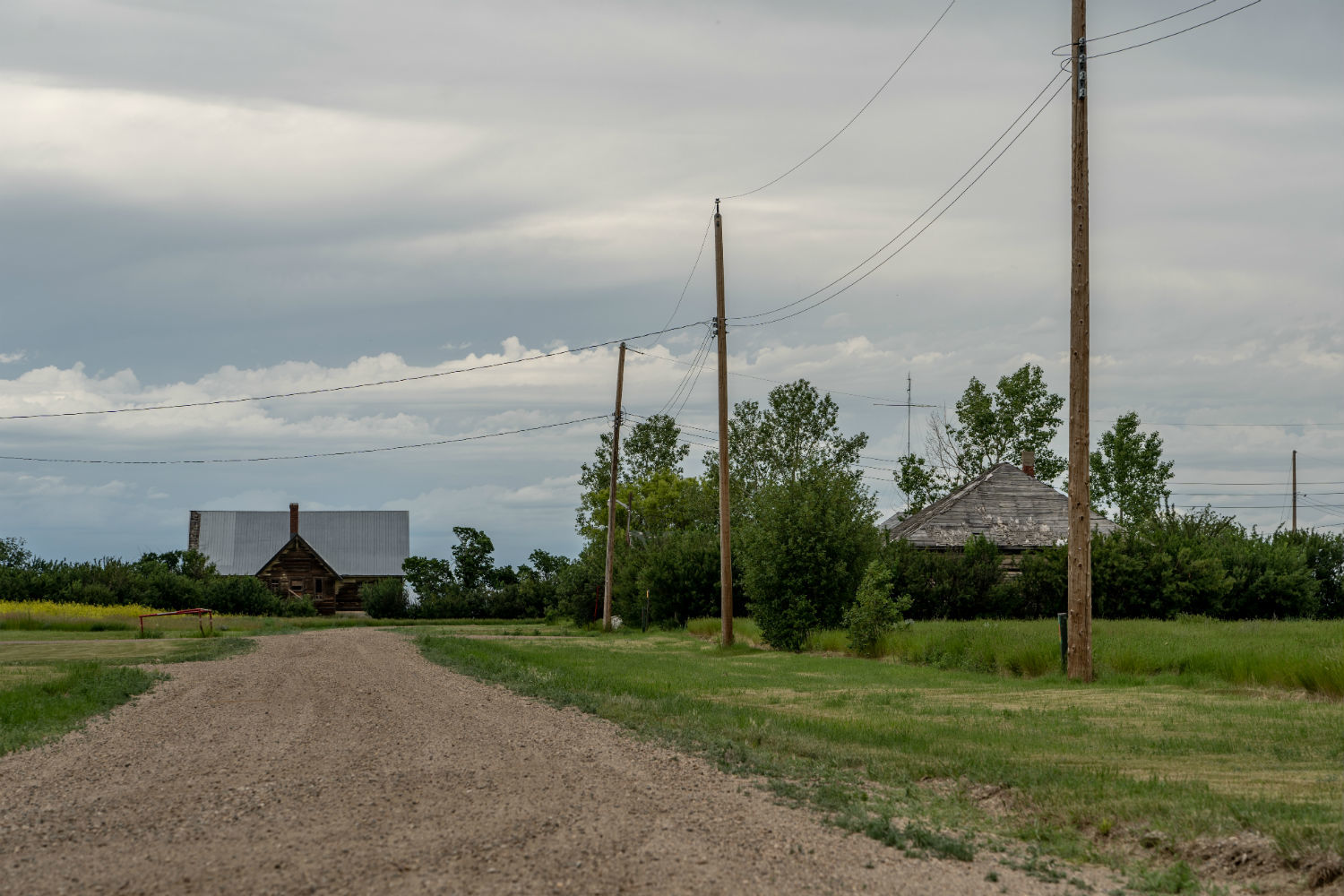 Nemiskam: 'No services'
Nemiskam is easy to miss. Along the Red Coat Trail, a highway that approximates the path of the westward march of the Northwest Mounted Police in 1874, a road splits off and heads into a field. "Nemiskam: No services," reads the roadside sign, and for good reason. There's not much left of the gas station at the corner of the town's main street. Its roof, half-collapsed, still covers some relics of everyday life: an old television, a stove.

But this station, as abandoned as it seems, has visitors today. It has come alive with the flashes and shutter noises of digital cameras. Five people carefully pick their way through the debris on the floor, making their way toward the garage. These "ghost towners" visit places like this as often as they can to uncover the stories that have shaped Alberta.
There's a house here, abandoned sometime after the Great Depression, when the people who built it resolved to move on to a better life somewhere else. History books can't record everything. For these types of stories, there are people like Johnnie Bachusky and his fellow explorers.
Fascinated by "things of the past" since he was a teenager, Bachusky reported on his first ghost town for a local newspaper nearly 25 years ago. Since then, the journalist has travelled countless prairie roads in search of abandoned towns to document them, while he still can.
"Don't ever call us ghost towners hobbyists," he says. "We're not. Serious ghost towners really believe in what I believe in."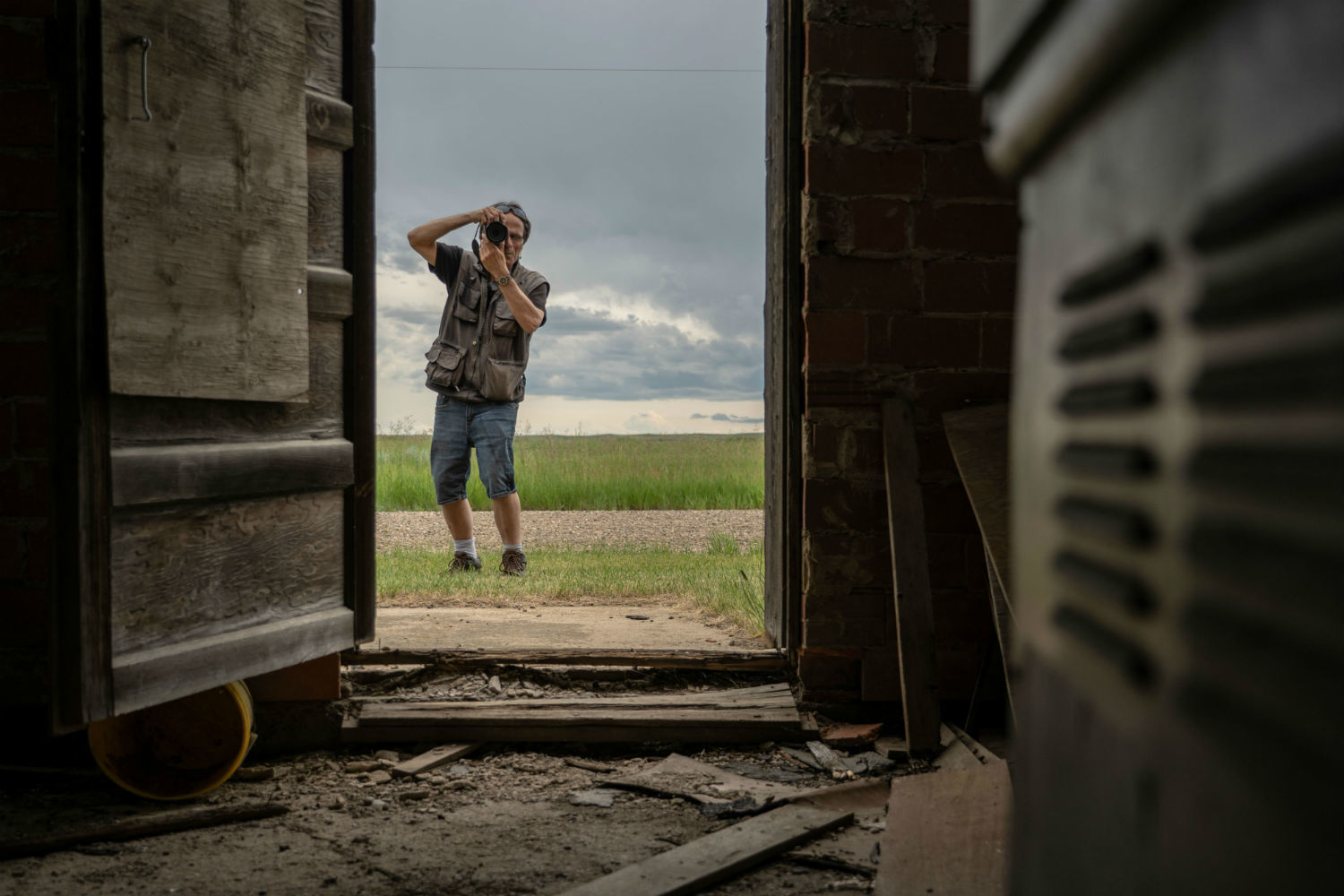 Research, archives, interviews — what true ghost towners do goes well beyond a simple stroll on a Saturday afternoon. They dig deep into the past, immersing themselves in it.
"If you could picture yourself 100 years ago in this very spot, this would be a very busy place. There'd be lots of people. There'd be horses and buggies about, and all kinds of promise and hope," says author Chris Doering, one of the explorers out today, in a dreamy tone, before drifting back to reality.
"And now we stand here, just you and I."
For him and his fellow ghost towners, moments like this are special. The world has changed and the traces of the past are steadily fading away. Being here offers a chance to save what can be saved.
A bit further away, an aged wooden sign stands in front of an empty field. "Future home of K-Mart," it reads. Bachusky believes one of the town's later residents, recognizing that his small community was slowly dying, would've wanted people to have believed there was still hope, that a major retailer could still open up shop in Nemiskam. Of course, the last K-Mart in Canada closed more than 20 years ago. Hope here has long since vanished.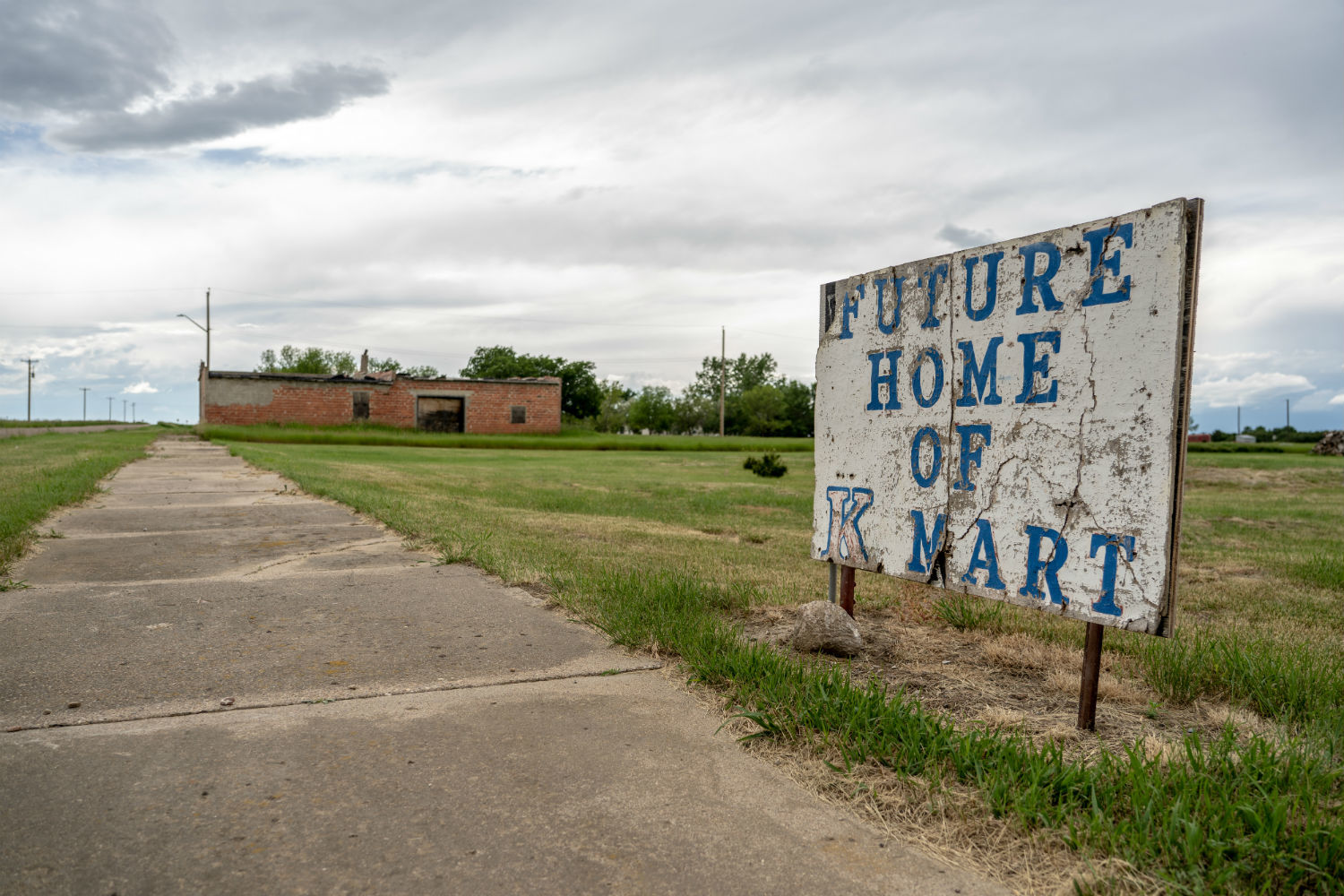 Another ghost towner in this small group, Cody Kapscos, still remembers one of his most surprising discoveries. For years, he travelled by car along a road near the Montana border, by the Hamlet of Masinasin, which is virtually invisible today. Since he was a child, he would stare out the window at the endless prairie. One day in 2009, while his sister drove, he noticed an object in the distance, obscured by the tall grass. He told her to stop and got out to investigate. It was a gravestone.
This patch of prairie was home to an abandoned and long-forgotten cemetery. Three or four more gravestones stood nearby, some with their inscriptions still legible. Among them was a name: Drusilla Ennis.
Kapcsos took some photos and posted them online. He never imagined, at the time, that they'd reach a woman in Minnesota who, thanks to him, would rediscover a long-lost relative. For more than 25 years, Winnie Benson had been searching for an ancestor, her great-great-grandmother, who left no trace after moving from North Dakota at the end of the 19th century. In 2015, nearly a century after Ennis died, Benson made the trip to this small patch of Alberta prairie to visit her grave.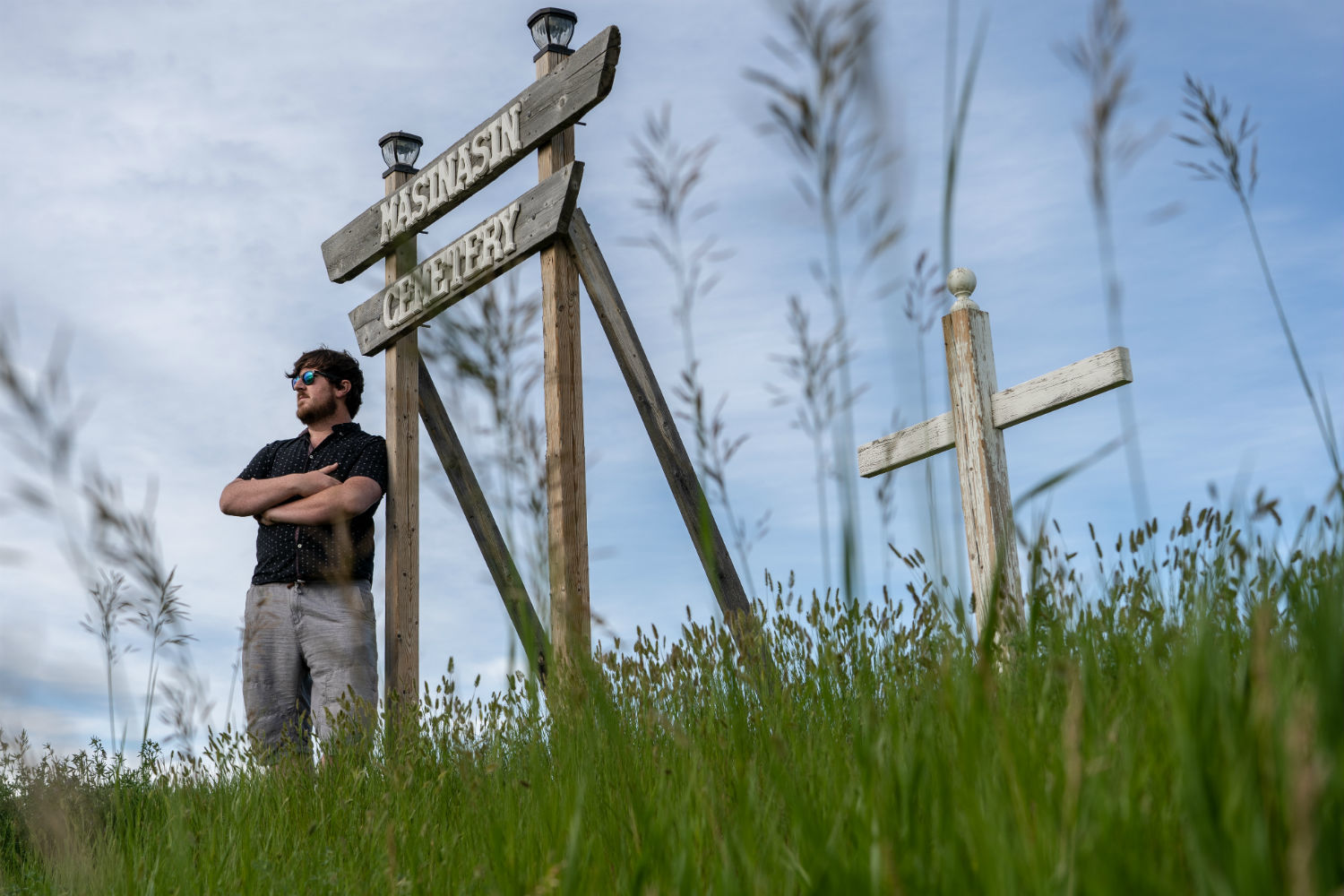 "I was kind of taken aback when I got her message," Kapcsos recalled. "Because I didn't think I would ever run into an ancestor of one of the burials here."
And who happened to be there to capture the moment, when Benson visited her great-great-grandmother's long-lost burial site? Bachusky, with his camera.
No one knows what led Ennis to leave North Dakota and live out her final years on the plains of Western Canada, or if she found happiness here, but there is now, at least, a record of it. A little family story, part of the grand narrative of the West.
"Some people might think: Ghost towns? A bunch of dilapidated buildings and dead people in some forgotten cemetery? What's so exciting about that? Well, I feel, frankly, quite exhilarated," Bachusky says.
"For me, it's spiritual, as well. I really believe that when I'm doing this, and when I'm doing it earnestly for the right reasons, I feel like I'm touching the face or the spirit of God here."
The shadows of the tall grass grow as the sun sets. The day is coming to an end. The ghost towners put away their cameras and their notebooks. The memories and the stories that they've gathered are now saved, some to maybe be published in a book one day.
"The rest," Bachusky says, "is just left for the ghosts."
Orion: Pioneer Town
Orion is not a ghost town, according to its most famous resident; Boyd Stevens prefers the term pioneer town.
He's a mainstay here, sitting in front of his shop. He watches as a car passes. Does he recognize this visitor? Is it a neighbour? He knows everyone here, all seven of them. Even when he can't quite make someone out, he waves, just to be sure.
The shop behind him is a shadow of what it once was, since that terrible Christmas Day in 2016, when the fire tore through the garage his father bought in 1947. The building later became a hardware store, which Boyd has carefully minded ever since.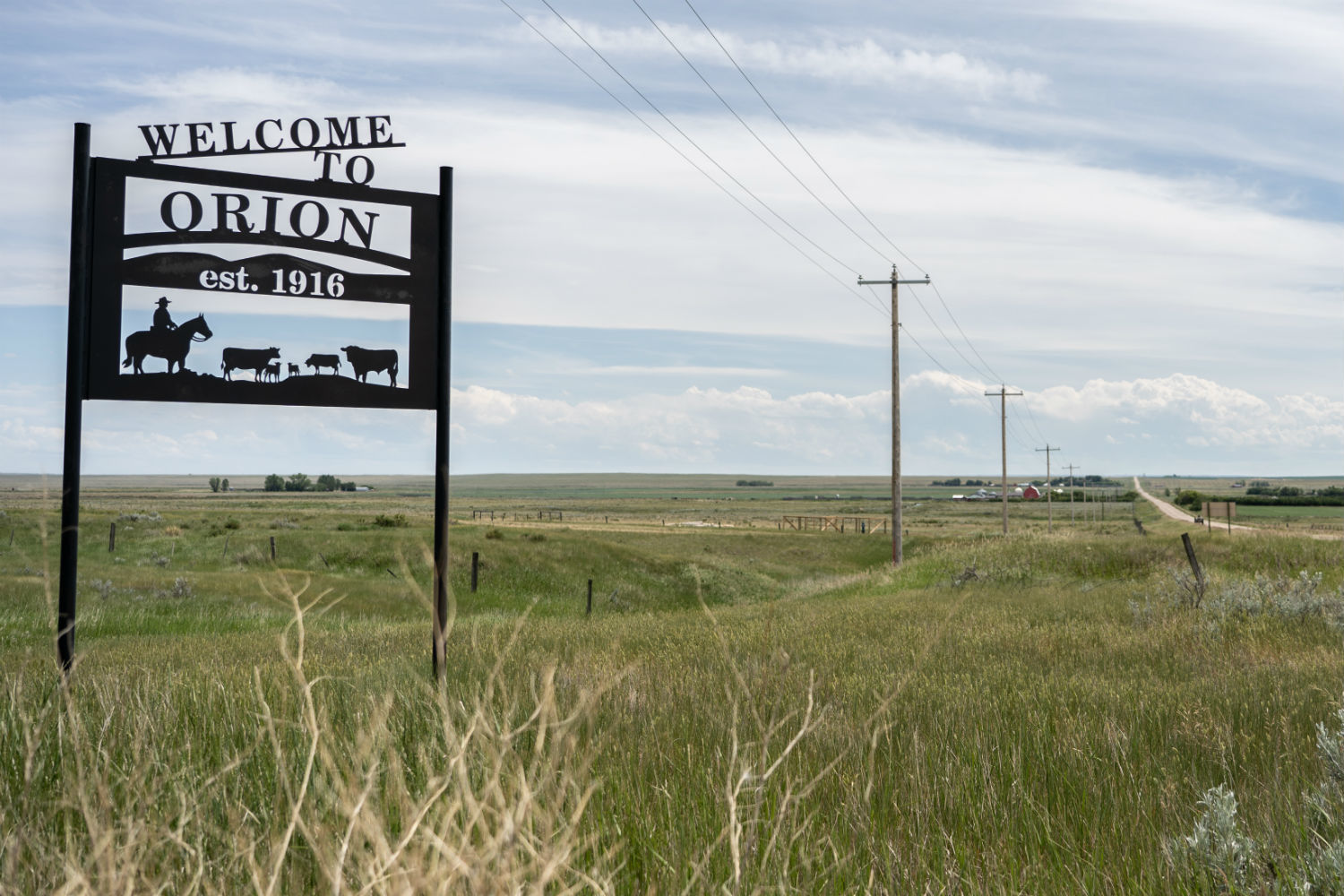 Take the time to stop in Orion, a town most people would pass without a second thought on their journey somewhere bigger and newer, and you are rewarded with the chance to delve deep into the stories of this place, a legend of the Red Coat Trail.
Stevens remembers the Orion of his youth, when the trains still stopped here. He would race down to the station to catch the excitement and chat with the folks who rolled into town, which he says was a "big deal" at the time. People from all around town would come to discuss "the problems of the day" with the farmers bringing their grain to the elevator. This was an era when Lethbridge was a day's journey from Orion rather than the hour and 45 minutes it takes today. These memories are alive, but fading.
"It started back in the late '40s," Stevens says, of when things started to change. "People were leaving. They got on the train for a better choice of life, I guess."
But not him.
"I'm not going," he says. "I'm not going to follow the rat pack, you might say. I'm going to stay here. And that's just what I did."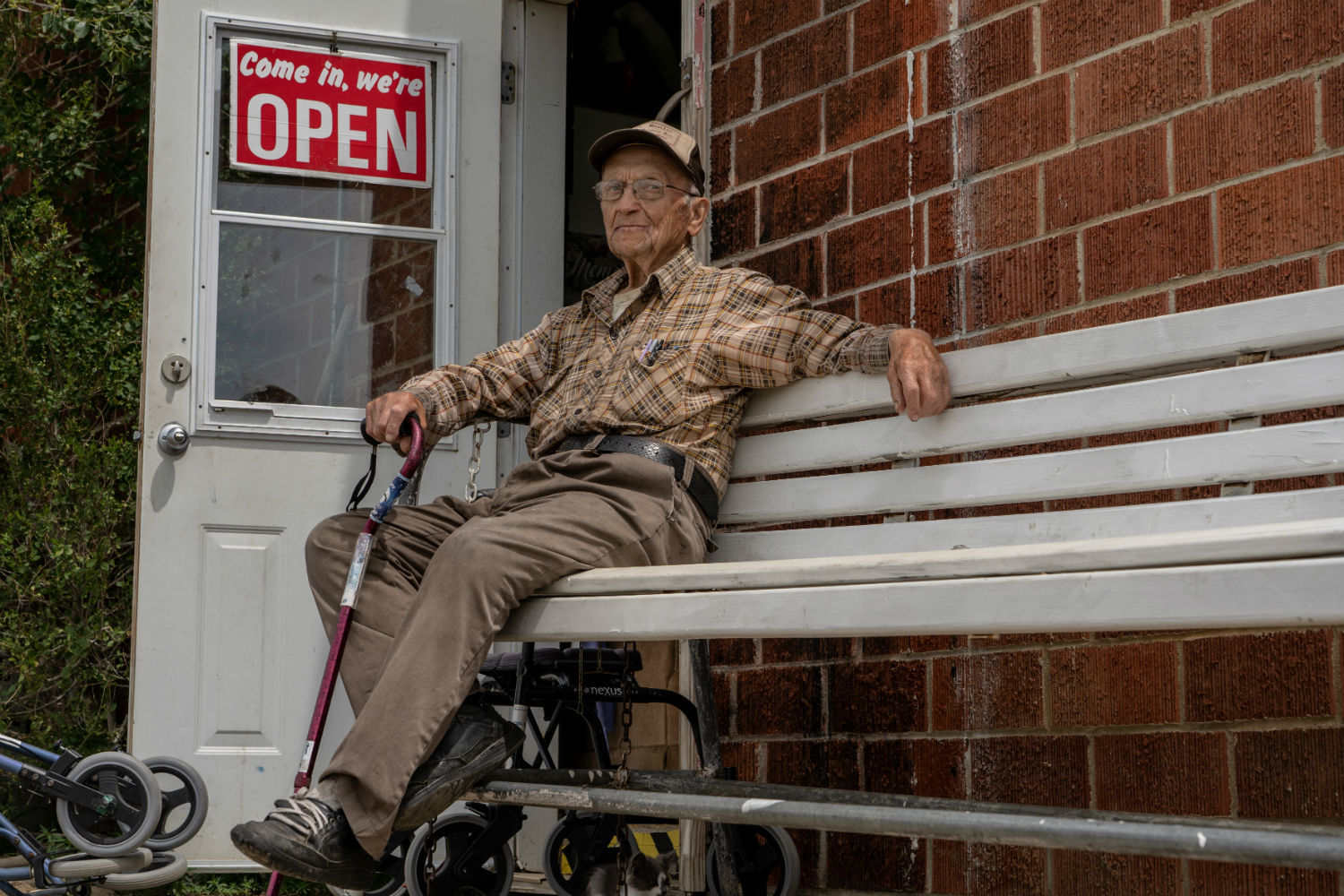 He thus became a witness to what so many of the ghost towns of the West have in common: the loss of their raison d'être. Often, it was the loss of the railway line that sounded the death knell for small towns on the Prairies. Orion was no exception.
"That's what I tell everybody: That I missed the last train," Stevens says.
He fondly remembers the multitude of visitors who would arrive on the steel tracks over the decades, like the German couple he didn't know "from Eve or Adam," who came to talk to him for a travel magazine. He says plenty of visitors promised they'd drop by again sometime, but few actually did. Still, he values the momentary encounters, the fleeting friendships.
He has every reason to be nostalgic, but you find no trace of nostalgia in his words. He's stoic. He speaks rationally, reflects calmly, without rancour or regret. He's spent enough time contemplating these empty streets and lonely prairies and, with time, has learned to accept how the world has changed.
"I have my own feelings that, in time, there will be nothing here anymore," he says. "I can't stop progress. That's just the way it is. It's happening all over Alberta, Saskatchewan and, I suppose, Manitoba. It doesn't make you happy, but you just have to roll with the punches, you might say."
Rowley: The little town that refused to die
The story of Rowley, the little town that refused to die, is unique but it started like so many others.
A growing town at the dawn of the 20th century, it had a train station, a school, a barber, a hotel, and three grain elevators that rose like skyscrapers from the fields north of Drumheller, near the Badlands of central Alberta. In 1920, the town was booming and more than 400 people called it home. Then came the bust.
Today, Rowley residents may number no more than 10, but the town has found a way to survive.
Doug Hampton, the keeper of the keys to this town, tells the story from behind the swinging doors of Sam's Saloon, where it all began.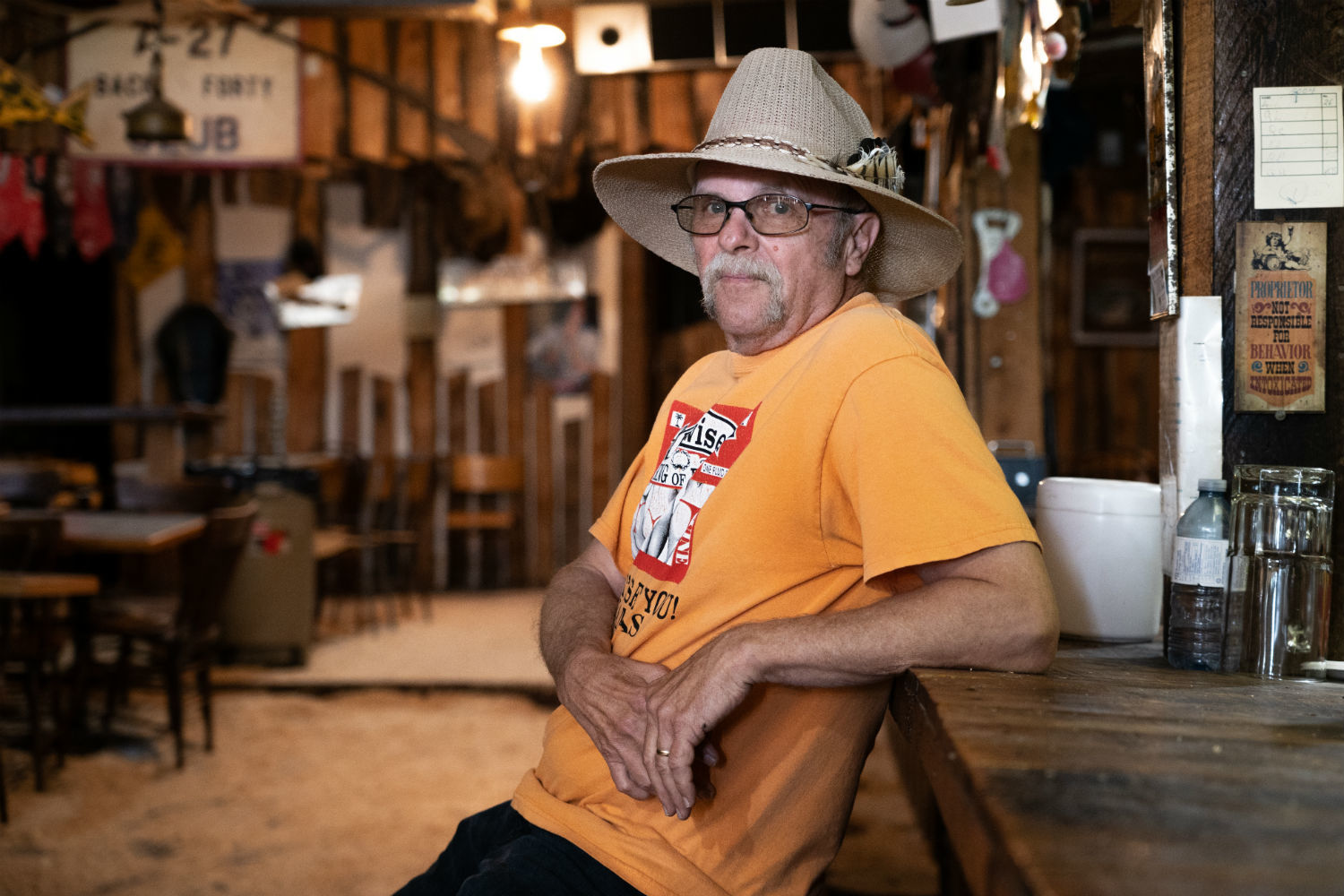 In the 1970s, Rowley looked to be at the mercy of the fates that had befallen so many other small towns, its battle almost lost after decades of rural exodus, dating back to the Great Depression. On Main Street, the store belonging to Sam Leung, a beloved Chinese immigrant who served the community for three decades, almost until his death in 1972, had closed. The building was handed over to the city. It sat empty and dark.
But one day in 1975, a group of die-hards gathered there nonetheless. Over beers, they made an observation and a vow: our town is dying; let's save it.
By bringing their own beer to Sam's old store, which had been a sort of "grocer-butcher-restaurant" in the past, the place became, out of necessity, a saloon. As Hampton tells it, great ideas often spring from long conversations over drinks, and the locals had a stroke of inspiration: "Why not turn it into a real saloon?"
Thus was born Sam's Saloon.
This tribute to the late Sam Leung was one step toward keeping Rowley alive, but the residents didn't stop there. Over the years, more dusty buildings were not just restored, but furnished. Locals donated items plucked from their basements and attics to bring the past back to life, at least in terms of decor. The town soon found a new raison d'être. It would become a giant museum.
Take the train station, for instance.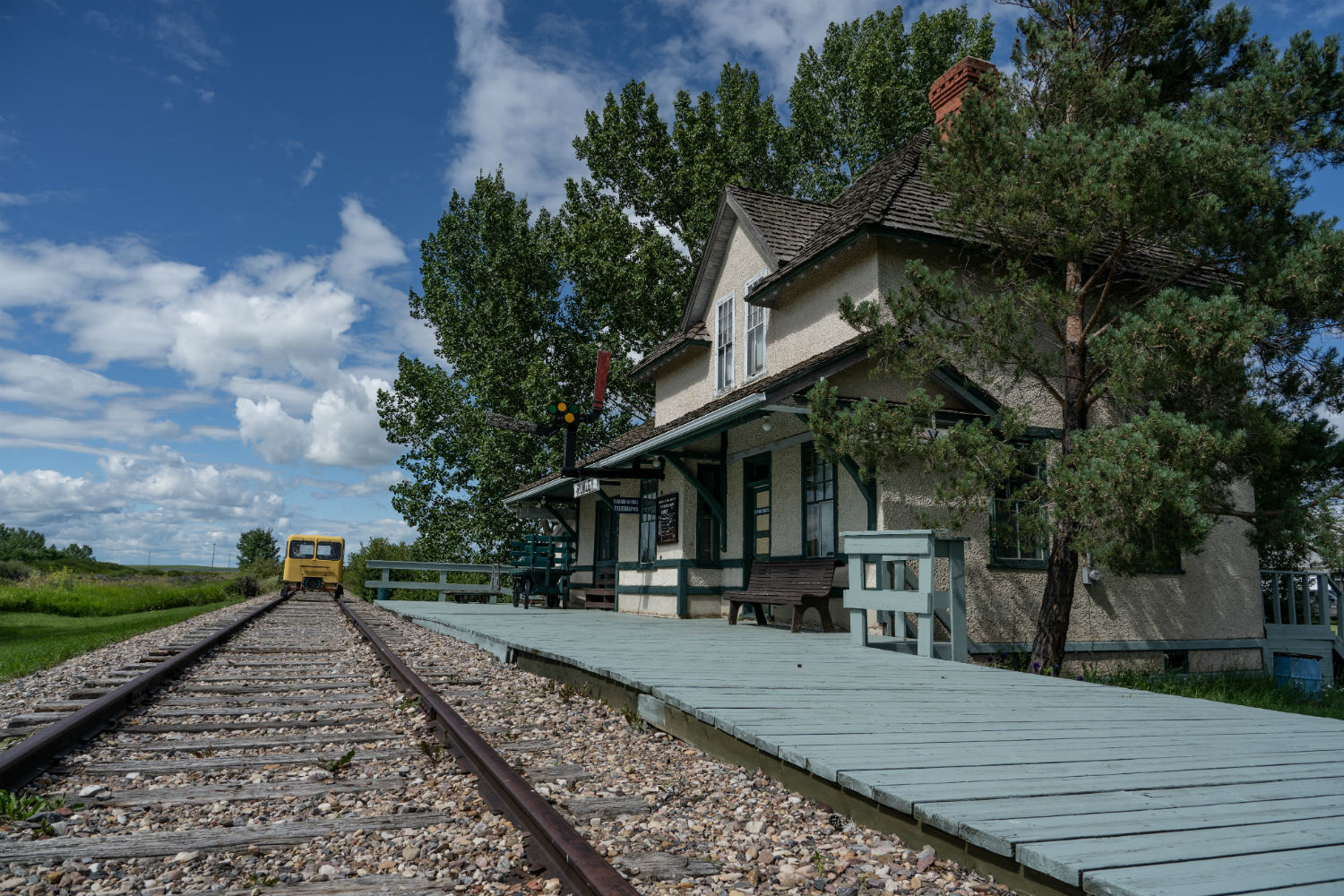 After the main line shut down, Rowley would still welcome a passenger train that sometimes brought nearly 300 tourists from Stettler in the late 1980s. But in 1997 all rail service ceased and the tracks were later removed — all except a 200-metre section outside the old station, which remains as a reminder of days gone by.
Glancing inside the station through a window, it takes a moment to notice the attendant behind the counter isn't just calm, she's motionless. The styrofoam mannequin keeps a quiet vigil, patiently awaiting the next arrival of passengers, not willing to admit another train will never come.
Across the street is a schoolhouse without children, where dozens of hand-sewn dolls have been diligently reviewing the same lesson for years.
Further up the street is a bank, the front of which served as a movie set for the film Bye Bye Blues in 1988. Locals later added an actual building behind the facade. The well preserved cowboy town soon caught the attention of more filmmakers. A big-budget Hollywood production came to Rowley in 1994 to film Legends of the Fall. In this town, there's a historical nugget around every corner.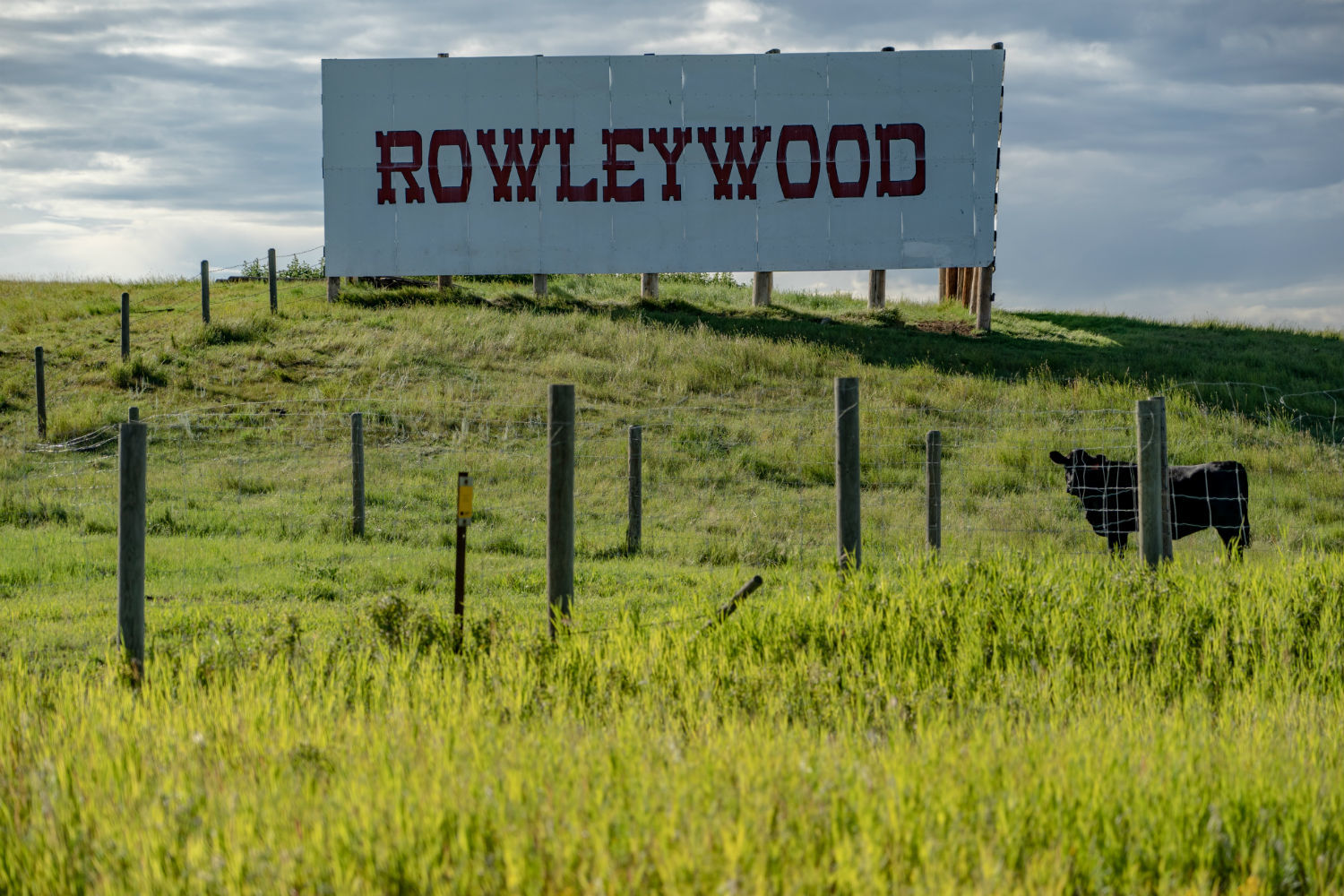 Of course, maintaining a town full of fake inhabitants takes more than goodwill and a sense of whimsy. It requires money. So Rowley created another attraction, one which brings both visitors — and funds — to town on a regular basis.
Pizza Night.
It's a simple but remarkably successful idea. On the last Saturday of the month, they cook pizzas — by the hundreds — in the community hall and put on concerts across the street at Sam's Saloon, which keeps visitors' thirsts well quenched while they await their pies. The profits help cover the costs of maintaining the town.
Buoyed by word of mouth and social media, Pizza Night in Rowley has become a bit of an institution. People come from Edmonton, Calgary, Lethbridge and even farther afield to be a part of the unique experience. The record for one night is 350 pizzas, Hampton proudly recalls.
But this summer, it's been a different story. Because of COVID-19, Pizza Nights are cancelled, as are the tours of the town's buildings. In spite of the pandemic, Hampton says 10 to 30 cars have been stopping by each day, but it's nothing like past years. The loss of revenue this summer has been a big blow to the small town.
Still, Rowley remains. And Hampton says its resilience has been a family affair. His own family was among the first to settle here. His brother is still here. As he speaks, you see a touch of emotion behind his horseshoe mustache.
"I'm pretty proud of Rowley," he says.
"That's why I would like to keep the place looking good, because there's a lot of history in them buildings, and it all started with our mothers and our fathers and our grandmothers. So, it's something to be proud of."
Today, Rowley is part ghost town, part tourist town, part regular town. A young couple and their two children live up the street from the saloon. Another couple just moved in behind the saloon and they help maintain that side of the town. It means that much less to do for Hampton, who's delighted to be able to pass the torch to a new generation.
Here, like in the other towns we've visited, the stories may be faded, but they're not gone. Spending time in these places, we're able to touch a time gone by, one that is otherwise in the process of being forgotten. These towns aren't far, but may seem part of a distant illusion, like mirages appearing on the prairies instead of the desert.
They exist as anachronism: rooted in another era, with one foot in today's world. But for how long?