With hundreds of balloons, bouquets of flowers and dozens of dignitaries in attendance, the grand opening of the $17-billion Fort Hills oilsands facility last week had all the hallmarks of a celebration.
In truth, it also marked the end of an era: the close of the great oilsands boom.
When Suncor first began developing Fort Hills in 2002, Fort McMurray was bursting at the seams — the community had exploded with a rush of excitement about the oilsands. People from across the country were constantly flying to the remote town in northern Alberta and still there were never enough workers.
The community was a modern-day Klondike.
Roads that were built for a town of 10,000 people were gridlocked with traffic jams lasting hours. Reservations at restaurants were required several days in advance and grocery stores had never-ending lineups.
Those days are now gone.
The oilsands is no longer the force it once was for the Canadian economy.
After a decade of unprecedented construction and rapid growth in oil production, the small-town feel is returning to Fort McMurray.
The oilsands boom is over — and locals like Nicole Bourque-Bouchier say that's OK.
"It's a bit of a relief from a resident point of view, [someone] that is raising a family," she said.
From a business standpoint, however, the slowdown in the oilsands is bittersweet for Bourque-Bouchier. She was able to grow her construction and contracting company from a few dozen employees before the boom to nearly a thousand workers today. The Bouchier Group is considered one of the largest Indigenous-owned and -operated companies in the region.
The amount of oil produced from the oilsands will likely continue to grow over the next few decades through smaller projects that are a fraction of the cost of the megaprojects for which Fort McMurray is known. Governments will still collect royalties on oil production and tax revenue from the region, but without the building boom of the last decade, the amount of investment, jobs and economic activity in the region has already fallen sharply.
Between 2014 and 2017, oilsands investment fell 45 per cent, according to IHS, and capital spending by companies will drop below $10 billion this year — the first time that has happened since 2004.
It's no longer the force it once was for the Canadian economy.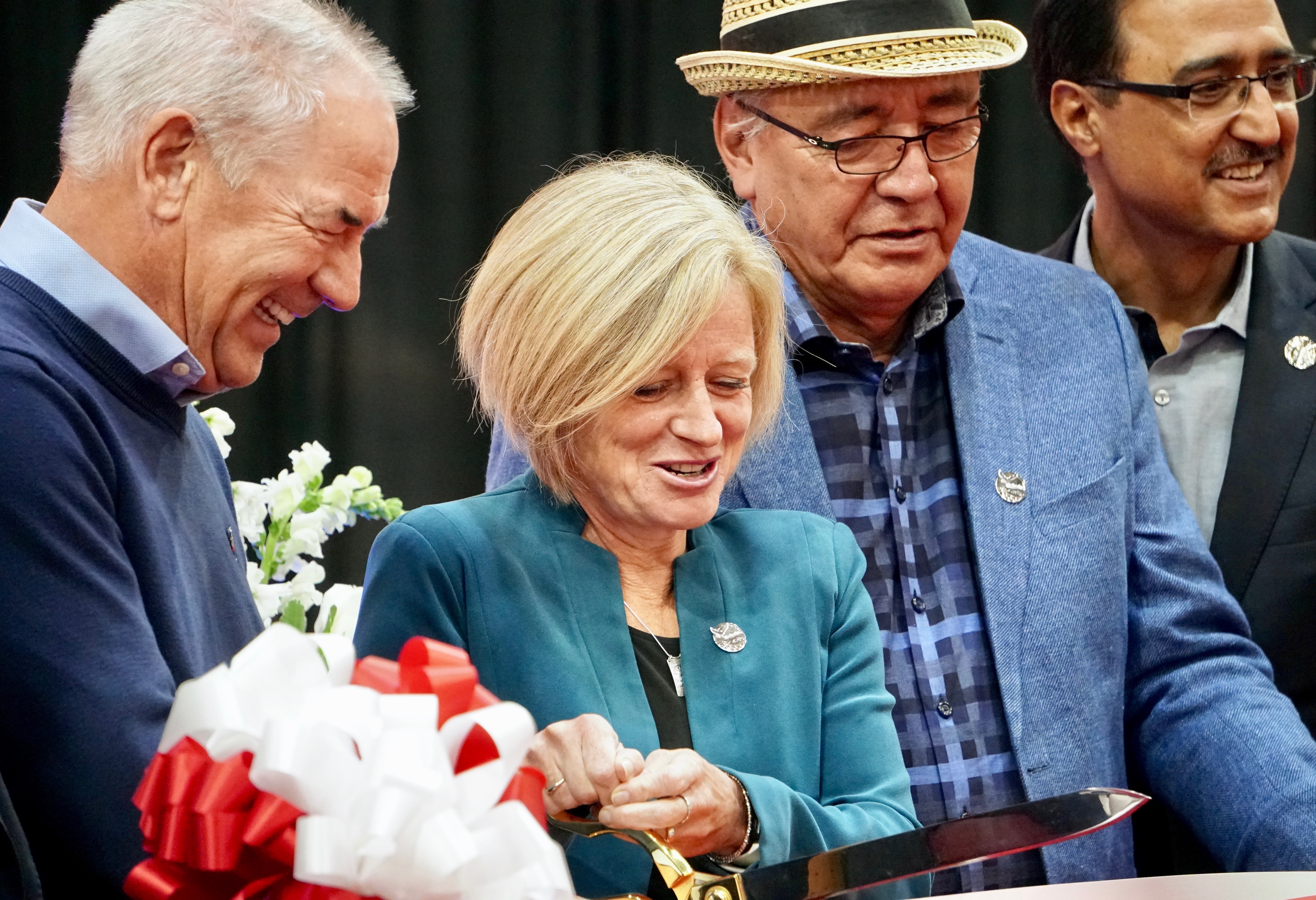 Oilsands growth has fallen because of a confluence of factors locally, nationally and internationally. The reasons include a lack of new oil export pipelines, an unpredictable regulatory process, sagging oil prices and rising crude production in the U.S. Those still looking to invest in the oilsands are wary of continuing to build big because of the hefty price tag of new facilities and the long time they take to develop.
Growth in the oilsands began to slow in the last few years, as the oil price crash forced some companies to delay or cancel new projects. Fort Hills has slowly ramped up production after reaching "first oil" in January. The mine is the last of several megaprojects completed in recent years, which also includes Canadian Natural Resources' Horizon and Imperial Oil's Kearl.
Together, they are the last big gasp of oilsands growth.
"It's unlikely there will be projects of this type of scale again," said Suncor chief executive Steve Williams during an interview at the grand opening of Fort Hills, seated in front of a heavy hauler mining truck three stories tall.
"This was a very attractive place to invest [in]. There was a degree of confidence in the regulatory process, the economics were good, the resource was good and continues to be good," he said.
These days, investors don't have the same appetite for bitumen. Oilsands projects can take more than a decade to develop and the megaprojects often cost more than $10 billion to build.
Oil companies are much more interested in spending in Texas and other American states where technological advances have unlocked a bounty of tight oil. Using fracking techniques, old fields are now producing unprecedented levels of oil. The wells are relatively cheap and quick to drill, so companies don't wait long to start making money.
"They are much easier to execute," said Jean-Michel Gires, the former head of Canadian operations for French multinational Total S.A. Gires worked to develop multiple oilsands operations for Total, including buying an ownership stake in Fort Hills, while the project was under development.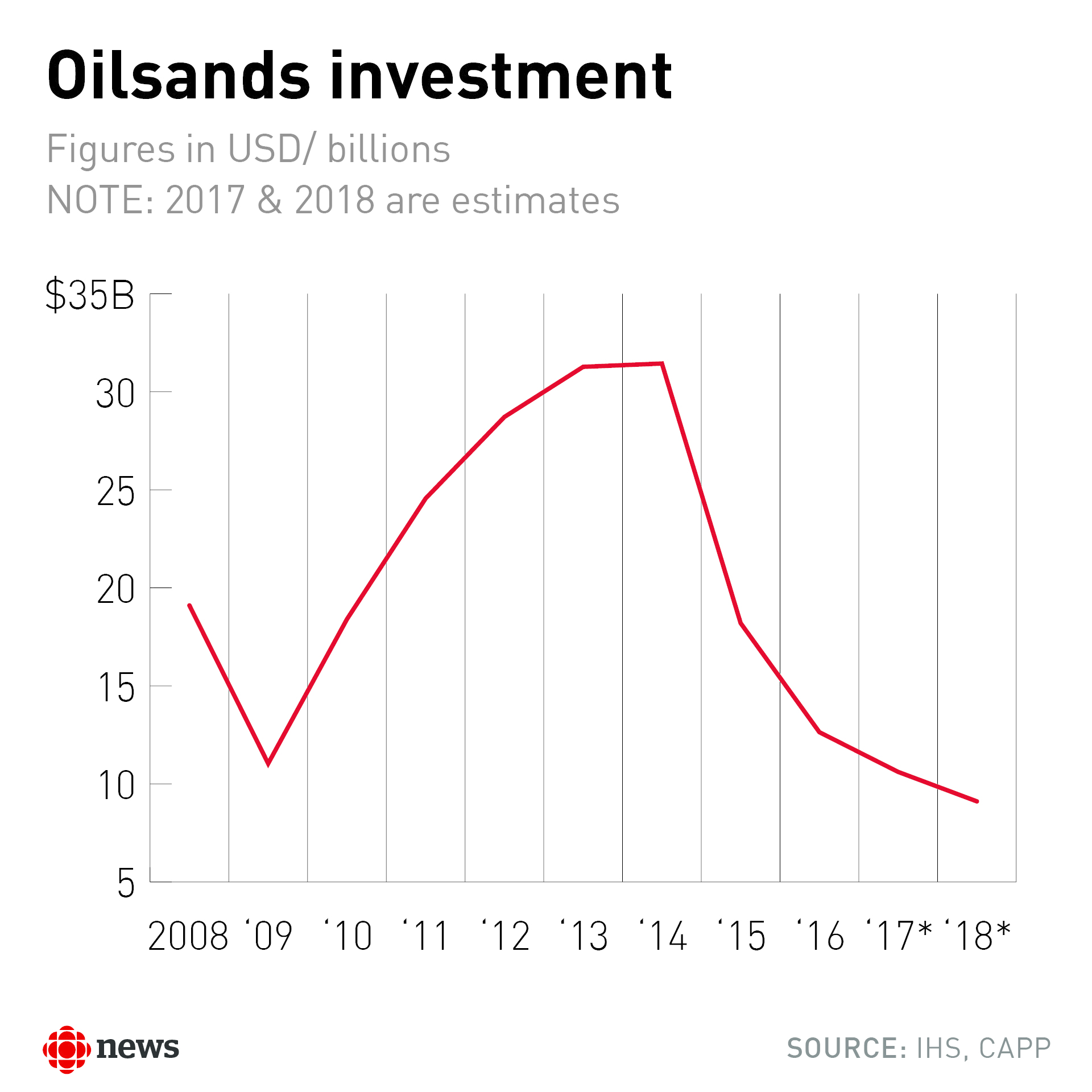 As oil production in the U.S. spiked, the thirst for more oilsands megaprojects began to dry up. In today's world, Gires said giant oilsands facilities are too big, require too many people and have too steep of a price tag.

"Probably there is space for some projects in the several hundred million dollars category. But big projects like Fort Hills, worth more than $10 billion, are really not going to be the preference in the next years," he said.
In a world increasingly focused on limiting greenhouse gas emissions and protecting the environment, the oilsands faces intensifying pressure. Governments are regulating carbon and methane emissions, while Indigenous groups and environmentalists are also worried about the impact on land, water and animal habitats.
The Fort Hills mine is larger than the city of Vancouver, and the existing forest was cleared to access the bitumen ore just below the surface. Alberta's oilsands produce 9.3 per cent of Canada's overall greenhouse gas emissions.
During a special blessing and honouring of the Fort Hills mine, an Indigenous elder made a plea to protect the environment.
"With this prayer, I am sending a message to Mother Earth. Please take good care of her for the future of our generation," said Marie Adam, an elder with the Athabasca Chipewyan First Nation, to the crowd of 400 dignitaries and oilsands workers.
Suncor says emissions per barrel of oil produced from Fort Hills is on par with the average barrel from the U.S., thanks to new technology and techniques at the facility. The intensity of greenhouse gas emissions varies widely in the oilsands because of the age, geology and technology of different projects.
A lack of new oil export pipelines has certainly had an impact on finances in the oilsands. Full pipelines cause the prices of heavy oil out of Alberta to drop. Companies without any pipeline space have to ship their oil to refineries by train, which is more expensive.
With proposed projects such as Keystone XL and the Trans Mountain expansion facing delays, there is added uncertainty for companies wanting to invest in new oilsands projects.
The number one issue facing the oilsands is a lack of pipeline capacity, said Rob Bedin, an analyst with the RS Energy Group. "There is insufficient capacity to move today's volume."
The fall in oilsands growth has led to an exodus of tradespeople from Fort McMurray. For those workers who stay, there are fewer jobs. Half of the members of one local trades union are without work.
The oilsands is "yesterday's story," according to Murray Mullen, the head of the Mullen Group, an oil and gas service company based in southern Alberta. During peak construction, Mullen's trucks were hauling a constant stream of equipment up to Fort McMurray.
"There's still activity," said Mullen, "but we're talking about a diminished amount. It's probably not a growth engine for the Canadian economy anymore."
Mullen sees natural gas as the future of the oilpatch, because of massive deposits in northeast British Columbia and northwest Alberta. As countries around the world try to reduce their use of coal power, the cleaner alternative could be natural gas. If Canada builds liquified natural gas export terminals on the West Coast, Mullen sees another boom in the energy sector like the one that's come to an end in the oilsands.
The amount of bitumen pulled out of the ground around Fort McMurray will continue to increase even though the amount of spending on new projects has fallen. Many existing oilsands facilities are still increasing production, and new technology is improving operations. Growth will also come from expansion of existing projects.
The oilsands produced 2.6 million barrels per day of oil in 2016, a figure that is expected to increase to 4.5 million barrels by 2040, according to the National Energy Board. Entirely new facilities will account for only nine per cent of that growth. But the NEB's forecast is based on several new pipelines being built, which may not happen, considering the opposition and delays proposed export pipelines are facing.
"In the United States... not a week goes by that the numbers are not restated up in terms of the potential. Whereas in Canada, you see a gradual slowing of production growth," said Kevin Birn, head of oilsands research for IHS.
Dozens of new projects are still proposed for the oilsands, but many remain delayed or shelved as companies re-evaluate whether they want to invest in Fort McMurray.
"That gives us the weird sentiment in Alberta. The economy is doing better, people generally feel better, but there's something just not quite right. I think that's the something that's just not quite right — we should see projects sanctioned, but there is a hesitation to do it," said Birn.
There are a few wildcards that could alter the course of the oilsands. Experts are confident any new oilsands projects will be much smaller than most facilities currently operating, but Vancouver-based Teck Resources continues to make progress with its proposal for the $20-billion Frontier mine. The project could be the largest facility ever built in the oilsands, and the furthest north from Fort McMurray.
Advances in technology could also be a game changer if new ways of processing bitumen are developed. Recent progress, such as Canadian Natural Resources' new extraction process, is showing promise.
Birn said such innovation "could fundamentally alter the mining process in reducing costs and emissions in the process."
No matter how technology develops, Gires, the former head of Canadian operations for Total S.A., isn't sure new oilsands megaprojects will be constructed in the future.
"If we can inject more innovation, you'll see a new generation of projects which could be smaller — I'd say a few hundred million dollars category," he said.
With construction wrapped up on the last of the megaprojects, Fort McMurray is undergoing a reset, as the next generation of gradual growth sets in.
On the Sunday evening before the Fort Hills grand opening ceremony, there were only a few vehicles visible at red lights, and in downtown restaurants, there were more empty tables than full ones.
While Bourque-Bouchier enjoys the relaxed pace in town now, it has meant changes for her construction and contracting business. She said revenue and staff numbers are still high despite the slowdown in the sector, but there's been an adjustment.
"It's definitely a new reality for us as a business in terms of the profit margin and the price of doing business," she said. With fewer projects to bid on, "competition is definitely at an all-time high right now."
Fort McMurray was so busy during the boom that locals often wouldn't recognize anyone they knew at grocery stores.
Now, Bourque-Bouchier says people are once again getting to know their neighbours. The small community feel is back.