On Feb. 28, 2010, Canada's Olympic men's hockey team defeated Team USA to capture the gold medal in Vancouver.
Sidney Crosby's golden goal in overtime gave Canada the 3-2 win over the tenacious, underdog Americans and had the entire country celebrating.
The gold medal game was the most-watched hockey game since the U.S. won gold at the 1980 Olympics. Broadcaster CTV reported 26.5 million Canadians took in at least part of the game.
If Canada had lost this high-profile game despite its team stacked with NHL talent, it might have soured the 2010 Olympics in a big way.
There might not be anyone entertaining the notion of Vancouver applying to host again, as 2010 president and CEO John Furlong recently urged the city to do for the 2030 Games.
This is how players and observers remember that momentous day.
Bhupinder Hundal, play-by-play announcer, 2010 men's gold medal game: This was probably the most pressured situation that any Canadian hockey team has ever faced. The Games are at home, all the pressure is on this Canadian men's team. It was basically, if they don't win the gold medal, the Olympics were for naught.
Eric Staal, forward, Team Canada: When I got that first call that I made Team Canada, it was a dream come true, obviously. You grow up watching a lot of Canadian sports, the Olympics in general, and to know that it was in Canada and all, that it was in Vancouver, it was something that I really, really was hoping to be a part of.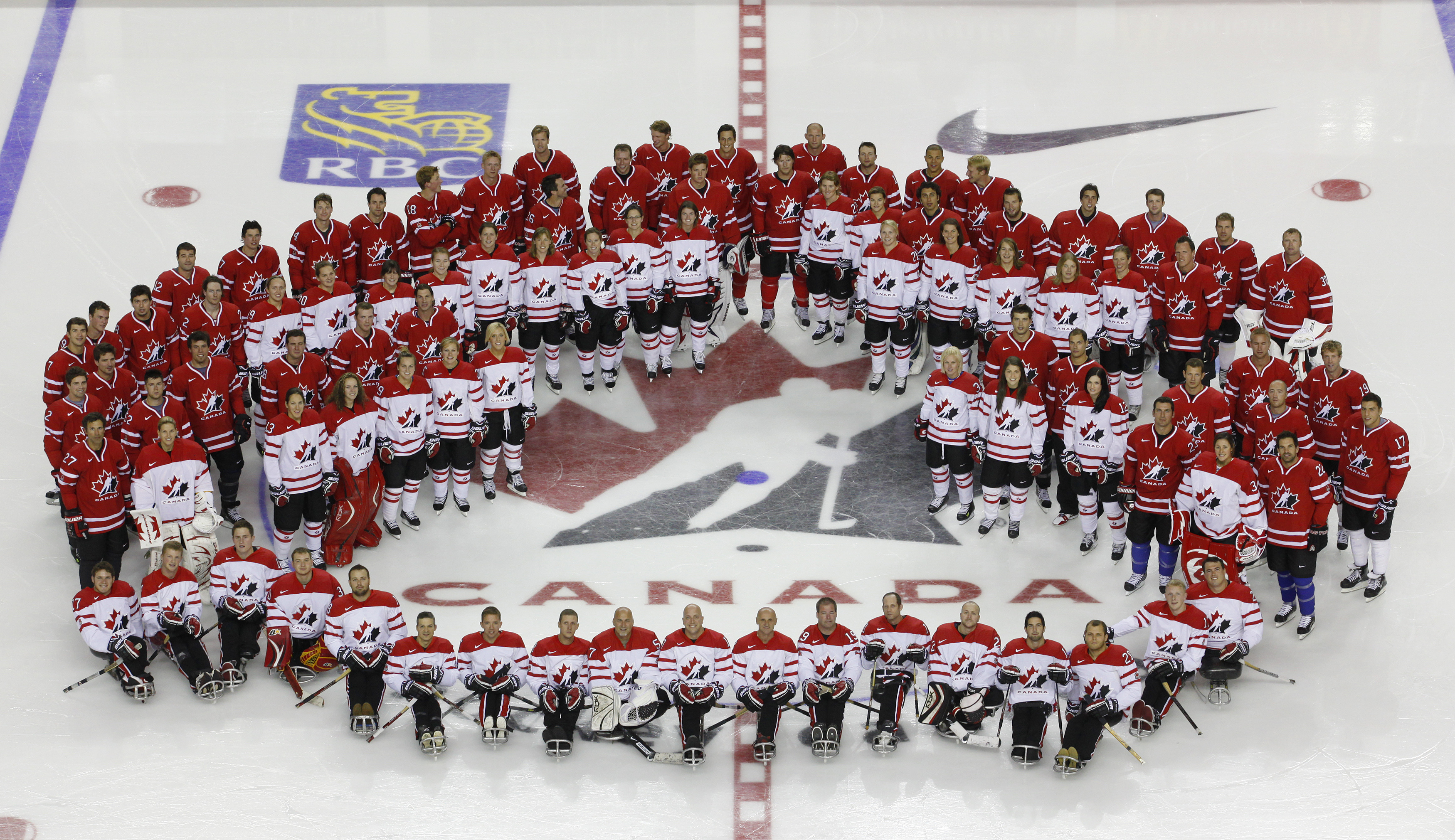 Sidney Crosby, forward, Team Canada: There's high expectations. It's been like that for a long time, and I think you've kind of grown up with those expectations, and they've kind of stayed, which is great. That's the way it is, and I don't think we'd have it any other way.

Scott Niedermayer, captain, Team Canada: When you're on Team Canada, there's sort of one expectation, and that's that you win the tournament you're in. And obviously, gold medal on home soil hosting the Olympics is exactly what everybody wanted. It's what the country expected.
Rick Nash, forward, Team Canada: It was exciting, but at the same time, there was a lot of pressure on us to win gold, especially after our performance in [the 2006 Winter Olympics in] Torino … finishing seventh.

You kind of never hear the end of it until you win that next one. If I said it didn't bother me for four years, I would be lying.
Jamie Langenbrunner, captain, Team USA: I think we were picked to finish middle of the pack. Not really a medal contender, and we definitely took an exception to that. We believed in our group.

Being named [to the 2010 team] was amazing. Being named captain, was, I think, the single greatest individual honour I received in my career.
In the preliminary round, Canada beat Norway 8-0 but eked out a 3-2 win over Switzerland in a shootout — a team with two NHL players compared to Canada's 23. Team Canada closed the preliminary round with a 5-3 loss to Team USA.
Niedermayer: We would have loved to have played our best hockey all the way through the tournament, but it didn't happen.
Staal: I mean, it's a tough competition. It's a short amount of time where you have to come together as a team and peak at the right time.
There's some great competition. There's some great countries with great players, and we definitely had some challenges some nights that were tough.
The U.S., on the other hand, won all three of its preliminary games. Team USA tied Canada for most goals scored in the preliminary round and let in only four thanks to goalie Ryan Miller.
Langenbrunner: I don't think we can say enough about the way Ryan Miller played. He was obviously fantastic, and when you have a guy like that playing like that in that stretch, the confidence builds in your group pretty quickly.
We were fortunate in that we got going in the right direction right away.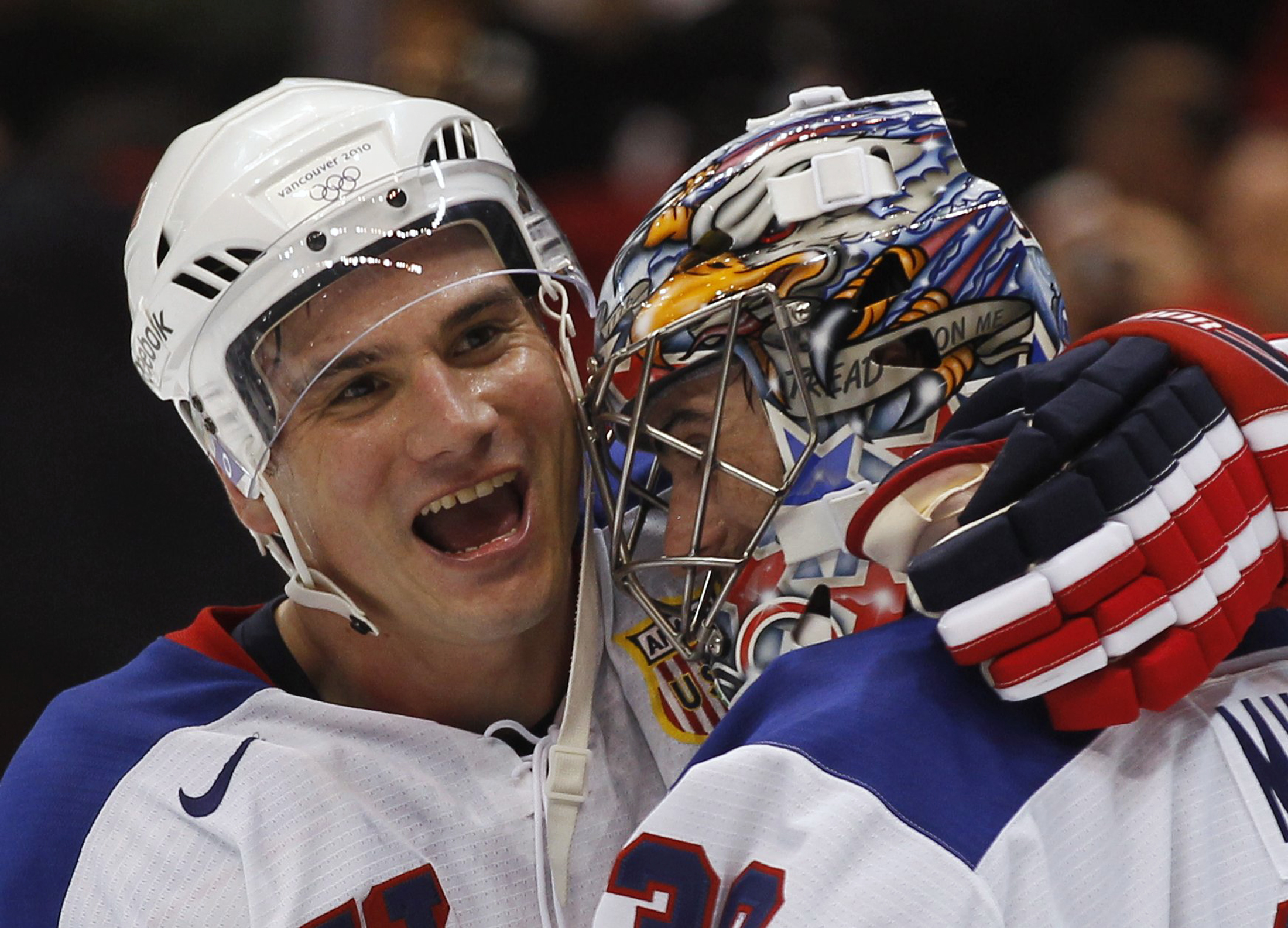 Zach Parise, forward, Team USA: We played Canada, third game, and we were slowly getting better and better and just peaking at the right time for the medal round.
Just looking at the lineups between Canada, Russia, Sweden, probably on paper, we didn't stack up to those guys, but it didn't bother us.
Canada's preliminary round results meant the team had to play an extra playoff game. Team Canada beat Germany 8-2 and Russia 7-3 and then won a tough game against upstart Slovakia 3-2 en route to the final.
Hundal: You saw Canada is just starting to get into this groove. We're like, OK, now we're starting to see the Team Canada that we expected, and then, that kind of propelled them to the gold medal game.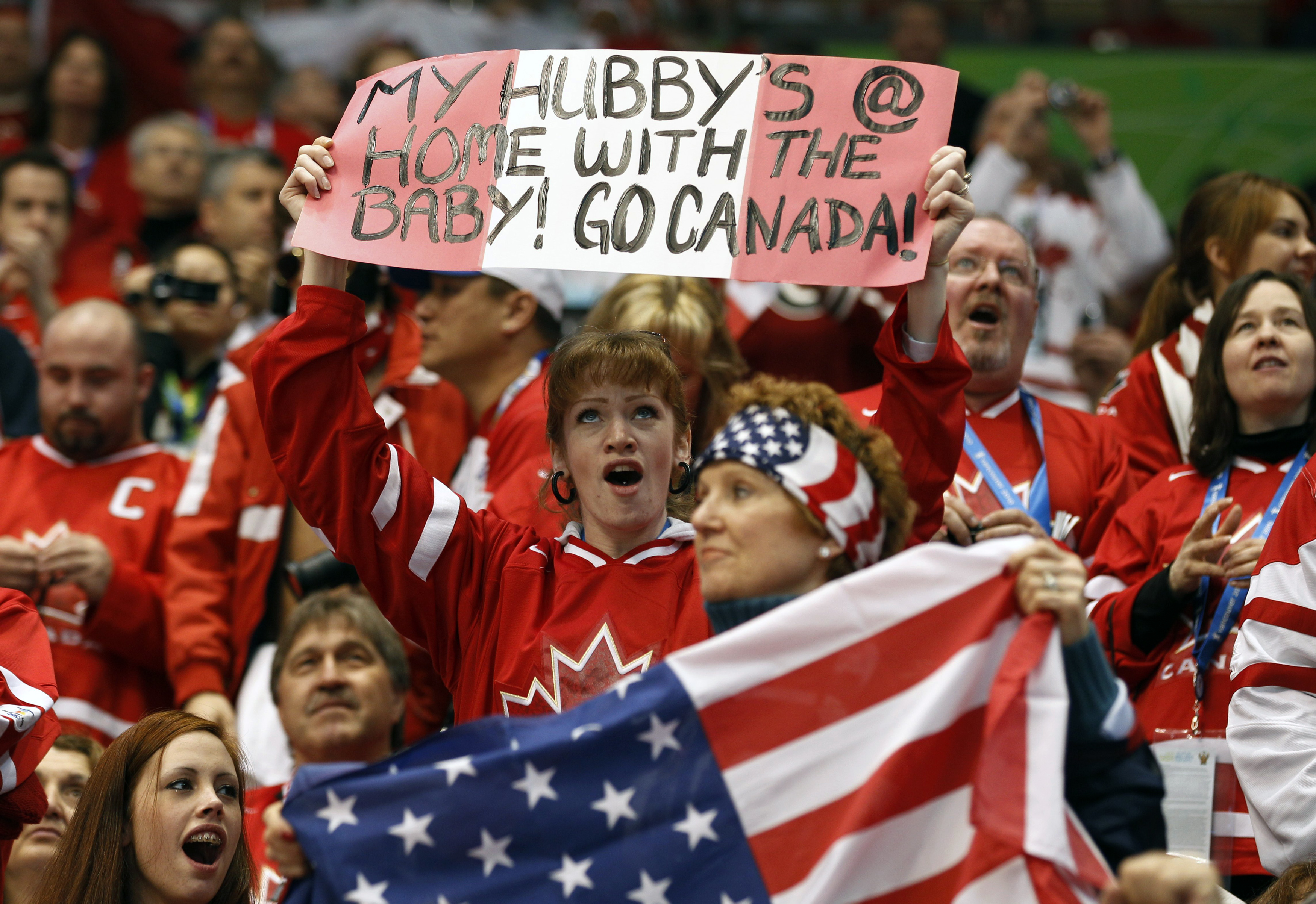 Langenbrunner: So, we go into all this positive talk, "Now we have to come to this game, huh?"
Niedermayer: There was definitely pressure. You felt it.
The other athletes were having a lot of success. The women's hockey team won their gold medal. It really set us up for a position where we really could be a hero to cap off a great Games or sort of put a bit of a downer on it.
Nash: I remember not really sleeping that night, just anxious and wanting to get on with the game.

Langenbrunner: The game, unbelievable. I mean, this was about as nervous as I'd been for a game. You compare it to playing in, obviously, a Game 7 in the Stanley Cup final.
You believe in yourself, and I think we believed we were going to win a gold medal.
Hundal: This is do or die. If Canada wins, the Games are the greatest thing ever. Canada loses, and people are going to think the last two weeks were a wash. Like it didn't even matter.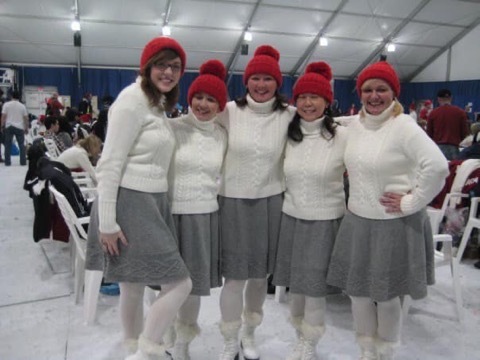 Karen Dickson, audience leader, 2010 closing ceremonies: The audience leaders became very protective of their job, which was actually to raise the spirit and to have everybody pumped up [during the closing ceremonies].
We could feel in the [dressing] room, 210 of us watching these screens thinking if Canada wins this game, it's going to be an amazing closing ceremonies. And if they lose, it's going to be awful.
Bill McCreary, referee: I was 54 years old skating with a bunch of guys from 25 to 35. So there's a huge difference. The speed of the game was incredible.

It was so exciting and just fun to be a part of. And, you know, [I was] just trying to stay out of the way.
By the game's halfway mark, Canada had a 2-0 lead with goals from Jonathan Toews and Corey Perry.
Staal: Ryan Miller was playing phenomenal that whole tournament. That final game, it felt like we could've had a couple more. And he really, really played well and held the fort strong.
Niedermayer: The Americans weren't going to roll over. They had confidence from how well their tournament had gone. They believed in themselves as well. So, it ended up obviously being a tremendously tight game.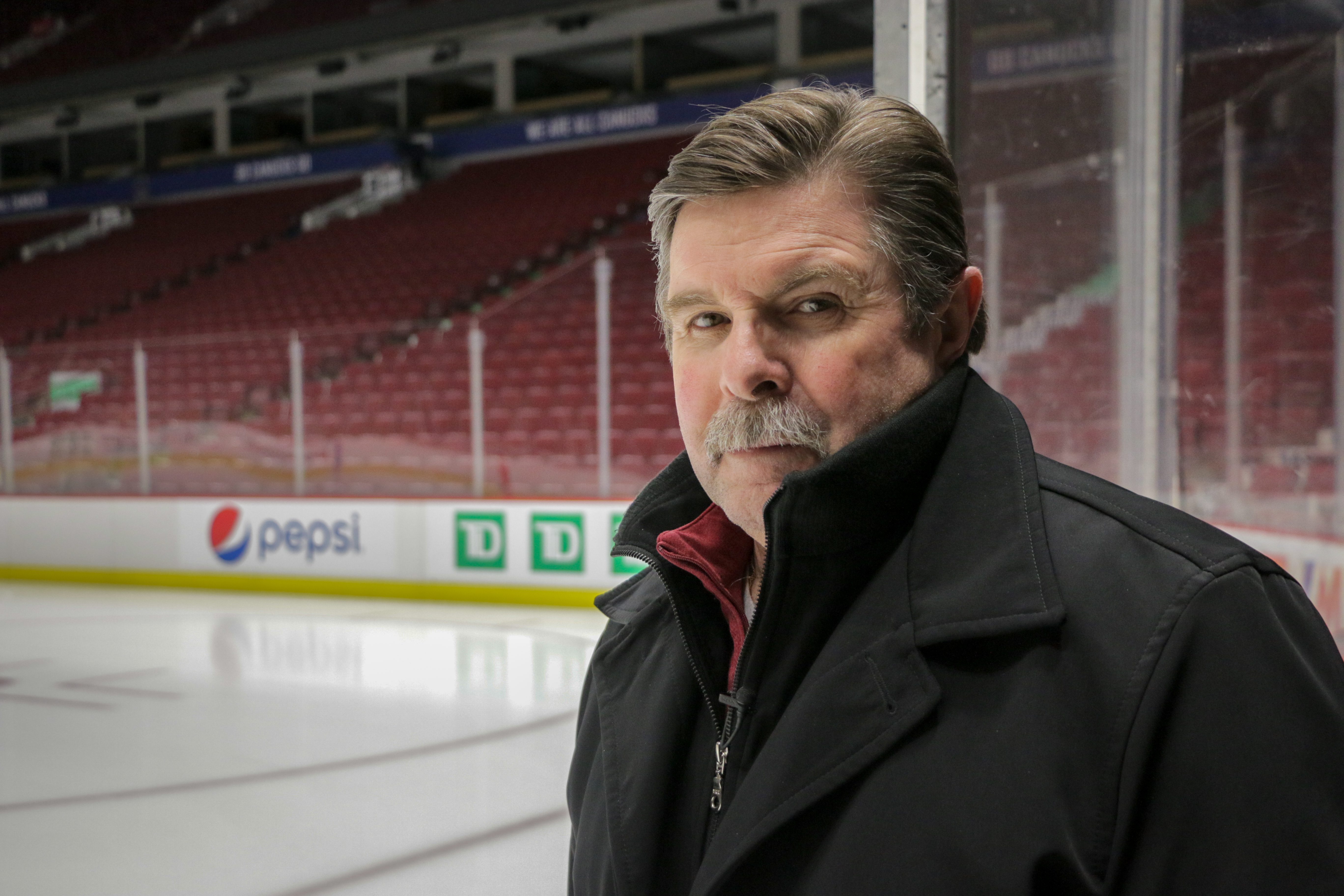 Indeed, they did not roll over. Ryan Kesler scored to make the score 2-1 and with fewer than 30 seconds left, Team USA pulled its goalie for an extra skater to press the attack on Canada.

Langenbrunner: I remember just the feeling that we're going to score. It just kind of felt that way.
Parise: We're able to catch a little break. [Forward Patrick] Kane just did a spin around, a shot and off Jamie [Langenbrunner]'s foot and somehow … the rebound went off Luongo's pad, right on my stick, and it was just reactionary.
For me, that was the biggest goal that I've scored.
Parise's goal tied the game 2-2 and set up overtime.

Staal: Obviously, that [tying goal] by Parise was a tough one. When you're that close to realizing your dream of winning a gold medal, and then you've got to keep playing, it can be tough.
Dickson: I just think you're born knowing that Canada needs to win, especially against the U.S., and especially for gold when the Olympics are happening on our soil.
Hundal: I mean, that was probably the most nerve-racking intermission, I think, in all of Canada.
There was one chance where the Americans were really dangerous [in overtime], and that was Joe Pavelski, who got a gift in terms of a giveaway from Scott Niedermayer.
Niedermayer got the puck back from Team Canada goalie Roberto Luongo and made a pass up the ice to forward Sidney Crosby.
Niedermayer: You could see that the two forwards [Crosby and Jarome Iginla] were ready to go. They wanted to go attack. They wanted to go get something going. I think they sort of lost it at the blue line, and it went into the corner.
McCreary: Iginla and Crosby came in and forechecked like crazy.
The puck was shot, sort of pushed along the wall, and it was around my feet area.
Crosby went over, and he was fighting with [Team USA defenceman Brian] Rafalski for the puck, and he seemed to win the battle, and he got ahead of Rafalski just by a stick length.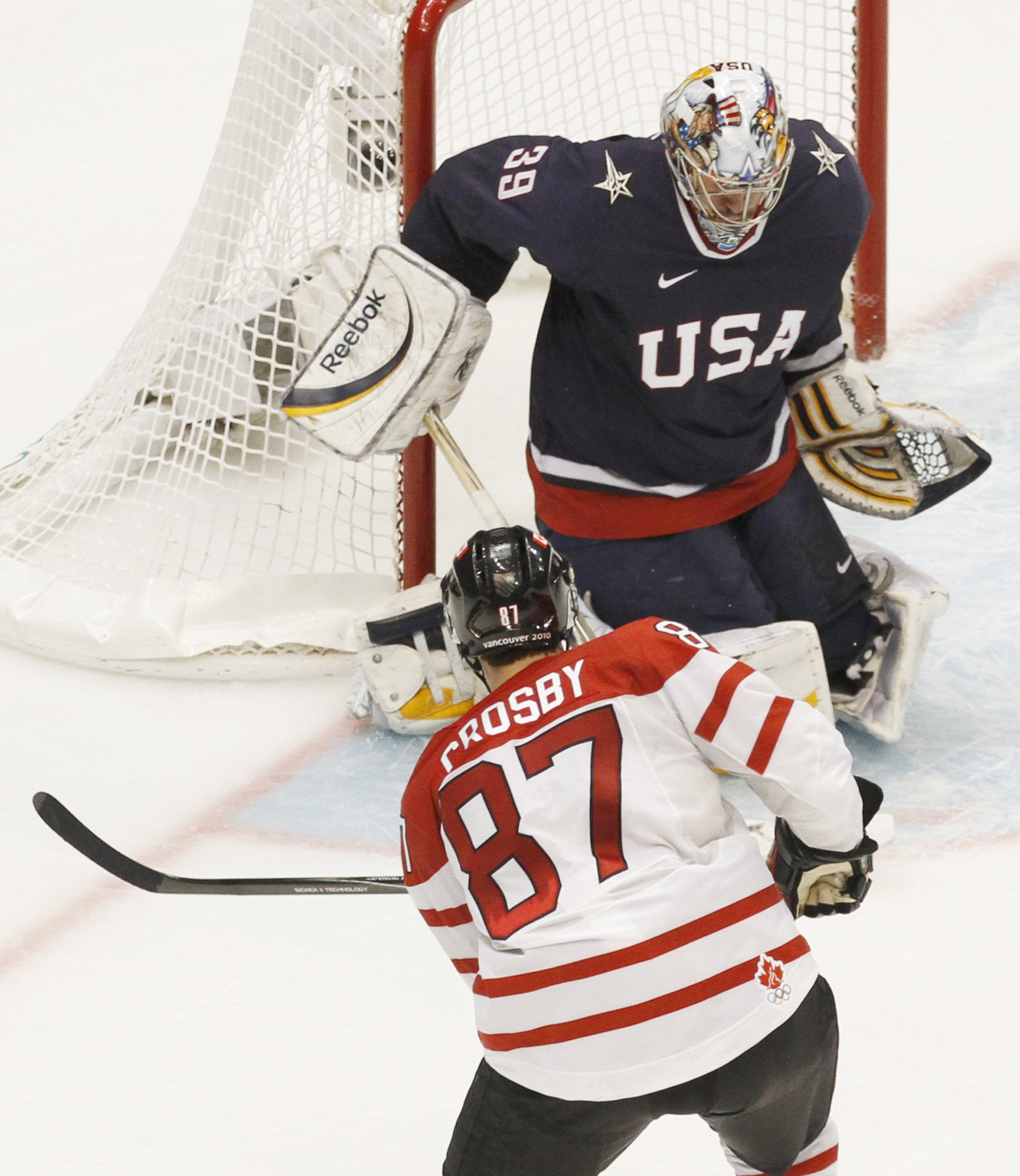 Staal: You could kind of see the play develop rather quickly.

Niedermayer: Sid made the quick shot, and I was sort of standing in the high slot. I'm thinking maybe I was going to get that chance.
Todd Korol, Reuters photographer: When Crosby got the goal, I remember him yelling out "Iggy!"
Drew Doughty, defence, Team Canada: I was on the right blue line … Sid got the puck from Iginla, and I was going to go back door if he shot it off the pads or something. Maybe I'd get the rebound, either put it in the net or get it in the corner, but he went five-hole.

Staal: Once he released that shot, you kind of knew it was going in.
Hundal: I think the only surprising thing was when Crosby received the puck, how quickly he was able to get it off. And I think that's what ultimately fooled Ryan Miller, too.
It wasn't the hardest shot, wasn't the most accurate shot, but it was the smartest shot, and it was the quickest release that you could have.
Parise: I had to watch that thing go in. I was actually on the ice trying to get back and get the puck from Sid, but I was a little too far away for him.
Langenbrunner: A great play by a great player ends up being the difference, and it's something, at that moment, that's a devastating feeling.
Niedermayer: I remember the puck hit that little pad at the back of the net and just being so excited at that point that we had won the gold medal.
Nash: It was just a huge exhale. You just felt all the weight was off you when that puck crossed the line.
I still watch the video and think I was the first one from the bench into the pile, into the scrum against the glass.

Doughty: It was just crazy. Just chills running through your body. And it was a fun night after that.
Obviously, the crowd was going nuts. We were going nuts.
We won it in Russia, too [in the 2014 Winter Olympics]. I don't even know if we threw our gloves off. It just didn't feel the same at all.
Staal: The fact that it was in Canada, in Vancouver… it was special to be able to share it with everybody. It felt like, for us, the whole country was watching.
This is what mattered at that time and to be able to ... share with everybody in that moment of seeing the flag go up and singing the anthem was very special and something that I'll never forget.
Patrick Marleau, forward, Team Canada: I'll never forget going around Vancouver after, going out to dinner, and the streets were just jammed. They were just packed. Everybody was celebrating.
Parise: It's amazing how quick it ended.
You're going from probably having a chance to win something that would be the peak of all of our careers, winning a gold medal on Canadian soil. To have that taken away in a split second was really, really disheartening.
Crosby: As a kid growing up, you dream of scoring goals like that. So for it to happen in Canada and the way it unfolded, I think, definitely … happiness comes to mind.
Regardless of where it was, scoring a big goal at the Olympics like that is pretty neat, but given the fact that it was in Canada? You're not going to get too many opportunities or be fortunate enough to be in an Olympics when it happens to be in Canada.
Hundal: A large sell of having the Olympics in Canada was to see the hockey teams win. That's what everybody's passionate about. That's what everybody was fully invested in.
We kind of need to, you know, back away a little bit and just remember it's just a game.