Trading four wheels for two has given paramedic Darren Metta and his team a different view of the overdose crisis in Vancouver's Downtown Eastside.
Metta and the bicycle paramedics of 248 Squad zip through the neighbourhood's streets, alleys and parks as they respond to emergency calls and seek out patients needing treatment.
British Columbia is marking the five-year anniversary of the public health emergency that was declared due to the overdose crisis, and the bike team has been active on the Downtown Eastside for four of those years.
B.C. Emergency Health Services says the program, which normally runs from May to October but is currently on an adjusted pandemic schedule, may expand to a year-round initiative.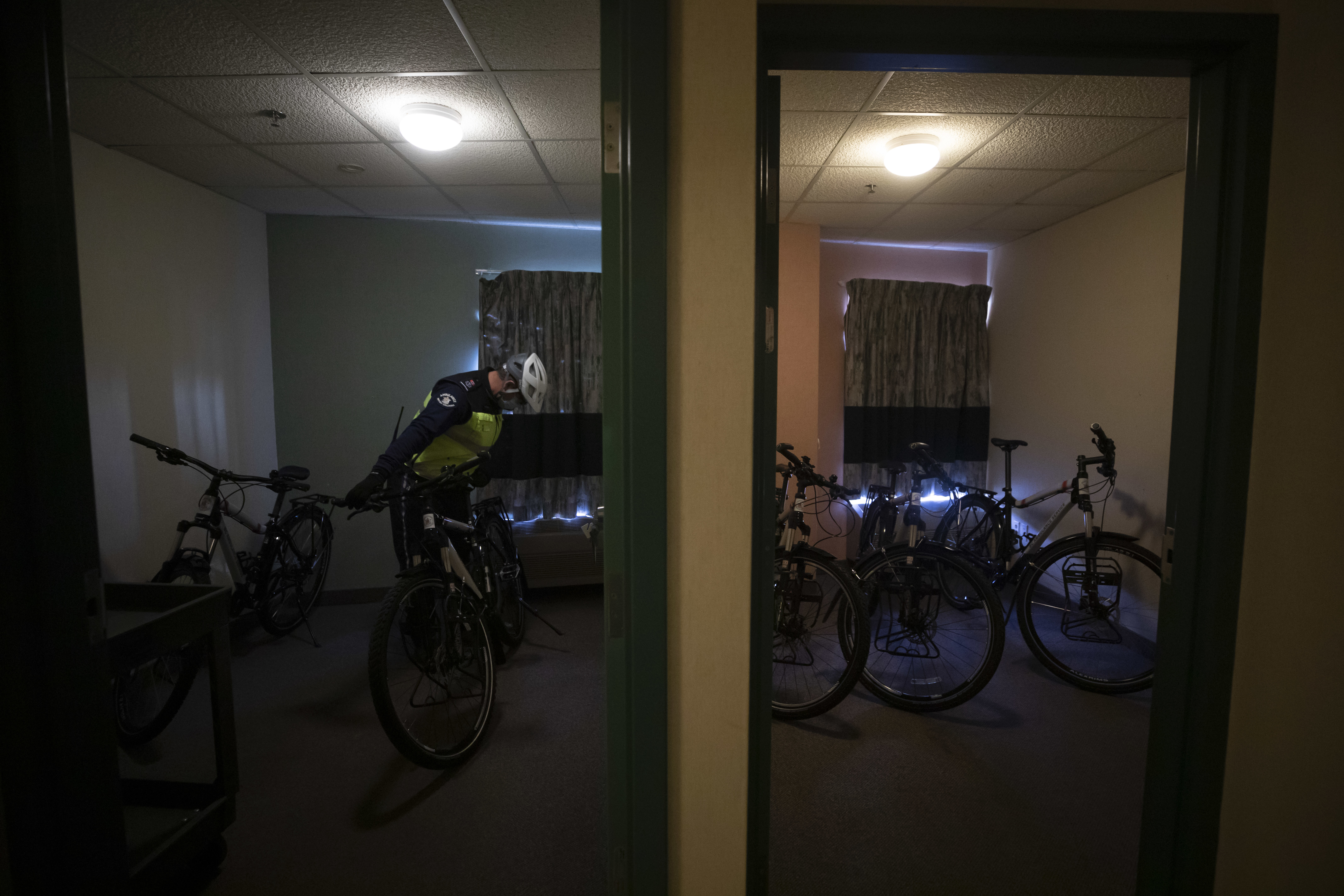 Since the declaration five years ago, the crisis has only worsened. Last year was the deadliest year ever for overdoses in B.C., killing 1,716 people. An increasingly toxic illicit drug supply is highlighted as one factor in these deaths and the coronavirus pandemic has exposed gaps in services and conditions for many people who use drugs.
"It's definitely tragic, when it's just as ongoing as it has been," Metta said.
"These struggles are anywhere in society, but it's just so concentrated down here."
The paramedics say cycling not only helps them reach patients faster in a neighbourhood with crowded and chaotic streets, it also helps them find people in distress who might not have even called for help, and has made paramedics more accessible to people in the neighbourhood.
I.
Metta's colleague, Rodney Siudut, looks over people sitting in an alley as he rides over the puddle-soaked pavement between Carrall and Columbia streets.
"B.C. Ambulance checking up on you, you good?" Siudut asks a lone, seemingly unconscious man, who quickly responds he is fine.
Siudut is looking for overdose signs: people slumped in awkward positions, those whose skin has become bluish, those who are non-responsive.
Cycling, Metta says, helps spot what could be missed from a speeding ambulance.
"Especially on the Downtown Eastside, it's hard to navigate," Metta said. "With bikes, we can get in and out of the alleys a little bit easier."
This morning's first dispatch call comes while riding through Andy Livingstone Park: an overdose at the nearby Carnegie Community Centre. Siudut and partner Tom Venables race ahead.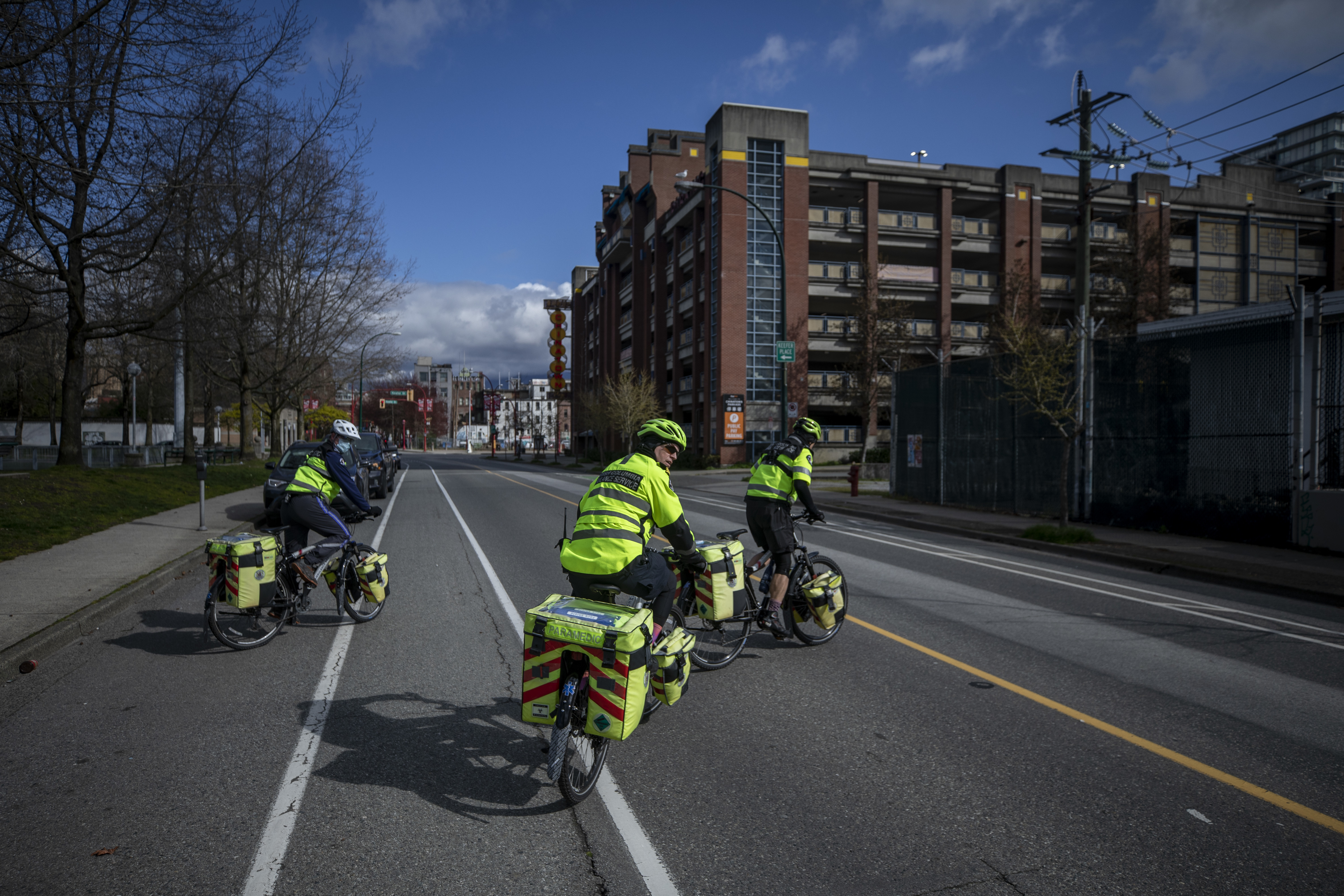 They arrive to find a man on a bench inhaling from an oxygen tank carried by two women. He is conscious, having been administered Narcan before paramedics arrived. Bystanders' actions bought critical time.
Siudut and Venables take the patient's blood pressure. Each cyclist in 248 Squad carries 45 kilograms of gear in their saddlebags for their approximately 40-kilometre ride each shift and provide many of the treatments an ambulance can.
The patient decides to go to a nearby clinic. He walks onto an ambulance and 248 Squad resumes searching the alleys.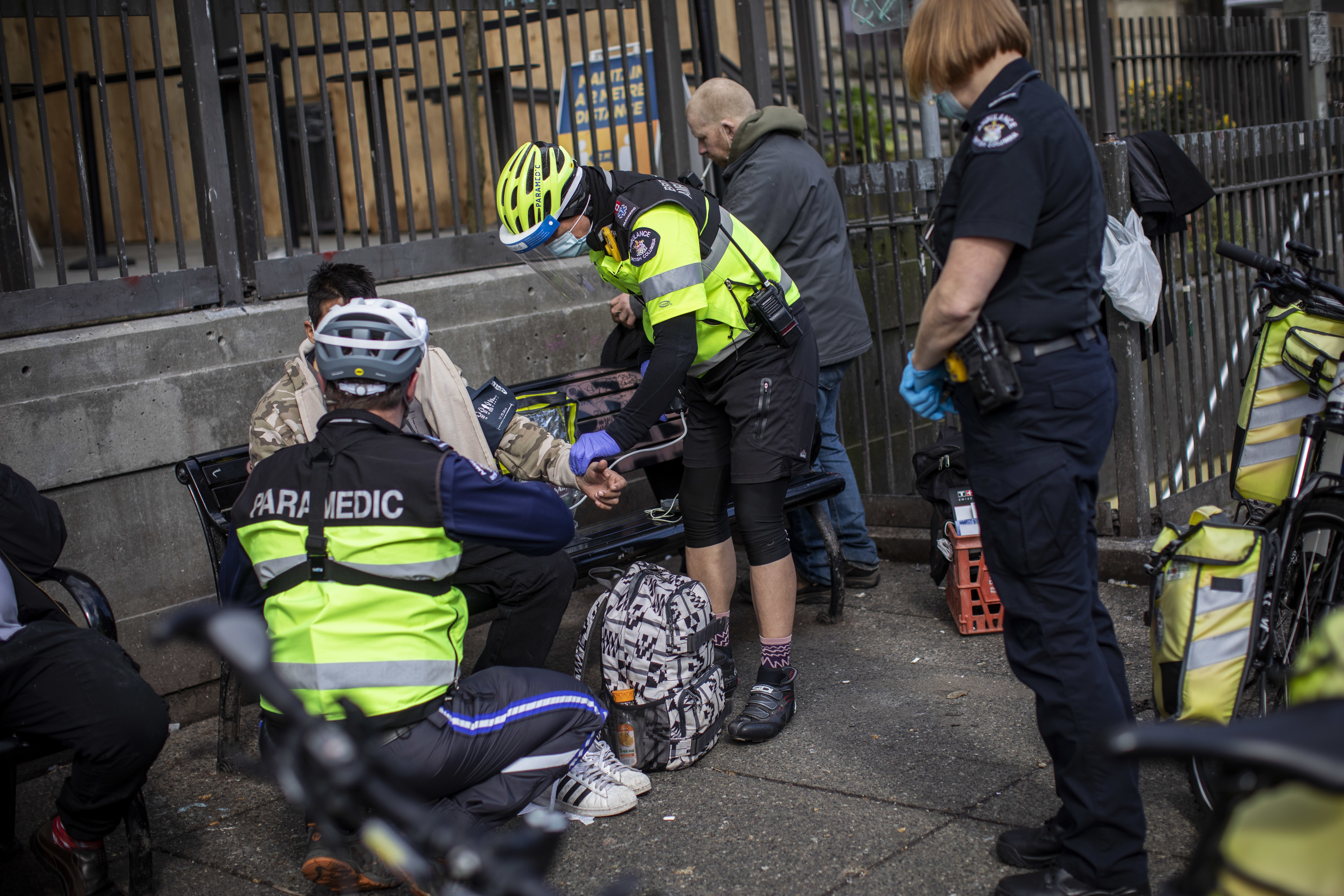 II.
Metta estimates 248 Squad will attend two to six overdoses during an 11-hour shift.
From Sept. 2020 to Feb. 2021, B.C. Emergency Health Services says the team responded to 358 overdose calls.
Overdoses aren't all they attend: this morning's second call is for a man in diabetic distress who collapsed at the corner of Abbott and Hastings.
It's a man Siudut has treated before. "Long time no see," Siudut says as he and Venables sit him up and take his glucose level.
Metta says building relationships with patients makes the paramedics more approachable. During this shift, people came up to them asking for bandages, gloves, or where they could get COVID vaccines.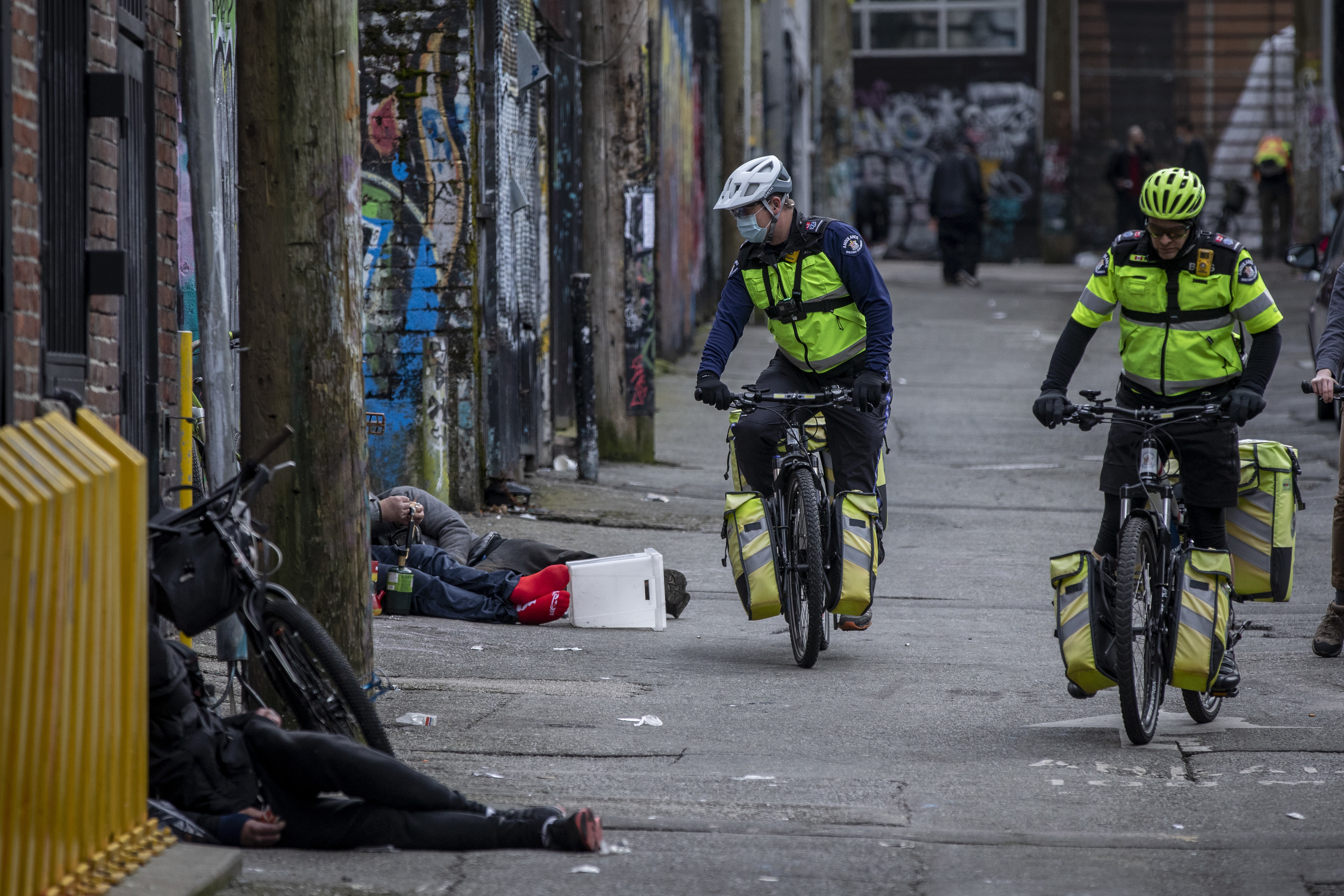 The pandemic put the bike program on hold from May to September 2020. Metta said personal protective equipment needed to be sorted out, especially because the up-close-and-personal nature of bike paramedicine means physical distancing is more challenging to maintain than in an ambulance.
In the time encampments were in place at Oppenheimer and Crab parks, Metta said relationships of mutual trust made paramedic visits easier.
"People know why we're there," he said.
Due to the poisoned drug supply, some patient-paramedic relationships have ended tragically.
"There was a fellow just last night. I knew him personally… I knew his name. He didn't make it," Metta said.
The diabetic patient chose to go to hospital. Siudut and Venables took him somewhere warm to wait for an ambulance.
III.
Metta's team meets regularly with peer groups like the Overdose Prevention Society at a weekly roundtable to share ideas.
"We've learned from them so much," society executive director Sarah Blyth said. "They're a wonderful service for people down here."
Blyth and others say they are grateful for 248 Squad but bigger solutions are needed for the overdose crisis: a safe drug supply, stable housing, better recovery options, mental health supports and drug decriminalization.
Metta says he doesn't have the answers. He certainly didn't expect to still see the crisis at this level five years ago.
He's just hopeful things won't be this bad five years from now.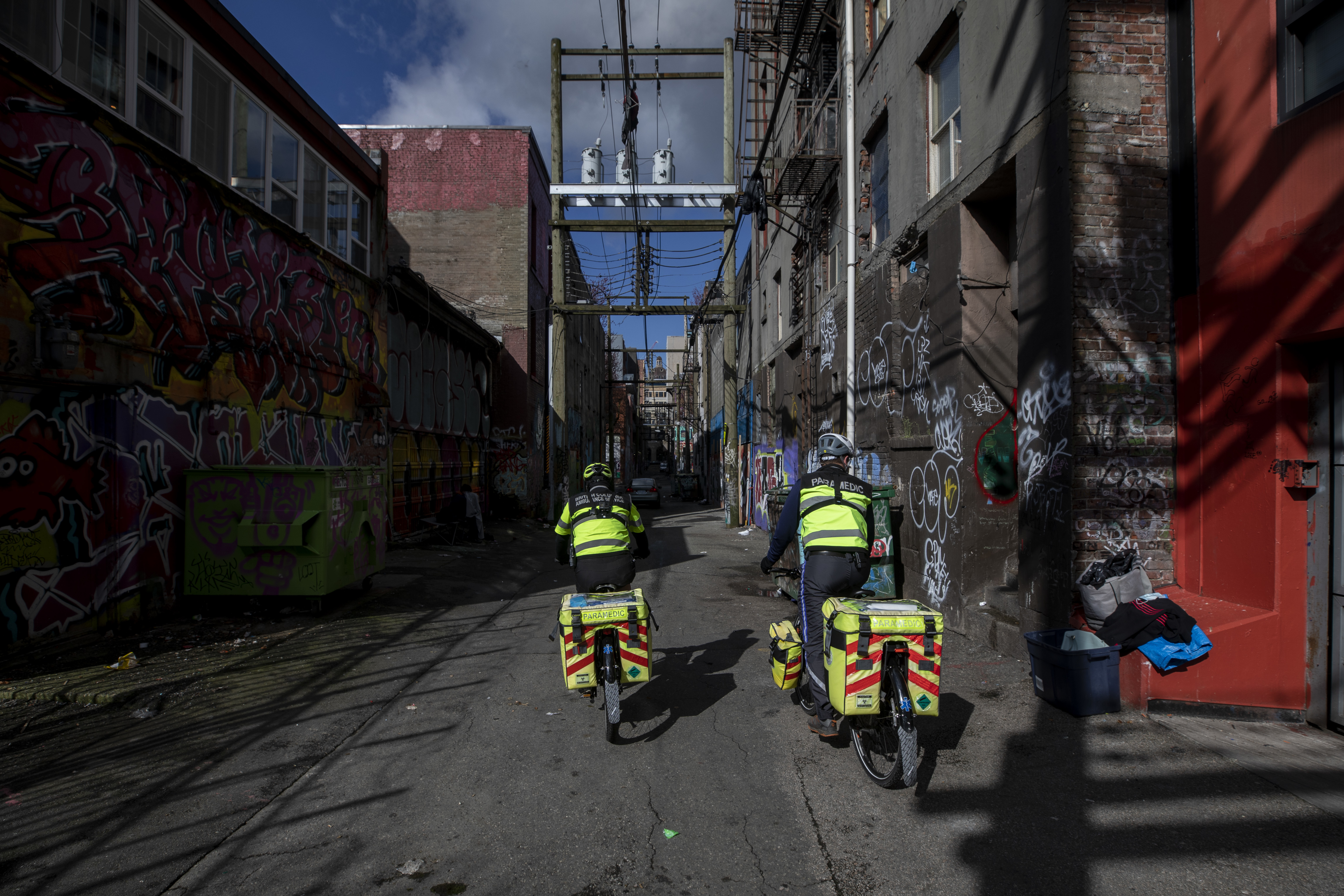 CBC Vancouver's Impact Team investigates and reports on stories that impact people in their local community and strives to hold individuals, institutions and organizations to account. If you have a story for us, email impact@cbc.ca.