It was the rats that first alerted Tiffany Elton to the problem.
The sounds of rodents scratching and squeaking started coming from inside the walls and floors of her 776-square-foot home in central St. John's last winter.
For the first few months in her new home, Elton thought she'd finally made it. The 41-year-old bought a small bungalow with an affordable mortgage that would be paid off by the time she turned 65.
Now, more than a year later, the small business owner fears she will have to go into bankruptcy and feels unsafe in her own home.
"It's been a nightmare. Physically, I feel it. Emotionally, I feel it," Elton told CBC News.
"I feel heartbreak."
'Perfectly maintained'
Elton purchased the home on Summer Street in July 2020 for $168,000.
The MLS (Multiple Listing Service) listing for the property boasted the house was newly shingled with new vinyl flooring and a remodelled kitchen.
The listing said it was "perfectly maintained and recently renovated and improved, pride of ownership is evident in this move-in ready home."
"The pest control guy found the burn, and he said, 'You have a bigger problem than just rodents up here.'"
It said the home was built in 1986 and was on a concrete slab foundation.
"The house looked great. I thought it was perfect — new floors, new tile, new cabinets, newly painted and it was staged really well," Elton said.
"I had no reason not to believe it wasn't true."
A caution at the bottom of all MLS listings indicates that listing information is "from sources believed to be reliable. However, it may be incorrect."
It adds: "This information should not be relied upon by a buyer without personal verification."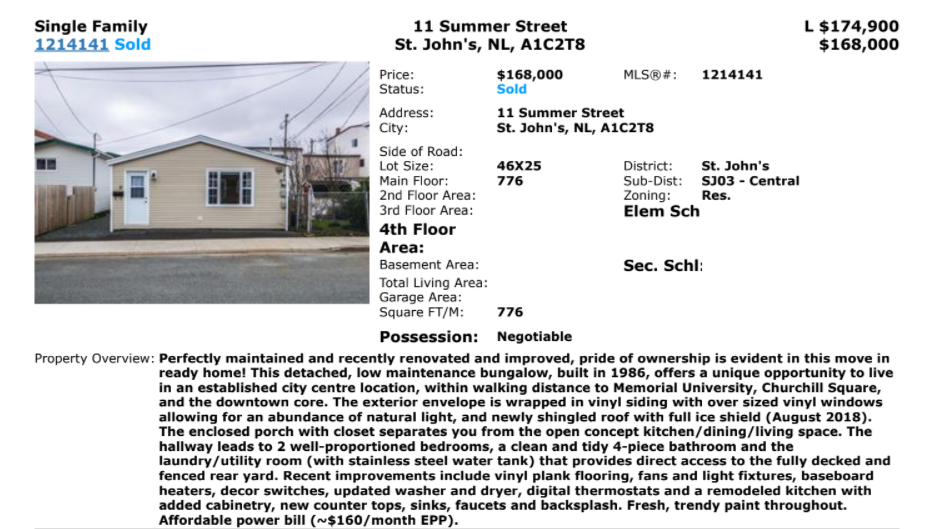 Shocking discovery
Once the snow began to melt in the spring of 2021, Elton inspected the outside of her property to see where the rodents could be accessing her house.
She says she quickly realized where they were getting in.
"There was a hole around the [width] of a garage door across the front foundation. It was like the foundation was completely missing," Elton said.
"It was missed and I didn't notice because the asphalt was built up and the siding was built down.… I could stick a metre stick in it and swing it side to side."
The home inspectors say there were no visible gap underneath the front of the home at the time of the inspection, as the foundation was not accessible and could not be inspected.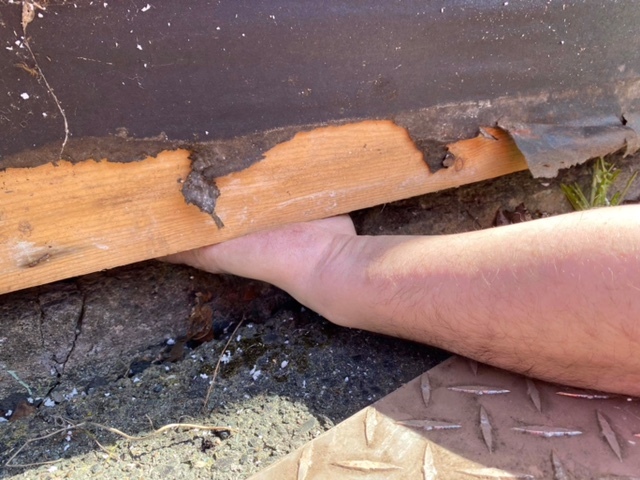 After filling the gaps with scrap metal, spray foam and concrete, Elton called in a pest control company. The worker asked for a trap door to be cut to the attic so he could set up rodent traps.
He climbed a ladder into an attic charred black, with specks of burned wood covering the pink insulation.
A large industrial light casing hung precariously from wires in the ceiling, signalling that it was once a garage.
"He said, 'You have a bigger problem than just rodents up here.'"
Elton was in shock.
That shock soon turned to utter disbelief when she started cutting holes in her walls. Nearly every spot she surveyed was charred black.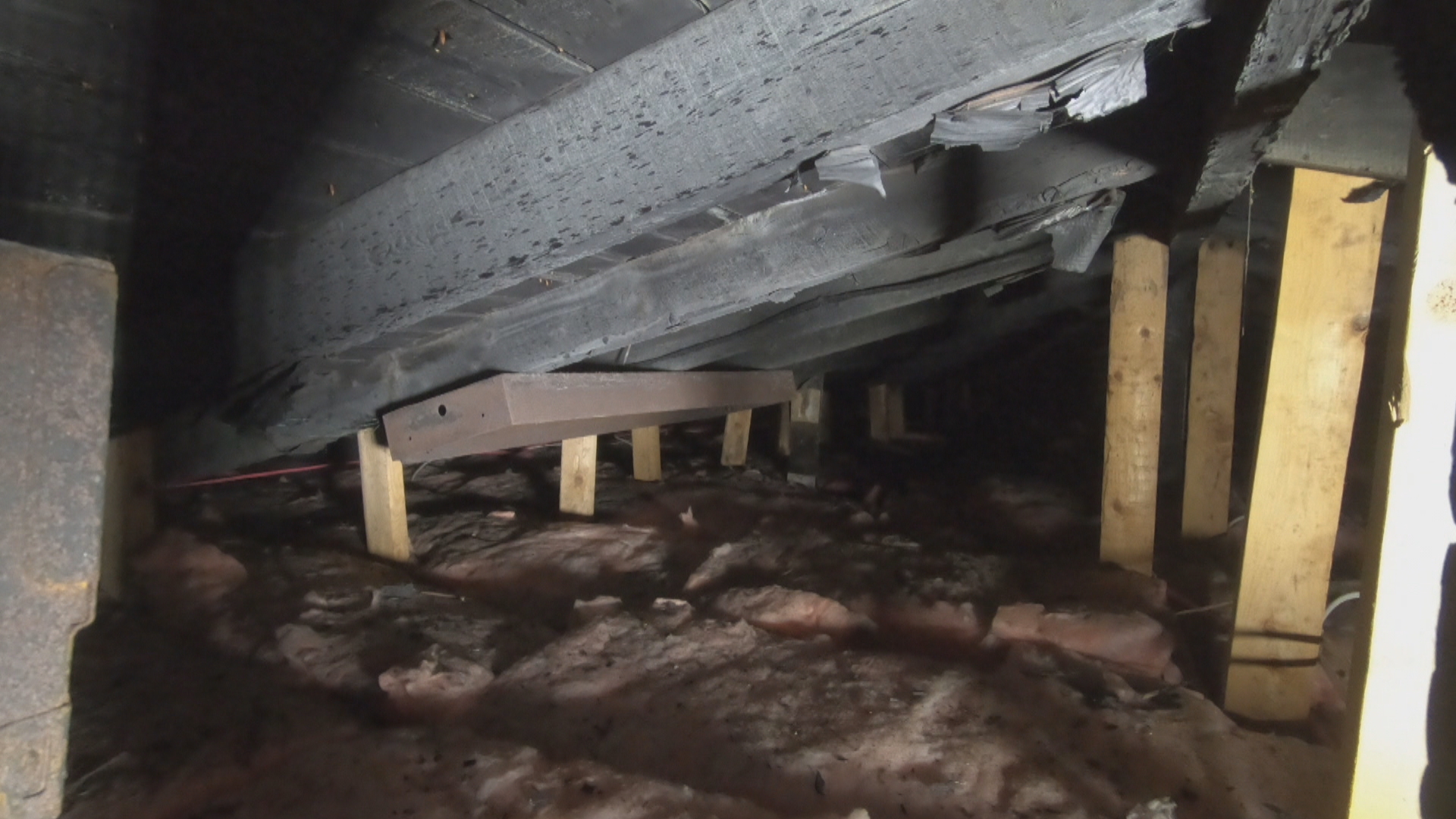 Flash forward to December 2021, and Elton is showing what she found.
She gingerly takes down a large gold decorative mirror to reveal a taped up hole in the wall of her living room.
Each wall has a strategically placed piece of art to cover similar inspection spots. Aside from the front of the house, where there was once was a garage door, each wall is damaged by fire.
"In my opinion [the walls are] burned worse than the attic. That was a shock, which means the entire envelope of the house is completely burned," she said.
Since that discovery, Elton said she has been sent down a frustrating fact-finding mission in an attempt to save her home, her finances and her jewelry and botanicals business. She uses part of her home as a studio where she makes her handcrafted items for sale.
"[The] more information that I get, the more and more it complicates everything because the structure is likely not safe, it's not what I bought," she said.
"I didn't buy a burned-out house."
Property does not have occupancy certificate
Elton said she followed the homebuying process without missing a step, but has been let down at every turn and fears her only chance for recourse is to take the matter to court — a costly burden that she says she cannot afford.
The initial home inspection Elton paid for didn't detect any major deficiencies.
On two occasions, Elton said, she and her home inspector asked the sellers to create a hatch to access the attic in order to complete the inspection — one at their expense, and the other at Elton's.
Both times, she said, the sellers said no.
Elton said her inspector told her the worst-case scenario would be mould in the attic but that a restoration company could mitigate it for $1,500.
In an email to CBC News, the home inspectors confirmed the sellers denied access to the attic on two occasions.
However, they said mould was just one of many possible issues they flagged.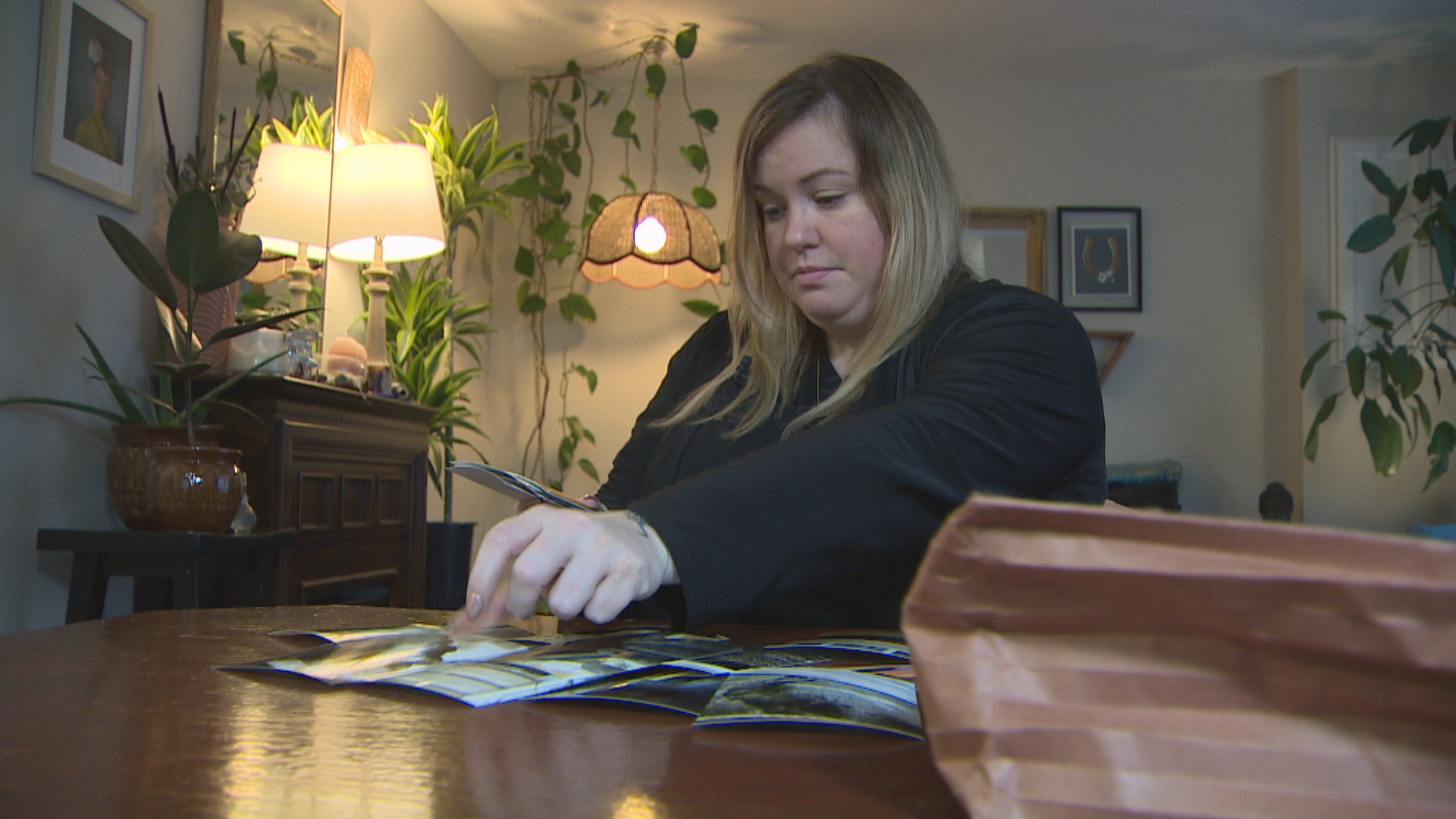 Documents from the City of St. John's archives show that 11 Summer St. was originally a double-car garage.
In 1986, the owners applied to have the garage converted into a home and the city council of the day approved the conversion.
However, there is no record on file that indicates the city ever received a permit application to do that work or inspected the property after its conversion to a residence.
A lawyer for the City of St. John's confirmed for Elton by email that the property also does not have an occupancy certificate — that is despite the city having issued a compliance letter, which flags any outstanding permits or assessments owed for the house as part of the purchase process.
The city does not have a record of the fire at the property, although it is evident that there was one. The only permit application made to the city was for window and siding replacement in 2006.
"They have been charging property taxes and allowing this home to be sold with no occupancy permit for years," Elton said.
"So, in my opinion they should be the ones to come forward and say, 'We fooled up, this house isn't a house, this shouldn't have been sold and here's how we intend to fix the situation,' but they're not."
City says situation is 'unfortunate'
The City of St. John's declined an interview request, but in a statement, called Elton's situation "very unfortunate."
As the city never received an application for a permit to work on the property, there is no record of an inspection ever being done or an occupancy permit being issued.
Compliance letters, like the one needed for a real estate transaction, reference zoning, assessments owed and any current outstanding work orders, the statement said.
"They do not provide occupancy status or trigger an inspection of the building," the statement noted.
Now aware of the issues, the city will not issue Elton a compliance letter, which would allow her to sell the property, until the work is completed.
Her home insurer, upon learning of the issues, has cancelled her policy.
'You trust the process'
A property condition disclosure form is supposed to alert buyers to defects in a home and protect sellers from liability for issues they told the buyers about before the sale.
The property disclosure form, which is part of the real estate transaction that's been reviewed by CBC News, indicates that the property has an occupancy certificate and that there were no structural problems.
In an email to questions from CBC News, the previous owner stated that they were not aware of any issues with the home in the 10 years that they owned the property.

The owner said they did not know about any historical fire or commercial use, and followed the same homebuying process Elton did when they purchased the home a decade earlier.
The property has been sold multiple times since its conversion 35 years ago.
It appears that the original owners of the property have died.
Fines on top of fines
Elton contacted the City of St. John's on multiple occasions during 2021 in an attempt to find information on what to do and to find out who may be liable.
The city requested a new inspection be carried out on the property.
Now with access to the attic, a second home inspection at Elton's expense confirmed what she suspected: the structure was around 50 years old — not 36.
There was no ventilation in the attic and the safety of the structure itself was questionable.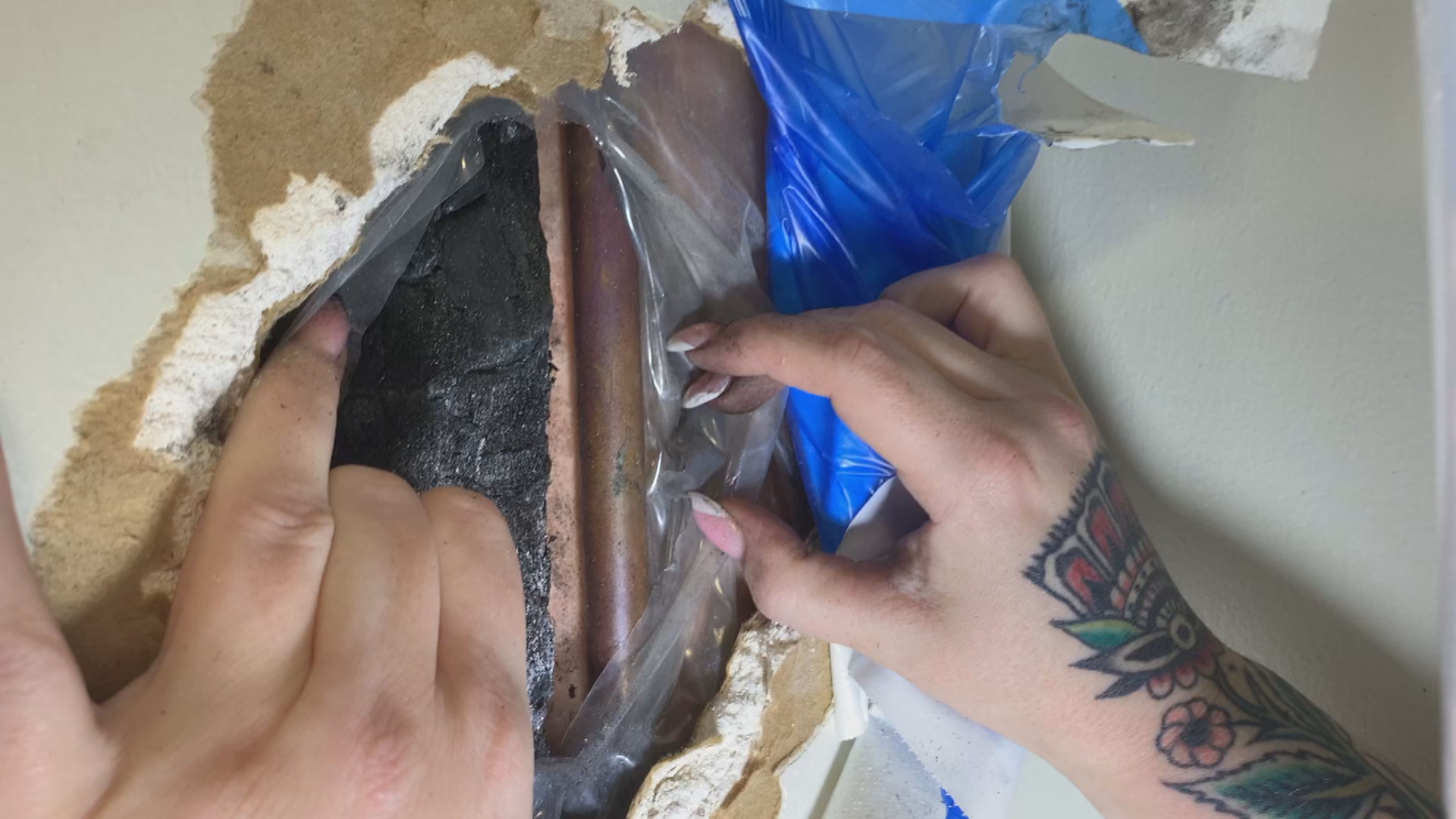 It was recommended that the property be inspected by a structural engineer.
Elton gave the City of St. John's a copy of the inspection report.
But that backfired when the city slapped Elton with fines for other issues flagged on the report.
"The city gave me notices which were based on the inspection report they had me pay for — I had 15 days to repair the watermain and put a meter on it. I had 30 days to hire a structural engineer or risk fines of $5,000," Elton said.
"I don't have the money for that right now."
At Elton's request, the city held off until she got a structural engineer to survey the property.
In a report released last month, Parsons Engineering determined that the house was not at a high risk of "imminent failure" but has structural defects resulting from the fire.
The report recommends repairing or sealing the damaged sections to avoid structural issues in the future.
What next?
Elton said uncertainty is taking its toll.
"I make everything for my store in my home, in my studio, so that shuts me down. I don't want to lose my business. That's my income, I work too hard to stop it," Elton said.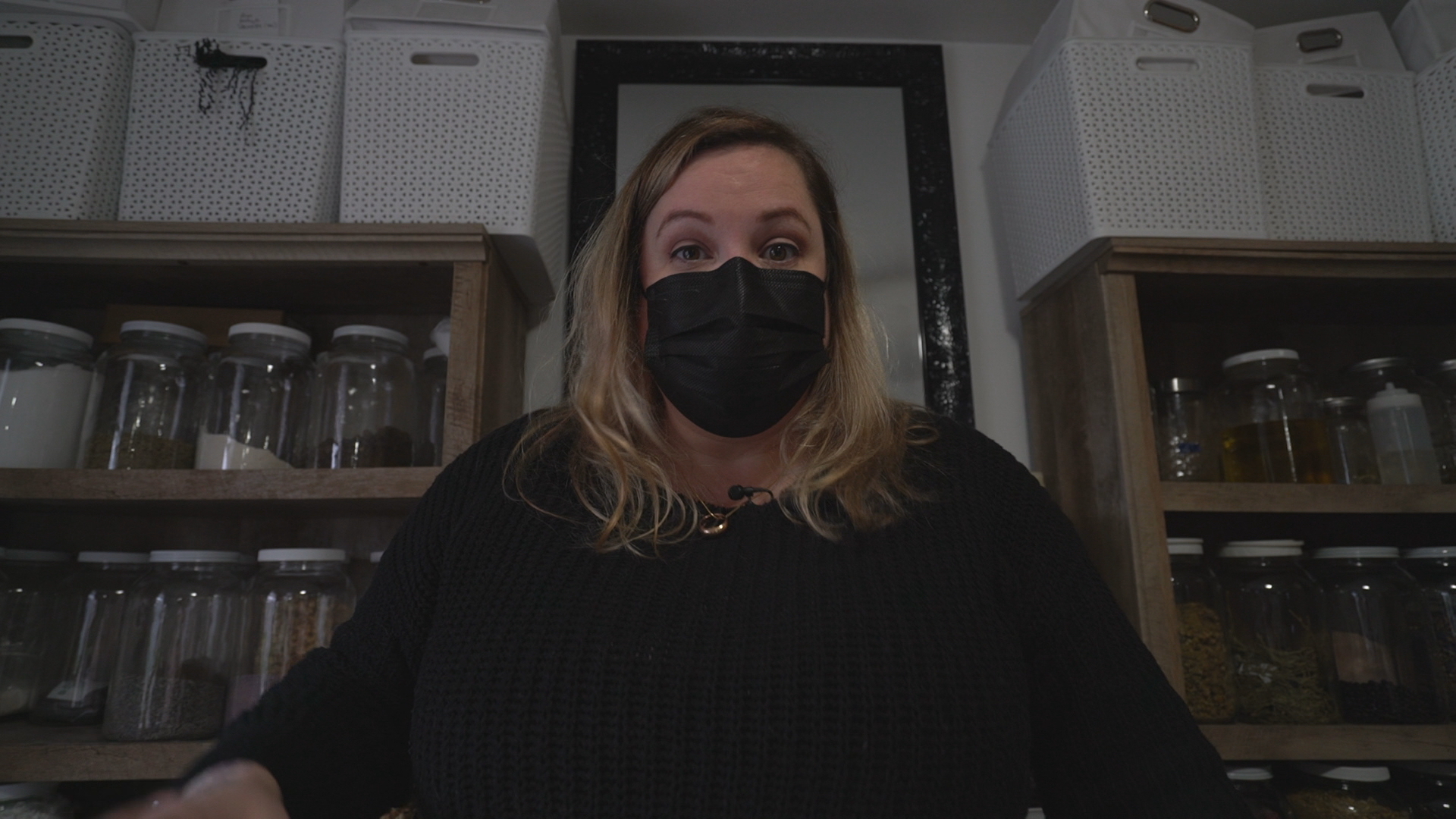 Elton was hopeful her title insurance would cover the costs incurred as a result of the pre-existing damages.
But that route appears to have been exhausted, she said, when insurance company FCT denied her claim in June.
"The policy does not provide coverage for loss arising from building code violations, property defects or vendor misrepresentations unless they can be brought within a covered risk," said a letter from FCT.
She is hopeful a letter outlining deficiencies from the city will allow her to appeal that denial.
FCT directed CBC News requests for more information about the situation back to the letter it sent to Elton last year.
A 'lemon'
Toronto-based commercial real estate partner Simon Crawford of Bennett Jones said every now and then a homebuyer gets saddled with a "lemon" of a property, even when they do everything right.
"They're faced with the very real problem that they either don't have a valid claim against the seller or insurer or do have a valid claim but now bear the additional burden of having to go to court to pursue that claim, which can be costly and uncertain," Crawford said.
Homebuyers can protect themselves by hiring expert home inspectors who have background knowledge in engineering and architecture, get title insurance or negotiate a written agreement about any unseen defects.
However, Crawford said that last option is easier said than done, especially in a hot real estate market where there is competitive purchasing.
In most cases, he said, homebuyers do not go through due diligence in order to win a bid.
Expecting the worst
Elton said the real estate ordeal has affected her physical and mental health.
"I'm now on high blood pressure medication. I'm only 41. I know that's because of the anger I'm feeling every day," Elton said.
"I've had to reach out for help, professional help, to help get me through it. I've had night terrors, nightmares."
Elton is hoping to find a lawyer who can take her case on contingency. Any legal advice she's received so far has been a warning that taking everyone to court would be costly and time-consuming.
"I'm preparing for the worst. I expect the worst."