In the latest season of the CBC investigative podcast Uncover, host Lisa Bryn Rundle delves into the mass hysteria about satanic ritual abuse, which swept across North America in the 1980s, eventually landing in Martensville, Sask.
Listen to the full season of Uncover: Satanic Panic at CBC.ca/uncover or on Apple Podcasts, Google Podcasts or Spotify.
It was the spring of 1992 in the small town of Martensville.

The Saskatoon bedroom community of just under 4,000 people was attracting so many young families that people had started calling it Diaperville. It was seen as an escape from big-city living; a place where you knew and interacted with your neighbours; a quaint town that had kept its traditional values.
But as the snow melted in the community, something sinister was bubbling to the surface.
Rumours were spreading that a local family were members of a secret satanic cult, abusing children at their home daycare and at a property outside of town.
For months, police had been frantically gathering evidence, sifting through a growing wave of accusations. Soon, a tip from a local pastor overshadowed all that — at least for one night.
A horde of devil worshippers was allegedly on its way to Martensville, looking to attack in the dead of night. There were plans for a human sacrifice.
The local police chief put all officers on high alert with an urgent memo, asking them to be heavily armed. They braced for a fight.
The fight never came — because the satanists never showed up.
It's just one example of how the town was torn apart by mass panic. Neighbours suspected each other. Couples turned each other in.
It was all part of what was dubbed the Martensville Nightmare, and it changed the course of many lives forever.
Throughout the 1980s, a strange phenomenon was taking hold: Underground satanic cults were reported to be torturing and terrorizing children, forcing them to take part in sadistic, sometimes gruesome rituals, then deftly covering their tracks.
A new term was coined to describe this apparent epidemic: Satanic ritual abuse.
Media and talk shows latched on to the idea, helping to drive the public hysteria. Geraldo Rivera did a prime-time special in 1988 called "Devil Worship: Exposing Satan's Underground," reaching a record number of viewers. 60 Minutes and 20/20 did their own versions, too.
Alleged cases popped up in Jordan, Minn., Manhattan Beach, Calif., Stuart, Fla., and Hamilton, Ont. It also came to Martensville.
What started with just one accusation from one family in the Saskatchewan town soon ballooned into many more, with several children reporting they had been abused and subjected to satanic rituals.
The allegations were unimaginable: Children said they were drugged and suffocated. Hoisted into cages. Stuffed into freezers. Forced to drink blood and perform sexual acts.

In the end, nine people would face nearly 180 charges, including assault, sexual assault and unlawful confinement. But only two charges, against one person, would ultimately be held up through appeal — and neither had anything to do with satanic abuse.
Aside from the children's allegations, there was no evidence ever found that a cult committed any of these crimes. Or that the vast majority of the allegations happened at all.
Still, there were lengthy investigations, trials, convictions, appeals and civil suits that lasted a decade.
WATCH | From the archives: A recap of the Martensville investigation:

II.
Claudia Bryden, now 60, landed in Martensville as a first class constable in the fall of 1991.
An RCMP officer who had started out in a small detachment in Manitoba, Bryden had left the force after seven months when her husband, also a police officer, was relocated to Saskatoon. She was at home, caring for their two young children, when she was asked to step in and help the town's struggling, modestly staffed police force.
Complaints about files being mishandled or misplaced, along with generally shoddy police work, had landed both the Martensville police chief and one of its officers off on suspension. Another was off with an injury.
It was meant to be temporary; only about four to six weeks, Bryden said.
In the dying days of September, a Martensville mother, a nurse, notices some redness and broken skin on her young daughter's bottom. She believed it to be a bit more than an angry diaper rash.
When she asks the 2½-year-old about it, the girl replies a stranger had been "poking her" with a pink rope. The stranger, the young girl later says, lives at Linda's.
She was referring to the home of Linda Sterling, where she attends daycare.
Linda Sterling and her husband, Ron, were mainstays in the community; Linda had tended to many children in Martensville for years, and Ron was a volunteer firefighter and assistant deputy director of a correctional centre not far out of town, friends with many of the town's cops.
Over the weekend, the parents ask their daughter more questions and the girl provides more details. By Monday, a call is made to the Martensville police.
The parents take the child to a doctor, who sees no signs of abuse. But the parents remain convinced, going so far as to suggest that they believed the girl was sexually assaulted by the Sterlings' adult son, Travis.
Bryden is handed the file on Oct. 1.

At first, it seemed like a straightforward case, Bryden said.
"I tell people, 'It's a good thing I didn't know what was coming, because I would have run.' I would have been gone if I knew what was coming down the pipe," she said in an interview with CBC's Uncover.
One day into her investigation, the station's secretary gives Bryden an index card from a filing system for old cases: It outlines another allegation of sexual assault made against Travis.
A nine-year-old girl had reported being groped, repeatedly, while at the Sterling daycare.
Charges had not been laid.
Bryden goes looking for the case file — dating back to 1988 — and finds a single, crumpled up piece of paper, shoved in the back of a filing cabinet. According to Bryden, "not even the most basic" of police work had been done. Two days later, Travis Sterling is arrested and charged with one count of sexual assault over that old complaint.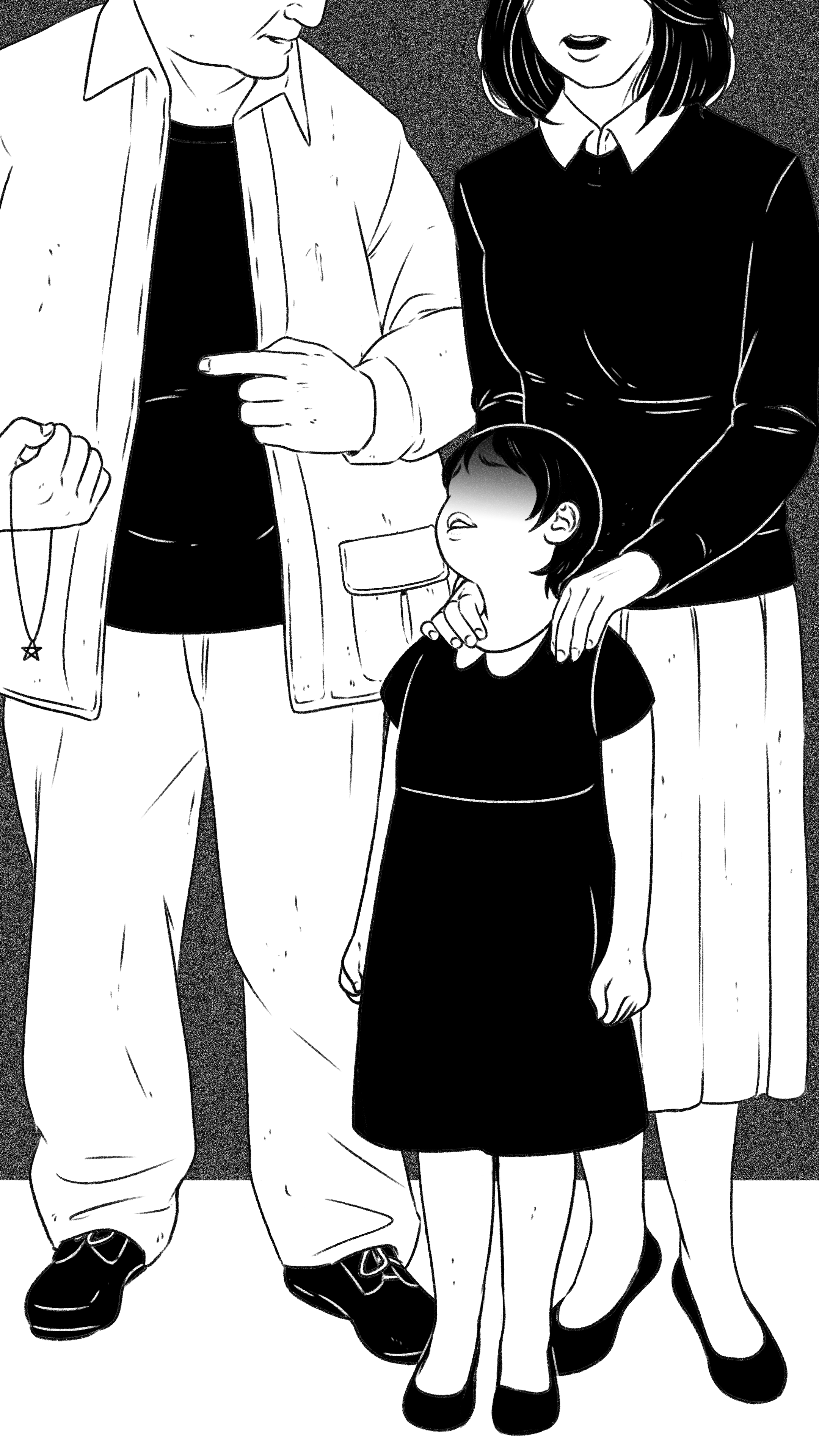 But Bryden's bigger concern was the daycare.
"The very next priority, of course, was to identify as best as possible other potential victims. It was a problem to have this daycare operating while we were actively investigating these types of complaints," she said. "We had a duty to protect the public."
Bryden begins contacting as many families as she can. Rod Moor, a corporal from the nearby Saskatoon Police Service, is brought in to help. It was the two officers' job to interview the children, a process that played out over the next few months.
"I still have scars on the inside of my cheeks. I would swallow my own blood in the middle of interviewing children, because I did not want to show that this was difficult for me to get through as well," said Bryden.
At first, the children had nothing to say; nothing bad had happened. But as the questioning continued, a pattern began to emerge. One boy said he was forced to perform a sexual act at gunpoint. Another said he was asked to take off his clothes and was photographed.
Then the children's recountings took a hard turn into something darker: Talk of a blue "Devil Church" outside of town where they were taken; some said they were forced to drink blood and injected with drugs. Or they were tortured and made to perform sex acts — on adults and on each other.
Then, the children said, some of the people involved wore uniforms. Police uniforms.
In just a few weeks, the size of the case file became unmanageable, spiralling into not only charges against all three Sterlings, but also an investigation into many other suspects.
Randy Chudyk moved to Martensville in the late 1980s, and became one of the town's police officers. It was somewhere he could see himself spending his whole career, he said.

"Honestly, it was just ... such a perfect place. Close to a big city, but you didn't have all those big city problems. People were really, really nice and welcomed me and my family."
Things changed, however, as the abuse allegations began to fly.
"Once people caught wind of this investigation and everything else like that, they looked at the police department completely different," he said.
"You try and go about and do your job to the best of your ability, but you look at everybody differently. You look at everybody going, 'Are they involved?' And it not only became very hard to work ... but it was also very hard to [try] to do your job in the community."

By early 1992, the investigation is wending its way along, and the children involved are in regular counselling. Bryden gets a call from one of the counsellors, asking if she's heard of ritual abuse.
Around the same time, a new police chief arrives, Mike Johnston. Under his leadership, the investigation starts to focus on apparent satanic connections.
And as the spring thaw began, another stunning turn. Acting on a tip from a local pastor, an urgent memo goes out, warning the Martensville Municipal Police Service of a planned invasion. Officers are put on high alert and told to brace for chaos.
"The indications were that tonight was a very important night with the Occult in the preparation of potential victims," reads a report dated April 16, 1992. "The group in town is known as the Brotherhood of the Ram, with the Ram being a reference to Satan."
The memo warns officers that the group can — and does — offer human sacrifices. Churches would be targeted and buildings burned. Children would be stolen.
Chudyk remembers the heightened sense of panic in the station after being told the town was going to be "attacked."
"Going through everything that happened and then getting this … it just shakes your foundation and sends shivers down your back," he said.
But nobody ever showed up. And after about five days, Chudyk said, things largely went back to normal.
Investigators, though, were still pushing forward with abuse charges.
III.
In all, nine people — the Sterling family, one young person and five police officers, including two former chiefs — were collectively facing nearly 180 charges.
Due to the size of the file and growing public attention on Martensville, an RCMP-led task force was brought in to take over the active investigation. It was meant to look into accusations that had been made against further suspects, as well as shore up the charges that had already been laid.
But the task force ends up re-investigating the whole case. Ultimately, it found serious flaws in the way it had been handled, including with respect to how the children were questioned.
"We come along as a task force, and we're going to organize the material and we're going to move the investigation forward," the task force's lead investigator, Rick Pearson, told the CBC's Fifth Estate in 2003. "But at the end of the day, we start to see flaws of what doesn't seem to hold any water.
"And we started to question it and analyze it, and start to investigate backwards, and try and twist and turn what we are looking at to say, 'Well, what do we really have here?'"
When investigators looked at all the information, Pearson said, they had doubts whether the children had actually been taken to that Devil Church. They also realized some of the identifications around additional suspects were "just wrong," he said.
It's decided that no further charges will be laid, and the remaining suspects are cleared.
Pearson writes to the prosecutors, telling them: "After dealing with the suspects, it is obvious that some errors in identity have been made by the children."
Still, by the end of 1992, prosecutors have decided to forego all preliminary hearings and go straight to trial — a rarely made move meant to minimize the trauma to the children.
As the trials began in early 1993, the Crown's strategy was clear: All of their cases hinged on the testimony of the children.
They had to. No physical evidence against any of the accused was ever found.
For example, some of the children reported being taken to a blue building out of town, referring to it as the Devil Church. Police searched the large shed-like structure twice, but failed to uncover any human hair, sperm or blood connected to either any of the accused or the victims.
First to be tried was the young offender, a woman who was 16 to 19 years old when the alleged offences — sexual assault, unlawful confinement and threatening to use a gun while committing sexual assault — took place. Her identity remains protected by the Young Offenders Act.
The only direct evidence in the two-month-long trial came from the testimony of two young boys, aged nine and 11 at the time.
The woman was convicted on seven of the 10 sex-related charges and sentenced to two years. She left the courtroom, sobbing. Her convictions would later be overturned on appeal.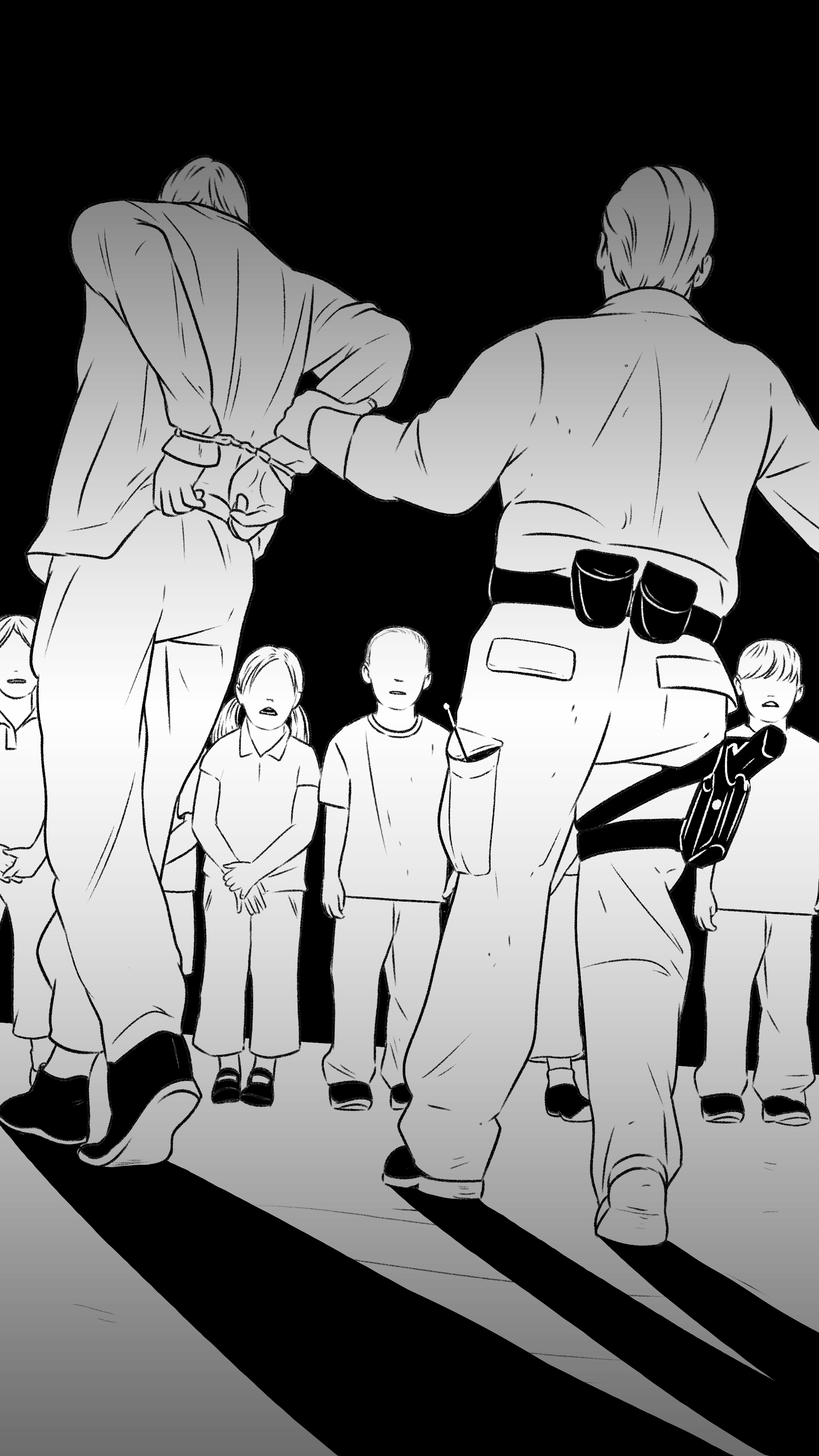 The second trial, however, came back without a conviction.
John Popowich, a Saskatoon police officer who said he had only visited Martensville once, to fill up his gas tank and grab a bag of chips and a pop, was also accused of sexually assaulting two boys, locking them in freezers, drawing their blood and, worst of all, raping them.
Popowich spent almost one year awaiting trial, a time when his wife is hassled at work and his daughter targeted at school.
Crown prosecutors argued the lack of physical evidence was proof that police officers, such as Popowich, committed these crimes — and would know how to cover it up.
But an RCMP officer from the task force testified that he couldn't find a single adult witness who saw Popowich either in Martensville or near the so-called Devil Church.
After the children also failed to identify Popowich in a live lineup in court, the judge told him he had been mistakenly identified. Prosecutors stayed the charges.
"While I am sure it will be of little comfort to you, I must say to you — and more particularly to the general public — that this is not an uncommon occurrence within the criminal justice system," the judge said. "The rest of us should realize that this can happen to any one of us."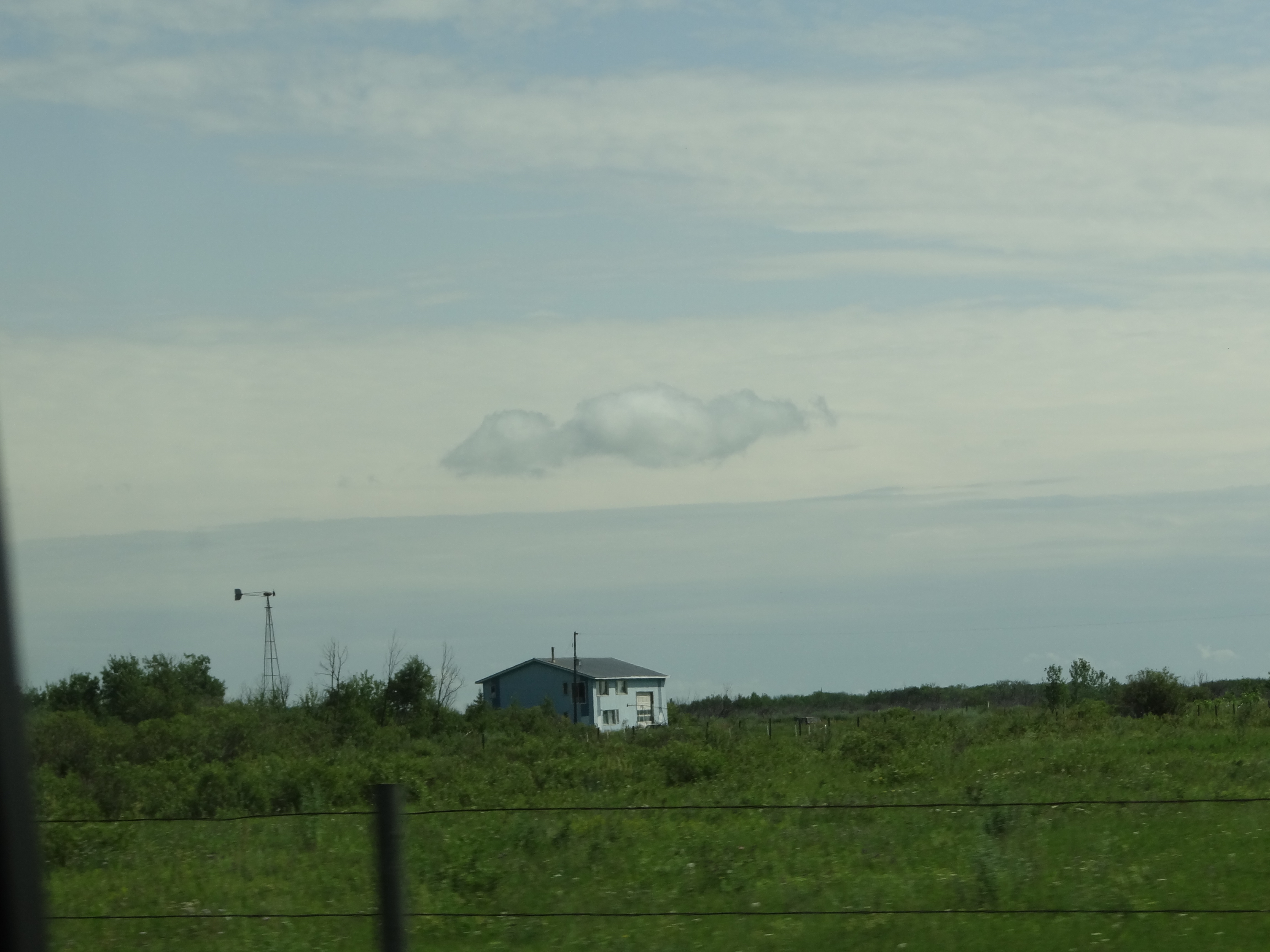 That set the stage for the third trial, involving the Sterlings, the family at the centre of the daycare where the abuse was first alleged to have happened.
Ron, Linda and their 23-year-old son, Travis, would be tried together, accused of assaulting up to 15 children in their care, using their home as a hunting ground for victims.
They pleaded not guilty to all charges.
The trial would become the longest in Saskatchewan's history at the time. But toward the end, surprisingly, the prosecution drops 15 of the 60 charges, citing a lack of evidence. The number of alleged victims also falls to 11.
After more than five long months, Linda and Ron Sterling are cleared, but Travis was convicted on eight charges, including six counts of sexual assault.
Then, abruptly, the trials come to an end. The charges against the four remaining accused — three Martensville police officers and one Mountie — are stayed.
After his trial wrapped, Popowich went back to work.

"I wasn't going to let anybody run me out of town. I was cleared by the system that I worked for. I went back to work and I went on parade. That's where everybody stands at attention and listens to your staff sergeant read out the daily news," he said in an interview with CBC's Out in the Open in 2019.
"If looks could kill, [I'd] have been dead by about 30 bullets. Like, 'What the hell is he doing here?'"
Popowich eventually settled for $1.3 million in a malicious prosecution suit. Others were compensated, too, including Linda and Ron Sterling, but he was the only one who received a formal apology from the government.
The only person whose convictions stuck was Travis Sterling. But six convictions were overturned on appeal because they were unsupported by evidence.
He was sentenced to two years for the two remaining counts of sexual assault.
IV.
How the children were questioned would later come under intense scrutiny.
According to court documents, investigators questioned the children "repeatedly" and sometimes in a "suggestive" manner. In almost every case, children did not report any abuse until they were specifically asked about the issue. They denied it when first asked.
All experts close to the case and all appeal judges found investigators asked the children leading questions and used improper interview techniques, such as praise and rewards for disclosures.
Bryden had gone to some of the parents at the Sterlings's daycare after that initial report. Bryden said she simply informed parents of the investigation and how to speak to their children, but according to court testimony, some parents said that they believed their children had been abused because of what they had been told by police — even before any allegations were made by the kids.
This led to parents questioning their children repeatedly, even as Bryden warned them to be very careful in how they talked to the kids. Parents were told to only ask open-ended and neutral questions — admittedly a near-impossible task if you believe your child might have been abused.
When they were first questioned, children didn't have anything to report. But parents and investigators pressed on.
In some instances, they were told they could go play, but only after they told police what happened. Kids were complimented for their bravery after alleging abuse. Other times, they were promised colouring books and, in one case, a visit to see the police dog.
According to court testimony, many were given a government-issued book, The Secret of the Silver Horse, which details a young boy sharing an account of abuse with two friends. One child only began speaking of abuse after he had been read the book twice in the preceding week. Another boy reported multiple assaults identical to what's described in the story, but only after reading the book.
In fact, there were several key elements mentioned that only came up after they were shown to children by police. Take for example the so-called Devil Church, with its freezer, cage and axe.
According to court testimony, children did not begin talking about those items until they'd been shown photos of them. A child who spoke of being assaulted with an axe handle made no mention of it until he was shown the axe found at the shed.
WATCH | A 2003 episode of The Fifth Estate looked at how the Martensville children were questioned:

Some of the appeals rulings outlined that the children's allegations contained contradictions and inconsistencies.

For Clayton Ruby, an appeal lawyer for the young offender, not only did the police interviews lead to false disclosures, the children's claims sometimes defied logic altogether.
"They look at the cage and eventually get around to testing the cage. And it's a chicken cage [so] it's strong enough to hold a chicken in the air, maybe five or six," said Ruby.
"But it's not strong enough to hold any kind of kid. Could not have happened."
Some children were interviewed by police more than a dozen times.
Bryden said she understood the suggestibility of the children and conducted the interviews accordingly, approaching both the youngsters and their parents with caution. She also said she never offered rewards for information.
"Do we like to interview people more than once? No we don't. It would be just lovely if you could sit somebody down, including an adult, and get just the full story right off the hop," she told Uncover. "But with children especially, it doesn't happen that way.
"I took dozens and dozens of statements from dozens of kids over a long period of time," said Bryden. "And in order to clarify things, you have to ask questions based on information that was previously given."
Despite the concerns from experts and the task force, a broader public inquiry into the Martensville satanic panic episode was never done. No formal acknowledgement of what had gone wrong.
Roughly a year after that night of high alert, the Martensville police service was shut down for good.
V.
In Samantha Loewen's case, the nightmare tore her family apart, as the panic spread beyond the daycare and into the community.
She was seven when her father became one of the Martensville residents accused of sexually abusing children, though he was never charged. She's now 34, and her father died seven years ago.
Loewen says he was a devoted father who raised her on his own.
"I've said in the past that everybody liked him unless they were wrong," she said with a laugh. "He just had a way of disarming people, I think. He had a humility and just a real gentleness about him."
Loewen and her father lived across the street from her grandparents, and that's where she would go most days after school. But one day in the winter of 1993, she was called out of her classroom, put in a car and driven away by a social worker — with little explanation.
"I remember not knowing if I was ever going home again," Loewen said in an interview with Uncover. "I didn't know what was going on."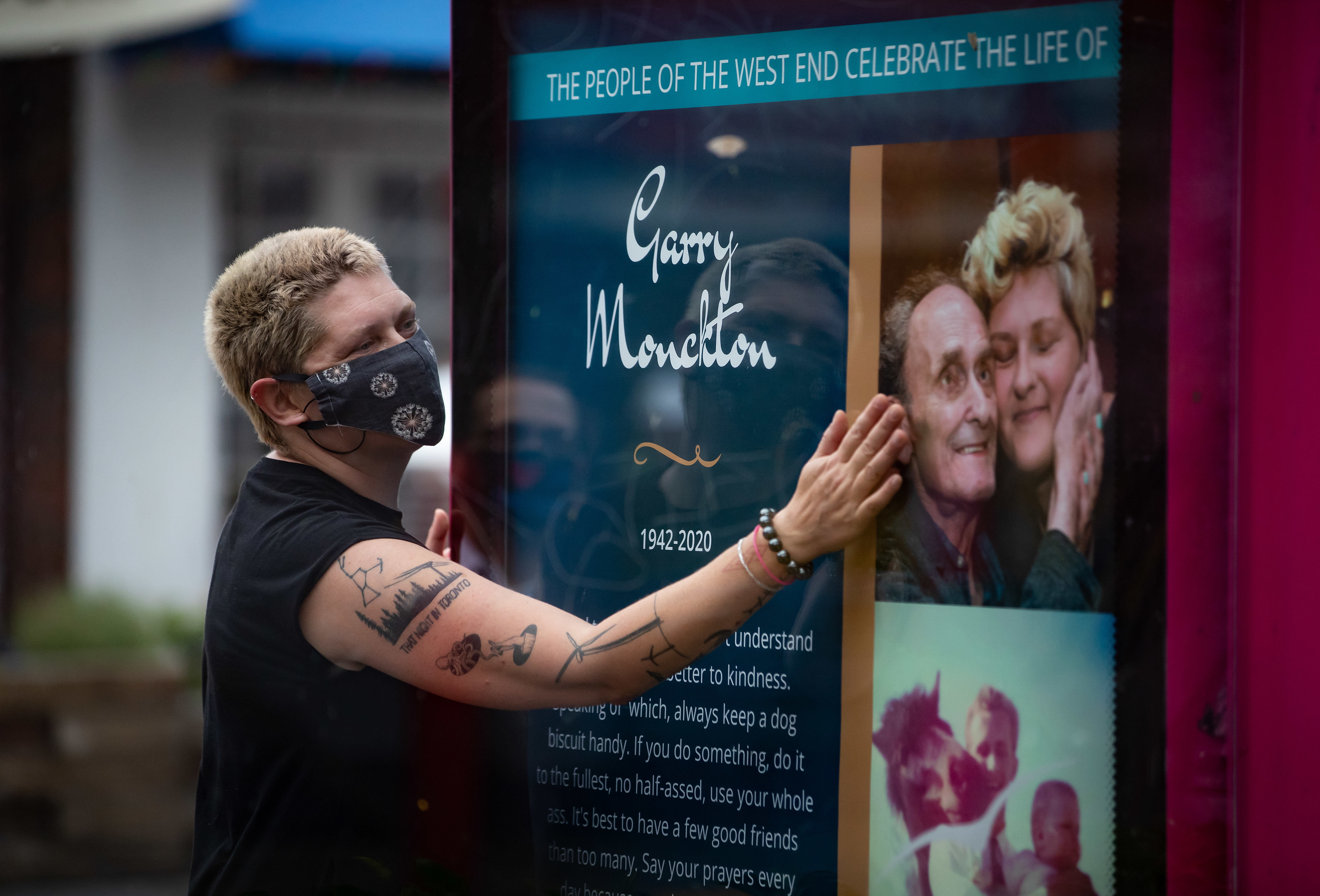 The social worker took her to a social services building in downtown Saskatoon, where she was interviewed. She was shown three dolls, arranged in various positions, asking Loewen: "Did anyone ever do this to you?"
Loewen was mortified. Her grandparents were conservative, and sex was never spoken of in their house or at home; she believes she said "I don't know" to many of the questions.
She was later taken to a foster home for the night; Loewen remembers having to sleep on a couch and crying. Her grandma and aunt came to get her early the next morning.
"I've heard since how horrific that night was for them, because they didn't know either if they'd ever see me again," she said.
For the next few months, Loewen lived with her grandparents; she wasn't allowed to return to her dad.

"I remember watching him go to work in the morning and having him wave to me as he left."
Supervised visits were eventually permitted, and Loewen later returned to live with her dad after he was cleared of all suspicion. But everything had changed; they no longer cuddled together on the couch to watch movies.
"He was not a touchy dad after that point," she said. "But he had been earlier, and that affected my self-esteem."
Loewen would later learn one of her friends had accused her dad of abuse. The accusations fractured Loewen's extended family, some of whom continued to believe he was guilty.
VI.
How did such hysteria manage to cloud the thinking of so many rational people?
Experts widely trace the panic back to Victoria, and a young woman by the name of Michelle Proby, who later went by Michelle Smith. She was seeing a local psychiatrist, Dr. Lawrence Pazder, to treat her depression. It went well and Smith stopped treatment.
But after Smith had a disturbing dream — centred on hundreds of tiny spiders crawling out of a gash on her arm — she returned to Pazder to report it.
By 1980, Smith and Pazder had written a memoir called Michelle Remembers, detailing Smith's repressed "memories," recovered via hypnosis, of 14 months spent as a child with a satanic cult.
The book — though now discredited — was hugely popular.
A devout Catholic, Pazder took his concerns to archbishops everywhere and even travelled to the Vatican to warn of the hellish threat. He worked to convince the psychiatric community the threat was real.
WATCH | The Satanic Panic explained:

One person trying to make sense of the growing wave of panic about satanic ritual abuse in the 1980s was Ken Lanning. With more than 30 years as a special FBI agent in the behavioural sciences unit at Quantico, he assisted on several such cases in the United States.
Lanning also kept his eye on reports of ritual abuse around the globe.
"We now have hundreds of victims alleging that thousands of offenders are abusing and even murdering tens of thousands of people as part of organized satanic cults, and there is little or no corroborative evidence," Lanning wrote in The Investigator's Guide to Allegations of 'Ritual' Child Abuse, a report he published in January 1992 based on his investigations.
"Now it is up to mental health professionals, not law enforcement, to explain why victims are alleging things that don't seem to have happened."
Child abuse was starting to be seen differently by the medical establishment, Lanning said.

"They discovered that many children were being abused and believe it or not, one of the big breakthroughs in that regard was the X-ray," he told Uncover.
"They discovered that many children, when they X-rayed them, had healed broken bones and so on. They discovered that many of these children had been physically abused."
Radiologists slowly came around to realizing what no one wanted to hear: parents or trusted adults were hurting children. Before this, it was assumed the majority of abuse happened at the hands of strangers, Lanning said.
Another popular belief of the time had been that children were imaginative and thus couldn't be relied on when it came to reporting their own physical, psychological or sexual abuse.
But the judicial system had begun to change, too. In Canada, new provisions came into effect in 1988 that made it easier for children to testify in court, by allowing them to speak behind screens or via closed circuit television. It eliminated the need for corroborating evidence of a child's allegation.
"I think, like frequently is the case, they went from one extreme to the other, and then pretty soon corroboration became like a dirty word," Lanning said.
"When you would say, 'OK, I got this allegation, now I'm going to investigate' ... people would look at you like you were some bad person and they would say something like, 'You mean you don't believe the children?'"
WATCH | From the archives: Martensville residents looking for answers:

It was something that played out in Martensville, too. People around town had signs, on their lawns or posted in their windows: "We believe the children."
But Lanning felt it was his job as an investigator to find corroborative evidence.
"Two powerful things were at play here," Lanning said. "One was this emerging idea that children don't lie about this stuff. We must believe the children."
The other, he said, was that some people would use their personal religious beliefs to understand why bad things were happening in the world. So for those who believed all the discussion around ritual abuse, it "was pretty much impossible to change their mind."
"There was this idea that bad things, evil things, were somehow related to the work of the devil. This seemed to be particularly true with any crimes that had one or both of these two characteristics: extreme violence or sexual perversion."
And despite a growing understanding of childhood sexual abuse, there were still fundamental gaps in knowledge about how to investigate these cases, in how to properly interview children.

And so the issue of abuse — including satanic ritual abuse — made its way onto the agendas of various conferences, seminars and training sessions attended by teachers, youth workers and health professionals, even law enforcement and justice department officials.
At least two such training sessions were held in Saskatchewan before the Martensville Nightmare, one put on by the government itself.
According to Lanning, such training fed the panic in a cyclical way.
"Many people say, 'Well, you can't identify these cases unless you've been trained to learn about them,'" he said. "And some of that training becomes a self-fulfilling prophecy."
VII.
Before the Martensville case hit the news, Richard Klassen and his family were living through their own nightmare, just down the road in Saskatoon. Klassen was still trying to clear his name in 1992 when the news out of Martensville broke.
In Klassen's case, the three children who accused him of sexual abuse eventually recanted a decade later: The boy at the centre of the allegations, 10 at the time, admitted to lying to authorities and convincing his sisters to go along with it.
And yet in that case, 16 people had been charged with almost 70 crimes.
Klassen counts himself among those who think there should have been a public inquiry into the panic.
"The real story is what happened to those children … Why did they lie? Were they coerced? That's why a public inquiry really was necessary," he told Uncover. "It's not just for the accused, but the victims here are also the children."
He doesn't want people to forget what happened.
"This is crazy. We should all be reminded of it. I tell people all the time: You have to be very, very mindful of what you hear in the media and what you hear from people. It may not always be what it seems."

Travis Sterling's appeal lawyer Heather Leonoff said the case has stuck with her, too, to this day. Based in Winnipeg, she came to Travis's case with fresh eyes — how a jury might have come to it.

Upon reading the trial transcript, she said she was immediately struck by how fictitious it all sounded: children being stuffed into cages at a cabin in the woods.
It sounded, she said, like a retelling of Hansel and Gretel.
"And as I'm reading it and getting further into it, I said, 'No, I'm wrong; this isn't a work of fiction, this is a work of history. I'm reading the Salem Witch Trials,'" she said. "I am reading, in the 20th century, the 17th century Salem Witch Trials."
Leonoff still feels the most important people in this nightmare were forgotten: The children. She feels the government owed an apology to these kids.
"That's why the Saskatchewan government … at the time needed to go public, to the public, to the families, to the children, and make sure that that community understood that this had never occurred [and] that this was complete fiction," she said.
"And they should have gotten them therapy and help. Twenty-five years ago. It's too late now."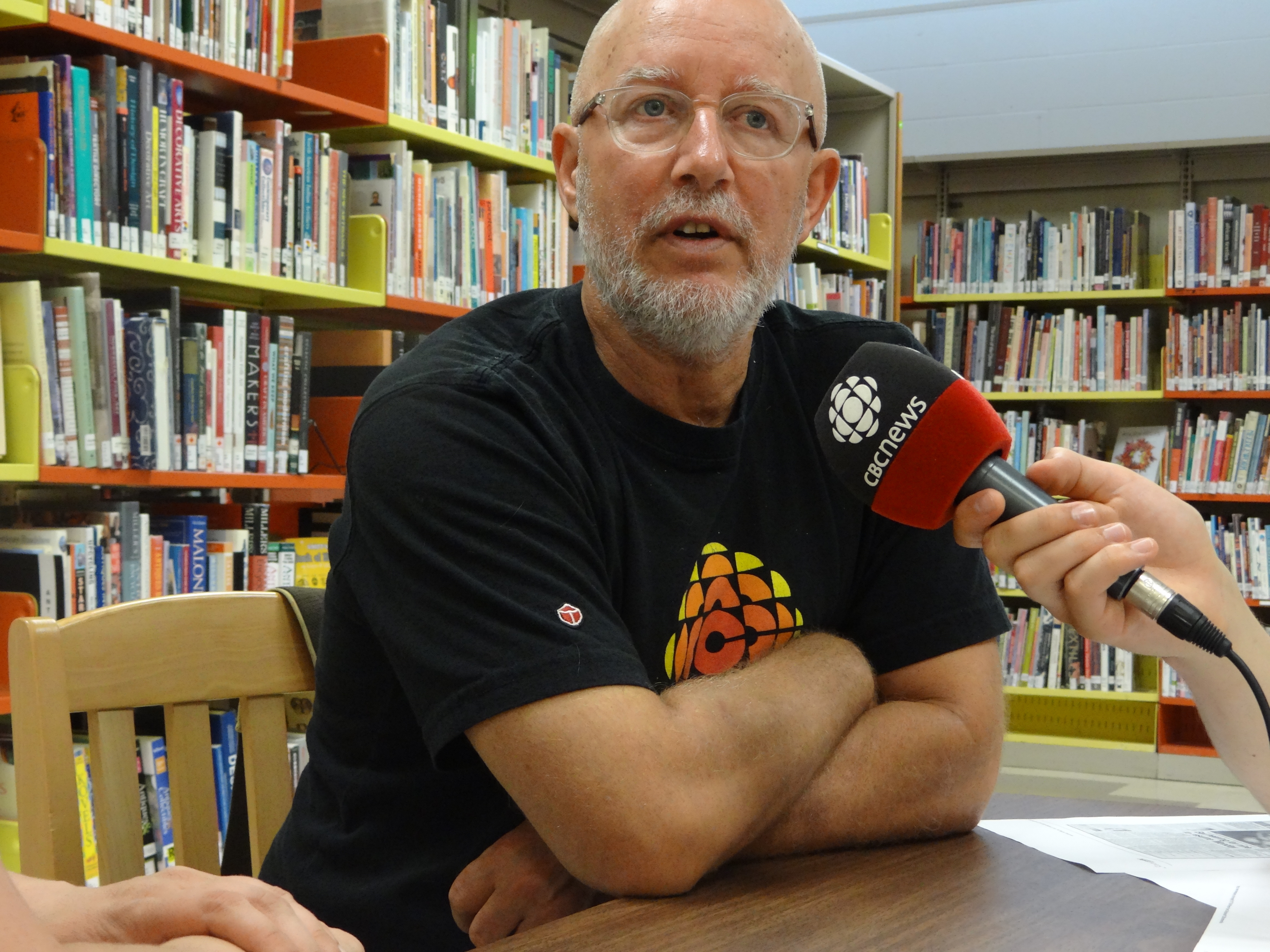 Many of those who lived through the Martensville Nightmare remain haunted. Most of the people contacted by Uncover not only didn't want to talk, but didn't want the episode discussed at all.
Dan Zakreski covered the scandal at the time for the Saskatoon StarPhoenix. He remembers being sent out one day to a used bookstore in Saskatoon, asked to look for people wearing black trench coats; it was believed that location was being used by satanists to buy materials.
"I bit so hard because everybody was involved in it, all the senior journalists I knew, everybody in town, everybody. We were suddenly [thinking], 'This was the fight between good and evil,' and I was on the side of good," said Zakreski, currently a reporter with CBC Saskatchewan.
Looking back on the coverage, he calls the whole episode sobering and a "huge learning experience."
"Once the train left the station and they laid all those charges, there was no question, at least in my mind, that somebody was going to have to be convicted of something. ... You don't trigger that sort of widespread panic … to have nothing come of it," he said.
"'Oops, we were wrong.' That's an awful thing to have to admit for everybody, including the media. You read the coverage afterward and how everybody sort of turned on everybody."