In the heart of Yellowknife's downtown is a place you could find almost anywhere in Canada.
When it first opened in 1990, Centre Square Mall was the northernmost frontier of brand-name indoor shopping. Yellowknifers flooded its halls to live the glamour and convenience of shopping in larger, southern cities.
But today, the mall is drowning in the same economic currents that have spelled the decline of shopping centres across North America.
And in a small town like Yellowknife, where downtown is home to just a few dozen retail outlets, that decline has left a deep cavity in the core of the city's commercial life.
Today, Centre Square Mall is almost completely empty. A procession of loiterers shuffle through empty, sometimes dirty halls, buying little from the few occupied storefronts.
Those tenants that remain describe regular incidents of violence, and health inspections show signs of a persistent cockroach infestation. The mall has earned a reputation as a place to be avoided.
CBC spoke to more than a dozen current and former residents and asked the question: What went wrong at the Centre Square Mall?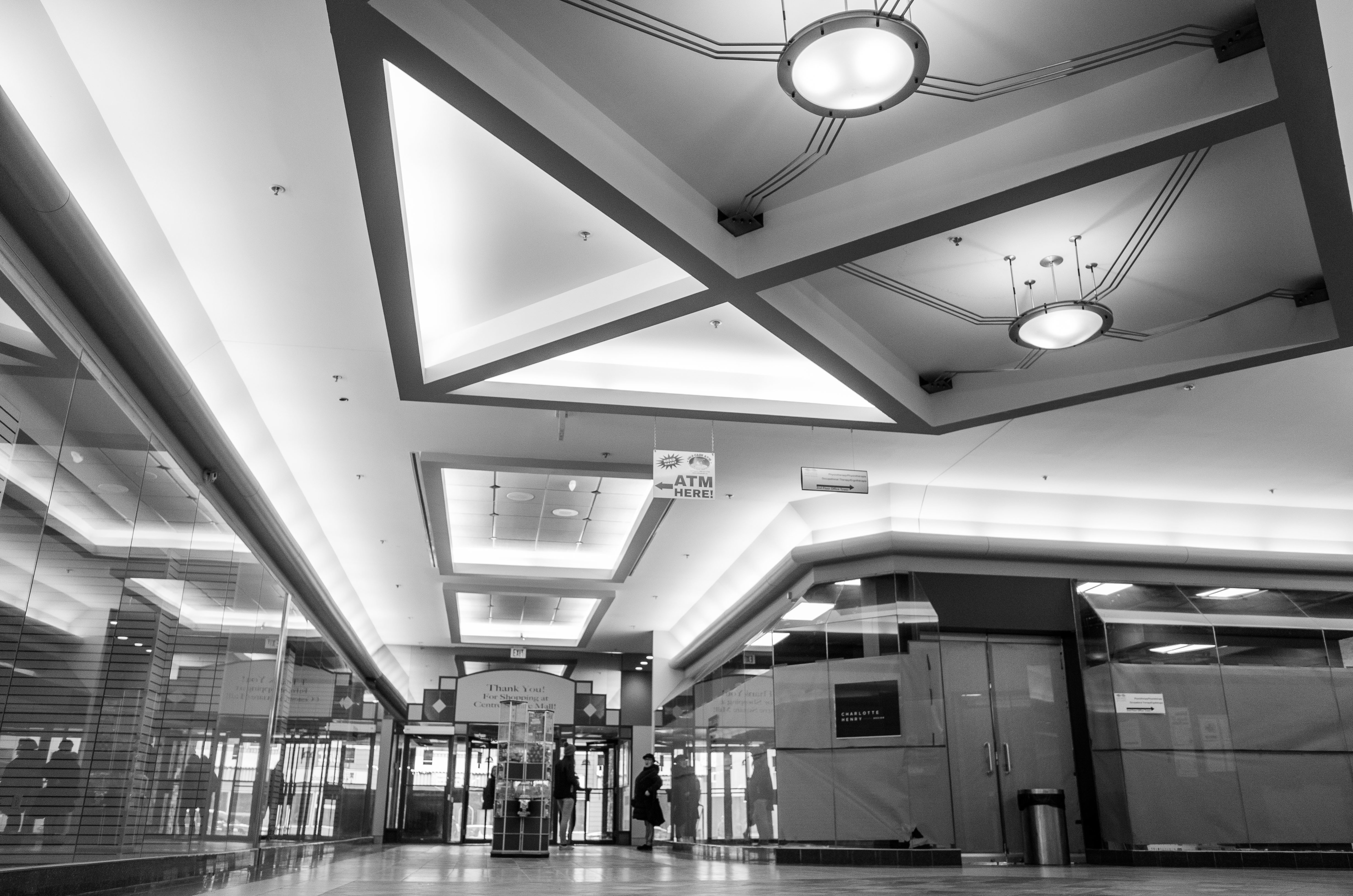 PART I: THE BUILD
In 1989, construction began on a combined office tower, parkade and shopping centre between 49th and 50th Street. in the heart of downtown Yellowknife.

With the groundwork laid by the municipal government, Clark-Bowler Builders started on the building that would become the world's tallest north of 60.
Ryan Silke, Yellowknife city historian: Centre Square Mall wasn't the first mall by any means, but it was certainly the largest and most ambitious project that was ever planned for Yellowknife.
And this was something that was really pushed by the city administration itself…. It was something that the city had a vision for … [to] redefine the downtown area as its place to do business.
Andy Clark, former CEO of Clark-Bowler Builders: There was actually a negative [housing] vacancy rate. I don't think there was much if any office space available … [and] there was little to no retail vacancy.
Dave Lovell, former mayor (1994-2000): The city had managed to consolidate quite a bit of property downtown — that whole block. And so then it became a matter of getting the mall built.
Ric Bolivar, electrical subcontractor on Centre Square Mall: Andy Clark and Dale Bowler were partners in Clark-Bowler [Builders], and Dale was the guy that convinced the partners to build the Centre Square complex.
Clark: From a self-interest point of view, we should've stepped away and not done it.

Bolivar: Dale had this big scheme to build this project… They had secured a few major tenants and then, of course, I think the condos sold rather quickly…. I mean, I owned a whole floor at one point.

Clark: He initially had us driving the project more as a builder ... [but our partner] backed out at the very end. So we had spent half a million dollars on design … and at the eleventh hour we had to decide to go on our own or not submit a proposal.
Dale Bowler could not initially be reached for comment. After this story was published, Bowler contacted CBC to contest Bolivar and Clark's account of the construction.
Bowler said the construction of the mall was not his idea alone, and denied that he had convinced the other partners in Clark-Bowler to construct the mall. He said he was tasked with securing tenants, and was not responsible for construction. He added that the decision to join the project as a builder, as well as to continue as Centre Square's developer after their partner backed out, was made jointly with the other partners.
Bowler also said he had no direct communications with Bolivar on the rationale for building the mall. Finally, he pointed to the 1990 edition of Northwest Explorer magazine, which profiled Clark and described him as the "moving force" behind the mall. It goes on to quote Clark saying, "I believe in this project, and have done so right from Day One."
"Let Andy's words speak for the matter without prejudice from anyone else," Bowler wrote in an email to CBC.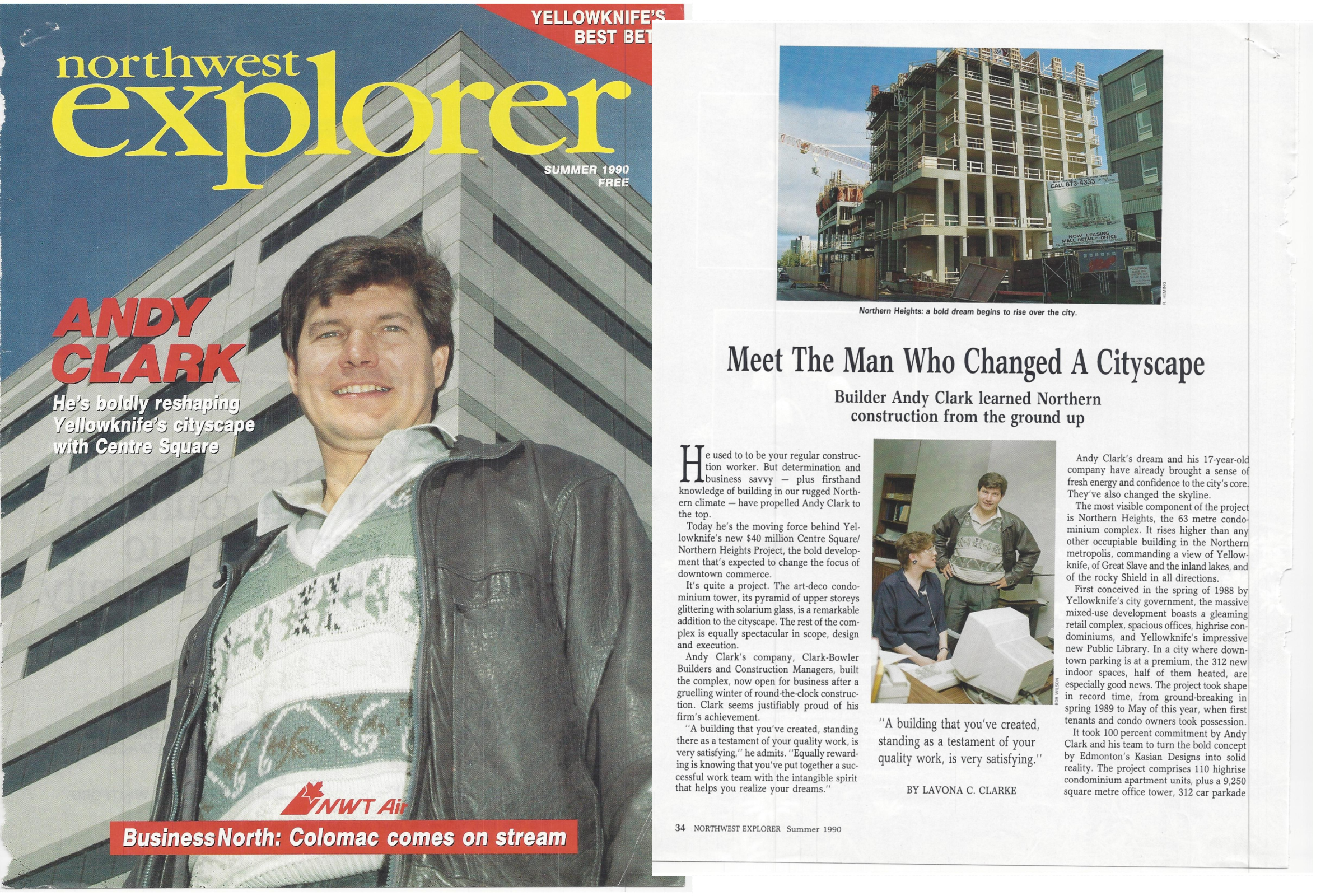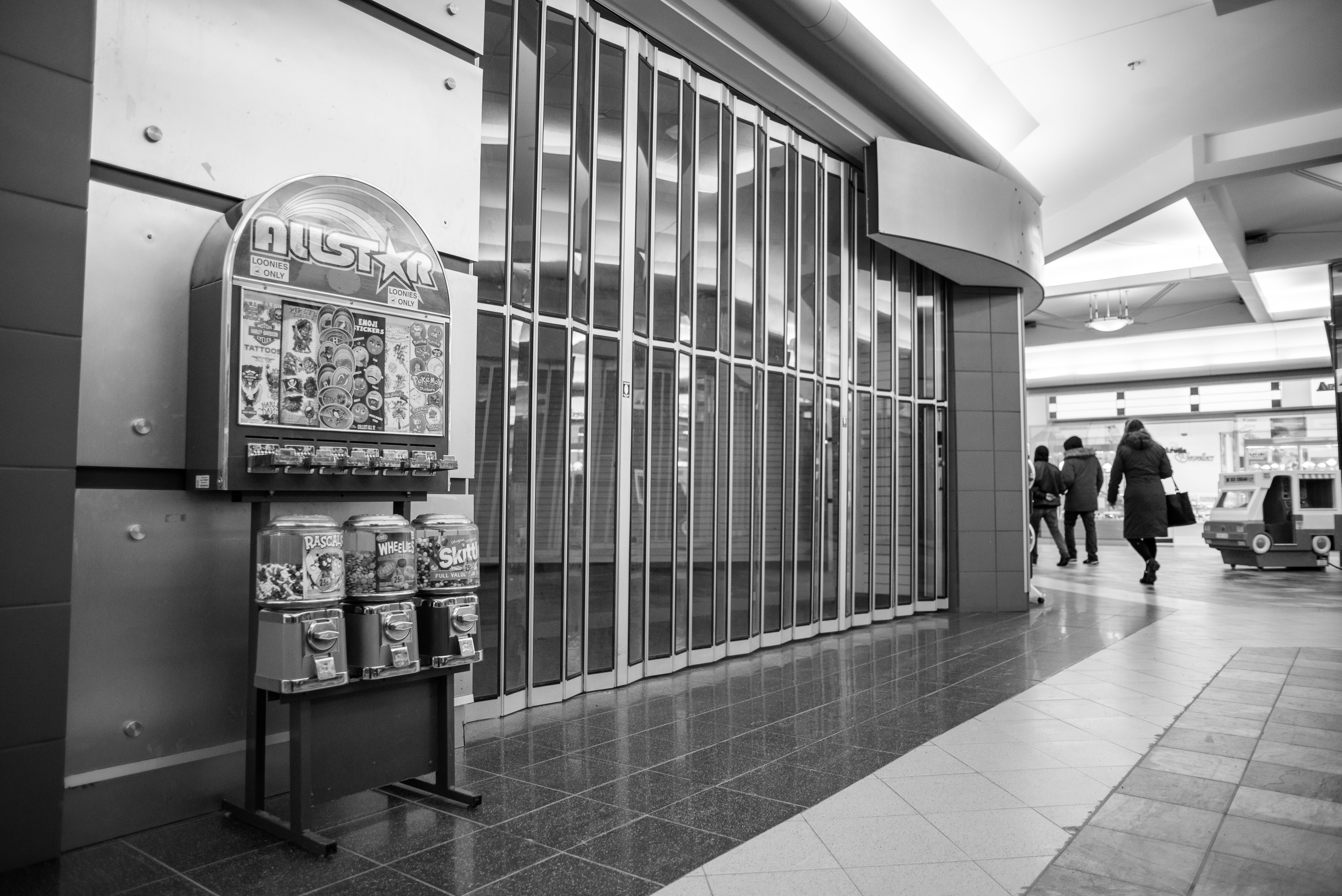 Silke: It contravened all kinds of bylaws at the time... so the city ended up quietly changing the bylaw[s] to allow for this development to happen.
The whole project was steamrolled ahead because it was seen as a good investment.
Bolivar: I think it went sideways right from the very beginning, more or less.

Clark: The city's concept had … two layers of underground parking…. The water table in Yellowknife is just eight feet or so below the street level.
Even when the project was finished, there was always water oozing into the parkade.
Lovell: It certainly had cost overruns, and I think they started to cut corners in it, too, because they still have problems to this day.
Bolivar: It's what's called a "design-build."
An owner or whatever will come up with parameters of what they want, as opposed to, you know, going out to architect and engineering firms and stuff.
You know, an engineer would say, let's put in this $400 light fixture in the ceiling… and I would say… all you're seeing from the bottom is this plexiglass lens. So I can do that for $125.
Clark: We had a very aggressive construction schedule. And we started on the belief that we had financing arranged … and the board didn't approve it.
It took them a long time to [find a lender.] When they did decide to do it, they jacked up the interest rate … so that took a lot of the profitability out of the business.
Lovell: They'd spent far, far more on it than they ever planned to…. The city, in order to keep it going, they made a few deals.
Not without controversy, the City of Yellowknife decided to move its public library to a greatly expanded space on the second floor of the Centre Square Mall. Effectively, it made the city the mall's "anchor tenant" — its guaranteed major draw and rent-payer.
Lovell: The city had worked so hard to get it built…. [they] just couldn't afford to [let it] go under.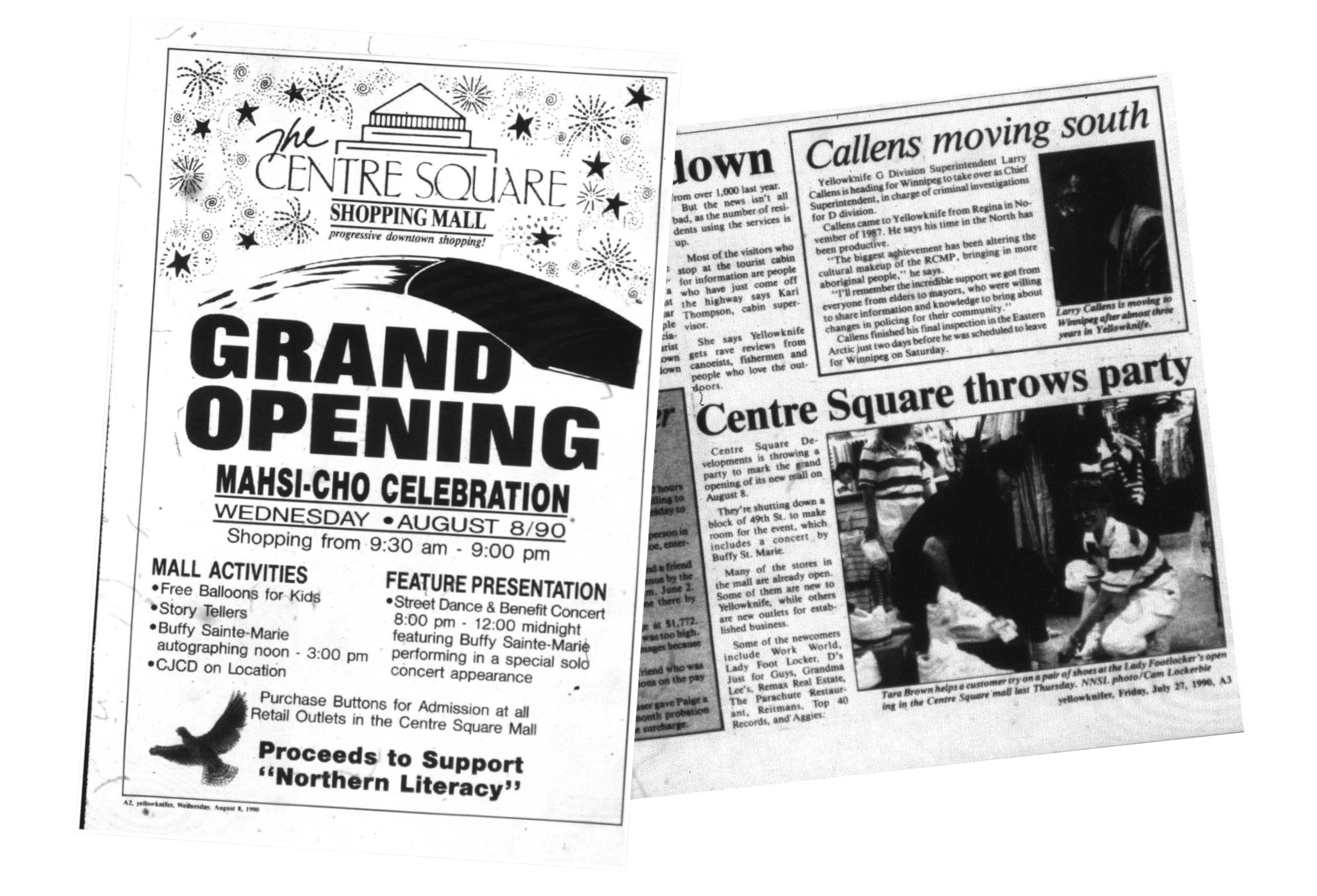 PART II: THE HEYDAY
Ryan Silke, Yellowknife city historian: The summer of 1990 was the grand opening…. There was quite a bit of controversy surrounding the mall project, as you as you might imagine.

Patrick Scott, owner of Birchwood Coffee Kǫ̀, across the street: When they opened, Buffy Sainte-Marie came and sang. They had a street concert, right on 49th Street.
Pretty much every one of the stores, especially the national chains, all broke opening day sales records like crazy for their companies. So it started off as a big, big bang.
Ric Bolivar, contractor who built Centre Square Mall: There was a lot of excitement about the place, actually…. Essentially the only chain store [in Yellowknife] at that time was RadioShack … and the grocery stores.
Andy Clark, former CEO of Clark-Bowler Builders: We were really pioneers in bringing the condo movement … and national retailers to Yellowknife. Of course, nobody thanks you for that.
Deb McIsaac, former Yellowknifer: I was a teenager in the '80s, growing up in Yellowknife.… Centre Square Mall was, you know, the centre of everything in Yellowknife, and it brought a big empty space to life in the downtown core.
[There was] the excitement of, like, walking into a fairground, where you smell food, you hear music, you hear the waterfall, you hear laughter, you hear people that are seeing somebody that they haven't seen for a very long time, you see lineups at the lottery ticket centre, you see government workers going for coffee.
[We] would have a lot of social [events] there. They would turn the main foyer into a catwalk and there was some fashion shows…. My dad was part of a singing competition.
Shawnette McNeil, former mall manager: We had customer appreciation every year, where you could walk around a glass of wine and shop, and it was wonderful. There was a sense of community.
Paco Underhill, mall expert: For many teenagers of that era … [malls were] one of the first places where they got to go by themselves, because the mall offered something that the street didn't — which was safety.
Many families would happily drop off their 14-year-old girl at the shopping mall … but they might not let her go walk into downtown by herself.

PART III: THE DECLINE
But behind the scenes, Centre Square Mall was already struggling.
Even before the first round of five-year leases was up, problems were brewing between Centre Square's partners.
Dave Lovell, former mayor (1994-2000): I was elected [in 1994], and they put the file on my desk.... This was a lose-lose situation, and what I did for about the first two years I was mayor was do my damnedest to cut our losses on the whole thing and just keep it viable.

Ric Bolivar, contractor who built Centre Square Mall: I don't think it turned out as great a cash flow as they thought it did over the years…. I think a lot of partners were pissed off that Dale [Bowler] convinced them to build this thing.
Andy Clark, former CEO of Clark-Bowler Builders: It was never profitable at all. It wasn't profitable when it opened. We were losing $1,000 a day for the first few years that it was there.
[A rival developer,] Princeton Group, went and built Northwest Tower, and they attracted Northwestel as an anchor tenant. In our survey of … how we were going to build our 12-storey office building, we had four floors tagged for Northwestel. So when that building went ahead … it forced us to chop our office tower off at eight floors.
Not having the income from those top floors … took a lot of meat off the bone.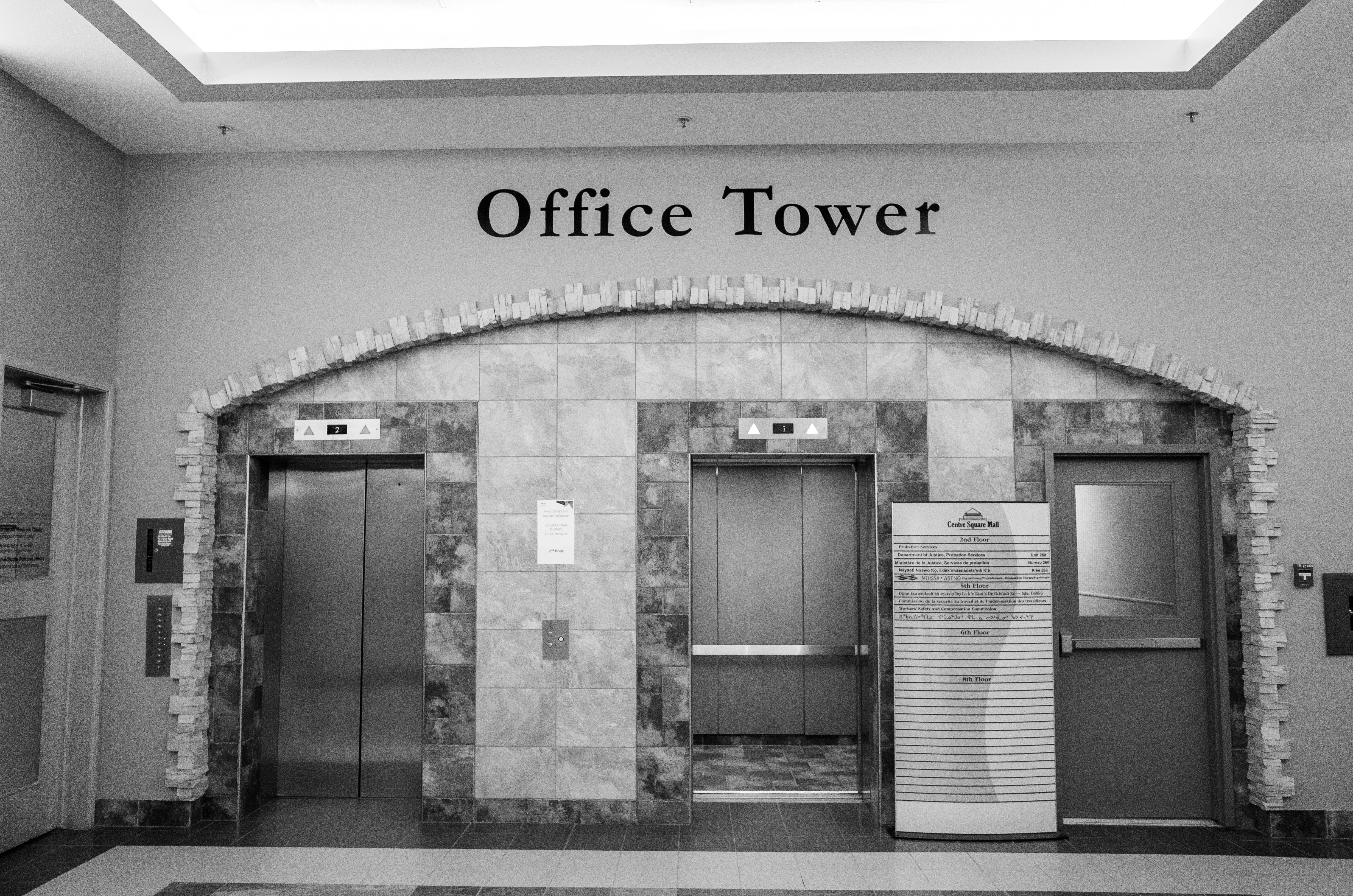 [And] what Princeton inadvertently did is created a price war…. At the time, I think the lease rates [for office space] were around $20 to $22 per [square] foot. And by the time it finished, there were rental rates going for as low as $10 or $11 a [square] foot.
It was [devastating]. We as a company put $11 million into the project. And when we finally … sold it off, we ended up recovering about five and a half of the $11 million.
Not the corporate welfare bums we were purported to be.
Lovell: The [city council] desperately wanted me to just force Clark [Builders] over into bankruptcy, actually.... It was far better to keep it going, so that we never did that to him, but we took everything we could off him.
We took the [parkade] and that was … about all they had left. We were sort of picking at the carcass, put it that way.
Paco Underhill, mall expert: For many … malls, one of the most important assets that they had was the asphalt parking lot that surrounded them.
Adrian Bell, commercial real estate agent: There is a ratio of parking to retail space that is required to make a space successful. And [Centre Square] has to be the only mall in Canada that [today] cannot claim to have even a single off-street parking lot.
The city didn't stop there. It tried to buy its way out of being the mall's anchor tenant — its $39,000 per month lease for the public library.
Lee Selleck, reporting for CBC in 1996: The city leased [the library] with an option to buy it after five years. But when the lease expired, it turned out the city's lawyer had made a mistake, and the purchase option was no good. Worse yet, Clark-Bowler's whole development was in trouble if the city pulled out. So even though the city had the money to buy the space, it renewed the lease.

The city debated buying the space now … but that means borrowing $3.5 million dollars, without asking the taxpayers about it…. In the end, the motion to borrow the money passed easily.
By 1997, the city had acquired the second floor of Centre Square. Clark sold his piece of the property to a southern-based holding company the same year.
The mall now had three owners dividing the one building between them.
The upper mall, a long hall with its entrance on Yellowknife's main street, was owned by a hotel company.
A few steps at the end of that hall was all that separated the upper from the lower mall.
Adrian Bell, commercial real estate agent: They were built at different times, they had different owners, and they never really sat down and said, "we should consolidate so that we can really control what's going on in here."
People signed to five- or 10-year leases, [and] you weren't really going to see the signs of the decline until the end of the five- or 10-year period.
At the end of their lease … [tenants] would start playing the two mall owners against each other to see who would offer the lowest rent. In the business world, when you see that kind of thing happening, it feels and looks a lot like a race to the bottom.
I was sitting there watching the decline…. You see your friends close their shops and move away. And it's hard to watch. And it seems like something that doesn't have to be that way.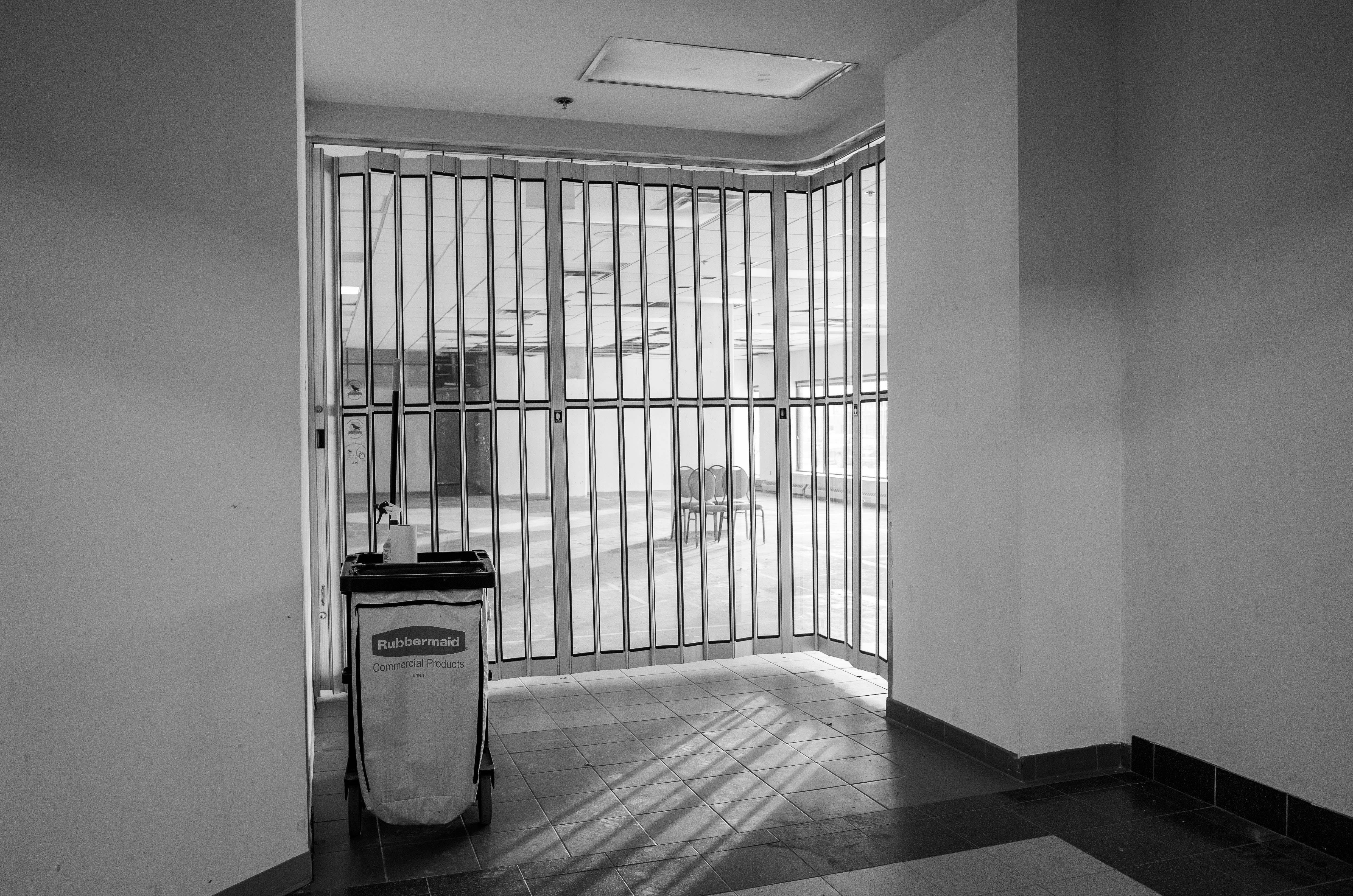 Patrick Scott, owner of Birchwood Coffee Kǫ̀: Bank of Montreal was the first one big one to leave [in 2008].

And then Reitmans left and went out to the other end of town.
There was an art gallery where the barber shop is [now]…. He went under.
As the mall emptied out, the social problems of downtown Yellowknife — homelessness, public drunkenness and vandalism — became more visible.
Adrian Bell, commercial real estate agent: There were always social problems. The problem is the shoppers went away, so now all you have is the social problems.
Deb McIsaac, former Yellowknifer: I noticed that the security staff that used to patrol the area … just started hammering down on anybody that would stop.
Shawnette McNeil, former mall manager: [They were] trying to keep people out that were not going to stay out. You have to accept the fact that we are downtown, that we were in the middle of everything, that it's cold in the wintertime.... So you have to embrace that, and I don't believe they did.
McIsaac: There were some beautiful benches in there… water fountains, telephone booths — back when telephone booths were a thing …. Security would just keep pushing people along.

And then the water fountains were taken away, and then the phone booths evolved out of there … and as it became less physically attractive, that's when I feel that the stores that were in there started to change. They weren't quite as appealing as you were walking by.
People weren't taking care of their storefronts.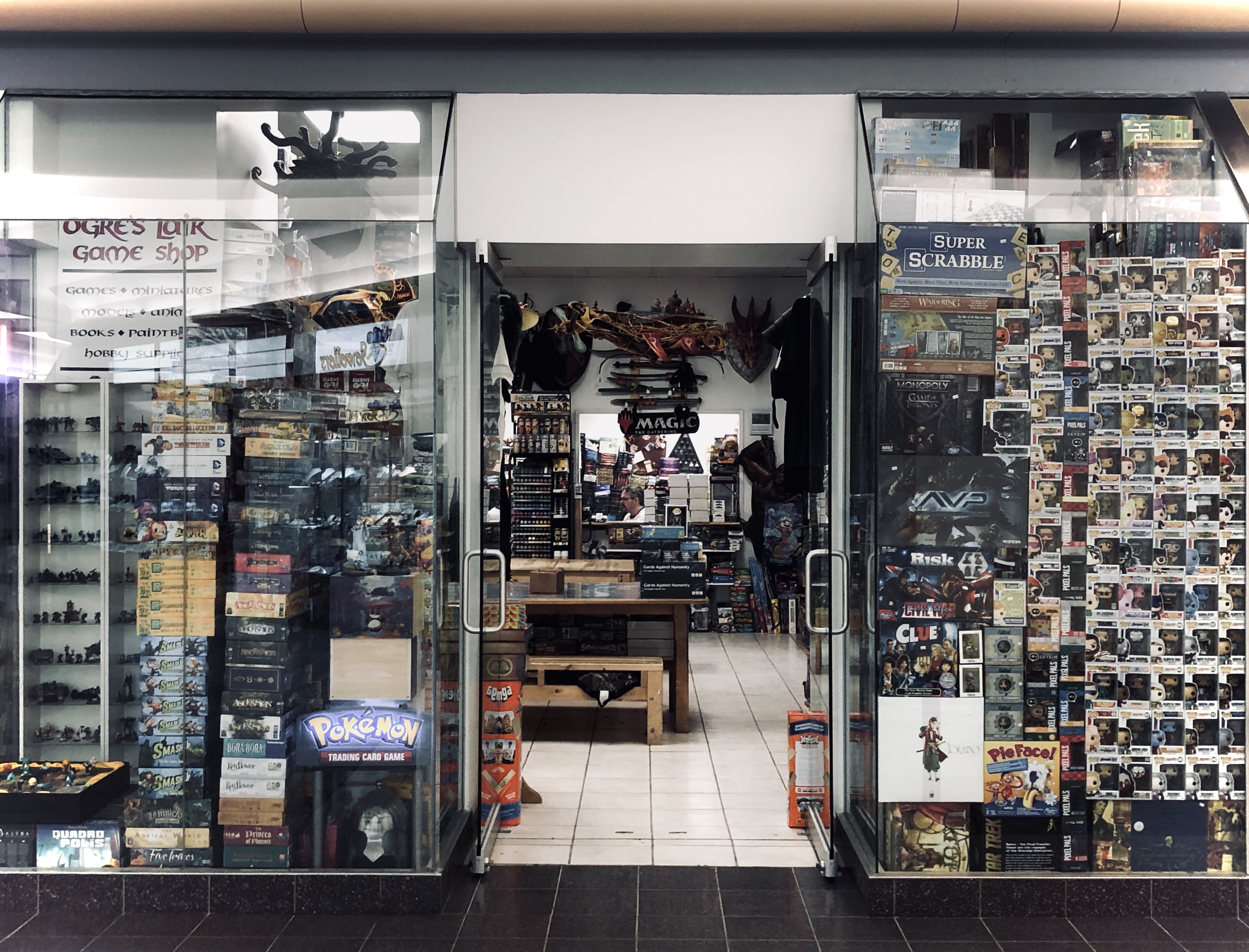 PART IV: PRESENT DAY
Today, the mall has just over a dozen tenants. Though private consultants, public interest groups, local retailers and the City of Yellowknife have all made attempts to improve the space, the mall remains a shadow of what it was in its heyday.
Patrick Scott, owner of Birchwood Coffee Kǫ̀: The reality is, small businesses are really fighting to survive.... It's really, really tough to pay the overheads that you have to pay here and be viable with the volume of sales that you have. So it's … definitely not easy.
When we were looking at opening up [Birchwood Koffee Ko], we spent almost almost a year trying to rent space from the mall and couldn't get them to make a decision. They come up with conditions, we'd address their conditions and [still] couldn't get it.
I don't know whether they were serious about renting space, frankly. They had lots of reasons not to rent it rather than to rent it.
James Crozier, manager of Ogre's Lair games shop in Centre Square: I would say about 90 per cent of the time, the people walking by are "streeters."
You've got a population that doesn't spend any money in the mall, and scares away people that can be spending in the mall. That's a broad generalization, yes, but if you talk to normal people and ask why they don't come downtown, they may not come downtown period because of the threat of it.
When I first got into the space, I told them that it was only a matter of time before I'd probably be in a physical altercation with somebody, because it's just the way it is.
Shawnette McNeil, former mall manager: Everybody is going to use that as an excuse, but that has not changed.
I mean, I've been threatened, I've been chased, I've been hit, I've been spit on. You name it and it happened. I was chased around the elevator at the Yellowknife Inn with a broken beer bottle. It can get bad.
[But] that has always been here ... So instead of saying they're a stain, let's just start treating them like people again.
Adrian Bell, commercial real estate agent: A few years ago I would've said that it's a place to see avoided. That you're going to see a lot of fighting, it's not going to be an enjoyable atmosphere — you probably don't want to take your kids there.
It seems in the last couple of years that they've done some work to try to make it more welcoming.
It's still empty. It's not yet welcoming to retailers. And the shoppers don't seem to have come back. But I don't think it's dangerous or anything like that.
Paco Underhill, mall expert: There were shopping malls that were prospering mightily in 1990 that by 2005 were less so and some of it was they weren't keeping up with the trends.

A shopping mall — and particularly one that exist in a downtown setting — needs to have a place-making component to it, which is evangelical.
[It may be] saying, 'I have this vacant space. Is there a way for me to be more creative about how I use it?' And that may be rather than going I'm looking for a tenant willing to sign a 10-year lease, I'm going to go in and reorder the space so that people can run pop-ups [or] open up a branch of the local farmers market there.
McNeil: Get back to community spirit. Go after the companies. Go after the mom and pop.
Even if they offered the guys a percentage-of-sales rent for a year and just get them to pay the maintenance costs and the operations, then you might see more people come down here.
There have been some improvements. This fall, the Santa Claus Parade once again filled Centre Square with life — a live concert, a public market, and families roaming the halls.
One week prior, the lower mall hosted the Far North Photo Festival, converting one of its biggest storefronts into a temporary gallery. It was the second time in a matter of months the property had been leased out to a non-profit on a short-term basis.
Pablo Saravanja, organizer with Far North Photo Festival: This gallery space was literally just a shell a few days ago. Some creative people came in, saw its potential, and thought, "Hey, this could also be a really great gallery space."
I personally would love to see a … daycare in this building. I think families and kids walking through the space is going to brighten it completely. I think people gather where other people gather.
I'd love to see a Northwest Territories tourism office, right next to a municipal enforcement office … to send the message that, "hey, we're here to help."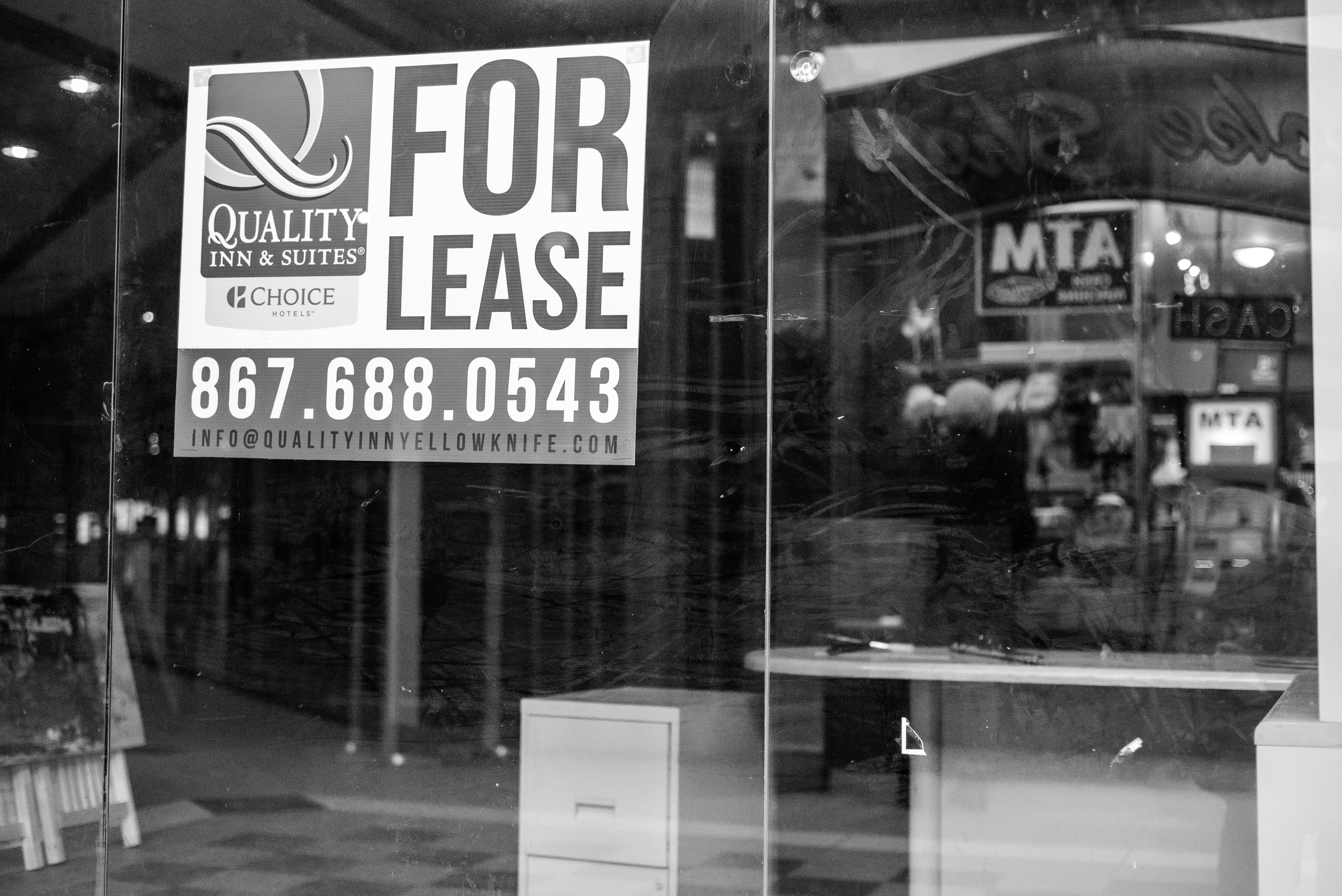 Brian Bastable, property manager with Slate Asset Management, owner of the lower mall: We have no say in what the upper mall does … We're just focusing on our mall.
We've invested significantly ... I'm not sure what other landlords are spending money on their assets, but we've basically cleaned it up, and it's a much brighter, cleaner portion of the mall to walk through.
We've also upgraded security. Previous security turned a blind eye to some of the issues.
Felix Seiler, COO of Holloway Lodging Corporation, owner of the upper mall: We haven't really invested a lot of money, because … our main focus is not just a mall, right?
We're a hotel ownership and management company … Everything requires a cost-benefit [analysis].
Even with those improvements, could Centre Square ever return to its glory days?
Adrian Bell, commercial real estate agent: Well, no. It's impossible that it could ever fill up, because so much retail space has been built on the other end of town, that there will never be a demand for that much vacant retail space in our city. It will never happen.
Ryan Silke, Yellowknife city historian: Certainly, the city has to be more proactive, since they were the ones that ultimately built this mall, they were the ones that pushed for it 30 years ago. So what is their role today in solving that? Legally, maybe there's no… imperative for them to do anything. But I still think that it is on the city to make that work.
Paco Underhill, mall expert: There are A and B malls across North America that may be saveable. And there are a bunch of C and D malls that maybe we just need to dynamite and start over.
Recognize that retail is historically about birth, life, death, and compost.
Pablo Saravanja, organizer with Far North Photo Festival: Yellowknife is a winter city, [and] this mall is directly in the centre of it.
This place can transform our relationship to the downtown core. It needs to be occupied.