Curtis Alsop is standing in the cramped trench, waiting for the action to start. Rain is dripping off his helmet and falling on his muddy face. His eyes dart around nervously. His body is tense.
Smoke is drifting all around the trench and it's difficult to breathe.
Suddenly, the cry "Action!" rings out.
Two soldiers run past Curtis carrying a stretcher, followed by a camera crew.
This isn't the Great War. It's a film set for a student docudrama commemorating the 100th anniversary of the Armistice on Nov. 11, 1918.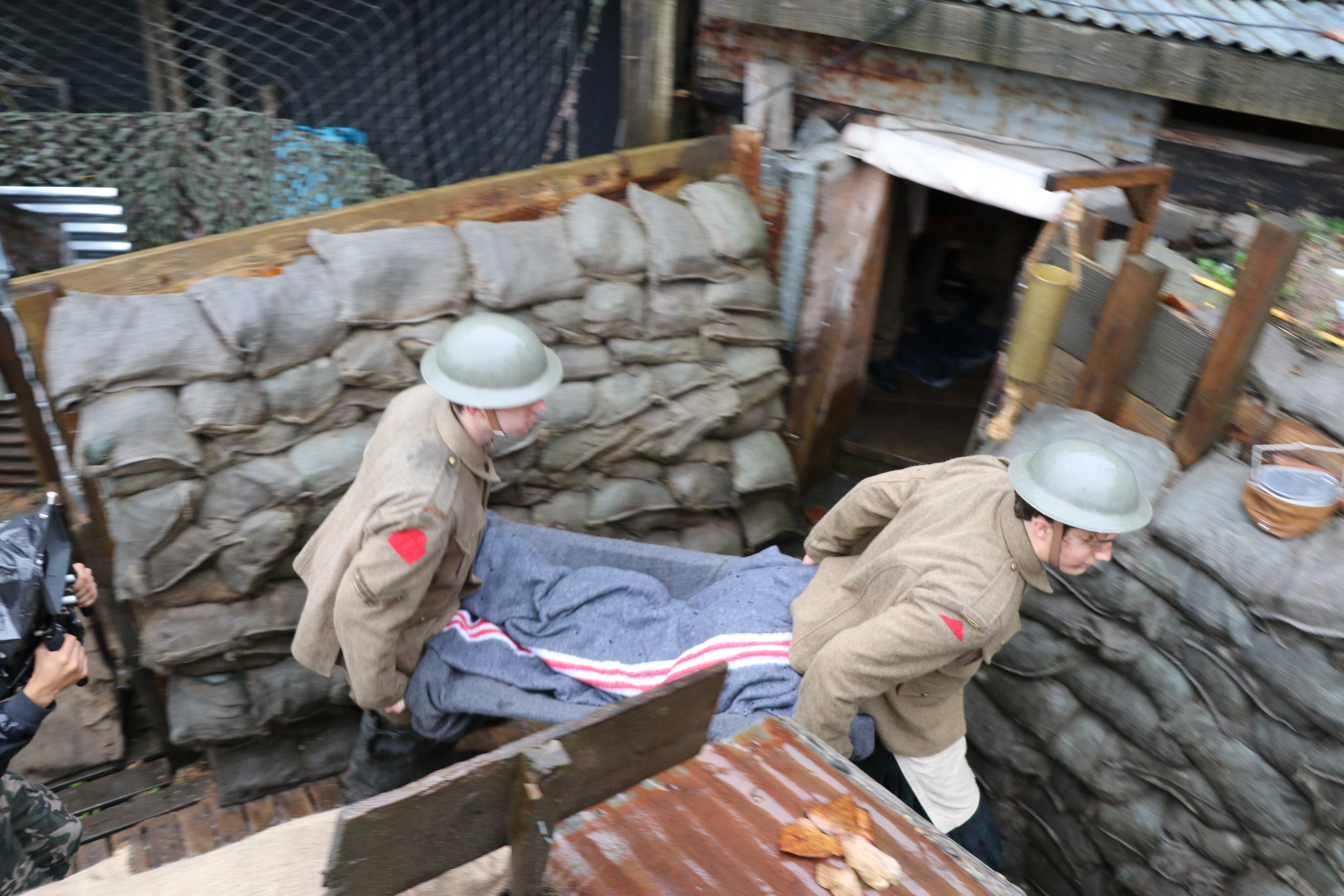 But it's about as close as Curtis will get to experiencing what it would have been like to be a soldier during the First World War.
Between takes, the B.C. native seemed like your typical high school teenager in a hoodie — chilling with his friends and checking his phone. But he's acutely aware of how different his life could have been 100 years ago.
"In World War One, kids my age were serving," the 17-year-old said. "Someone could just die beside them and they would think it's an everyday thing. If someone died next to me, I'd be pretty shocked and scared about that."
Bringing the past alive for the next generation
Joining forces with the Port Moody Station Museum, Curtis and his classmates at Burnaby North Secondary School are making this film to explore the role people their age would have played in the Great War.

Roughly 20,000 underage young men enlisted for overseas service, according to the Canadian Encyclopedia. While the minimum age for service was 18, many young Canadians were eager to serve their country, and lied about their ages.
Corine Carey, Curtis's social studies teacher, said the assignment was to get the kids to imagine the lives of those soldiers.
"We asked them to think about 100 years ago — what was a student your age doing as opposed to what you're doing now, and could you walk a mile in their shoes?"
Since delving into this project in September, the students' engagement levels in class -- and for the project -- have shot up, Carey said.
"It's not just 'Turn to page 425' or 'History is so boring.' They get to bring it alive."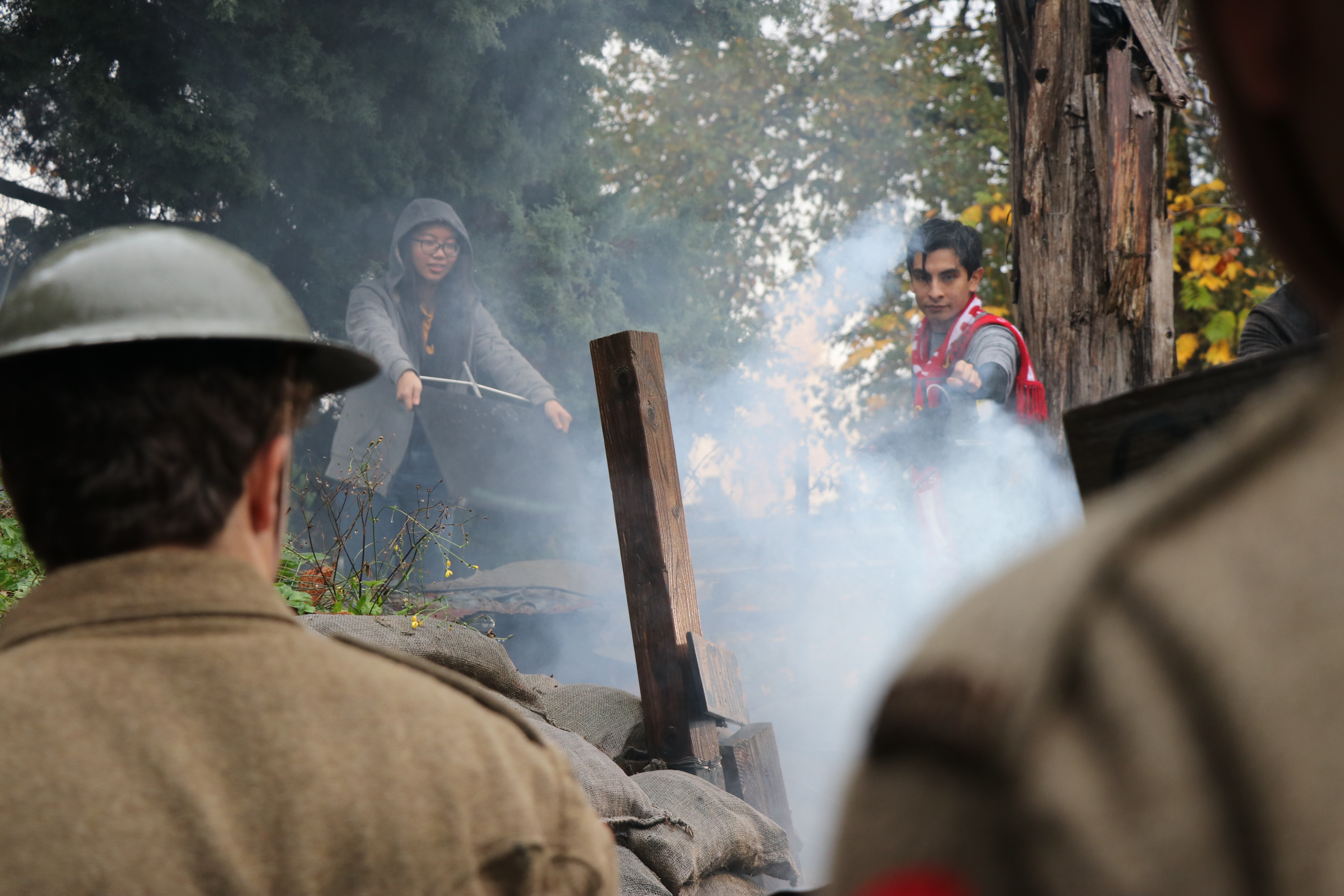 Their set is a trench that has been built almost to scale as a First World War trench, and the students wrote the script by drawing on real-life letters Canadian soldiers sent to their friends and family.

Getting into character
Curtis' character is based on George Adkins, who enlisted in March 1915 in Edmonton and served in Belgium.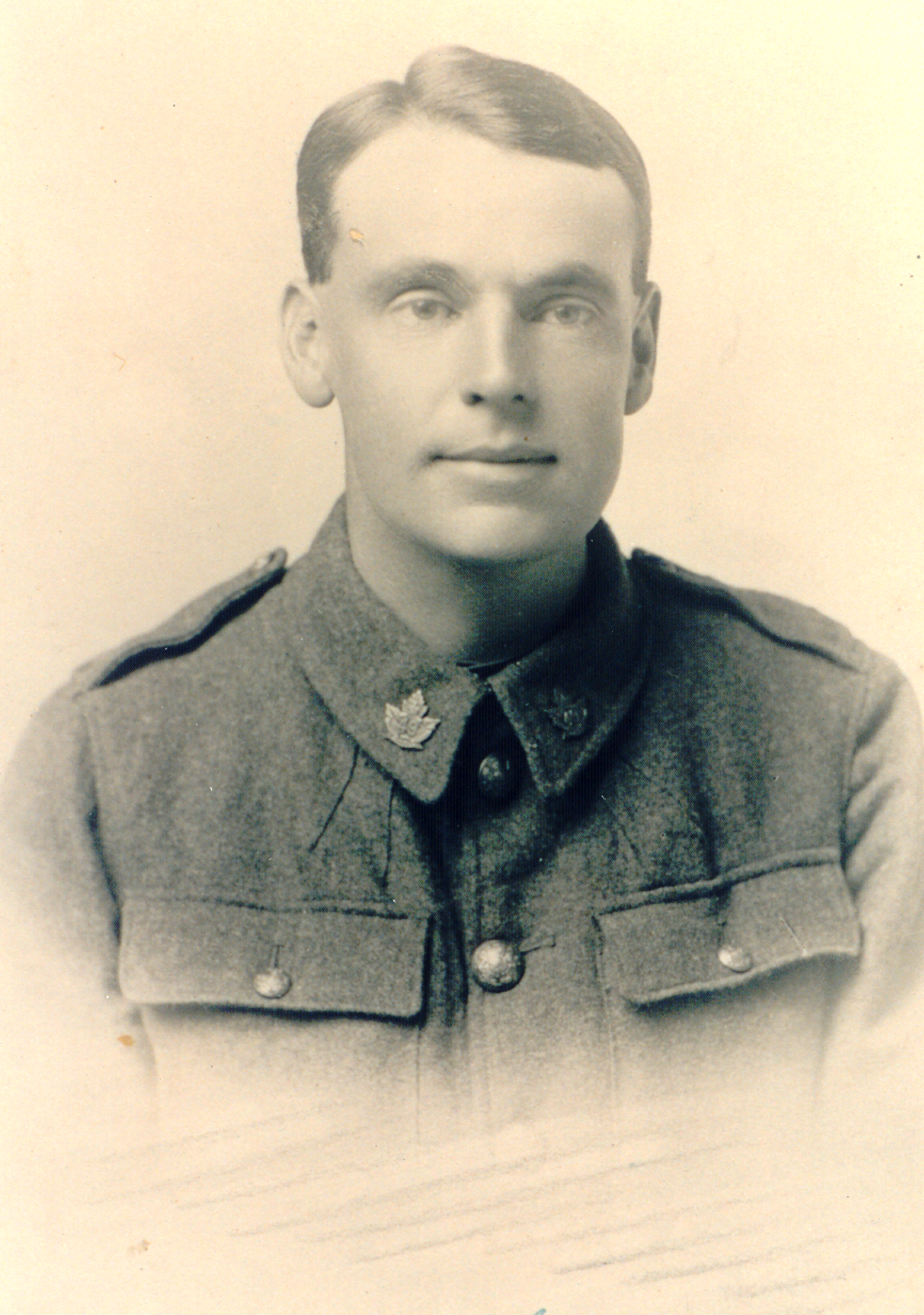 Curtis read some of the letters Adkins wrote to his wife, Louise, in which he explained what life was like in the trenches.

"It's so long since I went to church that I almost forgot what it's like. Indeed Louise I'm afraid I'm getting to be quite a tough & a heavy smoker. — George Adkins.
"He was tired, he was paranoid, he was bored all the time," said Curtis. "And he started swearing and lost his connection with God.
"I'm Christian and I thought that was really powerful that he lost something so meaningful to him, just because everyday life in the trenches is so bad."
He could feel his body language and demeanour change as soon as his donned his soldier's costume.

"I'd put on the uniform and I'd try to feel tired … I'd open my eyes for a long time, so that my eyes start to look tired."
Then with a smile, he added, "but that's not really difficult to do, as I'm in school."
Turning serious, Curtis said he hopes his friends understand why they should pay attention to something that happened a century ago.
"We need to realize there were people out there serving who were teenagers," he said.
"I think it's important to know that because of them, we live as freely as we can, we have all these privileges, like food, home ... we have safety."

Not just a history textbook
For some of the students working on the film, the past is even more real.
The director of photography is 19-year-old Sopithan Rajeswaran, who at age 11 was hiding in a trench in Sri Lanka.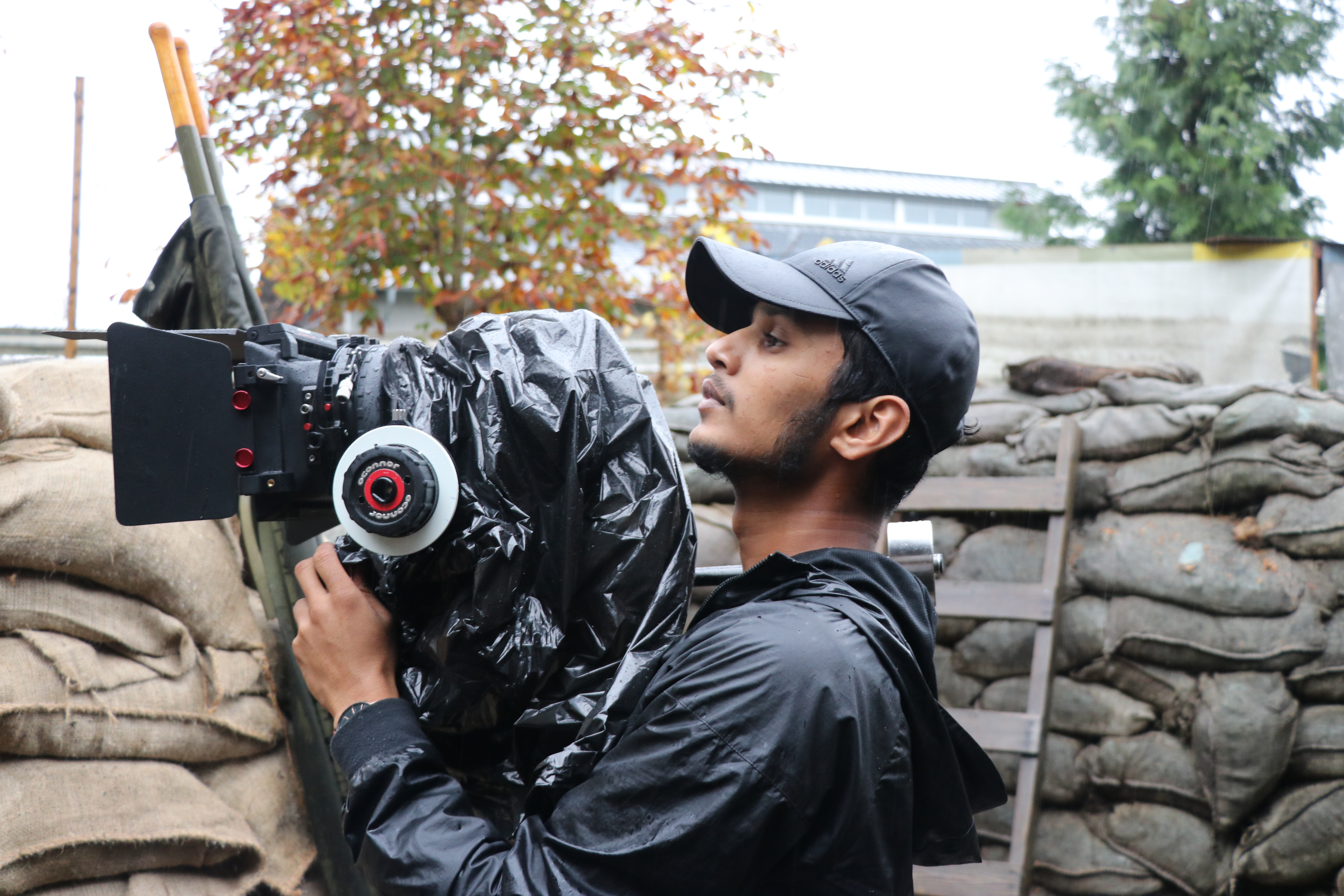 When Sopithan was a child, war broke out between the Sri Lankan government and the Liberation Tigers of Tamil Eelam. Thousands were killed in a war that spanned three decades.

"My mum got shot in the arm and my brother got shot in the head. It wasn't safe to go out," said Sopithan, who recently graduated from Burnaby North and is studying at Capilano University.
"We'd dig trenches or bunkers by our house and we would stay there for a day, sometimes for a week. We couldn't go back [home]. Even food we would eat in the trench."
His family survived, and after they fled to Canada as refugees, Sopithan settled into a more stable childhood and discovered a love of video storytelling. While shooting in small, narrow trenches for this film, those memories of Sri Lanka often flood back.
"I'm right now just focused on the scene, but when I see smoke and see people yelling, I can connect to this," he said. "A lot of people don't know what happened [in Sri Lanka] and I want to tell my story one day."

Lest we forget … but also never again
The documentary, whose working title is The Last 100 Days, will be released in 2019 for the 50th anniversary anniversary of the Port Moody Station Museum, where visitors can see the trench.
For Markus Fahrner, the museum's coordinator, the documentary is almost incidental.
Rather, he hopes the budding documentarians walk away with a sense of how different life could have been if they had been born in a previous century.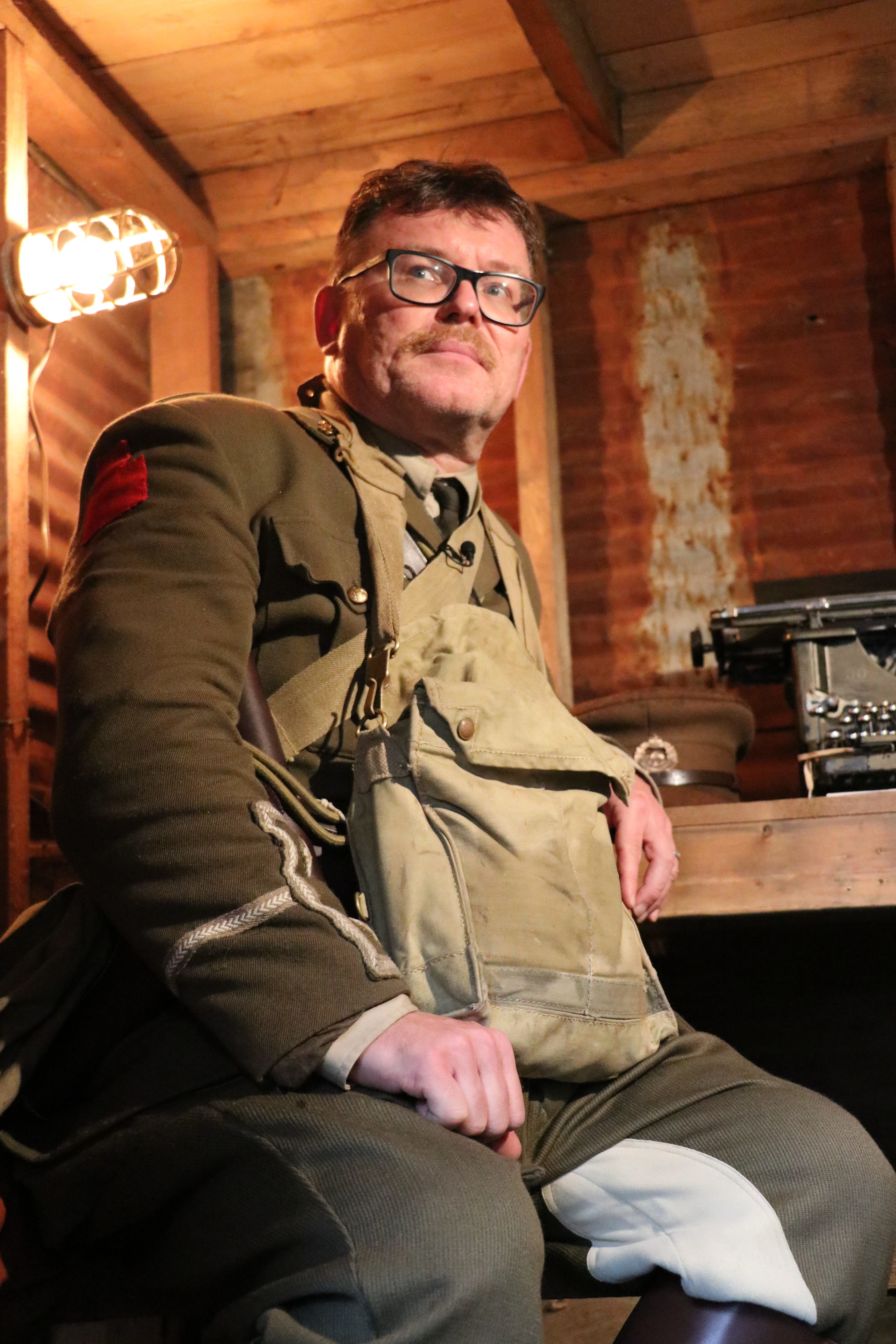 "It's a long time ago, it's history, but they need to remember it," Fahrner said. "But at the same time, this is something that should never happen again. [We should show] that we're capable of learning from our mistakes."
Curtis said he has a deeper understanding of the war thanks to this immersive experience.
"This is why I'm going to tell my friends to care about what happened in World War One," he said.
"Kids our own age were suffering from gunfire, they were suffering from malnutrition, they were suffering from poor sleep, they were scared … Suffering happened in the past, so we could live good today."