Tuesday marks 10 years since the 2011 Vancouver riot turned a demoralizing hockey loss into a night of destruction.
For the second time since 1994, a heartbreaking Vancouver Canucks loss in Game 7 of the Stanley Cup finals led to mayhem and looting.
The riot only lasted about five hours, according to a report from the B.C. Prosecution Service, but caused $3.78 million in damage.
The riot led to 912 criminal charges against 300 people. The court cases cost a further $5 million.
The damage has long been cleaned up, but the sights and sounds left an indelible mark on many who witnessed the chaos.
A sitting city councillor said the riot affected the way the city handled events for years afterward, and others say this relatively early social media riot changed how the public and police viewed the emerging technology.
This is what some people who were there remember of that night 10 years later.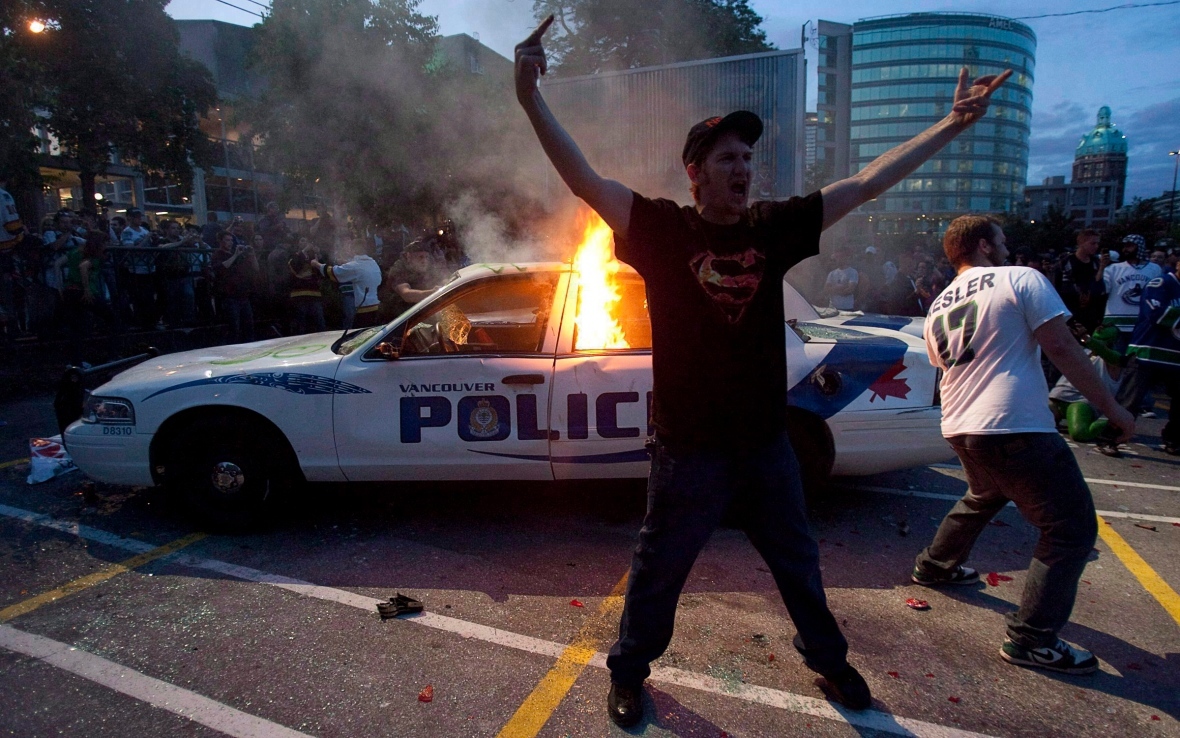 Karin Larsen, Canucks reporter for CBC Vancouver in 2011: I think what happened in 1994 does loom over the fan base quite a bit.
What was different about 2011 is the team was really good and it seemed to have a fortitude that teams in the past didn't.
The expectations were pretty high. They were a good team. But you learn to live with a certain degree of heartbreak as a Vancouver Canucks fan.... I know, I've been one.
At Georgia and Hamilton streets in downtown Vancouver, a massive outdoor fan zone with truck-mounted TV screens broadcast playoff games to thousands of diehard Canucks fans. Approximately 55,000 people were in the fan zone on the night of June 15, 2011 to watch the team take on the Boston Bruins.
Jim Chu, former Vancouver police chief: We were at Georgia and Granville for most of the evening … every time a [SkyTrain] stopped at the station, massive amounts of people came out. They all had backpacks, coolers, so they were prepared to drink.
Alex Edler, Canucks defenceman: I don't really have too many memories from Game 7.… I think my only memory was their first goal off a faceoff late in the first. And then the next memory I have is when it was over and they won it.
We just felt empty. You're physically drained, you're mentally drained, you just feel very low and you have nothing.
We just kind of heard after the game what was going on outside and I think you get a lot of rumours.… But it was a bit scary. You didn't really know what was happening outside the arena.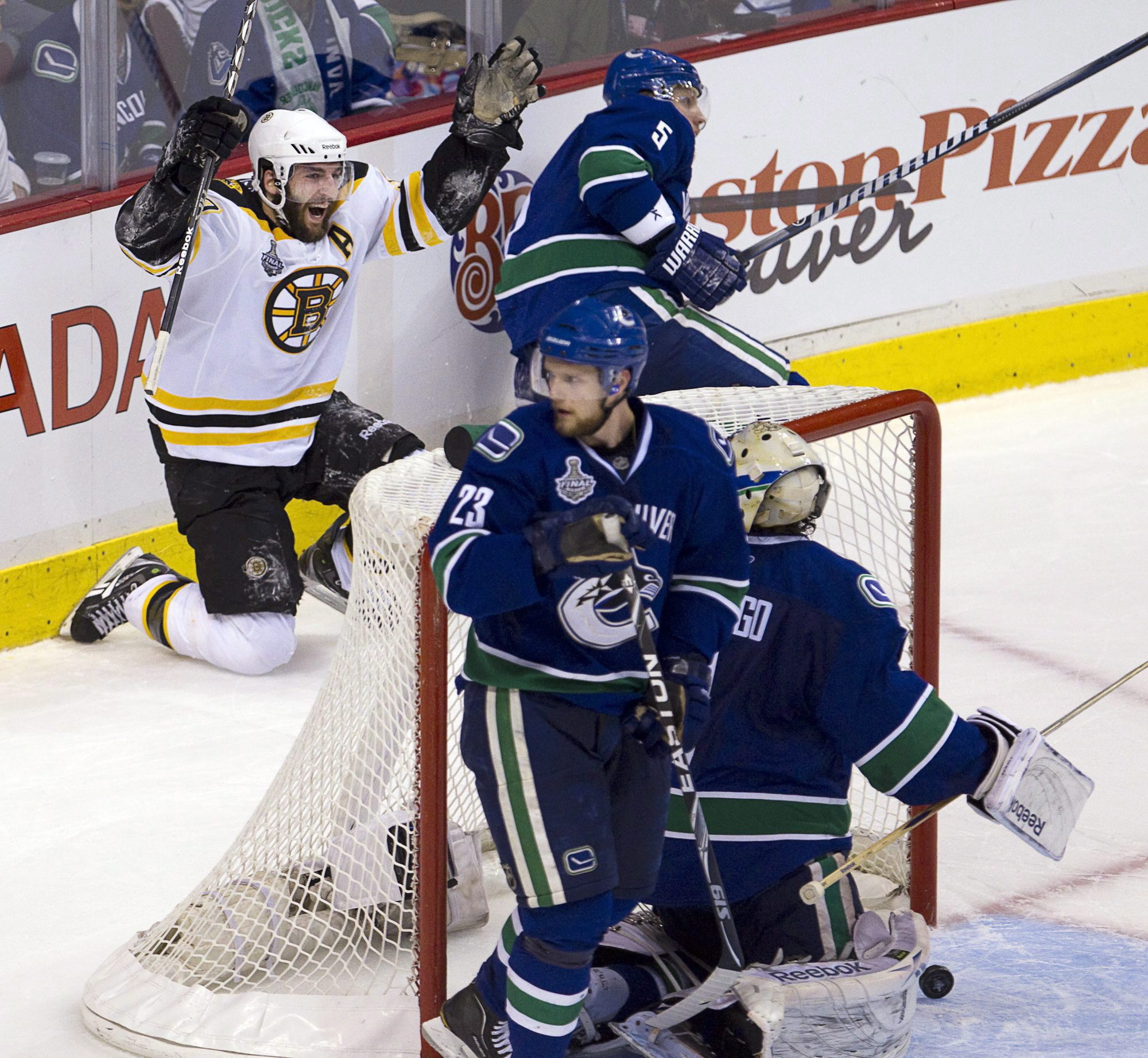 Larsen: By the time they had awarded the Stanley Cup to the Boston Bruins, there was a car on fire right across the street.
Even before the Canucks' 4-0 loss to the Bruins was final at Vancouver's Rogers Arena, fights were breaking out blocks away in the fan zone. Emergency calls about rioting had begun by about 7:30 p.m.
Bradley Peters, jailed for rioting: I was actually two days out of jail for breaching probation. I spent the weekend in jail, and two days out, we were here and the riot happened.
We had no idea or intention of being involved in the riot or knowing that a riot would happen. But pretty soon after the game ended, we noticed that the crowd was getting a little belligerent and a little bit overcrowded, and we weren't sure what was going on, but people were starting to scream.
And the next thing that we knew, we saw some smoke on the road around the corner. And that's when it kind of clicked that this was actually a riot happening.
After watching what was going down for about 20 minutes, that's when I decided that I would kick ... the Canada Post glass door. People were taking turns, kicking the door and after a few people couldn't break it, I took my turn.
I actually eventually helped some people flip two police cars down the road there. So that's what I got charged with.
I would imagine that 90 per cent of the ... people were drinking and their inhibitions were lowered and they were just caught in the mob mentality of it.
And I know that, for me, at that point in my life, I was caught up in it.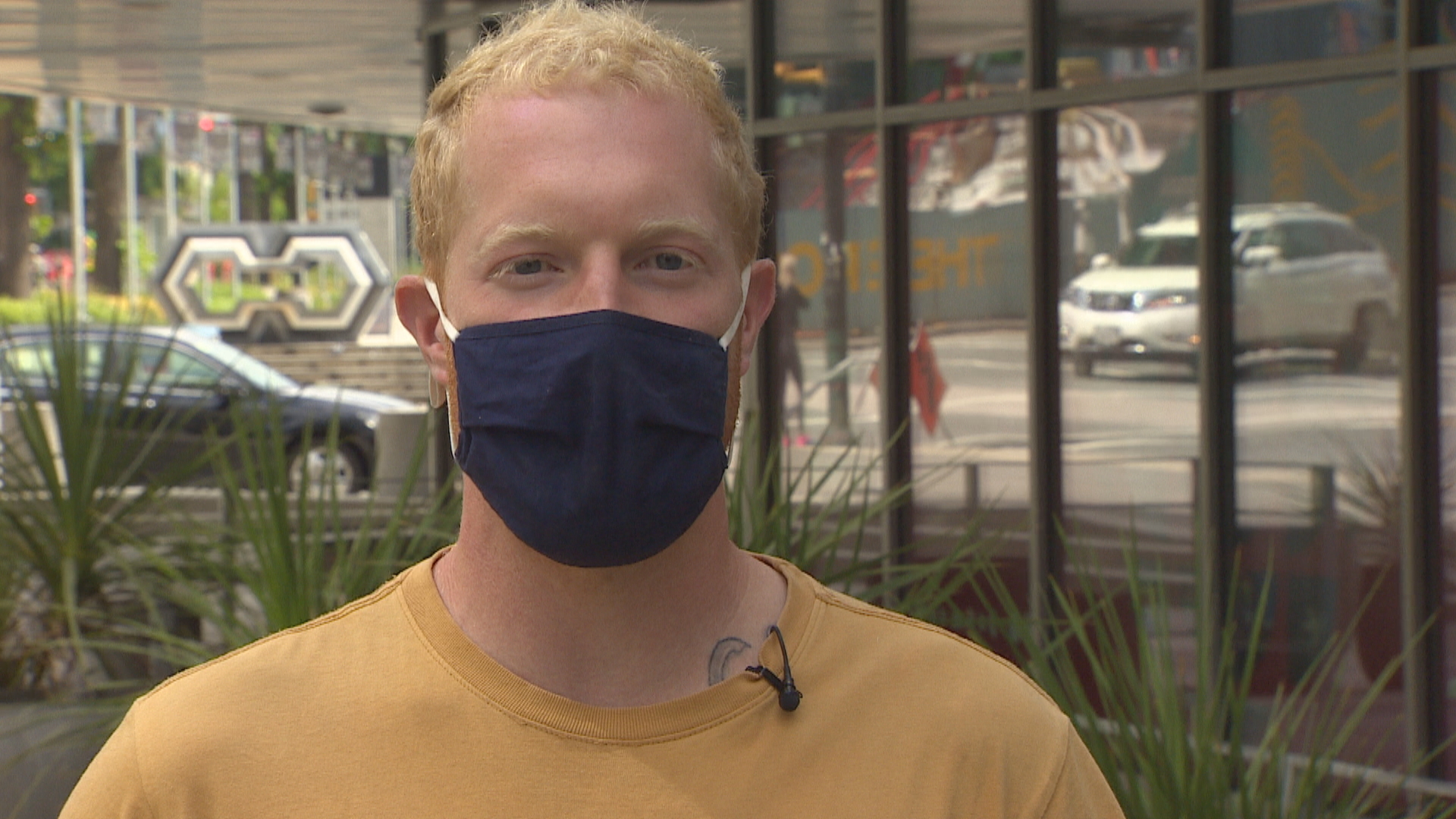 Brian Twaites, paramedic embedded with police during riot: There was just so much chaos going on: fire, projectiles, yelling, screaming — it was an absolute sensory overload for sure.
I think the key moment for me was when we were told we got to go get our gear. I found myself on the street over here as a paramedic, putting on a riot helmet with a shield ... to protect myself, thinking, "Wow, what have I got myself into?"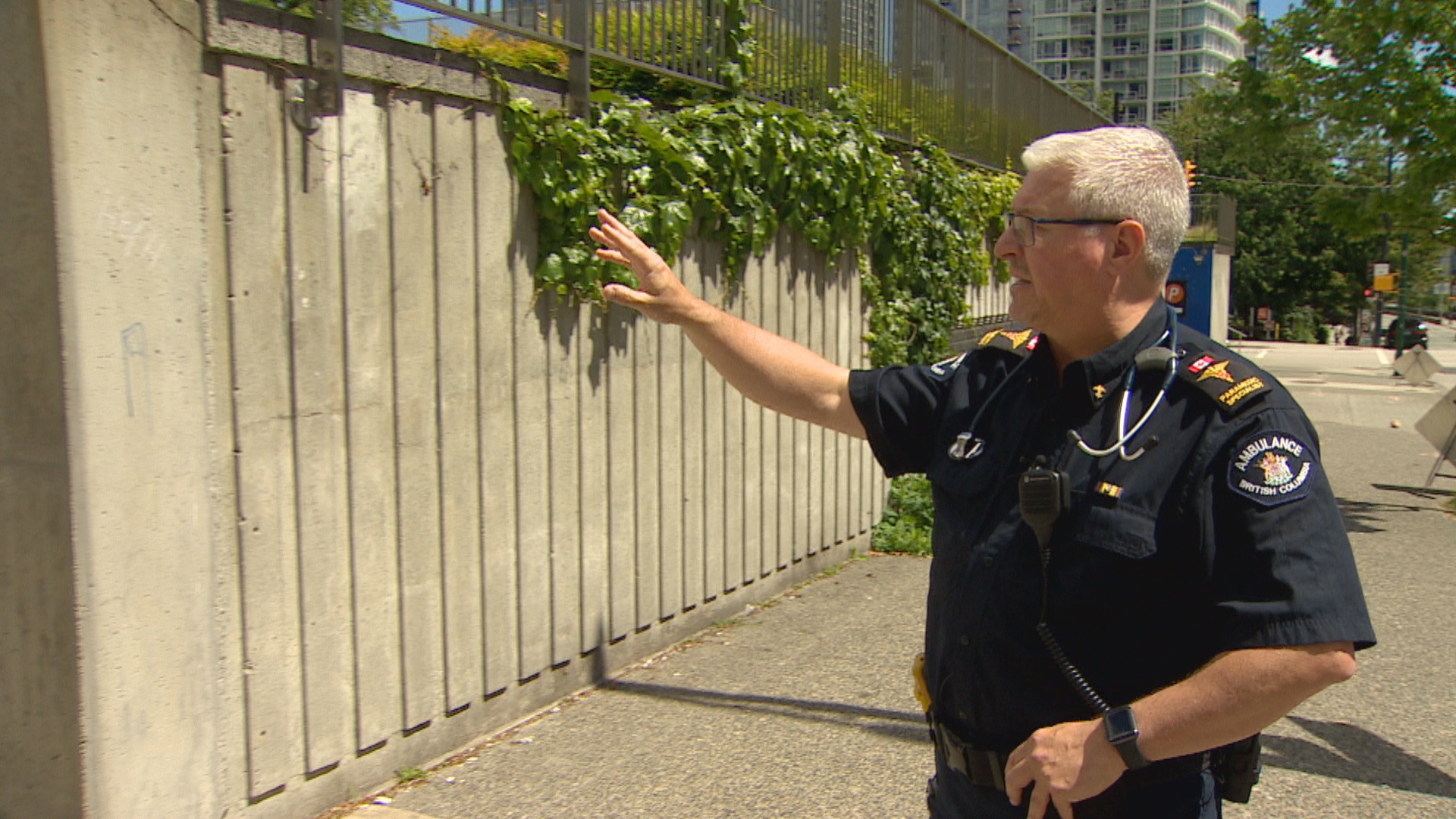 During that evening, the Bay department store at Georgia and Granville streets becomes the scene of vandalism and violence. Rioters are smashing windows while others are ransacking the store.

Rich Lam, freelance photographer: We're standing beside the Bay. That's where the action was. We saw the looting through one of the big windows.
It was just wild looking in, because it looked like it was one of those Boxing Day sales. People were just running everywhere, armful of goods ... bags and jackets and clothes.
Robert Mackay, a 36-year-old sous chef, and his wife, Tammy, are downtown after watching the game at a bar.
Mackay: I saw a commotion out in front of the Bay, came out here and I saw one person trying to push people back and hold people off, and I was like, "Oh my gosh, he needs help."
I remember grabbing one guy and then throwing them out and then swearing at the crowd: "This is my city!" And then the piece of the window frame came falling out and someone lunged at me with that. I was able to take it and I meant to push everyone back, but in doing so, that's when I got surrounded and taken down, tripped over the curb.
I still remember getting the kicks and the punches, and especially the one on the back of the head.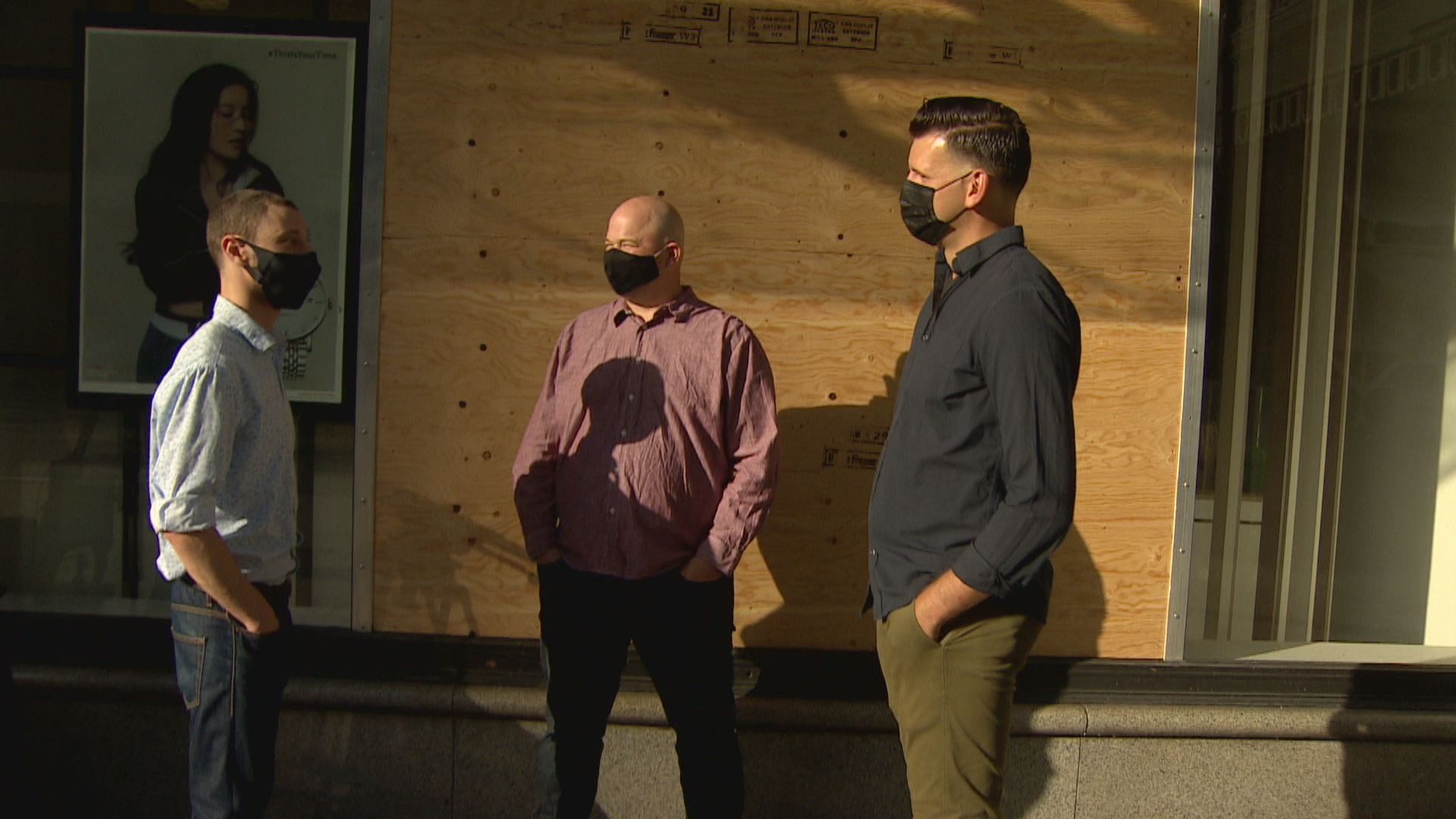 Dean Seskin, an 18-year-old student, and Chris McClelland, a 19-year-old carpenter, help Mackay to safety.
Seskin: I know a lot of situations like that, when someone is defenceless on the ground and you got six, seven, eight people kicking you, it can go sideways pretty quickly.
McClelland: The individual with the can of bear mace was already in the middle of emptying it all over Rob. And there's no turning back at that point. Dean and I were lucky that we were able to push the crowd off of him and we were able to get him ... down the corner.
WATCH | Three friends recall the scene outside the Bay during the riot
Alex Thomas, a 24-year-old university graduate, and her Australian boyfriend, Scott Jones, a 29-year-old server, were watching the game at a friend's apartment on Seymour Street, blocks away from the fan zone. A photo of them taken during the riot would be shared around the world.
Alex Thomas: We were trying to get to the SkyTrain so that we could get home.... And as it turned out, the SkyTrain stations were then closed, too. It was really unclear where you're supposed to go, what [police] want you to do.
Scott Jones: I'm not sure what happened, but we just sort of got cornered in that street. We had nowhere else to go and then that's when [police] rushed that street again.
That's where Alex tripped over and I was holding her hand. So I've gone back to sort of shield her because the police are coming on top of us.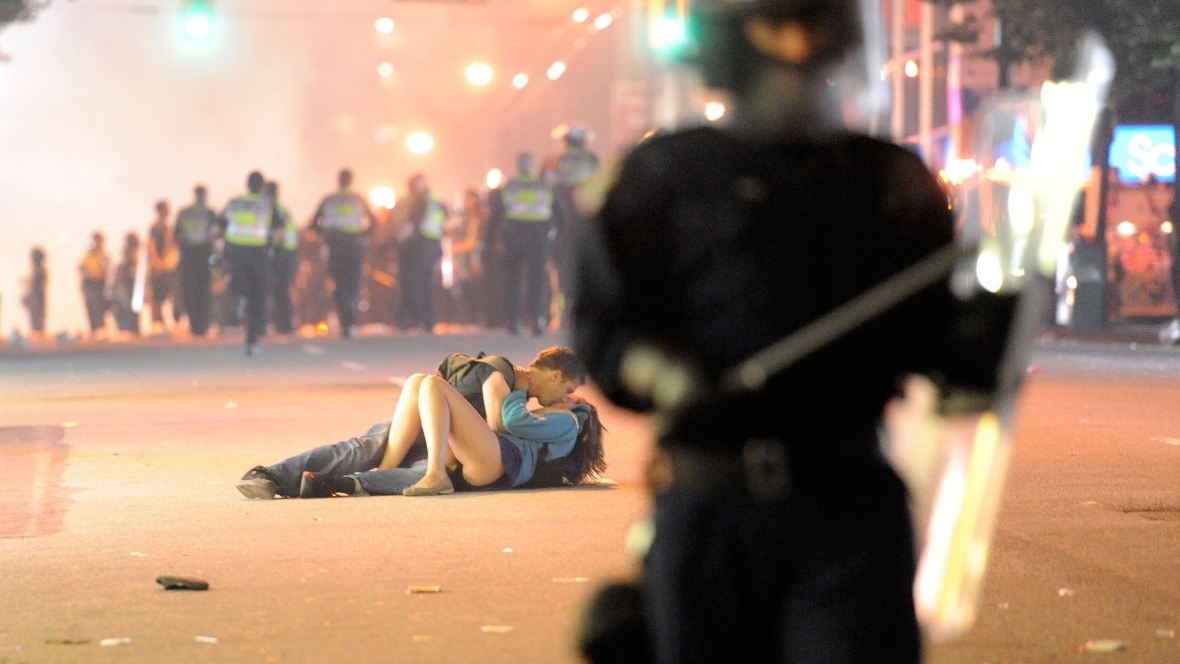 Lam, freelance photographer: That's when I looked up and noticed that there's two people lying on the street.
My first thought was that, you know, there's two people hurt or one person hurt; someone else consoling the [other] person.
Originally, I just shot the two people on the ground.… I didn't see that they're actually kissing until after it was on the computer.
Thomas and Jones would become part of a media frenzy as news outlets and people on social media tried to find out who they were after the photo went viral.
Jones: One of my friends who had been at the party that night ... texted me in the morning. It was like, "Is that you in that photo?" And she tagged me on Facebook.
Some journalist called my phone because they had somehow got my number from my sister.
They just start asking a lot of questions. I just really didn't know what to say ... then other journalists started calling as well. I just turned my phone off because I didn't know how to handle it.
You just feel like you don't have any control over it. We felt that the only way that we could get the real story out there was to actually speak to the media ourselves.
WATCH | The National looks back at the 2011 Stanley Cup riot, 10 years later
Thomas: There were a few different plotlines that people invented about the photo being staged, like the whole thing was a publicity stunt, or that Scott and I didn't know each other and that I was vulnerable and he had been taking advantage of that.
I guess we didn't really know much about going viral.
In the years since, Jones and Thomas got married, had a daughter and moved to Fremantle, Australia. Jones owns a bar and Thomas works for the local water utility. They have framed photos of their kiss at home and at the bar.
Thomas: Now, we're pretty much anonymous.... It comes up at work if somebody new starts. Inevitably someone will bring it up a couple of weeks in and go, "Hey, funny story…"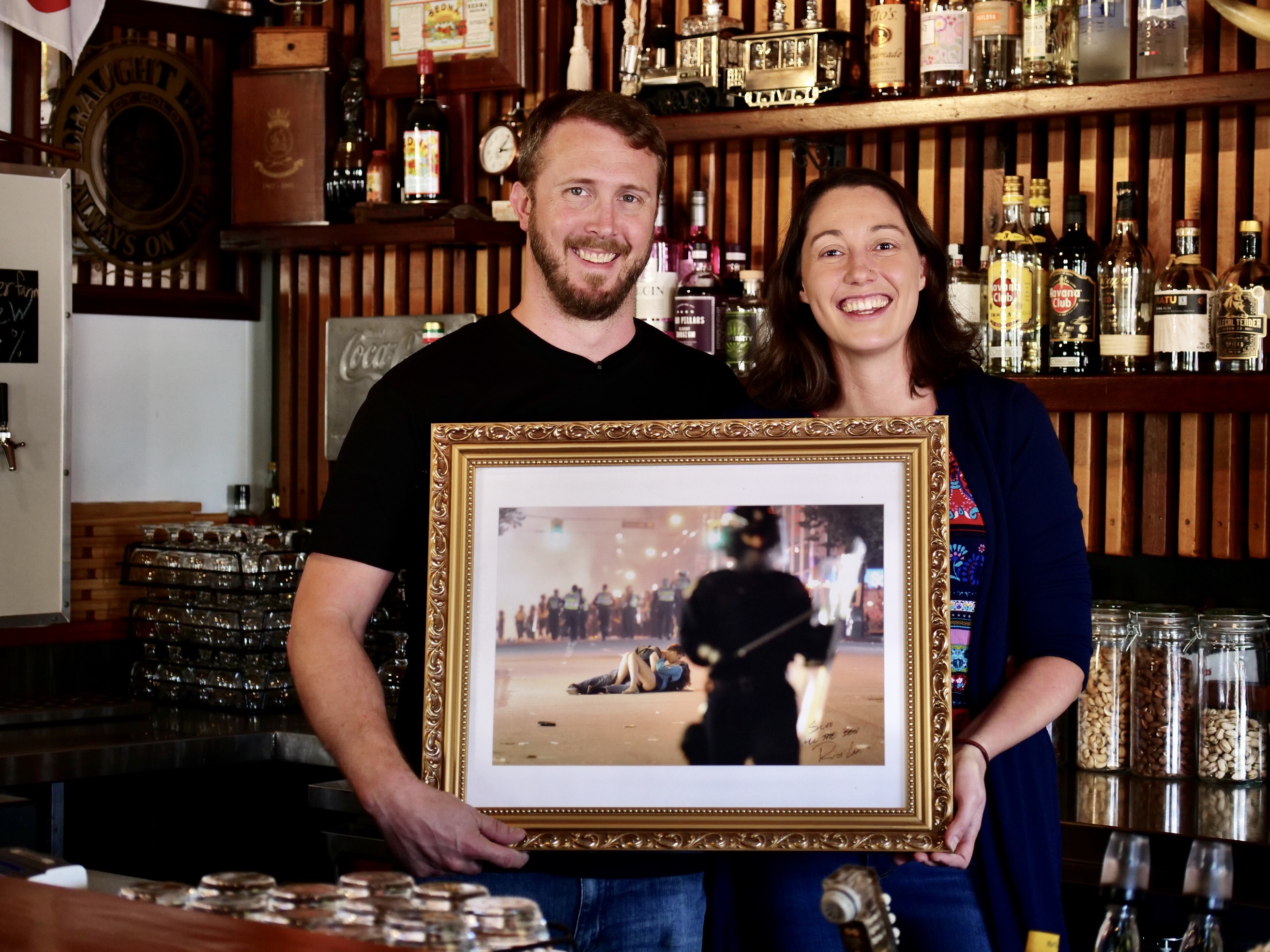 Social media had much less uptake in 2011, but it was soon clear to police that many rioters posted and shared videos taken during the evening.
Peter Chow-White, Simon Fraser University professor of communication: This event itself certainly was ... an inflection point for policing surveillance, because they quickly noticed that people were taking pictures and putting them up.
Social media as a listening tool for companies, for policing, for state surveillance is very, very well known now. There's entire units and organizational structures that are set up in order to mine social media data for different things, whether it is to sell people something or whether it is to monitor or to follow up on something like the Capitol Hill riots.
Former chief Chu said he thought — for a time — the pervasive nature of social media might decrease the chances of future riots.
Chu: If you asked me in 2012, after we had massive amounts of publicity ... I would have said [rioting is] unlikely because the message got out that if you riot in today's day and age, you'll be caught.
Then, after watching the Washington, D.C. riots, where, again, everybody had cameras and news footage and surveillance video, and people just rioted anyways. It's hard to explain what happens when people get into a crowd mentality.
Edler: You saw everything that was ruined and ... that made you feel bad for the city that was so alive and the fans that were so great through the whole whole series.
I don't really know who was there destroying all the things. I think our fans are better than that.
Vancouver Coun. Michael Wiebe: What the riot did is it created a new system or process to host events and the rigor of that really got tightened.
We controlled things a little too much. And I think we've had a lot of learning since the riot.
We wanted to create Jurassic Park North [to support the 2019 Toronto Raptors playoff run] and it was exciting. I got super fired up. That run was starting to get going and there was a huge opportunity here.
I think we've opened up, and we've had tests and we've succeeded. And I just hope that Vancouverites, when we do open up more and more, that we handle ourselves properly and have a lot of fun doing it.
Peters: I was sentenced to four months in prison and I spent three months of that time actually in prison.
That was a pretty dark period, spending that much time in prison at 20 years old. I wouldn't recommend it.
The majority of people that are in prison are actually just homeless people or they're drug addicts. A lot of them are young kids. It's just full of violence.
That was sort of a little bit of a catalyst toward me deciding to change my life and trying to find a new direction. But for the vast majority of people that go to prison, it's just the beginning of an endless cycle of recidivism and violence.
I am very wary to say that it incited a positive change in my life, because I know it's not the case for most people.
Larsen: I just think it had been such an emotional roller-coaster for the fan base, that it sort of primed the pump a little for if the team didn't do well, that something bad could happen.

If you go back through history, there is a very good history of sports riots in this city.
I can't say there's a common denominator other than a lot of people, a lot of drunk people, and perhaps expectations dashed.