Rows of houses being smashed to nothing, as if they were made of popsicle sticks. Roofs of apartment buildings peeling off like the tops of tuna cans.

Power transmission towers bending in half, and the broken tops of wooden utility poles hovering ominously in mid-air, held up only by sparking power lines.
And the image of a man holding desperately onto his four-year-old daughter as winds threaten to lift her away into the dark grey void above them, where the roof had been just seconds ago.
It took only minutes for three tornadoes to upend tens thousands of lives in and around Ottawa and Gatineau, Que., just across the river from the capital, in the late afternoon and early evening of Friday, Sept. 21.
That same day, three other twisters wound their way through the woods of rural western Quebec, north of Gatineau.
For everyone affected — either directly by the winds or by the massive power outages that followed — the dramatic storms passed in seconds.
But the recovery and rebuilding effort will take days, weeks, months — and for some, longer still.
Sinister skies
It was warm and wet when residents woke up that morning after hours of pre-dawn rain. By 10 a.m. ET, it was 19 C in Ottawa and Gatineau, but felt more like 27 with the humidity.
As winds sped up and the skies darkened, Environment Canada issued the first tornado watch for Gatineau and a wide swath of eastern Ontario, including Ottawa, at 2:22 p.m.
By 3 p.m. — not long before the storm cell approached — the temperature in Ottawa and Gatineau reached the day's high of 28 C, but felt more like 37 with the rising humidity. (The average high for Sept. 21 is about 18 C.)
Then, at 4:44 p.m., came the upgraded tornado warning for Ottawa and Gatineau. Smartphones, radios and televisions across the entire National Capital Region flashed an emergency warning alert.
By then, the damage in nearby Calabogie, Ont., had already been done, and the strongest of the day's tornadoes, an EF-3, had begun tracking through rural west Ottawa.
Calabogie, 4:15 p.m.
Environment Canada has finished most of its analysis of last week's weather event, but an internal final report on the destructive storms is still in the works.
The weather agency has said that at about 4:15 p.m. on Sept. 21, a powerful storm cell first produced a downburst in the small town of Calabogie, which sits about 100 kilometres west of Ottawa.
Then, an EF-1 tornado developed over the town and tracked east toward White Lake, Ont., approximately 15 kilometres away.
About 25 to 30 homes were damaged, the roof was torn off Calabogie's main power station and many trees were snapped and uprooted, according to the community's fire chief, Darryl Wagner.
Winds associated with the downburst and tornado are estimated to have reached speeds of up to 175 km/h.
Ottawa and Gatineau, 4:40 p.m. to 5:20 p.m.
At about 4:40 p.m., the same storm cell that produced the severe weather in Calabogie produced a "high-end EF-3 tornado" — the strongest of the day — that first touched down near the west Ottawa community of Kinburn, according to Environment Canada.
It tracked east to Ottawa's Dunrobin neighbourhood, where it flattened homes and businesses at about 4:50 p.m., and then jumped across the Ottawa River into Gatineau, where it wreaked havoc in the Mont-Bleu neighbourhood.
In Dunrobin, 30 houses now have to be demolished and another 20 are listed in critical condition, according to the City of Ottawa.
In Gatineau, 1,686 housing units — everything from detached single-family homes to individual apartment units — were damaged or destroyed, according to the City of Gatineau.
Wind speeds for the EF-3 are estimated to have reached up to 265 km/h.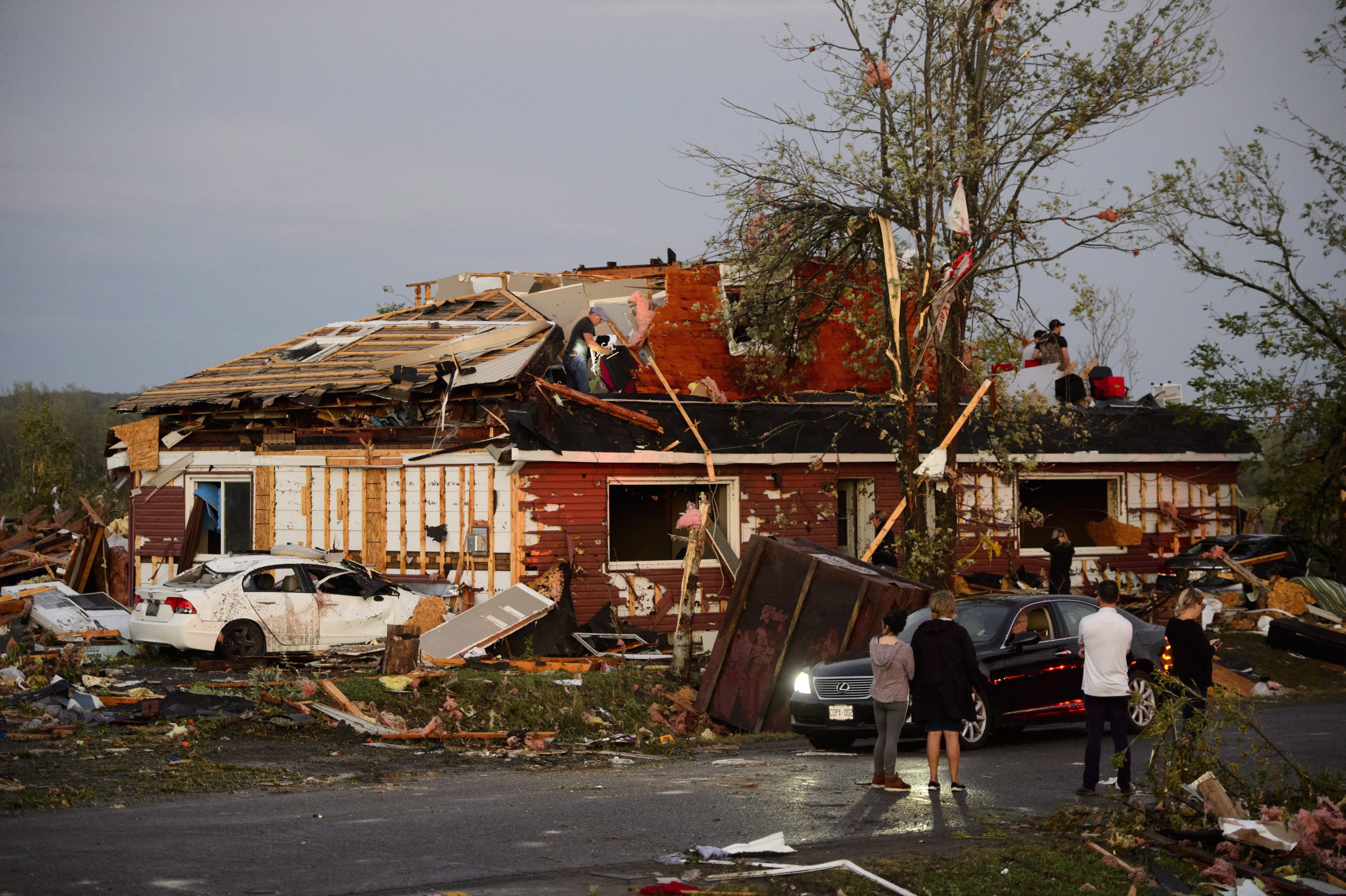 Ottawa, 6 p.m.
But that wasn't the end of it.
Starting at about 6 p.m., a separate storm cell produced a "high-end EF-2 tornado" that tracked across southern Ottawa, from the Arlington Woods neighbourhood to Greenboro, losing strength along the way, Environment Canada said.
Arlington Woods was hit hardest.
Hundreds of utility poles and trees were snapped, and about 55 homes have since been listed in critical condition.
Wind speeds are estimated to have reached up to 220 km/h.
At the end of the day, six Ottawans had been injured, two of them critically. And just across the river, two Gatineau residents suffered fractures and another 15 were treated for shock.
North of Gatineau, 3:30 p.m. to 5 p.m.
Using satellite images, Environment Canada has confirmed that three other EF-1 tornadoes, with wind speeds between 135 and 175 km/h, touched down in rural western Quebec, north of Gatineau.
One struck at about 3:30 p.m. near the Baskatong reservoir, about 30 kilometres east of Mont-Laurier, Que. It stayed on the ground for about 10 kilometres, mainly in the woods, snapping trees and utility poles.
Another hit the Val-des-Bois area at about 5 p.m., and stayed on the ground for about 13 kilometres, before dissipating just outside the town, damaging some buildings and snapping many trees.
Evidence of a third was found about 25 kilometres north of Otter Lake, Que., where it downed trees along a three-kilometre track. Meteorologists aren't sure when.
Tornadoes in Ontario
Environment Canada's tornado database contains information from only the past 37 years. During that time, the way twisters have been confirmed and analyzed has changed drastically, right up to 2017, with the introduction of new, specialized satellite imaging.
On average, nearly 13 confirmed and probable tornadoes occur annually in Ontario, but the figure is a bit misleading, according to Environment Canada meteorologist Peter Kimbell.
The last few years have been relatively quiet, with 10 in 2017, 11 in 2016 and nine in 2015. Some years have seen a lot more, such as 2013, when there were 23, and 2009, when there were 35.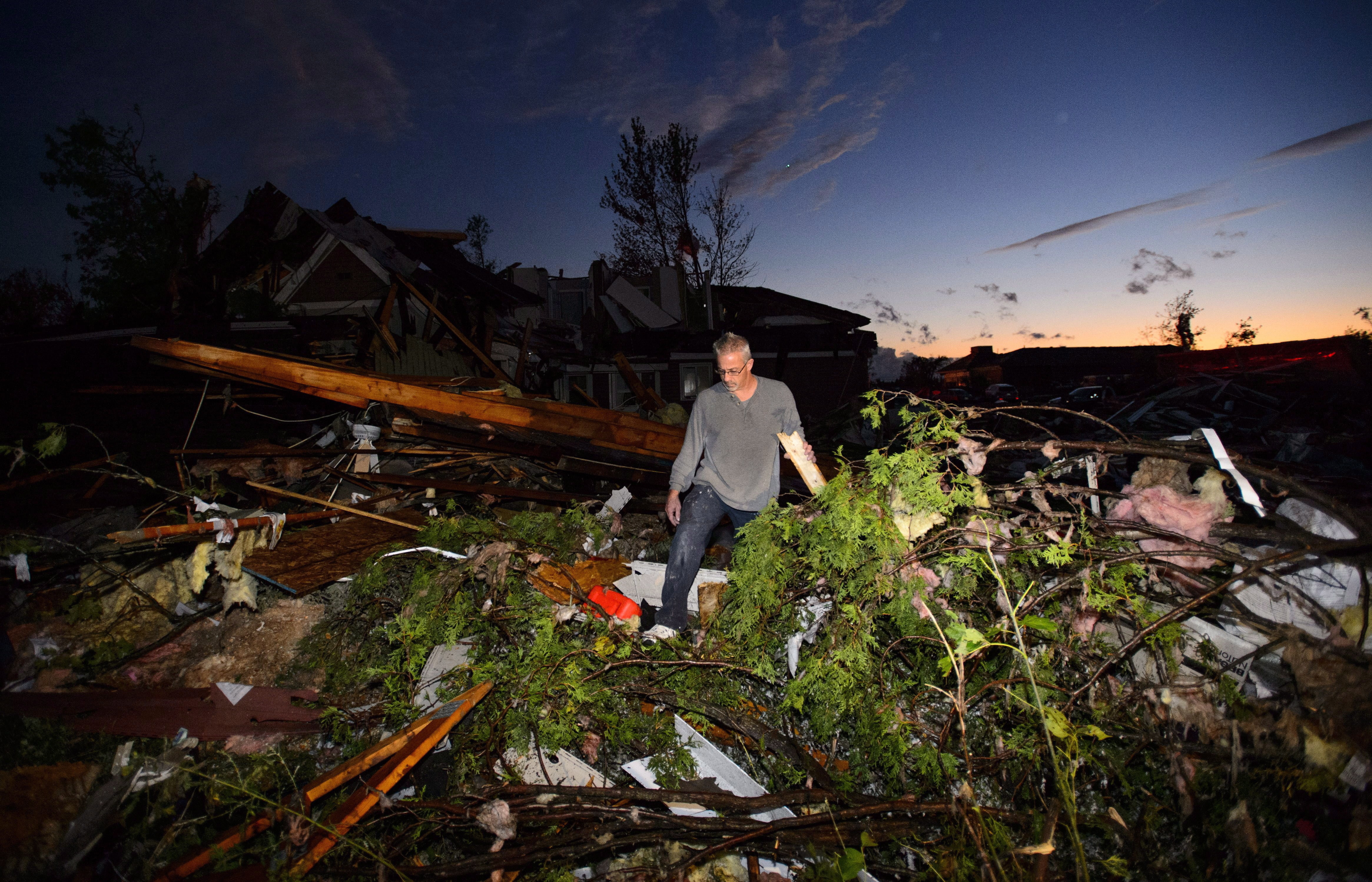 Ontario tornadoes happen most often in June, July and August — with the peak occurring in July. The numbers drop dramatically in September, October and November.
The province's "tornado alley" extends from Windsor, Ont., near the U.S. border, up to Barrie, Ont., north of Toronto, Kimbell said.
About 86 per cent of Ontario's tornadoes are weak EF-0s or EF-1s, about 12 per cent are stronger EF-2s or EF-3s and less than one per cent are exceptionally strong EF-4s or EF-5s.
In the Ottawa area, there have been several twisters in recent years, all of them EF-0s, including one that struck Casselman, Ont., in May 2013, another that hit Shirleys Bay, Ont., in June 2012, and one that hit Ottawa's Britannia neighbourhood in April 2009.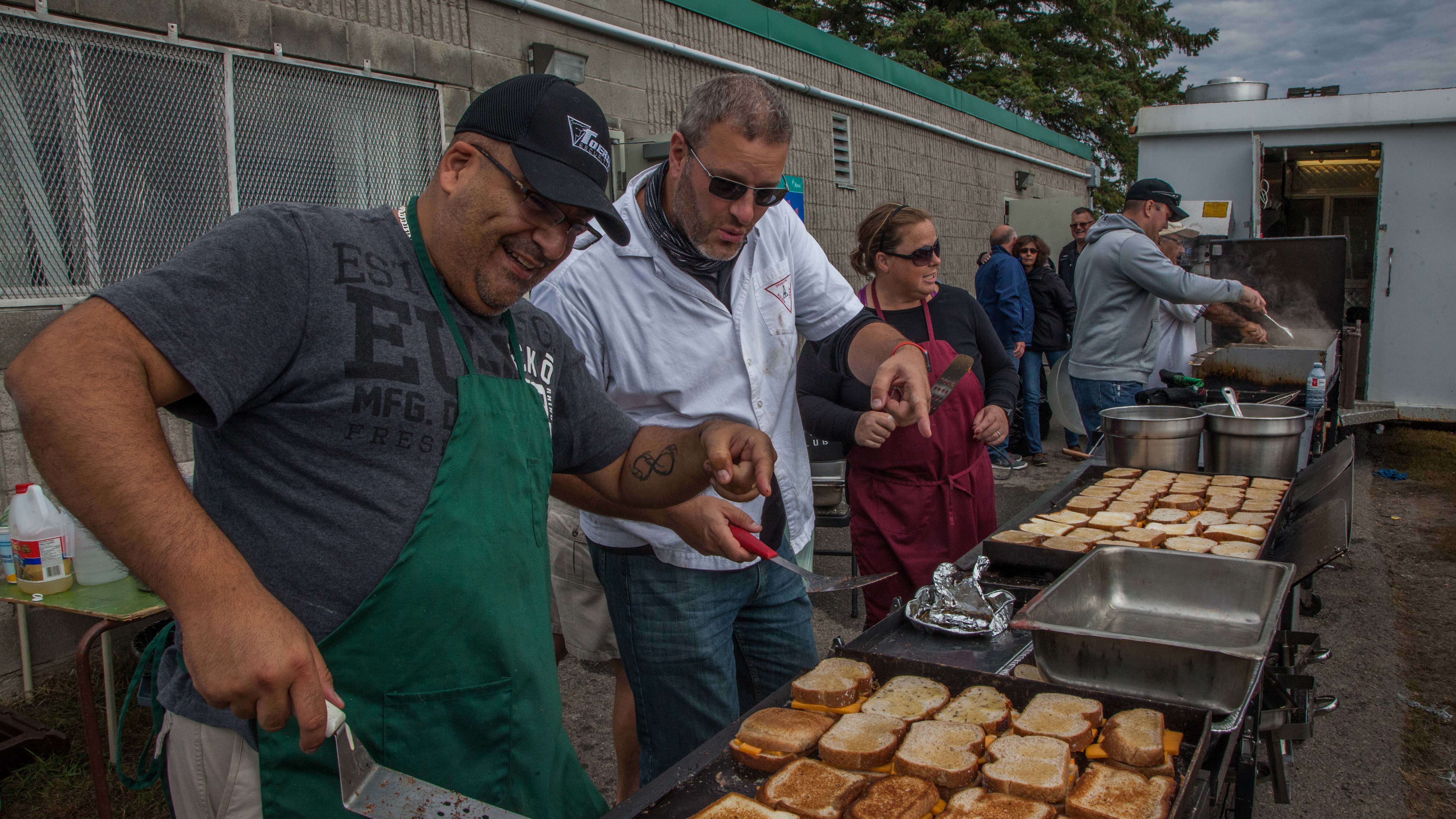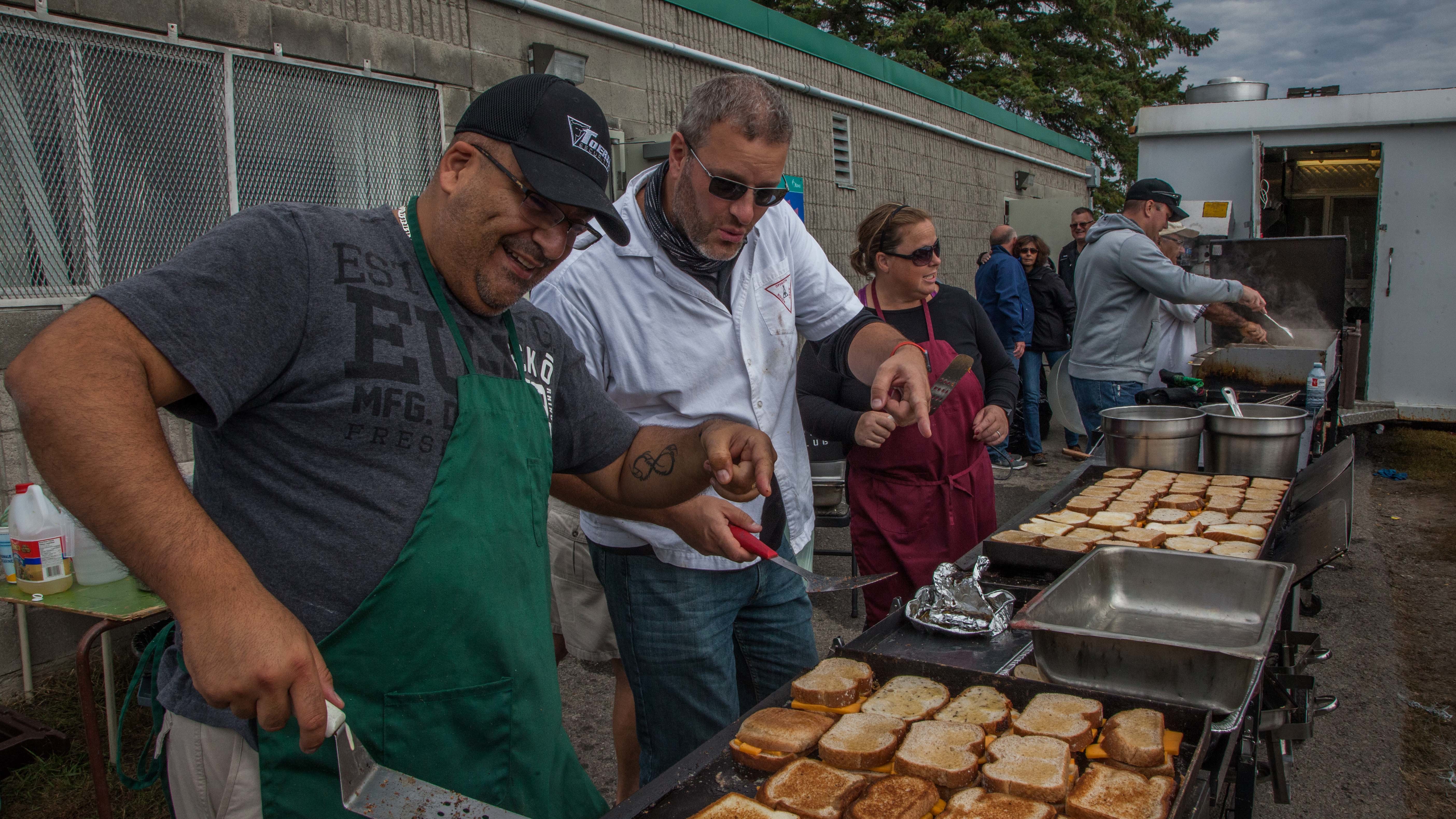 Coming together
A long time will pass before things are back to the way they were before last week's storms, and for some, it'll never really be the same again.

But when the ominous clouds finally broke on that first night, and tens of thousands of people without power in Ottawa, Gatineau and the surrounding area hunkered down and dug out supplies, not everything was dark and gloomy.
In typically lit-up urban neighbourhoods, the moon and stars shone on blackened streets with unusual brightness.
Groups of people gathered on sidewalks to swap storm stories, children filled the streets with their laughter, generators were turned on, barbecues were lit, perishable food was shared and offers of help — big and small — were exchanged.
Emergency responders, utility workers and municipal officials worked overtime to make people safe, to set up shelters, to begin assessing the damage, to keep us informed.
And when dawn broke the morning after, and the morning after that, there was more help, from just about every corner.
It continues still.
Are you in the area and want to help?
The "Ottawa-Gatineau Tornado Community Connector" Facebook group is a place for to share ideas for helping people with shelter, supplies, and anything else affected residents may need going forward.

The tornadoes of Sept. 21, 2018, by the numbers
0: The number of people killed by the tornadoes that touched down in the Ottawa-Gatineau area that day. (In Kingston, Ont., about 170 kilometres southwest of Ottawa, a man was killed by a tree that fell on his property during the severe weather.)
6: The number of tornadoes.
6: The number of people treated in Ottawa hospitals. (Two of them were critically injured.)
17: The number of people treated in Gatineau hospitals (two suffered fractures and 15 were treated for shock).
20: The number of houses listed in critical condition in Ottawa's Dunrobin community.
30: The number of houses that have to be demolished in Dunrobin.
265: The top potential wind speed, in kilometres per hour, of the powerful EF-3 tornado that hit Calabogie, Ottawa and Gatineau.
350: The number of houses where Ottawa building inspectors have officially recorded damage.
1,300: The maximum width, in metres, of the EF-3 tornado.
1,686: The number of Gatineau housing units (everything from detached single-family homes to single apartment units) that were damaged or destroyed.
48,000: The number of Hydro-Québec customers without power the morning after.
171,562: The number of Hydro Ottawa customers without power the morning after.
The aftermath in photos