It was 7:30 a.m. on a rainy January morning when Eva woke up after a night sleeping on cold concrete, beneath a plastic tarp outside Crystal Pool and Fitness Centre in Victoria.

But she was bright-eyed and happy to chat while she sipped a cup of gas station hot chocolate with extra sugar, just the way she likes it.
"I like your smile, it's so positive," she told her friend Sarah Murray, as the two talked about their superstitions and whether or not Sasquatch is real.
For the record, they're both believers. Eva says her mother once had an encounter with the beast.
But her mother is dead now, one tragedy in a long list of circumstances that have landed Eva here on the damp pavement, in the cold.
Eva is not her real name, and CBC is not identifying her in an attempt to prevent further harm.
At 22 years old, Eva has developmental and intellectual disabilities, a substance use disorder and suspected mental health problems. She aged out of foster care four years ago and has no close family left.
The combination of all these factors means Eva is still living without stable housing and care, despite more than a year of lobbying by an informal network of friends and neighbours directed at every government agency that deals with disabilities, health or housing.
"What we keep hearing is that the housing she needs and the support she needs does not exist," said Murray, a member of that network and executive director of the North Park Neighbourhood Association.
Those who know Eva argue her situation is a symptom of a much larger problem. They say B.C. has created a system that struggles to address the desires and needs of disabled and homeless people, whose requirements don't fit into neatly defined boxes.
"There are at least 30 [Eva]s in town," neighbour Wally Mutch said. "You just have to be flexible."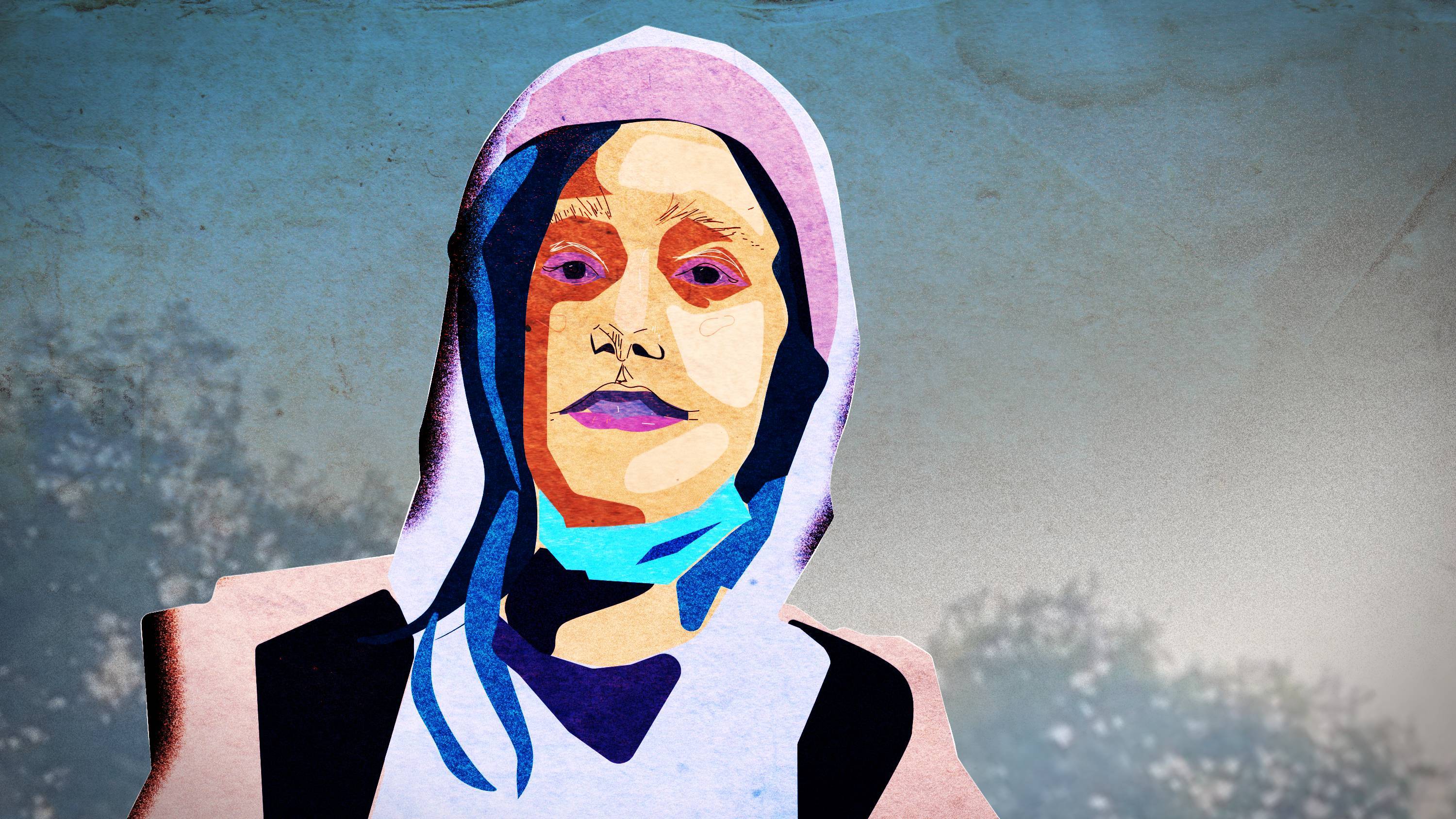 'Everybody needs a decent home'
Jo-Anne Gauthier, president of B.C. People First, a self-advocacy group for people with developmental and intellectual disabilities, said she's heard of far too many cases like this.
"It's very frustrating to hear that, because everybody needs a decent home," she said. "Maybe it does take time, but come on, people can't wait for a year or more."
In B.C., services are typically set up to support people with much less complex needs. Most providers of supportive housing for people with intellectual disabilities, for example, aren't equipped to deal with substance use disorders.
Eva also suffers from night terrors and frequently screams in her sleep, which makes her a poor fit for the shelter system. Her behaviour can be erratic and she can be violent when threatened, resulting in a permanent ban from at least one local service provider.
And while she has funding for care through Community Living B.C. (CLBC), it's currently limited to working hours on weekdays only — if workers can track her down.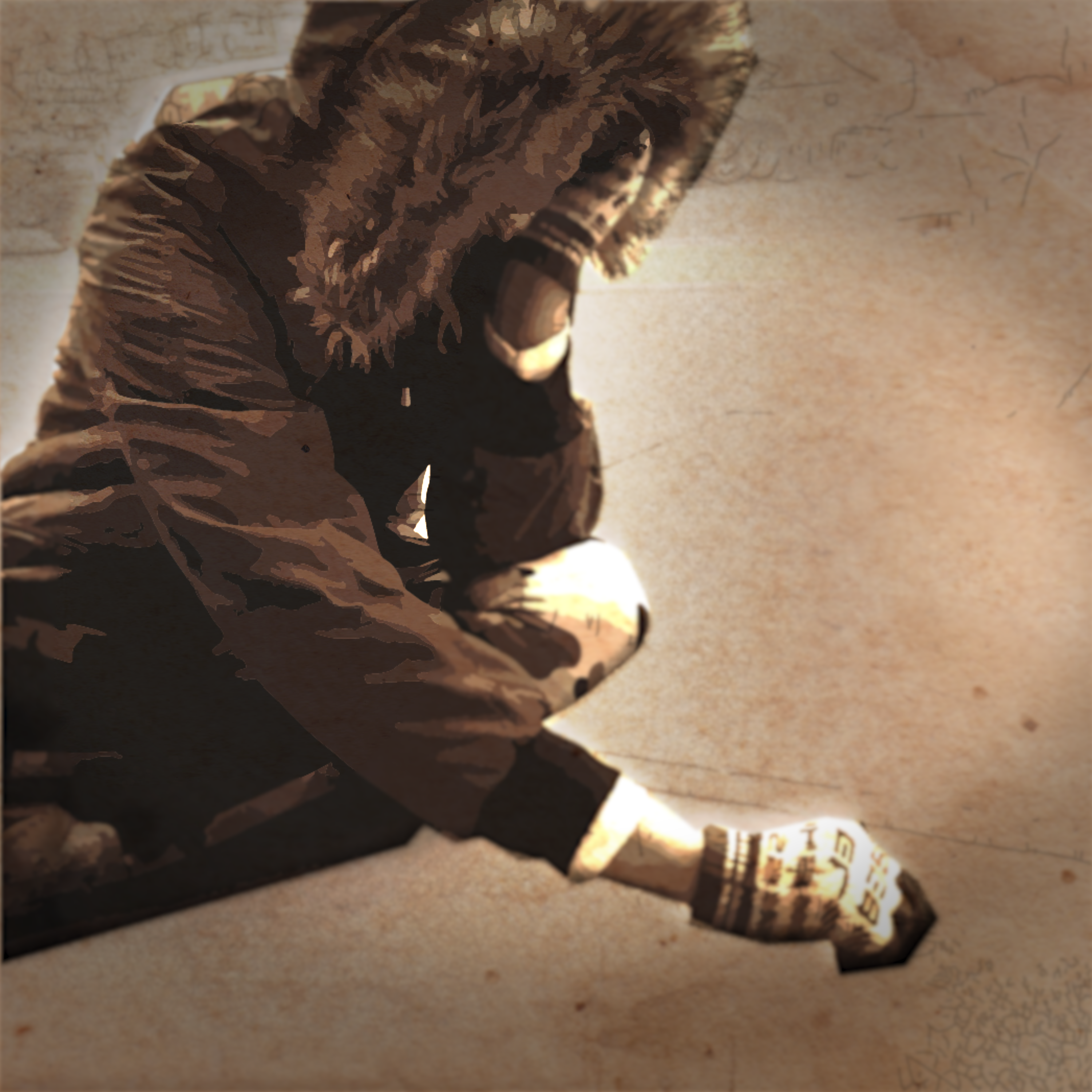 A spokesperson for CLBC, which provides services to adults with developmental disabilities, said this isn't an isolated case.
"We know there are small numbers of individuals with developmental disabilities in communities across the province who also have mental health challenges combined with substance use issues that put them at risk of exploitation, homelessness and hospitalization or incarceration," CLBC spokesperson Randy Schmidt wrote in an email.
He said staff at the Crown corporation are "constantly working behind the scenes with other agencies to find solutions" for people like Eva.
A spokesperson for the Ministry of Social Development and Poverty Reduction, which is responsible for CLBC, provided a written statement saying CLBC endeavours to find "creative options" for people with complex needs.
"Unfortunately, some individuals may refuse housing and services despite their need for these supports, or they may struggle to sustain these supports when they are established," the ministry said.
Getting by with a little help
Depending on the day, Eva will have different answers about where she'd like to live. It might be a tent that looks like a ladybug, or an apartment with a pet mouse and a table where she can paint and draw.
This month, a potential solution was identified and if everything goes as planned, she'll move into a suite with 24-hour care sometime in February. Whether it'll work out in the long-term is still an open question.
Until then, Eva makes it through the day thanks to a combination of her own street smarts, protection from other members of the unhoused community, help from neighbours and the support of care workers who check in even when they're off the clock.
Members of the North Park community say they first became aware of Eva when she was living in an encampment in Central Park.
Sheila Potter and her husband Sean Kahil live next to the park, and they say Eva stuck out from the beginning.
"She was quite disruptive. She yells," Potter said. "People would fight over defending her when the park was really chaotic."
Mutch remembers his first encounter with Eva clearly.
"She walked in front of the police car right in the middle of the road here, dropped her pants, took a piss, gave the cop the finger and walked back into the park," he said.
But the neighbours quickly became fond of Eva. They describe her as an artist, an animal lover and a practical joker.
"She's lots of fun. She has a witty sense of humour," Mutch said.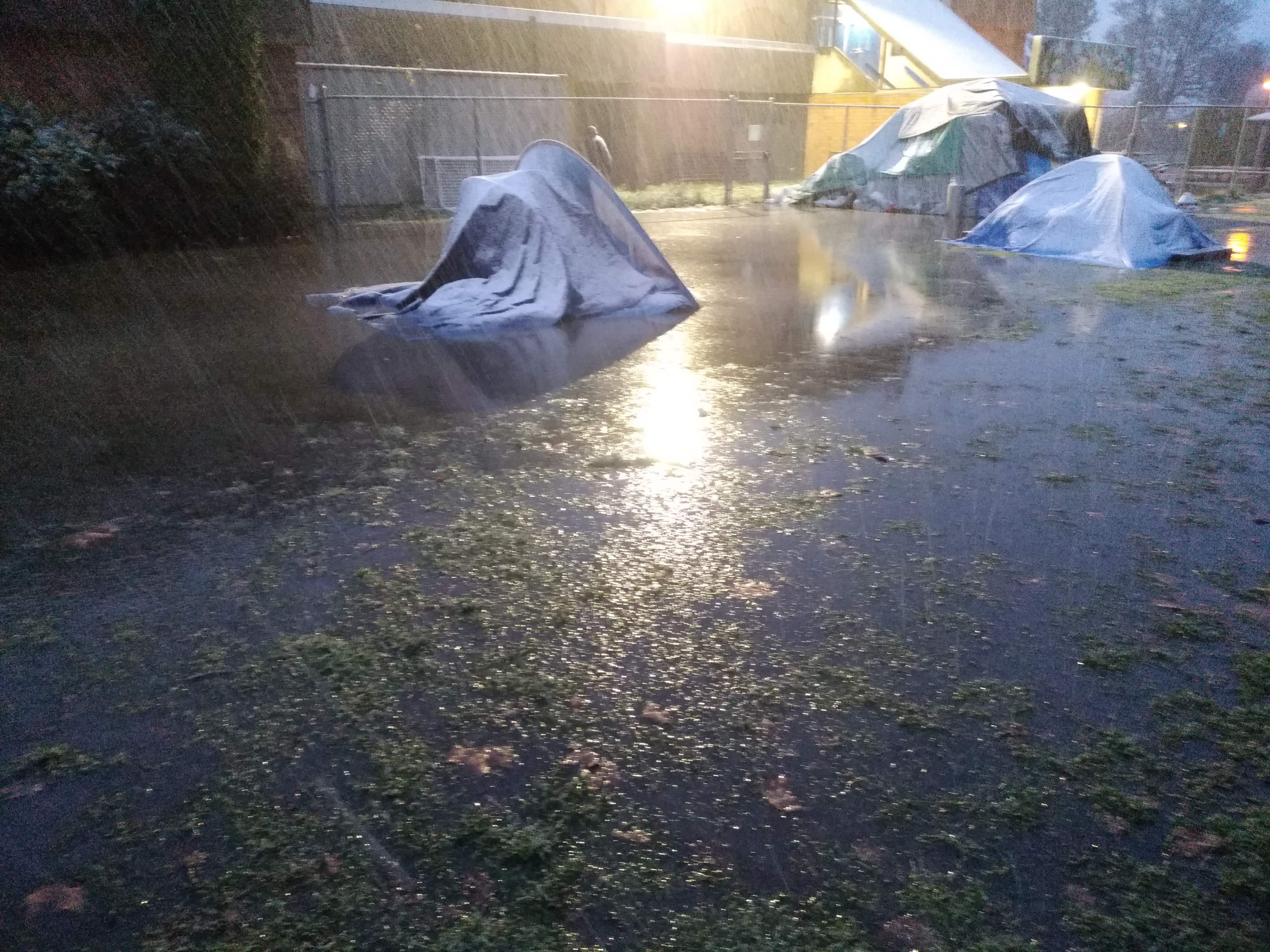 The gravity of Eva's situation became clear when the park flooded in December 2020. The tents were inundated and residents worked with the community to move everyone to higher ground.
"She was the last to leave," Potter said of Eva. "She was just mumbling and whimpering and wouldn't believe me when I told her there was a dry tent waiting for her."
That's when she, along with many others in the neighbourhood, learned about Eva's intellectual disabilities.
"She was sort of unable to keep herself dry or warm or keep track of her food or all of those basic self-care things," Kahil said.
Past solutions have failed
Many of the people living in the park were eventually moved in the spring of 2021 into transitional housing called Tiny Town — a collection of shipping container homes assembled in a parking lot a couple of blocks away from Central Park.
Eva lived there for a month or two, but her unpredictable behaviour was too much for other residents and staff of the non-profit Our Place Society, which manages the site. She has subsequently been banned from accessing all of Our Place's other services.
Spokespeople at the non-profit declined to comment on those decisions.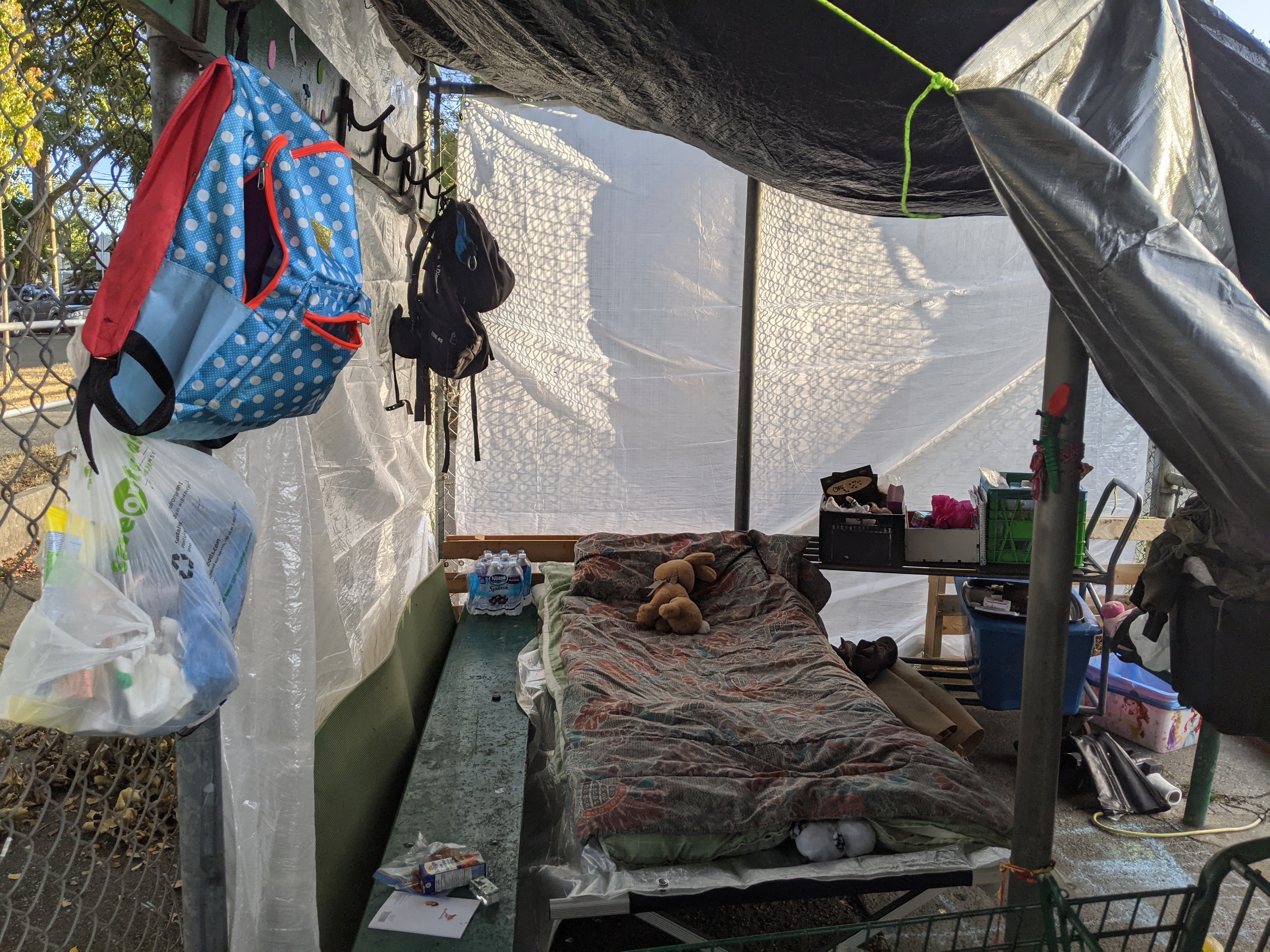 Camping is now forbidden in Central Park, but neighbours say bylaw officers look the other way when it comes to Eva. Because she has trouble keeping track of her blankets and clothing, there's a stash of replacements inside a storage container in the park.
Eva often sleeps on Pandora Avenue, where bylaw officers clear away overnight campers every day at 7 a.m. Any belongings that are left behind are thrown in the garbage, so friends or care workers often wake up early to sit with Eva so she doesn't lose her clothes or blankets.
"Some of her most frequent contacts are with bylaw officers, parks workers, police officers, emergency responders in general, and they're not the ones who are in a position to be able to be providing her with one-on-one support throughout the day," Murray said.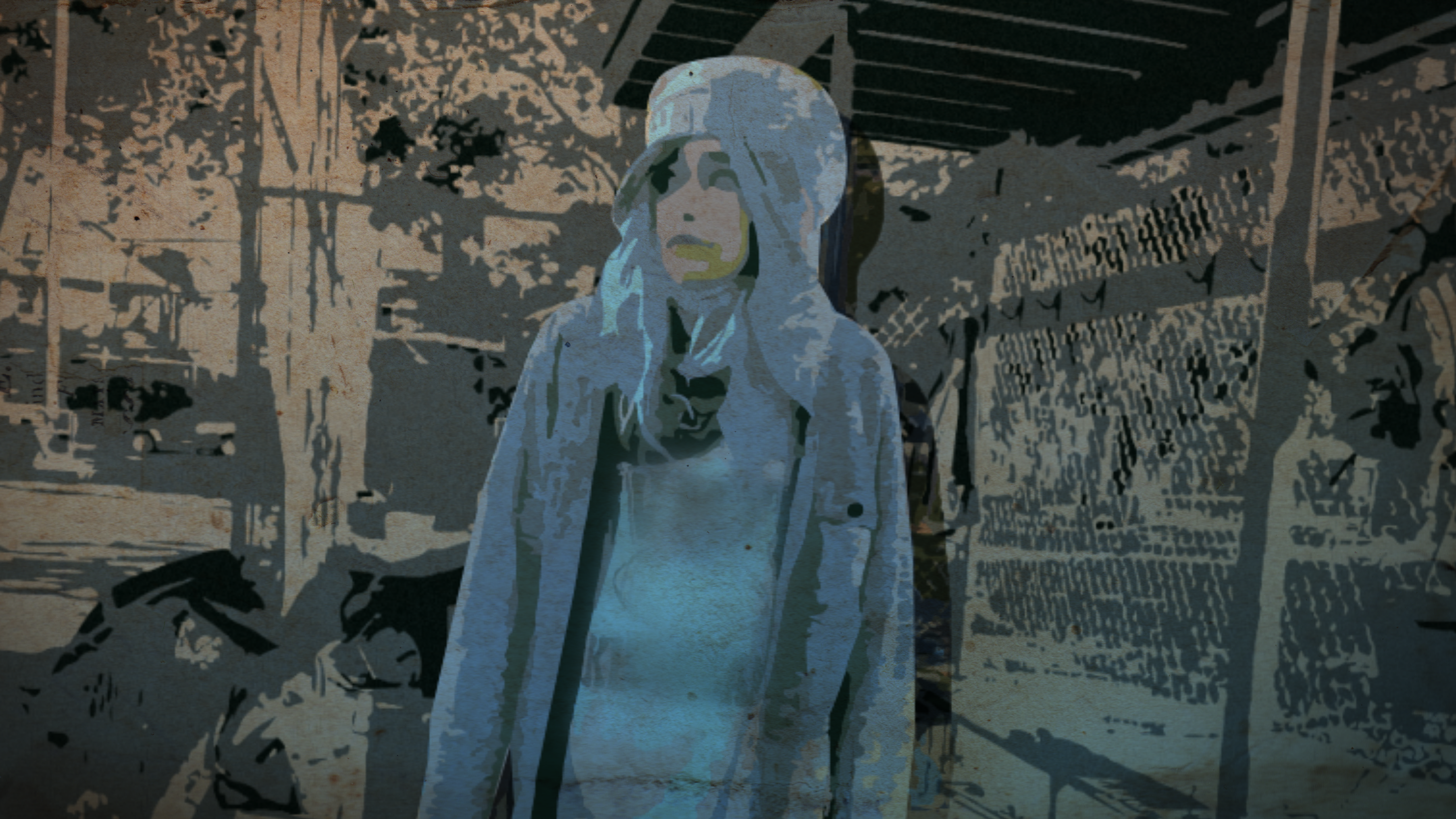 Potter said she's hopeful about the prospects of a home for Eva in February, but frustrated it took so much time and effort to get to this point.
"I was actually fairly confident once I recognized that she had fallen through so many cracks, it would be easy to solve. I just had to point it out," Potter said.
"We kept hearing, 'Oh yeah, she's on our radar, don't worry about it.' What do you mean she's on your radar — and yet she's on the street?"
The province argues that homelessness is a complex issue that can't be solved overnight, and complicated situations like Eva's require collaboration and creativity.
The statement from the Ministry of Social Development and Poverty Reduction said the B.C. government is working on a cross-ministry homelessness strategy meant to prevent people like Eva from falling through the cracks. Part of that strategy includes a new complex care housing program, announced on Jan. 20, which is meant to support those with overlapping mental illness, substance use disorders, trauma and brain injuries.