Standing in the agriplex dirt, chest heaving, adrenalin still pumping, Kevin Wallace gazed up at the big-screen TV and watched a replay of his wild ride on the back of a bull.

"Good ride," he said. "Terrible get-off."
"Your get-off wasn't that bad," said the man beside him, former CFR bull riding champion Tanner Girletz. "If the bullfighters did a little pick there, you would have been safe and sound.
"Good job," Girletz summed up. "That was really good."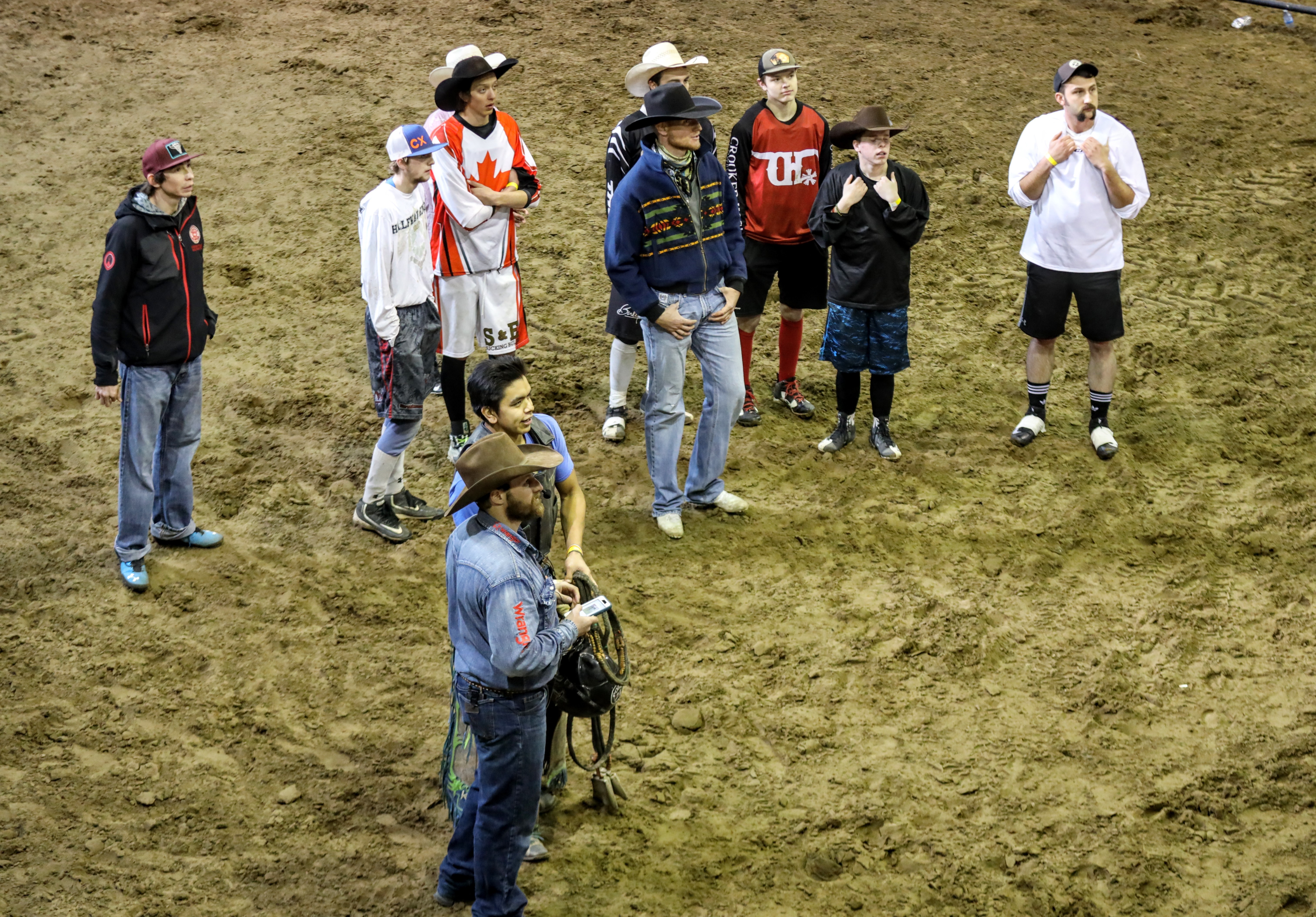 The ride they had just watched went down like this: The gate sprang open, the bull kicked and spun. Dirt flew. Wallace clung on for dear life. Ten seconds passed like eternity, then Wallace let go and hit the dirt.
The bull turned and rushed. Wallace tried to regain his feet. The animal bashed his backside with its head and horns. Bullfighters converged and frantically tried to distract the animal.
Six tense seconds later, Wallace jumped up on the railing. The crowd cheered, and Wallace turned to his mother in the stands and gave her a thumbs up.
Watch Wallace's first ride.

Welcome to The Road To Being A Champion, a bull-riding and bullfighting school held in the Panee Memorial Agriplex in Maskwacis, Alta.
Participants at this year's school, held from Feb. 22 to Feb. 24, came from British Columbia and across the Prairies, but in years past students from Arizona and Montana have attended.
Houston Stuart founded the event in 2015. He had attended other bull riding schools and thought there wasn't enough focus on safety and technique.
"They just run bulls and kids get on and they end up getting hurt," he said. "They lose confidence and they don't want to do it again. So, I do this because I want the sport to keep growing and get better."
On the school's opening day, people from Maskwacis, about 95 kilometres south of Edmonton, filtered in and out of the stands to watch bull riders and bullfighters in action.

The community has been supportive, and some locals enrol in the school. Kris Buffalo, one of the bullfighting instructors, is from Maskwacis.
A bull rider and rodeo clown, Stuart uses the school to pass on his experience and connection to skilled instructors to teach those who want to give rodeo a shot.
"I always wanted to be a rodeo cowboy," Stuart said. "I remember when I was a kid, my dogs and cats hated my guts because I was roping them and tying them up and riding them."
The school focuses on more than riding bulls. Instructors also talk about discipline, diet and treating the body similar to the way professional athletes do.
"That's another reason why we do this, to try to get these kids to fall in love with something more than being a follower and getting into criminal activity," Stuart said.

Listen to Stuart explain why his school is unique.

'A chance to follow his dreams'
Vern Wallace, Kevin's father, didn't sit in the stands while the instructors offered lessons. He was right there beside the students, trying to learn as much as he could.
He planned to share that knowledge with young people in his hometown of Mount Currie, B.C., a small, mostly First Nations community about 160 kms north of Vancouver.
He drove close to 12 hours with his wife, Renee, so Kevin and his friend, Tyson, could attend the school.
"I wanted to do this when I was younger but my mom couldn't afford it," Vern Wallace said. "Giving my son a chance to follow his dreams, I sacrificed a lot of stuff to get where he's at."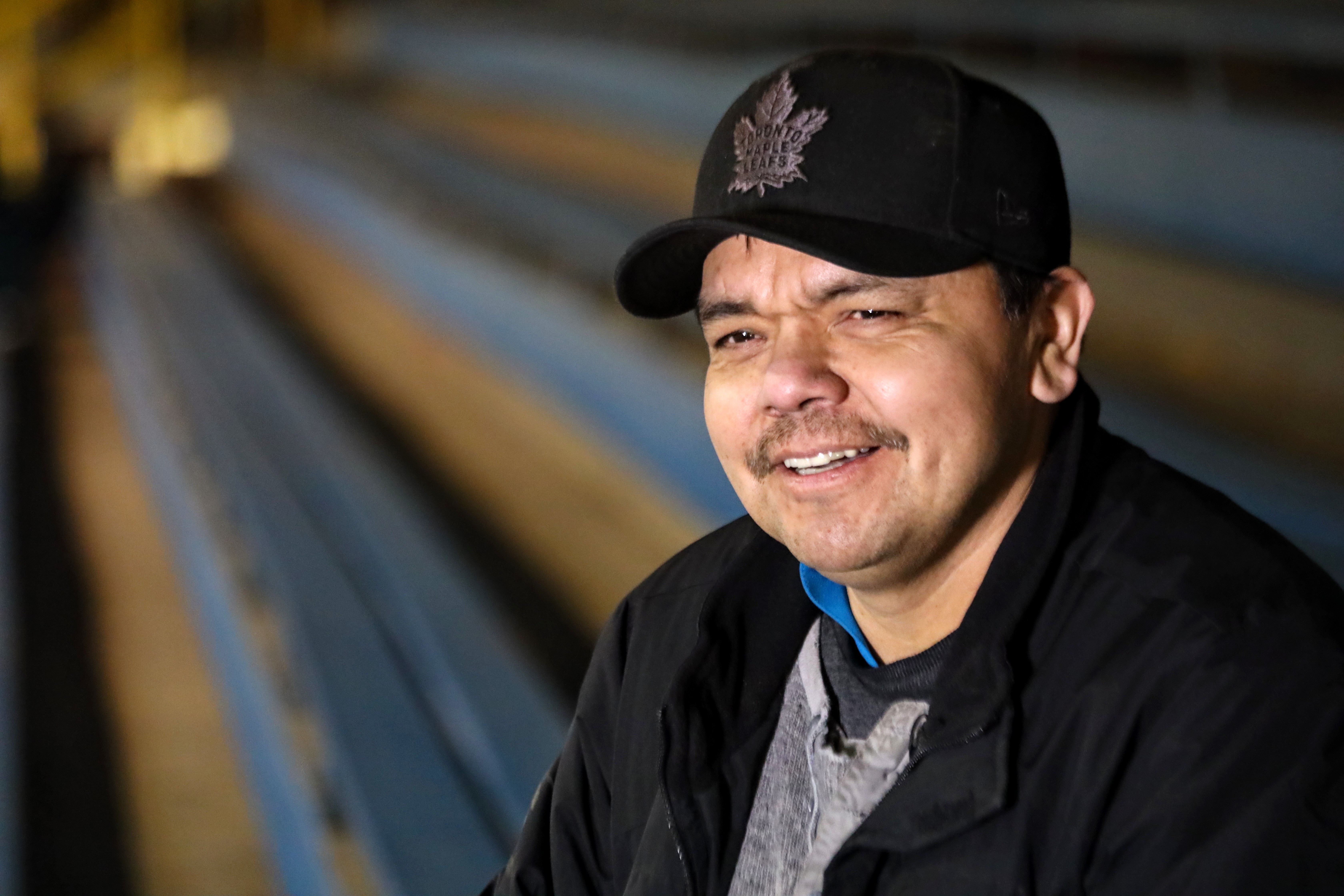 He has been getting Kevin to rodeo events over the past six years. One year, they attended a total of 53 rodeos. The costs the family couldn't afford were covered through fundraising.
So far, Kevin, 17, has won three saddles and 15 buckles in competitions, Vern said.
"We're not even a rodeo family, but we've got something good started."
His father's sacrifices aren't lost on Kevin, who plans to eventually go pro.
"You gotta sacrifice a lot of your life to rodeo," he said. "If you want to be good, you've got to get to places and go wherever it takes to be good."
"The adrenalin and the lifestyle. I really love this lifestyle. I wouldn't trade it for nothing."
Seven years ago, during a trip to the Calgary Stampede, Kevin told his father he wanted to compete there. Two years later, he was in the ring competing on the junior circuit.
As an Indigenous competitor, Kevin hopes more people from First Nations communities will get interested in rodeo. He already feels like he's influencing young people who see him ride bulls
"I think with First Nations it's starting to grow really big. In Mount Currie there's about 15 younger kids who want to be out here rodeoing."
"It's nice seeing Indigenous people out here. It's an amazing scene. Like my buddy, Tyson. I'd love to take him everywhere to show him what I've seen."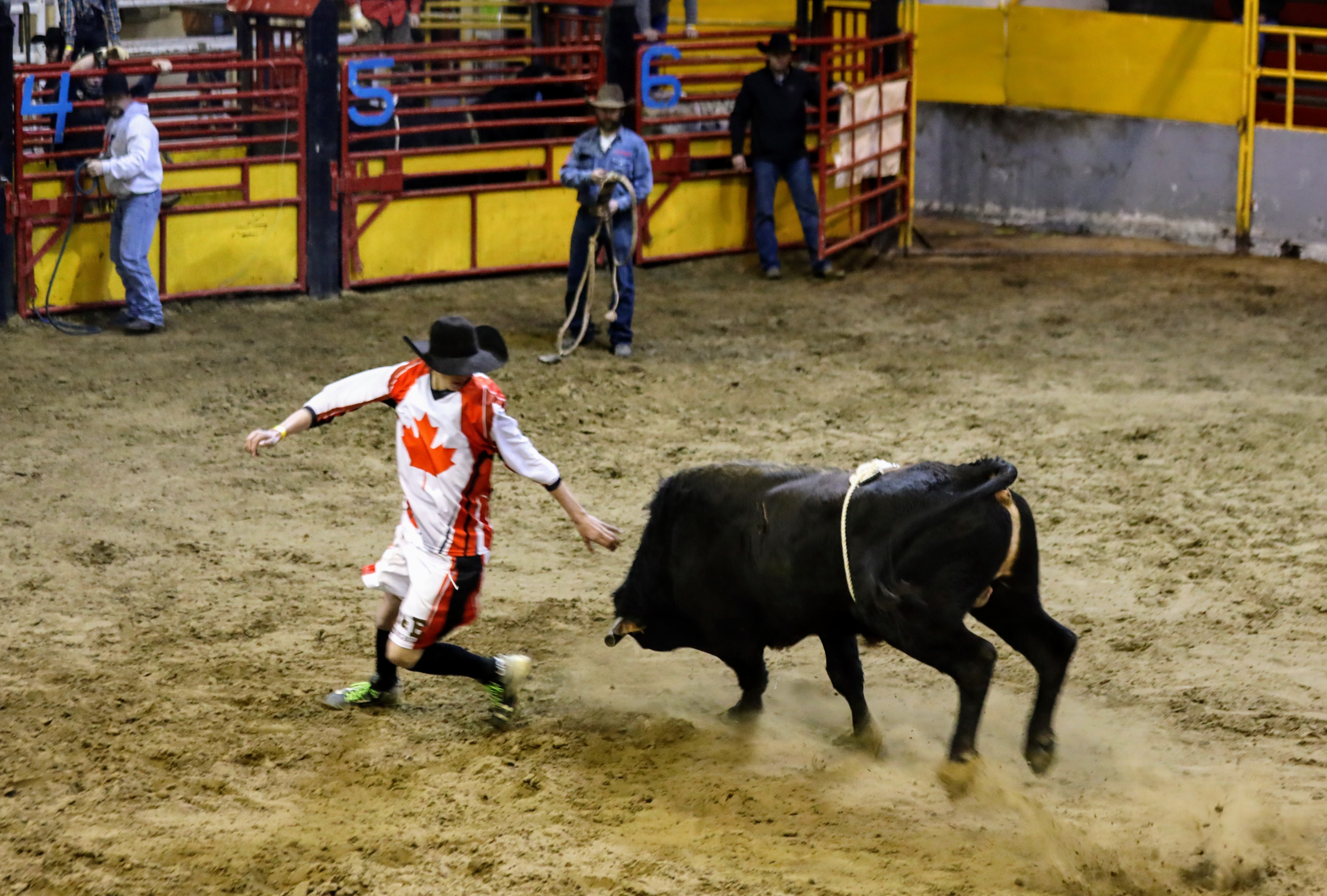 'I wasn't any good at it'
The school also trains bullfighters. Their job is to distract a bull once the rider has fallen or jumped off, by having the animal chase them instead.
Owen Perry, 19, has been training as a bullfighter for three years. His goal is to eventually make the Calgary Stampede or the PBR, a professional bull riding circuit.
Watch Perry hone his bullfighting skills.
At the school, Perry took turns in the pen, waiting for bulls and riders to surge out of the gate so he could intentionally get the animal's attention. His work was replayed and analyzed by a professional bullfighter.
Perry, from Kamloops, B.C., was looking to learn tricks to help read the animals, and find ways to help riders out of dangerous situations, like untying a hand when it gets hung up in the rope.
"The adrenalin rush, I like it," Perry said. "I don't know how to explain it. I just do it because I love it."
He decided to become a bullfighter instead of a rider for a simple reason.
"I tried bull riding and I wasn't any good at it," he said. "I kept on getting hurt. So I thought I'd try this."