Sean Farmer's love for fashion and travel is how his bespoke custom-tailored suit business got its start in Edmonton.

Farmer says the idea to create "Suits by Curtis Eliot" came to him while he was on a trip in Vietnam, which is known for its custom-tailoring.
Despite a handful of bespoke tailors already in Edmonton and his own lack of a fashion background (he owns an events company and founded the 14-year-old Edmonton International BeerFest), Farmer got into the business of men's suits.
In 2011, Suits by Curtis Eliot — Eliot is his middle name and Curtis is a family name — got its start in a 10-by-10 office space tucked away in an unassuming location near the food court in the basement of Scotia Place.
"I set up shop, I plugged in my phone and I stood there waiting for it to ring," joked Farmer.
It took some time for the phone to ring and when it did, there were some other awkward issues that had to be hurdled.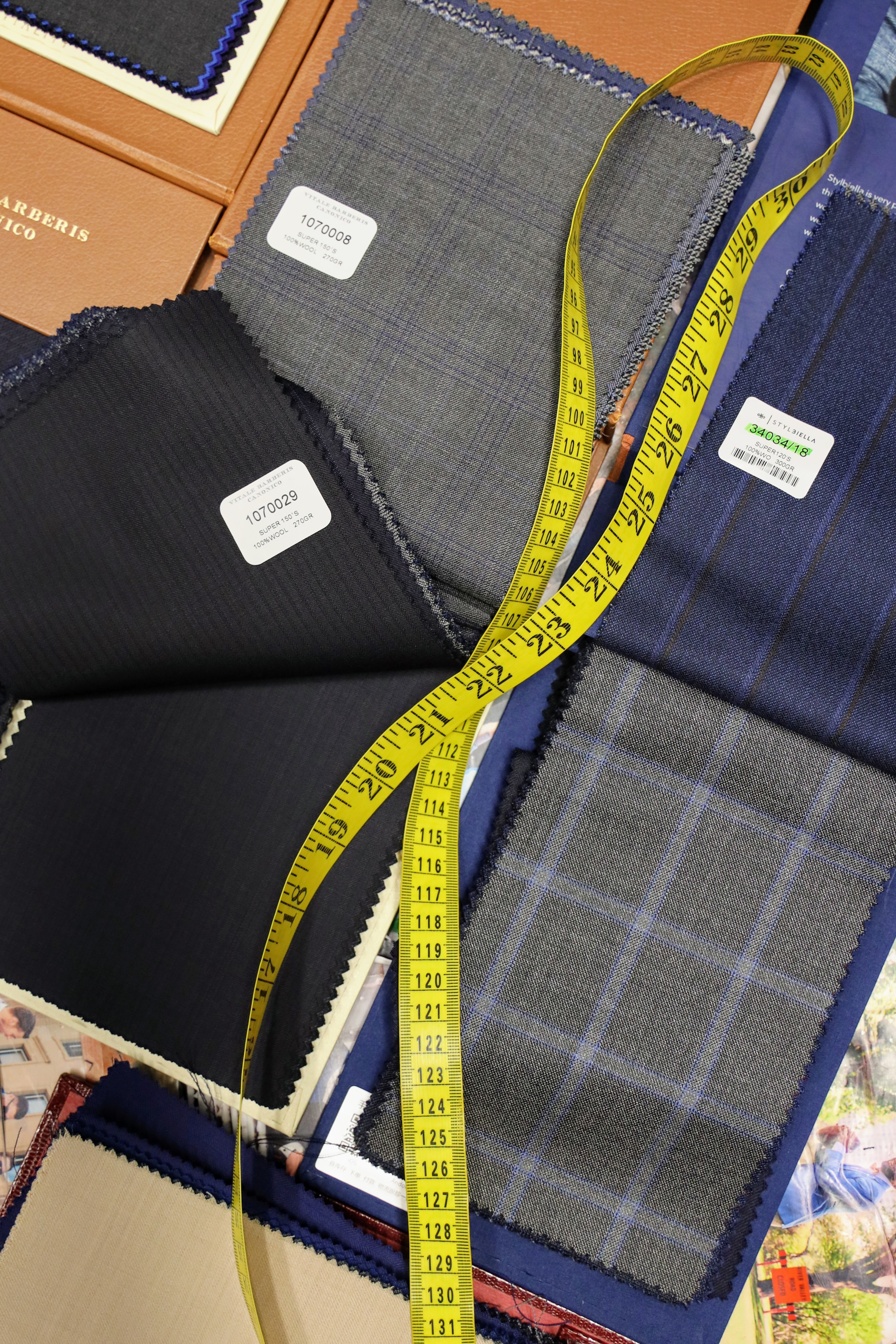 Creating buzz factor
"You're sitting at a desk in front of your client, showing them fabrics and then when he has to change into his new suit, you have to basically exit the office and close the door," Farmer said.
"It was unique in that way, so maybe that helped the buzz factor. But it was kind of a grind."
Creating buzz was a key piece of Farmer's marketing plan. With each suit he sold, he made a point of taking good care of customers in hopes that they would spread the word.
"I think for the first year, I operated without even a business name," he said. "I took down the website, I threw out my business cards and really made sure that it was really about the product and the experience."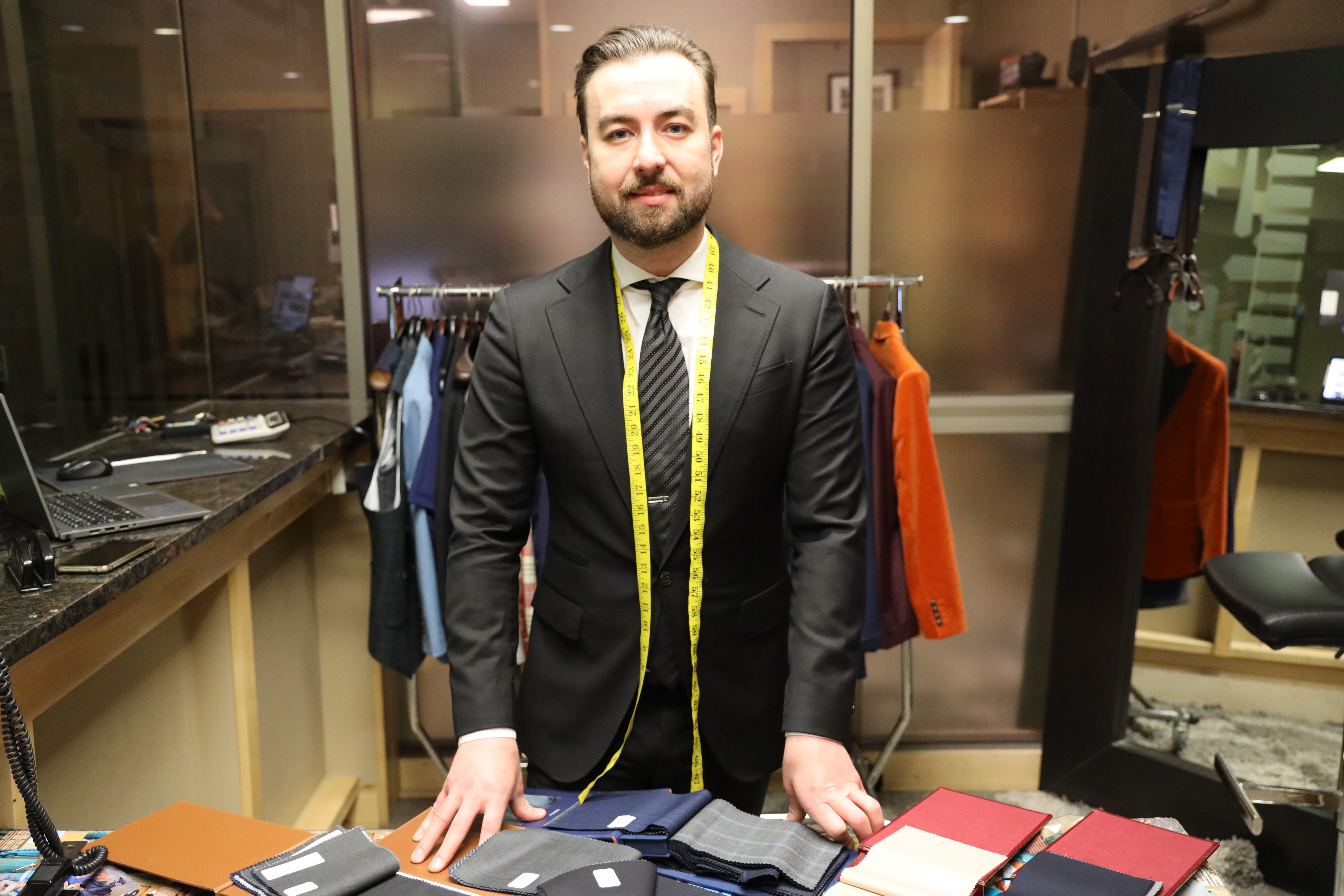 Some of his business strategies were learned firsthand on his many trips overseas.
"My family will tell you it was a nightmare to travel with me for a few years because I turned every trip into a business trip," he said.
Slowly, Suits by Curtis Eliot began delivering a product that customers appreciated and the one-room office began to expand.
It refined its process and product, finding overseas manufacturers to make the suits. The automated process, he said, provided quality control and consistency.
"We want to make sure everyone's 100 per cent happy," said Farmer. "We have the ability to give people exactly what they want."
The word got out and the demand ramped up. Now, shelves in the company's showroom are stocked with countless variations of suit material and patterns from around the globe.
And thanks to a few high-profile customers, his work is being seen around the globe as well.

Stanley Cup, Grammys, Time 100 Gala
The walls in his business have pictures of customers — famous and otherwise — posing in their unique creations.
Farmer's suits have appeared at New York Fashion Week, the 2018 Grammys, thanks to recording artist Mali Music, and 2018's Time 100 Gala, worn by actor Sterling K. Brown.
NHL players Oscar Klefbom, Adam Larsson, Ryan Nugent-Hopkins and Jujhar Khaira are among the Edmonton Oilers who sport suits by Curtis Eliot, as does Almondo Sewell, the bruising defensive tackle for the Edmonton Eskimos.
Suits by Curtis Eliot even got a Stanley Cup appearance through regular customer Colton Parayko, who plays defence for the St. Louis Blues.
After the Blues clinched their third-round win over the San Jose Sharks, Farmer said Parakyo was on the phone ordering a new suit for his first-ever Stanley Cup Finals appearance.
Although the usual turnaround time between ordering and receiving a suit is normally two to three weeks, they got the finished product rushed to Parakyo within a week, he added.
"[That] allowed us to put our clothes on a Stanley Cup winner," said Farmer. "I have a picture of him holding up the Stanley Cup over his head wearing our suit. That's pretty cool."
The strapping six-foot-six hockey player even ordered a special velvet sport coat for the ESPY Awards, the annual celebration of all things sport hosted by ESPN.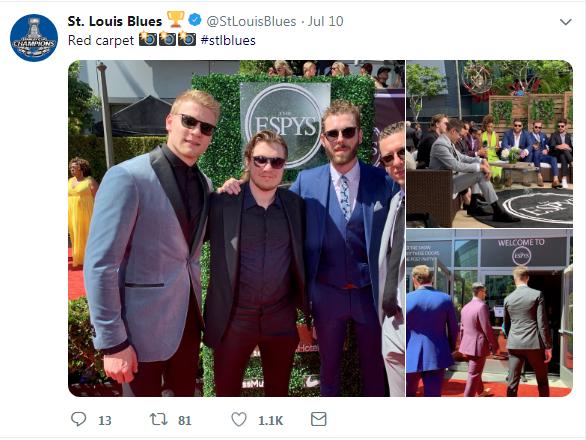 'He just nailed it'
"They've been really good to me," said Parayko, 26, who had high praise for Farmer's ability to turn around the suit quickly and without compromising any of the details.
"I was so impressed that he was able to get it done in time. Just things like that make them so good."
It's a sentiment shared by many who wear Curtis Eliot suits, everyone from pro athletes to construction supervisors.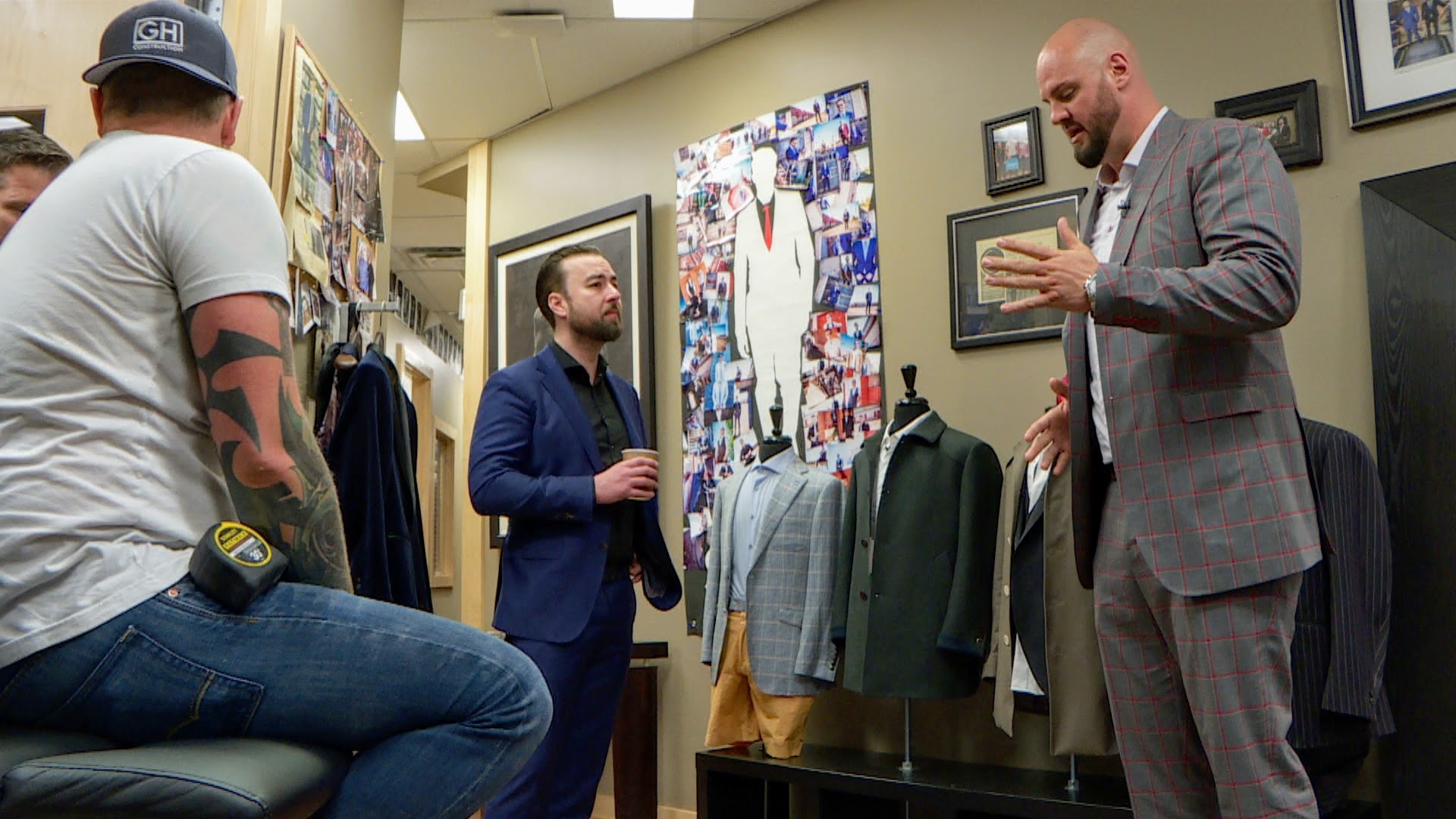 One of the company's biggest customers — in more ways than one — is six-foot-ten, 325-pound boxer Brad Switzer.

Switzer is an original customer, who currently has 16 Curtis Eliot suits and another on the way. When he's not in the ring taking out opponents, Switzer works in sales, a job that requires him to look sharp.

"This suit feels great," said Switzer whose level of customization has reached naming each one of his suits and getting the name stitched just above the inside pocket of each suit coat.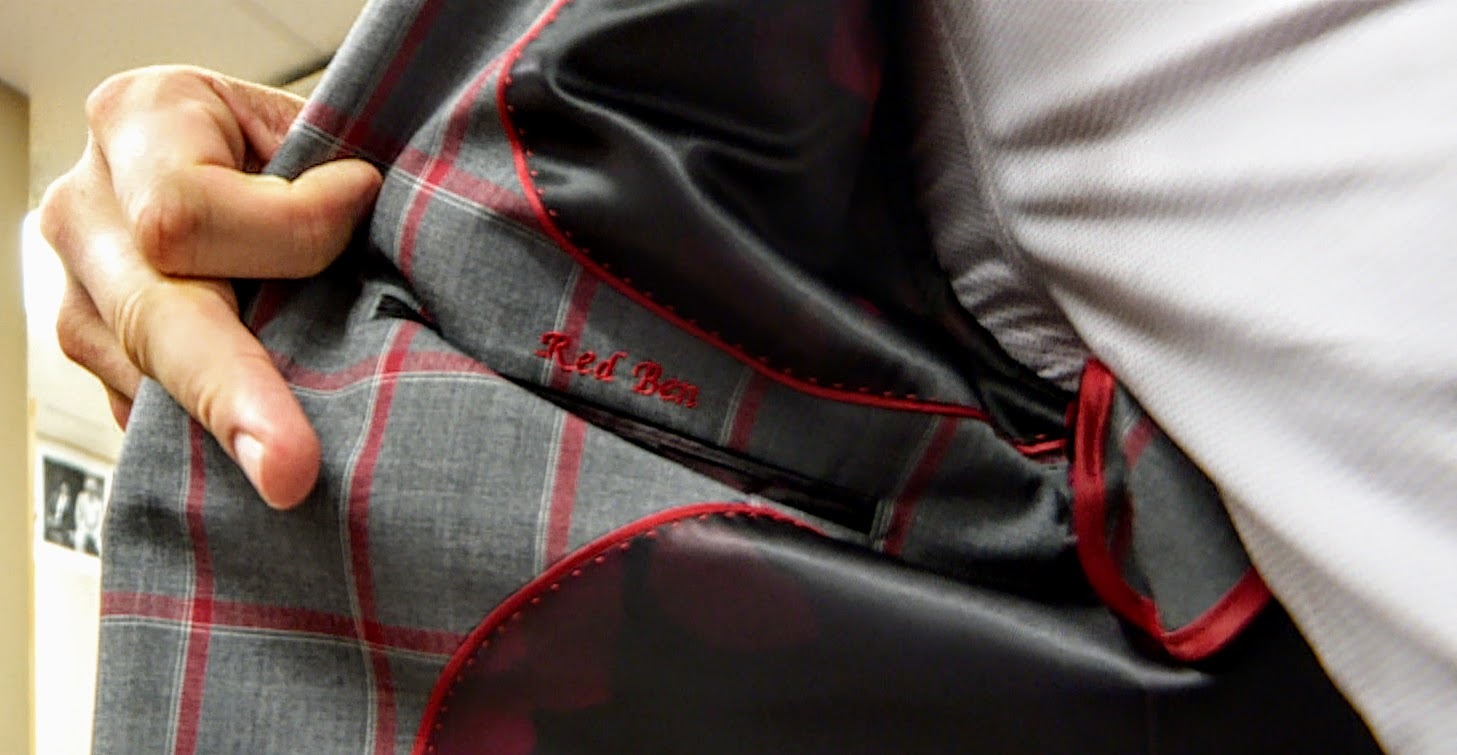 'This is about people, it's about an experience'
On this day, Switzer is wearing a red-striped, windowpane number that he calls Redlined. He said the moniker came to him after a training run for a 10-kilometre race when he felt as though his heart rate was redlining.
Suits by Curtis Eliot salesman Jared Berry said every customer is different in their taste and attention to detail.
"I'm a creative guy, I took art, I'm a graphic designer, I'm a musician," said Berry while helping Switzer finalize the details for his next suit.
"When you get guys like Brad who love the process as well, it is fun," he added. "It makes a day at work seem like a hobby that you get paid for."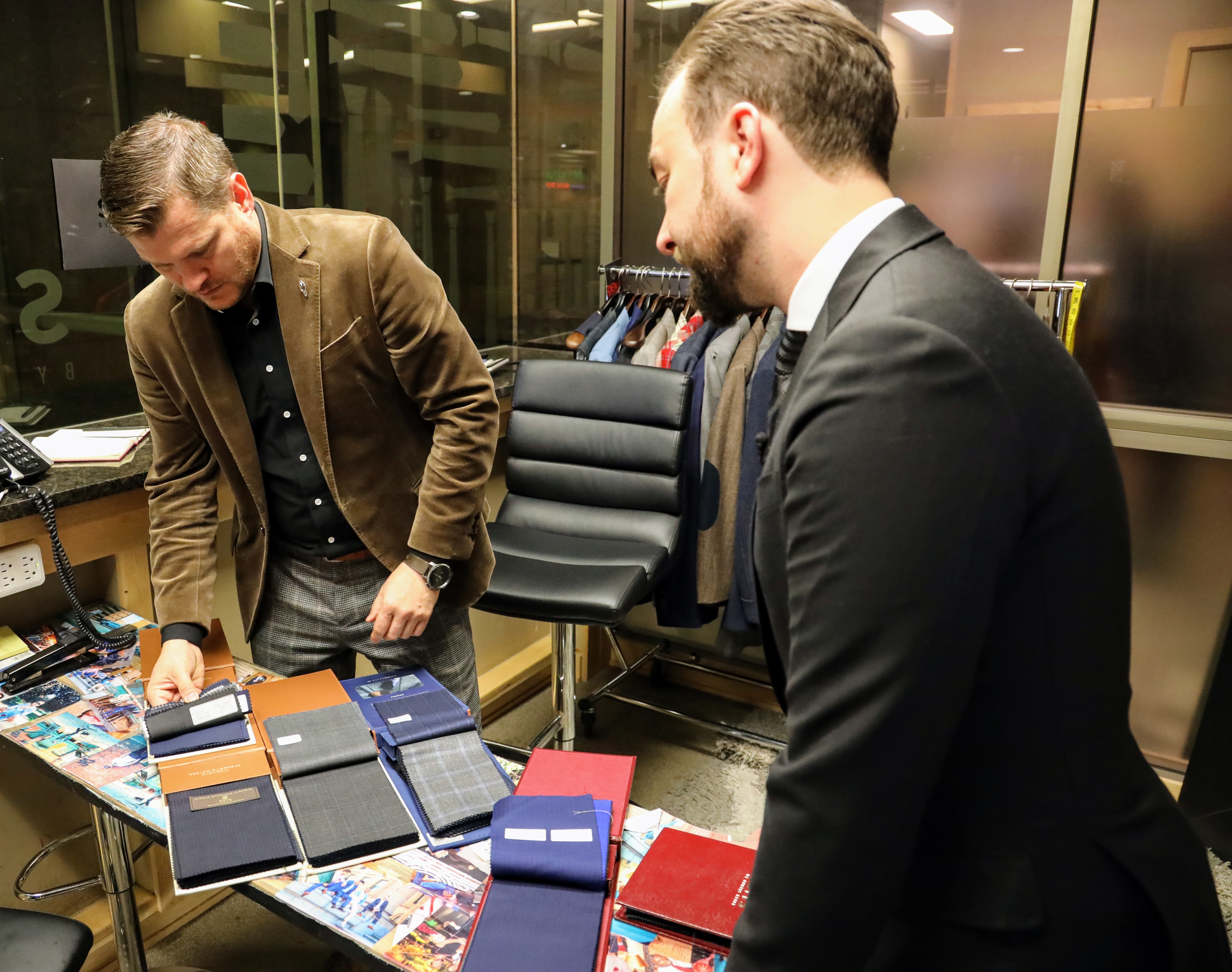 Suits by Curtis Eliot has a location in Calgary and Farmer hopes his brand will also expand to Vancouver and Toronto.
Even though more people are shifting towards the online experience, Farmer believes the quality of his product and the customer service will keep him in business.
"This is about an experience, it's about people," he said. "So it's about having more stores at a point."