As thousands of entrepreneurs scramble to make a buck off legalized marijuana, six CEOs leading Canada's largest cannabis companies have already put their plans for global domination into action.
Among them are two American venture capitalists who decided cannabis is the next big thing. There is also the longtime CEO of a vitamin company, an investment banker who was in charge of business development at Toronto's Mount Sinai Hospital, and a hockey dad who started out as an electrician.
What they share is a belief that the regulated system in Canada gives them a competitive head start as marijuana laws around the world evolve and new markets open up.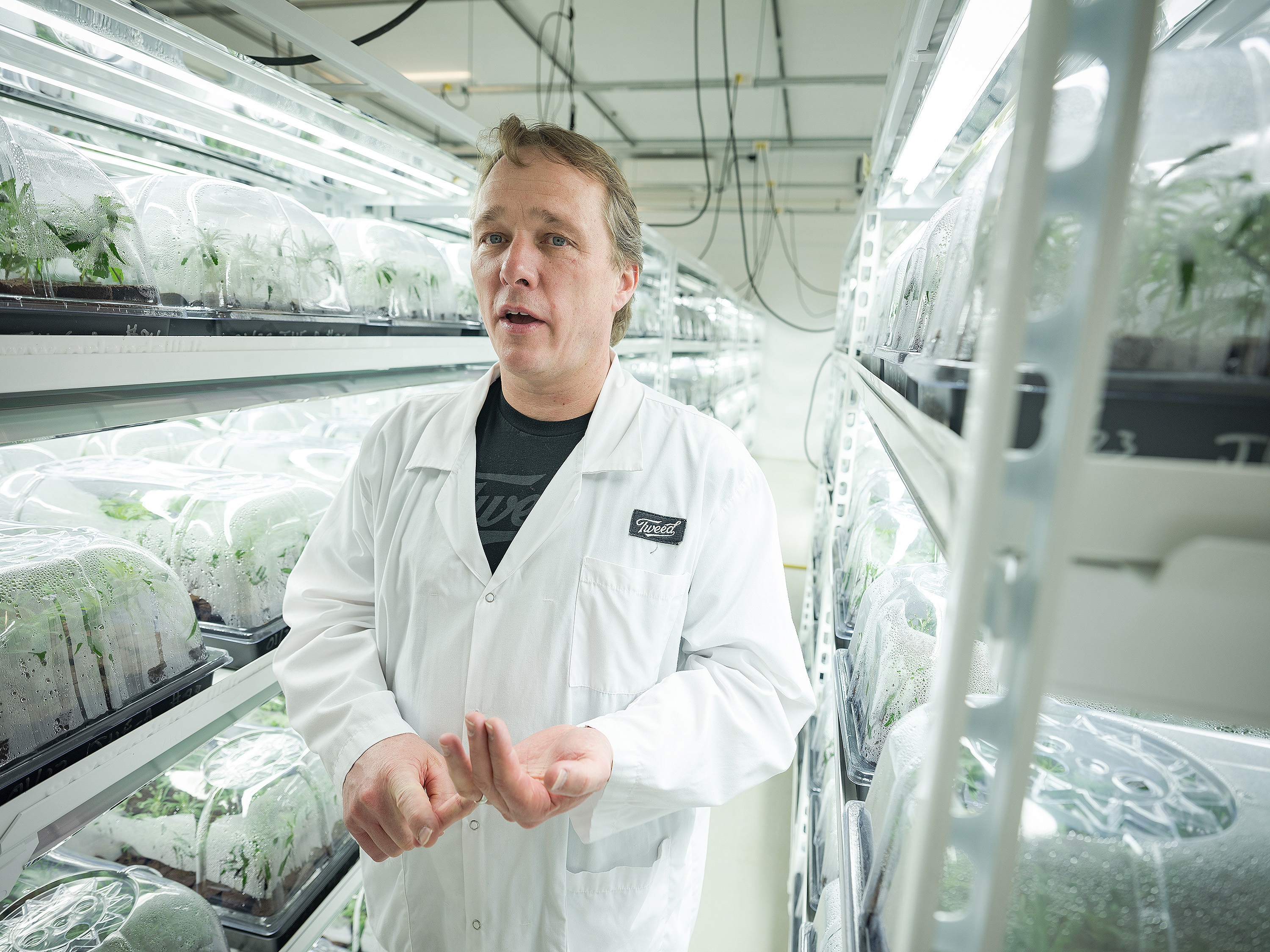 CEO brings small-town idealism to cannabis behemoth 
Bruce Linton
Company: Canopy Growth
Age: 51
Hometown: Gads Hill, Ont.

When it comes to hometowns, they don't come much smaller than Gads Hill, which is little more than a huddle of houses along a secondary highway west of Kitchener, Ont.
But Gads Hill's most famous son now leads the world's largest marijuana company, Canopy Growth.
Bruce Linton's small-town idealism led him first to a degree in public policy at Carleton University, then to a career building wastewater systems in far-away lands such as India, China and Peru. The work taught him how effective public policy could improve people's lives, and conversely, how bad policy could be ruinous.
It was Linton's interest in public policy that sparked his desire to establish one of this country's first medical marijuana producers. The idea began taking shape in 2012, when he read a newspaper article about the Harper government's plan to establish a regulated system for medical marijuana.
"As I started digging in, it was going to be governed in a way that you could create platform companies that could also do medical research and really turn this into something," Linton says.
Linton needed partners and a place to grow marijuana. So he teamed up with Chuck Rifici, who at the time was chief financial officer of the federal Liberal Party, and together they struck a deal to take over an abandoned Hershey chocolate factory, a 170,000-square-foot facility in Smiths Falls, southwest of Ottawa. When Rifici left the company in the fall of 2014, Linton took over as CEO.
A few months later, Linton engineered the first of many acquisitions, cutting a deal with Dutch producer Bedrocan to take over its Canadian production and the rights to sell its marijuana strains in the Caribbean and South America. Bedrocan BV, based in Veendam, Netherlands, is the only producer outside of Canada with the capacity and regulatory approvals to export to the expanding world medical market.
With the addition of Bedrocan's Canadian operations, Linton began to transition the company into the conglomerate now called Canopy Growth. It encompasses six licensed producers, 32 distinct corporations operating in six countries, and is worth more than a billion dollars. His ambition is nothing short of establishing the world's leading cannabis corporation.
"And so you've got to be early, otherwise you're chasing and that's not usually a winning approach."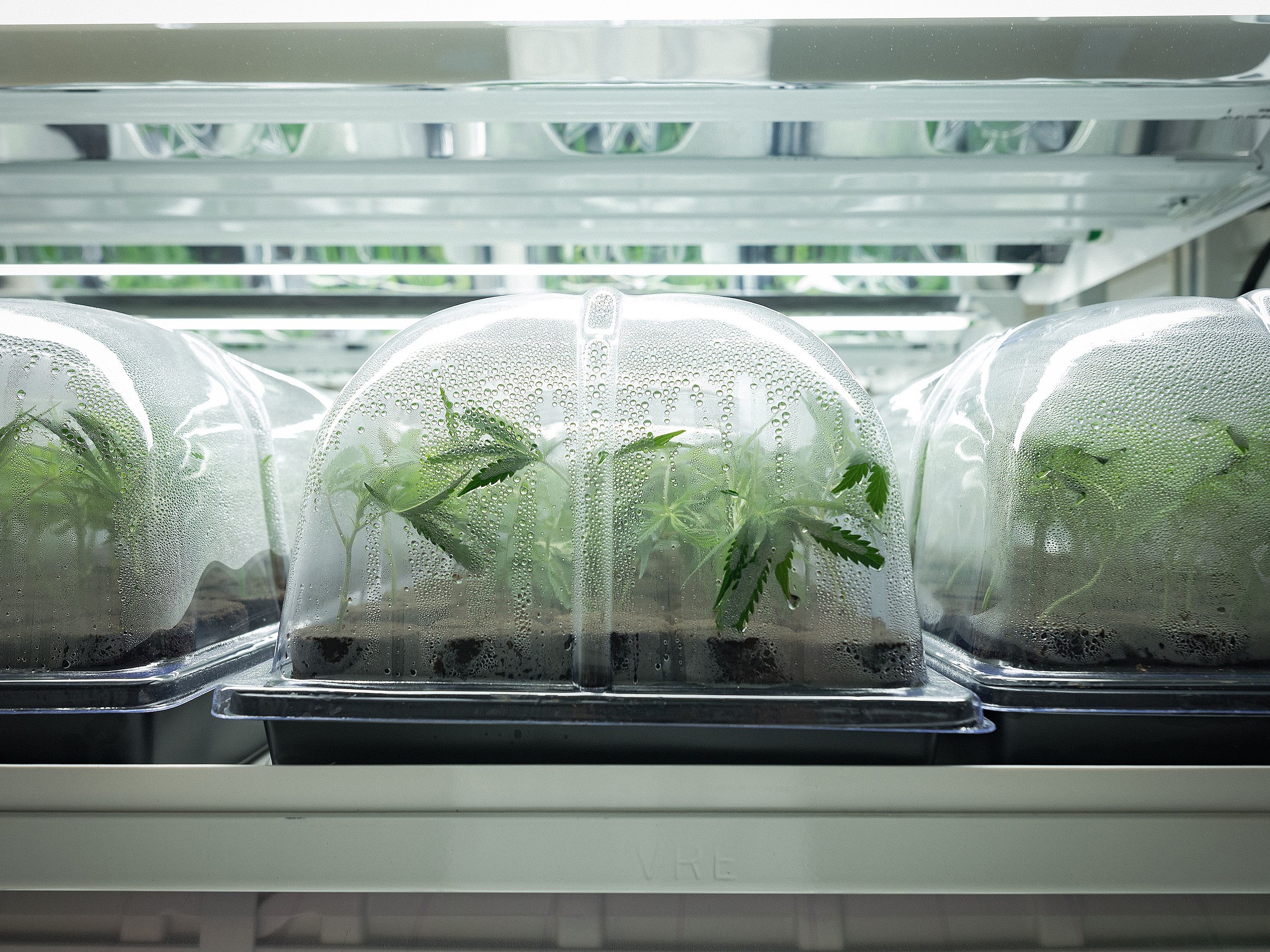 Much has changed in the industry since Linton and Rifici turned the chocolate factory into a grow-op. Most significant, Linton says, is international regulatory changes driven by the medical research now underway. The commercialization of cannabis that began five years ago with Canada's medical regulations was the catalyst for that research, he says.
"Did you really expect organized crime or the black market to pay for those studies?" he asks, before answering his own question. "There was no structural capacity, and now there is, because you have substantial companies like Canopy that can actually fund them."
One of his companies, Canopy Health, filed 27 patents in the final months of 2017. Among the conditions the company hopes to conquer are insomnia, nervous system disorders and pain management. The company is even looking into veterinary products for pets.
Linton pegs the value of the world medical marijuana market at around $180 billion. He says it is all being made possible by the subject he studied at Carleton: public policy.
"All we're doing is changing from an illegal supply chain to a normalized supply chain that's regulated," he says.
There is little competition around the world, but it is a challenge to change attitudes.
"Our competitors are principally public perception after 80 years of prohibition."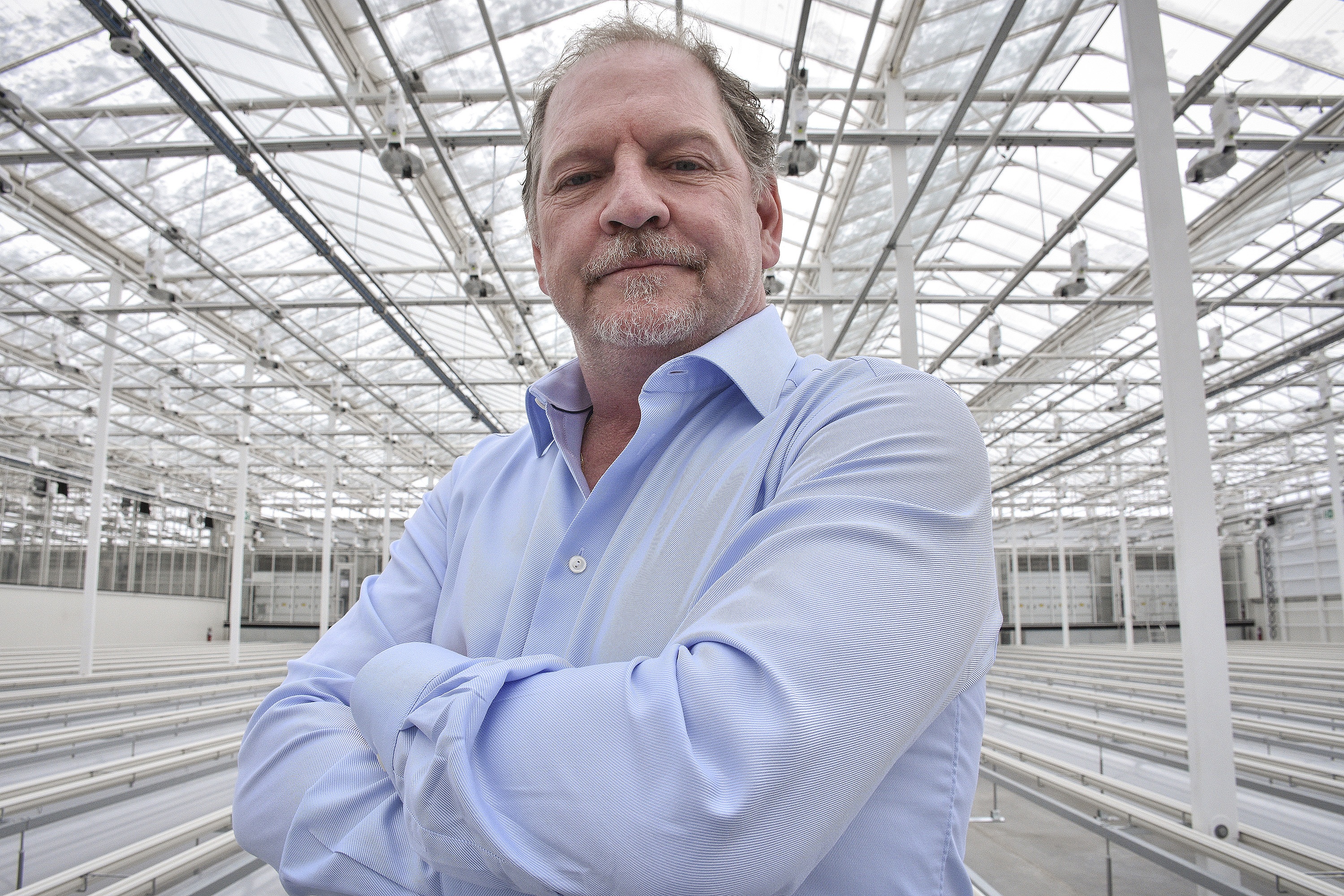 A new kind of oil riches for Alberta
Terry Booth
Company: Aurora Cannabis
Age: 53
Hometown: Edmonton

In a province where billionaires made it big gambling on petroleum, Terry Booth is betting on a new kind of oil in Alberta.
The founder of Aurora Cannabis is building the world's largest marijuana-focused greenhouse in Edmonton and his company has a stake in Radient Technologies, which has developed a new technology to extract cannabis oil at an industrial scale.
Aurora Cannabis is going big on production and acquisitions. Booth is most interested in picking up companies that are already up, running and bringing in cash.
"You don't want to buy a lot of startups because then you're just going to burn your money getting them going."
In addition to Radient, Booth's company has purchased a 50 per cent stake in Hempco, a company that processes raw hemp; Pedanios, a German-based pharmaceutical distributor; BC Northern Lights, a maker of hydroponic grow boxes; and it recently took over Saskatoon producer CanniMed. It also has a 55,000-square-foot growing facility in Cremona, Alta., that serves Canada's medical marijuana market and a 20 per cent stake in Australian producer Cann Group.
"Once I saw the difference it was making in people's lives, it was pretty easy to become passionate about it."
Booth was actually ready to retire back in 2013. He planned to hit the golf course after spending his career building six successful companies and amassing a personal nest egg of a few million dollars. An electrician by trade, he created businesses that fit niches in the construction, transportation and petroleum industries. Superior Safety Codes, for example, provides permits and inspections to the construction industry.
But a new opportunity knocked five years ago, when a group of old-school marijuana growers looking to build a business under the Harper government's medical marijuana regulations approached him for an investment. After Booth looked at the proposal, he decided to start his own company. He put up $2.5 million of his own money and convinced family and friends to invest millions more.
"I love the business," he says. "I had to make myself believe in the medicine. Once I saw the difference it was making in people's lives, it was pretty easy to become passionate about it."
In the beginning, Booth built a business based solely on Canada's medical market. When the Trudeau government announced its plans to legalize the recreational use of marijuana, he pushed forward with an expansion that included Aurora Sky, the 800,000-square-foot facility at the Edmonton Airport. Then the international medical market began to emerge, adding tens of millions of potential customers and billions in potential revenue.
"Did I predict it? No, but I sure felt good about it as we got into the industry and that wave just continued to build."
Today, Aurora Cannabis is one of the world's largest marijuana growers, with a total domestic production capacity of 200,000 kilograms per year and international sales in Europe and Australia. The company sold $2.5 million worth of cannabis in Germany in the last three months of 2017, and recently signed a deal to supply medical marijuana to Italy.
But Booth doesn't think the lack of foreign competition will last. He expects new companies to emerge in Israel and the Netherlands, where he has already established a partnership to build a massive growing facility.
He hopes by the time others enter a field now dominated by Canadians, Aurora will be an established global brand, providing expertise in growing and processing to new international partners. Over time, he also hopes to realize a dream of establishing his hometown of Edmonton as a global centre of excellence in cannabis.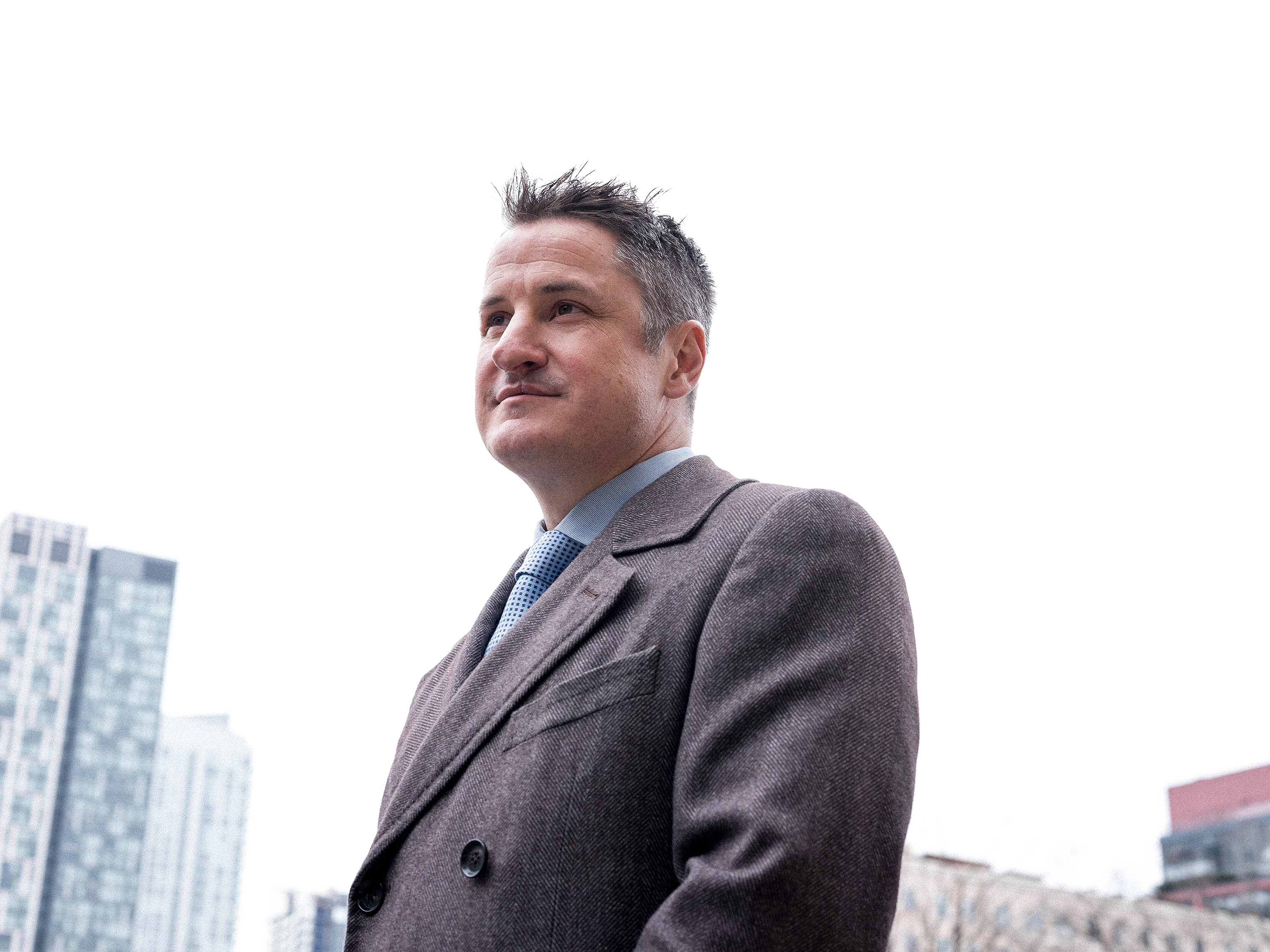 CEO left Silicon Valley to dominate the global cannabis market
Brendan Kennedy
Company: Tilray
Age: 45
Hometown: San Francisco

Former carpenter Brendan Kennedy is building a company he hopes will be the world leader in medical marijuana.
He admits he didn't know much about marijuana in his younger days working on job sites to pay his way through university. His early dreams of a career in architecture soon gave way to new aspirations as his Ivy League education opened doors to Silicon Valley finance. It was there, working with technology startups, that he was introduced to the possibilities of medical marijuana.
"I was really skeptical of medical cannabis," he says. "It took a year of having conversations with patients and physicians and hearing the same story, repackaged but essentially the same, over and over and over again, where my skepticism eroded and I became a believer."
He moved to Seattle in 2011 because the state of Washington had a medical marijuana program. There, he founded Privateer Holdings, a company dedicated to financing marijuana-based businesses. But he soon came to the conclusion that Canada would be a better venue for building a global brand.
In 2013, Kennedy and his partners at Privateer applied for a production licence from Health Canada and launched Lafitte Ventures in Nanaimo, B.C. The company was later renamed Tilray.
"In Canada, we liked the fact that the [Marijuana for Medical Purposes Regulations] was being created under a very conservative government at the time," he says, so there seemed to be little risk of the national program being eliminated by a future government.
Tilray's facilities in Nanaimo and Enniskillen, Ont., have a combined annual production capacity of 65,000 kilograms.
In 2016, Kennedy set out to turn his company into not just a grower, but a medical research firm. Tilray partnered with Toronto's Hospital for Sick Children for trials using medical marijuana to treat childhood epilepsy; with Montreal's McGill University for trials on chronic obstructive pulmonary disease; and with the University of British Columbia to study marijuana's effect on post-traumatic stress disorder.
He also set his sights globally, exporting medical marijuana to Croatia, and then to Australia, Cyprus, New Zealand, Germany and the Czech Republic. In September, Tilray announced it had been granted a licence to set up a 270,000-square-foot greenhouse plus 32,000-square-foot processing facility in Portugal to serve the burgeoning European market.
Portugal has tariff-free access to the European Union, he says, including Germany, which recently established a national medical marijuana program but has yet to begin domestic production. It also gives Tilray better access to other European countries that are legalizing medical use, including Poland, Greece and Italy. Ironically, Tilray can't sell marijuana in Portugal.
Kennedy expects by the end of 2018, Tilray will be making more money from international sales than from domestic production for Canada's recreational market.
He says Canada has a distinct advantage in the international market. But over time, other countries will step up production — and at a lower cost in more temperate regions. He says the future of Canadian producers lies in technology and genetics, rather than growing for export.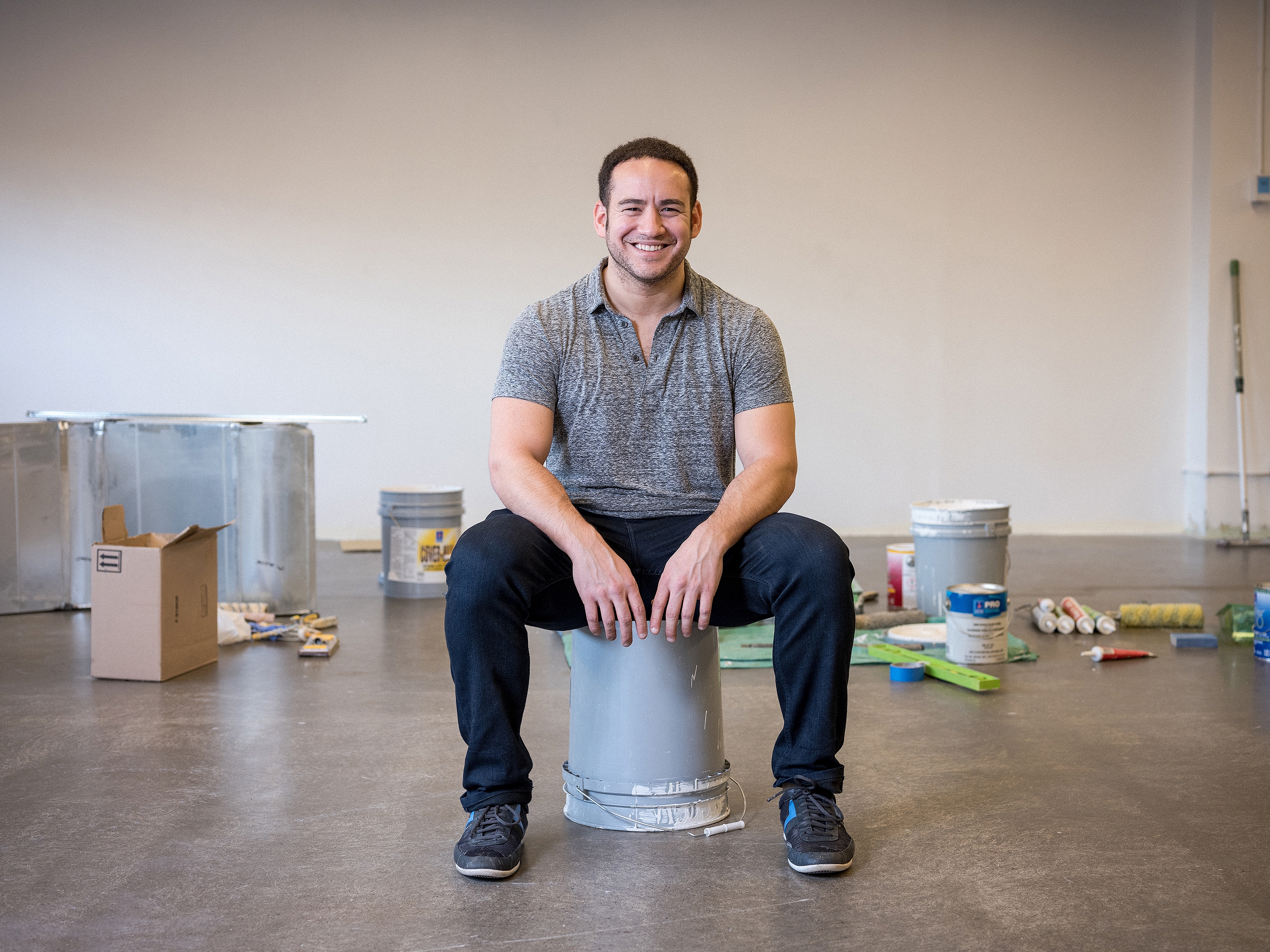 Cronos CEO sees Canada as 'launch pad' for marijuana expertise
Michael Gorenstein
Company: Cronos Group
Age: 31
Hometown: Columbus, Ohio

By the time he was in his mid-20s, Michael Gorenstein was living the American dream.
A clean-cut kid from Ohio, he'd worked his way through one of the country's most prestigious business schools, the University of Pennsylvania's Wharton School, by selling bar exam preparation courses and then earned a law degree of his own from UPenn before heading off to New York to make it big.
Straight out of school in 2011, he landed a job as a corporate lawyer in the mergers and acquisitions department at Sullivan and Cromwell, a behemoth in international corporate law. From there, he branched out to help establish Alphabet Ventures, a hedge fund, in 2015. 
Then he discovered marijuana.
"I'm not looking to sell shares in a year and exit. This is what I've decided to dedicate my life to."
The young entrepreneur saw a huge opportunity. But the contradictions between federal and state laws in the U.S. made him uncomfortable as an investor, so he decided to take his money north.
"Loved the framework, loved the program, loved the opportunity and made an investment into a company in Canada, which later turned into Cronos," he says.

In October 2016, Gorenstein, a dual citizen with family in Winnipeg, left New York for Toronto with about $2 million raised from partners in his former firm and set out to conquer the Canadian marijuana market. Among his first acquisitions were In The Zone Produce, a greenhouse in Armstrong, B.C., and Peace Naturals, a licensed marijuana producer in Stayner, Ont.
Peace Naturals was one of the first Canadian producers licensed by the federal government and was already well established in the medical marijuana field. In The Zone, now named Original BC, was retrofitted to produce for the recreational market.
Gorenstein then firmed up his Canadian base through strategic partnerships. He teamed with former Assembly of First Nations chief Phil Fontaine to establish Indigenous Roots, which aims to bring jobs and production to First Nation communities interested in the marijuana business. He bought stakes in organic boutique producer Whistler Medical Marijuana Corporation, along with ABcann Medicinals, and picked up a minority interest in Quebec's Hydropothecary.
But to Gorenstein, the real prize is the international market.
"What I saw in Canada is basically the launch pad and the headquarters for global opportunity," he says.
Like other Canadian producers, he was quick to jump on the opportunity to export marijuana to Germany, forging a distribution agreement with Pohl Boskamp, a well-established pharmaceutical manufacturer.
Gorenstein sees the greatest potential in Israel, which happens to be the country where THC, the intoxicating ingredient in marijuana, was first isolated. Cronos is partnering with Hebrew University of Jerusalem and the Volcani Institute, an agricultural research station near Tel Aviv, to further medical research and production methods. Along with Israeli partners, Cronos has also begun production at Kibbutz Gan Shmuel, a farming settlement near Haifa, which promises lower production costs than Canada because of its climate.
Now just entering his 30s, Gorenstein is happy with the path he is on.
"I'm at an age where I can set this up for the future ... I'm not looking to sell shares in a year and exit. This is what I've decided to dedicate my life to."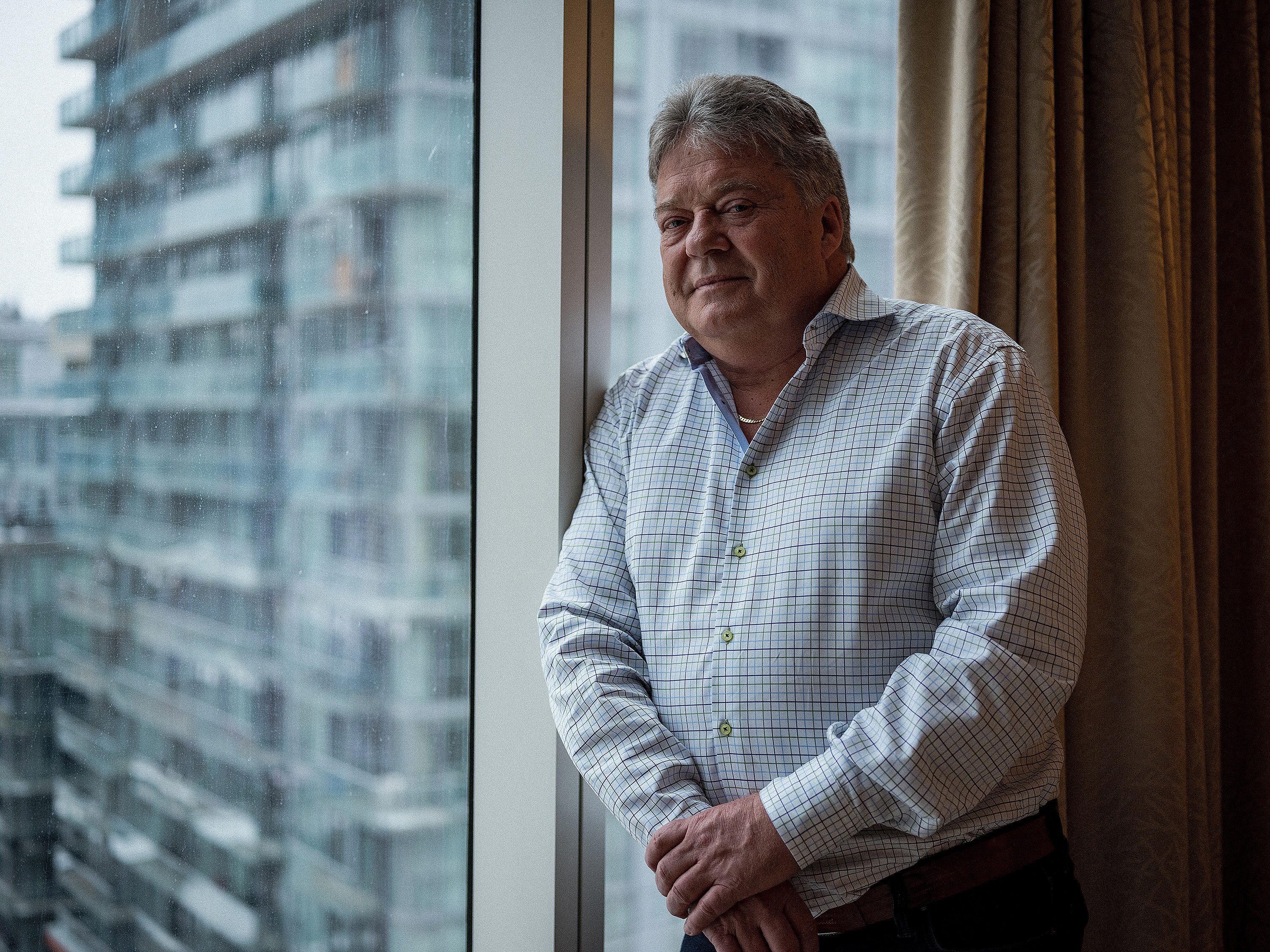 Neufeld goes from peaches to vitamins to marijuana 
Vic Neufeld
Company: Aphria
Age: 63
Hometown: Leamington, Ont.

Growing up on a peach farm near Leamington, Ont., taught Vic Neufeld an important lesson: He didn't want to be a farmer.
Instead, he chose a career in accounting, followed by a 21-year stint as CEO of Jamieson Vitamins.
Rather than retire, he took on one more career move: farming.
But instead of peaches, Neufeld's crop is cannabis.
The move was as surprising for Neufeld as it was for those around him. Over two decades, he had taken Jamieson from a small vitamin maker to a leading brand commanding 27 per cent of the Canadian market, with sales in more than 40 countries. When that business was sold in 2014, the longtime boss thought he'd take some time to kick back and enjoy life.
Then his phone rang.
It was old high school chum Cole Cacciavillani, who was running his family's greenhouse, growing flowers and potted plants. He explained to Neufeld that growing marijuana couldn't be much harder and the opportunities were far greater.
The recently unemployed CEO was intrigued.
"It was just something that excited me. It was again reaching out to patients, and in this case, not human nutrition, but still a lifestyle and an alternate treatment for certain medical conditions. So to me, it was a natural fit."
Cacciavillani and his greenhouse partner, John Cervini, knew a lot about growing plants, but the big business world of medical products was a mystery. But it was a field Neufeld knew well from his days at Jamieson.
"There's a lot of similarity," he says of the parallels between medical marijuana and vitamins. "If you don't start off with quality ingredients, you're never going to get a quality end product that you can sell. And if it's not a quality end product, you're not going to garner the trust and confidence of consumers."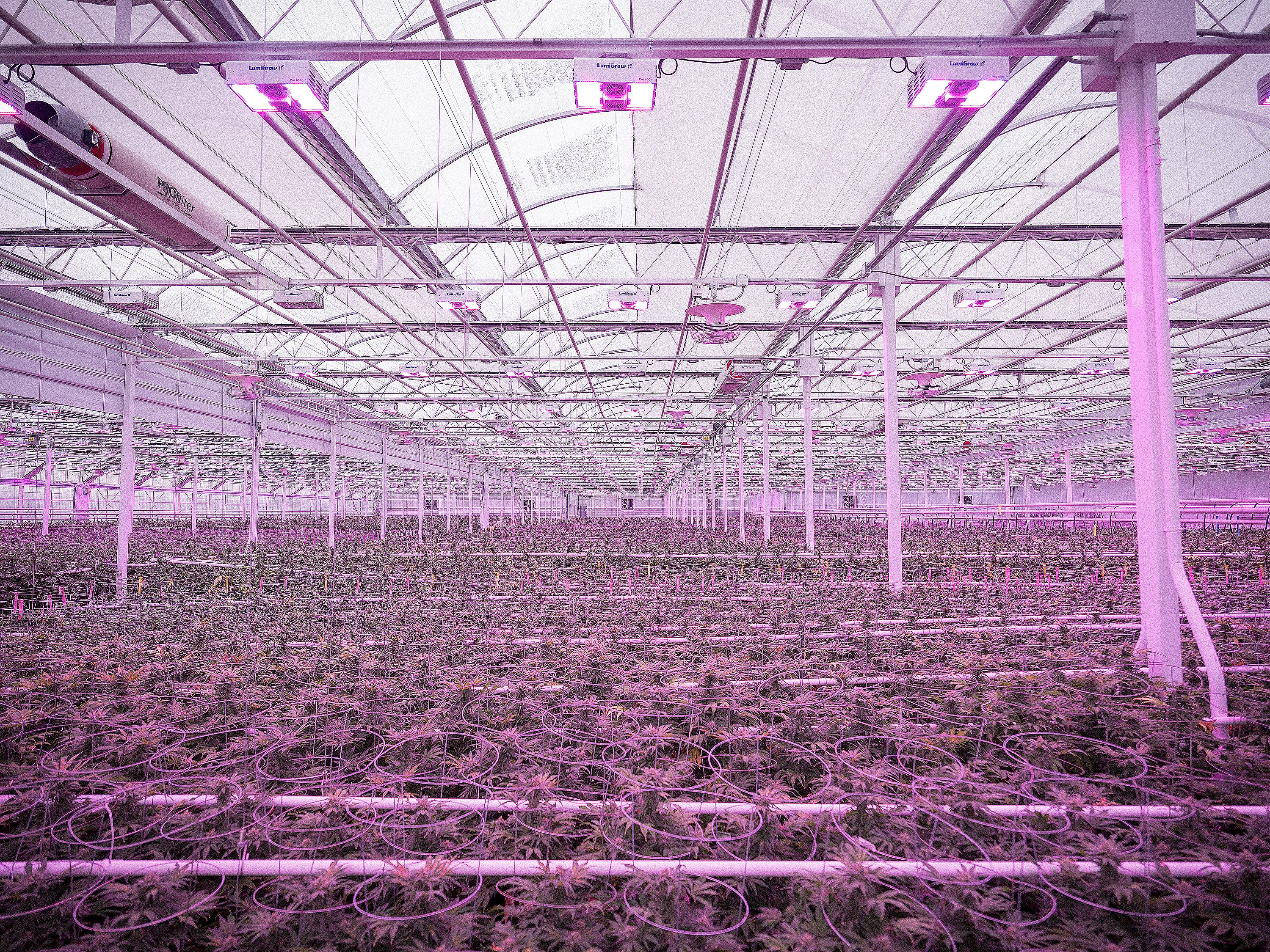 They began with a sack of seeds and started growing. It took more than a year of trial and error to find the best strains. Neufeld's vision from the outset was to grow pharmaceutical-grade medical marijuana, and do it at a lower cost than other licensed producers. 
Their company, Aphria, wants to go a step further and prove marijuana's health benefits to doctors and patients.
"We had tons of patient anecdotal evidence that one could find on the internet … but no true pharma clinicals."
Neufeld is also staking part of Aphria's future on the production of cannabis oil. The company is expanding its production facility and obtaining a dealer's licence to export the oil. It has signed a deal with Australian biotech Medlab Clinical Ltd. to provide cannabis oil for clinical trials using a vaporizing spray for the management of pain in cancer patients.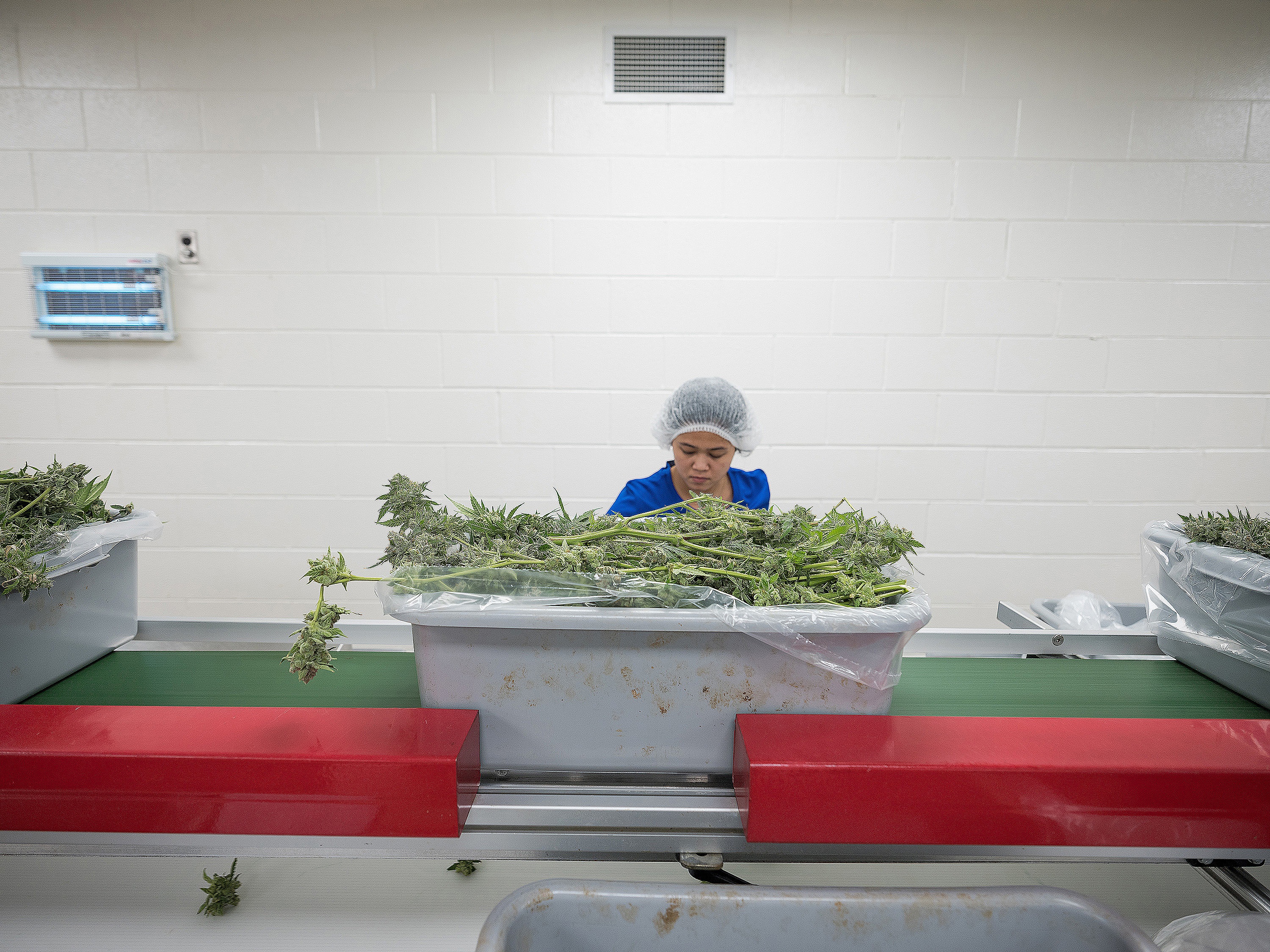 Neufeld also made a move into the U.S., taking a 37 per cent stake in Liberty Health Sciences, which invests in and operates medical marijuana businesses in states that allow it, as well as acquiring partial ownership of a grower in Arizona. With the U.S. investments, Aphria found itself afoul of the TMX, which operates the Toronto Stock Exchange, where its stocks are listed. 
Because marijuana is still illegal under federal laws in the U.S., publicly traded Aphria was threatened with having its stock delisted because of these investments, a potentially devastating punishment.
"We were very clear with complete disclosure on what we were doing. Constantly getting approved by the TSX," he says of the U.S. moves, noting there were no red flags until he received a harsh warning letter from the regulator. "How it surfaced now, why it surfaced now, many of us have our own suspicions of conspiracy theories."
In early February, Aphria was forced to divest most of its U.S. assets in order to comply with Canadian securities regulations.
The episode is a stark warning of the dangers of trying to build billion-dollar businesses in a field where attitudes and laws are in flux. But Neufeld, with his long experience in the international health-care business, shrugs it off. He's confident the opportunities in the marijuana business are worth it.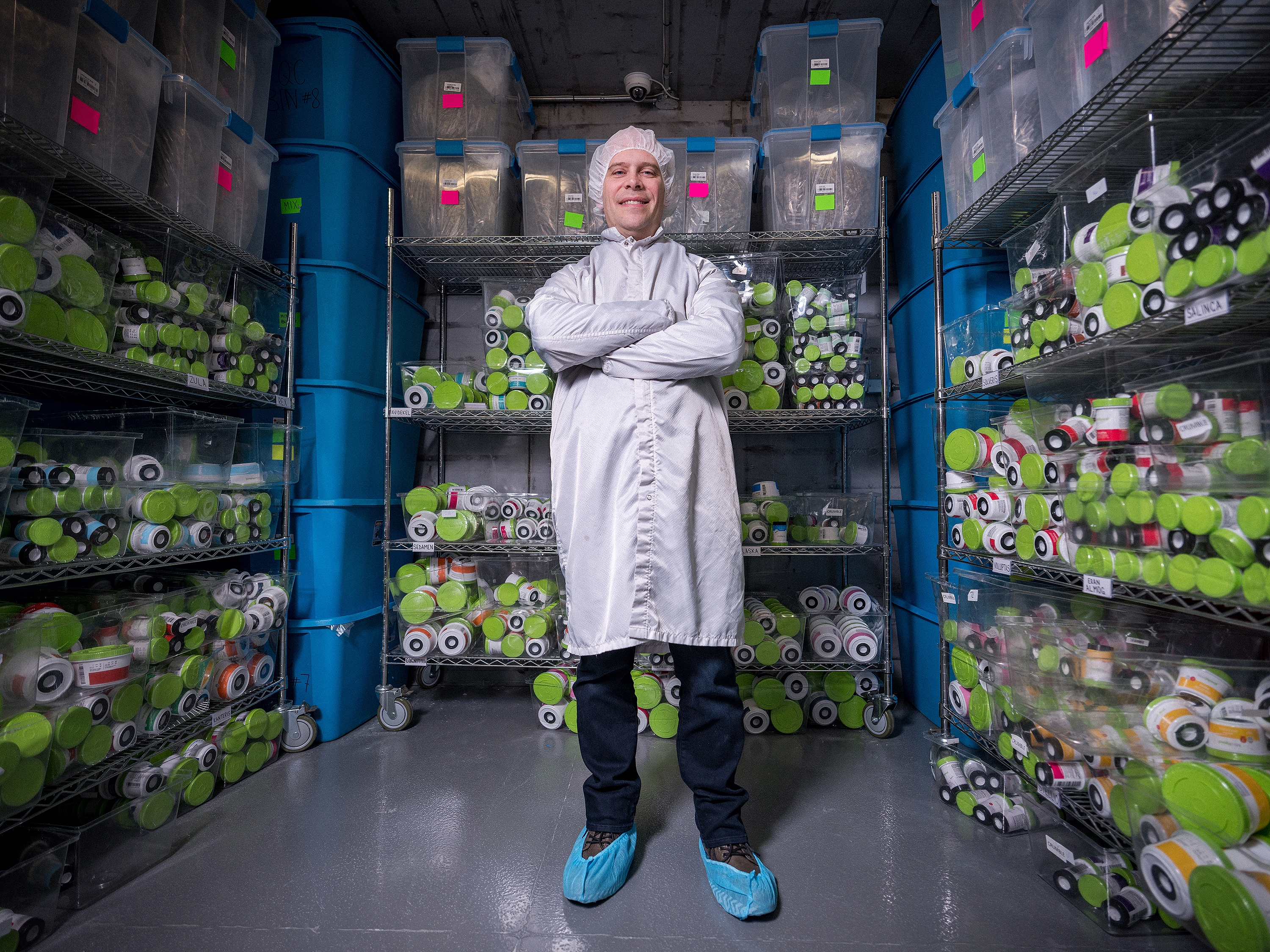 Geriatric residents of an Israeli kibbutz made Closner a believer
Neil Closner
Company: MedReleaf
Age 44
Hometown: Toronto

While many people make a pilgrimage to Israel for religious or spiritual reasons, Neil Closner found himself in the nursing home at a kibbutz north of Tel Aviv four years ago to explore the medicinal qualities of marijuana.

The former executive at Mount Sinai Hospital in Toronto had travelled to Israel at the invitation of Tikun Olam, an organization that has been testing medical marijuana on geriatric residents of Kibbutz Na'an since 2010.
Closner, who admits he knew very little about marijuana before setting out, was stunned by what he saw there. Patients who received a cannabis extract saw their weights and appetites stabilize, and many were sleeping better and taking fewer medications for chronic pain, he says.
Closner became a believer.

"As a patriotic Canadian, I'd like to see us become known as the dominant player in this industry that will become a multi-multibillion-dollar business globally."
When he returned to Toronto, Closner signed on to build a business in partnership with Tikun Olam and funded by Israeli-born Toronto financier Stephen Arbib. They built a 54,000-square-foot greenhouse in Markham, just north of the city, and started MedReleaf, with the goal of creating a global brand of pharmaceutical-grade cannabis products.
The facility in Markham and another in nearby Bradford have a combined production capacity of 35,000 kilograms a year.
Closner believes Canada's medical marijuana regulations, along with the genetic strains and medical research developed in Israel, will prove to be a winning combination.
With marijuana, he sees a rare opportunity for Canada to dominate in a global industry.
"As a patriotic Canadian, I'd like to see us become known as the dominant player in this industry that will become a multi-multibillion-dollar business globally."
At Mount Sinai, it was Closner's job to turn innovative ideas into viable businesses. One of his key achievements was the development of VitalHub, an electronic health application that allows doctors and nurses to access crucial patient information on a mobile device, such as an iPhone. It's just one of a half dozen high-tech health businesses launched by the self-described serial entrepreneur.
"I really feel that if you can achieve your business aspirations, which for me were growing a business and enjoying that process and doing so by helping people, it makes it all that much more worthwhile."
What sets the marijuana industry apart, he says, is the speed of growth. When MedReleaf was granted its Health Canada licence in 2014, there were only seven other licensed producers. Today, there are 89, with at least a dozen vying for a place on the world stage.
He believes the future of marijuana lies in pharmaceutical products. MedReleaf and its Israeli partner are working to create strains of marijuana aimed at treating specific conditions such as PTSD, neuropathic pain, Crohn's disease and cerebral palsy.

He expects people will eventually take marijuana in the form of capsules and sprays, rather than smoking it. And Canada's role, he says, will be as a technology innovator, rather than agricultural producer.