For the Tsleil-Waututh First Nation, killer whales are traditionally seen as messengers from the other side, appearing in B.C.'s Burrard Inlet just before the death of an important leader.
The Lummi people of Washington state call them "Qwe 'lhol mechen," roughly translated to "our relations below the waves."
But this deep cultural significance is just one reason members of both Nations are alarmed by the current troubles facing the southern resident orca population, which seems to be struggling to find enough food. They also worry that the loss of these beloved whales could signal a downward spiral for marine ecosystems along the West Coast.
"Protecting the environment is Tsleil-Waututh's sacred responsibility given to us by the creator, but it isn't just for us," Chief Leah George-Wilson told CBC.
"Whether or not there's a healthy ecosystem thriving in Burrard Inlet impacts not just my children or my children's children. It impacts yours as well."
The last year has seen one bad news story after another when it comes to the southern residents, including a mother whale who carried her dead newborn around for 17 days in what some scientists described as a "tour of grief." Researchers are becoming increasingly pessimistic about the prospects of the endangered whales as their numbers keep falling and new calves fail to live to adulthood.
"They're thin, they're underfed, their babies aren't surviving, their matriarchs are getting older," said Kurt Russo, senior policy adviser for the Lummi Nation's sovereignty and treaty protection office.
"If they continue on the trajectory that they're on now ... that whole population could be functionally extinct within 10 years."
But neither the Tsleil-Waututh nor the Lummi are prepared to let the southern residents disappear.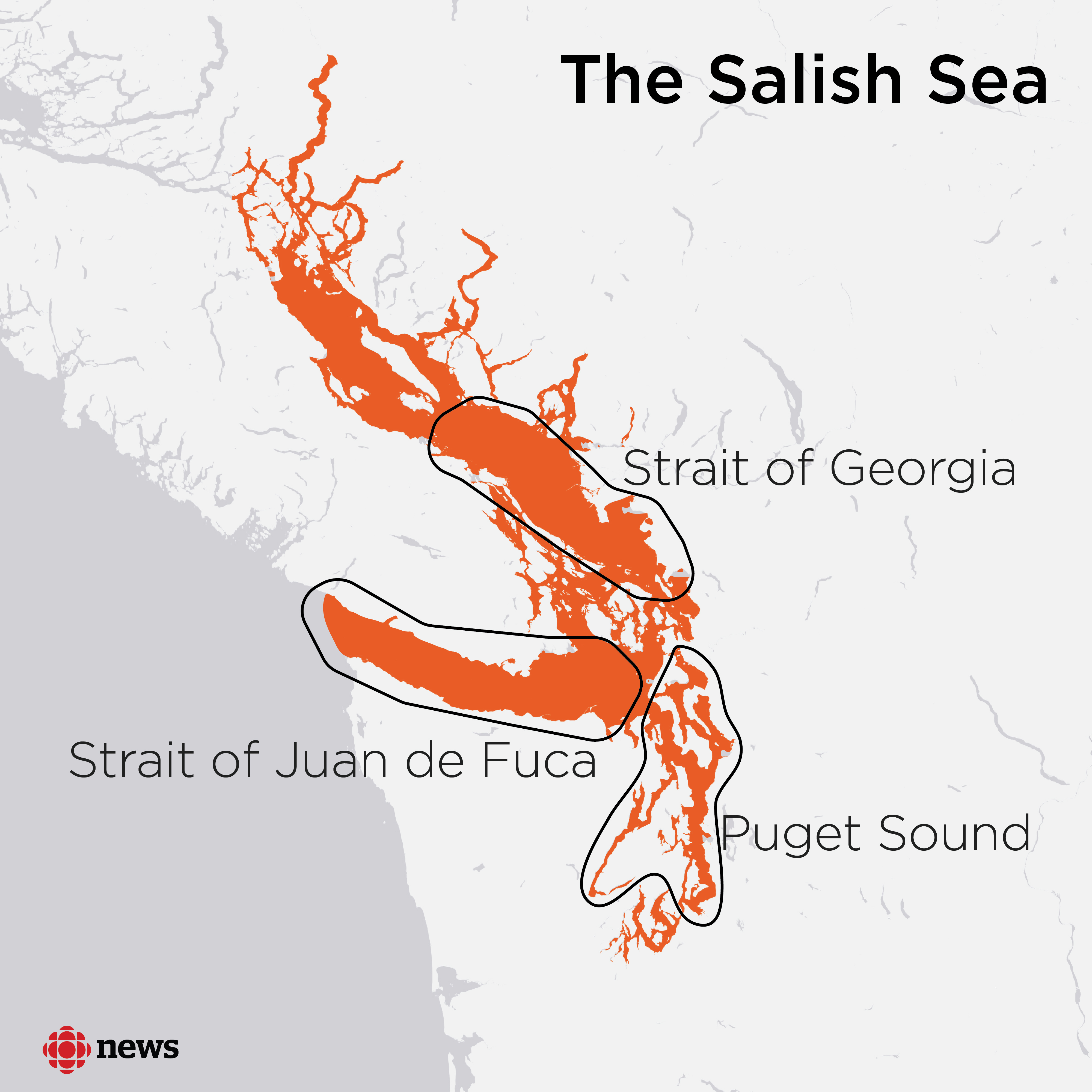 B.C. waters are home to four distinct populations of killer whales, but the fish-eating southern residents are the only ones that seem to be struggling.
The population is made up of three groups known as pods — family groups so tight-knit that they each use their own dialect of sounds to communicate. Whales will stay connected to their mothers for life, and closely related groups form around older matriarchs.
This strong family structure is something akin to a human society, with strong traditions passed down from generation to generation, including a strong preference for chinook salmon and the skill to hunt them.
John Ford, a retired cetacean researcher with Fisheries and Oceans Canada, said it would be "a really sad thing" to lose the southern residents.
"They represent a unique culture, a population that has persisted for thousands of years," he said.
For people who live on the coast, the whales of J pod are the most familiar of the three pods. They're the most likely to show up, year-round, in the Salish Sea, including Georgia Strait and the waters around the Gulf and San Juan islands.
But the animals have been looking thin and underfed in recent months, and females of reproductive age seem to be struggling the most.
The J9 matriline is one of four family groups in J pod, and its hardships have frequently been in the news. Click on the linked names below for more information. The tree includes all deaths since 2015, as well as mother whales that have died.
You can see the full J pod family tree here.
The struggle of the J9 family
Researchers believe they're not getting enough of their main prey — chinook salmon. That may be because of declines in abundance of the fish, or because underwater noise is making it difficult to use their echolocation skills in hunting.
"They're restricted in summer months to feeding on salmon that are all bound for either the Fraser River, the Columbia River or nearby streams," said Lance Barrett-Lennard, director of the marine mammal research program at the Vancouver Aquarium.
"If there's a correlated decline in chinook salmon in all of those systems ... then they're in real trouble."
There's also some suggestion their relatives in the northern resident population are catching a lot of the chinook before they return to southern resident hunting grounds to spawn.
Whatever the reason, the population hasn't produced a calf that survived past infancy since 2015, although a baby spotted with J pod in May has brought new reason for hope.
Orca spotters began ringing the alarm early this summer after the southern residents failed to make their usual appearances in the Salish Sea throughout June, before finally popping up off the west coast of Vancouver Island in early July.
Even then, two whales appeared to be missing. Right now, researchers believe there are at most 76 southern resident orcas, down from a high of 98 in 1995.
But this isn't necessarily rock bottom for the population — they've hit lower numbers in the past.
In the mid-1970s, there were only 71 southern resident orcas, just before the numbers began surging upward again, according to data from the Center for Whale Research in Harbor, Wash.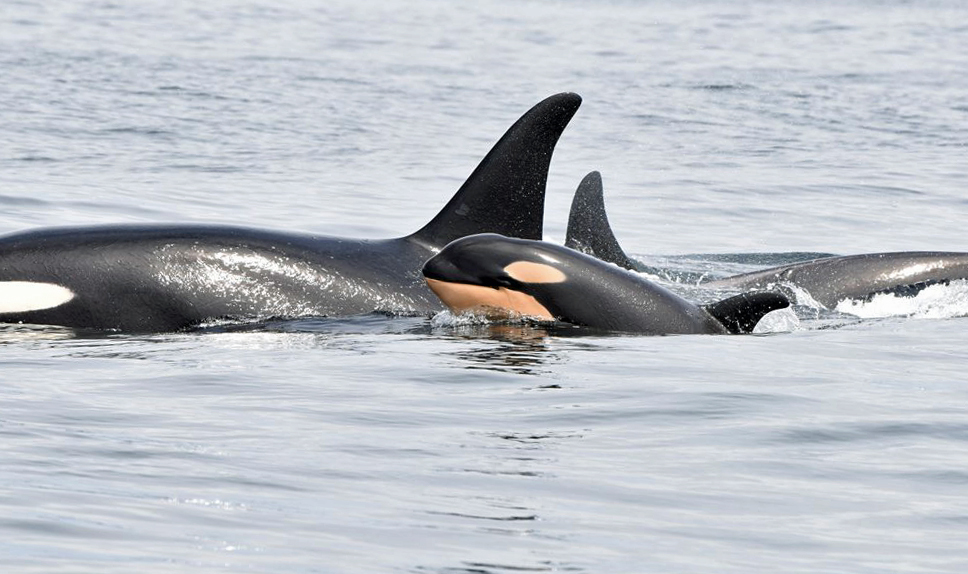 Barrett-Lennar said he's not ready to give up on the southern residents. He pointed out that killer whales around the world seem to have no problem surviving in small populations.
"Having said that, this is very unusual. If it wasn't for this huge and recent public interest in conserving them, I'd say they were doomed, but there's so much effort right now being devoted to them that if they're lucky … I do think they have a chance," Barrett-Lennard told CBC.
Coastal First Nations want to play a central role of that effort.
The Tsleil-Waututh and the Lummi, along with the Tulalip Tribes in Washington, have called for a moratorium on new ship traffic in the Salish Sea, arguing it would protect the southern residents from further harm.
"Between the Roberts Bank Terminal [in Delta] and Trans Mountain and the U.S. Navy, everyone's doing something in the Salish Sea. They're doing the assessment of their impact but they're not looking at the broad picture of impacts and it's driving the life out of the Salish Sea. And we're done with it," Russo said.
For more on the future of the southern resident killer whales ...
Listen to a new CBC British Columbia podcast. Killers: J pod on the brink is hosted by Gloria Macarenko. The first episode comes your way July 18.
You can subscribe now, wherever you get your podcasts.