"I feel comfortable here. Like I've been here before."

American artist Thayer Carter runs a Newfoundland flag up a small wooden flagpole in front of Kent Cottage in Brigus.
It's a wooden structure that has a storied history, thanks to its connections to legendary U.S. painter and illustrator Rockwell Kent, Carter's grandfather, who was drawn to the rugged landscapes and coastlines.
Carter is the Landfall Trust's artist-in-residence at Kent Cottage this summer, and this is his first trip to Newfoundland and Labrador.
As he gets the flag up he's thinking about his beloved grandmother, Kathleen.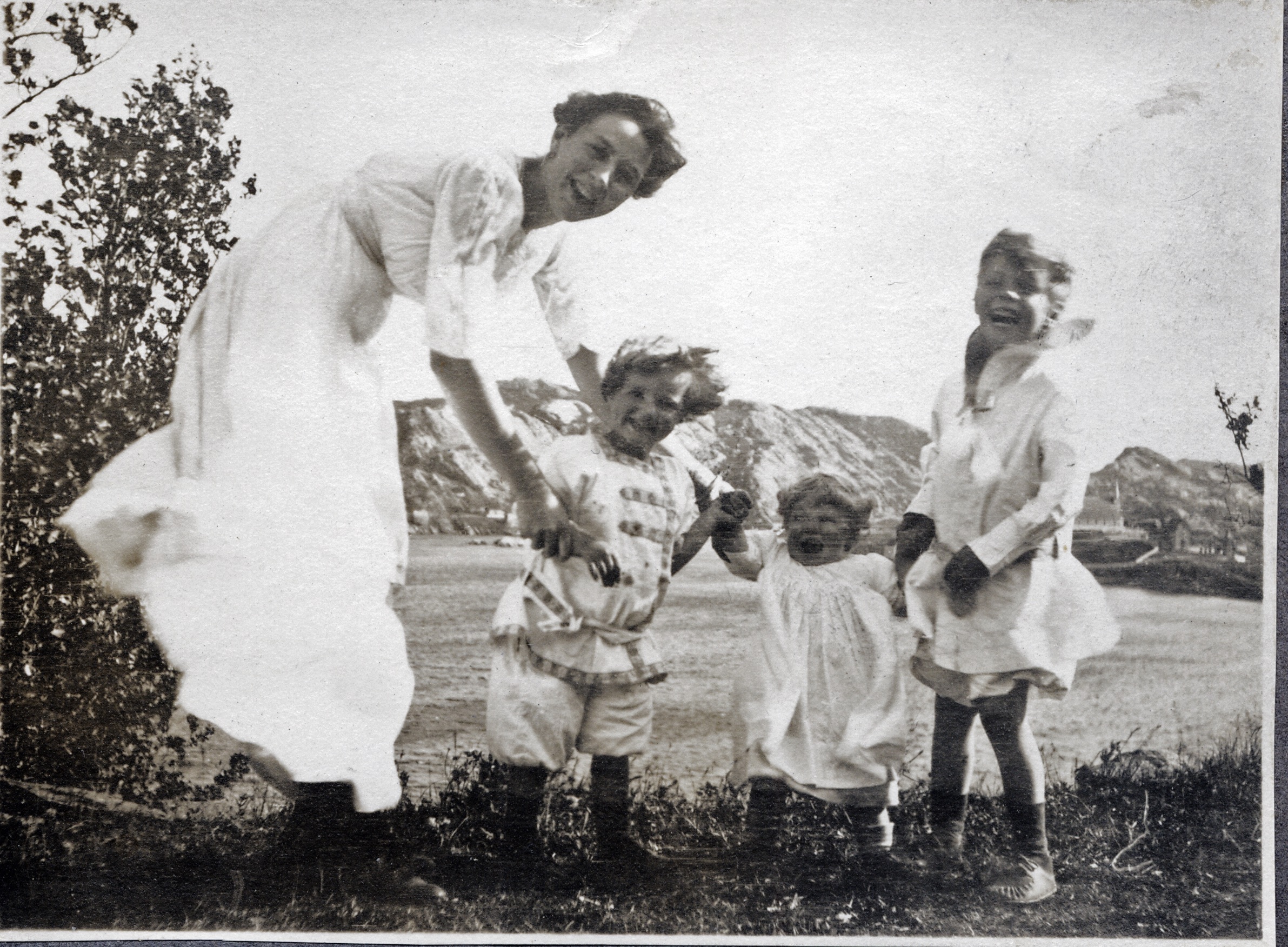 Carter points to an overgrown area of bushes, just below the long veranda extending across the length of the cottage and overlooking Brigus harbour.

"I see some of her work here. Over the ledge here was this walled in area. And that was her garden area. I look over wall here and I see that. I almost see her," he said.
"Her presence is very much in this place, just as much as Rockwell."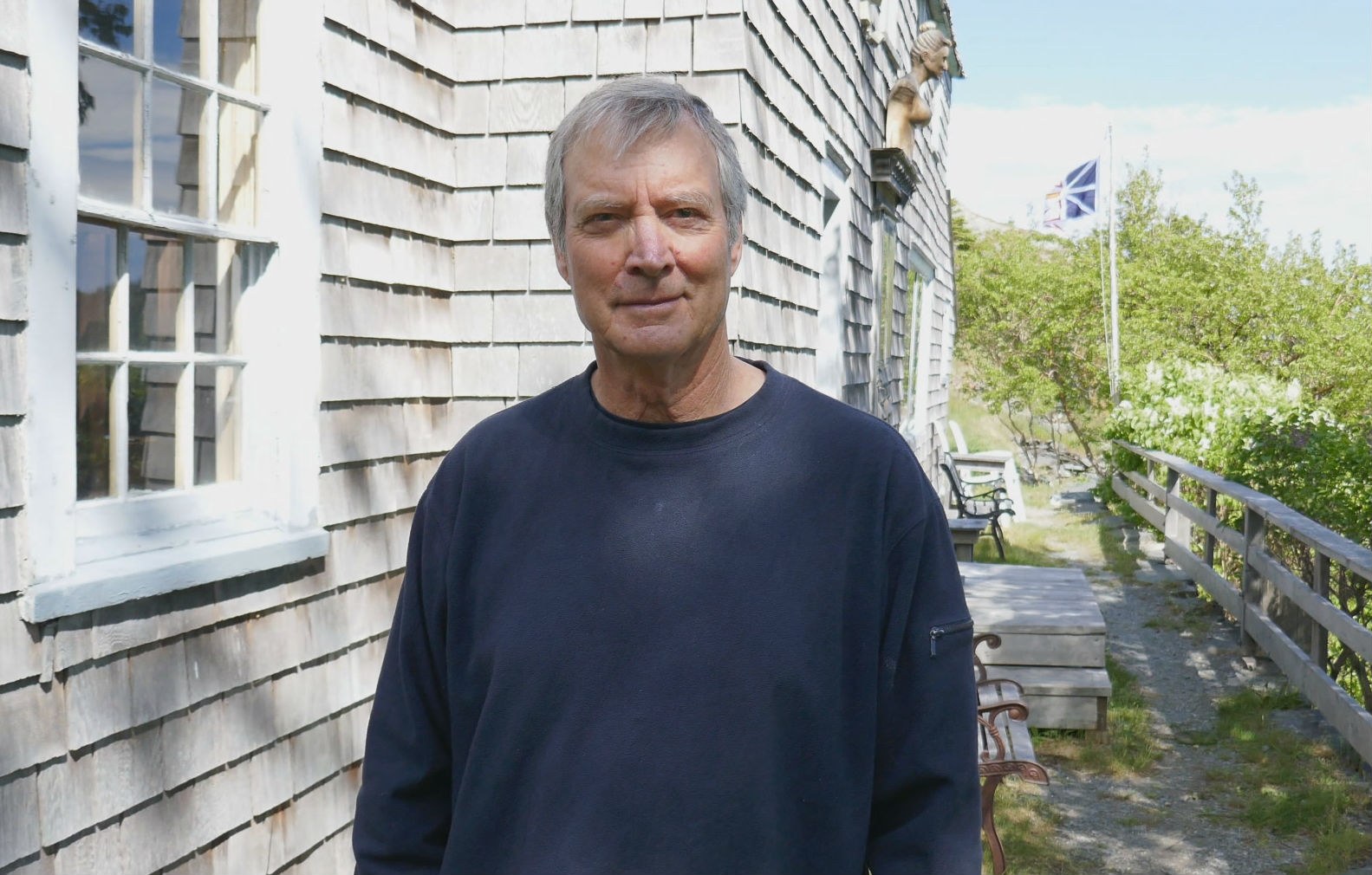 Short stay, high drama
Carter's grandparents — Rockwell Kent and his wife Kathleen — and their four young children, including Carter's mother, Barbara, lived on this property a little more than a century ago.

For someone who only spent about 18 months living in Newfoundland, Rockwell Kent left quite the impression.
Attracted by the wild scenery, Kent moved to Brigus with his young family in the winter of 1914. He refurbished an old house in an isolated area on the north side of town, and added a wing for his studio.

However, Kent was no recluse. Free spirited, opinionated and sociable, Kent quickly dove into community life, appearing in a local play and helping to establish a tennis club.
He rubbed shoulders with the who's-who of Brigus, including explorer Capt. Bob Bartlett, but made enemies as quickly as he made friends.
Kent got into a public quarrel with the local pharmacist, and when the First World War broke out, he irritated his neighbours by singing German folk songs and painting a German eagle on his studio.
Rumours began to circulate that Kent was a German spy. In July 1915, a member of the Brigus Constabulary and a plainclothed police officer from St. John's knocked on his cottage door and ordered Kent and his family to leave immediately.
The Kents were gone by the end of the month.
Rockwell Kent: The legend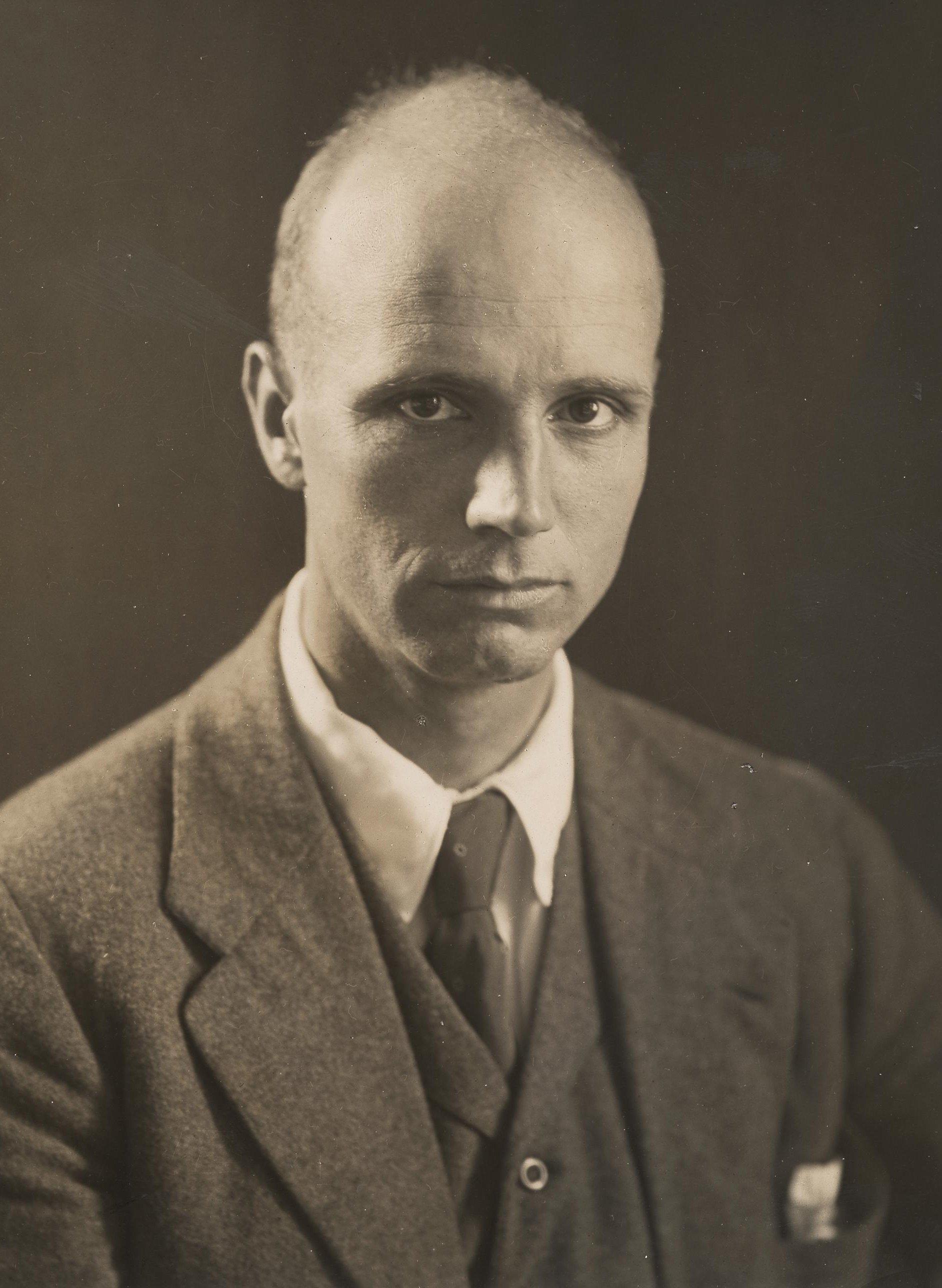 Kent wrote vividly about his time in Newfoundland in his 1955 autobiography. Canadian author Michael Winter made a fictionalized version of the artist the main character in his 2006 novel, The Big Why.

Rockwell Kent's painting, lithographs and woodcuts, including a lot of work either made in or inspired by Newfoundland, can be seen at galleries across North America. In the summer of 2014, The Rooms Art Gallery in St. John's mounted a retrospective of his work.

The Kents' stay in Brigus may have been the stuff of legend in Newfoundland, but Carter said he didn't hear much about it when he was growing up, even though his mother was born in St. John's.
He suspects it was a hard time for his grandmother Kathleen: she was caring for three children and pregnant with a fourth, living in a relatively isolated area, while her husband was embroiled in a local political scandal.
"And dealing with her husband," Carter added to his grandmother's list of stressors at the time.
"It was work for her. It was a job. She held on and did a really great job."
Finding his own voice
Thayer Carter seems to be a much lower-key resident of Kent Cottage than his grandfather. [Curiously enough, the cottage is not named after Rockwell Kent, but rather than the county of the same name in England.]

Tall and softspoken, he has lived quietly for the past several decades in New Mexico.
His paintings, watercolours and woodcuts often show the landscape and culture of the American Southwest, and scenes from his travels in South America, Asia and the Caribbean.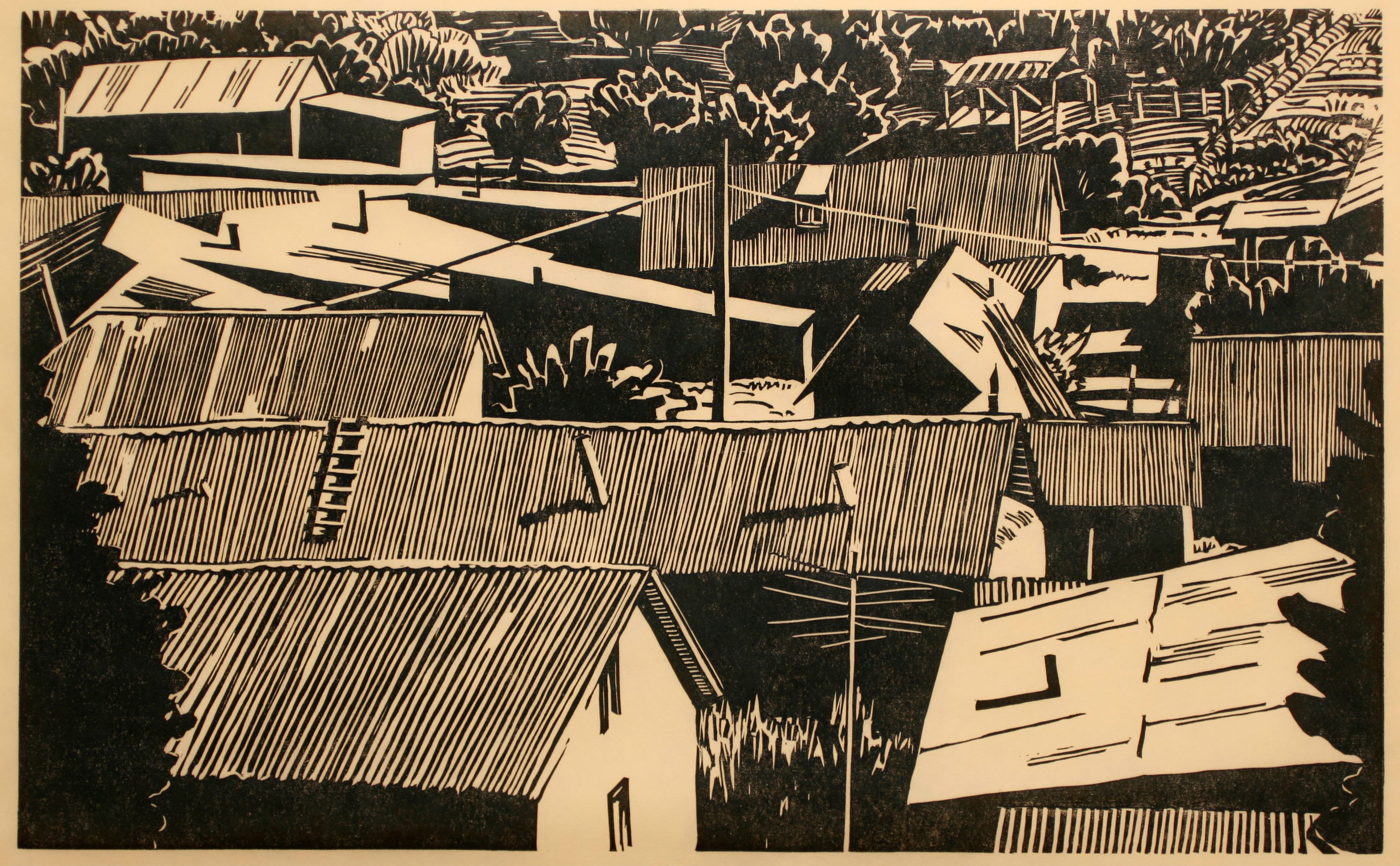 Carter said he grew up in a house filled with Kent's art — including, for a time, the painting House of Dread, which is based on Kent Cottage.

Carter said when he was younger, he tried to distance himself from Kent's work in order to discover other artists and styles.
"But it's genetic, you know? I discovered it so much easier to surrender to it and just be myself."
'Coming back to the beginning'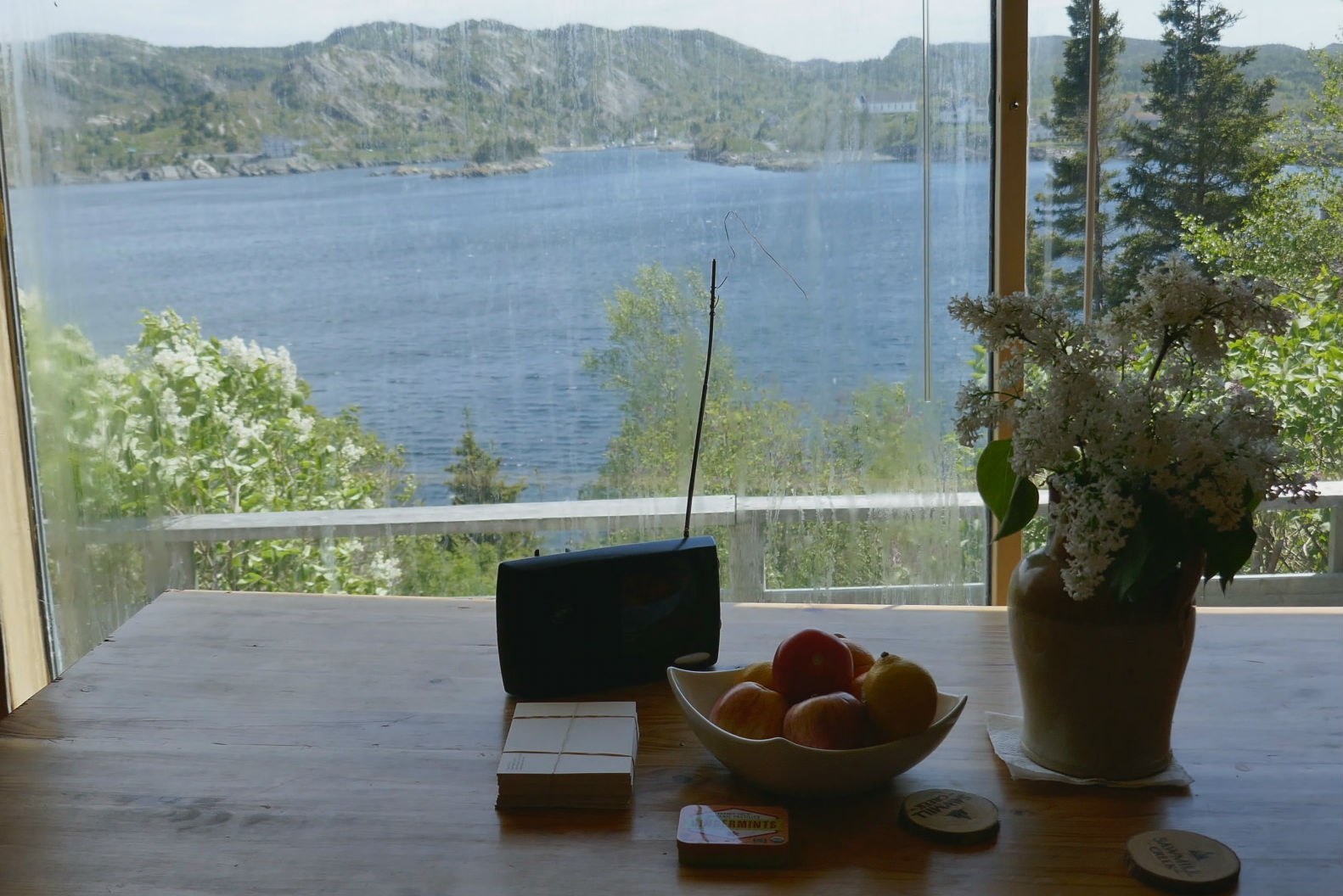 Kent Cottage, built about 200 years ago by the Pomeroy family, is situated on an eleven-acre parcel of land called Landfall, on the rugged north side of Brigus.

The property is operated by a non-profit group called the Landfall Trust, which makes Kent Cottage available for artists' retreats.
In a throwback to Rockwell Kent`s time, the cottage is off the electrical grid, has no internet connection, and is accessible mostly by foot.
Carter has been working in his grandfather`s studio, where he hears a stream in the back of the house, the ocean in the front, and the wind almost all the time.
He describes his work right now as "gathering information," taking photographs and making preliminary sketches on long hikes around Landfall, and painting watercolours in his grandfather's studio when the weather keeps him indoors.
That studio is where he feels most connected to his grandfather.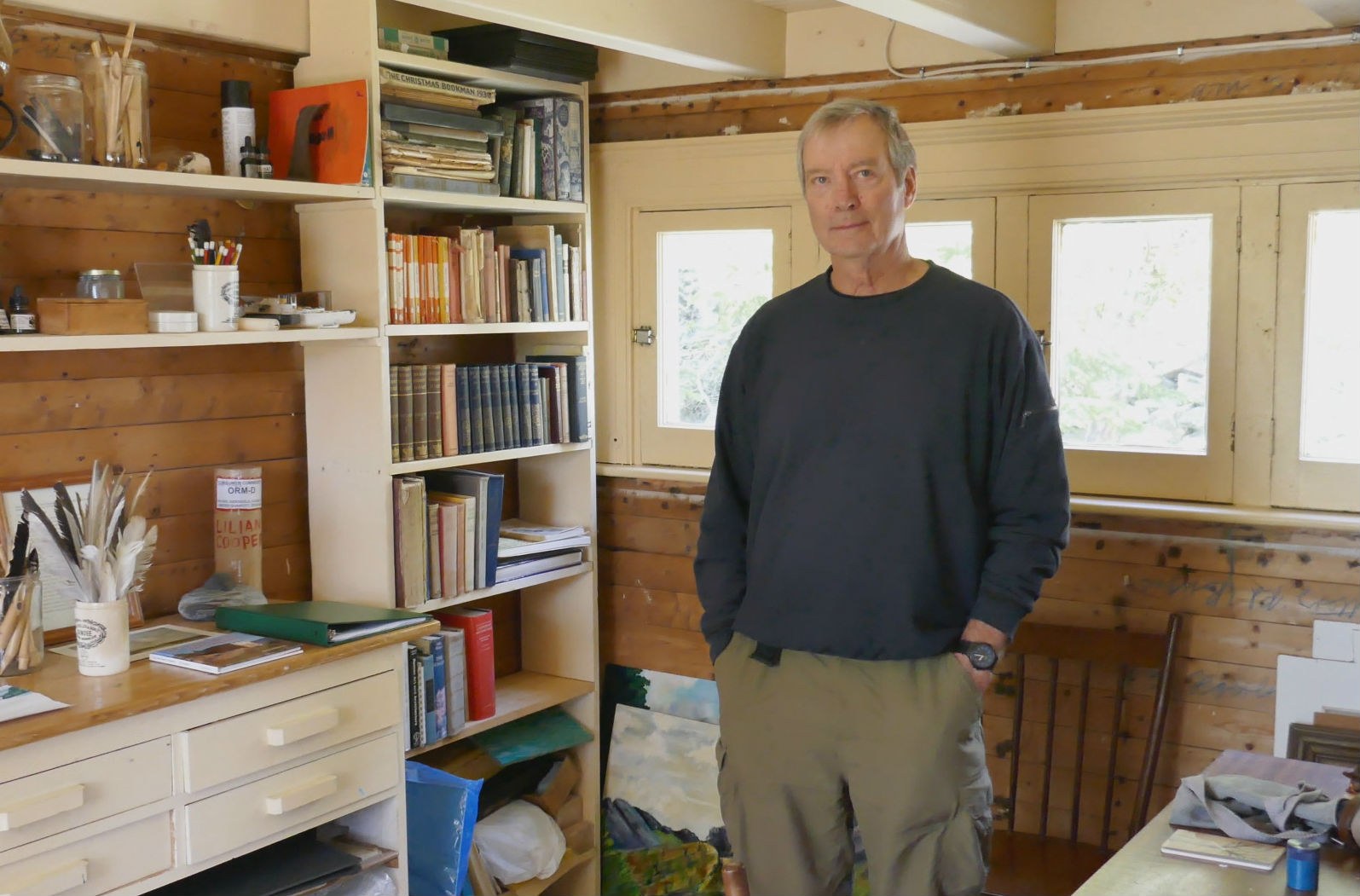 "The rest of the house was here, but this is Rockwell," said Carter.

"He chose the length and width of this room, and the height of the ceiling."
In his own way, Carter is also getting involved in community life.
He's hosting an open house on July 8 from 2 p.m. to 4 p.m. at Kent Cottage. On July 11 at 7 p.m., he is giving a presentation on his work at St. George's Church in Brigus.
As he prepares for these events, his grandparents and his mother are very much on his mind.
"I just wonder what she would think," said Carter of his mother.
"It's making a large circle, coming back to the beginning."
Heather Barrett is the host of Weekend AM, heard each Saturday and Sunday across Newfoundland and Labrador on CBC Radio One. Listen to highlights from the program here.