They needed to get on the plane.
After all the money they spent, injections taken and pills swallowed, Nanci and Colin Corcoran couldn't fathom not making it on their flight to Nova Scotia.
It was Valentine's Day 2017 and most flights in and out of St. John's were grounded by a wicked winter storm. The weather was the only thing stopping them from reaching the fertility clinic in Halifax.
"Everything was on the line and we couldn't get out of our province," Nanci Corcoran said.
The couple put everything they had — emotionally and financially — into having a child.
In addition to both of them working 40-hour weeks in St. John's, the couple decided to buy a restaurant and pub in St. Mary's where they worked long hours on the weekends.
"Every decision we made in the 2016-2017 years was, 'How are we going to fund the next round' [of fertility treatments]," Colin Corcoran said.

The decision to leave the province for in-vitro fertilization (IVF) — the costly procedure which involves fertilizing an egg with a sperm outside of the body — came after a series of devastating events.
Nanci suffered two miscarriages and multiple failed IUI — intrauterine insemination — treatments before fertility doctors in St. John's suggested they find an IVF clinic in another province.
The service is not offered in Newfoundland and Labrador.
So, there they were — in the airport, in tears.
"Our options were getting pretty slim but it wasn't really a question of if we were going to have children, it was how." - Colin Corcoran
Eventually, they did make it to the clinic in Halifax, and had two embryos transferred.
But it didn't matter.
"It is the most agonizing two-week wait of your life," Nanci said.
"You go through the two-week wait with IUI as well, but IUI doesn't have your entire life savings, your credit, your everything riding on it like IVF does."
Within a week, the couple learned the transfers didn't work.
They took two more trips to the Halifax clinic to transfer the remaining embryos.
All negative.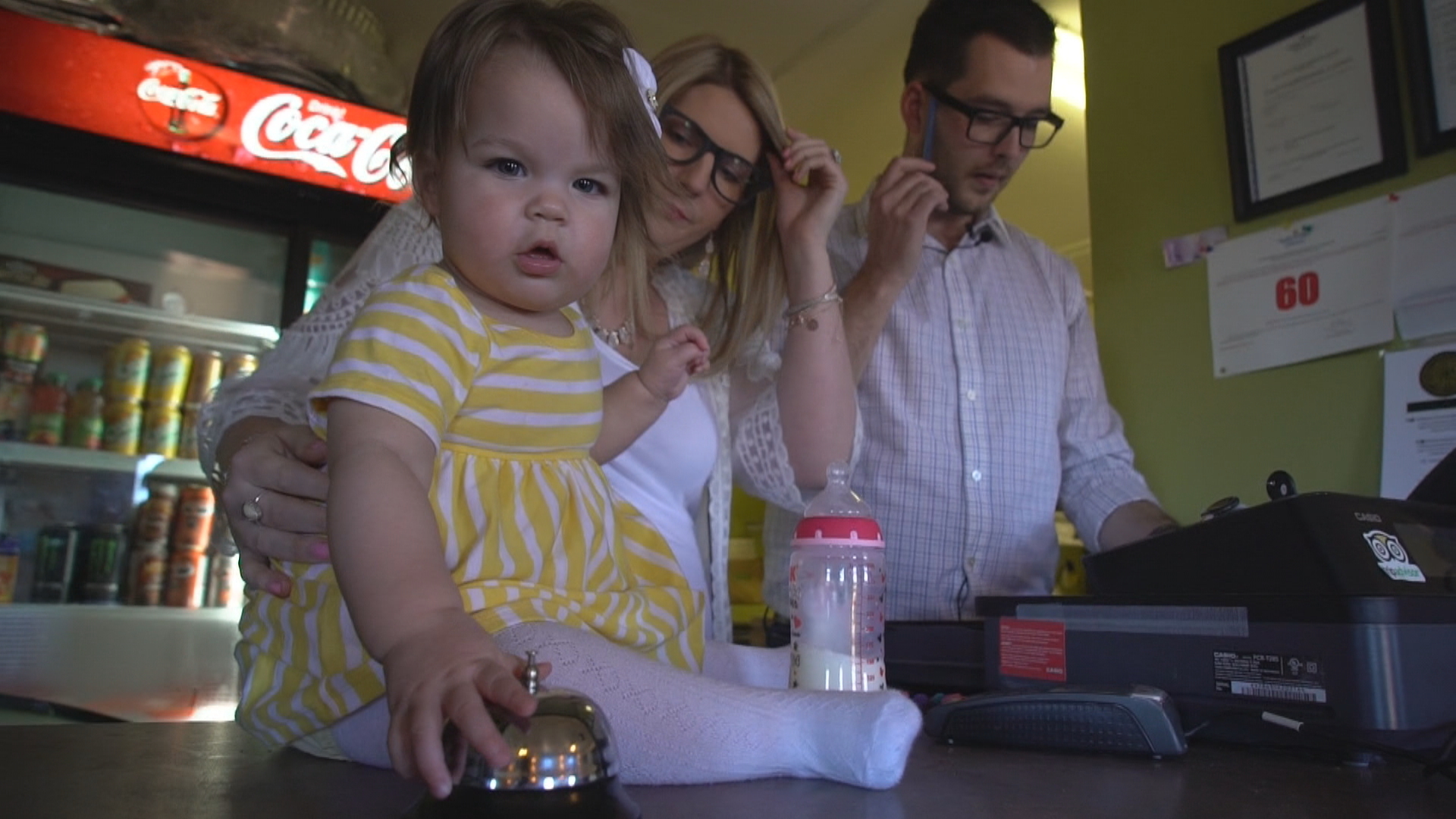 Heartbroken and desperate to become parents, the Corcorans put a "for sale" sign on their house.
"Our options were getting pretty slim, but it wasn't really a question of if we were going to have children," Colin said.
"It was how."
They decided to do their ninth IUI treatment in St. John's to bide time before planning their next round of IVF, this time in Calgary.
Much to their surprise, it worked.
"She's the $50,000 miracle baby," Nanci said, her daughter Nora on her lap. "And she's worth every penny.

"And we actually got our bogo [buy one, get one] baby in the works," Nanci smiles, patting her pregnant belly.
The couple estimates their journey to parenthood — clinic fees, hotels, flights, accommodations, food, rental cars, medications —cost about $50,000 to 60,000.
In one year, Nanci Corcoran said she expensed over $2,800 in fertility drugs covered by her insurance provider.
1 in 6 N.L. couples
An estimated one in six couples experience infertility in Canada.
There is a fertility clinic in St. John's which offers a number of services, including IUI, donor insemination and ovulation induction.
Doctors also provide pre-screening, prescriptions and counselling to prepare women to leave the province for IVF.
But Newfoundland and Labrador and Prince Edward Island are the only two provinces in the country that do not offer IVF services.
Most IVF clinics in Canada operate privately. In Quebec, the service is covered under government health insurance.

Provincial healthcare in Ontario covers one IVF cycle for all female patients under the age of 43 who are in need of fertility treatment.

In Manitoba, residents can avail of a fertility treatment tax credit worth 40 per cent of treatment costs to a maximum of $8,000 per year.
New Brunswick offers a one-time $5,000 grant.
Newfoundland and Labrador, which has increasingly more deaths than births each year, offers nothing in the way of financial assistance.
Data compiled by the Newfoundland and Labrador Centre for Health Information shows there were 74 births in 2017-18 by assisted reproduction, ovulation induction, intracytoplasmic sperm injection, embryo transfer and in-vitro fertilization.
There were 67 live births the year before and 71 the year before that.
In total, more than 4,000 newborns were delivered in the province last year

Colin Corcoran believes government could sustain a cost-neutral clinic in the province to help grow that number.
"This seems like a sure shot. This seems like a way to increase the population in a way that solves two pains," he said.
"When it comes down to it, it's a little bit of thought [and] a little bit of public policy change."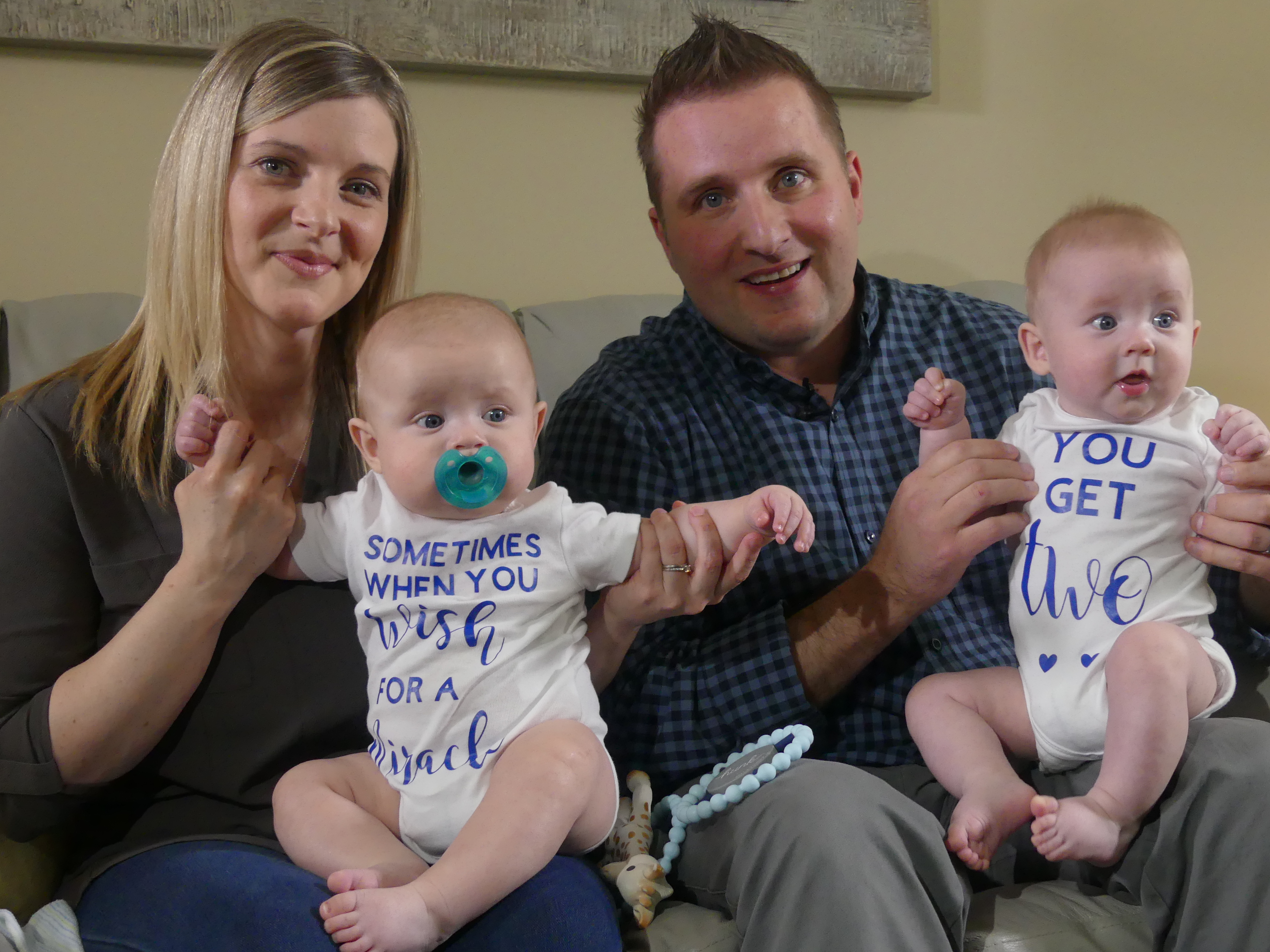 In a neat split-level home in Paradise, Cory and Jennifer Mitchell cuddle and speak softy to their twin boys — Austin and Clarke, who wear matching onesies.
If you tell them they have their hands full, the Mitchells will tell you they wouldn't want it any other way.
Like the Cornorans, the Mitchells know the financial and emotional struggle that comes with having to leave your home for a chance to have a child.
Unlike the Corcoran family, they got lucky first try with IVF, but the journey to get there wasn't any less painful.
"The biggest part of going away was doing this whole thing away from our home, in a strange place, in a hotel," Cory Mitchell said, fighting back tears.

One of the biggest challenges to get politicians and members of the public to start talking about infertility is awareness, Cory Mitchell said.
Whether it's provincial government support or a local IVF fertility clinic, the Mitchells hope more families can get the opportunity to become parents.
"Everybody should be able to experience this," Cory said, gesturing to his son perched on his knee.
"Not a lot of people talk about infertility. It's a very difficult subject to talk about. The cost is big. We're one of the fortunate ones."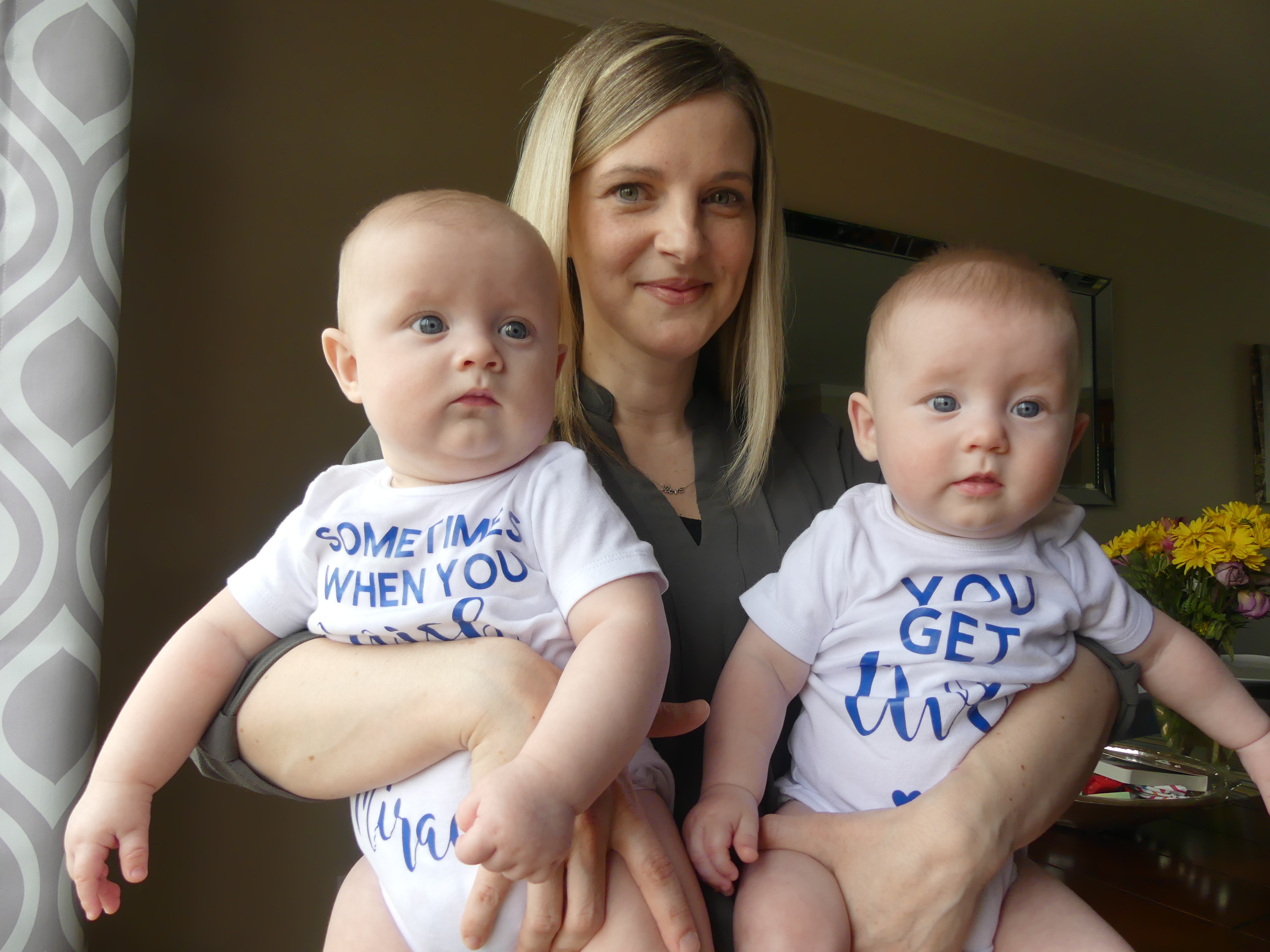 There are others who have not yet experienced the joy Cory and Jennifer Mitchell gush about.
Kara Carter and her husband Matthew have been trying to have a baby since they were married in 2012, trying IUI and IVF.
Nearly seven years later, they are still trying for their baby.
"We've gone pretty far. We've decided to start using an egg donor," Kara Carter said.

They, too, have spent tens of thousands of dollars.
"One suggestion I had would be similar to the home buyers' plan, where you could use your RRSPs and not get taxed," Matthew Carter said.
"You could use it toward IVF services or the travelling involved."
And as for emotional support, Kara said that is also not without its flaws.
The last counselling session she attended was in the Health Sciences Centre, directly across from the case room where newborn babies waited for their parents.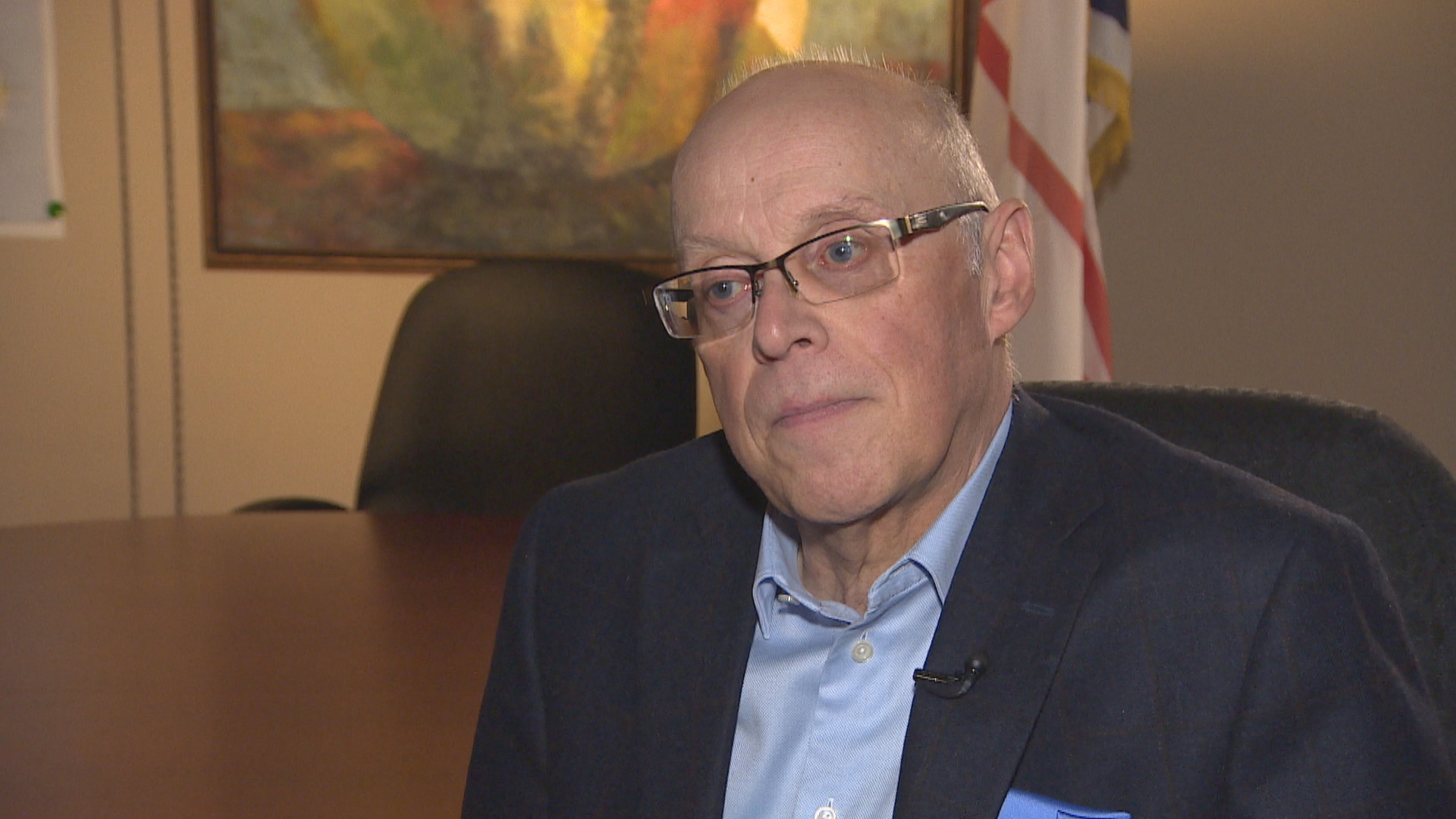 Health Minister John Haggie admits he can't fully appreciate the pain these families have endured — he's never been in the situation they have.
There is nothing on the horizon to support individuals and families for IVF, he said.
"In the future, there is a discussion to be had about whether or not IVF and assisted reproduction technologies should become part of the insured basket of services," Haggie said.
"But that's a broader discussion."
"It would be something we would consider if we were in a position to do that financially." - John Haggie
The provincial government currently spends over $670,000 per year to fund the fertility clinic.
However, Haggie said the population and the province's fiscal situation create barriers to expand that clinic's capabilities.
"There are certain procedures in this province that would never be as well done here, simply because of the volume of patients," he said.
In 2014, Dr. Terry O'Grady, a fertility specialist, approached the provincial government with a proposal.
She wanted to see the province cover direct medical costs for patients leaving the province and for the province to spend the money to enhance the existing lab in order to offer IVF.
O'Grady figured the province would save money.
Because travel costs are so high, couples often transfer multiple embryos in hopes of increasing their chances at pregnancy. In turn, the odds are higher for twins.
By having the service closer to home, O'Grady proposed the province would save money on hospital costs associated with care at the newborn intensive care unit (NICU).
Haggie said he has not heard any calls for additional funds or service in several years.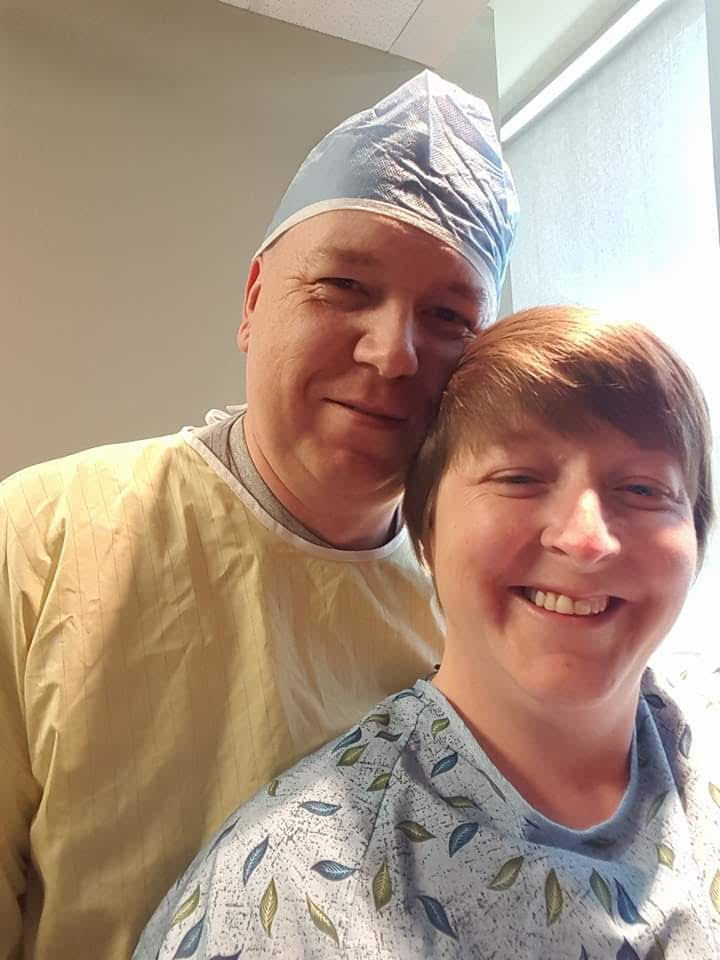 Holly Gibbons considers it short sighted to rule out fertility assistance as a means to increase the population and keep the families who want children in the province.
She and her husband began their journey to parenthood in 2011.
"We spent $25,000 outside the Newfoundland economy because they didn't offer any options here," Gibbons said from her Mount Pearl home.

In 2014, an estimated 70 people left the province to seek IVF treatment.
But the number of people who would avail of the service if it was funded or available locally is hard to quantify.
"I know there are people who won't look into IVF because of the cost," she said.
The pain of multiple failed pregnancy attempts and a miscarriage is raw and apparent on Gibbons's face.
Her expression quickly changes as her 22-month-old son Henry's voice snaps her back from heartbreaking memories.
"Very happy, very healthy, very talkative like his mama," she smiles.
"We are very lucky."