It was a steamy July 1 in Hong Kong, the kind of afternoon that made Andy retreat to his parents' air-conditioned apartment. Sitting anxiously on the couch, his eyes were glued to the streaming video on his phone — a scene unlike anything Hong Kong had ever witnessed.
"It was so very, very, intense," Andy said. "I wasn't expecting that."

On the screen, a masked protester was bashing a heavy metal cart into the glass doors of the Hong Kong legislature, sending shards flying. A crowd of youths, wearing black T-shirts and yellow construction helmets, cheered him on. And staring back from inside the building, through the shattered glass: rows of police in full riot gear.

Andy couldn't resist heading for the legislature.

For hardcore activists and a new generation of young protesters like Andy, who are frustrated by the Hong Kong government's apparent indifference to their concerns, this was the beginning of what online chatter called "The End Game."

For weeks, protesters had been demanding the government withdraw an unpopular bill that could see anyone in Hong Kong extradited to China to face trial in its harsh, unpredictable and politically motivated legal system. Hong Kong leader Carrie Lam had reluctantly promised to suspend the bill "to restore calmness to society," but refused to scrap it entirely.

"This June and July are probably the craziest months all of us will experience in all our lives."
"This has nothing to do with my own pride or arrogance," Lam later said in response to charges she was stubborn. Even so, she conceded that the Hong Kong public had "lingering doubts about the government's sincerity."

The End Game strategy was vague and its moves uncertain. But after weeks of large, orderly street protests — millions of voices going mostly unheard — a heated debate broke out in online chat groups. The consensus? Peaceful protests, no matter how massive, would not move Lam and her government.

After all, she was not democratically elected, but chosen by a sort of electoral college — a process influenced by Hong Kong's corporate elite and ultimately controlled by the Chinese government.

Only ramped-up civil disobedience would do the job, activists decided. Only a series of brazen acts, starting with this one: The storming of the legislature.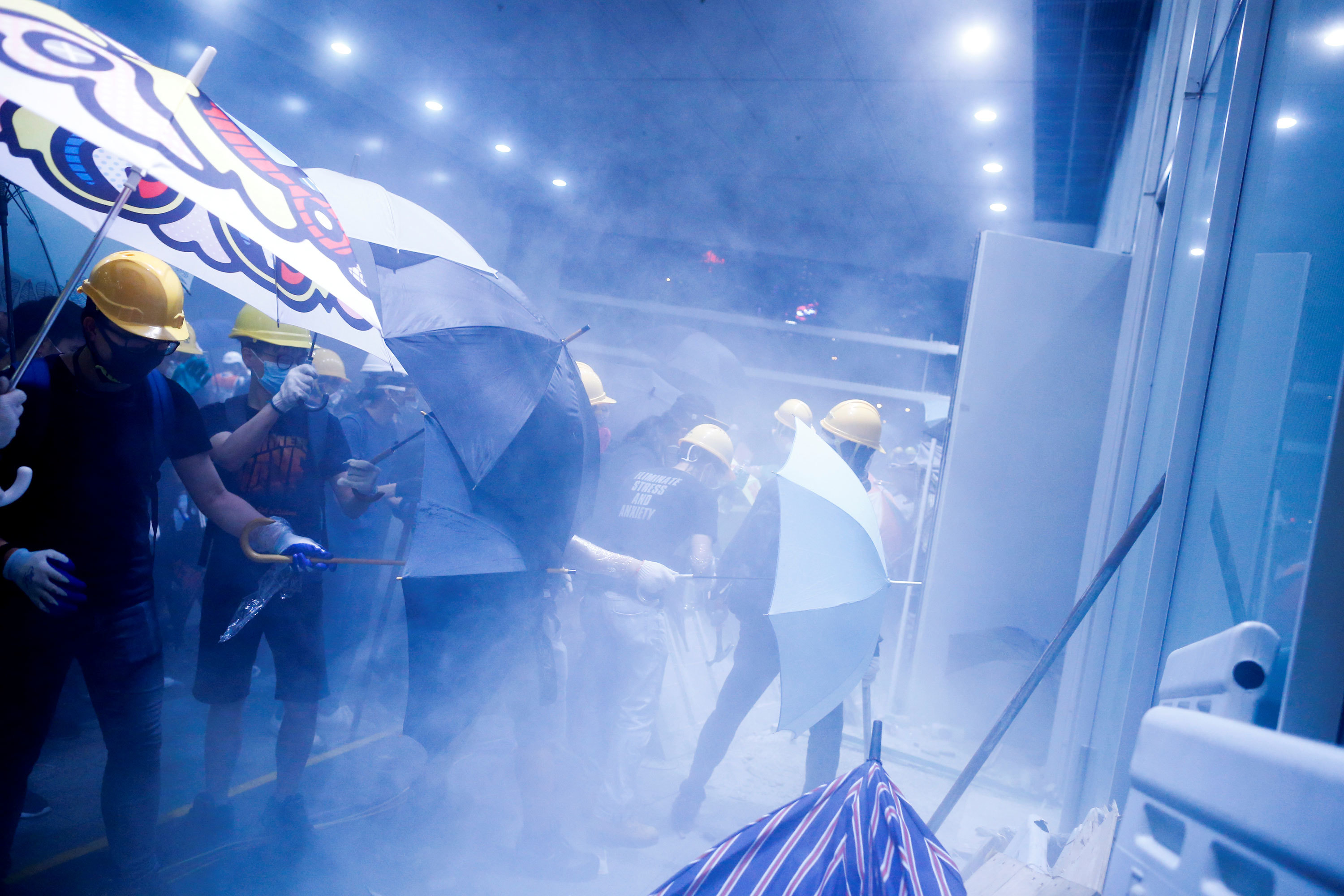 It was to be their flash of rebellion, a strike at the heart of power in Hong Kong, delivered symbolically on July 1, the anniversary of the day China took possession of the former British colony.

"I keep telling my friends," Andy said, "this June and July are probably the craziest months all of us will experience in all our lives."
II.
Andy isn't his real name — he wants to keep it hidden because he's "terrified" of being arrested for his role in the July 1 protests. But he does fit the profile of many of those behind Hong Kong's mass discontent: 20- and 30-somethings, well-educated (often abroad) and deeply worried about a Hong Kong controlled and constrained by Beijing.

Like many in this crowd, Andy is smart and exceedingly polite, not to mention slight in build and quick with a smile. It's not the sort of group you would expect to launch an aggressive assault using steel rods and battering rams.
Indeed, that's not what most Hong Kong protesters envisioned when the mass marches started, rallying a broad cross-section of society. One afternoon in mid-June, two million people — more than a quarter of the territory's population of 7.5 million — filled the city centre without a single broken window or real injury.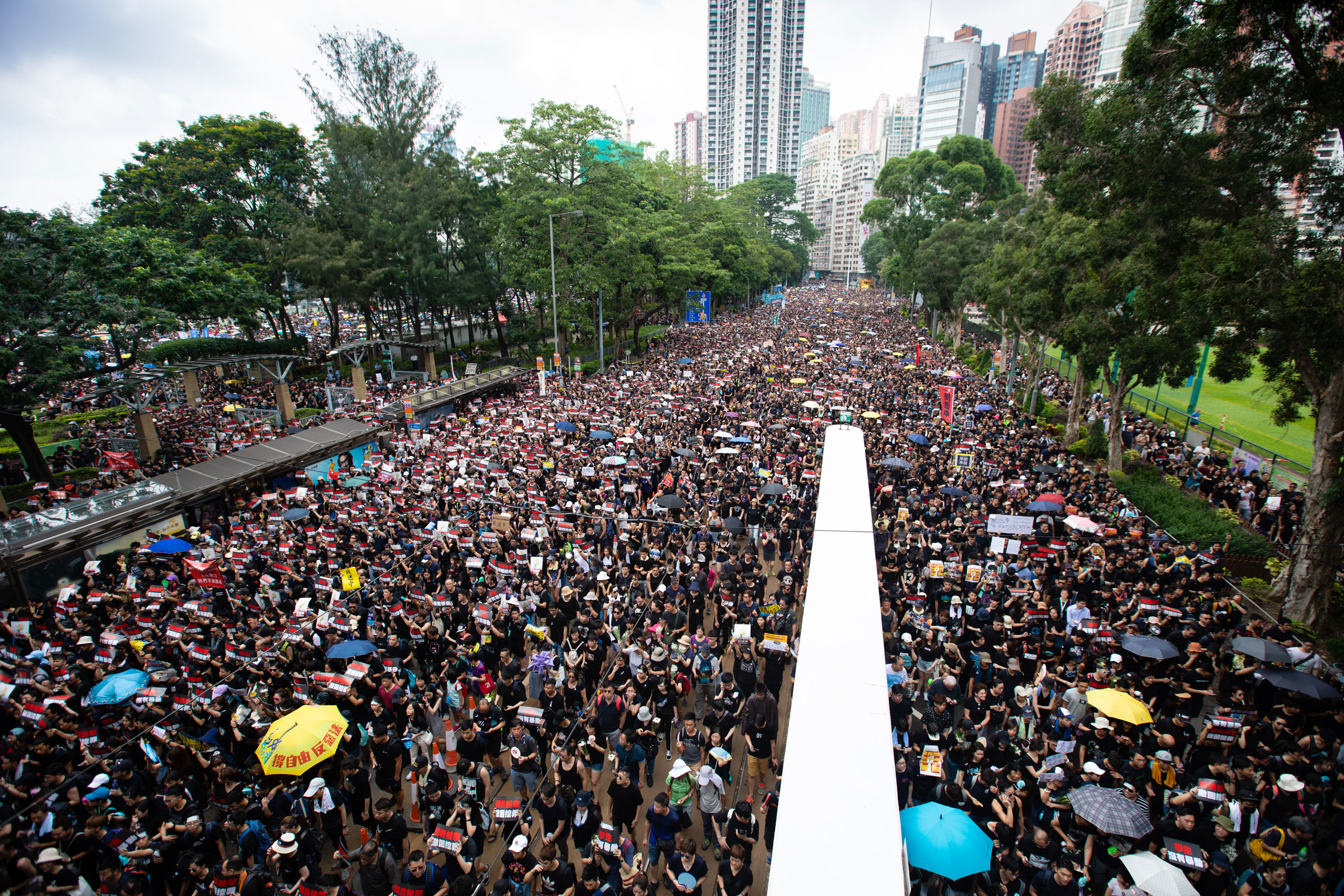 Harry (who gave CBC his first name, but didn't want his last name used) worried many more people will get hurt. A little older and more intense, Harry is what's known as a "rescuer": an experienced protester with first aid training and a self-given responsibility to look out for others in risky situations.

As much as the Hong Kong demonstrations have been organized through a casual network of online volunteers, many things have been exceptionally efficient. Beyond rescuers, some volunteers take care of supplies, everything from water to helmets. Others are in charge of recruitment for each protest, with an anonymous source even designing elaborate anime-style videos as a call to arms.
All these groups were at work at the legislature when Harry arrived on the afternoon of July 1. Thousands of protesters sat on the hot pavement under brightly coloured umbrellas, surrounding a building that had gaping holes in windows and glass doors.

Off to the side, one small group was huddled in serious conversation. The question: Was this the moment — should they try to storm the legislature?

Young activists were joined by older voices, namely veterans of the Umbrella Movement, which "occupied" central Hong Kong for 79 days of pro-democracy protests in 2014. Their peaceful civil disobedience failed to get the directly elected government they demanded, and the movement fizzled.

In the years since, democratic rights have been targeted to silence challenges to China. Activists were jailed, some opposition politicians and a political party were banned and one foreign journalist was expelled. Five Hong Kong booksellers who had been selling unflattering biographies of Chinese President Xi Jinping simply disappeared, only to re-emerge months later to read a prepared "confession" on Chinese state TV.

Before Hong Kong reverted to Chinese control in 1997, Beijing gave a written commitment that the former British colony could keep its democratic rights and a certain degree of autonomy for at least 50 years under a principle China calls "One Country, Two Systems." Quickly, though, a kind of shadowy, creeping authoritarianism set in. Beijing started using Hong Kong's own, respected court system to limit freedoms, sometimes on legal technicalities.

For the millions who took to the streets this summer, the extradition bill confirmed their worst fears about China's intentions. They felt personally threatened.

So as night fell outside the Hong Kong legislature, the veteran voices from past movements advised against going inside. But the new generation of protesters, including Harry, saw things differently.

"At the time of the Umbrella Movement, we decided to stay peaceful and sensible, but what did we get in return?" Harry asked. "We think of scaling up because we can't get what we want just by being peaceful. It is not like a kid throwing a fit when he can't get what he wants — it's just trying another way."

That "way," through the shattered glass, meant crossing a line. It risked confrontations with riot police, tear gas and rubber bullets and maybe arrest for breaking in.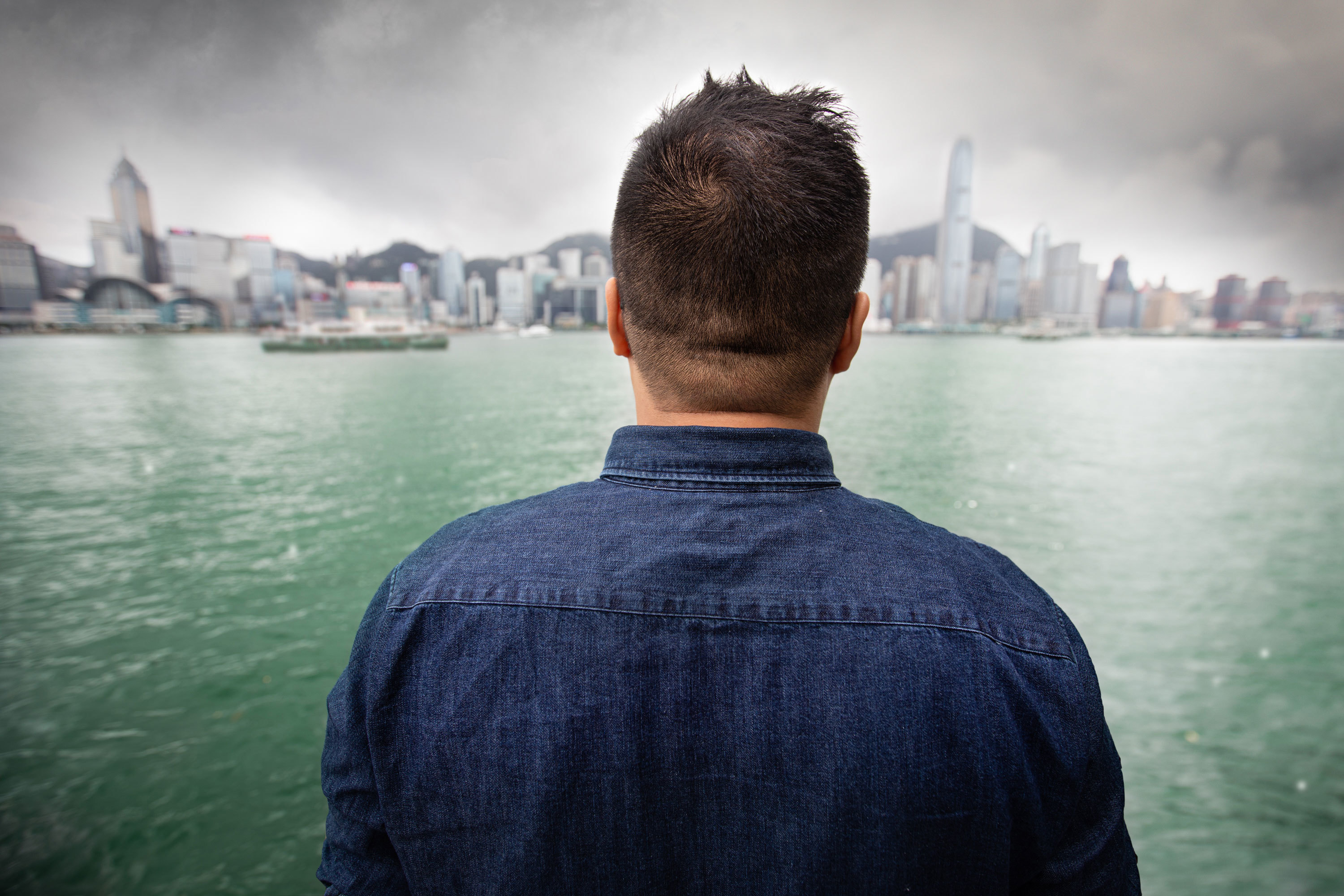 Around that time, Andy stood outside the vandalized building, hesitating. He felt both excited and nervous, determined to do his part, yet worried about the officers he had seen crowding the legislature. Live TV broadcasts from reporters inside showed police throughout the building.

"At first, I was definitely telling myself, 'No, no, no, no. This is too risky,'" he said. But then, as dozens pushed into the building, he decided he "wasn't doing much good just watching."
He headed in, "to make a difference."
III.
At that moment, the police, too, had to make a decision. They had prevailed in previous confrontations with protesters, but were barraged with complaints of brutality. Amnesty International denounced them for using "excessive force" and Hong Kongers accused them of trying to evade responsibility for their actions by removing badge numbers. Protesters demanded an independent inquiry.
Officers who were once known as "Asia's finest" were now jeered with profanities and shouts of "Shame on you!" as they walked down the street.
"They all take us as the enemy," said one police commander in an interview with the CBC. For fear of public retribution, he asked to be identified only with his initial, L.
L. is in his 30s, an experienced police officer who was at headquarters that night, giving orders to those on the front lines.
He insisted Hong Kong police have acted professionally throughout the protests, up against protesters who he "strongly disagrees" should be described as "peaceful." L. said that when demonstrators point their umbrellas or throw projectiles at police — or swear at them — he can understand how some officers "can't control themselves."
"Actually, from the bottom of my heart, I hate the protesters, including what they are asking for," L. said. "Hong Kong people should not fear extradition to China if they really believe they are innocent."
The perspective from police officers who faced the protesters at the legislature that night was equally disparaging. "I was horrified," one officer on duty told the South China Morning Post. "I had never expected such ferocity and barbarity in my entire life."
The officer, who also didn't want his name used, said the protesters "were like zombies, shattering the glass walls and gates with metal poles from the outside."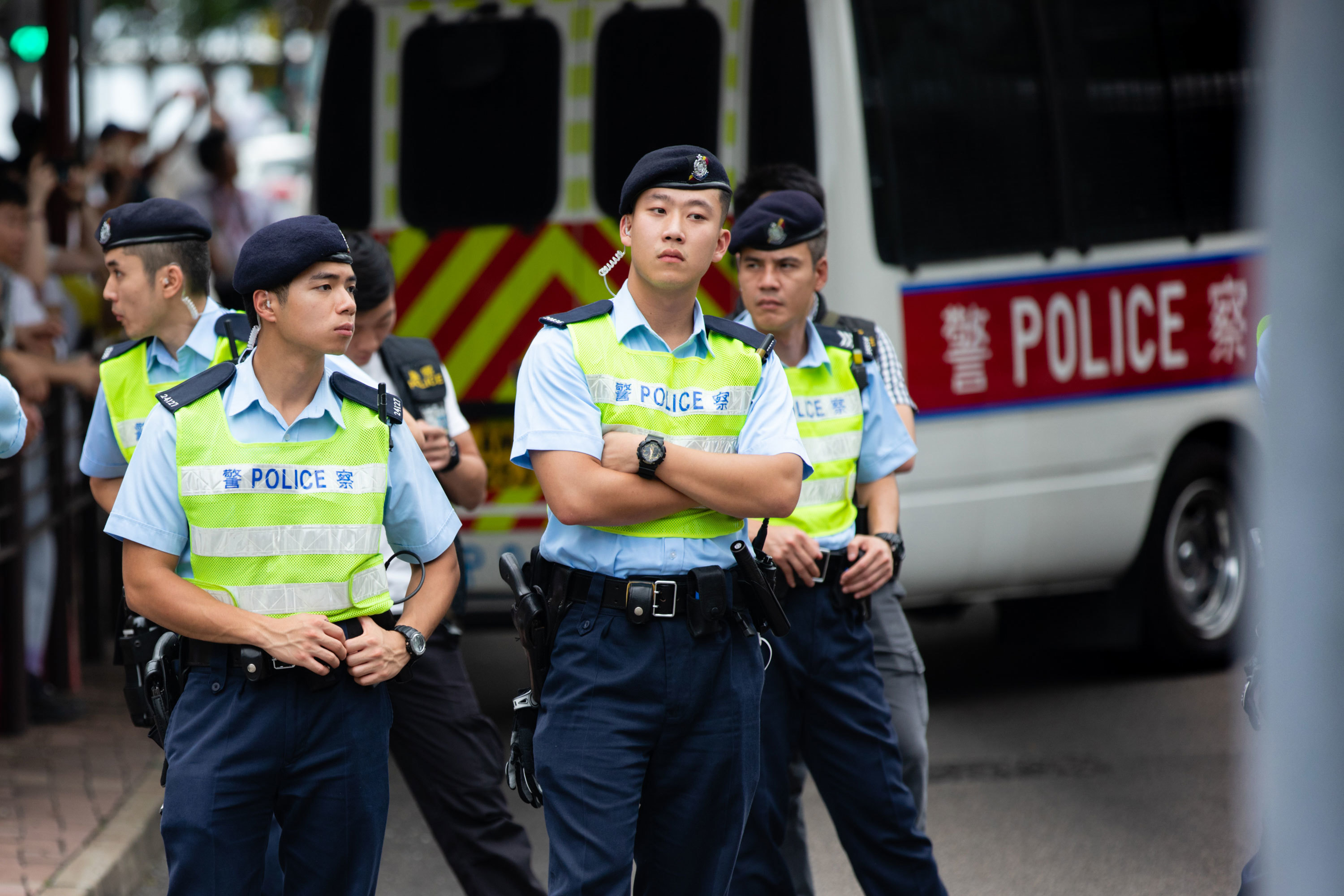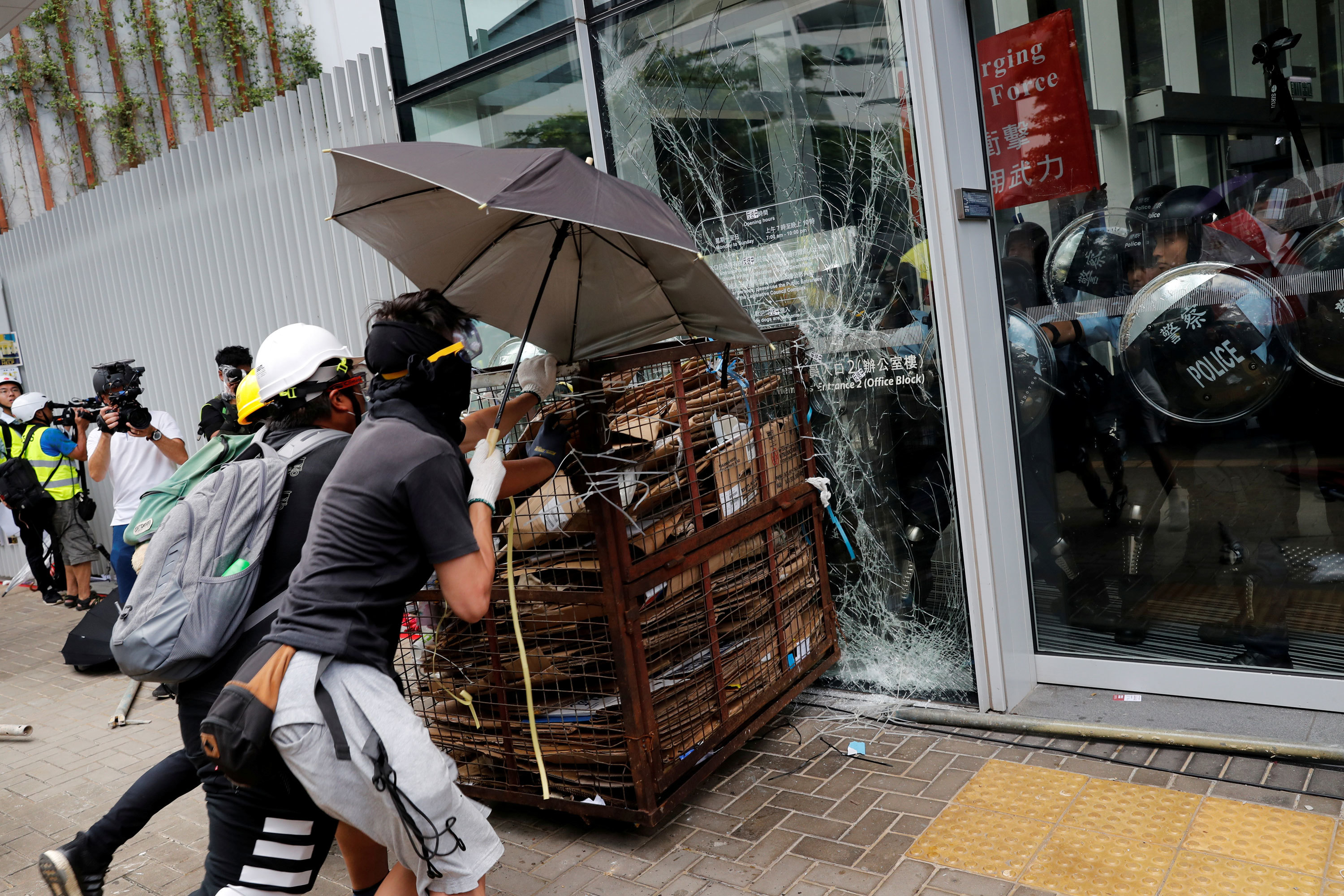 He and other officers have said they were "furious" at what happened next. Before the first protester crossed the threshold, superiors ordered all police to leave the legislature by a back door.

Harry was among the first to see the hallways empty. "I was confused and puzzled," he said. "We thought it was really a trick or a trap." As it turned out, protesters were left to roam the building at will. Harry said some were "afraid and moving slowly," while others "turned back to leave." But hundreds stayed.
They sprayed the walls with paint, defaced portraits of Lam and other politicians — although only those who have been in office since 1997. Eventually, they broke into the main legislative chamber, where they draped the podium with a British-era flag.
On Hong Kong's coat of arms, they blacked out references to the People's Republic of China. Then they took the seats of power.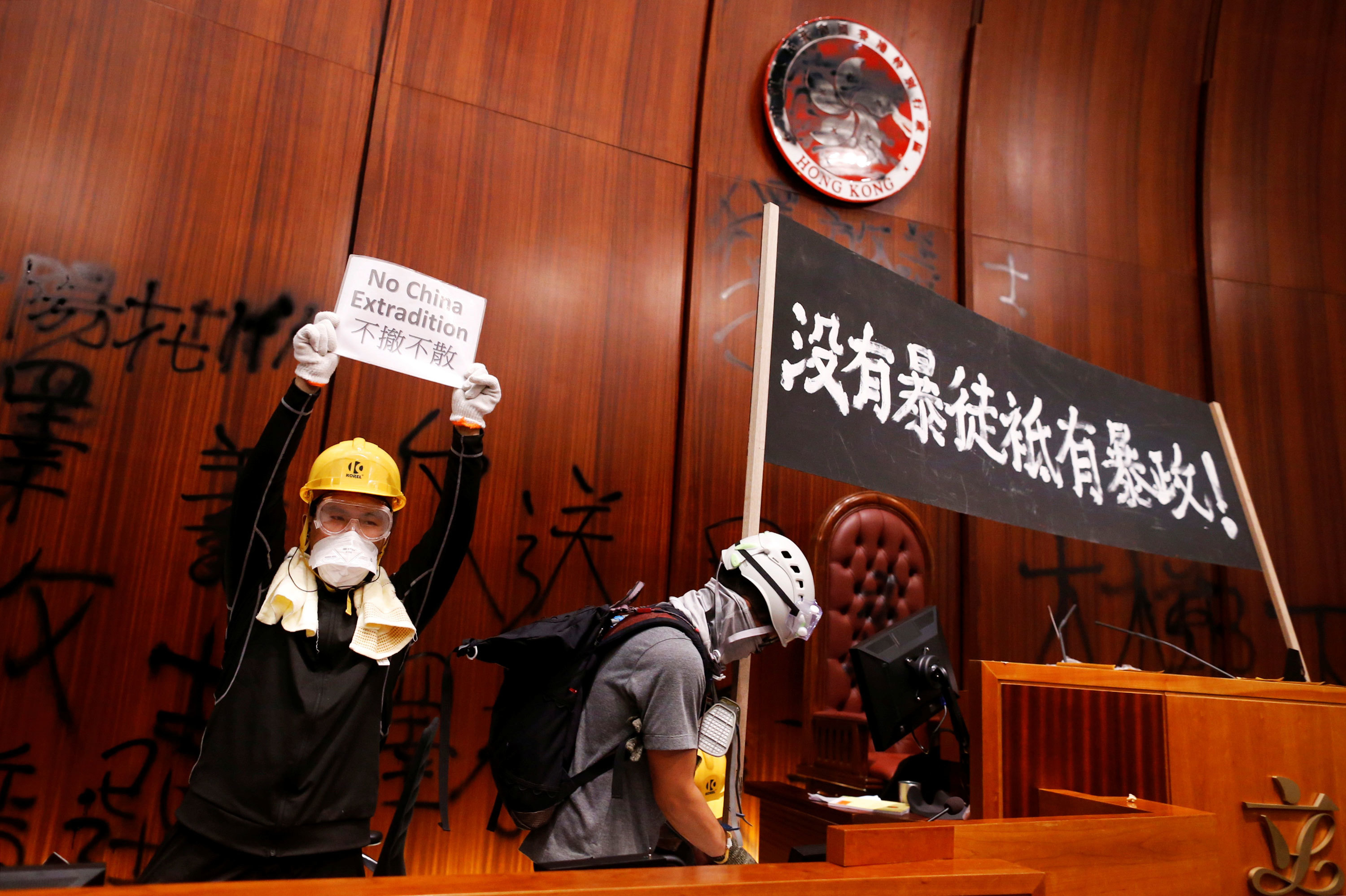 "A lot of people were very emotional inside," said Andy. "I felt like this was quite a historical chapter of the city that I've loved — but so strange."
On one wood-panelled wall, the graffiti read, "Hong Kong isn't China, not yet." Written on one pillar was an explanation of sorts for the day's events, apparently addressed to Lam herself: "It was you who taught me that peaceful marches are useless."
Even amid all the vandalism, there was a hint of courtesy. Protesters who helped themselves to soft drinks from the legislature's snack bar left exact change on the counter.
But why did the police leave? Protesters and opposition lawmakers who support them said the government ordered officers to abandon the building to try to spark a public backlash with pictures of the vandalism.
Police chief Stephen Lo denied that, saying he had "no choice" because of fears for the safety of his officers and the protesters if there had been a conflict indoors. He decided to pull back and "regroup" before returning to retake the legislature hours later.
IV.
Among the veteran activists advising the younger ones on July 1 was Kong Tsung-gan. He was involved in the umbrella protests, studied Hong Kong protest movements and has written about them.
He told the protesters not to go into the legislature, but as he watched them disregard that advice, his first feeling, he said, "was one of elation: They've done it!"
Kong said, "It really struck me as a kind of revolutionary moment. And these young people, if they could, they would overturn the system."
These protests may be a reaction to one particularly unpopular law, but the underlying frustration is much deeper. Kong believes today's young protesters are "quite a bit more radical than the young people of the umbrella movement," because they are "more fed up and less idealistic."
The most significant difference, he said, is that many of them now come from a low-income background, from the territory's public housing estates where they still live with their parents. Not as many belong to middle-class families, for whom leaving Hong Kong to study — or for good — might be an option.
Kong described those out on the streets today as "scruffier" and "tougher," with a "nothing-to-lose attitude."
They live in one of the three most expensive cities in the world, based on an annual survey by The Economist. The average rent in Hong Kong outstrips that of New York or Zurich, and is twice as much as that of Toronto or Vancouver. At the same time, minimum wage is about $6 Cdn an hour — if you can find a job.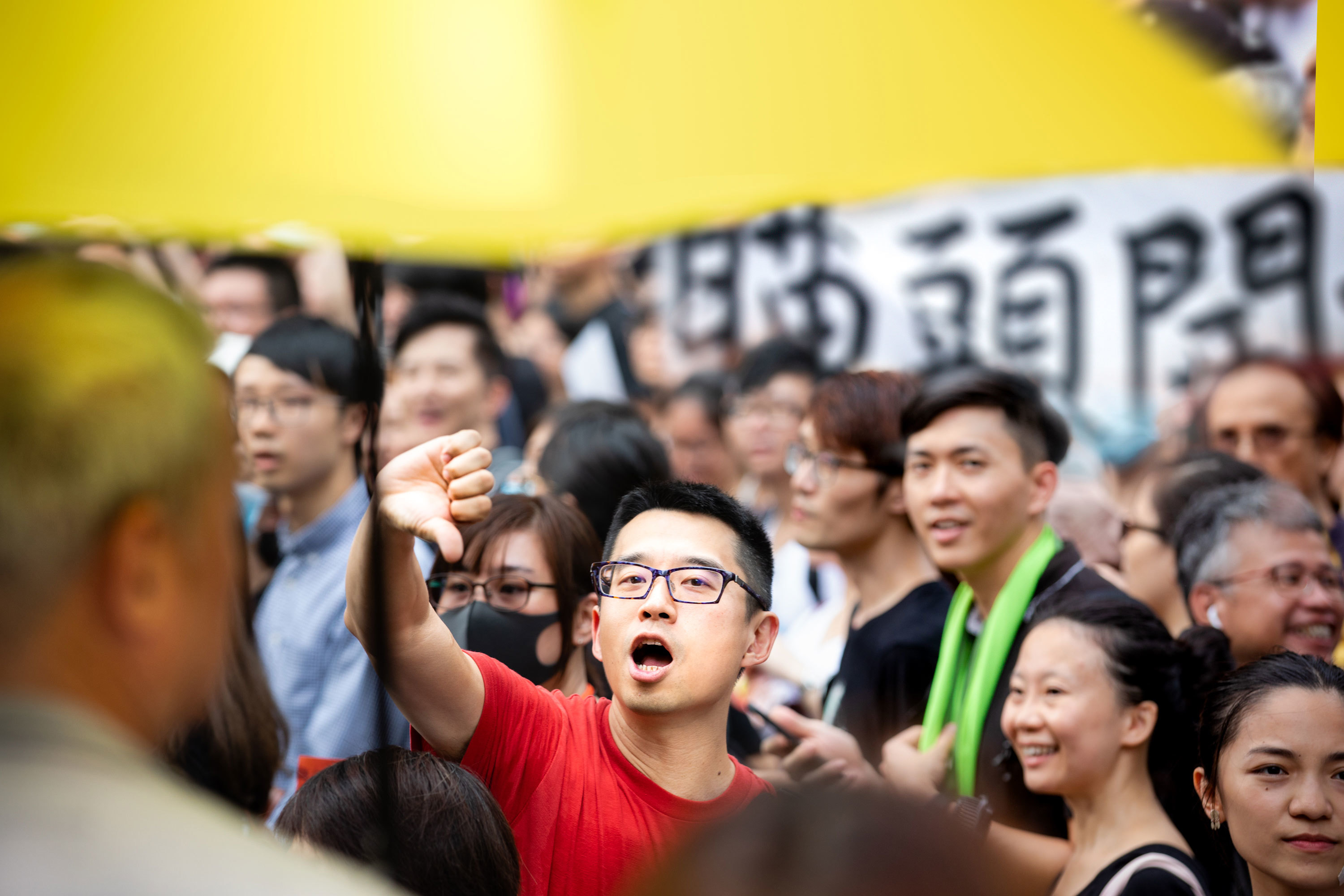 They also belong to a society that feels less Chinese than it ever has since 1997, identifying much more as Hong Kongers than with the mainland. In a recent study by the University of Hong Kong, 90 per cent of those between 18 and 29 said they were not proud to be citizens of the People's Republic of China.

Beijing supporters in Hong Kong have a different explanation for all of this. They blame foreign influence — especially by the United States — for "brainwashing" protesters. They also say the protests are funded and orchestrated by Western governments, though they offer little proof, beyond citing the support of foreign NGOs for protest organizations. They also point to snapshots of Westerners in the crowd who they say belong to the Central Intelligence Agency.
Lawyer Lawrence Ma supports Beijing and is active with an organization called the Hong Kong Legal Exchange Foundation. For Ma, Chinese involvement in Hong Kong guarantees investment and the kind of economic and social stability seen in the rest of China. It also cements frayed cultural connections.
He said that when he uses the word brainwashed to describe Hong Kongers, he's referring to "all this that's been injected into young people and in the entire population … exaggerated news about how bad China is, with nothing positive to balance it out."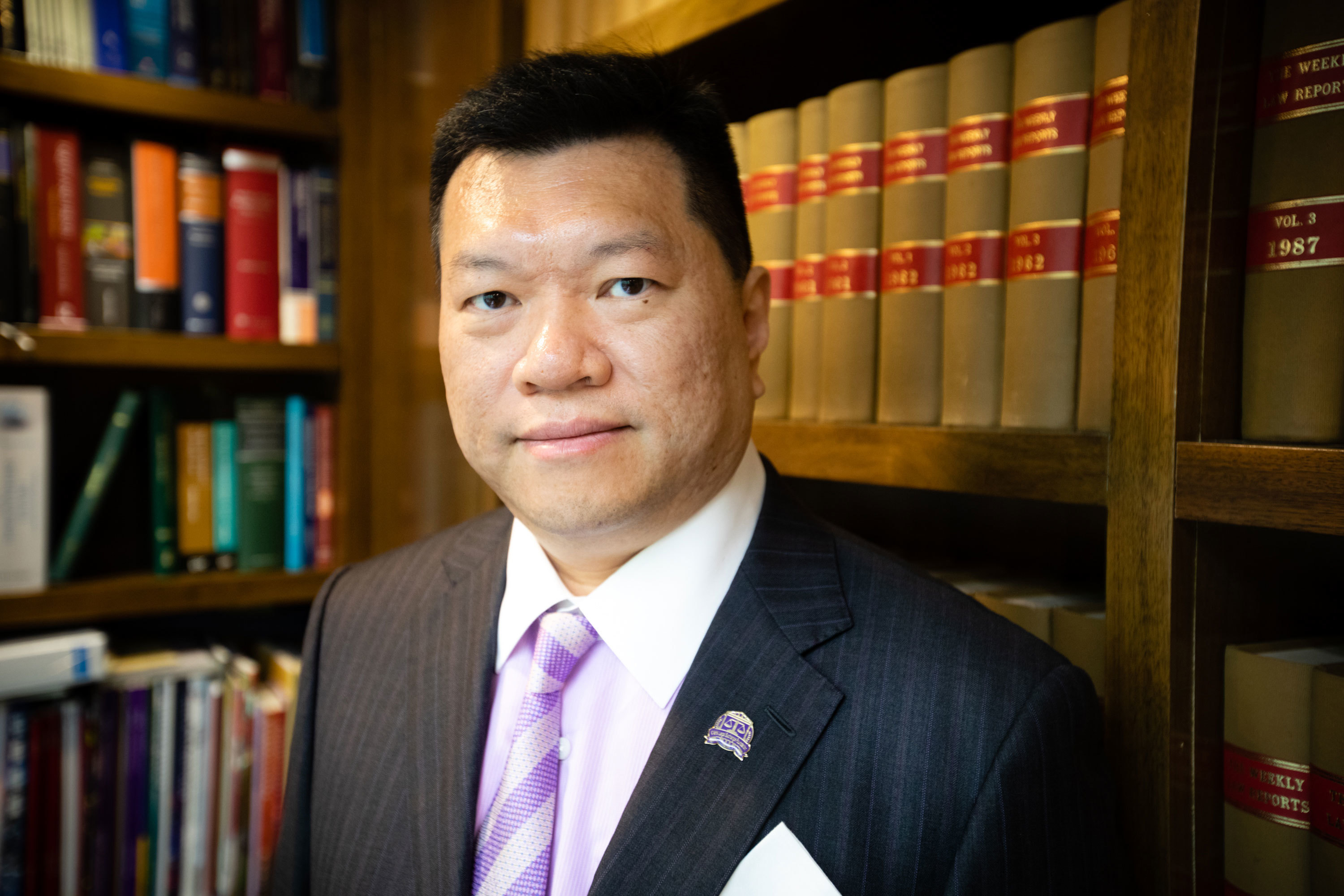 V.
About three hours after breaking in, the last of the protesters left the legislature on July 1.
By that point, Andy said, "it was like a scene from Jurassic Park, where everything was just demolished inside."
Police returned to make sure everyone had left the building, and used tear gas to clear away the remaining protesters outside. Many of them took the last subway home.
The scenes from that night shocked Hong Kong, a place that prides itself on rule of law and a sense of order. This protest struck at the heart of both.
It also energized the broader movement and brought an unexpected surge of support for the young protesters. Their mothers have held candlelight vigils. Aunts, uncles and older relatives have organized marches of their own in solidarity.
As it turns out, it was just the beginning of the End Game, one that hasn't ended at all. In the last few weeks, there have been more scenes to shock — sieges of police headquarters, sit-ins to stop subway trains at rush hour and graffiti attacks on the China Liaison Office, Beijing's official presence in Hong Kong. These have brought outrage from the mainland and hints that Chinese troops could intervene.
There have also been signs of desperation from both sides in this deeply polarized territory. Pro-Beijing mobs have retaliated by ambushing protesters on their way home, beating them with bamboo sticks and metal rods.
Meanwhile, at least four anti-Beijing activists have committed suicide, leaving evidence that their anguish was rooted in the frustrations that took them to the streets in the first place.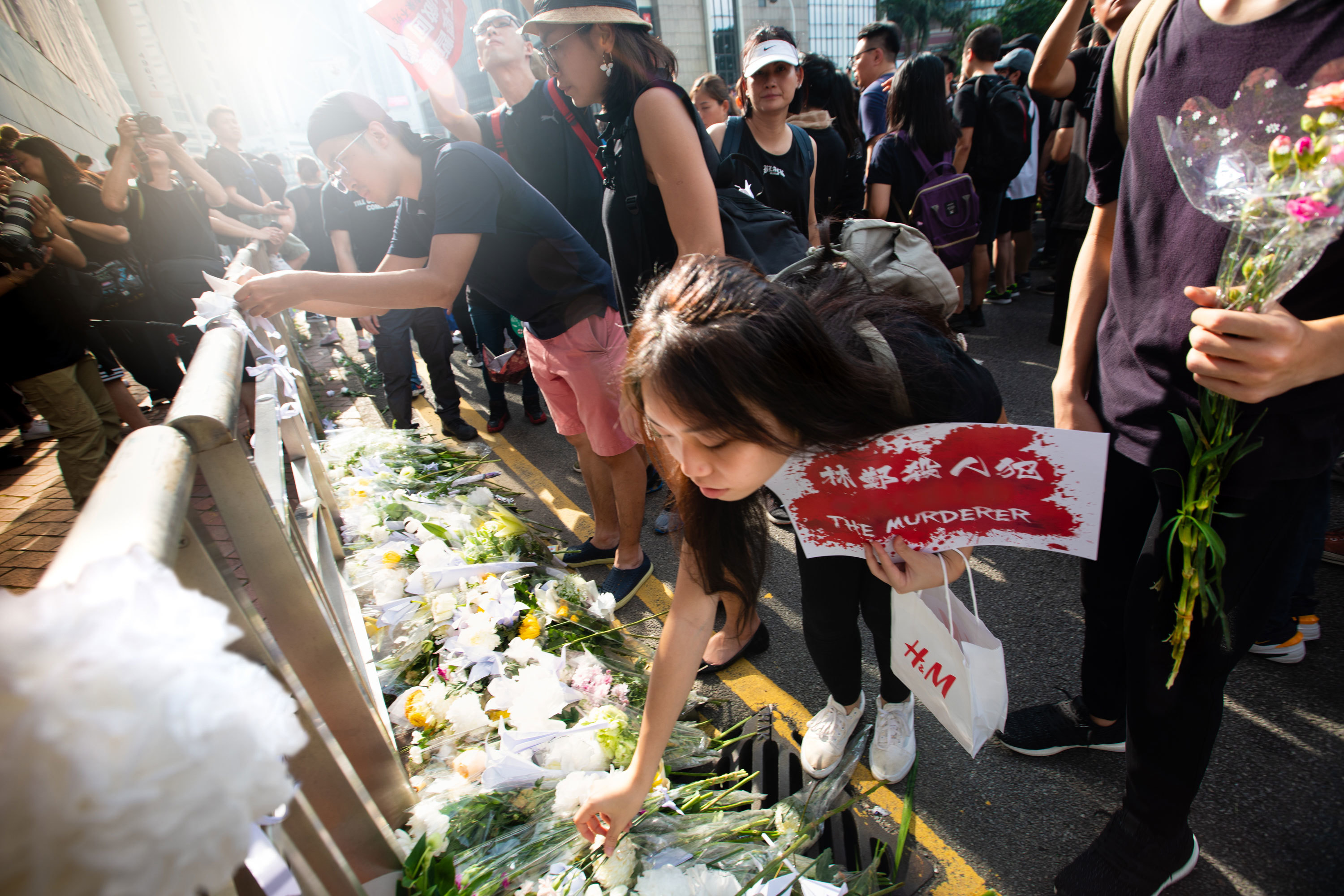 One woman jumped to her death from a stairwell in a public estate in Sheung Shui, an outlying community near the Chinese border. High up on a cement wall on the 24th floor, she left a scrawled note to Hong Kongers, explaining herself. "I hope to exchange my life to fulfill the wishes of two million," she wrote.

Then, in bold red ink, a more powerful plea: "Even though we have been resisting for a long time, we can never forget our beliefs and must persist … Please keep persisting."