Last week artist Jaimie Feener was given the honour of Top Fan for one of her favourite Facebook pages — Dr. John Haggie.
Feener has used Haggie for artistic inspiration, and it just keeps coming.
"I follow him so much," Feener laughed. "I just love everything he's doing."

Many health ministers across Canada have taken a backseat during the biggest health crisis the country has ever seen. But not John Haggie.
Newfoundland and Labrador's health minister has become the main attraction during daily COVID-19 briefings, and his quick wit and stern reminders have been embroidered and printed on posters by nurses and doctors sharing his messages.
A former general surgeon, Haggie's one-liners (for example, "If you use Tinder or Grindr and you swipe right, you might get more than you bargained for") are what memes are made of.
It's catapulted him into a category few politicians can say they've ever been: loved.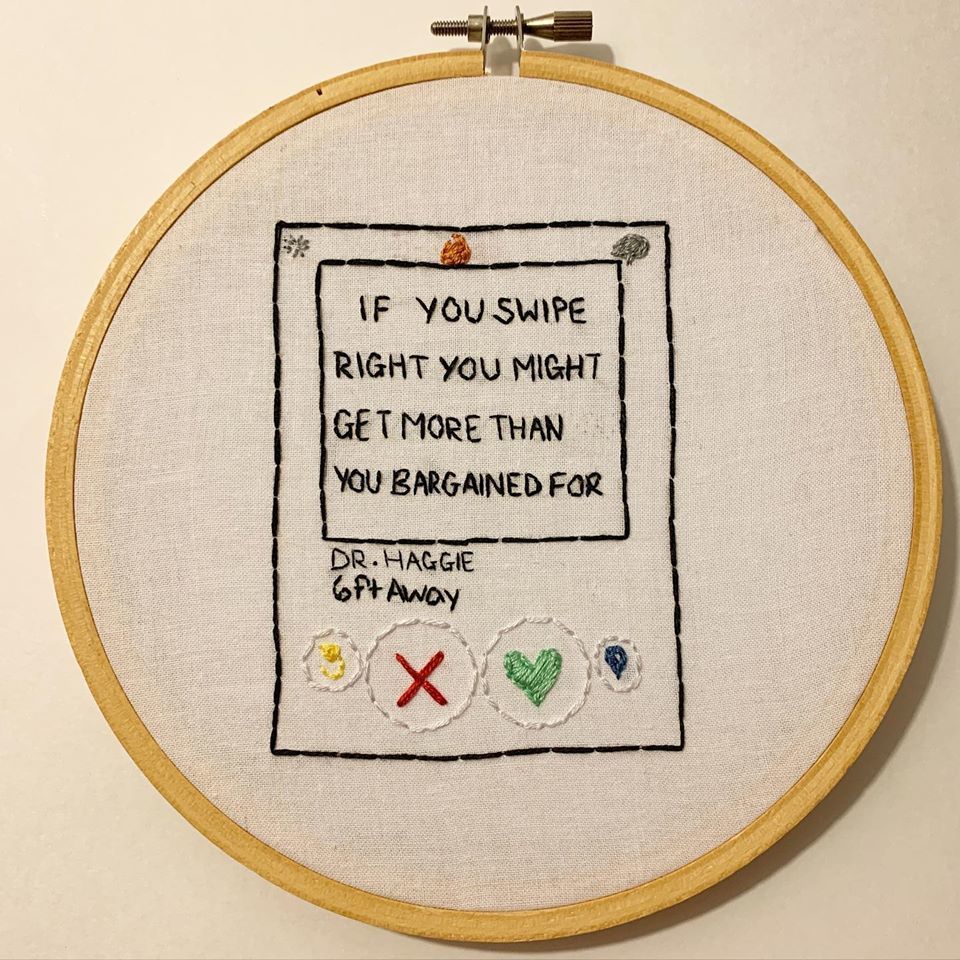 "It's really quite strange," Haggie said of his newfound social media fame. "I've got my own way of talking and it's not just the accent."
His love of language comes from the man who raised him — his mother's youngest brother — who had a dry wit and great interest in words.
On social media, Haggie's one-liners have a name: "Haggieisms" — something people look forward to in this time of great uncertainty, something Haggie said he's been peddling of late.
Like 'John Crosbie'
At Alderwood Estates in Witless Bay, senior citizens have been glued to each daily update on COVID-19. After all, they are in the most high-risk category, and are dealing with the consequences — having lost the ability for visitors for nearly a month now.
They've found a political spitfire in John Haggie.
"Somebody was looking at them and they weren't trying to elevate their message by wrapping it around 1,800 words, they were just saying it straight, respectfully, clear and concise,"' said Rene Houlihan, recreation director.
"Someone said it's kind of like the John Crosbie days."
For a week, residents took Haggie's most memorable quotes and worked them into the song Try a Little Kindness — "like a weeklong episode of Fame," Houlihan said.
She said the residents wanted to say thank you to Haggie, Dr. Janice Fitzgerald and Premier Dwight Ball for their hard work.
"We're in lockdown. What can we do to give back and make people smile?" she said.
If you see a bayman standing by the road
Stay six feet away and say have a good day
If you see your sister swiping right
Just stop and tell her you're going the wrong way
You got to try a little smartness
And listen to Dr. Haggie
Just stay home so everyone is safe
And if you try a little smartness
Then we'll overcome the virus
Or the cart-licking people on the virus-ridden street.
Political speak doesn't work
Ease of communication was something Haggie learned from mentors during medical school, he said.
The ability to speak clearly and concisely without medical jargon is critical when explaining a diagnosis or a patient's options for recovery.
"You'll have to be able to be understood by someone who is frightened, worried, and might not have as good of an education as you," he said.
"That was the yardstick for me for clinical work, and I just took those skills or that approach and brought it to the job here."
The need to speak clearly was intensified when he arrived in this province, and realized Newfoundland and Labrador has its own language.
"I found myself very carefully picking the words because they mean different things when you mean them in different ways."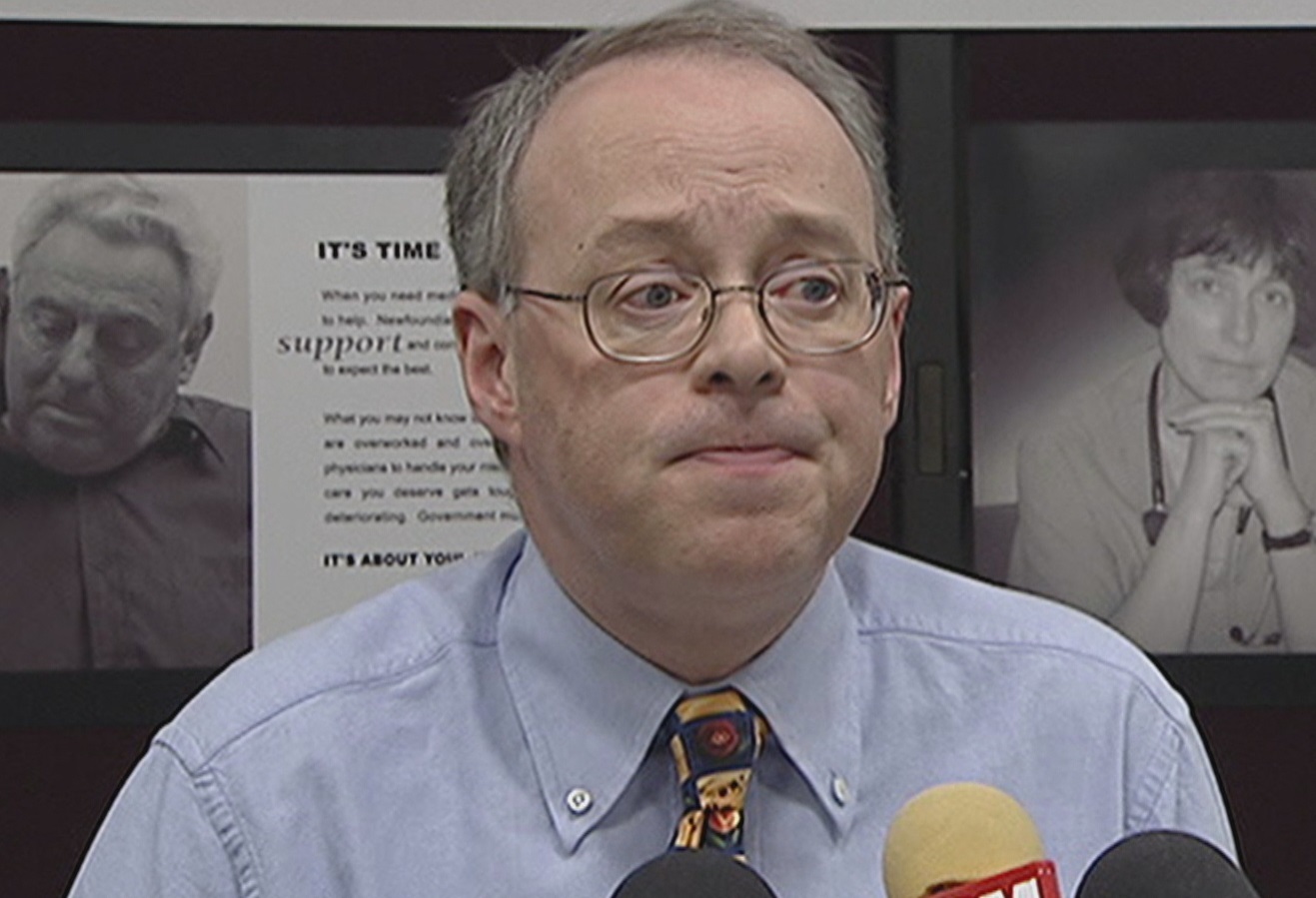 Haggie and his family moved from the U.K. to St. Anthony, on Newfoundland's Northern Peninsula, just before another infamous crisis — the cod moratorium of 1992.
His shift toward politics was a slow creep that began when he lobbied for fellow physicians in St. Anthony. Years later, when he worked in Gander, Haggie was on the forefront of a doctors' strike in 2002.
Haggie was president of the Newfoundland and Labrador Medical Association at the time, and led physicians through a job action over physician compensation. He was later named president of the Canadian Medical Association, one of few Newfoundland and Labrador doctors to have held the position.
By the time the 2015 election rolled around, Haggie had a taste for lobbying and advocacy work, and stepped down as a general surgeon in Gander after 18 years to run.
While the Liberal race for the next leader — and premier — is on hold for the time being, there have been remarks online from people wondering if Haggie is the right person for the job.
"Can I get through one major life-changing event at a time?" Haggie laughed.
"What the party chooses to do with its leadership in light of all this, or if it's reasonable to go ahead, those are decisions the party will make. If the water on the beans changes in that regard, I'll certainly look at things again."
An artist's muse
Jaimie Feener (Remember? John Haggie's biggest fan?) is continuing to look to Haggie for inspiration for her art.
An embroidery artist with Feener and Thread in St. John's, she was thrilled when Haggie's daughter and his assistant reached out in hopes of purchasing her now-viral "Don't Lick the Shopping Cart" embroidery piece.
"I don't know if he's trying to be funny when he's saying it but just some of the messages and the way he's delivering it is comical that we need these reminders at a time like this," Feener said.
"I think he delivers messaging in a way that, I know for myself, is the way I need to hear it. He's very frank."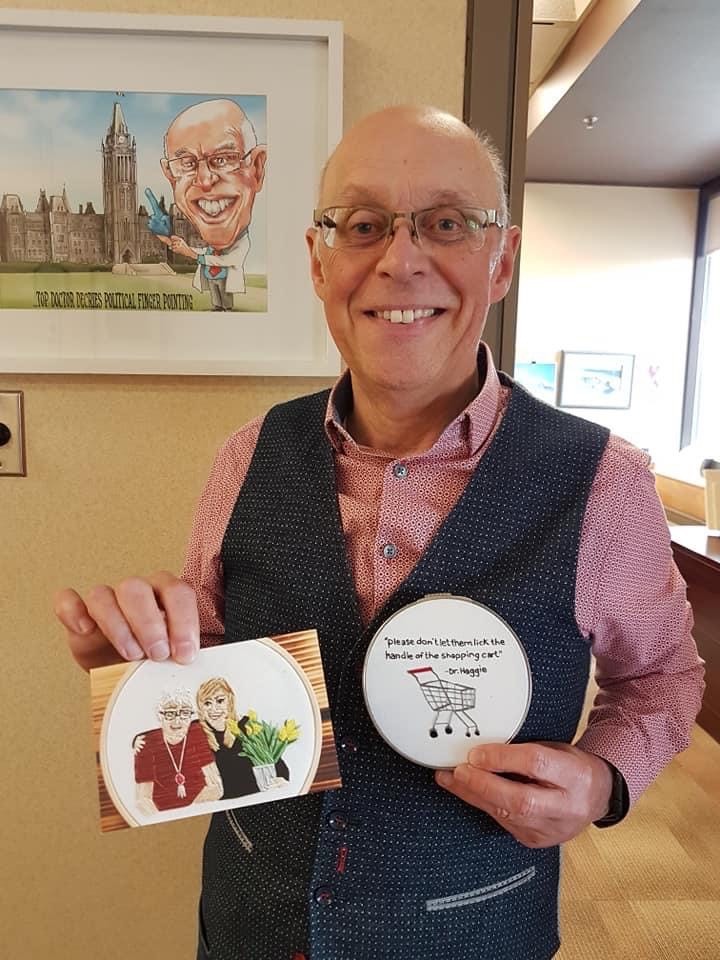 Doug Halliday, who likes parody and caricature, feels the same way.
"I always enjoyed the humour of the Captain Obvious commercials out there. It got in my head. And I said, [Haggie] can be our Captain Obvious," said Halliday, a father of two from Conception Bay South.
"He's really the captain that we need."
He sketched for an afternoon and came up with a piece he later shared on social media with some Haggieisms.
"He's very honest. There's no backdoors. You might not like what he has to say on some of the daily reports, but he's not hiding anything."
'Levity was a byproduct'
Asked why he's taken such a big role in the sharing of information about COVID-19, Haggie said it would be strange if he didn't.
Having been a hands-on surgeon for 30 years, the health minister said he's taken that approach to this health crisis.
His one-liners, he said, are in part, just being himself. But he admits he has put thought into how his messages should come across.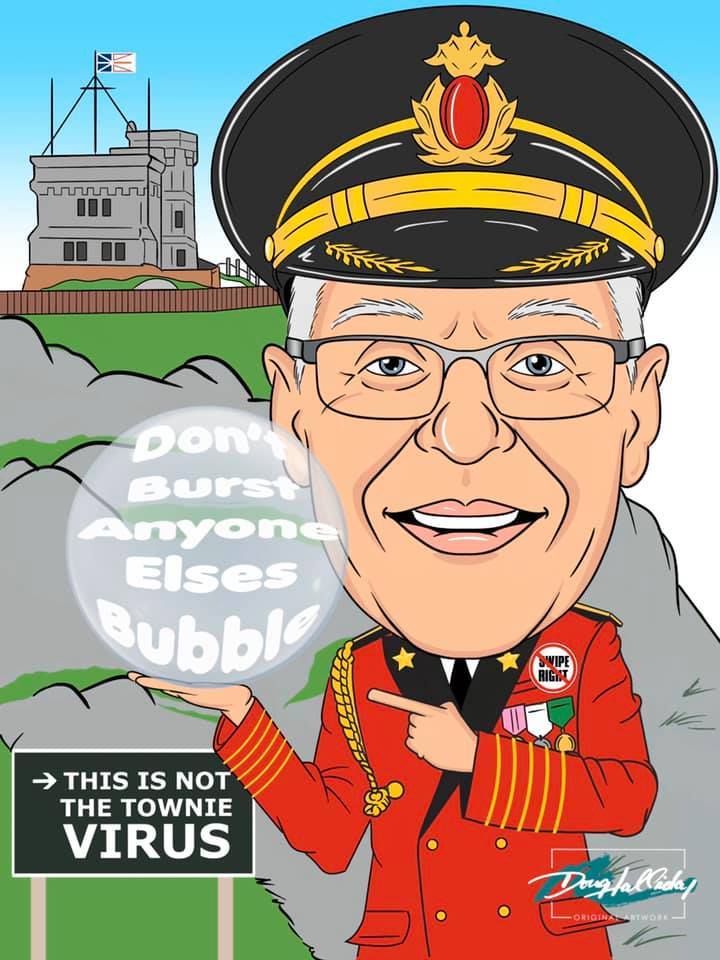 "Levity was a byproduct. I was trying to find a way to getting a message over — a hook. Something that would be different from the usual, fairly bland approach that people have had, because at the end of the day, one of the challenges has been [that] this is a huge sea change in the way we live and the way we do business, and it was hard to get that over with government-speak," he said.

"I was just looking for an idea that would resonate. To be quite frank, some of the phrases that came out popped into my mind in the moment because I'm not very good [at] following scripts, as my communications director will tell you."
Haggie plans to wait out the rest of the pandemic from his home in Gander, and has been attending the daily briefings by Skype.
As for a last-minute Haggieism: "This will pass, we will get through to the end of this, and all that will matter at the end of this is how we treated each other during this."