Your high school graduation is perhaps the first big milestone of your life.
It's a rite of passage, when you transition from childhood to "the real world."

It's also the last chance to take pictures with your friends and celebrate together before you go off to college and university.
But this year, for thousands of students across B.C. and the world, that special time won't go according to plan due to the COVID-19 pandemic and the restrictions put in place to stop the spread of the illness.
Classes were moved online in March to prevent the spread of virus, and have only just resumed part-time in B.C. for the last few weeks of the school year. Physical distancing means no hugging your classmates, while a ban on gatherings of more than 50 people will remain in place for the rest of the summer, B.C.'s provincial health officer says.
Many schools have resorted to holding virtual graduation ceremonies, or physically distant ones, where a small number of students cross the stage at a time.
Zainab Osman's school is one of those. It stings.
"I really wanted to be on the same stage as all my friends and have that moment," said the graduate of L.A. Matheson Secondary in Surrey.
"I kind of was looking forward to it. So it's a little disappointing."
Ella Reedman bought her prom dress — a sparkly garment with flowers and a long train — in October. Since then it's been tucked away in her closet, waiting to be worn.
But other than dressing up to take photos with her friends, there won't be a traditional prom to wear it to.
"I hear my older friends talk about [their prom] and my parents talk about theirs. It's just sort of always been like a given … so, it's definitely super weird to have it sort of like ripped out of your hands," said Ella, a Chilliwack Secondary School graduate.
"It's kind of like the finish line of high school."
Celebrating 2 metres apart
As students face a disappointing end to their high-school experience, schools, families and communities are trying to commemorate the grads of 2020 in the best way they can.

With religious gatherings also discouraged during the pandemic, a church in Surrey offered up its space for free to host and organize commencement ceremonies for more than 1,300 students from nine different schools.
"The building is not being used, so why not serve our city with it?" said Geoff Stewart, youth pastor at Peace Portal Alliance Church, who came up with the idea.
The first such event on May 27, for students of Surrey's Earl Marriott Secondary, had all the ingredients of a typical graduation ceremony, while keeping everyone two metres apart to follow physical distancing rules.
There was even a red carpet, with church youth leader volunteers like Laura Evans cheering on the graduates as loud as they could.
"It's surreal to think about all of the things that were taken away from the grads this year, and just the fact that we can offer them some sort of celebration is really, really beautiful," said Evans.
Another youth leader, Nic Johnson, said he wanted to make sure the grads had an unforgettable day.
"Just the idea of having, like, a Zoom graduation was a major vibe killer. We wanted to celebrate them and we wanted them to feel celebrated," he said.
Instead of a group cap toss, the grads threw their hats in the air as high as they could one by one, which is also how they crossed the stage.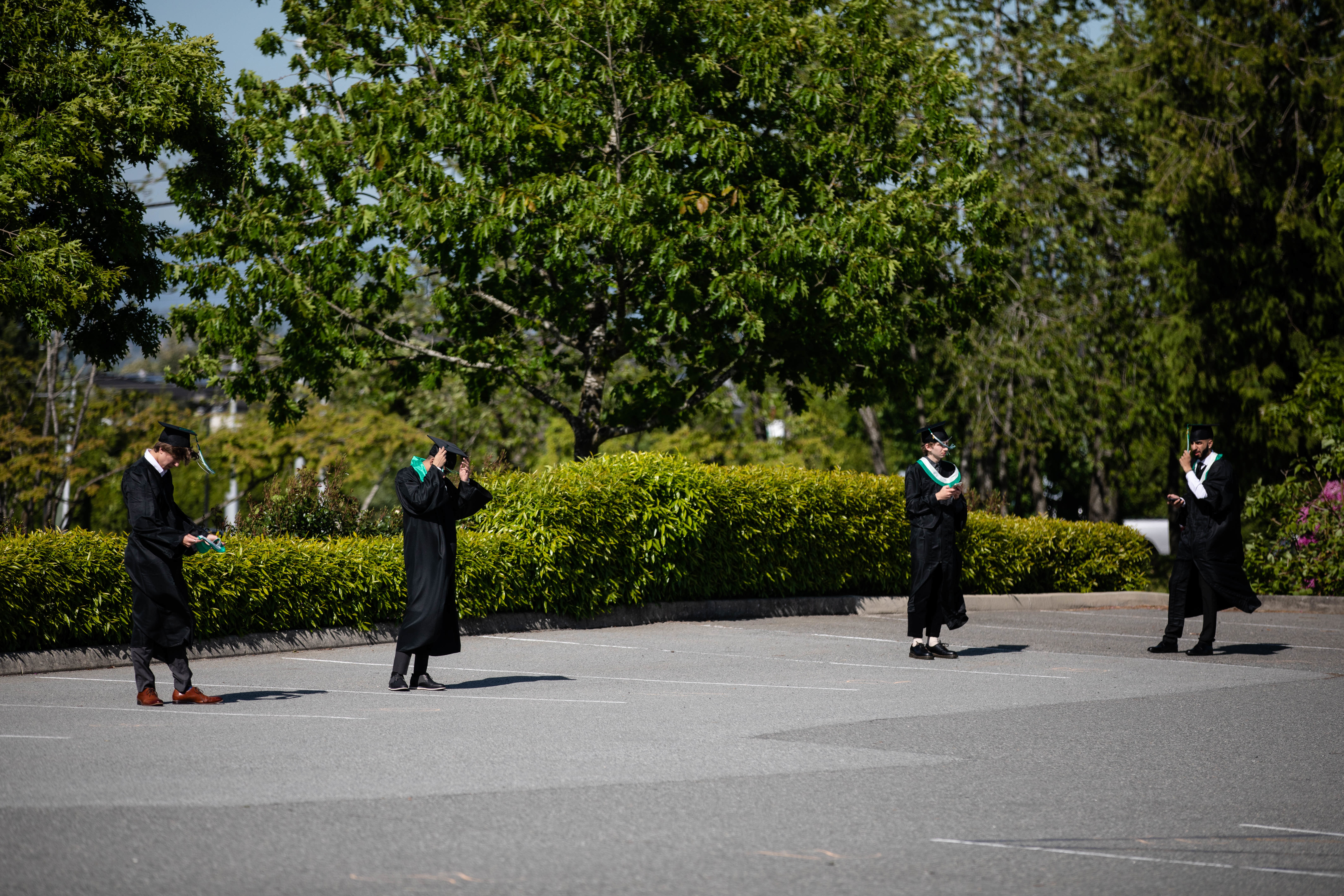 But no family members or loved ones were in the audience to witness the coming-of-age moment.
"It's too bad we don't get to actually see them cross the stage and hear the valedictorian or see them get their scholarships. But under these times, I guess, this is better than nothing," said parent Nikki Keith.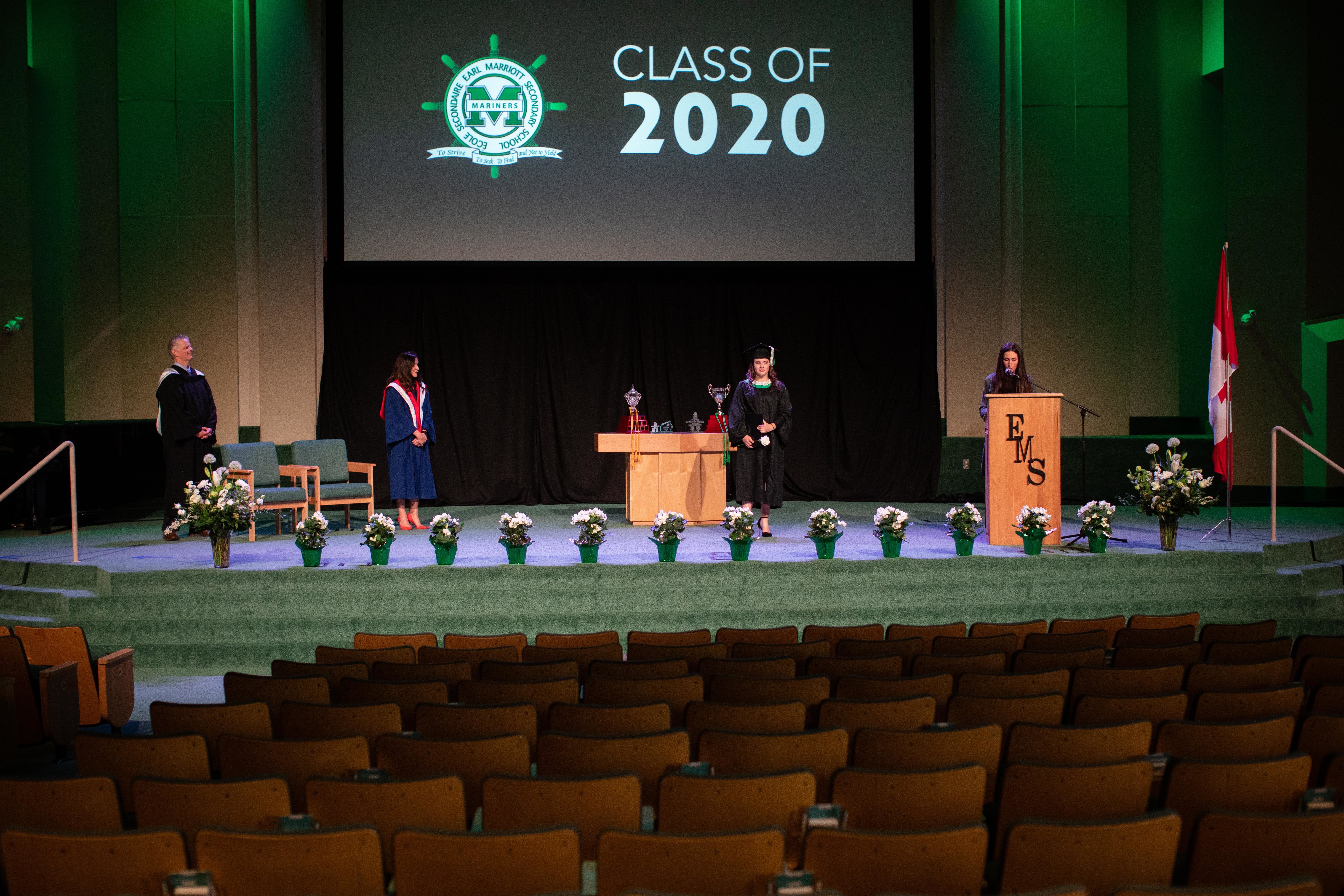 She had brought her 17-year-old daughter Dakota to the commencement event at the church and was one of dozens of parents anxiously waiting in the parking lot to see their children come through in their caps and gowns, diplomas in hand.
"I guess that makes the university graduation now much better," said Keith.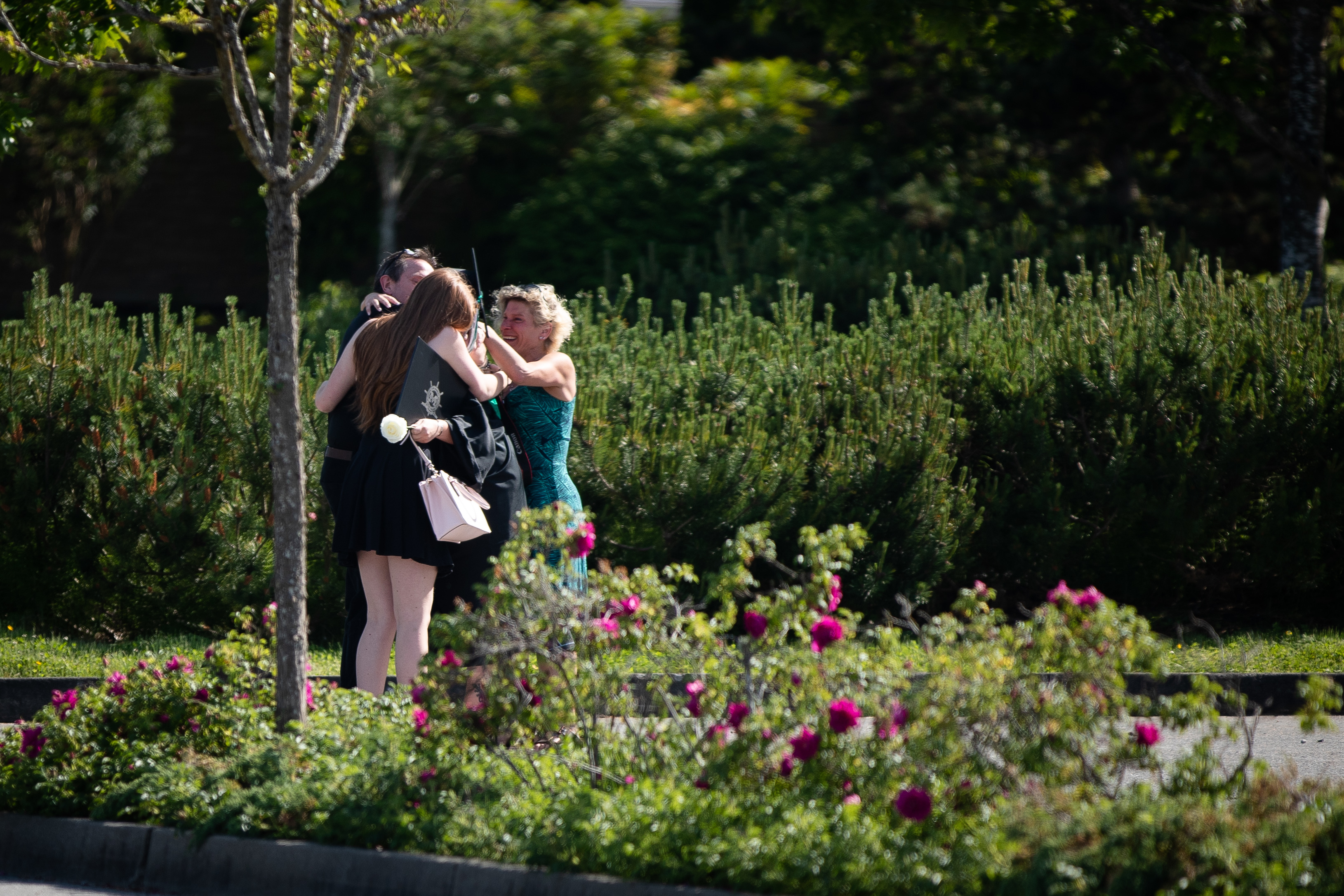 But some bright minds were quick to find a silver lining: shorter ceremonies.

"Sitting there for three hours would be hard, too. I think it was a very nice alternative," said Earl Marriott graduate Corina Gill.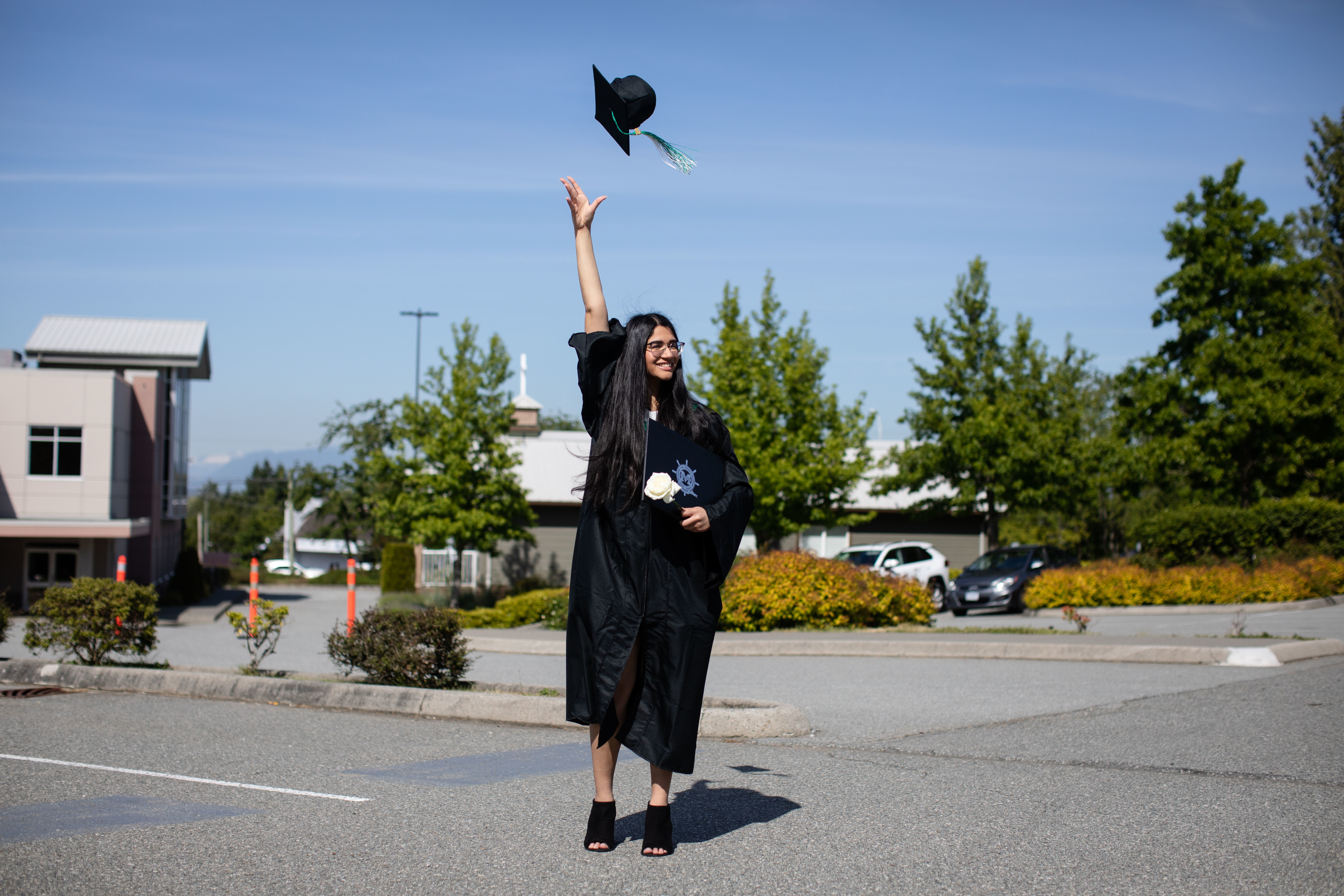 Dressing up anyway
However, others weren't able to celebrate in a big way at all.

Holly Bradbury, 17, had been looking forward to her final grad, a dinner and dance, for years. But it was cancelled.
Holly, who was homeschooled through the Traditional Learning Online Academy, said her school's graduations are typically smaller than those held elsewhere but give students "a glimpse of what a normal grad would be like."
Typically, every student would make a speech.
"When I was younger I'd write up my speech and what I would say and all that," Holly said.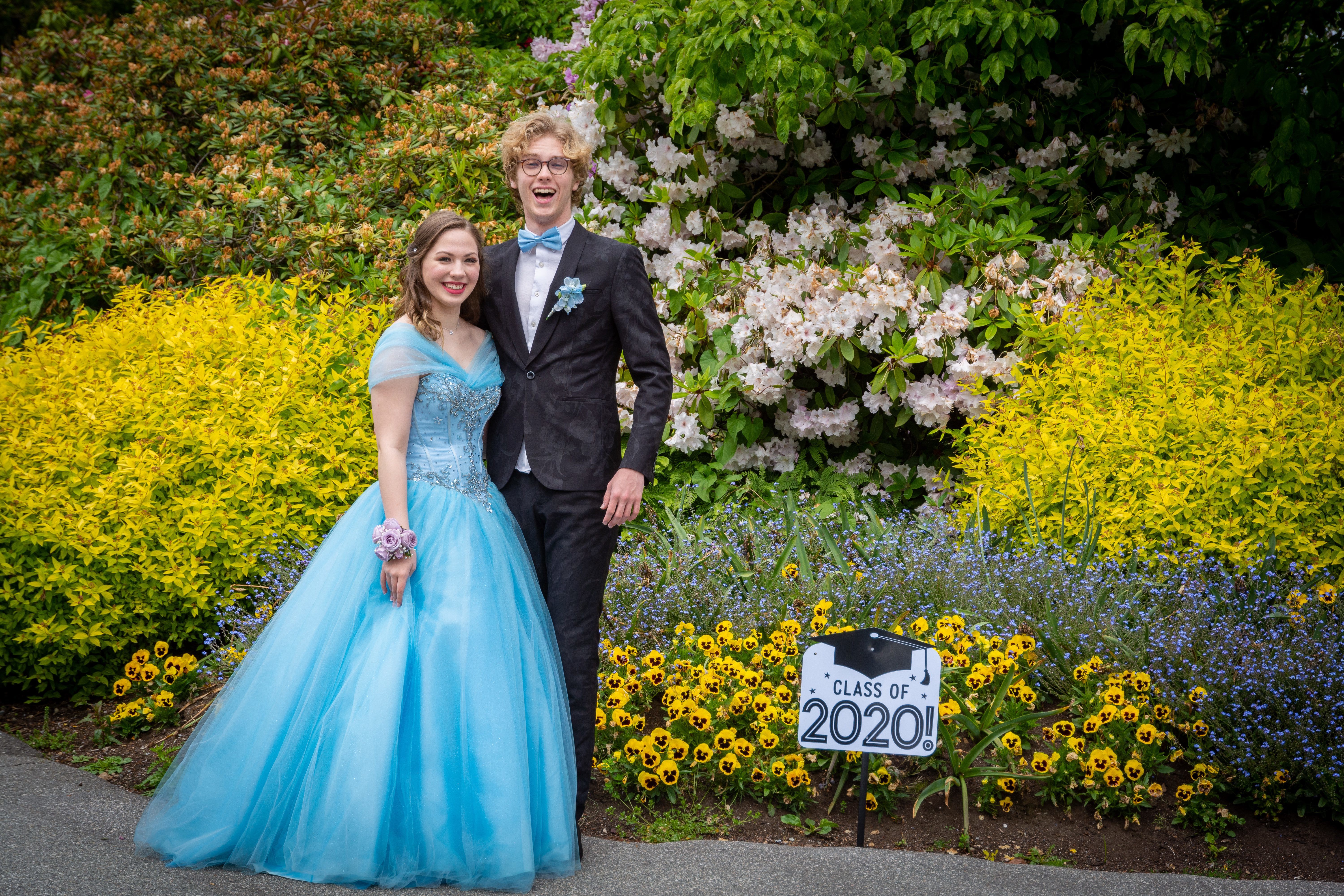 But even without graduation, she still got dressed up in a Cinderella gown and glass slippers (she found the dress on Facebook and the shoes on Amazon) and went to take pictures with her boyfriend at Queen Elizabeth Park.
"We just spent the day celebrating together. And it was really nice and it was special," she said.
Yes, sometimes life doesn't go according to plan, and the grads of 2020 have received a crash course on that.
"I think the main thing, and what I think a lot of people are learning, is that we take so much for granted in our everyday lives," Holly said.
"We are the new adults in a world that can be so dark sometimes. And spreading love and spreading kindness to anybody and everybody is so important, especially right now."
CBC is compiling a National Yearbook for the class of 2020 and wants your videos, stories, and audio messages. Visit cbc.ca/classof2020/ for details.