Wilfred Simon holds counselling sessions every day from behind the wheel of his rusty blue van in Fort Resolution, a small hamlet of just over 500 people nestled in a corner of Great Slave Lake in the Northwest Territories.
As he drives toward the hamlet's waterfront, he offers his clients a wafer cookie or some fresh bannock as an icebreaker.
He'll often park right at the water's edge, where the lake stretches out uninterrupted to the horizon. It's here that Simon's clients share their ongoing battles with drugs and alcohol from the passenger seat of his van.
A few of them, sober for years, tell Simon they've relapsed during the pandemic.
Simon understands their struggle. Twenty-five years ago, he took a variety of drugs every morning before heading out the door to his roofing job. It was his only distraction from extreme poverty and the best escape from his depression.
If he was still in that cycle today, Simon said, he knows exactly what he would do if he received $2,000 in emergency benefit money from the federal government.
"I'd probably drink it all up right away," he said with a pained expression. "Most of my clients are doing the same thing."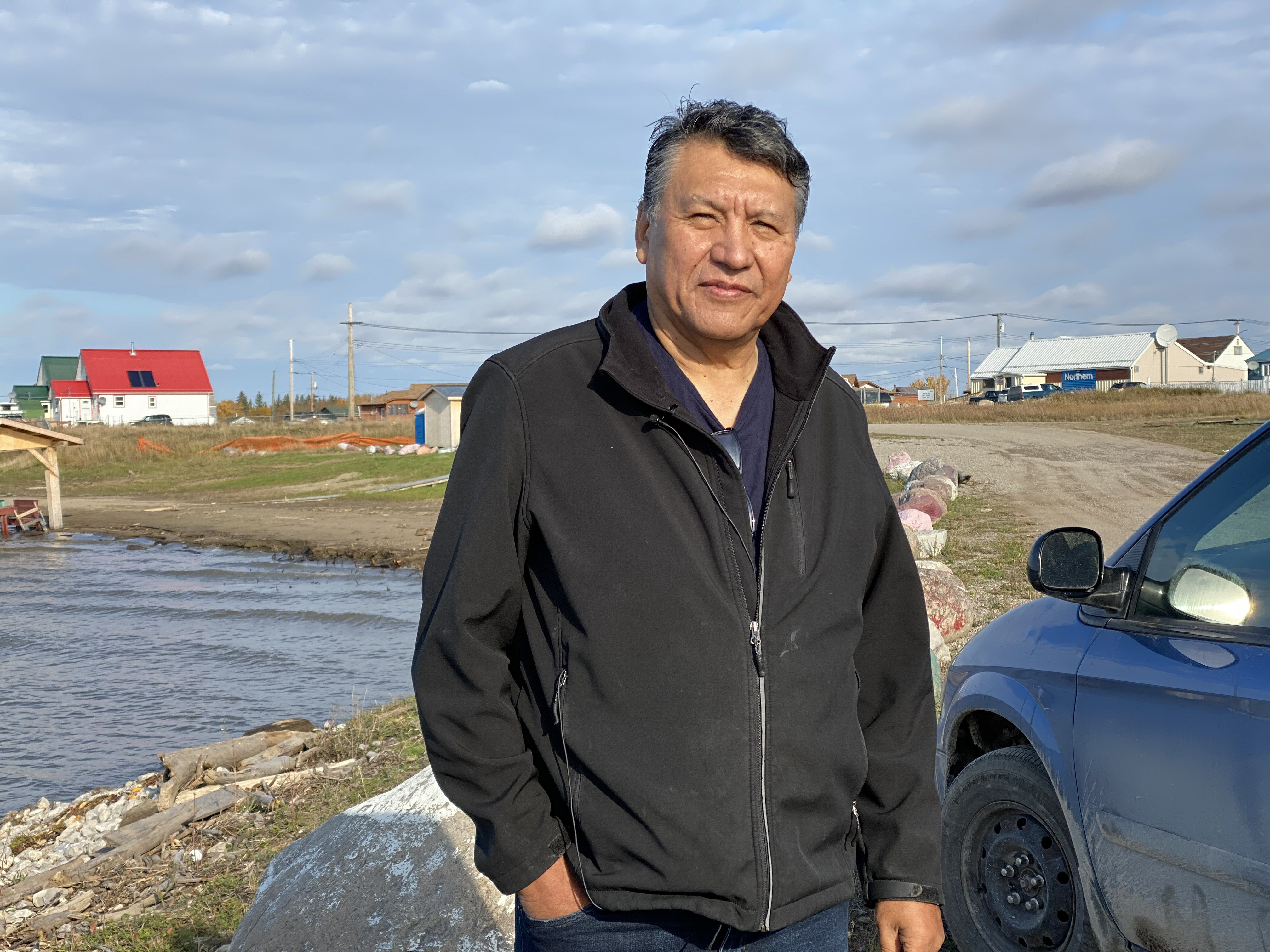 Simon is talking about the Canada emergency response benefit (CERB), a federal government emergency payment for Canadians who lost their jobs during the COVID-19 pandemic. The benefit provided $500 per week for lost earnings, up to $2,000 a month, and expired last week.

The Northwest Territories saw the highest number of CERB beneficiaries of the three territories over the last six months, with more than 10,000 people applying for the benefit, or half the territory's total workforce.
In Fort Resolution, as in many N.W.T. communities, CERB was a lifeline that helped people afford basic necessities, such as reliable home internet, for the first time. At the same time, it has intensified long-standing social problems, such as bootlegging, substance abuse and a lack of stable employment.
Though CERB is no more, there are questions about the lasting effects of the benefit payment on small communities like this one.
Bootlegging boom
People who lost their jobs, had been laid off or couldn't work as a result of the COVID-19 pandemic and earned at least $5,000 in the previous year were eligible for CERB.

But the federal government did not require applicants to provide proof of employment status to access the benefit.
Dene National Chief Norman Yakeleya said that gave many in the rural communities more disposable income than usual. Some of that money, he said, fuelled a boom in the ever-present bootlegging industry.
"The [federal] government has caused us in the communities a headache that, with the CERB payments, didn't need to be there," he said.
On April 3, the Dene Nation pressured the N.W.T. government to immediately restrict alcohol and cannabis sales.
Two weeks later, the N.W.T. government put a limit on daily alcohol purchases. At the time, Yakeleya described the move as a victory for Dene people — but he says it still doesn't go far enough to curb the dependency problem in communities.
A matter of survival
Sharon Lafferty first found out about CERB from a friend. Intrigued, she called an information line to see if she was eligible.
Three minutes later, all of her information was in the system. She got her first cheque before the end of that week.
Lafferty applied for the benefit even though she didn't lose a job during the pandemic. She and her 20-year-old son, Jeremiah, normally scrape by on her $540 income support cheques every month, so she knew she could use the extra money to get them equipped for their new normal.
The benefit meant setting up wireless internet in their home for the first time. It meant a new laptop for Jeremiah so he could complete his last five high school credits online.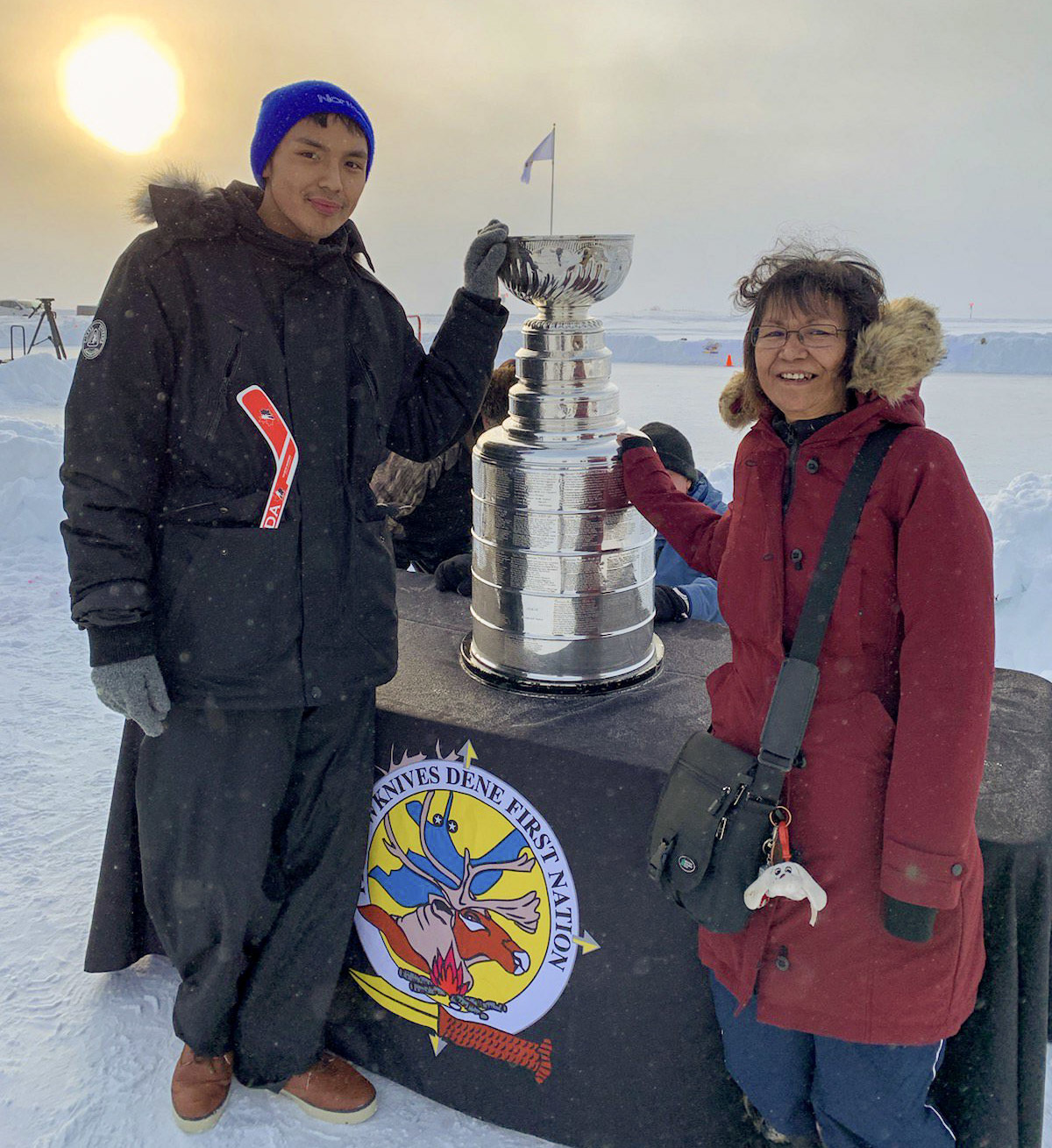 She says the leftover benefit money went to groceries or small gift baskets that Lafferty made for isolated elders in her neighbourhood.
For them, CERB was a lifeline.
"I didn't know how long the pandemic will be, so I accessed the funding and used it … for survival," Lafferty said.
Others in the community told CBC News that CERB was often misused.

'A lot of chaos in the community'
Bootlegging and substance abuse aren't new to Fort Resolution, but some residents, including Lafferty and Simon, said they've noticed more disruption during the pandemic.
Lafferty said that since the CERB started, she's seen relationships breakdown.
"There was a lot of chaos in the community," she said.
Some community members hosted CERB parties at the beginning of each month, which coincided with the arrival of federal government cheques in the mail. Some residents said they could hear partygoers from the other side of town.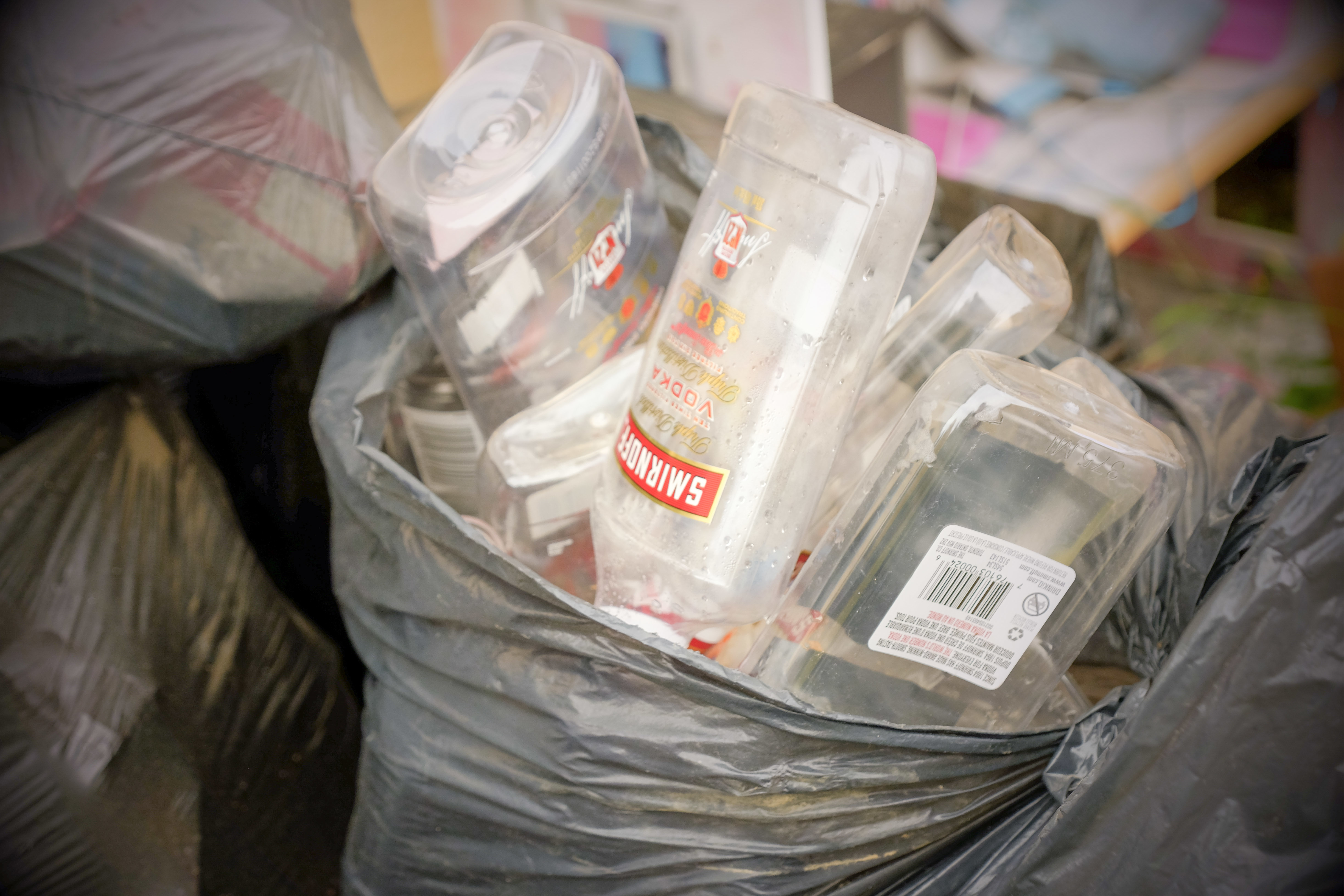 There were many nights when Lafferty said she was too scared to look outside her front window because drug- and alcohol-fuelled violence had spilled out onto her street.
"It's something I don't want to experience again," she said.
Getting a bottle is as easy as calling or texting one of the known bootleggers in town and waiting a few minutes for delivery. Unlike some small communities in the Northwest Territories, Fort Resolution did not have any restrictions on alcohol before the pandemic. But the nearest liquor store is two hours away in Hay River.
A new path
The social challenges faced in Fort Resolution are not lost on local leadership. Deninu Kue First Nation, the Fort Resolution Métis government and the hamlet work together to organize physically distanced bingos, culture camps and workshops for those looking to break the cycle of substance abuse.
Most of these events are held on Mission Island — an oasis of cabins and teepees far from the hamlet's main streets.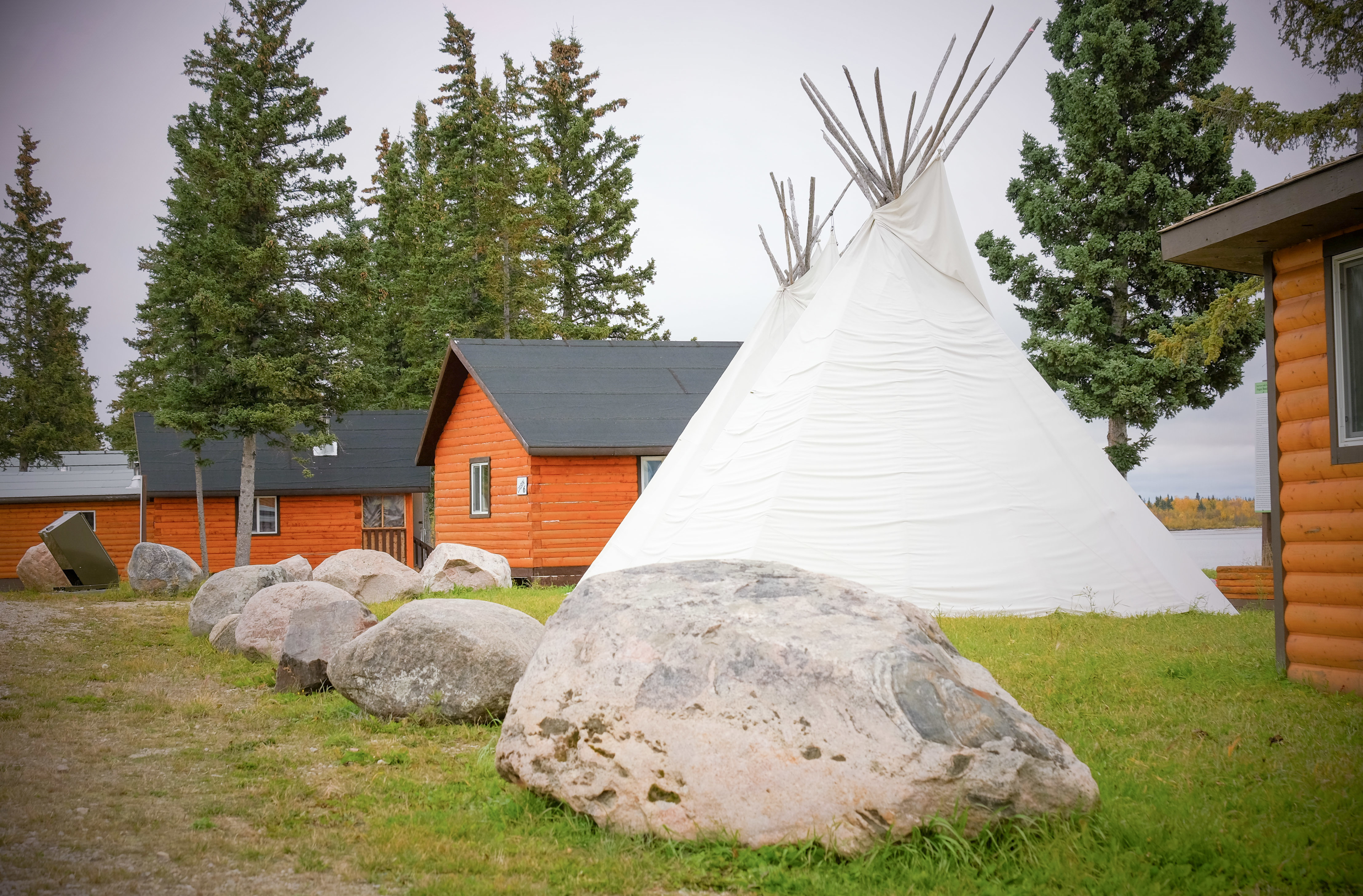 On a warm day in late September, Ruby and Francois Prince lay out boxes of beads, tubes of paint and wooden eagle feathers on long plastic tables in the island's main meeting room.

Each craft has a significance. Rubbing a colourful bead, for example, helps clients stay in the present if, during a session, they start reliving painful memories.
The facilitators, originally from Fort St. James, B.C., were brought in by the First Nation to help people achieve sobriety. They've been running workshops in Fort Resolution for the last five years but say they noticed pandemic-related changes this time around.
They said that during the uncertainty of the pandemic, orders from officials to minimize social interaction have magnified the traumas of the residential school system that many still grapple with.
That, coupled with the easy availability of CERB money, meant people spent more money trying to numb the pain with alcohol and drugs, the Princes said.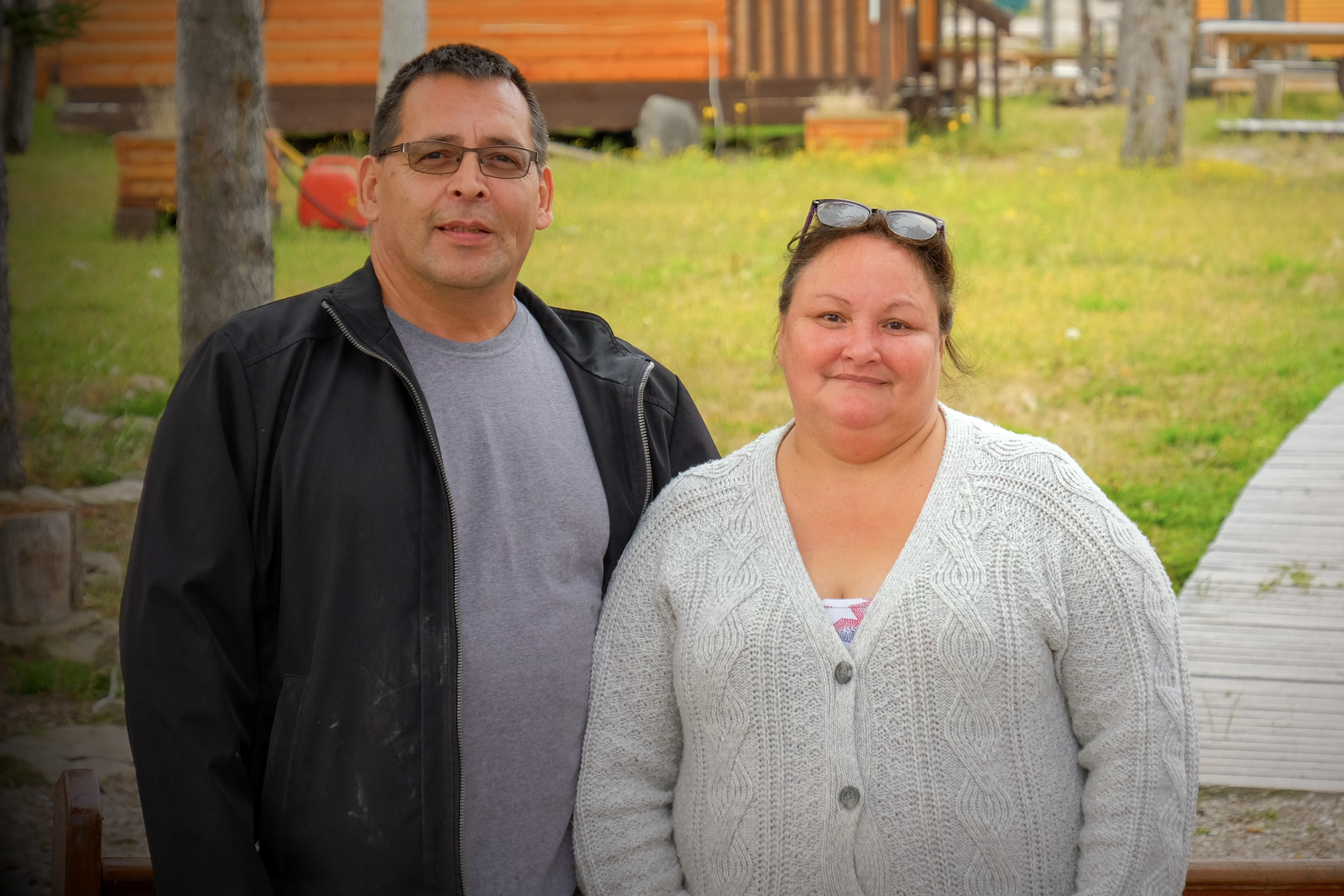 "Elders are being told to stay home, and they don't know why … they're just doing what they've learnt," Francois Prince said.

"The effects of residential school are just becoming more prominent … now the government's saying, 'Here's money, just try to keep quiet, stay home.'
"A lot of people are using that to try to avoid their feelings."
Still, the Princes say those who attend the workshops are making great progress with their healing.
"As soon as we sat down with families … they're on a new path," Francois Prince said.
"They need the opportunity, and that's why we're here."
'People need things to feel good about'
Local leaders are also making efforts to ensure residents have other sources of income to fall back on.
They created a dozen short-term contracts so people could get back to work.
Tom Beaulieu, the hamlet's interim senior administrative officer, said council wanted to motivate people to come back to work and create a sense of community pride by cleaning up the streets.

"People need things to feel good about … and that's what our hamlet is trying to do, to make people feel better," Beaulieu said.
At first, he said, the hamlet had a hard time convincing people to work for more than a couple of weeks at a time — something he attributes, in part, to CERB.
"We adopted the policy that … any individual that wants to work for us can show up at the office and we would try to put them to work," Beaulieu said.
The contracts rarely last more than 420 hours — enough, Beaulieu said, to help residents become eligible for employment insurance (EI).
This is the hamlet's best strategy, given the lack of work options available right now.
"If we could hire everyone with high-paying jobs, we would do that … but we don't have the money," Beaulieu said.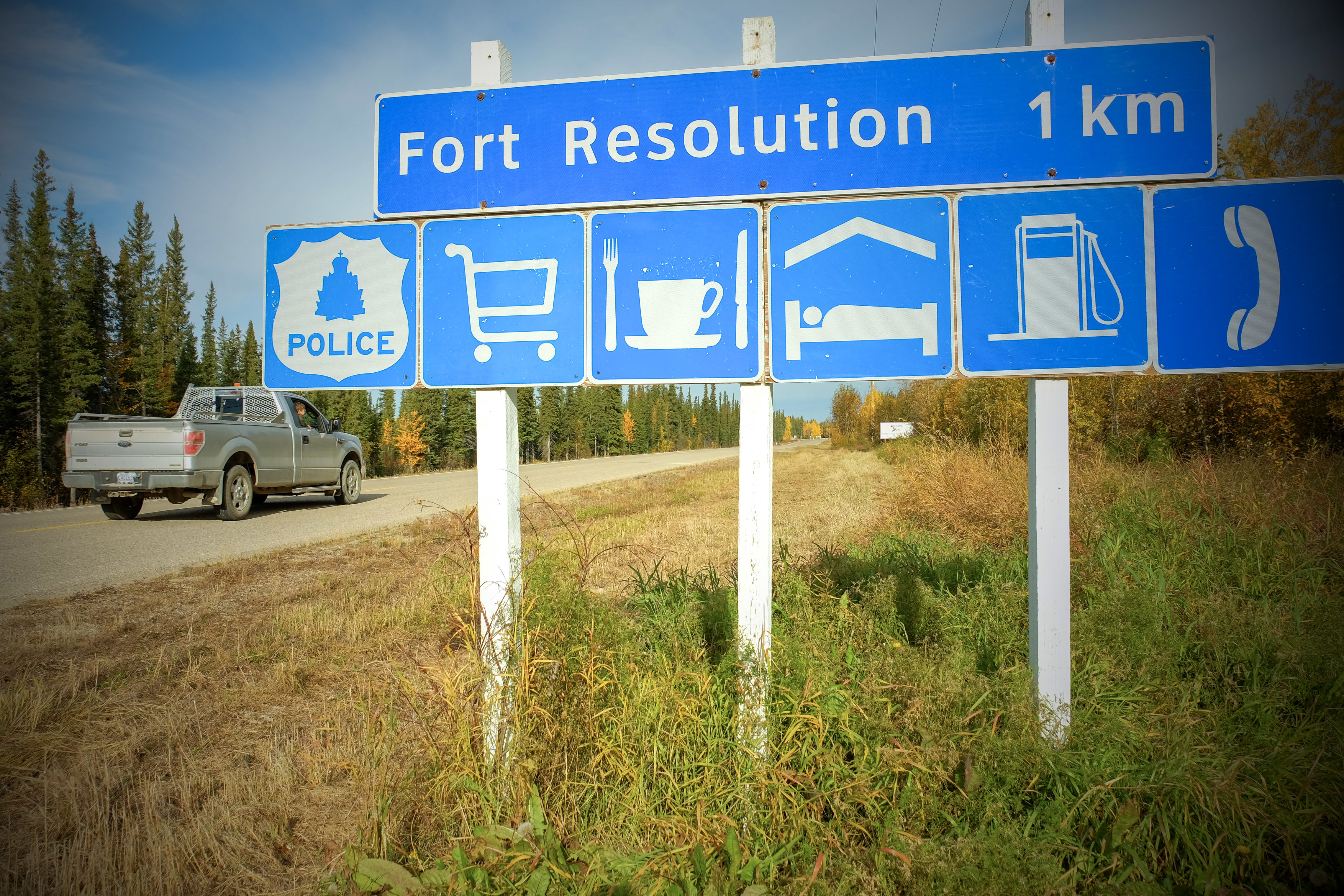 CERB transitions and beyond
Last week, the federal government transitioned the CERB benefit into the existing EI program. They've modified the criteria so more people can qualify.
Some users will have to pay back the emergency benefit if they didn't lose their jobs because of the pandemic.
Lafferty plans to repay the benefit. She says she will move to Yellowknife after her son graduates and try to find a job as a personal support worker.
Others don't yet have a plan for how they will make ends meet, something Beaulieu says will leave them in the lurch.
"It's just going to be a bit of a shamozzle when … they have to put in their income tax," he said.
"If they made too much money elsewhere, they will have a large tax bill. If they haven't made any other money, then it should be OK."
The social problems highlighted by CERB, said Simon, the addictions counsellor, will only get worse in the months to come if there are no permanent solutions in place in Fort Resolution.
"We're going to have a lot of problems with our mental health, addictions are going to rise," he said.
"Things will only get worse."
After his counselling sessions, Simon often drives past a bed-and-breakfast in the middle of town. He's not looking for a room; he's interested in the lot, his dream property for a community sober house.
This is the permanent solution he wants to see: a safe detox space for clients coming to and from addiction treatment centres in Alberta or B.C.

The project is still in its infancy, but he said interest has shot up during the pandemic, as people try to figure out how to move forward.
"[Detox centres] work in a lot of communities," he said. "If it works for them, it'll work for us here. too."