In the clubhouse at Vancouver's city-owned Langara Golf Course, a handful of park board employees are working fast to meet their deadline.
Normally at this time of year they would be serving burgers and beer to golfers soaking in the sun on the patio, the trees blocking the noise of traffic from nearby Cambie Street.
Instead, staff clad in face masks and gloves rush to fill hundreds of food hampers destined for social housing residents as part of efforts to protect them from the COVID-19 pandemic.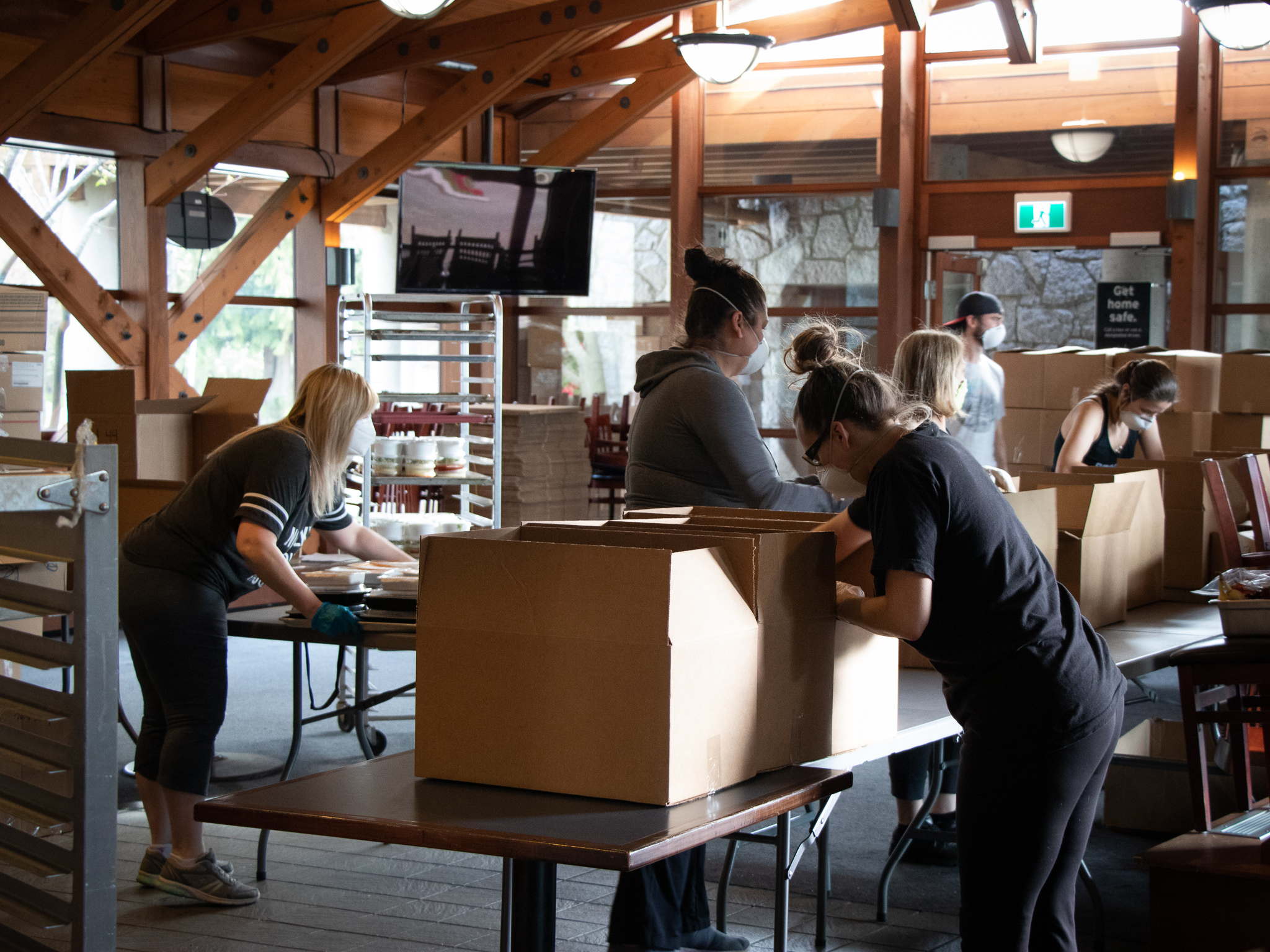 Prince's Purple Rain streams out of the speakers to hurry the staff along while, outside, a driver waits to load the hampers onto his truck.
"I need 16 ham and cheese!" someone yells at the kitchen, where five cooks work to prepare each meal from scratch.
Twice a week, about 700 social housing residents get a food hamper filled with meals that can easily be reheated, along with fresh fruit, dairy and snacks to last 3.5 days.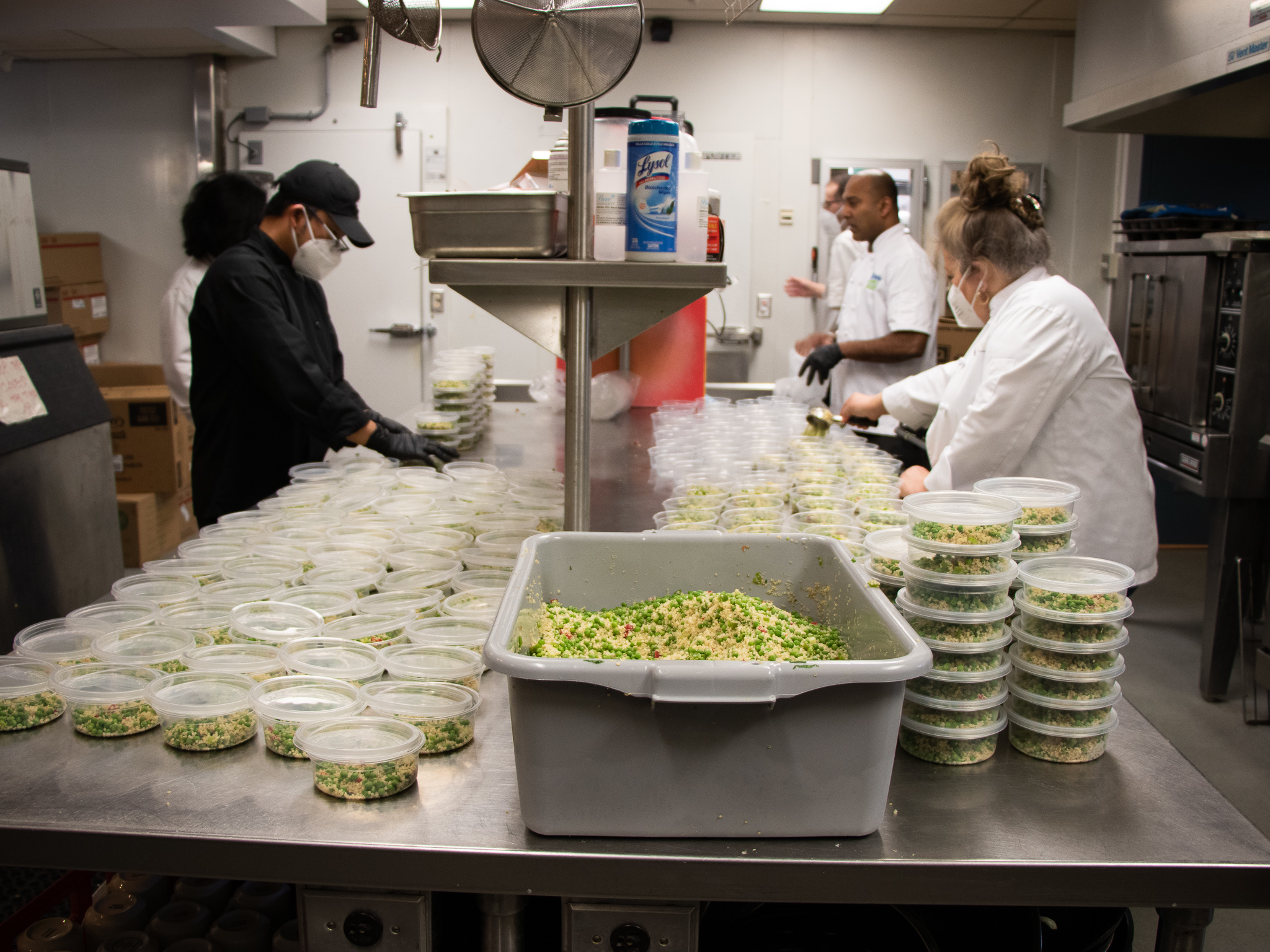 In some cases the hampers replace other food programs that have since been shut down due to safety concerns. The hampers keep the residents from having to leave their homes in search of food and risk getting infected with the coronavirus.
Health and elected officials have repeatedly cited concerns about how the virus could potentially devastate the Downtown Eastside, where it could quickly spread among low-income residents — many of them with multiple health issues, living in tight quarters.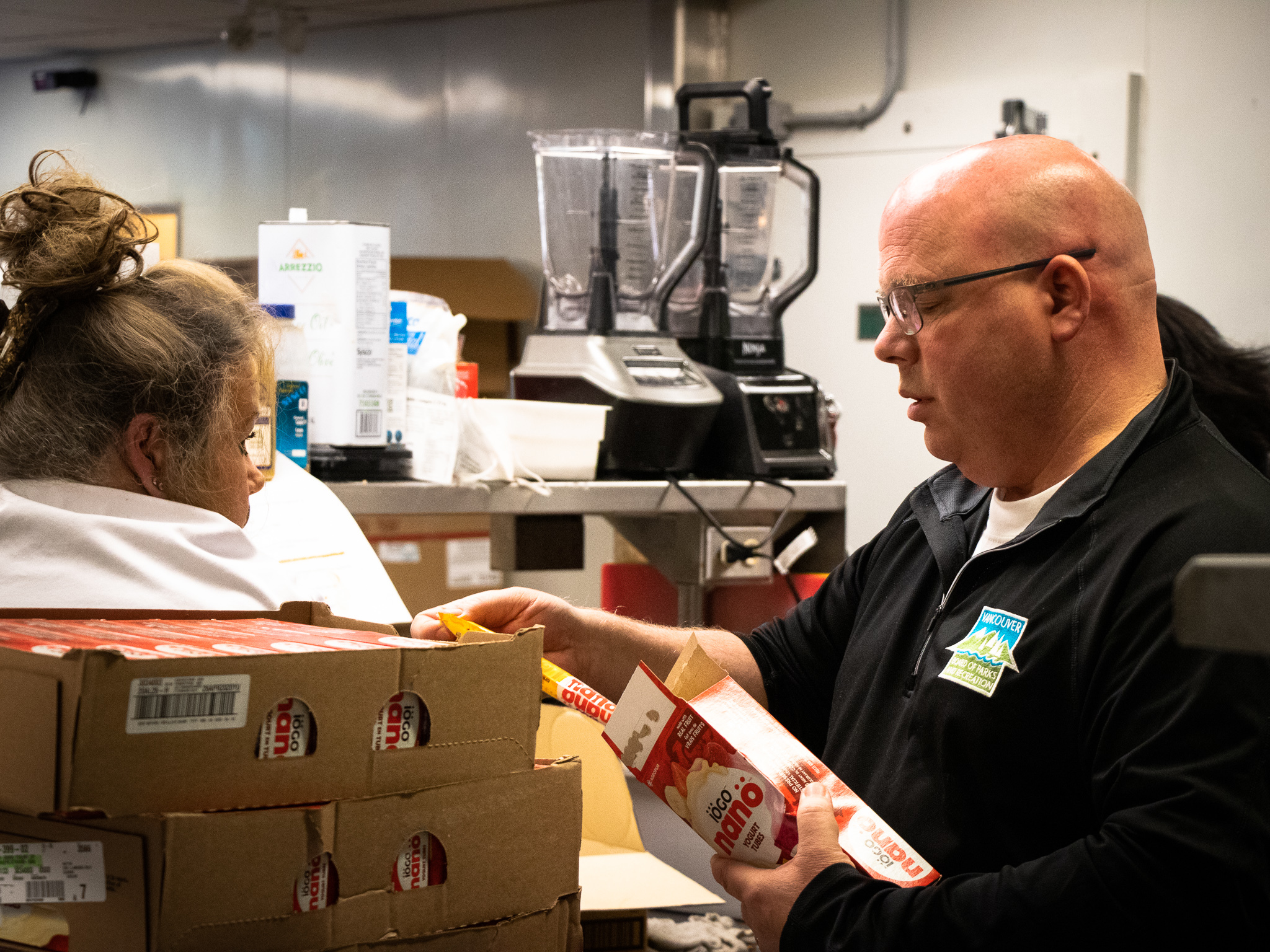 Mark Halyk, who has run food operations at the city's golf clubhouses, concession stands and food trucks for the past six years, has been in charge of the food hamper program since it started a couple of weeks ago.
"It has been completely overwhelming, to be honest," Halyk said between phone calls with suppliers and dealing with delivery drivers.
"But a great challenge."
The menu and the logistics of preparing thousands of nutritious, cost-effective meals each week is a marked departure for Halyk, who previously ran his own upscale catering company for 20 years and before that worked at the Four Seasons.
Fresh meals
Halyk says each hamper costs $20 per day, including packaging.
So far the menu has included freshly-prepared meals like quinoa salads, curries and pastas, as well as fresh fruit, milk, and packaged foods like cookies and chips. Some food vendors have offered discounts, he says, while others have made donations.
Preparing the hampers is a challenge Halyk and his staff say they're proud to take on.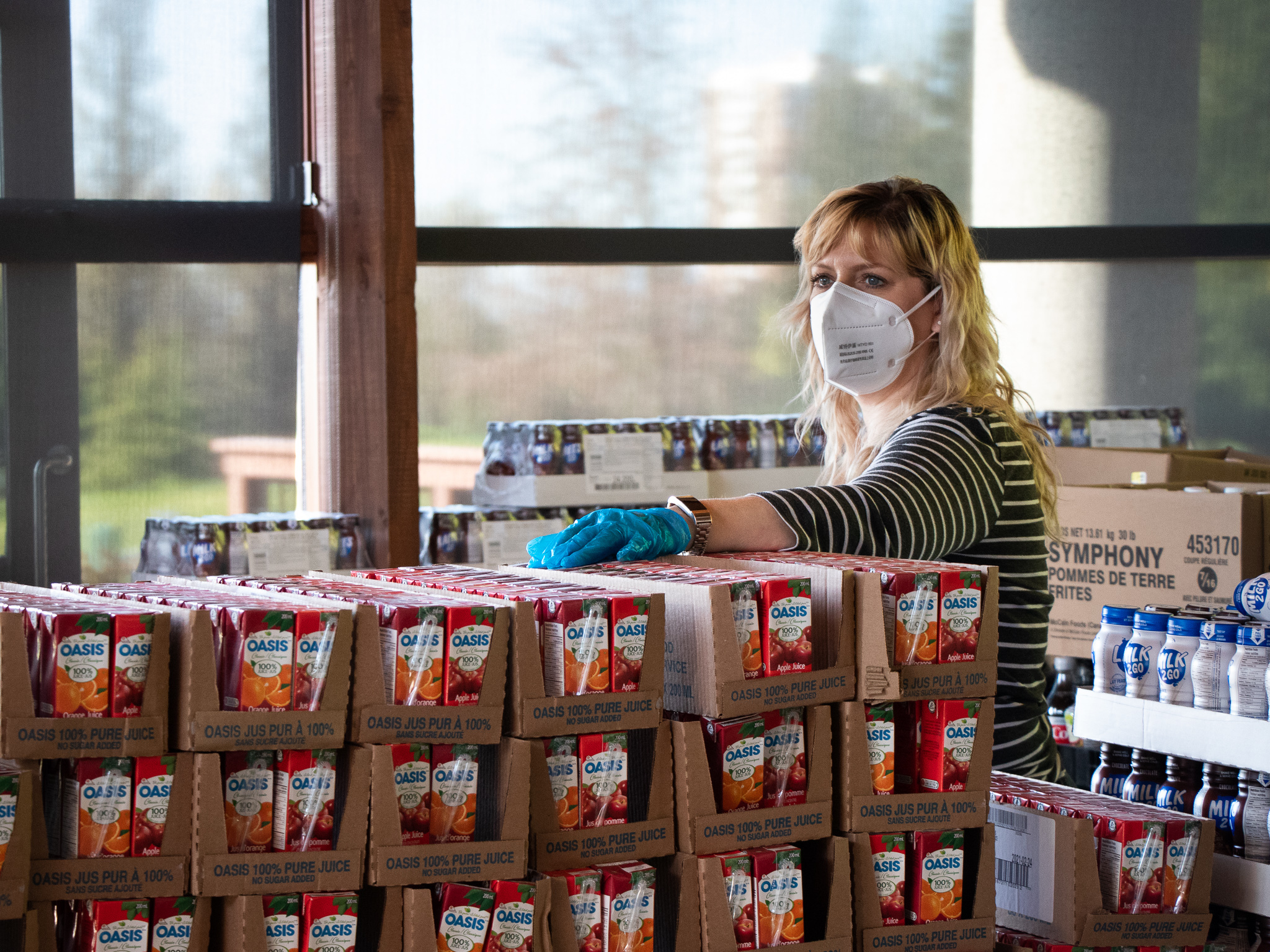 For Sherry-Ann Walters, who usually works as a cashier at the Langara Golf Course, preparing the hampers has personal significance: her cousin lives on the Downtown Eastside and is one one of the hamper recipients.

"Mark just gave me a call and asked if I would be willing to come do this, and I said absolutely," Walters said, tearing up.
As for her own safety, Walters says she's not worried about catching the virus. Staff have been equipped with N95 masks and gloves, and are reminded to keep their distance from each other as much as possible.
Walters says she also enjoys the company of her colleagues. Her husband is a bus driver, and they're both grateful to be working while so many others have been laid off.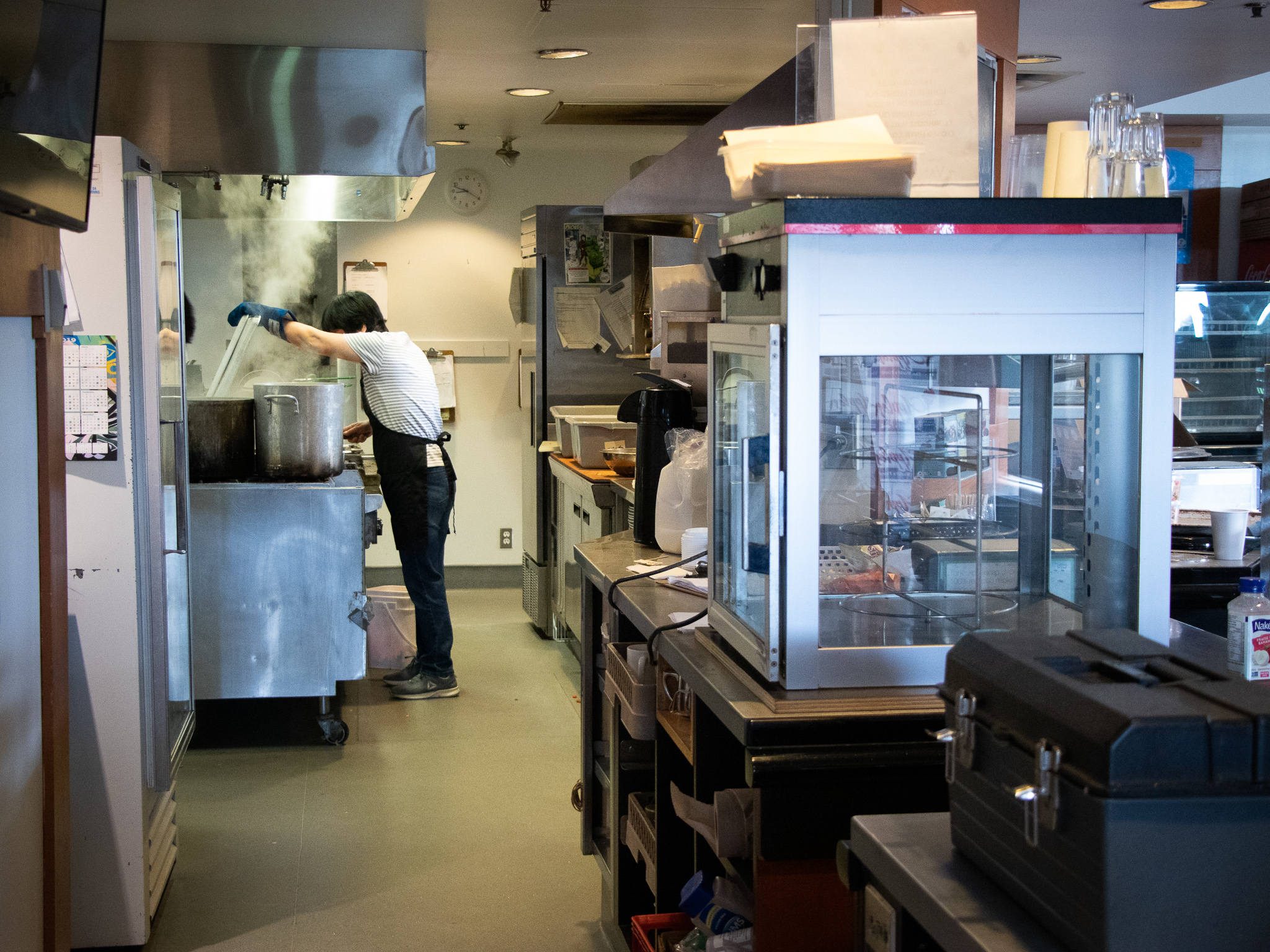 Gord Bradford, a resident of the city-owned New Continental social housing complex in downtown Vancouver, is one of hundreds of people who receive the hampers each week.
Bradford, 75, says he's been impressed by the selection so far.
"It's a delight to see what they're putting in there for us," Bradford said over the phone from his studio apartment, where he's been able to stay put for the last few days.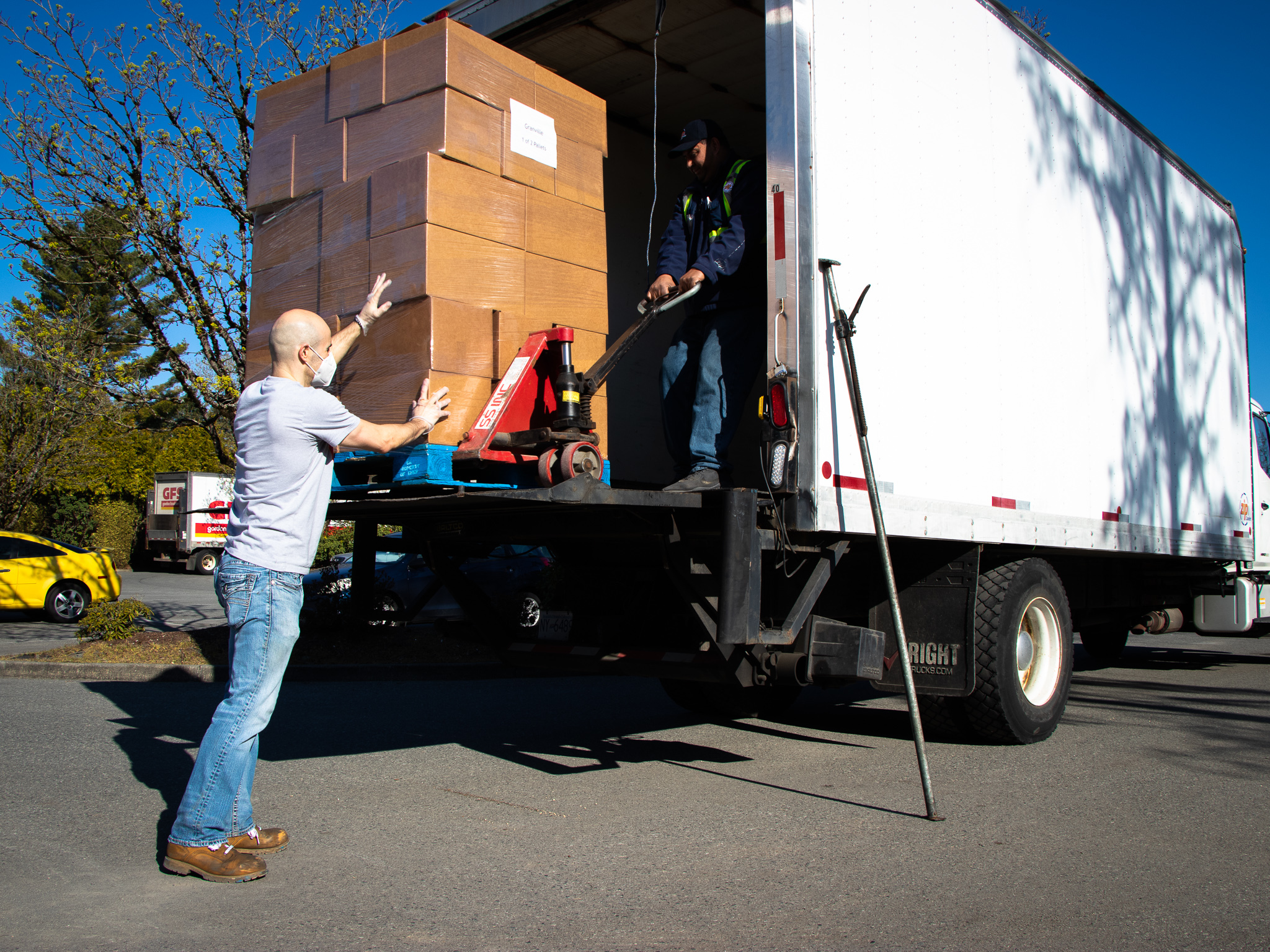 Bradford says he usually eats his meals from the New Continental's shared kitchen, which provides subsidized lunches and dinners to him and his neighbours as well as people who use the facilities at the nearby Gathering Place.
But the kitchen was shut down a couple of weeks ago to keep the virus from spreading among residents. Bradford said he's been impressed by the city's response. Staff quickly stepped in to provide brown-bag meals, but that's since been replaced by the hamper program.
"For us to get the meals provided free is absolutely wonderful," he said. "It is actually a morale booster."