My heart races as I reach for the door handle of the barbershop. I sit down in a waiting area filled with men who turn to look at me. I worry they think I don't belong here.
It's been seven years since a barbershop in Regina denied me service, yet I still get nervous whenever I go for a haircut.
I had asked to book an appointment for a hard part, a traditional barber-style cut in which a line is shaved onto the scalp to create a semi-permanent part in the hair. The person who answered the phone read my voice as feminine and told me they only cut men's hair.
The next day, I told the media I was going to file a human rights complaint, after which hundreds of people took to social media to attack my character, question my motives and publicly humiliate, harass and threaten me.
"I hope someone shoots her in the uterus," wrote one person on Facebook.
"I'd shut her up by f--kin' up her haircut," wrote another. "Fight the good fight, boys. I'll help any way I can."
In the days that followed, I was afraid to leave my house and turned down media requests over concerns for my safety and mental health. I've always regretted not saying more.
Barbershop supporters had hijacked the debate in order to advance a spiteful men's rights agenda that framed cisgender men as the victims of feminism-gone-too-far.
Meanwhile, many trans, non-binary, gender nonconforming and two-spirit people were navigating a heavily gendered hair industry that impedes us from accessing haircuts that help us look the way we feel.
So, I set out to talk to other trans and gender nonconforming folks who go to barbershops. I discovered that although some people have had positive experiences, others have never been to a barbershop or have stopped going altogether.
These interviews have been condensed and edited for clarity.
Nillin Lore
Nillin Lore (they/them), a 35-year-old living in Saskatoon (Treaty 6), feels safer frequenting one of the city's queer- and trans-friendly barbershops than they do walking the city's streets.
"I once got a haircut ... where when I sat in the chair I ended up having to sit through a sermon where I was being told about God and about my soul and about my relationships with not only my other queer partner but being polyamourous and how being non-monogamous is a sinner's lifestyle.
"So here I am, vulnerable with a person with scissors to my head, as I had to sit there and be told that I was despicable and disgusting.
"As soon as I came into High Noon [Barber Shop in Saskatoon] … I was already very, very, very nervous because I was in this dress. ... I had already had to walk a few blocks, and I'd had a lot of people staring at me, a lot of people pointing. ... And I came in and the environment just entirely shifted almost immediately. It was just literally very welcoming, affirming — no judgments, no staring … And by the end of it, when I looked into the mirror, everything was tidied up. I felt really, really, really rockin' and gorgeous."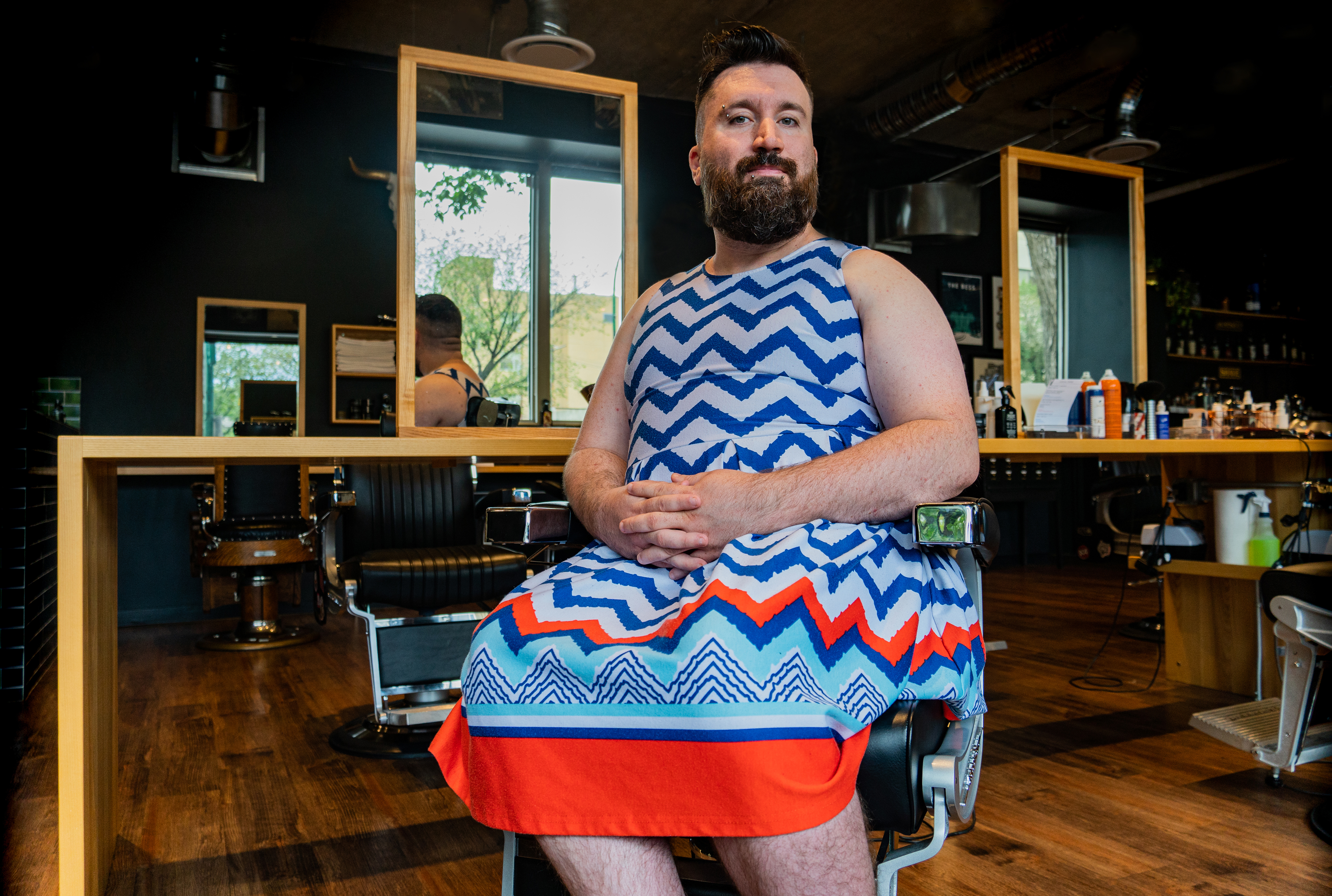 "As soon as I step out of the building and I'm walking down the steps, this red truck drives by and I hear this guy coming out the window and he yells, 'What the heck is that? Is that a guy in a dress?'
"And him and his buddy are just hootin' and hollerin' and laughing about it, and they're throwing expletives my way. And I walk a few more blocks … and then it happened again.
"So it was devastating, really, honestly."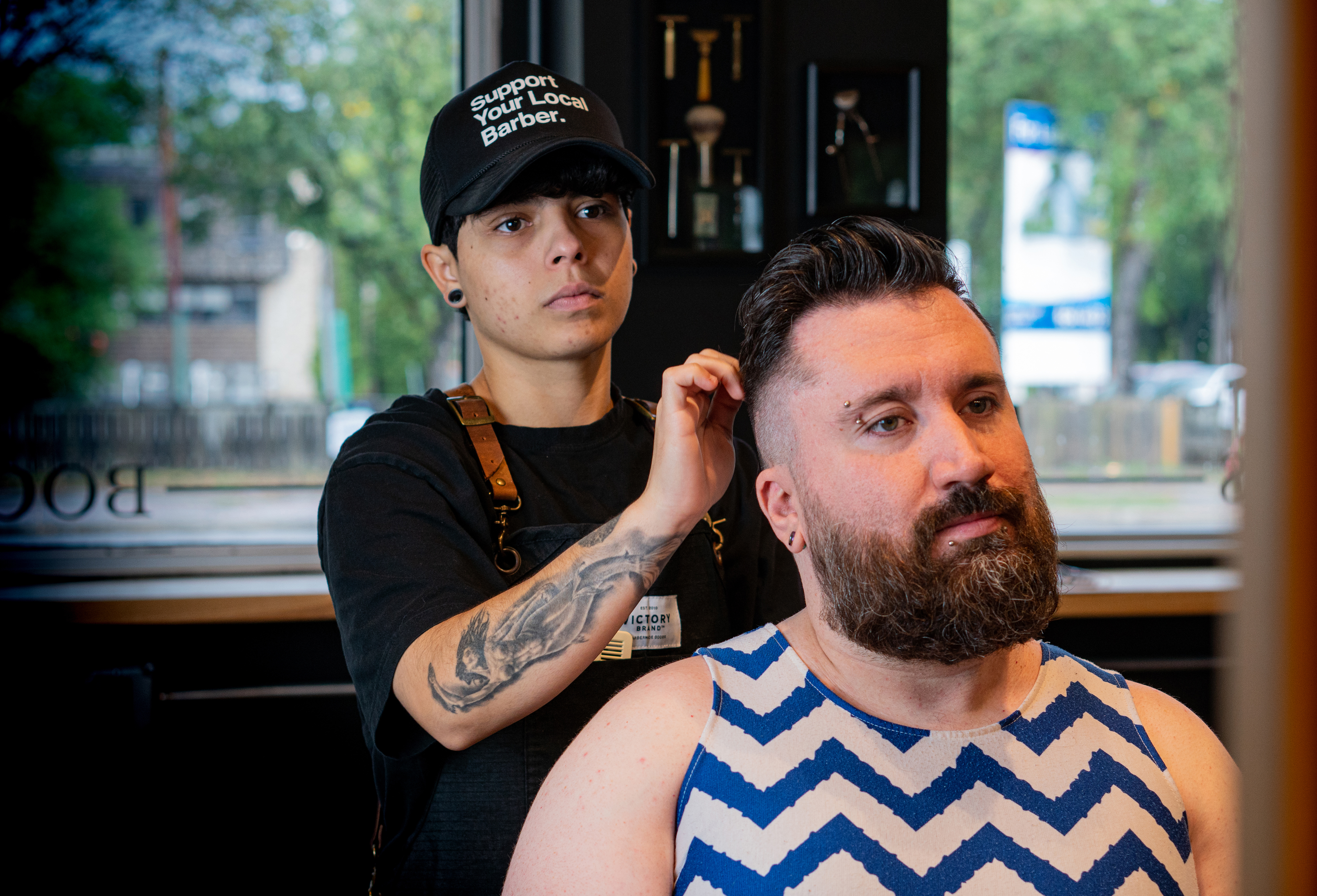 "Barbershops are always depicted as the boys' club, the men's chair — really awkward conversations maybe about non-consensual exchanges or toxic masculinity, which I always find extremely uncomfortable to have to try to sit through. But there's just none of that here [at High Noon], and it's really, really wonderful.
"To other queer and trans and non-binary individuals out there that are looking for safe spaces and who feel uncomfortable going out in public, it is really, really hard and I get it. But any of you who choose to step out into the world as you are, that's incredibly important, and I see you.
"Others are seeing you. And if you need help getting to a place … find a buddy to go to a barber with you."
Kihewkwun Pete-Bull
Kihewkwun Pete-Bull (they/them) moved to Saskatoon (Treaty 6) from North Battleford, Sask., two years ago. The 26-year-old, who is two-spirit, fears being turned away by barbershops and instead goes to a salon to see a certain stylist who respects the fluidity of their gender identity.
"I had a buzz cut for the first time in all my life and it was really freeing. I had the moment of, 'Yeah! I don't have to deal with that feminizing hair.' I know not just women have long hair. I do have young men in my life that have long hair.
"But for me, personally, being two-spirited, it was a difficult challenge of not being who I am and not feeling comfortable in my own skin."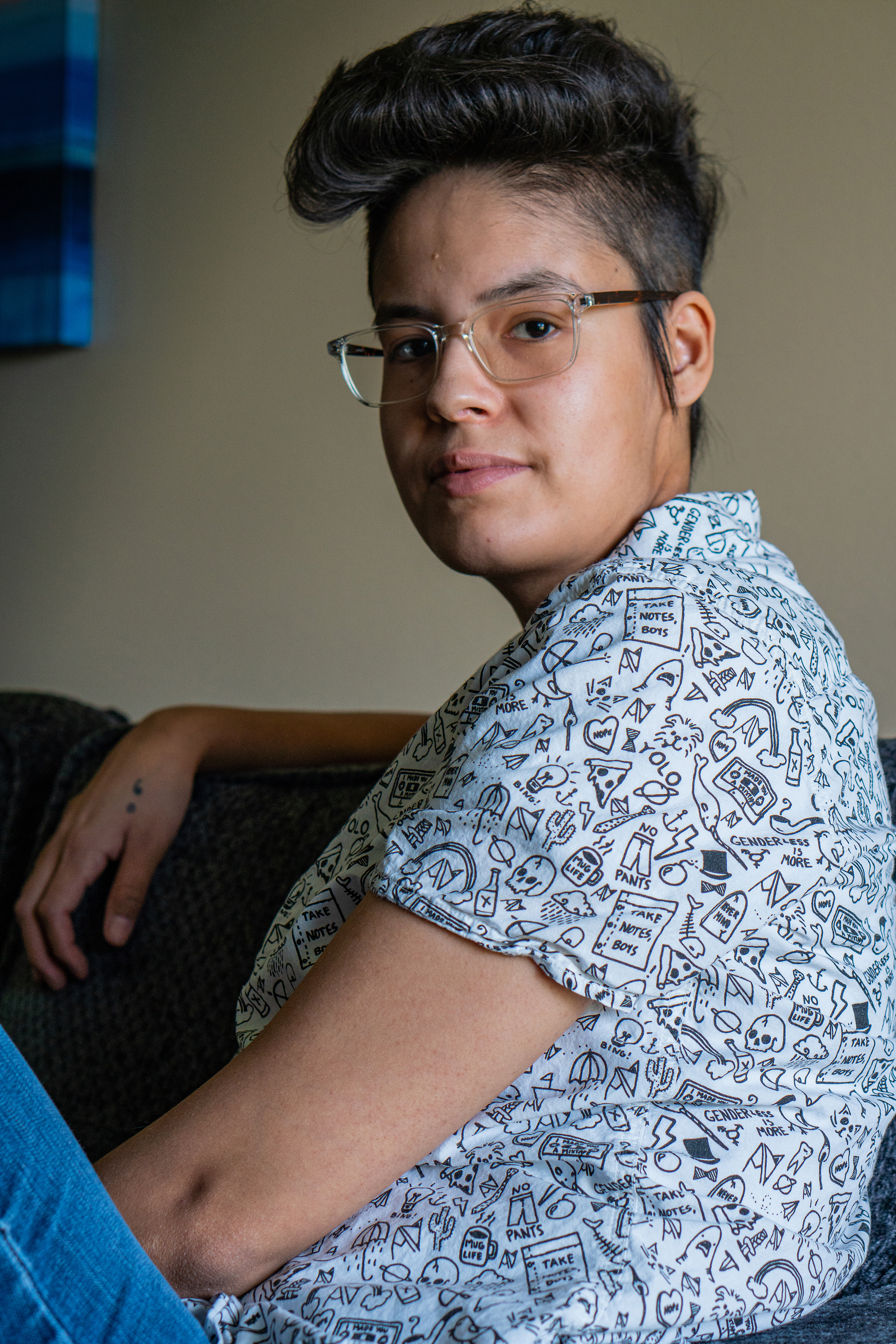 "[My friend's wife] does haircuts and hairstyling, and they [the couple] have members in their family that are also part of the LGBTQ community, so I knew I felt safe around them.
"She also worked with me to make my hair both feminine but yet still masculine enough for me that I can switch it however I wanted during the day — because I do dress more feminine sometimes, and I do dress more masculine sometimes. So having her confirm that in my hair made me feel even better.
"I didn't like the fact that in my culture, when I was growing up, you had to have long hair to go dance ... so, I am struggling with wanting to go back into the powwow circle and dance because I have short hair.
"My one mushum [grandfather] actually joked with me, saying that my hair looks like a seskices, which is our roach [headdress] that we put on the young men when they're dancing so they have the quills. And he's like, 'You're ready to go dance now.' And I'm like, 'Thank you!'"
Aiden Aichele
Aiden Aichele (he/him), a 62-year-old originally from Yorkton, Sask. (Treaty 4), now lives in Montreal (Tiohtiá:ke) and scours the city for barbershop options.
When Aiden Aichele was younger, he and his brothers would go to the barbershop with their dad.
"Occasionally we'd go in and I was just enamoured with the chairs and the shaving cream and the Barbicide.
"For me, walking into a barbershop feels like being at home. It's a place of comfort."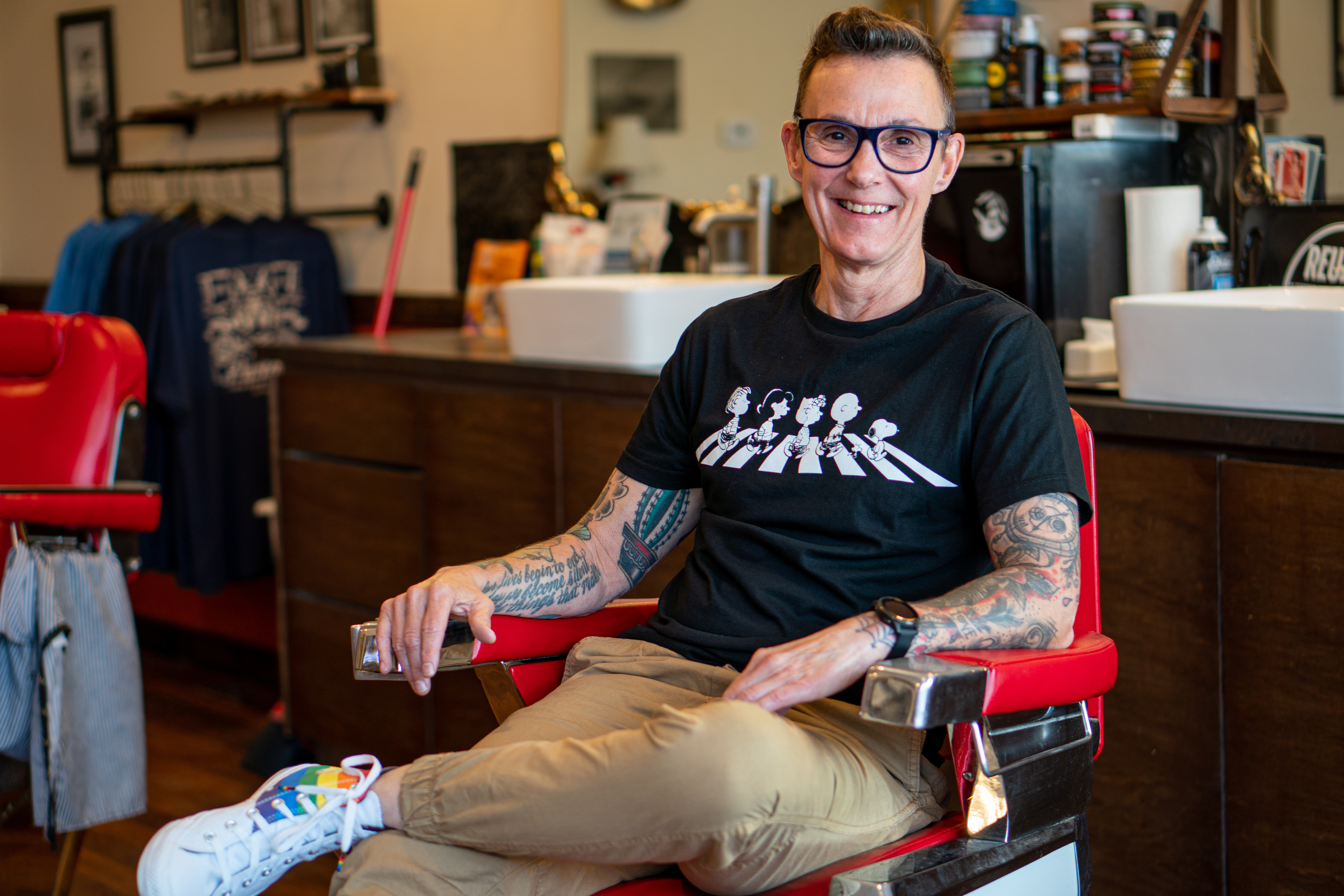 "When I started going to barbershops, I was like, 'Oh, this isn't as easy as I thought it was going to be, being trans.' I wasn't prepared for the level of anxiety that I felt, and it's interesting because I pass [as male] pretty much all the time, but there's been an occasion where I've had 'the glance' or a side comment.
"And I think after a couple of those experiences, I was like, 'No, I need to continue to do this. I need to challenge the perception and the ideology around barbershops and the history.'
"I kind of got tired of having to go in all the time with a photo, like I would prepare: 'This is what I need. I want something more masculine. I want this kind of cut. This is what I expect.'"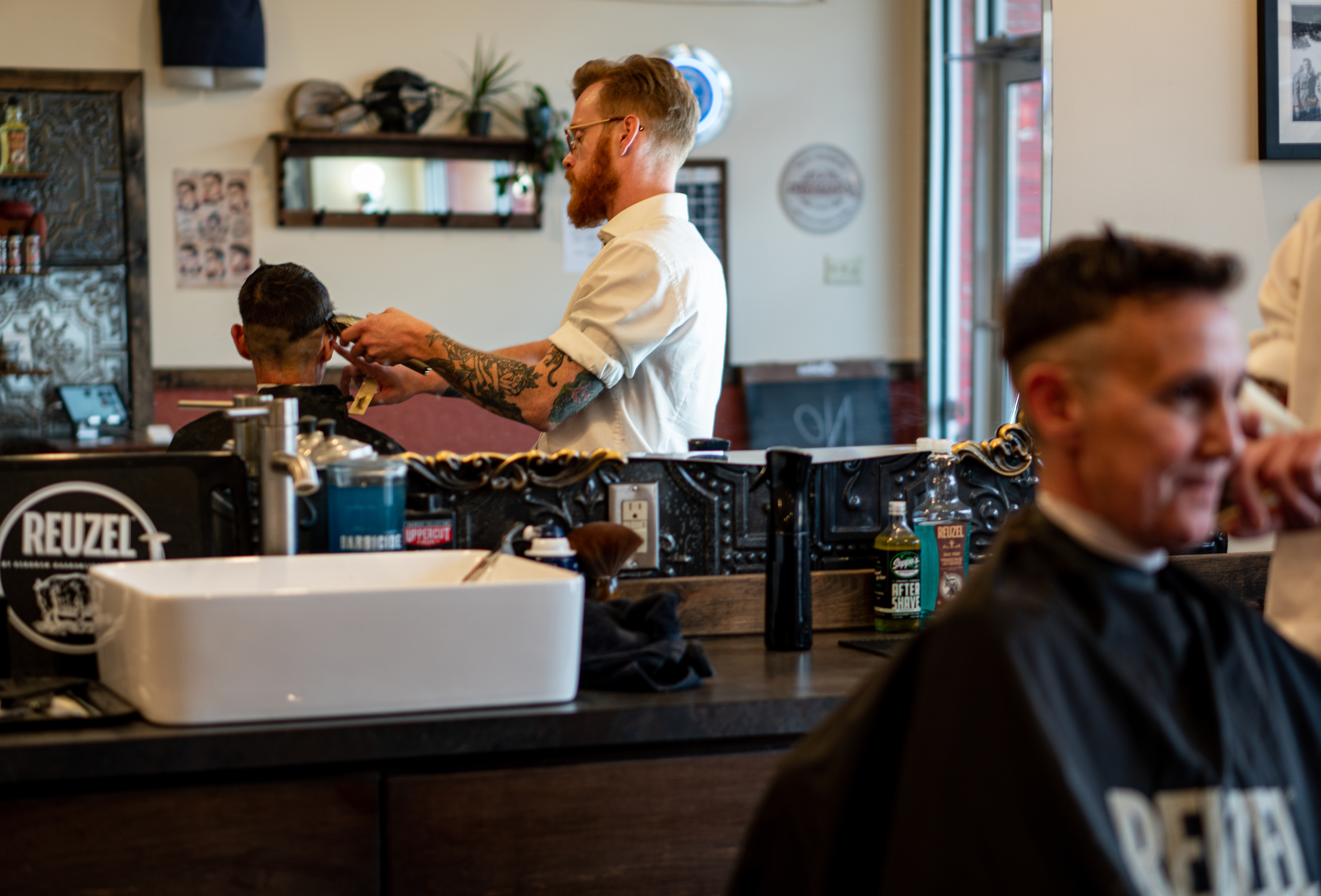 "I found a shop four years ago, and it was not an issue. There was an ease; there was conversation; there was dialogue.
"My hair has always been a part of who I am. … It's an expression of being true to myself, and it's an expression of art. It's an expression of freedom. It's an expression of who I am on a playful side, and people don't question me so much when I've got a really fresh cut. It builds my confidence. It builds my self-esteem."
Estefan Cortes-Vargas
Estefan Cortes-Vargas (they/he) was born in Colombia, grew up in Edmonton and now lives in Saskatoon (Treaty 6). The 30-year-old has worked at assembling the tools and perfecting the techniques required to trim their short hair at home.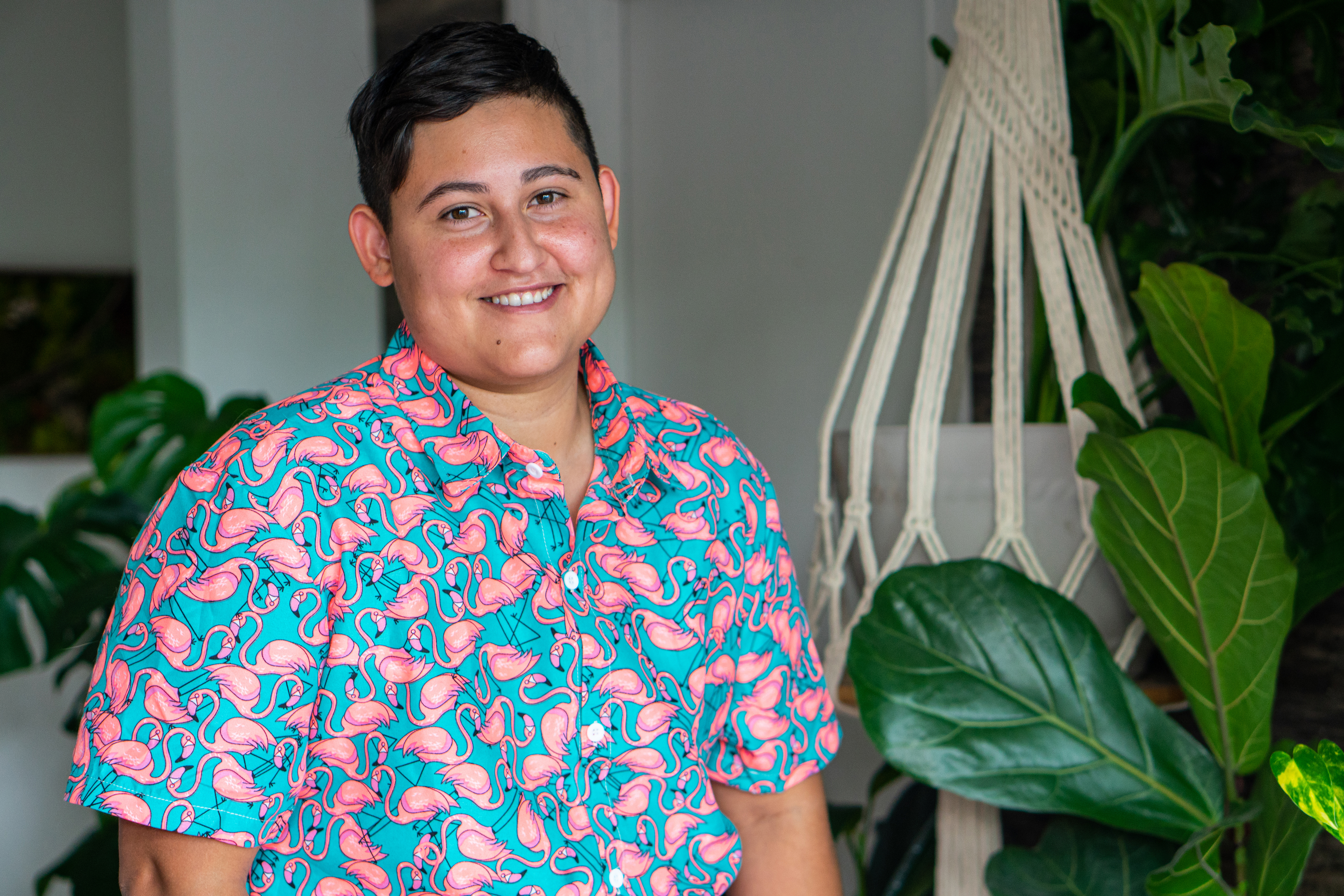 Whenever Estefan Cortes-Vargas would get their hair cut, they would tell stylists and barbers, "I really don't like spiky in the back."
"They would just style it in a very feminine way. Even if they knew — even if they were like, 'Yeah, okay, no problem,' it would always just happen."
"I think it's that unconscious bias that they have and part of them really wants to tell you, 'This is what feminine looks like, this is what females look like and this is what this cut needs to look like.'"
"During COVID … there's very limited ways of doing gender-affirming practices, and for me, cutting my hair is that.
"Just being able to know that I'm really in control of what it ends up looking like. Even if it looks bad, even if I mess it up, I really don't care. Like, I never unconsciously make it more feminine … and I think that gives my heart a lot of peace."
WATCH | Estefan Cortes-Vargas demonstrates how they cut their hair at home:

Connor Rodriguez
Connor Rodriguez (he/him) was born in Orlando, Fla., and has family ties to Borikén or modern-day Puerto Rico. The 30-year-old learned how to cut his hair at home thanks to YouTube tutorials. He now lives in Saskatoon (Treaty 6).
Connor Rodriguez has been growing his hair since the beginning of 2020.
"I really love my curls, which is different, because growing up I did not. … Also, being in Saskatchewan, I don't see a lot of Hispanic folks and it reminds me of my family."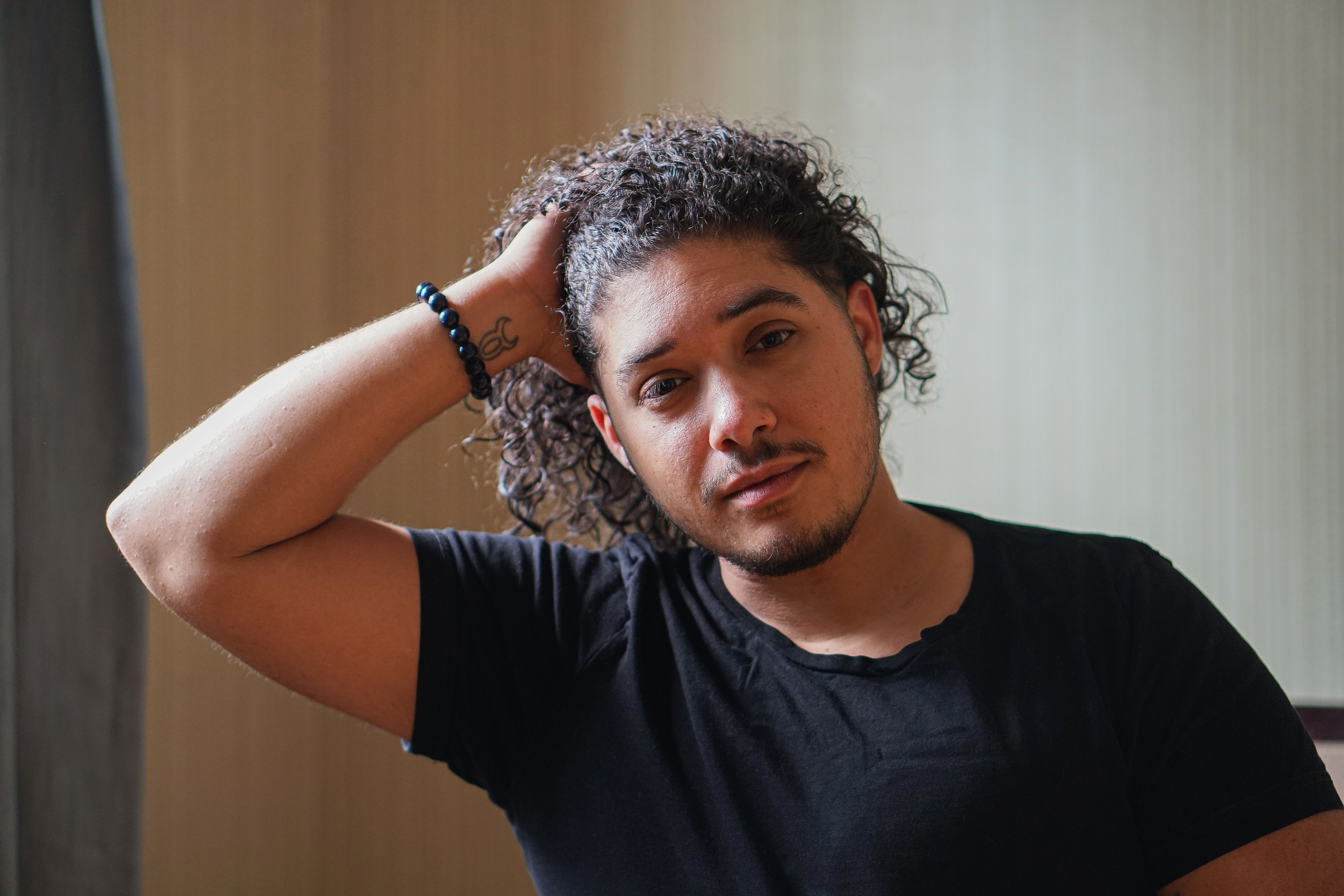 "As a trans person, I often felt that I needed to be very far masculine in order to 'pass' or blend into a cis society, which I don't really want to do but sometimes that's the safest way to navigate the world. But also it's really harmful when I'm getting misgendered, especially after all the time, the effort, the energy that I've put into my transition."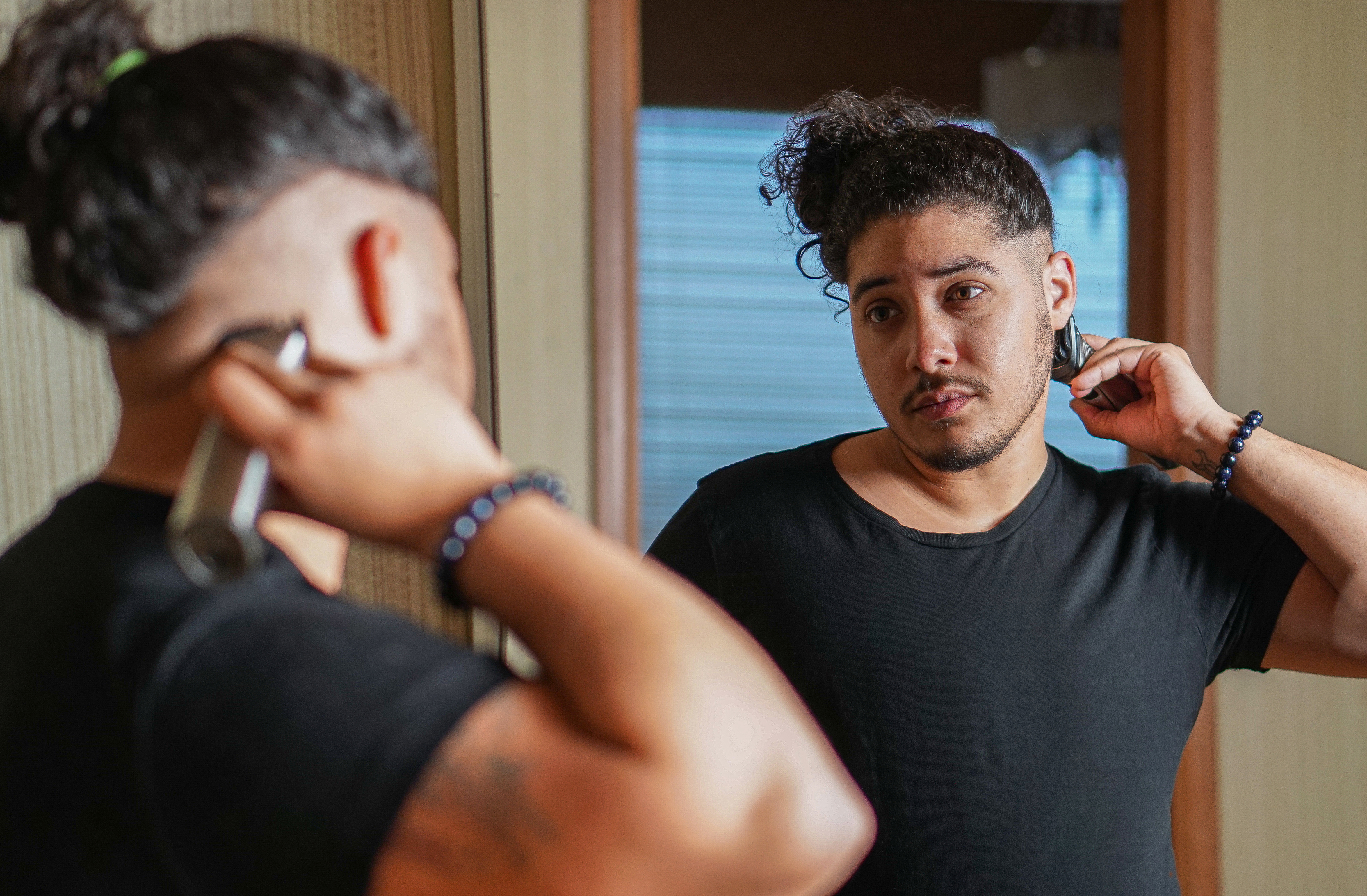 "I would invite friends to go with me [to get my hair cut]. In particular, if I went to a barbershop, I'd ask a cis male friend to go with me. It just felt like the safest thing to do.
"I don't know much about hair aside from how to cut my own, and things I've learned on YouTube, but I've had a lot of folks find out that I cut my own hair and they go, 'Oh, can you cut my hair?'
"And often they're other queer folks and a lot of them are trans folks who either cannot afford to go get haircuts or they're nervous. They're scared. Maybe they haven't been [to the salon or barbershop] since before they started their transition. "So I've cut a lot of folks' hair. I've also had a lot of folks help me out where I've been like, 'Whoops, I kind of made a mistake there … can you fix that for me?'"
Aspen Huggins
Aspen Huggins (they/them) from Regina (Treaty 4) enjoys the control they have by cutting their own hair at home — not to mention saving money while doing so.
"I've been cutting my own hair for about two years, and I started partly because when I would ask my stylist for changes, they kept adding in little feminine details that I didn't ask for, and I didn't really know how to articulate what I wanted differently."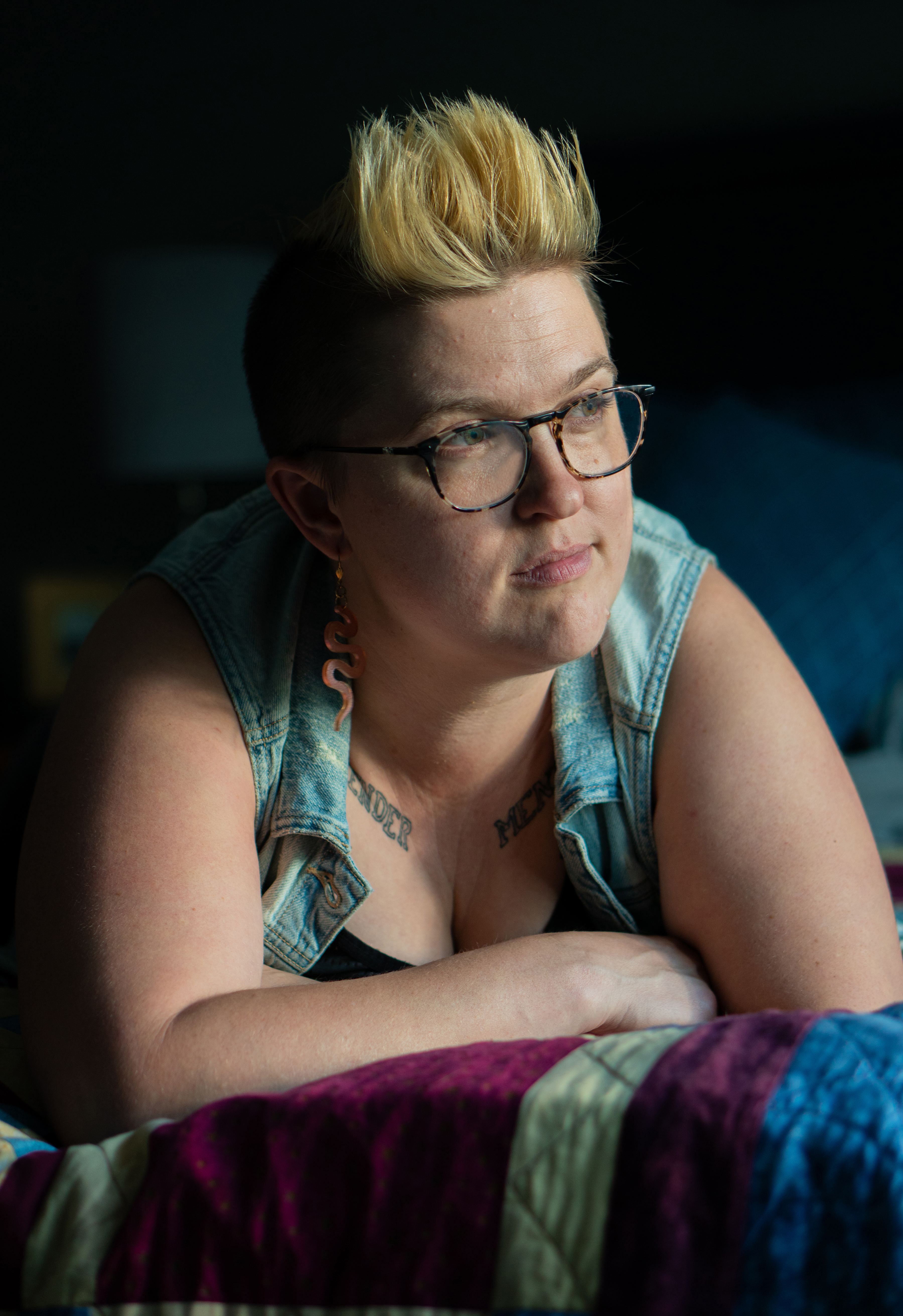 "Cutting my hair myself, I feel like I'm creating that aspect of myself. The same way as when I put together an outfit, I'm creating how I present. So, I like that about it compared to having someone else dress you, or having someone else style your hair.
"Also, it's so much cheaper! 'Cause I was spending a lot of money going to the stylist before and there were things I liked about it, but when I discovered that I could get a result that I was happy with for a one-time investment in clippers, that was huge."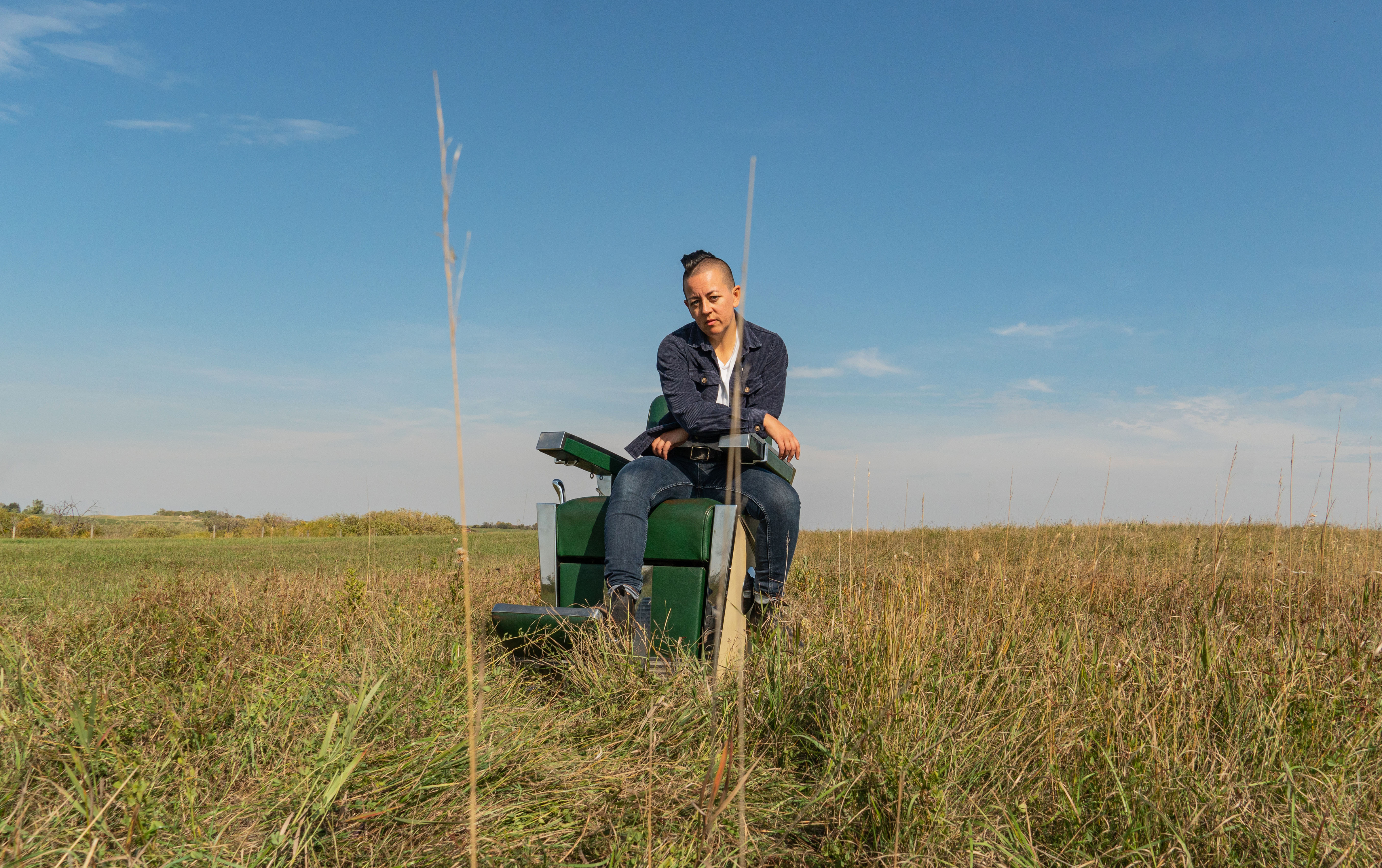 Nowadays, I regularly get my hair cut at barbershops. I sit in the waiting area, often surrounded by cisgender men. When it's my turn, the barber shaves the sides and back of my head, rubs shaving cream onto my scalp, and cuts a hard part into my hair with a straight razor.
When he is finished, I see my gender identity reflected in the mirror. I leave feeling happy and dapper.
CBC Saskatchewan thanks Parlour Barber Shop in Yorkton and High Noon Barber Shop in Saskatoon for use of their space and hair cutting expertise.
Evie Ruddy (they/them) is a digital storyteller, PhD student in cultural mediations at Carleton University and PhD fellow with the Transgender Media Lab. They live in Treaty 4, in the city colonially called Regina, with their two pups, Frankie Le Tigre and Gracie Peaches.