There was so much broken glass after 2,750 tonnes of neglected ammonium nitrate blew up, destroying the Beirut port and much of the city around it, that it looked like snow on the ground.
That's how one person described the Aug. 4 explosion.
More than a month later, Beirut is still shaking itself off, trying to dislodge the dust and debris from collapsed walls and fallen ceilings, and all the broken glass and the hearts that shattered with it.
An advertising firm has put up billboards on a strip of highway overlooking the vast explosion site quoting a well-known line by the Lebanese poet Nadia Tueni: "[Beirut] has died a thousand times and been reborn a thousand times."
It's a familiar refrain in a city that has prided itself on coming back from terrible calamities time and again — from Lebanon's long civil war, to conflict with Israel, to the aftershocks of the bloodbath next door in Syria.
The billboards are clearly intended as a message of support, and it is echoed in the graffiti and posters people have been daubing across fences and facades, promising resurrection.
But the August explosion is challenging the mantra like never before as people tire of betting on a country where so much of its hurt is self-inflicted.
Many here say the explosion — and the profound neglect and dysfunction it exposes among the political elites — has drawn a line.
For some, that means stand your ground and fight. But for so many others, it means flight.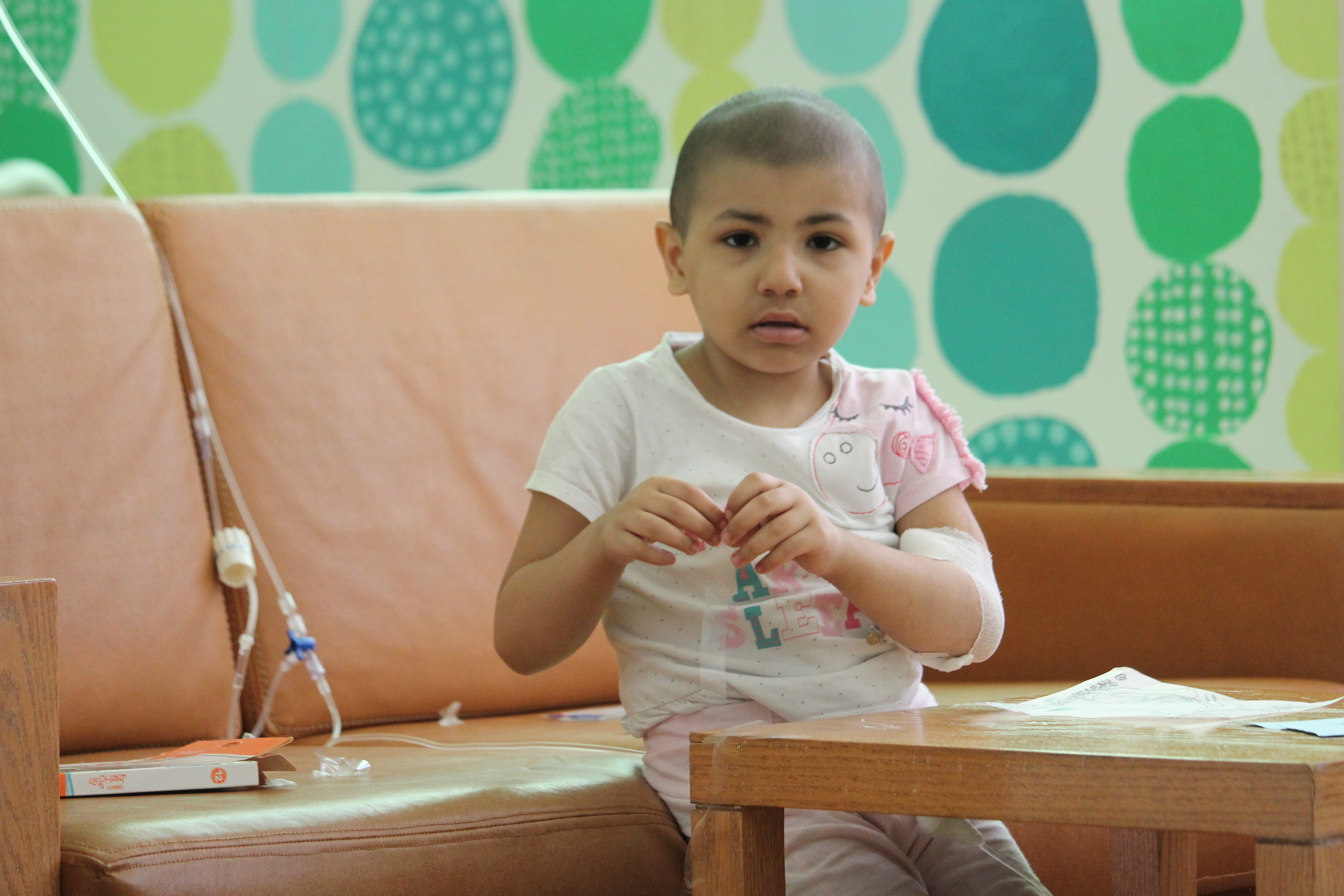 Hana Sammour sits watching her four-year-old daughter, Yasma, colour at the Notre Dame des Secours hospital in Byblos, about 40 kilometres north of Beirut. She's working on a picture of Bambi, but her mother says she's also been drawing pictures of the explosion.
"Raising our kids in this country is no more safe," she said.
Yasma has a rare form of leukemia and, already a veteran of long hospital stays, carries herself with a look of wary wisdom beyond her years.
She was awaiting a bone marrow transplant at the St. George Hospital in Beirut the evening the explosion rocked the Lebanese capital.
Less than two kilometres from the port, its force shattered windows and sent patients flying from their beds. The emergency room was destroyed. Video taken at the time showed nightmarish scenes of patients lying bloodied in the street.
"The first few moments [were] the hardest ones because everyone was shocked and you don't hear anything," said Sammour. "So, I didn't hear Yasma's voice. I thought first that she was dead."
"The woman in the room next door was screaming that her husband was dying so I ran fast and I [saw] her daughter, six years, another cancer patient, and she was shaking so I took her daughter and put her with Yasma."
The children were eventually transferred to the Byblos hospital. But Sammour said the explosion has rolled back all the work she and her husband put in over long months of trying to build a sense of security for Yasma.

"We no more feel safe and strong to support her to fight again the cancer, so it's starting from us. If we tell her again that everything is going to be OK, actually we are lying [to] her."
It has also convinced them that Lebanon is not capable of change.
"Everybody should say, 'It's enough,'" Sammour said. "But when you see people going around clapping for the politicians, you know there is no hope in this country. One hand can't clap alone."
The family has decided to try to go abroad for Yasma's operation, with a potential move to Canada. Sammour's brother lives in Ottawa.
"We are very sure this place is no more safe for us," she said. And that was before the fire in the Beirut port late last week — the second since the original explosion.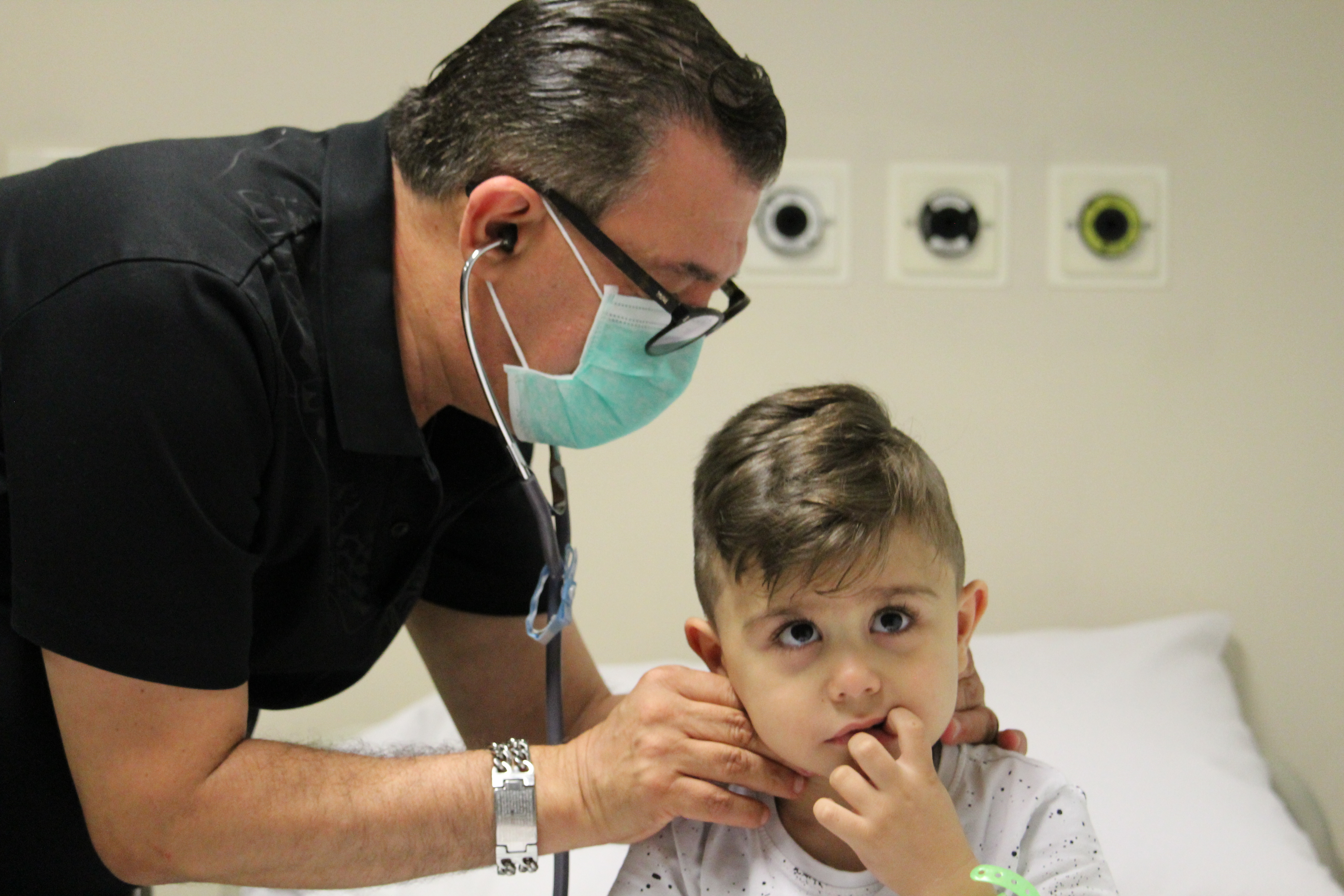 To reach Dr. Peter Noun, temporarily located in the basement of St. George Hospital in Beirut, you can either take the stairs down four levels or hail one of the few elevators running.
It's operated by a man sitting at a table with an old-fashioned phone that does the summoning.
Pounding on the doors also works.
Noun is used to being on the ninth floor, which is where Yasma was.
The pediatric oncologist has 150 patients. He's just recently managed to get a couple of treatment suites up and running again for day patients at the St. George.
"We are not comfortable here. We are not in our place," he said. "But we are back. This is a sign that we will continue."
He is constantly in motion, flitting here and there, often on the phone. And he is clearly a favourite with his young patients, putting them at ease and giving them a cheery "Bravo" for every painful probe they endure.
"Cancer is a chronic disease, so the patients and their families are here every week," he said. "It's very important for them, specifically after the blast, to see the normal faces they are used to see."
Lebanon was already on its knees before the explosion, with hospitals among the many victims of a financial crisis that has seen the Lebanese pound lose 80 per cent of its value over the past year.
In a country that imports 80 per cent of its needs, it has meant soaring inflation. Pile on a global pandemic and an explosion that killed nearly 200 people and injured 6,000, and the problem is clear.
"We can't afford anymore to pay all these bills," Noun said. "Hospitals cannot. People cannot. Nobody can. The people are so poor now."
The oncologist operates a charity called Kids First Association to help families who can't afford their children's drug costs.
But donations are drying up as the economic crisis hits the middle class.
Ask him about the Tueni poem, and he says everyone knows Beirut is supposed to rise again and again.
"But it's heavy. It's heavy."
Noun won't leave Lebanon. But he is planning to send his own children abroad to study.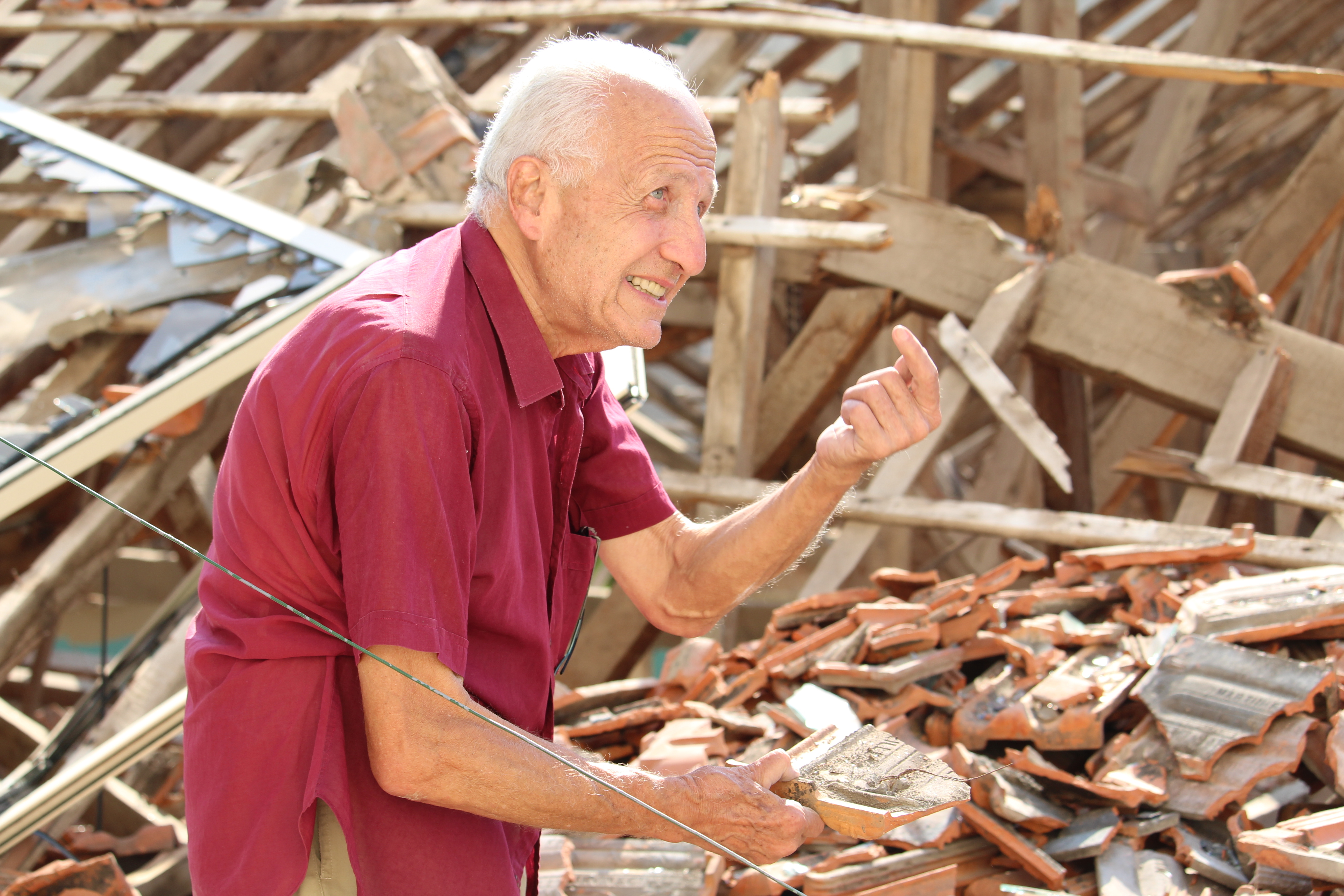 Abdo Pharoun, 76, stands on the street in front of a pile of clocks collected from his damaged house in Gemmayze, one of Beirut's popular neighbourhoods.
Their hands have all stopped shortly after 18:07, the time of the explosion.
Gemmayze is one of the neigbhourhoods closest to the port and home to some of the city's architectural heritage, dating back to Ottoman and then French Mandate times.
Pharoun said he is disappointed the Canadian foreign minister, François-Philippe Champagne, met with Lebanese President Michel Aoun during his August visit.
Pharoun accuses the president of caring more for Christians than Muslims and said he's stoked division between them over the decades.
Now in his 80s, Aoun is emblematic of the sectarian dynasties that dominated Lebanon during the civil war, which lasted from 1975 to 1990, and still maintain their grip on power today.
Like so many of the people who have been impacted by the explosion, Pharoun said he's received no offer of help from any government agency.
His house was about 200 years old. One whole side of it was ripped away, giving him a new seaside view. The old wooden roof with its distinctive red tiles has also come down.
It is like standing in a dollhouse, as if a big hand might reach in at any moment and start re-arranging the chairs.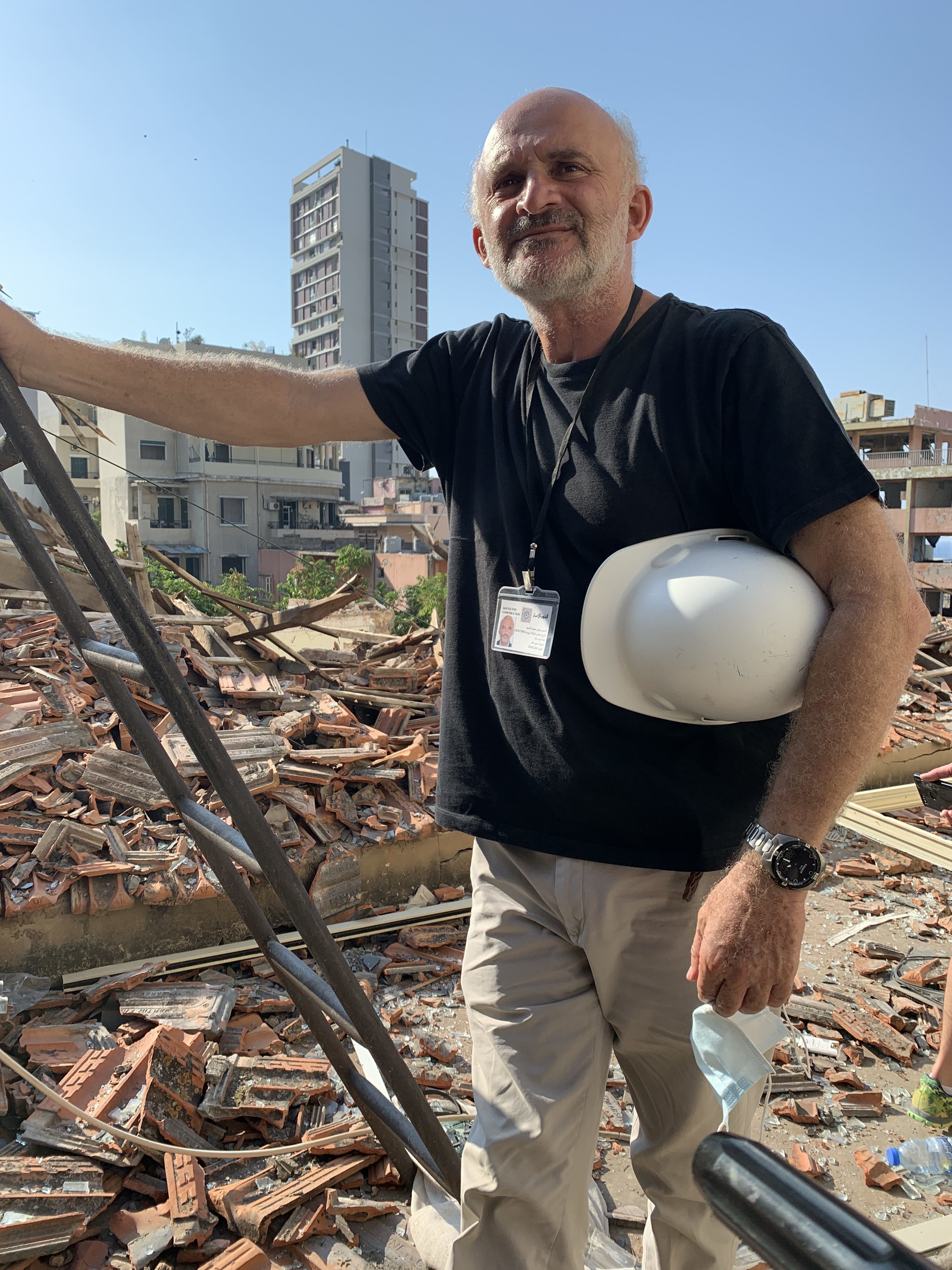 But the place is also busy with workers, courtesy of a civil engineer and philanthropist named Riad al Assaad, originally from southern Lebanon.
"The guy was born in this house, and he wants to die in this house," said al Assaad. "And this guy has been waiting for somebody to come and say hi."
His only conditions for helping Pharoun were the old man's word that he not sell the house or leave Lebanon.
Banners hung around the neighbourhood read "My Home Is Not for Sale."
There are fears that developers might take advantage of the destruction and bulldoze whole neighbourhoods in order to erect more of the skyscrapers that now stand with their innards strewn about by the blast.
"We live in a country where we can't expect anything from anybody but ourselves," said al Assaad, who said he is working to save as many as 11 heritage homes in the neighbourhood.
Although he himself lived and studied in the United States when he was younger, al Assaad insists he's not going anywhere. Nothing will change unless the Lebanese stop treating their country "like a hotel," he said.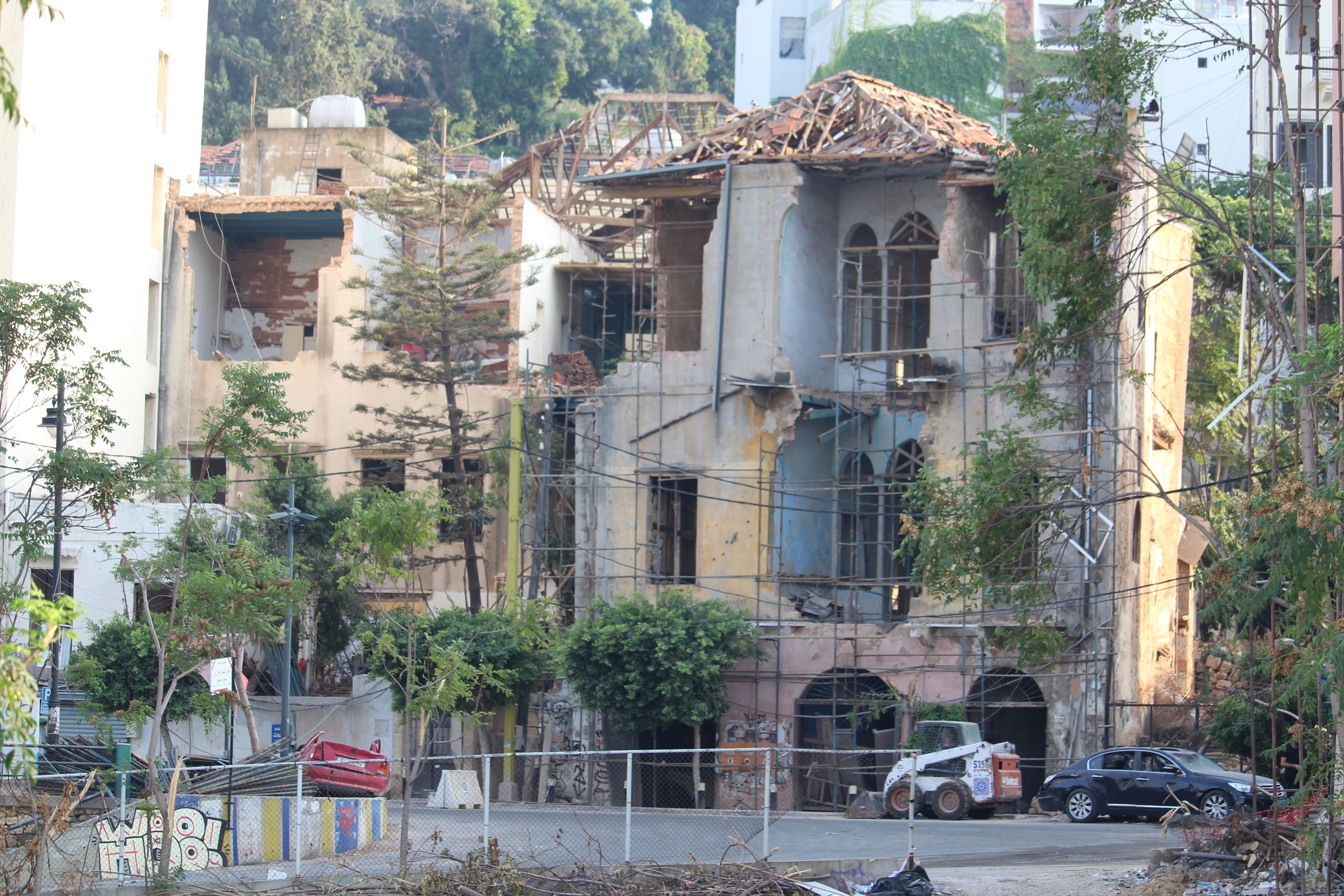 Al Assaad believes the country's problems date back to the end of the civil war in 1990, when warlords were essentially handed the keys to the country's future in a power-sharing arrangement that brought peace but no process of accountability or reconciliation.
"We feel threatened every day. And who threatens us? It's these militias that threaten us, to bring us back," he said. "Yesterday in Beirut, we had a huge firefight. Who protects you? Do you go back to your fort? You go back to your sect?"
The absence of a strong national identity, he said, is one of the biggest challenges for the country going forward.
"You have to rebuild and slug it through. Now you tell me, how many times do you rebuild? I don't know."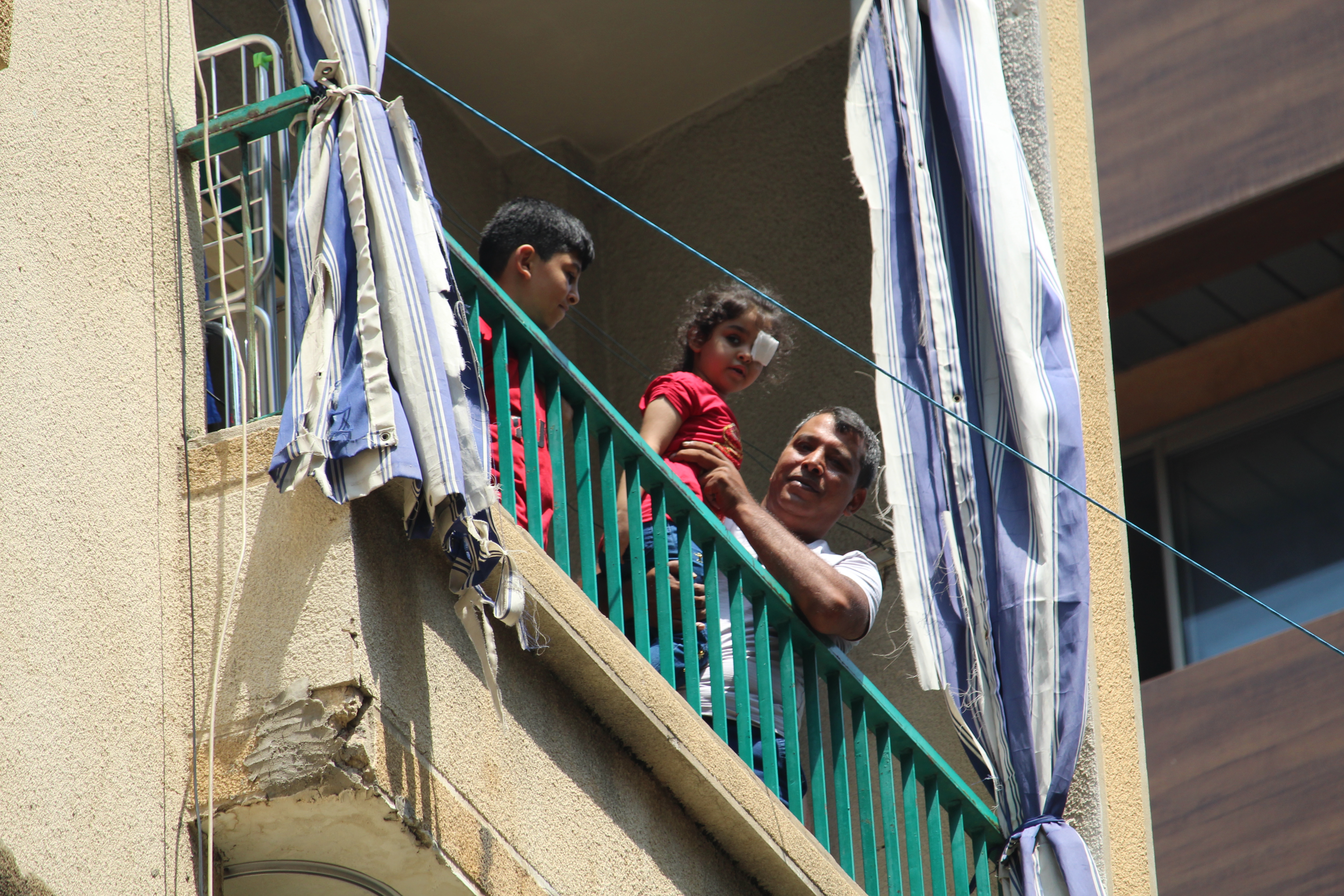 It is a question Syrian refugees in Lebanon, including Makhoul al Hamad, are familiar with.
He lives in a small apartment just a few blocks away from Pharoun's home with his wife and four children. His building faces away from the port, not toward it.
There are now more than one million Syrians living in Lebanon.
"They think we are a burden," said al Hamad, who has gone back and forth between the two countries for work as a labourer for some 25 years.
He moved his family to Beirut in 2016.
They had been living in Manbij, a town in northern Syria taken over by the Islamic State in 2014. When ISIS was eventually pushed out, he decided to move his children away from the conflict.
"I brought my kids here to keep them away from this ominous atmosphere of terrorism, in order that they continue their education," he said. And what happened here feels as if I am in Syria and in a battlefield."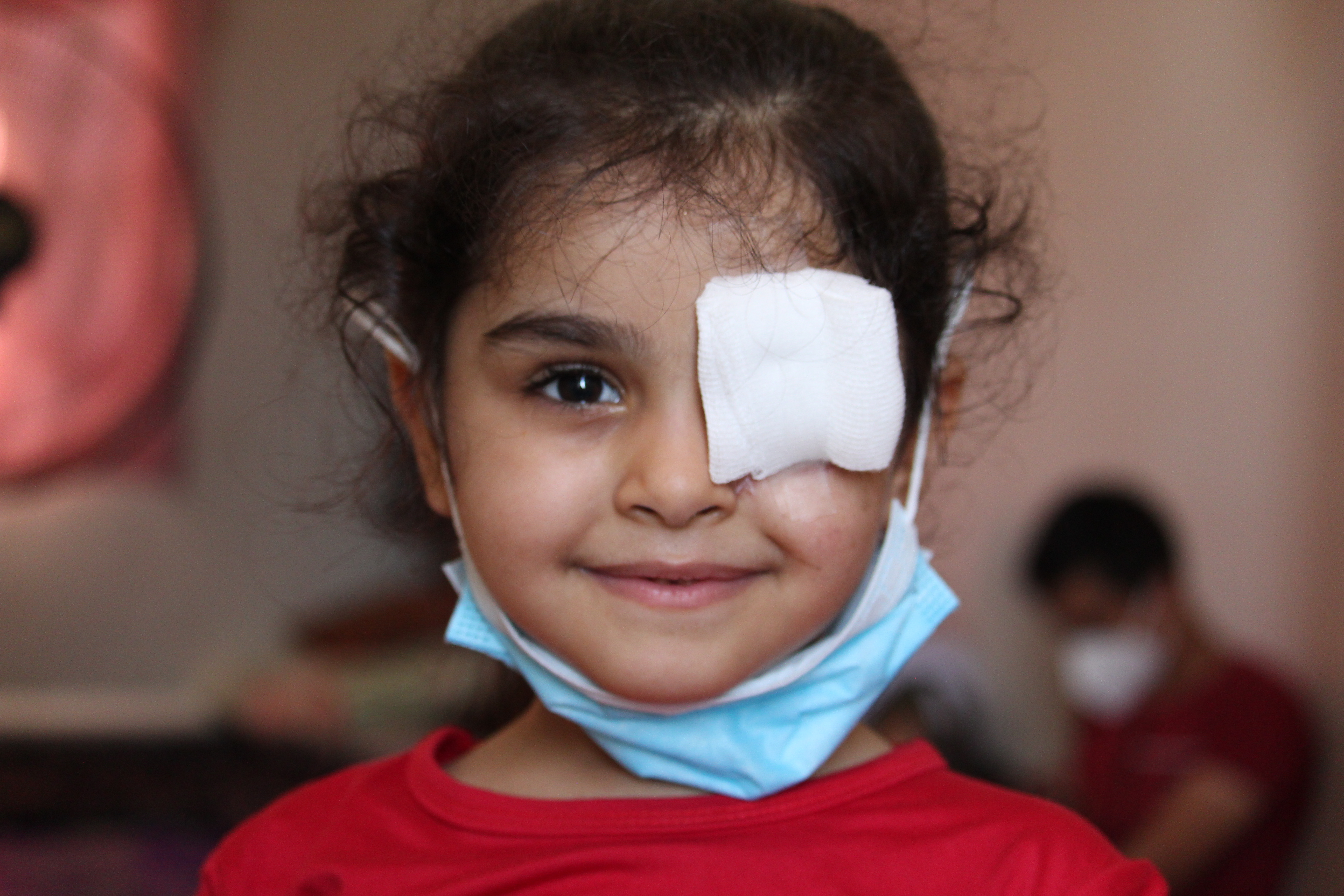 Al Hamad's youngest daughter, Sama, lost an eye in the explosion.

At the age of four, she is already a force of nature. She lists off the names of all the fruits she knows in English, professes a love for Popeye, and then patiently recounts her version of what happened.
"Thieves came out that night," she said. "With ghosts and lions and everything scary."
Sama was hit by flying glass from the blast. A picture of her in the arms of a neighbour rushing her to hospital shows blood streaming down her face.
There is no doubt in her mind that she will find another eye — either in the nearby neighbourhood of Hamra, she said confidently, or by going overseas.
Her father is less sure. His income has been affected by Lebanon's COVID-19 lockdowns, and he worries about what he describes as discrimination against Syrians at some hospitals.
As for Lebanon's future, he doesn't believe it will take a turn for the better without outside pressure.
"If there won't be any external interventions and major powers, the country won't be safe," he said.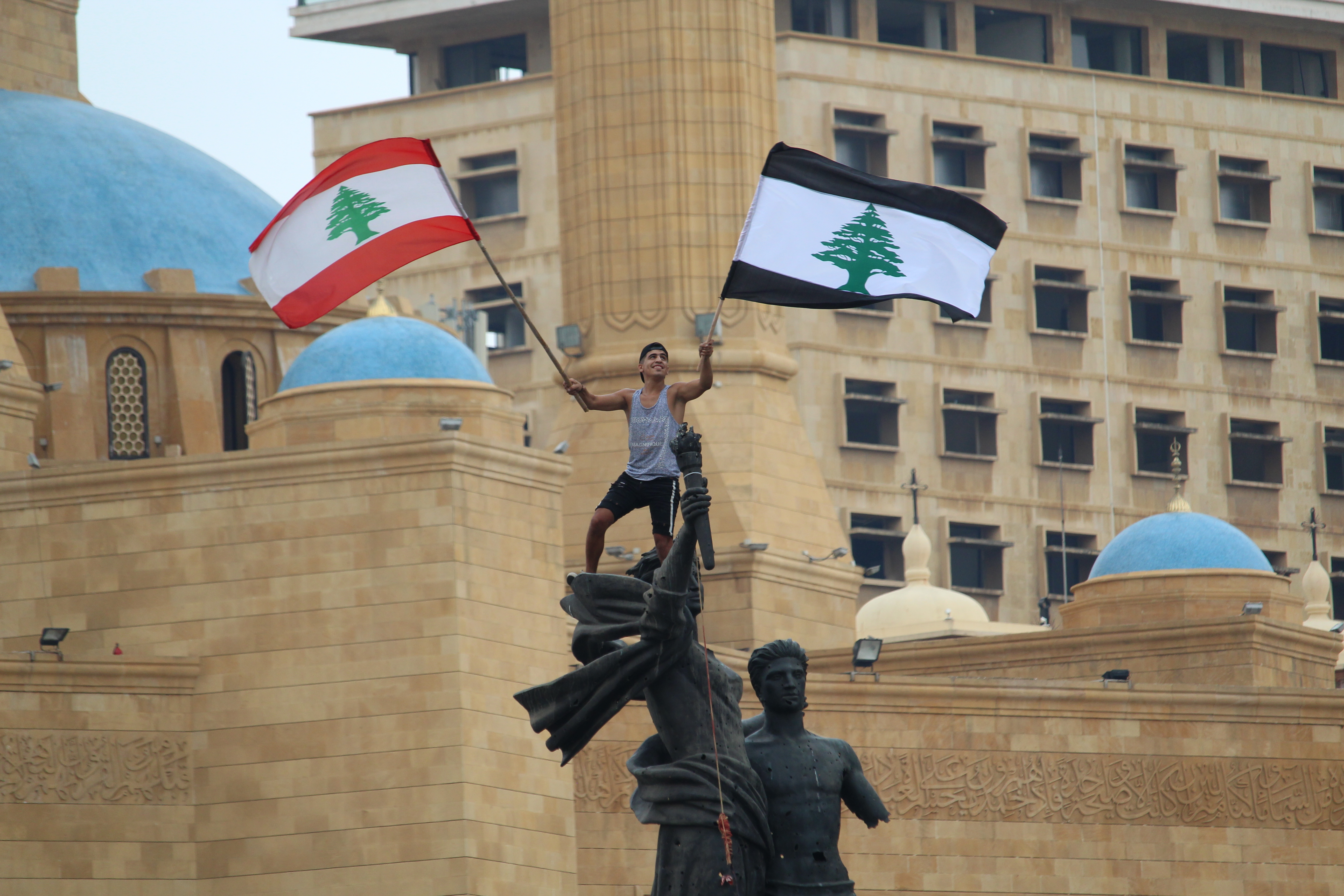 France, more than any other Western country, has been pushing Lebanon to make deep-rooted and fundamental changes to its way of governing. President Emmanuel Macron has visited twice since early August.
Canada, too, has sent its foreign affairs minister, and the United States an envoy.
But faith that these pressures — even with much-needed aid tied to reforms — will amount to real change is hard to find on the ground.
The government resigned en masse in the days just after the explosion, but efforts to form a new one looks to many like an attempt to shuffle the same old deck of cards.
"Either you shut down the sectarian system or we will stay always like this," said a young man named Toufik Najjar at a recent protest in Beirut.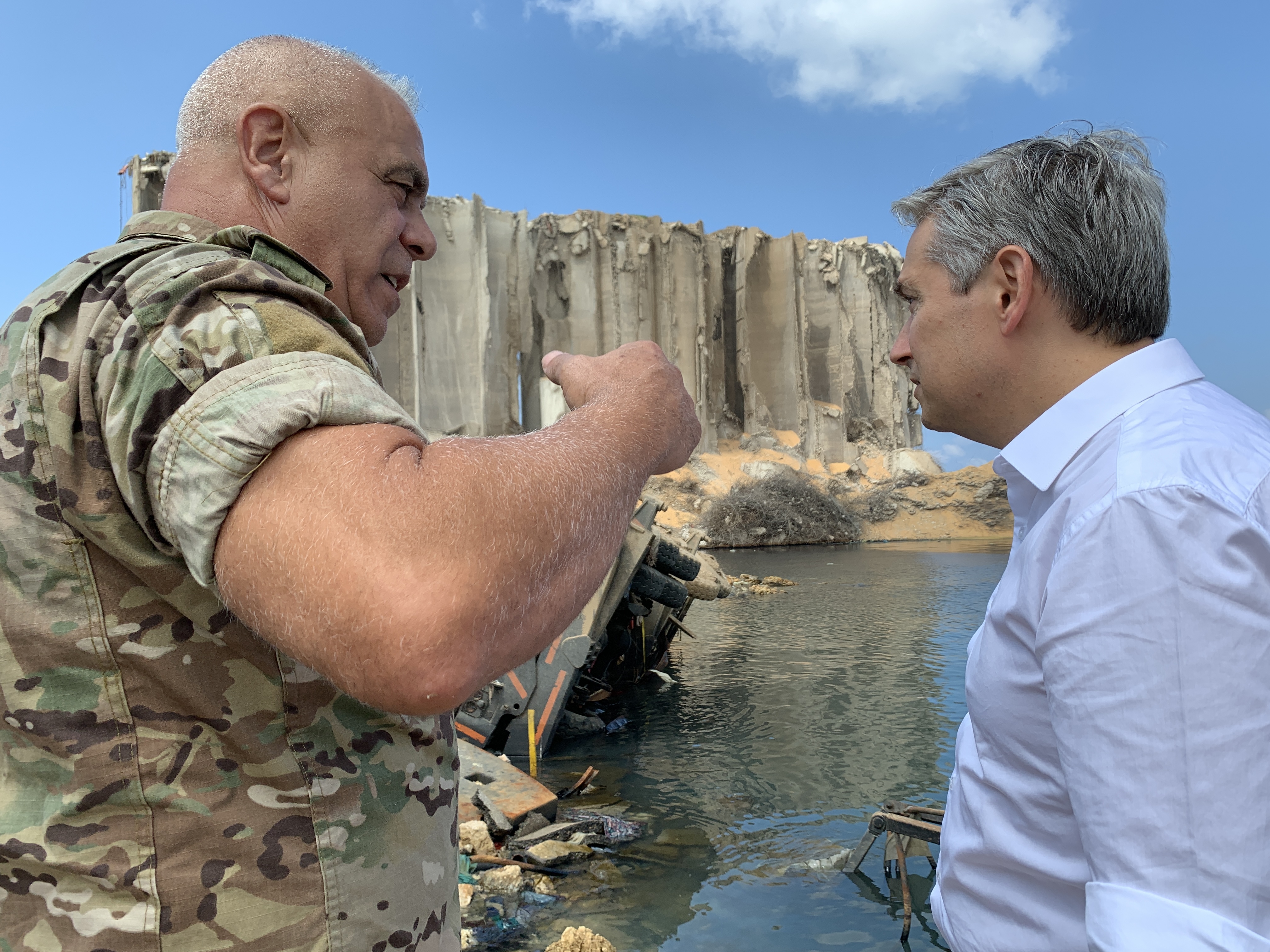 Demonstrators have been taking to the streets demanding a change in their leaders for nearly a year now, protests sparked initially by the economic crisis that pushed many toward poverty.
"All means all" has been one of the regular chants on the street, meaning they want everyone to go.
The news, not long after the explosion, that both President Aoun and the prime minister at the time, Hassan Diab, had been warned about the security risk at the port in July stoked the anger in the streets.
In the days that followed, they burnt effigies of Aoun and of the Hezbollah leader Hassan Nasrallah.
But the activists — energetic though they are, especially in stepping in to help victims of the blast where the government has failed — are disparate and not politically well organized.
And many of those young volunteers say they'd still leave Lebanon if they could.

All the slogans in the world won't put Beirut back together again.