As snow threatened to bury her St. John's home, Anna Patten packed a suitcase: five changes of clothes, sunscreen, sandals — the usual fare for a five-day Florida getaway.
It was early February, and news of a deadly novel virus ravaging the Chinese province of Hubei made barely a ripple in North America. At just over 28 weeks pregnant, Patten and her doctor agreed that a short jaunt south posed little risk to the family.
While family and friends were still digging their way out from a record single-day snowfall, Patten and her partner Stefan Hancock high-tailed it out of town.
Three days after landing in Tampa, and about 12 weeks before her due date, Patten's water broke.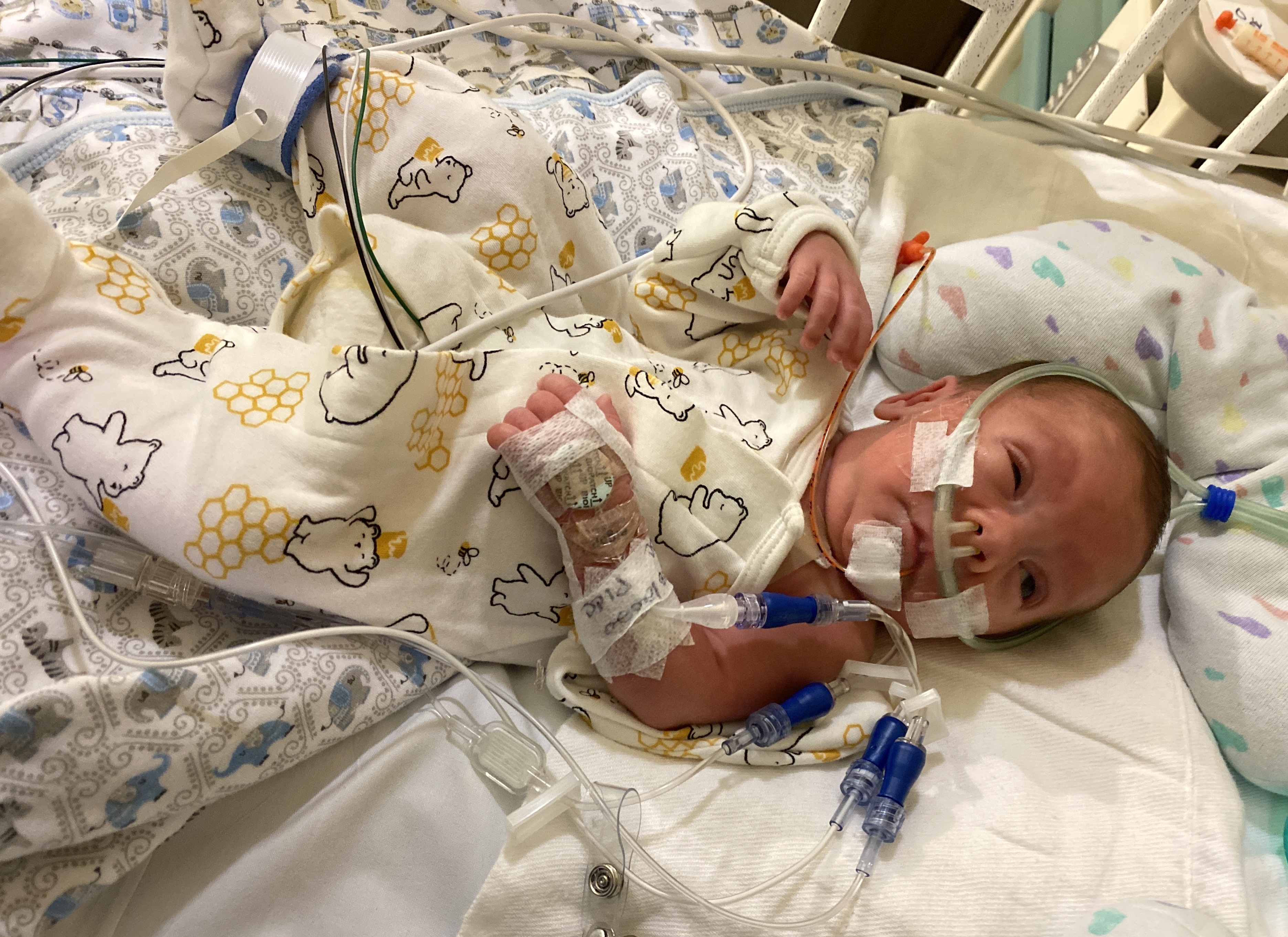 Canadians take about three million trips to Florida every year, many of them seeking an escape from harsh winters. Almost all of them make it back on their return flight.
When Patten and her partner, Stefan Hancock, booked their trip, China had an entire region under strict lockdown. Patten watched the developments on CNN from her family's condo, following the saga of quarantined cruise ships and uncontrolled transmission rates with a kind of detached horror. The virus was still a world away.
The couple gradually shook off the chill of a record-breaking Newfoundland winter. But the two had barely warmed up before the unthinkable happened.
On Feb. 7, their sun and sand vacation came to an unplanned end when Patten's water broke.
"It had been an absolutely perfect pregnancy," said Patten. "We were scared. We didn't know what to do."
"[The nurse] told me, 'You are going to have this baby now.' I was scared to death."
—Anna Patten
"We are in Florida alone, and I am getting a needle in the back of the ambulance," Patten recalled thinking, as the needle pierced her skin amid bumps and jolts from the moving vehicle. "He told me that he had done this on helicopters, and he put me totally at ease."

Over the ensuing weeks, that paramedic wouldn't be the last stranger to make the family, stranded far from St. John's, feel at home.
Many stressful minutes later Patten and Hancock arrived at Johns Hopkins All Children's Hospital in St. Petersburg. After her exam, the staff were insistent: nothing but bed rest for Patten for at least five weeks. That would raise the chances of getting the baby to 34 weeks — "when his lungs would be nice and strong," Patten said.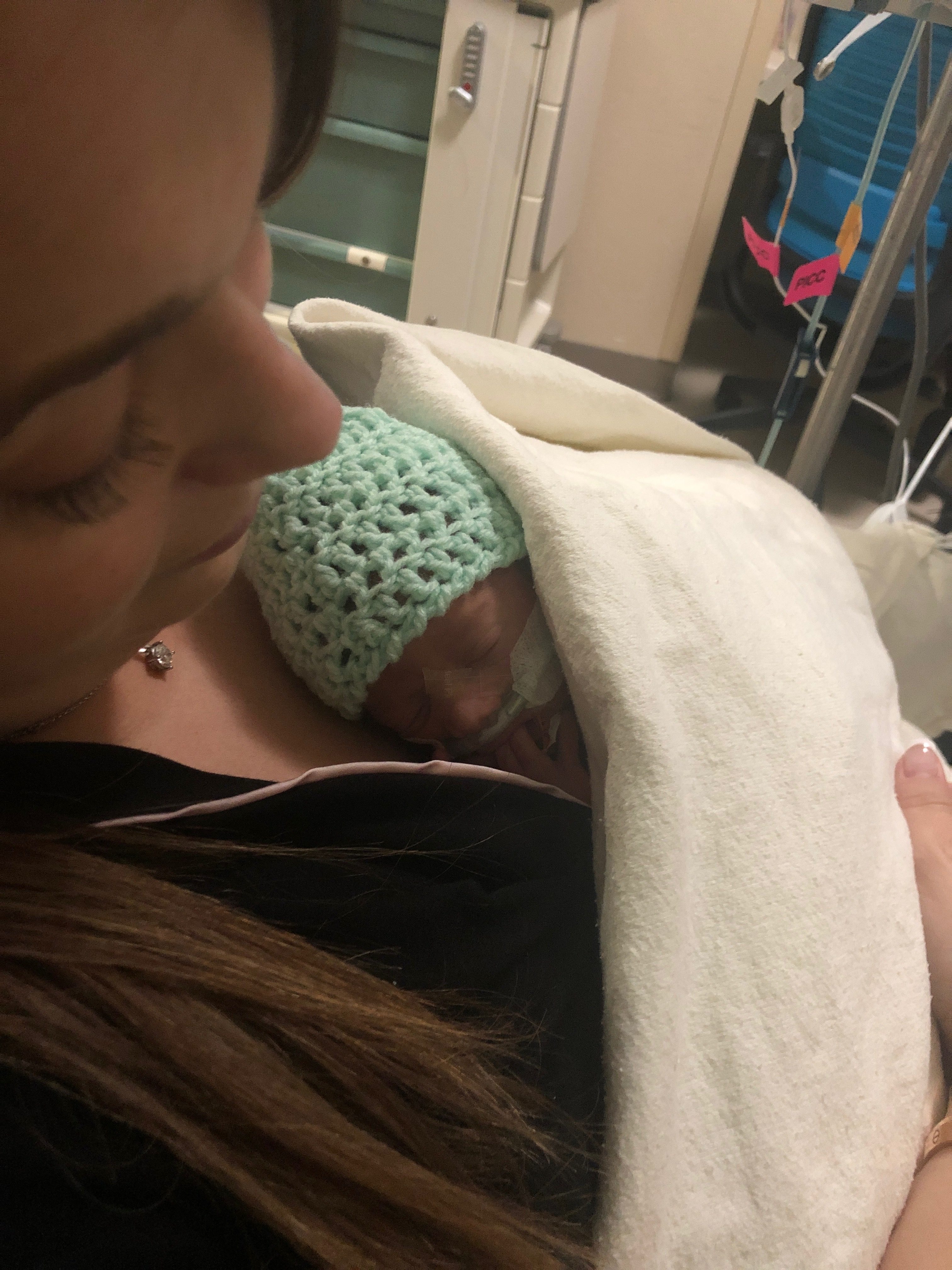 She didn't have much time to figure out how to extend her five-day vacation.
On Feb. 8, around 4 a.m., Patten, in extreme pain and discomfort, went into labour. "[The nurse] told me, 'You are going to have this baby now,'" she said. "I was scared to death."
Patten's condition prevented her from even making it to the delivery room, so staff called in the "Stork Team," a group of nurses and specialists who thrive under duress. According to Patten, 15 to 20 people rushed into the room, wheeling in a barrage of machinery.
John-Derrick Harvey Hancock entered the world three months ahead of schedule, weighing just three pounds and one ounce.

With their tiny baby safely under the care of staff in the neo-natal intensive-care unit, it was Patten and Hancock, right after the sudden delivery, who found themselves needing a little help.
It might be a cliché to say there is a Newfoundlander everywhere — but there was one in St. Petersburg, an "angel on earth," according to Hancock. Carolyn Kelly, a nurse practitioner from St. John's, met Patten and Hancock in their makeshift delivery room and simply told them she was "from home."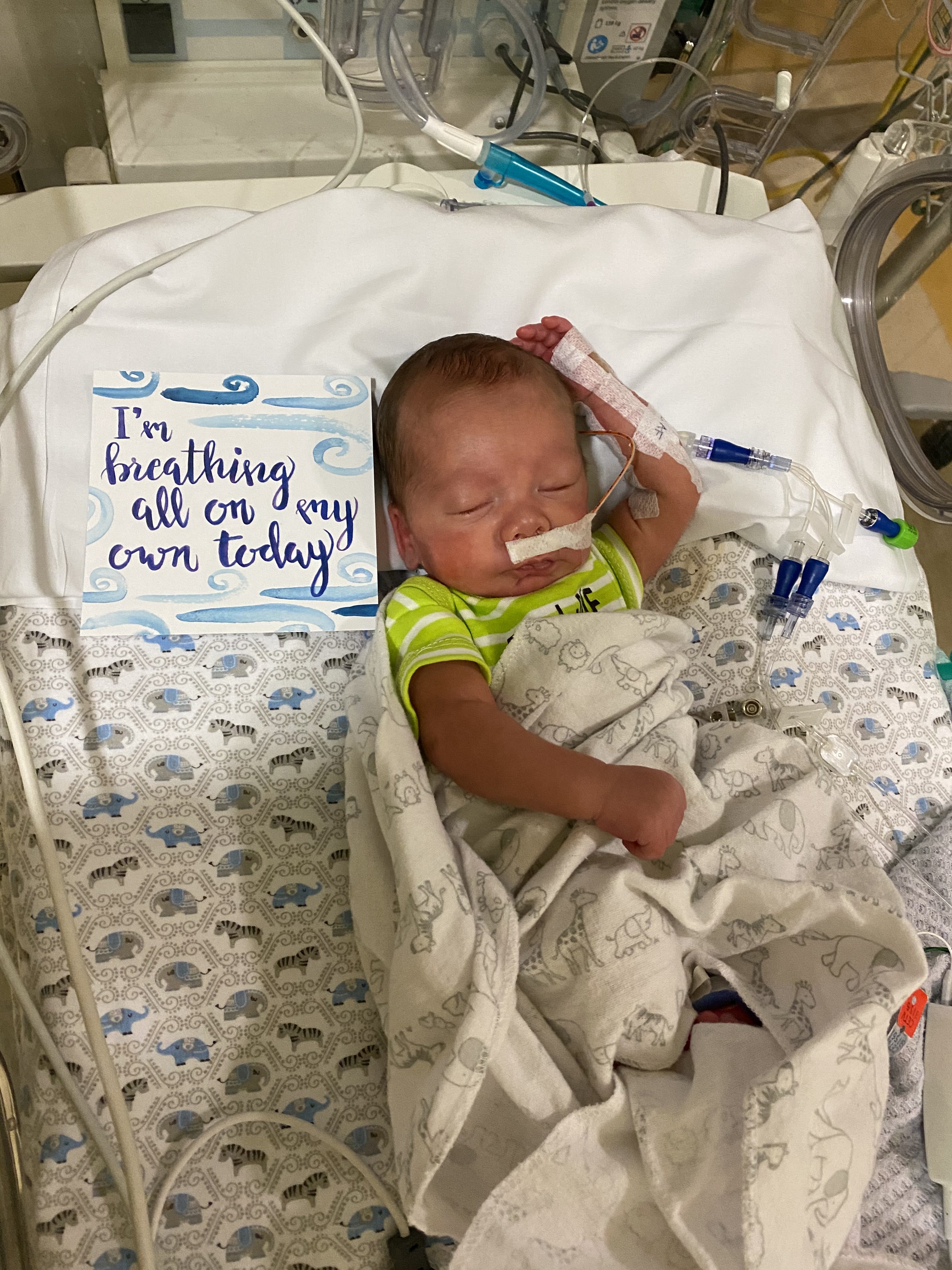 As stressful as the unthinkable situation had already been, it would only get harder on the St. John's couple. Kelly's mere presence, however, put both at ease.
"I just think I brought some familiarity to them," she said over the phone from Florida. "They were able to relax."
Like many Newfoundlanders and Labradorians, Kelly left home in search of work. That job hunt landed her at Johns Hopkins All Children's Hospital in St. Pete in 1996. Since then, she's dedicated her career to helping babies like little John-Derrick.
Kelly pauses, momentarily overcome with emotions, when asked why she chose to work in the neonatal unit. "It's what I'm good at," she mustered.
"Am I going to get back to see my son? Am I going to have to rent a car and drive back? One way or another I was going to get back."
—Stefan Hancock
After a few weeks of bad luck the meeting marked a stroke of good luck for Patten and Hancock. Of all the hospitals the two could have landed in, the NICU at Johns Hopkins is one of the largest in the Sunshine State.

The unit has 90 beds and cares for about 70 to 80 premature babies at any given time. Kelly is one of about 30 nurse practitioners who just happened to be assigned to look after John-Derrick.
If, during the frantic search when Patten's water broke, the couple had ended up at another hospital, or had the baby been born in Tampa, the trio never would have connected.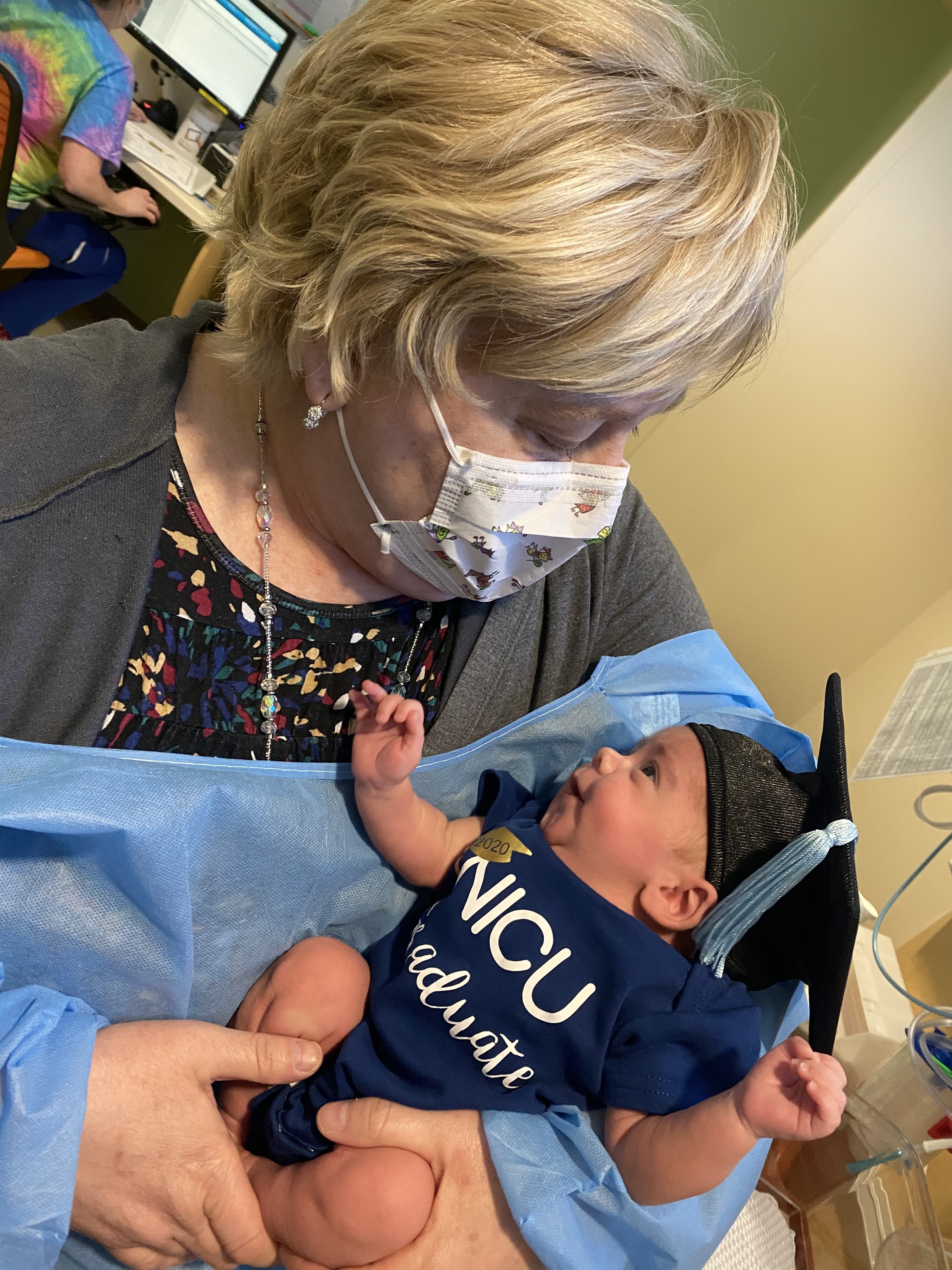 "It made me feel like we were home, as a sense of comfort and security," Patten said.
The four instantly clicked and immediately, as if they were at a shed party on a Saturday night, became like family.
Spending day after day watching your little baby in the NICU isn't something to laugh about, but having Kelly in their corner made the most stressful situation of their lives — one they never envisioned happening on their short trip to Florida —a lot easier to manage.
Kelly said that February morning was the first time in her entire career at Johns Hopkins that she had ever seen a Newfoundland couple in its NICU. "That's probably once in a lifetime."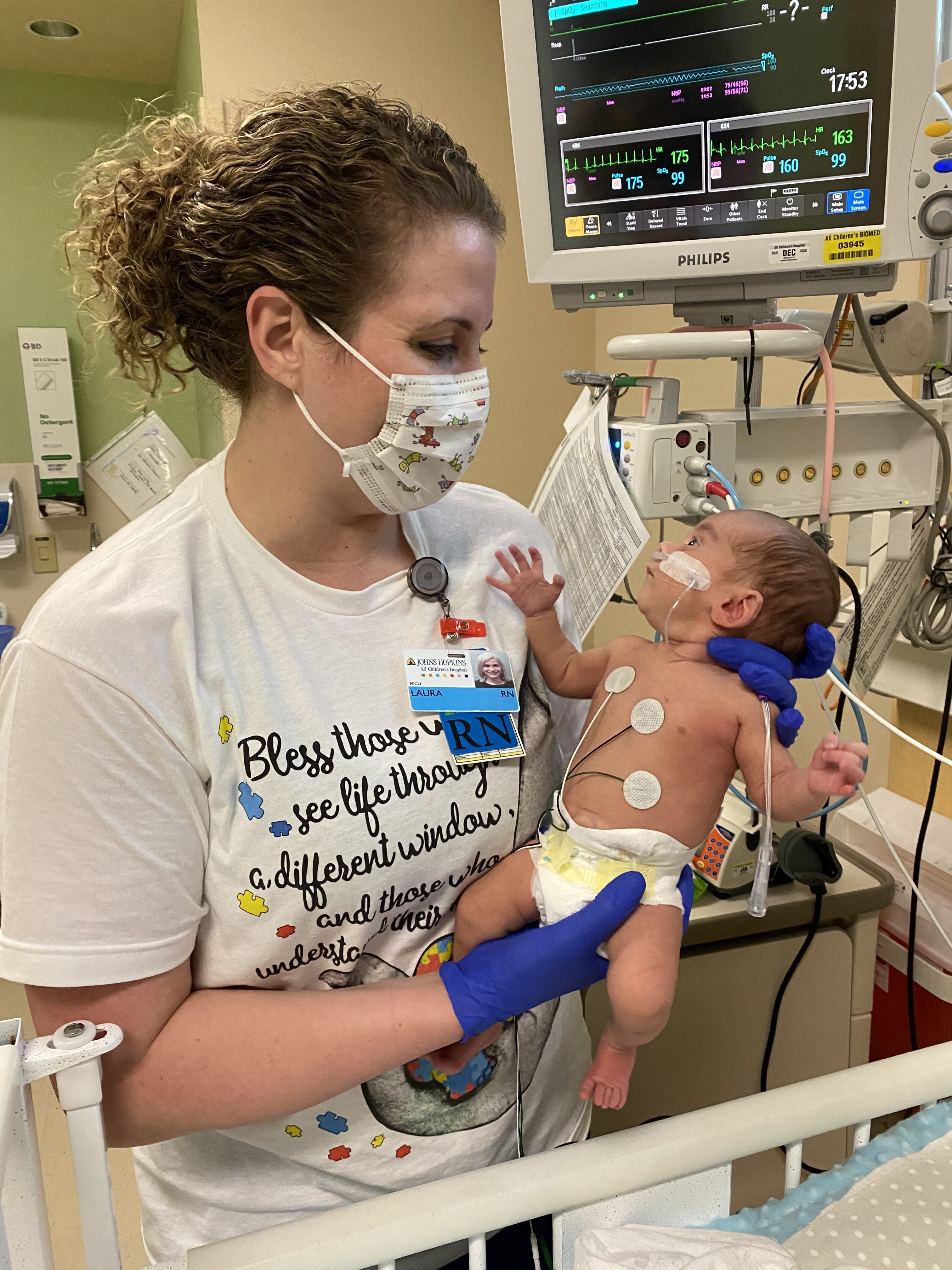 But even with six weeks of NICU care completed, and with Snowmageddon almost a distant memory, 2020 wasn't finished with twists, turns and surprises.

A simmering epidemic would soon boil over, making the small family's trying time a whole lot harder to manage.
Hancock, an owner of multiple bars and restaurants with more than 100 employees, had been away from work for months. which meant day-to-day operations had fallen to his business partner.

With John-Derrick settling away at a hospital in sunny Florida, one of the hottest days for the bar business was on the horizon.
St. Patrick's Day in St. John's a big deal — a giant revenue generator for his businesses, one that Hancock felt he couldn't miss.
He consulted with his wife and Kelly, and the trio made the decision that he'd say goodbye to his baby boy and fly home to help out on one of the busiest days on George Street.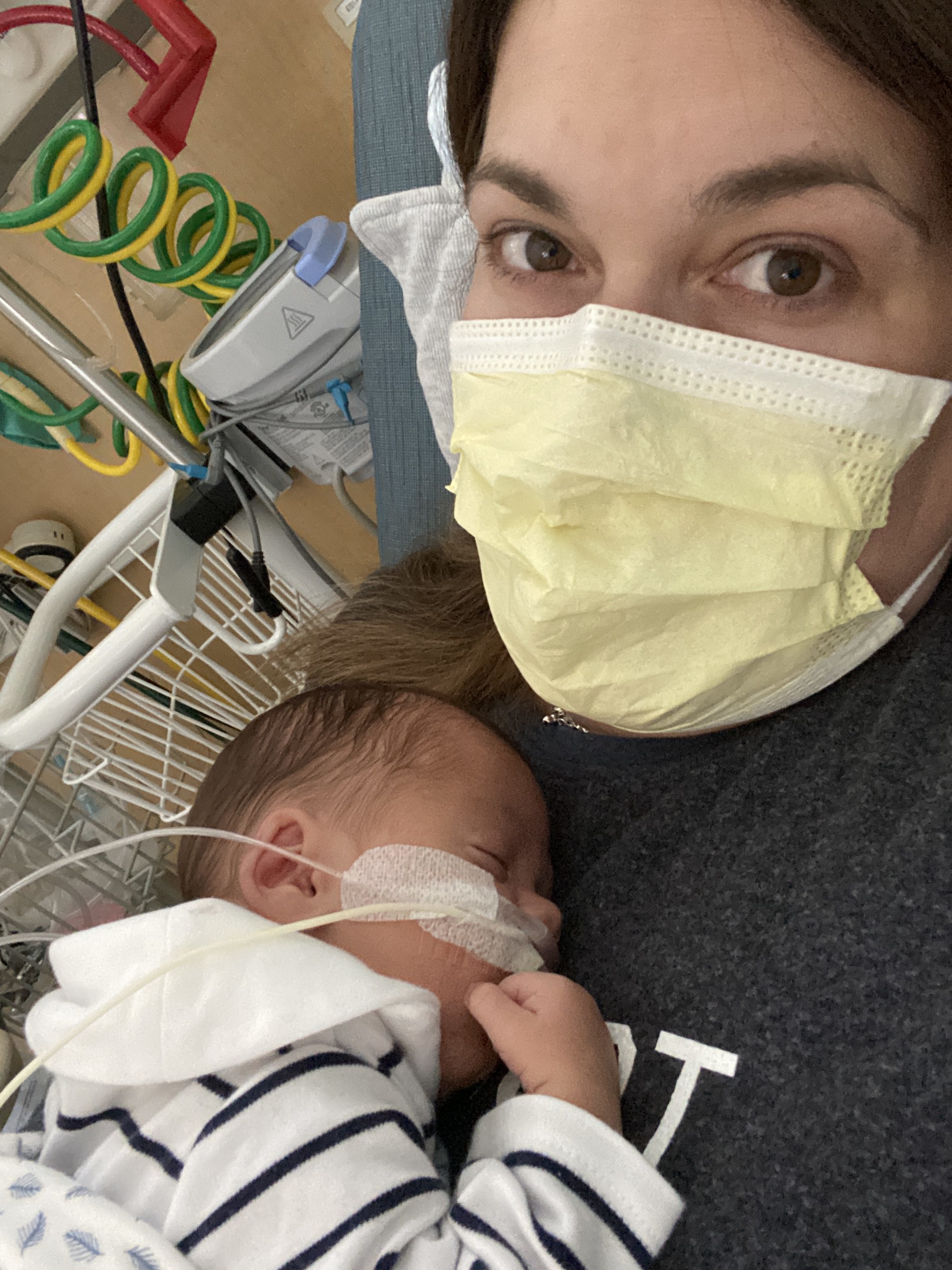 By mid-March COVID-19 had been making its way across Asia before crippling some major European cities. One by one, the mysterious coronavirus shut down popular tourist spots, and trickled into North America.
On March 14, Newfoundland and Labrador's chief medical officer, Janice Fitzgerald, announced the province's first case of COVID-19, a woman who had recently come home after a cruise ship holiday.
Something once a world away had landed in Newfoundland and Labrador around the same time Hancock's flight touched down at St. John's International Airport.
He had barely been home long enough to hug his daughter when news broke that President Donald Trump would be closing the U.S. border to slow the spread of COVID-19.
Panicked, Hancock left his daughter and businesses behind and rushed to the airport to try to get back to his wife in Florida before the borders closed, sealing him off from his newborn child.
March 17, a day he had hoped would be busy with bar patrons and Paddy's Day revellers, turned into a stressful travel day.
"There were only nine people on the flight from Halifax to Florida," Hancock said. "Five flight attendants and four passengers."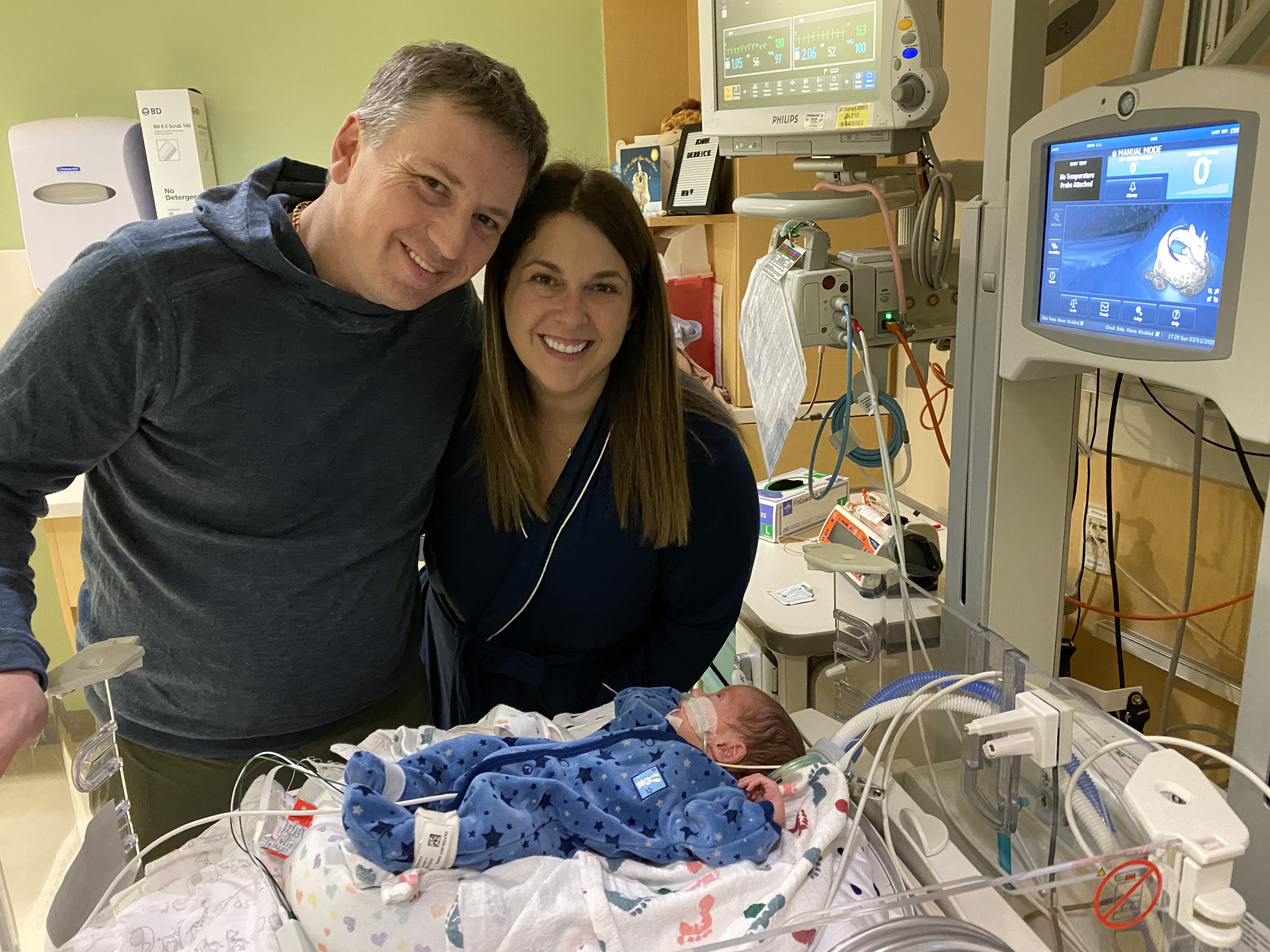 After he touched down in Tampa, though, U.S. Customs officials wouldn't let him into the country.
Battling his "raw emotion," he said, Hancock had to prove to officials that he needed to be with his newborn baby.
He showed them the contents of his phones, pictures of the son he was desperately trying to see in the NICU, along with text message exchanges with Patten. but he felt hope draining as hours passed in the Florida airport.
"Am I going to get back to see my son? Am I going to have to rent a car and drive back? One way or another I was going to get back," he said.
Maybe it was good fortune, maybe it was the luck of the Irish, but as the U.S.-Canada border began closing, Hancock got the green light to get across and make his way to his family.
Hancock spent 16 days in self-isolation to avoid any possibility of transmitting COVID-19. However, the disease would still find a way to affect his and Patten's life.

As March moved forward, Johns Hopkins changed its visitation rules. While Hancock had been away, the hospital reduced the number of people allowed in the room with John-Derrick from four to one, meaning for 19 days Patton was the lone parent in the room with her little boy.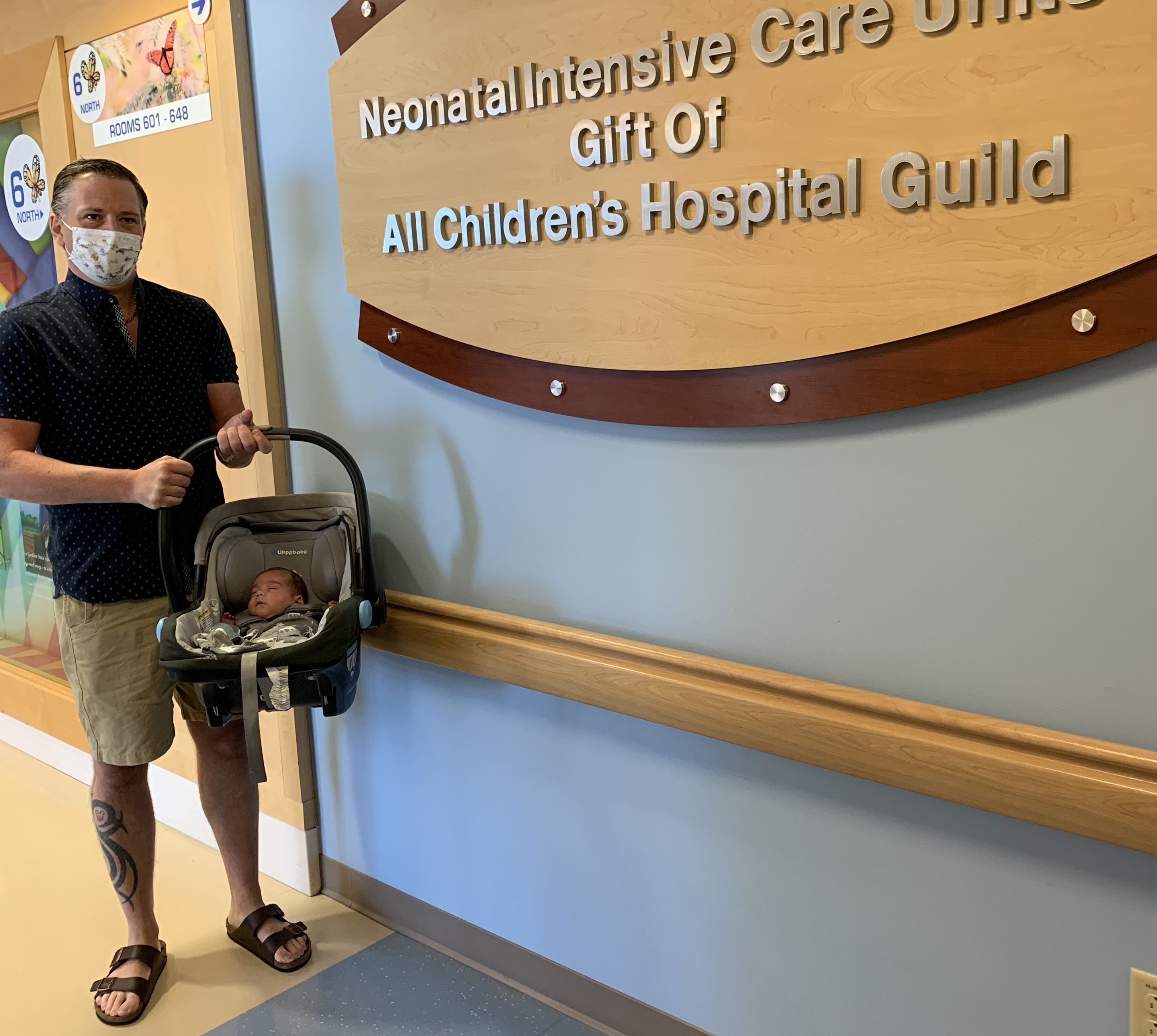 "We weren't allowed to be in the hospital together," she recalled. "We were two ships passing in the night."
Patten would spend the day with John-Derrick, who continued to thrive under Kelly's care. Hancock would come in for the night shift.
Over the ensuing days, while COVID-19 consumed much of the world, the proud parents never left the side of their newborn son, despite wrapping themselves in gloves and masks for their long NICU visits. Any hope of returning home vanished.
"I just had to let go and realize that John-Derrick was making the plans," said Patten. "That he was going to decide when he was going to breathe on his own, when he was going to eat. It made it a little bit easier."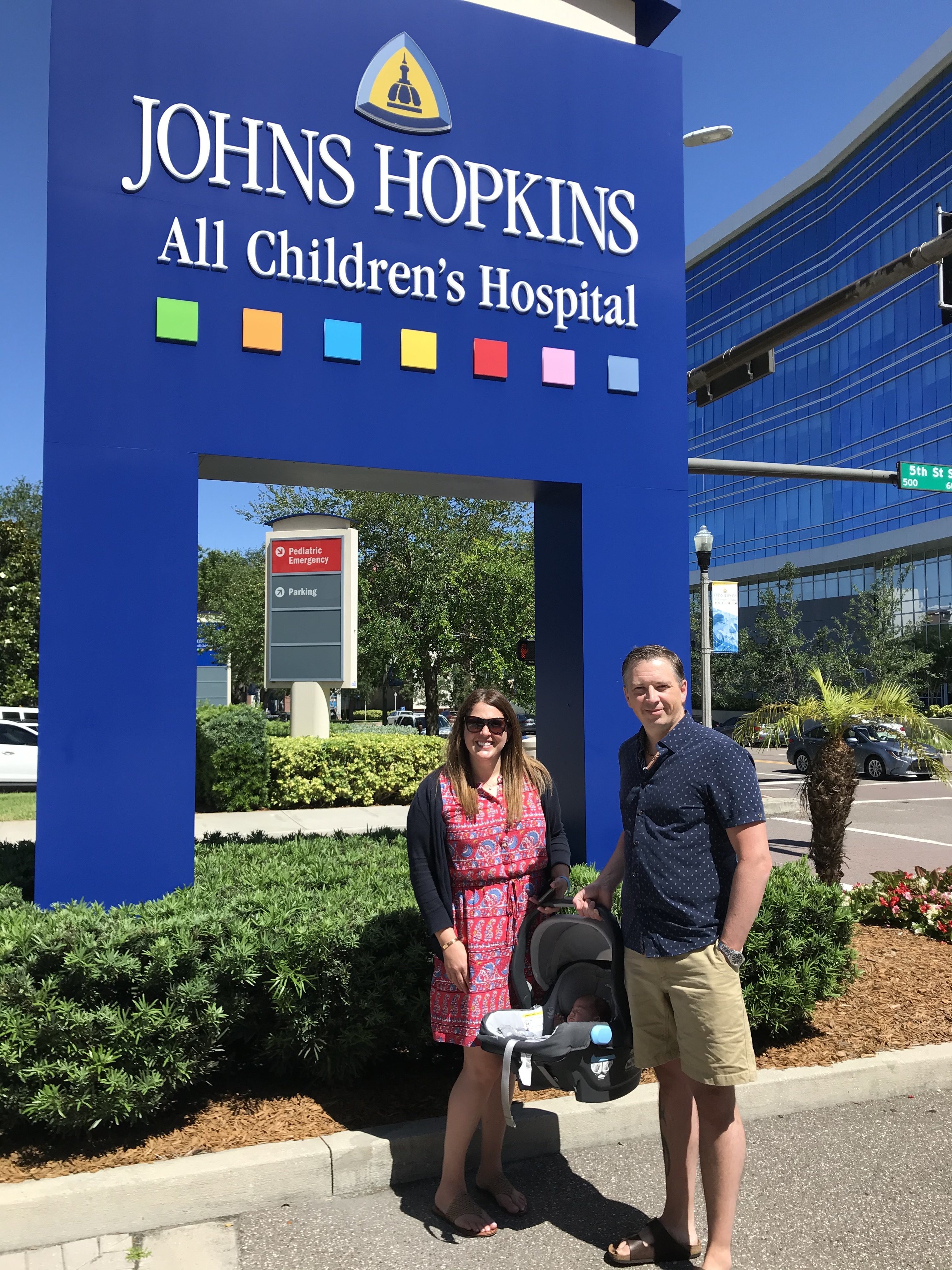 The pair, with the help of Kelly, pushed forward for weeks. Patten said it wasn't just Kelly who became like family, it was everyone who worked at the hospital — every person who worked security at the hospital, the staff they would pass by every time they came into the hospital, and every time they left.

While the world was shutting down around them, Patten and Hancock's son grew — reaching seven pounds. But to get out of the hospital Johns Hopkins staff needed John-Derrick to have steady weight gain, start to eat on his own and have no serious medical problems, such as his heart rate and oxygen levels dropping. His parents had to learn baby CPR.
"I had come to Florida for five days and I am here in 11 weeks living in LuluLemon pants and the same five outfits," Patten said.
"I had brought one dress and Carolyn texted me to say, 'Put on the dress. Your boy is going home.'"
But the roller-coaster ride wasn't over yet; the American-born baby had no Canadian passport.
A frantic call to the office of St. John's MP Seamus O'Regan quickly sorted that out, with the Canadian government offering John-Derrick a temporary entrance document.
On April 28, Patten, Hancock and their little bundle of joy flew home to Newfoundland and Labrador.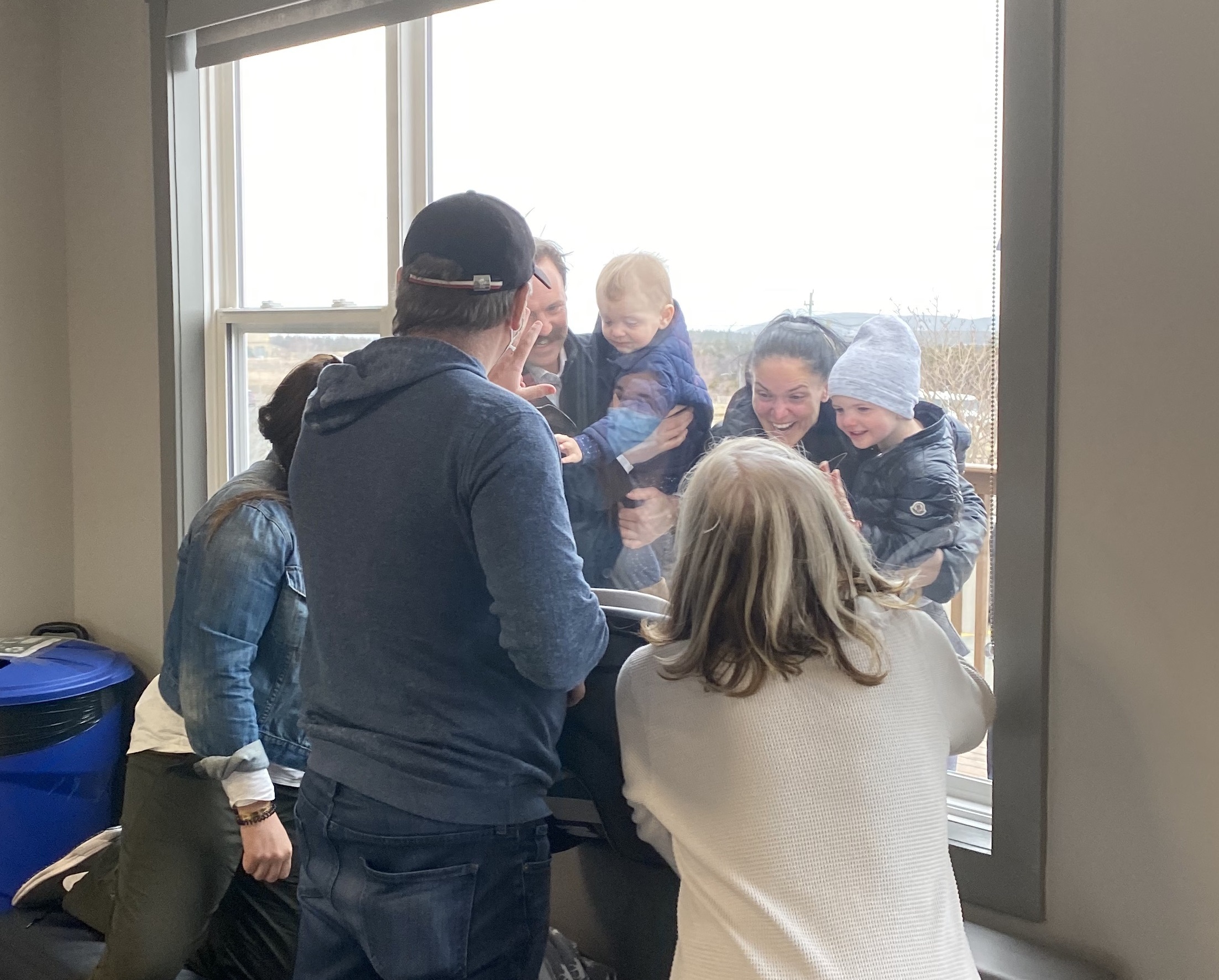 2020 has been nothing but surprises for many in this province, but for Patten and Hancock it'll be a story of how during one of the darkest moments in current history, two new members of their family — John-Derrick and Kelly herself — provided a ray of light.
Today, three of those four are settled back in St. John's. They stay in touch with Kelly, the neonatal nurse who just happened to be in the right place at the right time.
"I feel honoured and blessed that I could be a small part of this," she said.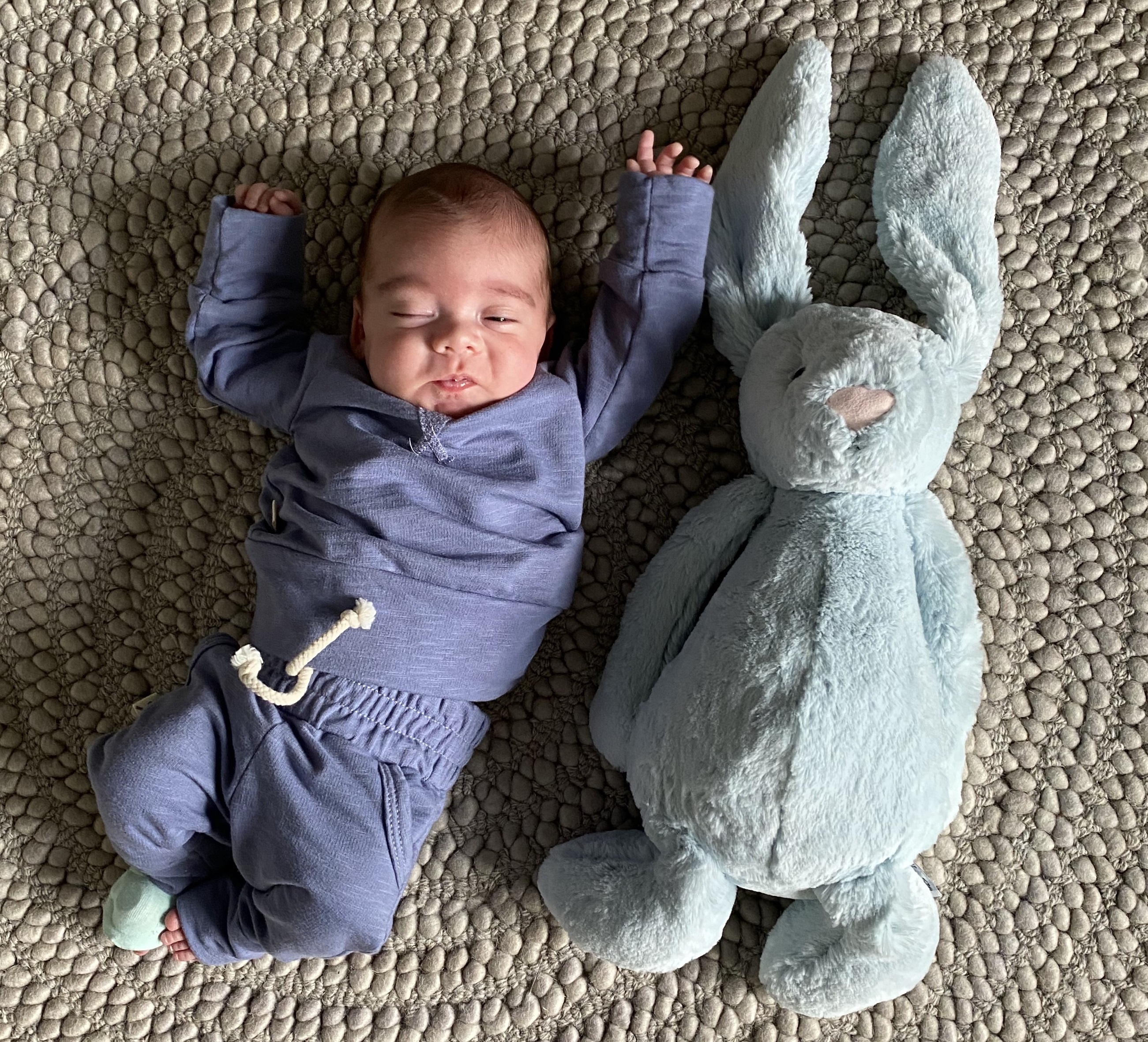 A small part in her day in day work, but a large part of John-Derrick's.
A routine trip to a place that had been many times before turned into a remarkable story of a young baby's grand entrance to the world helped by someone who just so happened to be from home.
It's a stroke of luck for the new family, who strongly advises that anyone heading out on a trip should buy travel insurance — and bring some extra clothes.