This feature has been updated. For the latest story, click here.

The cell phone video, which is of poor quality and shot at a distance, shows a man crawling forward on his hands and knees towards a couple of police officers. Suddenly, gunshots reverberate through the street, as eight bullets hit Paul Boyd, killing the 39-year-old instantly.
Captured by a bystander, this 2007 incident was one of 461 fatal police encounters in Canada since 2000 — and a new CBC analysis shows that the number is on the rise.
In the absence of a national accounting of such encounters between Canadian citizens and law enforcement, a team of CBC researchers spent six months assembling the first country-wide database of every person who died or was killed during a police intervention.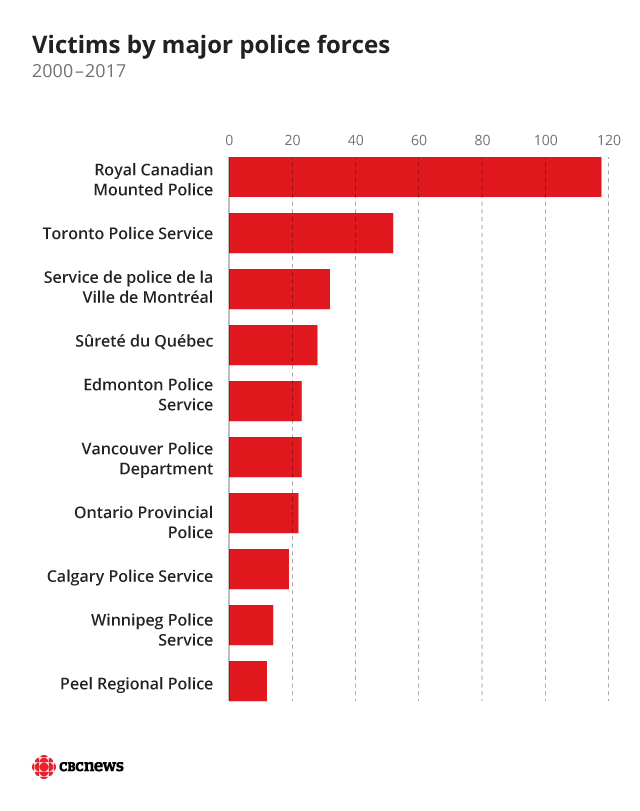 The records, from 2000 to the end of 2017, contain more than a dozen details on each of the 461 incidents.
Even when adjusted for population growth over the 17-year window, the number of people dying in encounters with police has increased steadily.
"My initial reaction was that there is a failing here in our society," said Syd Gravel, a retired Ottawa Police officer.
The CBC analysis reveals that more than 70 per cent of victims suffer from mental health and substance abuse problems.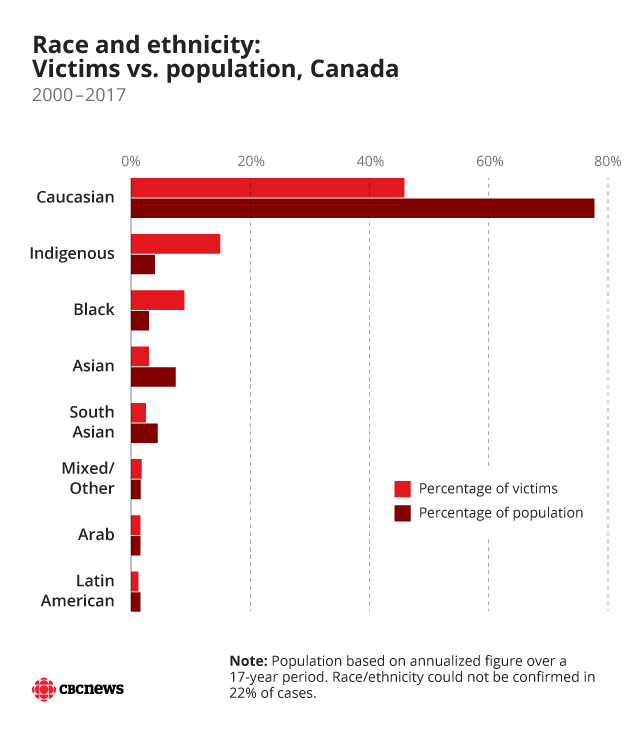 "It's way too high. Way too high," said Terry Coleman, a former police chief in Moose Jaw, Sask., who is now a public safety consultant. "We always say one death under these circumstances is one too many."
Statistics Canada estimates that police have about one million encounters every year with people who have a mental or substance use disorder. And experts say that number is getting higher.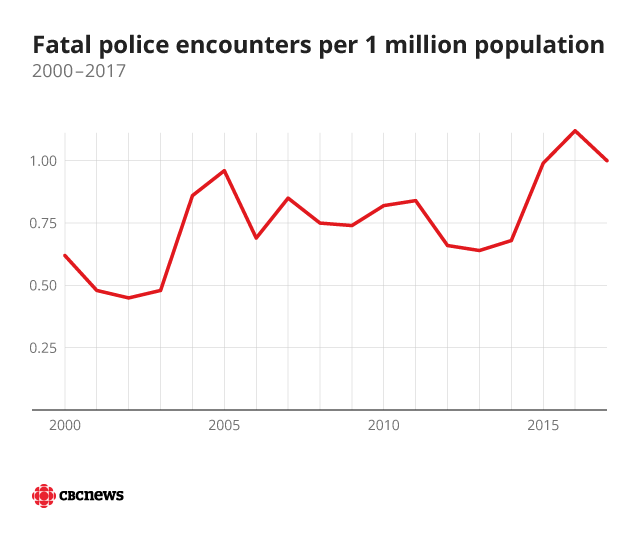 Overall, the Caucasians represent nearly half the victims in the database, which is not surprising given that this is the largest racial group in the country. However, when taking into account the racial and ethnic composition of the overall population, two distinct groups are overwhelmingly over-represented in these encounters: black and Indigenous people.
For example, black people in Toronto made up on average 8.3 per cent of the population during the 17-year window, but represent nearly 37 per cent of the victims.
In Winnipeg, Indigenous people represent on average 10.6 per cent of the population, but account for nearly two thirds of victims.
Law enforcement agencies in western Canada appear to have greater rates of deadly encounters than those in eastern provinces.
Most of the deaths occurred in urban areas. But the Royal Canadian Mounted Police, which serves largely rural areas — representing close to eight million people — had the greatest number of fatal encounters, with 118.
The majority of victims — 71 per cent — were killed by police following a gunshot. In non-gunshot deaths, a taser was found to have been deployed in nearly 28 per cent of cases.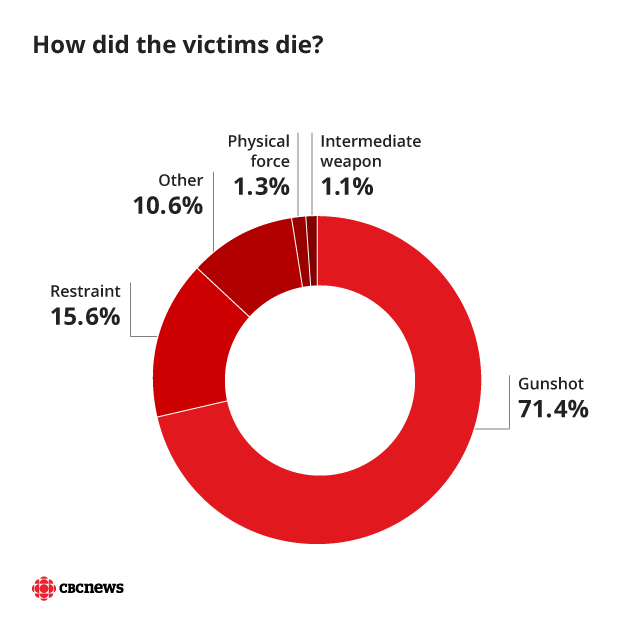 "Police are lawfully authorized to use up to deadly force — which includes using a firearm — where they believe that they're in imminent danger of being seriously injured or killed," said Tom Stamatakis, president of the Canadian Police Association.
Of the 461 cases involving a fatal police encounter, the CBC could only identify 18 cases where criminal charges were laid against an officer. Of these cases, there have been two convictions. Some of the cases are still before the courts.
Deadly Force:

Fatal encounters with police in Canada, 2000-2017